Pages 247-252
A History of the County of Cambridge and the Isle of Ely: Volume 10, Cheveley, Flendish, Staine and Staploe Hundreds (North-Eastern Cambridgeshire). Originally published by Victoria County History, London, 2002.
This free content was digitised by double rekeying. All rights reserved.
SWAFFHAM BULBECK
The parish of Swaffham Bulbeck, some seven miles (10 km.) north-east of Cambridge, stretches about six miles (9 km.) from the line of the Icknield way north-westwards to the river Cam. (fn. 1) Assessed as a distinct vill by 1066, (fn. 2) the parish derived the main element of its name from 'home of the Swaefe', and its modern byname, in use since the 1220s, from the Bolbecs, 12th-century manorial lords. From the 13th century to the 15th Swaffham Bulbeck was also called Earl's or Nuns' Swaffham after later lordships. (fn. 3) In more recent times it was probably most often known locally until the mid 19th century as Little Swaffham (fn. 4) to distinguish it from its slightly larger northern neighbour, Swaffham Prior, then also called Great Swaffham.
In the southern part of the parish the boundaries largely follow the edges of medieval open fields, (fn. 5) except to the south-east where they lie on former heathland. There they almost reach the line of the long-established road from Great Chesterford to Newmarket, a turnpike between 1724 and 1870. (fn. 6) West of the village the formerly Longmeadow moor was intercommonable with Bottisham until the 1670s, when it was divided between the two parishes to produce an interlocking boundary, leaving 61 a. of Swaffham's common fen surrounded by Bottisham. That area was tacitly reckoned as part of Bottisham parish by the 1830s. (fn. 7) Further north the southwestern boundary follows the slightly meandering line along which Swaffham Lode ran before its 17th-century straightening. (fn. 8) To the northeast the boundary with Swaffham Prior was also effectively set out c. 1670; then, following disputes, (fn. 9) the line of a ditch bounding fenland there, recently allotted to Adventurers in the Bedford Level drainage, was projected northwest to the Cam. Swaffham Bulbeck, which in the 13th century had reckoned its fen commons to stretch east as far as Reach Lode, (fn. 10) was left with barely a quarter of the estimated 3,370 a. of fenland previously shared. (fn. 11) Following those adjustments the parish covered from the late 19th century 4,110 a. (1,663 ha.). (fn. 12)
The soil rests in the south-east upon the Lower and Middle Chalk, overlaid with gravel near Upper Hare Park. In the fen, gault is mostly overlaid with river gravels, which in turn are largely covered by peat. (fn. 13) In the south-east the ground undulates, rising gently, with slight ridges sloping north-eastwards, to c. 55 m. (over 175 ft.) near Upper Hare Park. To the northwest there is a sudden drop from almost 30 m. to 15 m. just south-east of the line of the village street. From there the north-western fens are virtually level, also at 15 m. A stream, forming initially part of the boundary with Bottisham, flows northwards almost parallel with that street, past Gutter bridge recorded by the 1670s. (fn. 14) Called by 1800 the Gutter bridge water, (fn. 15) that stream divides halfway across the parish into two channels, one used for a millstream. Both flow, west of Commercial End, into the south end of Swaffham Lode, and then follow the natural drainage northwards over the Swaffham Prior boundary. That lode, probably originally cut in the Roman period across the line of earlier streams as a navigation channel, was also used for drainage from the Middle Ages. Its southernmost section curves gently, but further north-west it was straightened to its existing line, probably in the 1660s, during the making of the Bedford Level. It was called the 'new lode' in 1689. (fn. 16) In the late 20th century, when the parish council let fishing rights there to local anglers, it was somewhat neglected and the flow of water was impaired by inadequate cleaning. (fn. 17) The many other straight drainage ditches in the fen had likewise been cut in the late 17th and early 19th centuries. (fn. 18)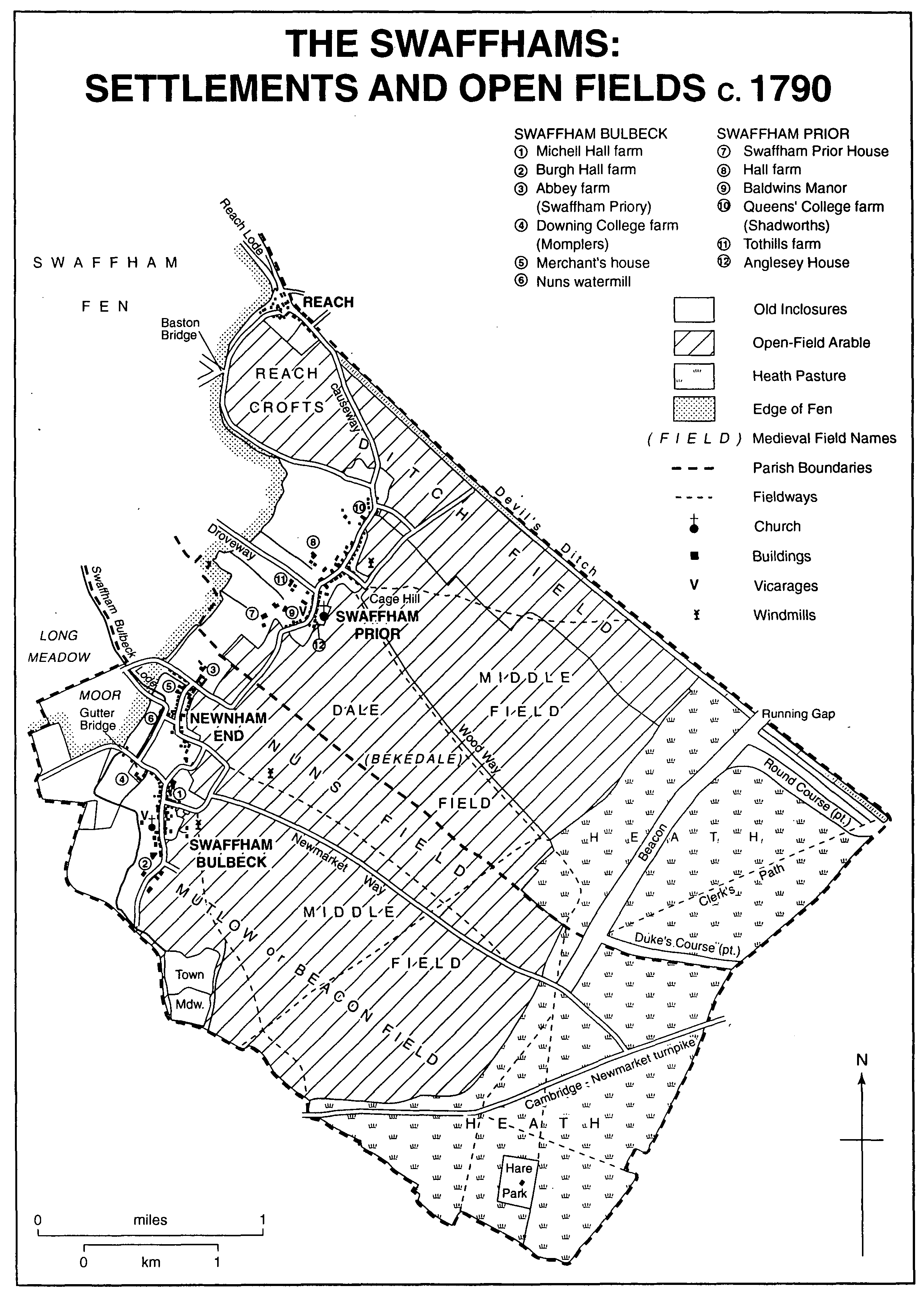 No ancient woodland survives, but from the late 19th century there were plantations at Upper Hare Park, covering by 1895 8 a. outside the grounds of that house, and considerably extended in the mid 20th century. (fn. 19) By 1970 the parish contained 40 a. of woodland. (fn. 20) From the Middle Ages its southern part was used primarily for arable farming, under a triennial rotation until inclosure in 1801, the northern part being until then fen pastures. From the late 17th century to the mid 19th an extensive trade was undertaken from Commercial End, reaching its height c. 1800. (fn. 21)
Several Stone and Bronze Age tools have been found on the former heath, mostly near Hare Park (fn. 22) north-west of which and around Four Mile Stable Farm a group of 15 Bronze Age round barrows, mostly 70-90 ft. across, has been traced. Only four or five have not been ploughed out. Those visible were excavated after 1800, one in 1846, the rest mostly between 1875 and 1906, several by C. P. Allix of Swaffham Prior House. Several cremation and inhumation burials were then discovered. (fn. 23) Numerous fragments of Roman pottery and tiling ploughed up north-east of the site of Swaffham Priory presumably derive from a settlement near the south end of Swaffham Lode. Close to the lode's northwestern end, quarried Barnack stone blocks, perhaps a boat's cargo of the 1st century A.D., have been found lying upon a former bed of the Cam. (fn. 24)
The medieval vill was inhabited in 1086 by 20 peasants and 5 servi. (fn. 25) In 1279 there were almost 70 tenants. (fn. 26) In 1327 only 21 people paid the subsidy, (fn. 27) but in 1377 poll tax was levied on 194 adults. (fn. 28) In 1563 there were 58 households, (fn. 29) and the population probably grew by almost a half between then and the 1630s. It may then have declined by a quarter by 1700. (fn. 30) About 1670 there were 87-8 households. (fn. 31) In 1676 probably 141 potential communicants were reported, (fn. 32) but in 1728 only c. 100 families. (fn. 33) The population reached c. 540 by 1801 and rose steadily, by 80 or more in each decade except the 1820s, between 1811 and the 1850s to reach a peak of 870-910 c. 1850-70. (fn. 34) In the mid 19th century most people still inhabited the old settled streets, only 15-25 out of c. 190 households dwelling in the former fields and fen. (fn. 35) In 1881 people living outside the village numbered respectively 82 in the fields, 61 in the fen, compared with 601 along the village streets. (fn. 36) The population fell sharply by a sixth in the 1870s, but had recovered to 800 in 1891. Numbers then declined to c. 700 c. 1900-10 and probably to barely 600 between 1930 and 1950. A slow recovery after 1960 raised the population to 715 in 1971 and 762 in 1991. (fn. 37)
The main medieval settlement had probably lain along streets running north-eastwards between the uplands and the fen edge in the direction of Swaffham Prior. What was perhaps the earlier section lay to the south-east, with the church near the middle of its north side and manorial farmsteads at each end. (fn. 38) That section had probably no inhabited back lanes between 1500 and the mid 19th century, when roads to its south named from the adjoining windmill and quarry began to be built up. Other dwellings were put up along Gutter Lane, so named by 1556, later Station Road, which leads towards Longmeadow hamlet in Bottisham. (fn. 39) The unmaintained customary messuages, whose repair was sometimes vainly ordered from the 1390s onwards, had included in 1429 a house at 'Quarry street'. (fn. 40) At its north-east end the main road had by then been diverted southwards around a group of moats. (fn. 41)
To their north-east near the end of the lode, on a slightly different, somewhat curving, alignment was a detached settlement, the modern Commercial End, whose street led towards the gates of the late 12th-century priory, near which dwellings stood by 1395. (fn. 42) The name of Newnham Street, later Newnham End, which it usually bore by the late 14th century (fn. 43) and into the early 19th, (fn. 44) possibly denotes the deliberate foundation of that settlement in the 12th or 13th centuries. Following extensive redevelopment there shortly after 1800 by the merchant Thomas Bowyer, (fn. 45) it was called Bowyer's End in 1871. (fn. 46) Newnham's modern name of Commercial End, recorded from the 1880s, was not applied to it until commercial enterprise from there had greatly declined. (fn. 47)
Along the original main street there still survived in the late 20th century, besides manorial farmsteads, several dwellings of the 17th century or earlier, some with their timber framing exposed, including the elongated, still thatched, Linton House, perhaps early 16th-century. Possibly once a guildhall, it had two bays added to an earlier four soon after its erection, to provide one long room with chamfered ceiling beams. Within a neighbouring 15th-century hallhouse an upper floor was built into the hall in the 16th century, when the cross wing, jettied towards the street, was probably reconstructed. Another late medieval house further north was similarly improved c. 1600. Bolbec Cottage off the modern 'green' to the north, containing a pilastered clunch overmantel dated 1587, may be the surviving jettied cross wing of another 16th-century house. A few humbler cottages of the 17th-18th centuries, mostly plastered over, are scattered along the street. (fn. 48) About 1677 there were 72 commonable dwellings in the parish, of which only 26 were inhabited by their owners. (fn. 49) In 1801 altogether 19 messuages and 48 cottages were recorded there, some subdivided to provide the 83 inhabited dwellings then reported. (fn. 50) In the late 19th century several timber-framed cottages at a time could still be destroyed by fire. (fn. 51)
At Commercial End (fn. 52) two or three buildings remain from before its early 19th-century rebuilding. Most notable is the Merchant's House, partly redbrick, partly clunch, with prominent platbands and a curving Dutch gable towards the street, possibly remodelled in the late 17th century around an earlier nucleus. Early 19th-century alterations (fn. 53) include inserted sash windows and a classical doorway on the main facade. A two-storeyed early 18th-century brick house survives almost opposite, while two other timber-framed ones, possibly earlier, in one of which some chamfered medieval beams are reused, stand further south-west. Most dwellings along that street date, however, from the rebuilding sponsored, shortly after 1800, by Thomas Bowyer, though few stand on land that he owned: his own estate in 1824 included only 5-6 cottages, but his former partners, the Barkers, had owned 30 cottages in 1812. (fn. 54) That building was partly undertaken on the site of earlier housing, but some cottages went up previously empty land at the south end. (fn. 55) All follow a virtually standard design: the blocks which housed Bowyer's workmen were each originally of 2-3 dwellings with shared brick chimneys, and have timber-framed ground floors of one living room each. Their plastered walling was once inscribed with masonry outlines. Above are pantiled roofs with long-sloping dormers for sleeping accommodation once approached by internal ladders. In the late 20th century many were rescued from threatened dereliction and combined into larger houses by middle-class incomers. (fn. 56) For his miller and other senior staff Bowyer put up more substantial greybrick, slated two-storeyed houses. The End thereafter underwent little external change before the late 20th century. It was made a conservation area in 1972, and the whole village became one from 1980. (fn. 57)
The southern part of the village had seen more late 19th-century construction, with new cottages, some plain greybrick, being inserted among the older houses, often by the local builders, the Stevenses. After inclosure new brick farmhouses were built on the former open fields to the south; they include Chalk Farm of 1801 × 1812 and New England Farm of 1833. By the 1850s c. 10 dependent labourers' cottages had been built near those farms. (fn. 58) On the Adventurers' inclosures to the north c. 12 other farms and cottages were erected, mostly after 1860, for smallholders. (fn. 59) By 1871 the high street and 'Bowyer's End' each had c. 60 houses, and lanes off them another 35, including ten at Mill Lane off Bowyer's End. (fn. 60) Between 1880 and 1900 almost 20 houses might be left empty. (fn. 61) In 1910 the whole parish contained 170-80 dwellings, including 25 farmhouses. Of c. 140 cottages, at least 45 were at Commercial End and over 20 others lay away from the main settlements. (fn. 62) There was almost no increase in the number of houses until the 1940s and new private building was little encouraged later. (fn. 63) The total number of occupied houses, just over 200 in 1951, increased by only 20-5 in the 1950s and 1970s, although 45 were built in the 1960s. (fn. 64) The largest development was of council housing: 80 dwellings were built 1930-60. One large estate called Maryland Avenue, uphill from the northeast end of the high street, was further enlarged from the early 1970s. (fn. 65) The district council built another group, with adjoining sheltered housing, north-east of the church in the 1970s. (fn. 66) In 1981 under half the houses were owneroccupied, almost two fifths inhabited by council tenants; that proportion was reduced by 1991, partly by sales, while new building raised the total number occupied to over 300. (fn. 67)
The village was formerly linked with its neighbours by a complex network of parallel fieldways: the main ones running south-east towards the heathland were called in the 1570s Woodway, Nuns way, and Market way, recorded as Newmarket way c. 1350. (fn. 68) They ran into the old Cambridge-Newmarket road, running across the heath, which was turnpiked from 1745 to 1874. At inclosure they were reduced to one road in each of those directions. (fn. 69) A lane from Newnham End, the modern Fen Lane, led across Cow bridge, recorded in 1677, into a droveway then curving over the fens to Bottisham. (fn. 70) Although after 1884 Swaffham Bulbeck fen was crossed by a branch of the Great Eastern railway, (fn. 71) the village depended on stations in adjoining parishes, although Gutter Lane was renamed Station Road 1910 × 1926. (fn. 72) In the mid 1970s a complex interchange between the new main Cambridge-Newmarket road and the Newmarket bypass, both dual carriageways, involving cuttings in the downland and a flyover for the former turnpike, was constructed in the southern third of the parish, virtually cutting off its southernmost section. (fn. 73)
Of the main village's inns, the Horse and Groom at the north-east end, established by 1765 and renamed from the 1870s the Black Horse, was still open in 1992, occupying a house rebuilt c. 1889 with a decorative facade, By 1992 a small motel had been put up at its rear. The Crown, recorded from the 1840s, in a late 17thcentury house, closed in 1958. (fn. 74) At Commercial End the (White) Swan, established by 1797, supposedly for Thomas Bowyer, a two-storeyed greybrick house, closed c. 1920, but the (Royal) Oak, open by 1779, (fn. 75) survived until 1989. (fn. 76)
By the mid 19th century both the Horse and Groom and the Oak had clubrooms where the village lodge of Oddfellows, formed in 1844-5 and having 36 brothers in 1849 and 1865, dined annually into the 1890s. (fn. 77) The clubrooms were also used in the 1890s by a Conservative club founded with 59 members in 1887, (fn. 78) and a local 'Free and Easy' club, started in 1891. (fn. 79) The traditional village feast was held c. 1750 about Ascension Day, (fn. 80) but by the 1890s lasted for three days from St. Peter's day (29 June), during which entertainers' caravans stood on the 'green'. It survived at least until c. 1914 (fn. 81) and was occasionally revived in name in the late 20th century. (fn. 82) In the 1970s the village had a British Legion branch, with up to 70 members in 1974, (fn. 83) a Women's Institute started in 1950, (fn. 84) and cricket and football clubs. (fn. 85)
From the late 17th century some of the heathland in the south-east of the parish was used as part of the eight-mile long Newmarket racecourse. Its last four miles were called the Beacon Course, reflecting a use of the barrows there. (fn. 86) At inclosure a strip of land 50 yds. wide each side of the course was directed to be left open and unploughed for racing, (fn. 87) but in practice, such long distances being seldom run by then, that western portion of the course soon fell into disuse. (fn. 88) However, from the early 20th century much of Swaffham's former heath came to be used for breeding racehorses. The New England Stud was established after 1952 by the Hon. R. O. Stanley, who ran it until the 1980s, on the former New England farm, most of whose 240 a. were by 1960 divided by belts of trees into sheltered paddocks. From the 1960s it usually had six to eight mares at stud, with two stallions, also boarding horses from 1980. (fn. 89) To its south the Upper Hare Park estate also supported a stud by the 1970s. (fn. 90)