Pages 427-437
A History of the County of Cambridge and the Isle of Ely: Volume 10, Cheveley, Flendish, Staine and Staploe Hundreds (North-Eastern Cambridgeshire). Originally published by Victoria County History, London, 2002.
This free content was digitised by double rekeying. All rights reserved.
MANORS.
Before 1066 the largest, assessed at 6 1/3 hides, of the four manors recorded in Isleham in 1086 had been one of the group of three royal manors at the north end of Staploe hundred. It yielded a feorm of 10, with 13 8s. 4d. in money replacing earlier renders in kind. In 1086 the manor still belonged to the king, (fn. 1) but shortly after 1100 (fn. 2) Henry I gave it to his Breton follower Alan son of Flaald as part of the 'honor' of Mileham (Norfolk). That honor, in which the Isleham manor was thereafter included, was held by sending a knight to defend Norfolk against Danish invaders. (fn. 3) Alan, also by 1110 lord of Oswestry (Salop), died c. 1114. His son William retained his Isleham land in demesne until his death in 1160. (fn. 4) The manor, called from the late 16th century GREAT ISLEHAM, (fn. 5) passed to his son William fitz Alan, of age in 1175, who still held it c. 1210. (fn. 6) His descendants, the FitzAlans and their successors as earls of Arundel, (fn. 7) remained tenants in chief over that manor (fn. 8) into the 17th century. (fn. 9)
Shortly before his death in 1213, (fn. 10) William fitz Alan gave his Isleham manor to endow his daughter Parnel, who was married (fn. 11) by 1212 to Walter de Dunstanville, (fn. 12) lord of Castle Combe (Wilts.). (fn. 13) The tenure of Parnel and her heirs under the FitzAlans was in the late 13th century supposedly by serjeanty, (fn. 14) in 1309 by rendering two gilt spurs in wartime to the lord of Mileham honor. (fn. 15) By 134454 it was said, alternatively, to involve presenting that lord with a gammon of bacon on a lancepoint, if he came past Herringsmere south of Isleham village. (fn. 16) The serjeanty, reduced by 1440 to giving a lance yearly, (fn. 17) was forgotten after the 1450s. (fn. 18)
Following Walter de Dunstanville's death in 1241, (fn. 19) his Isleham manor remained with Parnel until after 1253, (fn. 20) then descending to their son Walter (d. s.p.m. 1270). (fn. 21) His widow Rohese, who held it until she died in 1281, had granted her rights there by 1279 to Master Giles of Bridport. (fn. 22) Walter's daughter and heir Parnel married first Robert de Montfort (d. 1274), (fn. 23) then by 1276 John de la Mare of Bradwell (Essex), (fn. 24) granted free warren with her at Isleham in 1283. (fn. 25) Parnel was dead by 12923, (fn. 26) leaving her second husband in possession of the manorial income until his death in 1313. Under an entail of 1286 and a quitclaim of 1299 by Parnel's half-brother and heir William de Montfort, Great Isleham manor passed to Florence, Parnel's surviving daughter by John de la Mare. Florence was married by 1309 to Philip de Orreby, son of John, lord Orreby (d. 1328). (fn. 27) Philip, lord at Isleham by 1316, (fn. 28) probably died in 1326. Probably that year Florence married Nicholas Fraunceys of Worlington (Suff.) (fl. to 1335). (fn. 29) She still held Great Isleham when she died, again a widow, in 1344. Her heir, Philip's son John de Orreby, then of age, (fn. 30) made his wife Margaret joint tenant of the manor. He died in 1354, leaving her in possession until her death in 1369. (fn. 31)
John de Orreby's heir, his young daughter Joan, from c. 1365 second wife of Henry Percy, lord Percy (d. 1368), died just before Margaret in 1369. The heir to Isleham was Joan's infant daughter Mary Percy. The wardship of the manor was successively possessed by Edward III's mistress Alice Perrers until 1377, then by Mary's half-brother, Henry, earl of Northumberland. (fn. 32) By 1382 he had married Mary to John Roos, from 1384 lord Roos of Helmsley (d. s.p. 1393). (fn. 33) As soon as Mary herself died without issue in 1394, the earl, just made her chief feoffee, took over Isleham manor. (fn. 34)
In 1404 Earl Henry used Isleham to endow his long dead middle son Sir Thomas's son, Sir Henry Percy, called 'of Atholl'. (fn. 35) Atholl, who died, leaving only daughters, in 1432, had in 1431 been obliged by his cousin Henry Percy, the next earl, to settle his lands on himself in tail male, with remainder to the earl, (fn. 36) who thus succeeded to Great Isleham after Atholl's widow Elizabeth died in 1440. (fn. 37) The earl apparently then assigned his Isleham rents to Edmund Grey, lord Grey of Ruthyn, who had married c. 1441 his daughter Catherine Percy. (fn. 38) Earl Henry held the manor when he was killed in 1455. His son, Henry, the third earl, (fn. 39) killed in 1461, suffered forfeiture as a Lancastrian, whereupon possession of Great Isleham was disputed between rival Crown lessees. (fn. 40) In 1462 Edward IV granted it to his brother, George, duke of Clarence, (fn. 41) who lost it when the earl's son Henry Percy was restored in 1470. (fn. 42) When that earl was killed in 1489 Isleham descended with the earldom to his son Henry (fn. 43) (d. 1527). That earl's thriftless son and heir, another Henry, sold the manor, its demesne arable possibly reduced to only 40 a., in 1530 to Sir Richard Gresham, (fn. 44) a rich London alderman and financier. (fn. 45) Gresham in turn sold Great Isleham manor in 1536 to Sir Robert Peyton (fn. 46) (d. 1550). Great Isleham manor subsequently descended with the Peyton family's Isleham estate, originally built up by the Bernards, which by 1450 had become the largest in the parish and which by 1600 encompassed all the non-collegiate manors there.
In 1344 the Great Isleham manor house was said to be ruinous. (fn. 47) About 1468 the duke of Clarence had a manor house north of Church street, between the former Linton priory close and Hall lane. (fn. 48) The manorial hall and chamber were rebuilt c. 14845, when the lord's bailiff rented and inhabited the house. (fn. 49) The site was occupied c. 1845 by three cottages belonging to the former manorial estate. (fn. 50)
The Bernards, the Peytons' forebears at Isleham, were established there from the late 13th century. (fn. 51) Roger Bernard, a small landholder in 1279, shortly afterwards bought a 'manor' called Sokermansfee. (fn. 52) William Bernard, probably Roger's elder son, had lordship at Isleham by 1308. (fn. 53) William (fl. to c. 1340) (fn. 54) was succeeded by his son Gilbert, (fn. 55) active in county business from c. 1350. (fn. 56) Already by 1345 lord over fifty tenants at Isleham and holding c. 35 messuages and 50 a., (fn. 57) Gilbert bought more land there into the 1360s. (fn. 58) He died after 1368. His son William (fn. 59) probably died c. 1380. (fn. 60) Gilbert's widow Clarice bought other Isleham land whose reversion she settled in 1396 on her younger son Master John Bernard, (fn. 61) a prosperous pluralist cleric (fl. 13751430). (fn. 62) William's own inheritance, however, apparently passed to his elder son Robert Bernard, esquire (fl. 140534). (fn. 63) The Bernards' main Isleham estate, called BERNARDS, later GREAT BERNARDS manor, which was reckoned by the 1460s to comprise 603 a. of arable and 65 a. of grass (fn. 64) and in 1484 was said to be held of Great Isleham manor, (fn. 65) mostly descended to Robert's elder son John, knighted 1429 1430. (fn. 66) About 1448 Sir John settled his Isleham lands, including over 70 a., once Clarice's and lately held by Sir Thomas Waweton and his last wife Alana, on his second marriage to Elizabeth Astley. (fn. 67) Following Sir John's death in 1452, Elizabeth possessed them, having married by 1463 Edmund Mortimer of a village family, until she died in 1464. (fn. 68) Sir John's manor then descended to Margaret, his eldest daughter by his first wife Ellen Malory (d. 1440), and Thomas Peyton of Wicken, her husband since 1438, (fn. 69) who thereupon settled at Isleham. (fn. 70)
At his death in 1484 Thomas Peyton 'the elder' devised his Isleham estate in tail male successively to Christopher and Francis Peyton, the sons of his second marriage. (fn. 71) Christopher owned it until he died without issue in 1507. (fn. 72) Bernards manor then passed, Francis finally releasing his interest in 1514, to Sir Robert Peyton, the eldest surviving son of their elder half-brother Thomas (d. v.p.). (fn. 73) Sir Robert died in 1518, leaving his Isleham lands to his eldest son Robert, (fn. 74) knighted while M.P. for Cambridgeshire from 1529, (fn. 75) who died in 1550. His heir was his son Robert, (fn. 76) also M.P. for the county; (fn. 77) who dominated the parish as squire and J.P. (fn. 78) Dying in 1590 Robert was succeeded in Great and Little Isleham, (Great) Bernards, Beckhall, and Newhall manors, by his son John, shortly lord too of Uphall. (fn. 79) Also twice an M.P., Sir John, kt. 1596, cr. Bt. 1611, (fn. 80) died in 1616. His son and heir, Sir Edward Peyton, (fn. 81) shortly afterwards reincorporated into the estate LITTLE BERNARDS manor.
That manor, a substantial one by the 1460s, (fn. 82) had been the portion of Sir John Bernard's younger brother Thomas, eventually of Great Abington (Northants.). (fn. 83) In 1430 Sir John assigned to Thomas and the latter's son Eustace (presumably d. v.p.) an Isleham estate probably largely derived from Clarice Bernard through their great-uncle Master John. (fn. 84) After Thomas died in 1464, it was occupied by his widow Margaret's second husband, one 'Newenam'. (fn. 85) Their Isleham manor presumably descended to Thomas's other son John (d. 1485) and grandson John (d. 1508), whose son John (fn. 86) in 1528 sold 'Bernards' manor with over 200 a. in and around Isleham to John Bowles. (fn. 87) In 1537 Bowles sold it to Thomas Burgoyne of Sutton (Beds.). He resold it in 1545 to Nicholas Gere, an Isleham yeoman, (fn. 88) who died in 1549, leaving it to his eldest son Robert. (fn. 89) In 15767 a William Gere devised the reversion of his house called Bernards and its lands to his brother Robert. (fn. 90) In 1610 Thomas Althowe of King's Lynn (Norf.) sold an Isleham estate, including 'Bernards' mansion house, c. 30 a. of inclosed grass, and 180 a. of arable, to Thomas Lovell of Beachamwell (Norf.). Lovell sold that property in 1618 to trustees for Sir Edward Peyton for settlement on his second marriage.
Thomas Bernard's Isleham manor house, the predecessor of that apparently possessed by Lovell in the 1610s, (fn. 91) stood c. 1460 in a close, once Clarice Bernard's, just north of the parish church. (fn. 92) A house there was still called the Manor House in the 19th and 20th centuries. The present two-storeyed, double-pile house on the site was built c. 1850, further east than the previous one, for the local builder, Thomas Wybrow Brown. From 1898 to the 1930s it was occupied by the Divers, his successors in business. (fn. 93) Sold in 1979, following their bankruptcy, (fn. 94) it is constructed, in a heavy late Georgian style, of fieldstones and dressed, including its rusticated quoins, in grey brick, with a low-pitched slate roof. In the three-bay south front is a curved Tuscan porch. (fn. 95)
In the 1630s the fiercely anti-Royalist Sir Edward Peyton (fn. 96) ruined and owing over 7,000, had to alienate his Isleham estate, (fn. 97) including his ancestral seat, Great Bernards Hall, the farmland (up to 1,940 a.), and the Great Isleham and Great Bernards lordships. The purchaser in 1637 was the courtier Sir John Maynard. (fn. 98) Having in 1638 acquired from Sir Edward the other lordships there (Beck, New, and Up Halls, and Little Isleham) with Lovells or Little Bernards farm, by mortgage, (fn. 99) Maynard in the 1640s bought out Sir Edward's son John's reversionary interest in them (fn. 100) and in 1653 that of another son, Thomas Peyton of Wicken, in Little Isleham and 'Lovells'. (fn. 101) By 1640 Maynard occupied Isleham Hall. (fn. 102)
Before his death in 1655 Sir John Maynard (fn. 103) in 1652 settled his Isleham estate on the marriage of his only son John, kt. 1660, (d. c. 1664), to Katherine Rushout. (fn. 104) In 1666 the widowed Dame Katherine Maynard was allotted c. 950 a. of fenland for the manorial rights in the waste. (fn. 105) Later that year, carefully reserving to her sole use the income of the Isleham estate, (fn. 106) whose lordships she retained formally until her death in 1694, (fn. 107) she married the Presbyterian politician Francis Buller (d. 1682), of Shillingham (Cornw.). Following his forfeiture in 1666 he took refuge with her. (fn. 108) By 1676 Dame Katherine had married her daughter Mary, the Maynard heiress, to Buller's eldest son Francis and settled the estate on them. (fn. 109) The younger Francis died, 16789. (fn. 110) Mary was successively remarried in 1682 to William Adams (d. s.p. by 1684) (fn. 111) and in 1686 to her mother's nephew, Sir Rushout Cullen, Bt. (fn. 112) Mary died in 1694, shortly before her mother with whom she dwelt at the Hall. (fn. 113) Sir Rushout retained the Isleham estate thenceforth until he died without issue in 1730. (fn. 114) The estate, whose reversion had been settled upon Mary's children by Francis Buller the younger, (fn. 115) two sons, both dead without issue by 1710, (fn. 116) next passed to John Francis Buller of Morval (Cornw.), grandson of John Buller (d. 1716), their father's uncle and heir-at-law. (fn. 117)
John Francis Buller, lord of Isleham from 1730 until his death in 1751, (fn. 118) was succeeded there in turn by his son James (d. 1765) (fn. 119) and by James's son John (d. 1793). That John's son John (fn. 120) offered the Isleham estate for sale in 1800. (fn. 121) It was apparently then bought by the Mortlocks, bankers of Cambridge. They sold c. 350 a. in 1806, and the rest of the estate in or before 1807 (fn. 122) to Robert Knight, of a family established at Isleham since the 1670s. (fn. 123) Recently installed as the Hall farm tenant, Knight already owned c. 65 a. in the parish. He probably died in 1814. In that year Robert Knight, his son and heir, (fn. 124) alienated the manorial rights to William Dunn Gardner (I), lord from 1815, (fn. 125) (d. 1831), to whose Fordham Abbey estate (fn. 126) they were still attached in the 1930s. (fn. 127) Almost no land went with the lordships; in 1847 Dunn Gardner's grandson and namesake had only a. in Isleham. (fn. 128) In 1962 Mrs. Miriam Leader, the last of the family, sold its Isleham lordships to Maj. D. C. W. Peyton (fn. 129) of Sanderstead (Surr.). From 1969 he organized at Isleham, at approximately octennial intervals, festivities attended by 4080 Peyton kin, linked by the Peyton Society of Virginia, who claimed descent from an emigrant son of Thomas Peyton of Wicken. (fn. 130)
After further sales, (fn. 131) Robert Knight, latterly of Freckenham (Suff.), retained a compact farm lying around the former Peyton manor house. It comprised in the late 1840s 412 a., including 145 a. allotted at inclosure. At his death in 1840 he left it to his son Robert, whose brother Edward Knight farmed it from the Hall. (fn. 132) In 1849 the younger Robert sold the south of that farm, 248 a., later renamed Chalk farm, to Edward Hicks, with whose Wilbraham Temple estate it passed until 1912, when the farm was sold to the county council. (fn. 133) Following other purchases between 1909 and 1921, and in 1950, to provide smallholdings, the council owned by the 1980s c. 410 a. in Isleham. (fn. 134)
The modern Isleham Hall, called c. 16001850 Great Bernards Hall, (fn. 135) but in the 20th century sometimes, mistakenly, St. Bernards Hall, (fn. 136) occupies the site, north of the former Newnham street, upon which had stood in the 1460s Thomas Peyton's manor house at Isleham, then called Bernards, once William Bernard's. It was eventually surrounded by c. 30 a. of ancient closes. (fn. 137) Of the late medieval hall (fn. 138) there survives only a south-western wing, perhaps a service range. The main portion of the house, probably early 16th-century, which was demolished c. 1800, lay east-west and extended east from the surviving building's north-east angle. That part, mainly of two storeys, had three- and four-light windows, mullioned and transomed, probably in brick, mostly under hoodmoulds. Its centre, perhaps two-storeyed, may have contained the hall on its lower floor, possibly with chambers in the three-storeyed part to its west. East of that block stood a twobayed section projecting southwards, added or reconstructed later, which had a tall, twostoreyed bay window, carved with the Peyton arms, in its western bay. A parallel range to its rear had a gable to the east. That east end contained a chapel in whose window armorial glass, including Peyton quartering Gernon, survived in 1746. Before 19th-century reconstruction the surviving lower south-west wing, of two storeys under a high-pitched roof, had shorter fourlight mullioned windows regularly alternating with two-light ones, but only two doorways. The less altered west side of that wing was built, also probably in the early 16th century, of clunch and red brick. One of two short extensions projecting behind it may represent a stair turret; another, possibly 17th-century, contains a probably contemporary staircase. To the north-west of that range stands a nine-bayed building of clunch, dressed in red brick, which retains its elaborate original 16th-century timber roof. (fn. 139) Though it has been remodelled as a barn, its side doors being much enlarged, the surviving door and window openings suggest that it may once have comprised two storeys, with lodgings over stables. The whole group of buildings was presumably the seat of the Peytons from the early 16th century to the 1630s. In 1545 it probably included a hall chamber, perhaps above the hall, and a parlour, besides Dame Elizabeth Peyton's own chamber and a private chapel. (fn. 140) In 1590 Robert Peyton died in a chamber there near his study or closet. (fn. 141)
It was probably the former Peyton mansion house which, leased in the early 1660s and occupied by Francis Buller by 1674, then had 267 hearths. (fn. 142) In the late 17th century that house may have been remodelled, perhaps for Dame Katherine Maynard; it was possibly enlarged behind the Tudor front, which, perhaps in that period, received a pedimented doorway below a platband. A painting formerly at the Hall, possibly of the north front, showed a large redbrick house in late 17th-century style with a Palladian window, standing in a Dutch garden. (fn. 143) It was perhaps then, too, that the south-west range was given the dormered roof visible in the 18th century. When offered for sale c. 1798, the mansion included a hall, two parlours, large drawing and breakfast rooms, and five bedrooms. (fn. 144) After the estate was finally sold, the 'old hall' was mostly pulled down by 1806. Robert Knight converted part, presumably the surviving south-west wing, into a farmhouse, probably then giving the pre sent east front its six bays of sash windows. The long unoccupied 'mansion house', supposedly built 130 years before, was demolished in 1807. The materials then sold included brick, freestone, lead, much wainscot, sash windows, and six marble fireplaces. (fn. 145)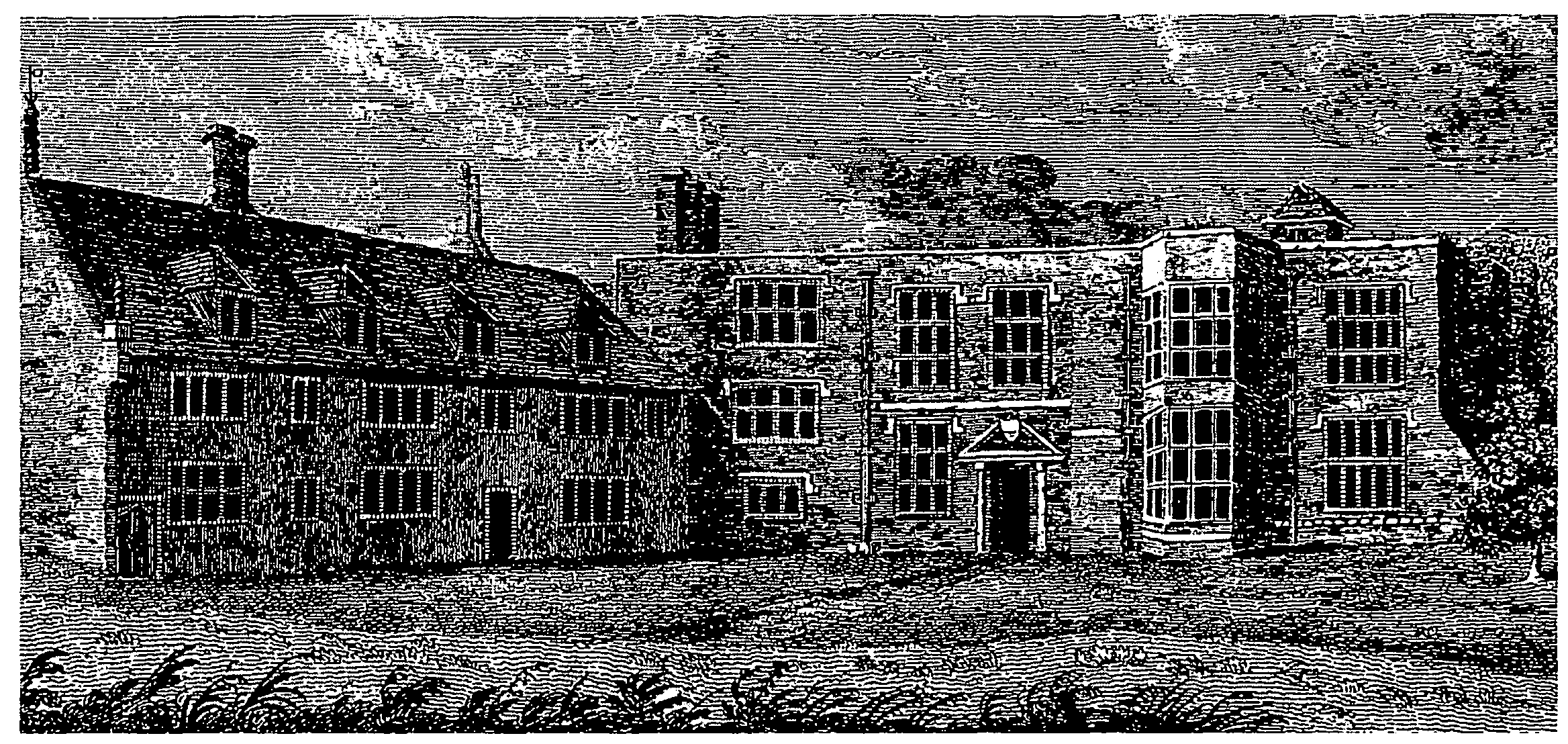 Separated from all but 56 a. of the former manorial farm after 1850, (fn. 146) the reduced Hall again became in the late 19th century a home to substantial Isleham landowners drawn from the Robins family. Richard Robins (d. 1844) had some land by 1829. His son George Fletcher Robins, merchant and farmer, owned 47 a. in the 1840s, besides his King's College lease. He also inherited from his father the Red House east of the south end of Mill Street. (fn. 147) Built c. 1830, it is a large redbrick house of three wide bays with sash windows and an iron porch, and was later given a similar lower extension; a fourstoreyed wing, mostly of flint, partly used as maltings, was added behind. (fn. 148) Having also eventually bought Isleham Hall and its land, previously sold c. 1856, G. F. Robins was by 1872, with 506 a., Isleham's largest resident landowner. (fn. 149) After he died in 1894 his Isleham property was divided among his three sons. (fn. 150) In 1910 George Frederick Robins of the Red House (fl. to c. 1930) owned 447 a. there. The eldest son, Richard Thomas, who had occupied Isleham Hall from the 1870s, owned 260 a., besides his leased land, and the youngest, George Bentinck Robins, 147 a. (fn. 151) The Hall was vacated (fn. 152) after R. T. Robins died in 1933. (fn. 153) The Robins family's Isleham lands were sold off by the heirs R. J. Robins and A. R. Robins between the mid 1930s and the 1940s. The Hall with much of the land was acquired by the Clarkes, still large landowners and farmers there in the 1990s. (fn. 154) In the 1960s the Hall, declining into disrepair, was divided into three dwellings, by the 1980s into six. (fn. 155)
Much of the originally royal manor in Great Isleham came eventually to Cambridge colleges. By the 1110s Alan son of Flaald had probably granted to the Breton abbey of St. Jacut-dela-Mer or de l'Isle (Ctes-du-Nord), an estate that later included, along with the tithes of his Isleham demesne, a messuage, where St. Margaret's chapel was later built for a cell of Breton monks soon settled there, and 100 a. of Isleham land. (fn. 156) Early in the 13th century, perhaps in the 1220s, (fn. 157) the seat of that alien priory was moved to their appropriated church at Linton. (fn. 158) The monks retained their Isleham manor (fn. 159) until progressively dispossessed by the Crown from the 1340s. (fn. 160) Custody of their Isleham lands was usually assigned, with those at Linton, to successive Crown lessees (fn. 161) until Henry VI finally granted the Isleham estate in 1440 to Pembroke College, Cambridge. (fn. 162)
That college retained the priory farm there, reckoned as c. 103 a. of fieldland, to which 15 a. of fen were added from the 1660s, (fn. 163) into the 20th century. From the mid 16th century the PRIORY land was held on beneficial leases, by 1550 to Sir Robert Peyton, (fn. 164) soon after to local men, including in the early 17th century the Lukyns, the main farmers of the Peyton estate. (fn. 165) Between 1658 and 1690 it was leased to the lawyer Littleton Osbaldeston, cr. Bt. 1664 (d. 1691), (fn. 166) later c. 17651805 to the Bullers. (fn. 167) Pembroke supposedly owned 129 a. altogether in 1807 (fn. 168) and at inclosure in 1854 was allotted 66 a. for its fieldland. (fn. 169) Thereafter the college had 94 a., (fn. 170) largely sold in 190910 to the county council. (fn. 171)
From the 1460s (fn. 172) the college kept the priory site and the adjoining Priory close (5 a.), which it retained after 1910, as its farmstead, apparently using the former chapel as its tithe barn. (fn. 173)
Just before his death in 1160 William son of Alan gave to St. Peter's abbey, Shrewsbury, land at Isleham worth 100s., (fn. 174) represented in 1279 by 96 a. of demesne with lordship over c. 45 a. of rent-paying freehold. (fn. 175) The abbey kept that land, at farm by the 1250s, (fn. 176) over which Henry III granted it free warren in 1256, (fn. 177) until 1448. Shrewsbury then ceded that land to Henry VI, to be given to King's College, Cambridge, (fn. 178) to which Henry formally granted the estate in 1451. (fn. 179) The college continued to own SHREWSBURY manor, (fn. 180) from the mid 16th century letting on beneficial leases (fn. 181) its 88 a. of fieldland, augmented from 1666 with 50 a. of allotted fenland, (fn. 182) and for which 94 a. were allotted at inclosure in 1854. Of the 144a. farm owned by the college thereafter, (fn. 183) at least half, 75 a., was sold in 1935 to the Robins family, (fn. 184) the lessees since c. 1840. (fn. 185) The college retained its manorial lordship, in 1873 exercised over c. 58 a. of copyhold, until its sale in 1995 to a Canadian. (fn. 186) A manorial farmstead, formerly the abbey's, standing c. 1468 south of the middle part of East street, (fn. 187) was abandoned after the 1750s. The empty 5-a. Dog Kennel close, probably representing the abbot's meadow off Newnham street, mentioned in the 1460s, remained with the college c. 1800. (fn. 188)
Other substantial Isleham estates derived from a manor held from the late 11th century by the bishops of Rochester, depending on their neighbouring manor in Freckenham (Suff.). No evidence survives that they possessed it before the 1070s. (fn. 189) King William I gave Freckenham to Archbishop Lanfranc who assigned it, probably in 1077, to the newly appointed Bishop Gundulf of Rochester. (fn. 190) The bishop shortly afterwards claimed land in Isleham, including hide previously possessed in 1066 by King Edward's huntsman Wulfwine and 1 hide then occupied by 12 sokemen under Thurbert, (fn. 191) as dependent on Freckenham, since its lords had formerly received rent from the Isleham holdings. Picot the sheriff, who claimed that land as the king's and had given it to a king's servant named Ulfkytel, intimidated the Cambridge shire court jury into finding against the bishop. After further investigation, however, Odo, bishop of Bayeux, probably before 1080, awarded the Isleham land to Bishop Gundulf, (fn. 192) who in 1086 held the 1 hide under Archbishop Lanfranc. (fn. 193)
The bishops of Rochester did not long keep Isleham in demesne. By the early 12th century their tenants by knight service included Gerard of Isleham, (fn. 194) the predecessor of those who from the 1230s held that manor as knight's fee. (fn. 195) Although the bishop of Rochester alienated Freckenham manor in 15378, (fn. 196) his lordship over the Isleham fee continued formally to be recognized until after 1600. (fn. 197)
By 1222 that fee had passed to Robert son of William, tenant of 1 hides c. 1235, (fn. 198) who was probably recorded locally from 1200. (fn. 199) It descended in successive generations to his son, Henry fitz Robert of Isleham, (fn. 200) and by 1279 to Henry's son Henry (fn. 201) (d. after 1286). (fn. 202) Their male line probably expired soon after. (fn. 203)
By 1302, perhaps from c. 1286, the Rochester fee was held by John Walkefare. (fn. 204) John was succeeded c. 1310 by his son Robert Walkefare, kt. by 1314 (fn. 205) and lord by marriage of Great Ryburgh (Norf.). (fn. 206) A vigorous supporter of Edward II's opponents, (fn. 207) Sir Robert was imprisoned from 1322; (fn. 208) the king granted his forfeited Isleham land, c. 65 a., in 1326 to Roger de Wateville. (fn. 209) Sir Robert recovered that manor when Edward fell in 1326, (fn. 210) and was granted free warren over his Isleham demesne in 1332. (fn. 211) In 1328 he had secured a lease of Great Isleham manor from Florence de la Mare during her life. (fn. 212) He died late in 1333. His heir, his eldest son John, just of age, (fn. 213) died in 1345, holding two thirds of the Rochester manor. His mother Margaret had the rest, besides 60 a. held of other fees there, jointly with John's wife Eupheme (ne Comyn). Eupheme, who apparently survived their son John (b. c. 1336), retained Isleham (fn. 214) until her death in 1361. The probable heir, her husband's next brother Sir Richard Walkefare, (fn. 215) allowed his younger brother Thomas, kt. by 1350, to succeed to the Isleham manor by 1363. (fn. 216) Sir Thomas, who served the Black Prince in Aquitaine, (fn. 217) was hanged by the French in 1370. (fn. 218) Sir Richard had died earlier that year. His daughter and heir Eleanor and her husband, Sir John le Strange of Hunstanton (Norf.), released the Walkefares' Norfolk lands in 1384 to Joan, widow of Sir Thomas Felton K.G. (d. 1381), with whom Joan may have occupied them since 1370. (fn. 219) Felton and Joan may have kept some interests at Isleham, attached to their neighbouring manor in Fordham. (fn. 220)
The Rochester fee was shortly divided. By 1416 the BEK manor, which included lordship over land in Isleham and Freckenham (Suff.), but little demesne in Isleham, (fn. 221) was occupied by Sir Thomas Waweton (d. after 1450) for his wife Maud's life. The reversioner, the lawyer Sir Thomas Skelton died in 1416, having just enfeoffed Isleham to his executors. (fn. 222) It was probably they who sold it to John Woodhouse of Reydon (Norf.), a prominent servant of the Lancastrian kings. (fn. 223) At his death in 1431 Woodhouse left BECKHALL 'half manor' in tail to his fifth son Thomas, (fn. 224) of age in 1443. When Thomas died without issue in 1452, holding it of the bishop of Rochester, the Bek manor passed to his second eldest brother John, next in the entail, of Kimberley (Norf.). (fn. 225) That John died in 1466 and his son and heir Sir Edward in 1487. Edward's son Sir Thomas (fn. 226) was succeeded in the late 1520s by his son Roger Woodhouse, (fn. 227) who in 1531 conveyed Beckhall manor to feoffees for John Bowles (fn. 228) of Wallington (Herts.). (fn. 229)
About 1468 John Woodhouse the younger's Isleham estate had included a house, once Skelton's, south of East street and east of Bowes lane, besides inclosures around his 'manor of the Bek' near the Freckenham boundary to the south-east. (fn. 230) Still partly called in the 1850s the Beck closes, (fn. 231) that land lay near the modern Beck bridge.
Bowles already owned from 1522 another, larger portion of the Rochester fee, called by 1500 NEWHALL manor. (fn. 232) Sir Thomas Walkefare's rights in it had passed with most of the demesne, allegedly by marriage to a Walkefare heiress, to John Borley, (fn. 233) recorded at Isleham by 1383, then to John Borley the younger. Both were active there in 1399. (fn. 234) It was probably the younger John who held the Rochester fee in 1428. He died after 1442. (fn. 235) Probably by 1449, (fn. 236) that manor belonged to Robert Borley (fn. 237) (d. c. 1475). (fn. 238) Grace, one of his two daughters and heirs, had then recently married Richard Stuteville (d. 1506) of Dalham (Suff.), who received 62 a. at Isleham with her. He was probably in possession by 1484 (fn. 239) of Newhall manor. Their son Thomas Stuteville (d. 1514) sold it in 1514 with 100 a. of arable, to John Rycroft, serjeant-at-law, from whom it passed to Bowles. (fn. 240)
Sir Robert Walkefare's Isleham manor house off East street, to enlarge whose inclosure he diverted in 1330 a path to the church, (fn. 241) was probably represented c. 1468 by Robert Borley's manor house called 'Borle's place', once the Walkefares', which stood south of the middle of that street. (fn. 242) In 1556 the Newhall 'mansion house' when briefly occupied by George Freville, then lord, included a new gallery. (fn. 243)
Serjeant Rycroft also bought in the 1510s LITTLE ISLEHAM manor, probably representing the hide held in 1086 by Geoffrey under Count Alan, lord of Richmond. (fn. 244) Mesne lordship over it belonged probably by the 1260s to the Burghs, lords of Burrough Green. (fn. 245) The superior lordship over Little Isleham of the honor of Richmond, of which John of Burton was said to hold knight's fee at. Isleham in 1282, (fn. 246) was recognized into the mid 15th century, (fn. 247) and the Burgh mesne rights still in 1509. (fn. 248)
About 1235 Walter son of Richard held 88 a. at Little Isleham, half of Great Isleham manor, half of the Burgh fee, presumably of the honor of Richmond. (fn. 249) By 1279 Walter's heirs, Maud de Somery and Walter son of Robert, held the land of Thomas de Burgh under that honor, probably with 80 a. held of Great Isleham manor; each heir occupied only a messuage and 12 a. (fn. 250) By 1285 Robert Baynard, a Somery successor at Sawston, held, apparently in right of his wife Felise, a 'manor' at Isleham, whose reversion he then sold to the judge John Lovetot. (fn. 251) In 1293 Lovetot, of whom that 'manor' was then held for life, sold the reversion to Roger Bernard. (fn. 252) The demesne of that manor, possibly alienated, may be represented by land, perhaps inherited from John of Sawston, apparently tenant by 1255, by his son William of Sawston, who held 106 a. of Maud at Isleham in 1279. (fn. 253) When William died in 1308, his 100 a. there, then held of Roger's son William Bernard, descended to Sawston's son John. (fn. 254) That holding was possibly represented c. 1465 by 60 a., perhaps once Ralph Sawston's held by John Woodhouse the younger freely of Bernards manor, then Thomas Peyton's. (fn. 255) In 1306 Roger Bernard settled the reversion of over 50 a., apparently Little Isleham manor, on his younger son Martin Bernard, in possession by 1309. (fn. 256) Martin, who still owned it in 1349, (fn. 257) was Isleham's village's wealthiest taxpayer in 1327. (fn. 258) John Bernard of Little Isleham, its owner by 1370, alienated that estate in 1380 in trust for the senior line of his family. (fn. 259) Master John Bernard apparently possessed Little Isleham until his death c. 1430. (fn. 260) It was separated from the former Bernard estate by 1504, when Thomas Bernes devised his manor, then called 'Little Isleham and Gays', from 1512 to his son Edward. (fn. 261) In 1512 Edward enfeoffed that manor and his other Isleham property, over 100 a. of farmland, for John Fisher, bishop of Rochester, and other executors of Lady Margaret Beaufort, (fn. 262) presumably for endowing St. John's College, Cambridge. (fn. 263) Instead they sold that manor with the chapel in 1514 to John Rycroft, (fn. 264) who in 1522 sold Newhall and Little Isleham manors to John Bowles. (fn. 265)
John Bowles died in 1543, having settled his lands, including three Isleham manors, Newhall, Little Isleham, and Beckhall, on his dead eldest son Richard's eldest son Thomas Bowles. (fn. 266) In 1549 Thomas sold those three manors and almost all his lands there, with up to 500 a. of arable, to the lawyer George Freville, then of Isleham, (fn. 267) to whom Thomas Bernes of Soham released Little Isleham manor in 1554. (fn. 268) In 1556 Freville, then also lessee of Shrewsburys under King's College, Cambridge, sold his whole freehold Isleham estate to Robert Peyton (d. 1590). (fn. 269)
The remaining ancient manor, called by c. 1500 UPHALL manor (fn. 270) probably derived from the hide in Isleham held in 1066 by Ordgar, then sheriff of Cambridgeshire, and by 1086 by Hugh de Port, lord of Snailwell. (fn. 271) Hugh later gave it with Snailwell to William de Percy (fn. 272) (d. c. 1100). Their son Alan de Percy (d. 1130 1135), (fn. 273) perhaps confirming a gift by his mother Emma, gave, possibly c. 1120, two carucates at Isleham to Whitby abbey (Yorks. N.R.). (fn. 274) Though confirmed to Whitby not only by King Stephen c. 1136, but by Edward II, (fn. 275) the Isleham estate no longer belonged to that abbey in the 13th century. (fn. 276) It may have been acquired by Ely priory, which had land at Isleham by the mid 1140s. (fn. 277) The priory was buying land in Isleham from the 1220s, some from Henry son of Robert, a Rochester tenant. (fn. 278) By c. 1235 it had an estate there, held in free alms, of one hide, including in 1279 120 a. of demesne. (fn. 279) The priory retained Uphall manor until its surrender in 1539. (fn. 280) It was not then granted to the newly founded dean and chapter of Ely, but retained by the Crown. A 60-year lease granted by the priory in 1536 to William Lukyn (fn. 281) belonged with at least 46 a. to Robert Peyton (d. 1590) by c. 1588 when he renewed it. (fn. 282) In 1592 his son John bought a reversionary interest in Uphall manor granted by the Queen in 1591 to a groom of her privy chamber. (fn. 283)
Between 1310 and 1330 Ely priory bought several houses, some held of its manor, standing close to its own house, perhaps its original manor house, on East street. (fn. 284) It still owned a house towards the east end of the street c. 1468. (fn. 285)
Despite having alienated Isleham manor, the bishop of Rochester retained a substantial holding in Isleham until the mid 19th century through his ownership of the appropriated rectory, (fn. 286) let from the 16th century on beneficial leases. (fn. 287) About 1552 Dame Frances Peyton, widow of Sir Robert (d. 1550), acquired a parsonage lease of 1536, which in 1582 she bequeathed in reversion to her son Robert. (fn. 288) It probably remained with the Peytons until Sir Edward Peyton mortgaged it c. 1637. (fn. 289) A new lease of 1640 passed by mortgage in 1656 to the Casbornes, (fn. 290) a family of minor gentry who probably still had it in the 1710s. By 1723 their financial troubles had forced its alienation to Edward Russell, earl of Orford. (fn. 291) With his Chippenham estate the Isleham rectory lease, regularly renewed, descended in 1727 to his grand-niece Letitia and her husband, Samuel Sandys, later lord Sandys. (fn. 292) After his death in 1770 and Letitia's in 1779, it passed to their daughter Letitia (d. unm. 1780). She left it successively to her sister Anne (d. s.p. 1797), wife of Christopher Bethell of Dyrham Park (Mdx.), and then to the Hon. Thomas Windsor, R.N., (fn. 293) a grandson of Lady Sandys's sister Catherine Archer. (fn. 294) Thomas held it until his death in 1832, after which under his will it passed in turn to his younger brothers Andrew (d. s.p. 1837) and Henry (d. s.p. 1843), successively earls of Plymouth. (fn. 295) Subsequent beneficiaries entitled to the rectorial income included successively their sister Elizabeth's youngest sons John (d. 1856) and Joseph Townsend (d. 1870), and finally Capt. William Skipwith (d. 1907), son of the Townsends' sister Harriet and Sir Grey Skipwith, Bt. (d. 1852). (fn. 296) Besides the rectorial glebe, their Isleham estate included another 98 a. by 1847, when the tithes were commuted. (fn. 297) When the last beneficial lease expired in 1905, the Ecclesiastical Commissioners, the legal owners since 1869, took possession of the rectorial estate. (fn. 298) They sold its land in 1913 to the county council. (fn. 299)
By 1279 the Knights Templar had at Isleham a house and 7 a. held in free alms of Ralph 'des Assarts', (fn. 300) which they granted at farm in 1293 to Roger Bernard. (fn. 301) In 1325 the Knights Hospitaller, who from the early 13th century had acquired other houses at Isleham which were attached to their preceptory at Chippenham, (fn. 302) and had lately received the confiscated Templar estates, confirmed that property to Gilbert Bernard. (fn. 303) The Hospitallers, who had a grange opposite the churchyard c. 1348 and retained their Isleham holding until the Dissolution, (fn. 304) still c. 1468 possessed the 7-a. close at the former east end of the village closes, called then and into the 20th century the Temple. (fn. 305) That name led c. 1935 to excavations in a rectangular moated earthwork there, 85 by 65 ft., possibly the site of the Templars' Isleham farmstead, which yielded 14th-century pottery at one of its corners. (fn. 306)