Pages 63-69
A History of the County of Cambridge and the Isle of Ely: Volume 10, Cheveley, Flendish, Staine and Staploe Hundreds (North-Eastern Cambridgeshire). Originally published by Victoria County History, London, 2002.
This free content was digitised by double rekeying. All rights reserved.
MANORS AND ESTATE.
By the 11th century the parish was a single manor, which in the Middle Ages had a castle but was usually owned by non-resident noblemen. Kirtling manor, Bansteads manor (really a freehold estate), and the rectory estate were all acquired by the North family in the mid 16th century. Thereafter they formed the Kirtling estate, which covered c. 3,000 a. in Kirtling, Ashley, and Woodditton, and was centred initially on Kirtling Hall and from the 1830s on Kirtling Tower. The estate belonged to members of the North family until 1941, and in 2001 was owned by Lord Fairhaven.
The thegn Oswi and his wife Leofflaed gave KIRTLING to Ely abbey c. 1000, but their gift was probably never effective, (fn. 1) and the manor belonged later to Earl (afterwards King) Harold (d. 1066). William I gave it to his niece Judith (d. after 1086), (fn. 2) whose younger daughter and coheir Alice took it on her marriage in 1103 to Ralph de Tony (IV) (d. c. 1126). (fn. 3) Part or all of it was probably held in 1086 by the Englishman Frawine of Kirtling. (fn. 4)
Ralph de Tony (IV) was followed by his son Roger (III) (d. after 1157), on the death of whose son Ralph (V) in 1162 Kirtling came to the king as guardian of his son Roger (IV). It was treated as a royal manor in 1168 (fn. 5) and in 1177 was perhaps held by Roger de Portes, (fn. 6) a baron of the Tony honor in England and Normandy. (fn. 7) Roger de Tony (IV) (d. 1209) was succeeded by his son Ralph (VI) (fn. 8) (d. 1239). Until his son Roger (V) came of age in 1256 his lands were in the custody of Queen Eleanor and on lease to his mother Parnel. (fn. 9) Roger died in 1263 or 1264. Between the battles of Lewes in May 1264 and Evesham in August 1265 Kirtling manor was assigned to Maud of Clare, countess of Gloucester, and the castle to Henry of Hastings, (fn. 10) but in 1265 both were restored to Roger's son Ralph de Tony (VII) (fn. 11) (d. 1295). Ralph's son Robert, of age in 1297, (fn. 12) died without issue in 1309.
Robert's heir was his widowed sister Alice, (fn. 13) who owned Kirtling with her second husband Guy de Beauchamp, earl of Warwick (married 1310, d. 1315), (fn. 14) then with her third, William la Zouche de Mortimer (married 1316 or 1317). After she died in 1324 or 1325, Zouche held it by the curtesy until his own death in 1337. It then reverted to Alice's son Thomas de Beauchamp, earl of Warwick. (fn. 15) In 1344 Thomas entailed Kirtling on his male descendants, (fn. 16) so that on his death in 1369 it passed with the earldom to his only living son Thomas. (fn. 17) Upon Thomas's forfeiture for opposition to Richard II in 1397 the manor was given to the king's henchman Sir John Bussy (executed 1399), (fn. 18) the earl being restored by Henry IV in 1399. (fn. 19) After Earl Thomas's death in 1401 Kirtling was held by his executors for a year under an earlier grant, (fn. 20) then was among the manors assigned as dower to his widow Margaret; (fn. 21) at her death in 1407 it descended to their son Richard Beauchamp, earl of Warwick (fn. 22) (d. 1439), whose son Henry (fn. 23) (cr. duke of Warwick 1445) died in 1446. (fn. 24) His widow Cecily held the manor in 1447 (fn. 25) but their infant daughter Anne, countess of Warwick, owned it at her death in 1449. The child's heir was her father's sister Anne, wife of Richard Neville, (fn. 26) who were created earl and countess of Warwick in 1450, and settled Kirtling in 1466. (fn. 27) After Richard's death in 1471, it passed by 1472 to their elder daughter Isabel and her husband George Plantagenet, duke of Clarence, anticipating the Act of 1474 which divided Anne Neville's lands between George and her other son-in-law. (fn. 28)
Kirtling presumably passed after Isabel's death in 1476 and George's execution in 1478 to their infant son Edward Plantagenet, earl of Warwick, whose lands were held as guardian successively by Edward IV, Richard III, and Henry VII. The last evidently conveyed Kirtling in 1487 to Edward Plantagenet's grandmother Anne Neville in the general restoration of her estates, (fn. 29) since it was among the manors which she immediately conveyed back to the king. (fn. 30)
The Crown kept Kirtling (fn. 31) until 1514, when Henry VIII granted it at a fee-farm rent of £33 6s. 8d. to the courtier Sir John Sharp. (fn. 32) Sharp held courts from 1514 (fn. 33) and left the manor by will proved 1519 to feoffees for his friend Isabel Damme. (fn. 34) After 1526 Sharp's residuary legatee, his nephew Robert Brown, bought out Isabel's life interest for an annuity and in 1533 sold the manor to the rising courtier Edward North. North bought the fee-farm rent due to the Crown in 1535, and in 1536 obtained an Act of Parliament to secure his title (which was perhaps doubtful on the grounds that Anne Neville had conveyed it to Henry VII in fee tail). (fn. 35) He was knighted in 1542 and created Lord North of Kirtling in 1554, the estate thereafter descending with the title. (fn. 36)
Edward, 1st Lord North, settled Kirtling on his son Roger in 1563 and died in 1564. (fn. 37) Roger, 2nd Lord North, outlived his eldest son John (d. 1597), and on his death in 1600 was succeeded by John's son Dudley. (fn. 38) Dudley, 3rd Lord North, in 1629 settled the estate after his death on his wife Frances in trust to permit their eldest son Dudley to rent it from her at £850 a year; he died in 1666. (fn. 39) In 1669 it was resettled to provide Frances's annuity, with the reversion to Dudley, 4th Lord North. (fn. 40) Frances died in February 1677 and Dudley in June, when Kirtling passed to his son Charles, 5th Lord North and Grey. He died in 1691 with perilous finances, (fn. 41) and his son William, 6th Lord North and Grey, a minor, went to Chancery in 1692 to secure effective possession against his mother and her third husband Francis Russell. (fn. 42) William was a Jacobite exile from 1723 and died abroad in 1734. Kirtling was part of his widow Maria's jointure and she and her second husband Patrick Murray, Lord Elibank (married 1735), retained it until her death in 1762. (fn. 43)
The 6th Lord North had no legitimate children, and the estate passed in 1762 to his cousin's son Francis North of Wroxton Abbey (Oxon.), earl of Guilford and 7th Lord North. (fn. 44) He died in 1790, being succeeded by his son Frederick, earl of Guilford and 8th Lord North, the former prime minister (d. 1792). His widow Anne, who held Kirtling as dower, died in 1797, when the estate came to their son George Augustus North, earl of Guilford and 9th Lord North (d. 1802). The North barony fell into abeyance between his daughters but Kirtling, Wroxton, and the earldom passed in turn to George's brothers Francis (d. 1817) and Frederick (d. 1827). (fn. 45)
Kirtling and Wroxton then went to the eldest daughter of the 9th Lord North, Maria, and her husband John Crichton-Stuart, marquess of Bute. When she died in 1841 they passed to her half-sister Susan and her husband J. S. North (formerly Doyle); at the same time Susan became Lady North in her own right. She died in 1884 and was succeeded by her son W. H. J. North, 11th Lord North (d. 1932), (fn. 46) from whom Kirtling passed to his son W. F. J. North, 12th Lord North (d. 1938). (fn. 47) Probate of his will was granted to the public trustee, who sold the Kirtling estate in 1941 on behalf of J. D. North, 13th Lord North and grandson of the 12th Lord North, to U. H. R. Broughton, 1st Lord Fairhaven (fn. 48) (d. 1966), of Anglesey Abbey, who was succeeded as owner and in the peerage title in turn by his brother H. R. Broughton (d. 1973) and the latter's son A. H. G. Broughton, (fn. 49) who owned the estate in 2001.
Kirtling castle and its 16th-century successor Kirtling Hall stood next to the present house, Kirtling Tower, on a flat-topped spur in the centre of the parish. The Tower consists of the Hall's 16th-century gatehouse and a Victorian wing; adjoining it to the north is the site of the main part of the Hall, within three arms of a moat. That site was almost certainly occupied by a manor house or castle in 1086, when the park to its north already existed, (fn. 50) and is likely to be that of a pre-Conquest manor house. (fn. 51) The parish church, which includes 11th-century fabric and originally had a plan arguably characteristic of late Anglo-Saxon work, stands immediately north of the moat. The high rectangular mound on which the Hall was built may be the enlarged and reshaped earthworks of a Norman castle: Kirtling was the capital of Countess Judith's Cambridgeshire estates in 1086 and from the early 12th century a centre for the Tony family. (fn. 52)
Kirtling castle was first documented in 1219. (fn. 53) It had a moat crossed by a bridge in 1260 (fn. 54) and an encircling ditch and palisade in 1310. (fn. 55) In 1337 it was described as a forcelet, (fn. 56) which perhaps implies the absence of stone defences and keep. The wall was repaired in 1392. (fn. 57) The only buildings recorded before 1400 are the 'ruined and wasted' houses reported in 1337, (fn. 58) but the castle was inhabited at various times in the 13th and 14th centuries. (fn. 59) In the early 15th century the buildings included hall, kitchen, and chapel, (fn. 60) and the 'longhouse' outside the moat. (fn. 61) In 1424 a new hall was built inside the moat for the earl of Warwick by a carpenter from Saxon Street using 100 oaks and 10 ashes from Kirtling park; it was to have a parlour, solar, and two chambers at its east end, and a pantry, buttery, and passage leading to the kitchen. (fn. 62) By then there were clearly several other buildings within the moat. (fn. 63) In 1528 Robert Brown retained the use of the parlour and two chambers over it when he leased the rest of the house to a gentleman from nearby Little Bradley (Suff.). (fn. 64)
Edward North's construction of a new and much larger house probably began after Brown's lease ended in 1537. (fn. 65) It involved massive reshaping of the earthworks by Francis Adams, probably in two phases, before 1549 and in 1556-8. A platform 35 m. square was created for the house, raised 6 m. above the garden by two steps on the west and three on the other sides. The outer edge of the platform measured 70 m. from north to south and tapered from 65 m. to 60 m. across from east to west. Immediately west of the platform Adams filled in a second moat (presumably the former castle ditch). Further away from the house the outer moat was filled in south of the new house and widened to 25 m. and deepened on the east and north. (fn. 66) The pace of building work on the house is unknown in detail, and parts of the existing castle buildings may well have been retained. A coppice wood near by had large quantities of underwood cut for building work (perhaps for firing brick kilns) before 1548, (fn. 67) and the main part of the house, including a gallery and a lodging, was complete and gardens had been laid out by 1556. (fn. 68) The house was implied in the 1580s to have been entirely built by Edward North (d. 1564), (fn. 69) and certainly when Elizabeth I visited in state in 1578 only minimal building work was needed, on a banqueting house probably not in the main courtyard and on new kitchens, besides 'trimming up chambers and other rooms'. (fn. 70)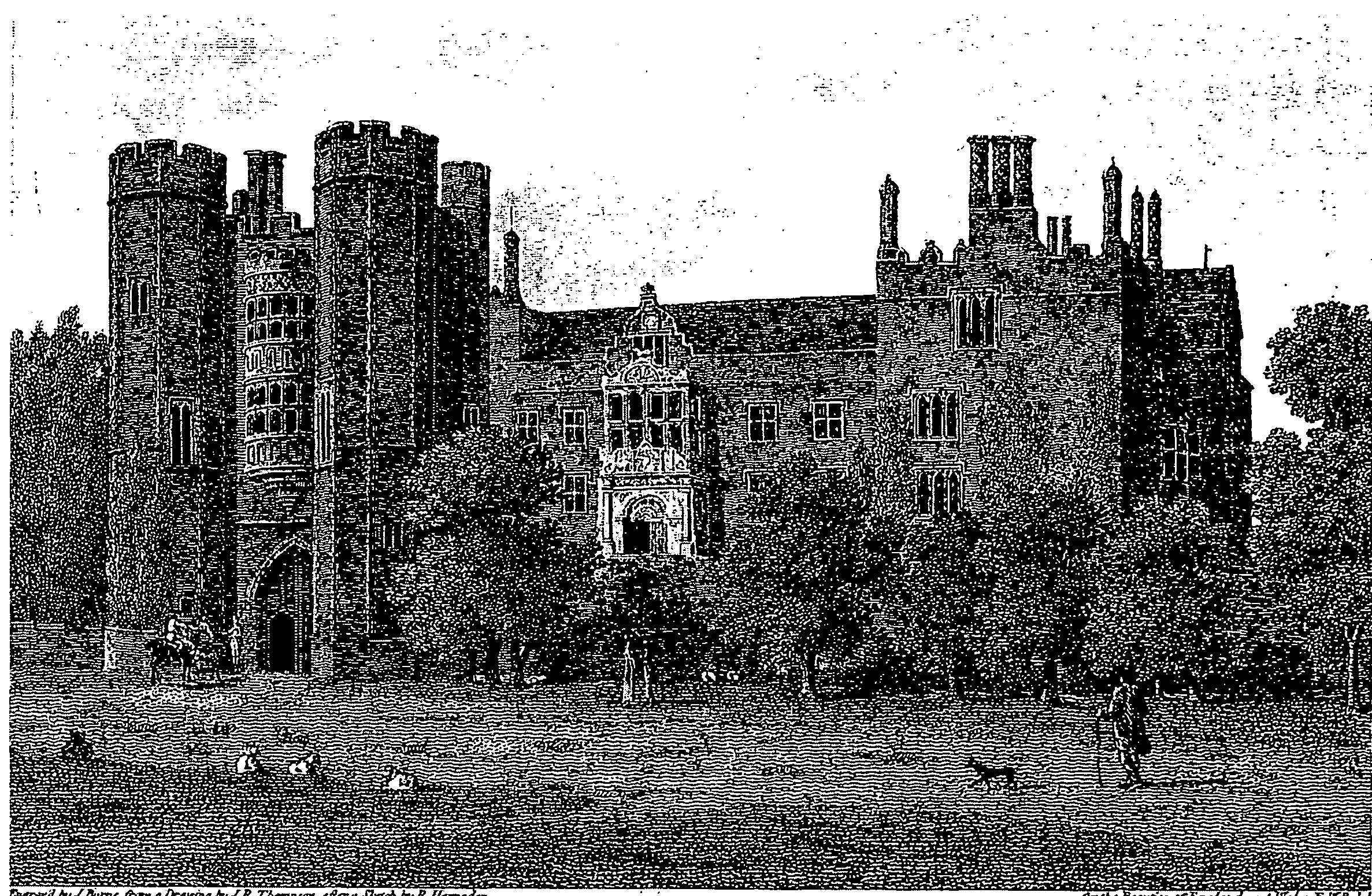 In its final form Kirtling Hall was large and complicated. By the 1660s it had 60 hearths and was the largest country house in Cambridgeshire. (fn. 71) The only surviving part after 1801 was the free-standing three-storeyed gatehouse, built of red brick enlivened by diaper-patterned blue headers and limestone dressings. It has higher octagonal turrets at the corners, fat to the front and slender to the rear. The battlemented roofs and two-light turret windows were conservative elements for the date, but above the south gateway is a double-height oriel window of sophisticated Italian-influenced design. The gatehouse has affinities with that built at Leez Priory (Essex) by Richard Rich, a friend and colleague of Edward North. (fn. 72) In the late 17th century it had a dovecot on the roof of the southwest turret and a small and low building against the west side. (fn. 73)
From the gatehouse a flight of stone steps led up to a narrow terrace and the principal south front of the house. (fn. 74) The main range was symmetrical and of five bays and two storeys with attics, recessed slightly behind a projecting east wing but flush with the south gable of the west wing. The double-height stone porch and square window above were added in 1572.
The entrace hall, perhaps on the far side of a small courtyard from the stone porch, led into an anteroom which opened into the screens passage at the west end of the great hall, whose dais end on the east (or a chamber behind the dais) projected beyond the east range, with an oriel window to the south. The hall evidently stood over an undercroft (fn. 75) and had its fireplace on the south side and windows high in the north wall. It may well have stood on the site of the late medieval hall, or even have been a remodelling of it, since it had the same alignment. (fn. 76) The east wing contained the main staircase south of the hall, and a double-height chapel to the north, together with (in 1692) the great and little parlours and the main dining room. The ground floor of that wing terminated to the north in what in 1692 was called the 'oyster room', evidently in the lower storey of a polygonal tower. (fn. 77) The east front of the house was thus irregular in appearance. The shorter west range, also irregular, included the kitchens and other service rooms forming what was later described as a 'bewildering maze'. The north range, closing a second courtyard which contained a well, was deeply set back behind the projecting north-east polygonal tower. Called 'the new buildings' in 1692 and containing three ground-floor rooms probably arranged in file, it was evidently built in 1664 or 1665. (fn. 78) In the late 17th century the house also included an armoury, a music room, a library, two new bathing rooms, and a billiard room. (fn. 79) The house was little used after 1691, when part of the furniture was sold to pay Charles, Lord North and Grey's debts and the rest was left to his widow rather than his heir, William. (fn. 80) Some repairs were undertaken in William's time, (fn. 81) but by 1735 the house was in disorder. (fn. 82)
In 1748 Kirtling Hall was reduced in size and made habitable by the London builder Charles Ross for Lord and Lady Elibank (but at the expense of Francis North, earl of Guilford). Ross pulled down the kitchen wing on the west, the 17th-century range on the north, a back staircase tower at the north-east corner, and a range in the centre of the house called the gallery building. The south front was left intact, though its attic windows were probably blocked up, and a new kitchen and other offices were built in the same style behind it on the west. Rooms newly fitted up included servants' quarters and a library for Lord Elibank. (fn. 83)
Little used for some time before Lady Elibank's death in 1762, (fn. 84) the house then fell into disrepair and by the 1770s was considered uninhabitable and unlettable without heavy expenditure, occupied only by a housekeeper in the kitchen wing. (fn. 85) It was demolished in 1801. (fn. 86)
In the early 1830s the gatehouse, renamed Kirtling Tower, was converted to residential use and extended at the rear as a shooting box for the marquess of Bute, and for use, at least in the early years, by the agent and the vicar. (fn. 87) A fourbay red-brick east wing in Tudor style was added in 1872 by the architect J. A. Hansom to provide extra entertaining rooms and bedrooms. (fn. 88) Part of the mound behind was cut away to make space for the extensions. The Norths used the house, mostly as a secondary residence, until c. 1940. Occupied by tenants of the Fairhavens after 1945, the Tower fell into disrepair until it was refurbished in the early 1990s. In 1999, intending to move from Anglesey Abbey, the Fairhavens obtained planning permission to replace a single-storeyed extension on the west of the house, probably of the early 20th century, with a new wing. (fn. 89)
A courtyard containing stables and other offices stood south-east of the house by 1587-8. (fn. 90) In the 1730s it evidently continued to house the hall's bakehouse, wash house, laundry, dairy, and brewhouse, as well as stables and a granary. (fn. 91) Its gateway was pulled down in 1749 but the rest was repaired to include two coach houses and stabling for ten horses. (fn. 92) It was further repaired in 1769 (fn. 93) and in 1825 became a separate farm, Place Farm. (fn. 94) The buildings there were converted for residential, office, and leisure uses by the Fairhavens in the 1990s. (fn. 95)
Elaborate water features adorned the grounds of Edward North's house. (fn. 96) A sluice at the northwest corner of the moat, fed by a conduit house west of the Saxon Street road, (fn. 97) let water into what was probably a stepped succession of ponds on three sides of the Hall. Below the bank supporting the eastern arm of the moat there may have been a cascade. North intended his moat for fishing, (fn. 98) and it had a boat in 1692 (fn. 99) and 1728. There was also a chain of three ponds flanking a causeway approaching the house from the south-east, and another in the valley south of the Hall, above Dam bridge, which was viewed down an avenue of trees from the house. The lessee of the fishing in 1728 was to leave the moat and ponds stocked with 500 nine-inch carp. (fn. 100) The formal approach to the gatehouse in the later 17th century led through a semicircular court enclosed by a wicket fence, and a square brick-walled and lawned courtyard.
The garden within the moat was arranged by the 17th century as a succession of stepped shallow terraces, rising away from the house and divided by gravel walks. One or two footbridges crossed the moat to another walk along a straight bank (probably adapted from the outer defences of the castle) west of the moat, which led probably to a summer house on a square platform at the north end.
After Kirtling Hall was demolished the house platform was planted with trees, and a brick game larder was dug into the north-east corner. Kirtling Tower had new gardens set out to the south, and a new avenue of walnuts was planted from the Tower south across the Saxon Street road to Kirtling Street. (fn. 101)
A park north of Kirtling castle was established before 1086. (fn. 102) It contained a managed herd of deer probably until 1390, (fn. 103) when the herbage was leased, suggesting that cattle were being grazed as well, (fn. 104) but in 1410 there were evidently still some deer there. (fn. 105) In the early 1560s Lord North's dairy herd and bacon pigs were run in the park. (fn. 106) The park was enlarged shortly before 1588, but in 1627 it was in effect disparked by being divided and leased to tenants. (fn. 107)
In the early 14th century the park had 120 a. of full-grown trees but no coppiced underwood, a usage consistent with the keeping of deer. (fn. 108) Large timber was taken from it for repairs at the castle in 1402-3, (fn. 109) for sale in 1423-4, (fn. 110) and for building work on the chapel at King's College, Cambridge, in 1508. (fn. 111) After the deer were removed, however, underwood of thorn, maple, and hazel was allowed to grow, (fn. 112) while the mature trees were pollarded or shredded. (fn. 113)
The grazing was divided into lawns, including (in 1627) Great lawn, Black Pond lawn, Saxton lawn, and Church lawn. (fn. 114) A park gate stood towards Upend, (fn. 115) as well, presumably, as near the castle; one of the gates gave an alternative surname to the park-keeper (and lessee of the grazing) in the 1410s and 1420s, John Yate alias Parker. (fn. 116) A park lodge first recorded in 1427-8 (fn. 117) evidently stood on the far slope of the valley north-east of the castle, in a close later called Lodge Hill. (fn. 118) East of the castle and adjoining the park was a rabbit warren of perhaps 10 a. still actively managed in the mid 16th century. (fn. 119)
By 1646 a new park had been created west of the Saxon Street road, covering perhaps almost 200 a. It was initially called Pumphouse park after the conduit house which fed the Hall moat. (fn. 120) In the 1650s the Norths' keeper killed deer for the household's table with a crossbow and dogs. (fn. 121) It remained stocked until the 1690s (fn. 122) or later, but was rented out, presumably without deer, by 1764 (fn. 123) and perhaps by 1729. (fn. 124)
BANSTEADS in Kirtling, called a manor from the later 15th century, (fn. 125) was a freehold estate built up in the early 14th century. John Benstede bought 203 a. in Kirtling and Woodditton in 1301, 27 a. in Kirtling in 1303, and 107 a. in Kirtling in 1315. (fn. 126) His widow Parnel was the second highest taxpayer in the parish in 1327. (fn. 127) Her lands were in two portions. Those in the north of the parish became part of Bansteads manor in Cheveley, later known as the Cheveley Green estate, which included land in Kirtling until 1925. (fn. 128) The family also had Bansteads farm at the south-east corner of Kirtling, which descended with Bansteads manor in Cheveley until the death of Edward Benstede in 1432, (fn. 129) then with Bansteads manor in Woodditton, with which it apparently passed to the Crown c. 1500. It belonged to the Norths by 1565 (fn. 130) and thereafter descended with the main Kirtling estate.
The RECTORY estate consisted of the glebe of the medieval rectory, which was appropriated by the bishop of Rochester apparently in 1537. (fn. 131) The bishop leased the land to Edward North for 99 years in 1538, (fn. 132) a lease renewed at regular intervals to later heads of the family, usually for lives. Between 1649 and 1660 it was held by Charles North of Tostock (Suff.), a younger son of Dudley, 3rd Lord North. (fn. 133) The Norths were still paying rent to the bishop in 1771, (fn. 134) but at inclosure in 1815 Francis North, earl of Guilford, received an allotment of 194 a. as impropriate rector in his own right. (fn. 135)
SPINNEY PRIORY owned a little land in the parish from the late 13th century presumably until the Dissolution. (fn. 136)