Pages 78-86
A History of the County of Cambridge and the Isle of Ely: Volume 10, Cheveley, Flendish, Staine and Staploe Hundreds (North-Eastern Cambridgeshire). Originally published by Victoria County History, London, 2002.
This free content was digitised by double rekeying. All rights reserved.
WOODDITTON
Woodditton lies immediately south of Newmarket, (fn. 1) a town established c. 1200 astride the road forming the parish boundary between Woodditton and Exning (Suff.). (fn. 2) Until the 19th century Woodditton's bounds were beaten along the frontages on the south side of Newmarket High Street. (fn. 3) Newmarket was separated from its parent parishes of Exning and Woodditton by stages: All Saints was created as a chapelry of Woodditton by 1336 to serve the Cambridgeshire part of the town; (fn. 4) by the 18th century it levied its own rates and was treated as a separate cure even when held by the same incumbent as Woodditton; (fn. 5) in 1747 it became formally a distinct ecclesiastical parish. (fn. 6) The rateable area included pieces within Woodditton open fields 'which if they were taken as the boundary of the two parishes would cut Wood Ditton into a thousand shreds and patches'. (fn. 7) In 1815 the inclosure commissioners added the detached parts of Newmarket All Saints to Woodditton. The new boundary ran from the west end of Newmarket High Street SSE. along Woodditton Road, NE. and then NNE. by a fence and the lanes which became Green Road, Granby Street, and Vicarage Road, WNW. along Old Station Road to the site of an old boundary post, and ENE. along Moulton Road. (fn. 8) The last two stretches retained part of the built-up area called Shagbag within Woodditton but placed part in Newmarket. (fn. 9) As defined in 1815 Woodditton covered 5,071 a. Newmarket expanded across the boundary in the mid 19th century, and its local board of health formed in 1851 included 57 a. of Woodditton. (fn. 10) In 1894 a dumbell-shaped 303 a. covering more than the contiguously built-up area was transferred into Newmarket urban dis trict and Suffolk, leaving Woodditton with 4,768 a. (1,930 ha.). (fn. 11) Suburban building crossed the new boundary almost immediately and continued into the 1990s, when, not for the first time, a further boundary extension was being contemplated. (fn. 12) In 1993 a small area was transferred from Newmarket to Woodditton when the boundary was realigned near Newmarket railway station. (fn. 13) This account covers the rural part of Woodditton, with an outline of the growth of suburban Newmarket within Woodditton ancient parish.
Woodditton is one of a block of elongated parishes in south-eastern Cambridgeshire which took in low-lying heath to the north-west, well drained arable in the centre, and a wooded clay plateau to the south-east. (fn. 14) Twice as long as it is broad, it included two ancient land units, Ditton and Saxton, the former being divided in two before 1066. (fn. 15) The three early manors, Ditton Camoys, Ditton Valence, and Saxton, each formed a discrete long narrow strip. Unlike the parishes of Radfield hundred to its west, Woodditton does not reach the Suffolk boundary in the south-east. Its eastern and southern boundaries follow the edges of fields, closes, and woods. The northern boundary, where not altered by the intrusion of Newmarket, is a former line of the Icknield way just south of and parallel to the modern Cambridge road. To the west the parish boundary partly follows the Devil's Ditch, a massive linear earthwork built probably by the early English rulers of East Anglia. (fn. 16) The earthwork gave Ditton its name, 'settlement by the ditch', distinguished by the prefix Wood from Fen Ditton some miles away. The two parts of the name were often run together as a single word in the Middle Ages and later; (fn. 17) although in the 19th and 20th centuries some preferred Wood Ditton, (fn. 18) Woodditton was the accepted usage in 2001.
A cap of boulder clay above 90 m. (295 ft.) rises gently to 120 m. (394 ft.) on the Cheveley and Stetchworth boundaries. Below 90 m. the exposed Chalk drops more steeply to 30 m. (98 ft.) in Newmarket. Springs on the plateau once fed streams draining north which are now largely channelled into ditches and dry in their uppermost reaches, Derisley valley in the northeast being entirely dry. (fn. 19) The undulating Chalk carries mostly light soils full of flints, with gravel and alluvium in the valleys; the clays on the plateau are heavy and retain surface water. (fn. 20)
The heath in the north was possibly once extensive, since in 1086 the western manor, Ditton Camoys, had land for 16 ploughteams but only 5 at work. (fn. 21) The c. 650 a. of heath estimated in the 1790s (fn. 22) was probably never ploughed before inclosure. Even afterwards the Links in the north-west was used mainly for sport: game coverts, (fn. 23) a racecourse in the 1890s, and a golf course later. (fn. 24) Saxton heath at the northern corner of the parish was used in the 16th century for grazing and ferreting. (fn. 25) Those parts of it not built over were by the 1850s let to the Jockey Club as exercise grounds for horses in training at Newmarket. (fn. 26) The arable covering the rolling chalk slopes was cultivated as open fields until inclosure under an Act of 1813. (fn. 27)
The clay plateau was densely wooded when the Devil's Ditch was constructed. (fn. 28) From Anglo-Saxon times much woodland was cleared to create the greens, closes, and small open fields evident in 1500. (fn. 29) Most of the clearance had probably taken place by 1086, when the manorial woods were reckoned capable of supporting 490 swine, (fn. 30) an uncertain area but not especially large. (fn. 31) The main wooded area stretched along the Kirtling boundary in the south. The surviving Ditton Park wood was in the late 13th century partly coppiced and partly the outlying wood-pasture park of Ditton Camoys manor, in all 220 a. (fn. 32) A double boundary bank survives on the west and part of the north. In 1283-4 Robert de Crèvecoeur allegedly cut down 400 oaks, 13 ashes, and underwood. (fn. 33) It was still a park in the early 16th century, (fn. 34) but later was managed purely as coppice and covered c. 180 a. (fn. 35) It was sold to the Stetchworth estate perhaps between 1559 and 1571. (fn. 36) In 1953 the estate granted a long lease to the Forestry Commission, which cut down the mature oak, cleared the coppice, and replanted with conifers and hardwoods. (fn. 37) The 11-a. Charcoals wood to its north-west still had old standard trees and coppice stools in 1990.
North-east of Ditton Park were Ditton Valence's woods, Wigmores (later Widemouth) wood, named from the Wigmore family of Kirtling, and Church Hall or Hall wood. In the mid 14th century 75 a. was coppiced on a fiveyear cycle. (fn. 38) A lease of 20 a. in 1544 required that the lessees leave 20 of the best old staddles (mature trees) and 20 young oaks and ashes on each acre. (fn. 39) North of Hall wood, Nunns wood or grove, once belonging to the nuns of Swaffham Bulbeck, covered 60 a. in 1529 (fn. 40) and 44 a. in 1605. (fn. 41) It was apparently felled and converted to pasture by its lessees, the Grange family of Swaffham Bulbeck, in the early 1610s, (fn. 42) though had partly grown up again by 1812, when it covered 15 a. By then, Widemouth had been reduced to less than 30 a. in two separate woods. (fn. 43) They and Hall wood were felled between 1823 and 1885, (fn. 44) perhaps around 1851 when two teams of sawyers were employed in the parish. (fn. 45)
There were smaller ancient woods on the clayland further north. Saxton manor had a 3-a. grove in 1331, evidently all timber trees as it contained neither underwood nor pasture. (fn. 46) The woodland conveyed with that manor in the 17th century was reckoned at up to 20 a., (fn. 47) but Great and Little Saxon groves behind Saxon Hall covered only 11 a. in 1775 (fn. 48) and were felled partly between 1812 and 1823 (fn. 49) and entirely by 1883. (fn. 50) At Derisley in 1462 the lord of Ditton Valence leased a grove and pasture where each acre of grove included 120 ashes and oaks and each of pasture 90 'stallyngs' (presumably mature trees). (fn. 51) Derisley wood survived, standing amid the open fields until inclosure, (fn. 52) and covered c. 8 a. in the 19th century, when it was used as a game covert. Other coverts in the open fields in 1823 presumably dated from after the enlargement of the Cheveley estate. (fn. 53) Additional planting after inclosure included a belt 1¼ miles long by 200 yd. wide along the western boundary, created as an extension of Stetchworth park. (fn. 54) Lower Links covert and Moorley plantation on Saxon Hall farm were planted for game by 1865. (fn. 55) After 1920 the shelter belts planted on stud farms gave a richly wooded aspect to the north-east part of the parish, which was being extended further south in the 1980s and 1990s by newer studs south of the Cheveley- Stetchworth road. (fn. 56)
The parish is not crossed by any major route. (fn. 57) The most important roads since the 13th century have been those to Newmarket. The Portway recorded in 1502 was presumably that from the east end of Ditton Green and the church, while Saxton way ran from Saxon Street to Derisley and down Derisley valley to Newmarket. (fn. 58) At inclosure the former was straightened and the latter rerouted as Duchess Drive along the Woodditton-Cheveley boundary. (fn. 59) Both led south to Kirtling, from where another road also in existence in 1502 connected Houghton Green, Little Ditton, and Woodditton church, joining Portway there. It was made a private road at inclosure and survives south of Houghton Green only as a bridleway. Two minor roads cross the southern half of the parish from east to west. That to the south runs across the clay plateau through Saxon Street, Little Ditton, and Ditton Green, going on to Stetchworth. The other follows a valley to Court Barns and passes through an ancient gap in the Devil's Ditch. The Newmarket-Dullingham road, a more important route than either which threads through nearly a dozen villages between Newmarket and Saffron Walden (Essex), follows a straight course across the former heath from the west end of Newmarket High Street to another gap in the Ditch. The railway which meanders beside it was opened from Newmarket to Six Mile Bottom in 1848 and to Cambridge in 1851, and was extended east to Bury St. Edmunds in 1854. The nearest stations to Saxon Street and Ditton Green (the main hamlets in Woodditton) were Newmarket and Dullingham respectively, both remaining open in 2001. (fn. 60)
The population of Woodditton, never large for such an extensive parish, has probably been dispersed in separate hamlets since Anglo-Saxon times. In 1086 there were 49 peasant households. (fn. 61) The 35 taxpayers in 1327 included some in Newmarket All Saints. (fn. 62) The number of adults was perhaps c. 200 in 1603 (fn. 63) and 237 in 1676, (fn. 64) implying totals of c. 260 and c. 310. (fn. 65) A large excess of baptisms over burials from 1568 to the 1720s was evidently tempered by substantial net out-migration. Losses through disease in 1727-30 (annually three or four times that for an average year) were not replaced by natural means until the 1770s, (fn. 66) but from then the population rose steadily to 648 in 1801 and 1,016 in 1841, of whom c. 150 were in Newmarket. In rural Woodditton numbers fluctuated between c. 850 and c. 1,200 in the century 1851-1951, peaking in 1891. After 1951 new building on the edge of Newmarket increased the total by 2000 to an estimated 1,750, of whom perhaps 1,100 lived in suburban Newmarket and only 650 in the rural part of the parish. (fn. 67)
Primary settlement sites include Camois Hall and Church Hall, each a manor house at the head of a valley where there must once have been a spring. The corresponding position in Saxton was perhaps not Saxon Hall, a moated site, but the spring called Trunks Well (fn. 68) 500 m. (550 yd.) SSW. Although direct evidence is lacking, it is probable that in each manor assarting led to the relocation of peasant houses around greens on the clay plateau before 1350 or even before 1100. The greens survived in an attenuated form until inclosure. In the early 19th century the annual dipping and shearing of sheep took place on them. (fn. 69)
The hamlet of Saxon Street developed around Saxon great green and Saxon little green on a level hilltop at c. 115 m. (377 ft.). By inclosure the two greens covered 2¾ a. and 1½ a. respectively. (fn. 70) The Newmarket-Kirtling road ran over the hilltop through the greens, forming a hollow way on both slopes, and a side road to Broad Green in Cheveley crossed Saxon great green. The linear straggle of houses along the main road became known as Saxon Street. (fn. 71) Cottages and outbuildings were encroaching on the road and greens in the late 17th and early 18th century. (fn. 72) The rector of Cheveley made a distinction between Saxon Green and Saxon Street in 1807, (fn. 73) but the former name passed out of use at inclosure.
In Ditton Camoys settlement was concentrated around Ditton green, on the Stetchworth road, which also occupied a level site at c. 115 m. (fn. 74) A moat at the west end of the green (fn. 75) may be that of a freeholder's house, since it was evidently not a manorial site. (fn. 76) Houses in Ditton Valence were more scattered. Little Ditton lay dispersed near Damp Pond green (1 a. before inclosure) (fn. 77) at the crossroads of the Saxon Street to Ditton Green road with the lane from Woodditton church to Kirtling. A house stood south-west of the crossroads in 1502. (fn. 78) Parsonage Farm, the centre of the rectory manor, is to the south-east. South of Little Ditton lay Houghton green, a name probably corrupted from that recorded in the 14th and 15th centuries as Outwodegrene and c. 1550 as Aiyghwoode green. (fn. 79) Cottages stood there in 1502, when the green was common pasture for the manorial tenants. (fn. 80) It covered 6 a. at inclosure. (fn. 81)
Derisley occupied a spur in the centre of the parish. Its name may have been that of a wood before any settlement developed there. (fn. 82) The moat at Derisley (fn. 83) probably enclosed the house of the Derisley family, freeholders in 1240. (fn. 84) Another house site is suggested by the name Chyttokyscroft at Derisley recorded in 1399. (fn. 85) It is not clear when Derisley was deserted. The precise location of Bonds green is unknown: it lay somewhere within the open fields of Saxton on Derisley hill in the 17th and 18th centuries. (fn. 86)
The lord of Ditton Valence gave 36 oaks to build a house in 1335, (fn. 87) and timber framing and thatch were long the commonest building materials. A dozen or more timber-framed houses of the 17th or early 18th century survived in 2001 in Ditton Green, Little Ditton, and Saxon Street. The larger examples included Valence House adjoining the moated site west of Ditton Green, and Thistle Cottage by the former Saxon great green.
The number of houses, 93 in 1674, (fn. 88) rose steadily from the late 18th century. There were probably c. 100 in the rural part of Woodditton in 1801, 184 in 1851, and 213 in 1901. (fn. 89) Most new building was in Saxon Street and Ditton Green, which became swollen roadside hamlets containing 70 and 52 houses respectively in 1910. (fn. 90) Residents in the 1930s regarded both places as villages. (fn. 91) After 1800 most building was in flint with brick dressings. There was also growth in the 19th century outside the hamlets. In 1768 the only buildings in the open fields were three sets of ancillary farm buildings: Cote Barn (later Court Barns) on the CheveleyDullingham road, Wickhall Barn on the Newmarket-Dullingham road, and Shepherd's House between the two. (fn. 92) After inclosure, new farmhouses were built at Ditton Lodge and Heath Farm (later the Links), and cottages there and at Saxon Hall, Camois Hall, the church, Court Barns, Derisley wood, Shepherd's House (renamed Crockford's Farm), Black Hall northeast of the church, and on the Newmarket- Dullingham road. In the south end of the parish, by contrast, settlement was contracting. Cottages at Houghton Green were demolished before 1748 (fn. 93) and in 1885 there survived only a row of three, rebuilt as a pair by 1901; Old Park House on the lane further south disappeared before 1885. Many of the outlying cottages were put up by the Cheveley estate, the principal landowner, (fn. 94) but in 1910 it owned only 30 of 45 cottages in Ditton Green and 24 of 60 in Saxon Street. (fn. 95) They included four pairs with Tudor detailing, dated 1871 and 1895. (fn. 96) Newmarket rural district council began meeting the need for council housing in 1933, (fn. 97) and by 1960 had built 44 houses which extended the built-up area of Saxon Street south along Kirtling Road and west along School Road, and of Ditton Green north along Vicarage Lane. Otherwise, building in the hamlets was mainly restricted to replacing older dwellings, often with bungalows, and infilling some gaps along the streets. There were only c. 70 more houses in the entire rural part of Woodditton in 1990 than in 1910. In 1991 local planning policy designated both Ditton Green and Saxon Street as 'infill only' villages, (fn. 98) allowing only small-scale developments such as the five large and expensive detached houses built in 2001 on a former farmyard at Ditton Green. (fn. 99)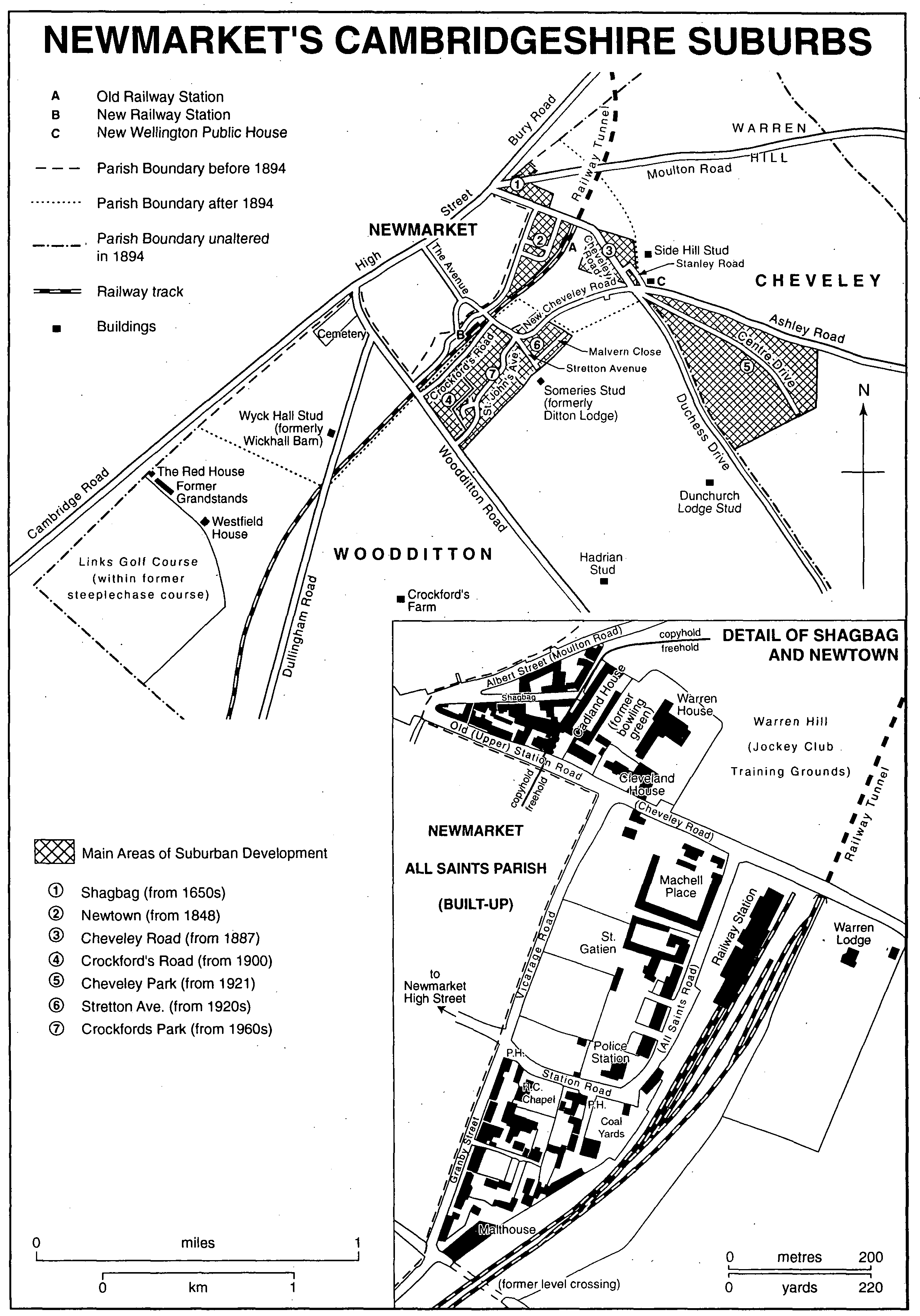 In the 19th and 20th centuries, as presumably earlier, there were few social activities for the parish as a whole. Separate grounds for campball existed at Ditton Green and an unlocated site elsewhere. (fn. 100) The church and school each stood isolated with only a row of cottages, but the school tended to integrate at least the children of the two hamlets. In the 1930s, for example, a football team represented the whole parish. (fn. 101) In Ditton Green and Saxon Street the main public houses in existence by 1764 continued in business in 2001, respectively the Three Blackbirds and the Reindeer, but Little Ditton had only beershops after 1830, the last of which, the Marquis of Granby, closed after 1955. (fn. 102) A Saxon Street farmer took the lead in abolishing the traditional form of harvest horkeys in 1857, encouraged by the vicar, (fn. 103) but in Ditton Green in the 1930s most farmers still staged harvest celebrations, then called 'hawkies', for their workers. (fn. 104) The parish was late for the area in acquiring a labourers' clothing club in 1860 and reading room in 1862. (fn. 105) The only public meeting place was the school, (fn. 106) and still in 1990 there was no village hall and no separate playing field. In 1961 an outsider thought that 'In neither community [Saxon Street and Ditton Green] is the social life particularly active'. (fn. 107)
Woodditton traditionally looked to Newmarket as its market town, and to Bury St. Edmunds rather than Cambridge for the goods and services provided by a county town. It had economic and social links with the nearest Suffolk villages almost as strong as with those in Cambridgeshire. In the 14th century ironwork and a millstone were bought at Newmarket and Bury, wheat was carted and animals were driven for sale to Brandon Ferry on the Little Ouse, and hay was bought at Lidgate (both Suff.). No Cambridgeshire places were mentioned. (fn. 108) The area straddling the county boundary between Newmarket and Haverhill (Suff.) was a cohesive region in the 18th and 19th centuries. Of 91 Woodditton women married in the parish church between 1753 and 1781, for example, 20 found husbands outside Woodditton but within that area, only 2 from further afield. (fn. 109) Forty-two per cent of male heads of household in 1851 had been born in Woodditton, 27 per cent in ten parishes in south-east Cambridgeshire, and 22 per cent in twenty-one parishes in west Suffolk and north Essex. (fn. 110) In the 1930s Newmarket was far more important in Woodditton people's lives than either Cambridge or Bury. The local dialect then and the local accent even in the 1990s were recognizably akin to those of Suffolk rather than Cambridgeshire. (fn. 111)
Suburban newmarket.
A corner of Woodditton parish at the east end of Newmarket High Street was built over following the reestablishment of regular royal and aristocratic sporting patronage of the town in the 1660s. (fn. 112) It formed a triangle of land, earlier part of Saxton heath, at the foot of Warren Hill on either side of the Moulton road between the county boundary and the Cheveley road. (fn. 113) At its east end was a bowling green; (fn. 114) the lane leading to it from High Street was called Shagbag, a name apparently derived from cock-fighting, (fn. 115) which was later applied to the area as a whole. (fn. 116) There were already cottages north of the Moulton road in the 1650s. Later development there was on a 3a. copyhold plot where a house was built before 1659. Two ½-a. pieces on the west were sold in 1667 and much subdivided for cottages, workshops, and an inn. The remaining 2 a. was acquired, initially as a lessee, by the racing impresario Tregonwell Frampton (d. 1727), (fn. 117) who lived there in a large house with training stables. It was in Newmarket from 1815.
On the island site between the Moulton road and Shagbag copyhold tenancies of Saxton manor were created in 1683 and 1706. That to the west, Chesterfield House, perhaps built in the 1680s, was a training stable until the First World War; on the east a wheelwright's shop was replaced before 1789 by another stable and remained in similar use in the 1980s. (fn. 118) South of Shagbag five principal copyholds were later subdivided. The long plot along Shagbag, granted in 1683, included a malthouse and stable by 1700 and was later divided into Sackville House and stable at the east end and three other houses to the west. The three plots facing the Cheveley road, granted before 1681 and in 1683 and 1706, were partly taken by stables, partly by private houses.
By 1768 the bowling green was hemmed in to west and south by more stables, built on freehold land. Cadland House, on the west, remained in use in 1990; (fn. 119) stables on the Cheveley road belonged in 1823 to the jockey Samuel Chifney, (fn. 120) for whom Thomas Thornhill (d. 1844) and William H. Vane, duke of Cleveland (d. 1842) are said to have built the larger neo-Classical Cleveland House. After 1823 Samuel's brother William built the even larger Warren House and stables on the site of the bowling green. (fn. 121) Warren House was demolished after 1925; (fn. 122) Cleveland House survived in 2001. In the later 19th century and the 20th the Moulton road was named Albert Street, Shagbag became Sackville Street, and the Cheveley road was called Old (earlier Upper) Station Road.
By 1775 c. 40 a. of heath south of Shagbag had been converted to paddocks, (fn. 123) which by 1823 had been split into small closes dotted with buildings. (fn. 124) The railway, authorized in 1846, sliced through the area to the mouth of a tunnel under Warren Hill. Newmarket station, opened in 1848, (fn. 125) was a grand Baroque building beyond the edge of town and adjacent to the Cheveley road. (fn. 126) A new street, at first called Station Road, described two sides of a rectangle connecting High Street with Cheveley Road via the station. It was built up piecemeal as part of what was at first called Newtown. Apart from terraced houses, individual sites were taken for a police station (1856), (fn. 127) a Roman Catholic chapel (1861) and presbytery; (fn. 128) and a large public house, initially called the Railway Inn (by 1864). (fn. 129) Opposite the station two training stables, Chetwynd House (later Machell Place) and St. Gatien, were built in the early 1880s. (fn. 130) The street, by then called All Saints Road, still had many vacant plots in 1894 when it was included in Newmarket.
South of Station Road was an awkward triangle of land between the railway and Granby Street. Development next to the railway included coal yards at the northern angle and a large malthouse at the southern. The east side of Granby Street, within Woodditton, was probably largely built up by 1861 and fully by the 1880s, with two dozen terraced houses, a Primitive Methodist chapel, and a pub. Behind Granby Street a jumble of over thirty terraced cottages and houses was built during the same period. (fn. 131)
The area south-east of the railway was accessible from the town only from the Cheveley road or via a level crossing off Granby Street which was closed in 1878. (fn. 132) The sole development there before the 1880s was in one of the late 18th-century paddocks, where Warren Lodge was built as a farmhouse in the early 1870s. (fn. 133) In 1887 the Cheveley estate offered 17 a. for sale as building lots. (fn. 134) They were mainly developed after 1894. Nearer the town eight large houses in spacious grounds were put up in the 1890s. The further end was built over c. 1898 with c. 100 terraced houses in Cheveley and Stanley Roads, with the New Wellington pub at the corner of Cheveley and Ashley Roads. (fn. 135)
By the late 1890s the enormous equine railway traffic at Newmarket station necessitated more ample facilities. Passengers were removed to a new station half a mile along the line towards Cambridge, built at the expense of Col. Harry McCalmont of Cheveley Park and opened in 1902, leaving the old station entirely to horses and goods traffic. (fn. 136) The NewmarketWoodditton boundary there had followed the railway since 1894. South of and parallel to the tracks, Crockford's Road was laid out to give access to the station, connecting at its east end with a new road to Cheveley made by extending The Avenue under the railway, as New Cheveley Road, to join Cheveley Road opposite the New Wellington pub. Ten middle-class houses were put up in Crockford's Road between 1900 and 1910, and another fourteen round the corner in Woodditton Road after 1914. (fn. 137) New Cheveley Road, with Stretton Avenue and Malvern Close to the south, was built up at intervals from the 1920s. (fn. 138) A few residents worshipped at Woodditton parish church in the 1930s but regarded themselves, and were seen by others, as belonging to Newmarket rather than Woodditton. (fn. 139)
Although the 'Newmarket fringe' in Woodditton was designated in 1956 as not expected to take more houses, it shared in the expansion of the town in the 1960s and 1970s, when the rectangle bounded on three sides by Woodditton Road, Crockford's Road, the western arm of New Cheveley Road, and Stretton Avenue was built over in stages. The estate, Crockfords Park, took the form of a spine road, St. John's Avenue, flanked by short closes also named after Cambridge colleges. (fn. 140) A Cambridgeshire county council school was opened there in 1967. (fn. 141)
West of Woodditton Road the suburban spread of Newmarket was less intensive. When the town boundary was extended in 1894 it took in the Newmarket cemetery at the corner of Cambridge Road and Dullingham Road, opened in 1859, consecrated in 1861, and enlarged to 8½ a. in 1888. (fn. 142) It also incorporated an area which might have been thought eligible for house-building after the Cheveley estate had offered plots there in 1887 (fn. 143) but which in the end was converted to stud farms. (fn. 144) Dullingham Road also included by 1910 a nursery and a dozen cottages, mostly built to house labourers on Crockford's farm and the railway. (fn. 145) Further out along Cambridge Road at the north-west corner of the parish Col. McCalmont laid out a steeplechase course in time for the 1894 season. Provided with two grandstands holding 2,000 spectators, the course was highly regarded, but National Hunt rules were alien to the patrician tone of Newmarket and the course's initial success depended heavily on McCalmont's support. The meeting foundered in 1905, three years after his death, (fn. 146) though a training course for hurdlers remained in existence in 1990. By 1910 a lease had been acquired by the Links golf club, which made an 18-hole course, converted part of a grandstand into a clubhouse, and remained tenant of the Jockey Club after 1919, expanding its facilities by acquiring a purpose-built clubhouse in 1935, housing its professional in McCalmont's lodge, the Red House, and turning other racecourse buildings into changing rooms and a shop. (fn. 147) Westfield House, the former Links Farm adjacent to the course, was in 1990 the headquarters of the Newmarket Racecourses Trust, the arm of the Jockey Club responsible for the Newmarket courses. (fn. 148)