Pages 111-113
A History of the County of Cambridge and the Isle of Ely: Volume 3, the City and University of Cambridge. Originally published by Victoria County History, London, 1959.
This free content was digitised by double rekeying. All rights reserved.
WARDS
The ten wards of Domesday Cambridge have given rise to controversy. Maitland suggested that they originated in some military organization; (fn. 48) Tait thought they might be connected with the frankpledge system. (fn. 49) There are no precise indications of location. Ward I of 1086, which had been two wards in 1066, was presumably on Castle Hill, since 27 houses in it had been destroyed to make room for the castle. The second ward, called Bridgeward in the Inquisitio Eliensis, (fn. 50) must have been immediately east or west of the river. The fourth ward contained a church belonging to Ely. (fn. 51) St. Botolph is the only Cambridge church whose earliest recorded patron was Ely. (fn. 52) If this identification be accepted the fourth ward would be in the extreme south of Cambridge. (fn. 53) Since only nine of the ten wards are described in the survey it has been suggested that the reorganization was not complete in 1086, and that a new sixth ward was to be made up out of burgages taken from the old sixth and seventh, but eighteen years had elapsed since the castle had been constructed, and Domesday Book says specifically 'There were and are ten wards in this Borough'. (fn. 54)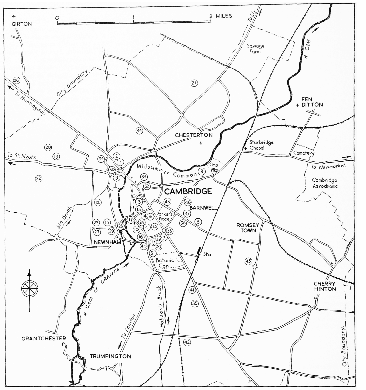 1. Castle Mound
2. Shire Hall
3. Guildhall
4. Addenbrooke's Hospital
5. Maternity Hospital, formerly Workhouse
6. Police Sta.
7. Roman Catholic Ch.
8. Ch. of St. Andrew the Less, and site of Barnwell Priory
9. Merton Hall, formerly School of Pythagoras
10. Fitzwilliam Museum
11. Univ. Press
12. Univ. Library
13. New Museums site
14. Downing site
15. Sidgwick Ave. site
16. Engineering Laboratory
17. New Chemical Laboratory
18. Polar Research Inst.
19. Univ. Observatories
20. Univ. Farm
21. Univ. Field Laboratory
22. School of Veterinary Med.
23. Downing College
24. Fitzwilliam House
25. Selwyn College
26. Girton College
27. Newnham College
28. New Hall
29. Ridley Hall
30. Westminster College
31. Cheshunt College
32. Westcott House
33. Wesley House
34. St. Edmund's House
35. Homerton College
36. Hughes Hall
37. Cambs. Technical Sch.
38. Perse Sch., Boys
39. Perse Sch., Girls
40. The Leys Sch.
41. Cambs. High Sch., Boys
42. Cambs. High Sch., Girls
43. Central (Gram. and Tech.) Sch.
44. Chesterton Sec. Mod. Sch.
45. Coleridge Sec. Mod. Sch.
46. St. George's Sec. Mod. Sch.
After 1086 there is no reference to wards until 1312–14. The subsidy roll of 1314–15 names seven, (fn. 55) which would seem to be the same as those under which hawgavel rentals of 1483–1524 (fn. 56) are arranged. These were (1) the ward beyond the bridge, from the Cam to Howes End; (2) the ward this side of the bridge, including St. Clement and probably St. Sepulchre; (3) Trumpington Ward, called Highward or the High Street 1491–1524, which seems to have extended from St. John's Hospital to Trumpington Gate and its suburb; (4) Milne Street or Mill Ward, which extended across the river to Newnham and included the area once occupied by houses on either side of Milne Street but now largely covered by Trinity, King's, Queens', and St. Catharine's Colleges and Trinity Hall; (5) Market Ward, always the wealthiest and most densely peopled, surrounding the market and including the parishes of St. Mary, St. Edward, and (probably) St. Bene't; (6) Preachers' Ward, either side of what is now Sidney Street along to Barnwell Gate; (7) Barnwell Ward, the smallest, and the one that paid least to the subsidy, presumably covering the outlying houses along the Newmarket Road, and the parish of St. Andrew the Less. Preachers' Ward must be the one called the 'Heywarde' in 1314; there seems no possibility of identifying it with the High Street Ward of Tudor times.
By 1566 the four bailiwicks of the Mills, the High Ward, the Market Ward, and the Bridge (fn. 57) were ousting the older six or seven divisions, and in 1590 it was laid down that for the election of the town officials three electors shall be chosen from each of the four wards. (fn. 58) The wards were by this time not only administrative but electoral districts. In 1641 there is again a rough indication of residents; in the subsidy rolls of that year there are 49 taxpayers in Bridge Ward, 70 in Market Ward, 71 in High Ward, and 53 in Preachers' Ward. (fn. 59) The 18th-century descriptions say that Bridgeward extended from Jesus Lane to Castle End; Preachers' Ward from Jesus Lane to St. Andrew's Street; Highward from St. John's College to Trumpington Road; and that Market Ward covered the Market and the adjoining area. (fn. 60)
Under the Act of 1835 Cambridge was divided into five wards: East Barnwell, West Barnwell, Market, Trinity, and St. Andrew's. These were simply electoral districts and were constituted from entirely artificial groups of scattered parishes. After the enlargement of 1911, the Borough was divided into ten wards, (fn. 61) and two more were added in 1935. They are now Market, Trumpington, Newnham, Castle, West Chesterton, East Chesterton, Abbey, St. Matthew's, Petersfield, Romsey, Coleridge, and Cherry Hinton. Each has an alderman assigned to it as returning officer in the annual municipal elections, when each ward elects one councillor to serve for three years. (fn. 62)