Pages 346-355
A History of the County of Cambridge and the Isle of Ely: Volume 3, the City and University of Cambridge. Originally published by Victoria County History, London, 1959.
This free content was digitised by double rekeying. All rights reserved.
PEMBROKE COLLEGE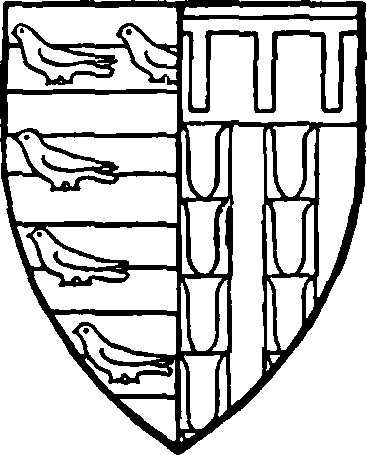 Foundation.
Pembroke College reckons its foundation from Christmas Eve 1347 when Edward III granted a mortmain licence to Mary de St. Pol, Countess of Pembroke. She named it the College, House, or Hall of Valence Marie, but it was at once commonly called Pembroke Hall, in French documents la Salle de Pembroc, and Pembroke Hall it remained until the 1830's. The foundress was the daughter of Guy V, Count of St. Pol, of the ancient house of Châtillon-sur-Marne (Marne) (fn. 1), and was descended through her mother, Mary of Brittany, from Henry III. Born about 1304, she married in 1321 Aymer de Valence, grandson of Hugh de Lusignan, second husband of Isabel of Angoulême, formerly wife of Henry III. Aymer died in 1324 and his widow, left immensely rich, turned to religion and good works. She had already been attracted to St. Francis, witness the space devoted to him in her Breviary, (fn. 2) written about 1320 in the Paris workshop of Jean Pucelle. (fn. 3) In it is a conventional figure of her kneeling before St. Cecily, but no real portrait is known. Naturally she took an interest in the house of Minoresses at Waterbeach, founded by her aunt, Denise de Munchensi, in 1293, (fn. 4) and ultimately about 1342 she transferred it, maybe rather high-handedly, to Denney. (fn. 5) Perhaps her dealings with Denney brought Cambridge to her notice, and by 1342 she must have decided to make a foundation there, for in September of that year she bought the first strip of the College site, the messuage of Hervey de Stanton, Rector of Elm, probably the nephew of the founder of Michaelhouse; it lay outside the King's Ditch and ran northwards along it. The foundress's confessors had been Franciscans, and perhaps it is due to one of them that she at first followed the Lady Devorguilla in what would seem to be a Parisian arrangement, giving authority in her College to two external rectors, in each case one a Franciscan and one a secular. A Franciscan Robert de Stanton died at Avignon on College business in 1359. Perhaps he was a rector, but as will be shown the arrangement of rectors did not last.
Site and Buildings.
In 1351 the College acquired a hostel to the south, given to the University before 1279 by Sir Roger de Heydon. Apparently this was a free gift from the University to the College, which was only required to provide a chaplain to pray for Roger's soul, pay certain small dues, and render a rose on St. John Baptist's day.
The layout of the foundress's court resulted from the shape of these two strips. Now the fellows could be accommodated in the hostel and the foundress could think about building the chapel. Her first statutes had contemplated the possibility of an annexed church and she had acquired rights over St. Botolph, but by 5 June 1353 she had given up the idea and ceded the church to Gonville Hall, (fn. 6) and Gonville passed it on to Corpus Christi. Innocent VI granted the College licence of oratory in their chapel on 23 March 1355. (fn. 7)
There was only room for a court, much as it is seen in Loggan, about 150 by 100 ft. outside, and 90 by 45 ft. inside, always to be the smallest court in the University, but carefully arranged to contain all the parts of a College; the west front with the chapel gable and window, and a smaller window and gable to balance it; between them the only 14th-century College entrance still in situ, and two staircases with chambers; along the north a chapel 60 ft. long, a staircase with chambers, a buttery with treasury or muniment room over, the kitchen with offices, a hall (fn. 8) 48 feet from north to south, the through passage not yet screened off; at the south-east corner the Master's chamber approached by a turret stair ingeniously contrived to give access every way; finally the now vanished south range of chambers to complete the court. The hall probably had the usual open roof. The windows as shown by Loggan seem transitional from Decorated to Perpendicular; so does the piscina, the only relic of the old chapel, now set in the new sanctuary. The date of all this must be before 1370, just after the bull of Urban V, allowing chapel and belfry. The base of the belfry and its little window survive in a first-floor room that had an opening into the chapel. It is difficult to distinguish between oratories and chapels, but probably no college in Oxford or Cambridge, except Merton with its parish church, had a real chapel and exercised in it full rights of saying mass as early as this.
It is doubtful whether there was a properly planned quadrangular court. The College was brought to it by the need for fitting a real chapel into such a confined space, at right angles to the front on a street running north and south. This meant putting hall at right angles to chapel; on the whole this is the Cambridge arrangement, whereas to have the hall east and west like the chapel is commoner at Oxford, where the main streets run east and west.
The foundress no doubt watched over her College during her life. In 1363 she bought one more bit of land, 'an acre of meadow between walls'. This with three roods added in 1401 forms the bowling-green with the orchards at each end of it. The Countess of Pembroke died in March 1376, and bequeathed to the college 100 marks and various relics and ornaments. At the foundation she had acquired, with papal licence, the rectories and advowsons of Tilney and Saxthorpe (Norf.) and Waresley (Hunts.). (fn. 9) The only Cambridgeshire property was a house at Burwell, at the south end of the village, sold in 1926. There were also rent charges issuing from Repton (Derb.) and Whissendine (Rut.). The next task of the College was to acquire land to the south of its court: Cosyn's Place, Bolton's Place, St. Thomas's Hostel, still on lease from St. John's in 1954, a strip belonging to a chantry in St. Mary the Less, finally in the 18th-century Crossings Place; so that in the end it had all the space between the main streets and a lane running from nearly opposite Free School Lane to Trumpington Street by Peterhouse Lodge. It was a great moment when the College could close this lane in 1620 and have direct access to the garden on the east. North of the walled garden was Paschal Yard or Close, acquired on lease in 1609 and bought in 1833; the south part of the garden was bought at various times up to 1861. The College made Tennis Court Road in 1620 along its eastern boundary.
Historical Sketch.
Little is known of Pembroke in its first 60 years, even the order of Masters being disputed. Books were given by the canonist William Styburd, (fn. 10) a fellow in the time of the first Master, and by John Tynmouth, Master, (fn. 11) an executor of the will of the foundress. In Tynmouth's time William Botlesham, Bishop of Rochester, the first of many episcopal alumni, was in residence. John Sudbury, Master 1406–28, died in College as a 'pensioner' or lodger. One of his books, Ezechiel Glossatus, has one of the rare Romanesque bindings. According to a note preserved by Matthew Wren there were in 1412 nine fellows and one boy.
William Lyndewode, fellow and Bishop of St. David's, was the compiler of the Provinciale, which is still authoritative. With Robert Pyke he put £20 into a 'chest' from which needy fellows could borrow on depositing a pledge. This is still represented by a fund for helping members of the College in sudden emergencies. John Somerset, fellow, physician to Henry VI, and Chancellor of the Exchequer, and John Langton, Master 1428–47, and a royal chaplain, led the king to use the property of alien priories to help education. They obtained for Pembroke Linton Priory with the impropriate rectory, and a cell at Isleham, with the ancient chapel of St. Margaret and 105 acres of land, (fn. 12) all former possessions of the Cistercians of St. Jacut of the Isle (Cotes-du-Nord). Linton Priory should be distinguished from the house of the Crutched Friars at Barham which also ultimately came into the possession of the College. The priory was leased to Roger Mylsent in 1473. The old vicarage on Buck Lane with closes on the Balsham road, the Guildhall, almshouses, and a close, all came with the rectory. They were all sold well before 1956. From the same source as Linton Priory were obtained the rectory and advowson of Soham, formerly belonging to the Cistercian Abbey of le Pin (Vienne), which had leased them to Rewley (Oxon.) for 43 marks yearly. This payment came to the College in 1446, and the parsonage in 1451. (fn. 13)
These grants gained for Henry VI the title of second founder of the College, but they did not really amount to very much. The three Pembroke men who had his ear played a great part in the foundation of King's College. Others distinguished themselves in other ways. William Booth became Archbishop of York in 1452. Edward Story was Bishop of Chichester (1477–1503), built the cross in that city and gave rich vestments to the College. Another alumnus of this time was John Sperhawke, one of a party who went to Sturbridge fair in 1429 and overspent themselves. The College possesses a rubbing of his brass, his will, and several of his books; one of the books he pawned and apparently never redeemed. He ended as a doctor of divinity, Vicar of Hitchin, and a canon of Wells. His friend Thomas Westhaugh left the College many books and more to Syon, where, like two other fellows of Pembroke, he was confessor-general.
For the next 70 years the Masters were mostly bishops who cannot have resided very much, but whose wealth and influence might be very useful. First of these was Laurence Booth (1450–80), ultimately Lord Chancellor and Archbishop of York, a very great benefactor. He built a library over the foundress's hall, putting in a flat ceiling and garrets over it, and so was responsible for the strange tall building that Waterhouse destroyed. He greatly adorned the chapel, gave St. Botolph's Hostel between the College and the church, which was sold in 1535, and demised the advowson and whole village of Orton Waterville (Hunts.), sold except for the manor-house in 1952. In his time (1475) the head of the Friars Minor in England granted letters of fraternity to seventeen fellows. (fn. 14) A fellow in Booth's time was Thomas Langton, afterwards Provost of the Queen's College, Oxford, Bishop successively of Salisbury and of Winchester. He was elected to Canterbury but died of the plague in 1501. He earned the gratitude of the College not only by a gift of money but also by that of his cup. (fn. 15) Another Archbishop of York and Chancellor was Thomas Scot or Rotherham, Master 1480–8, but beyond giving a few books he did little for the College and his absence made it necessary to appoint a praeses to be locum tenens. His successor, George Fitzhugh, was an aristocrat, rather extravagant and often absent. He was succeeded by Master Roger Leyburn, Bishop of Carlisle. Then came Richard Fox, who cannot have given much attention to the College. He was Bishop of Winchester, a great statesman, and founded Corpus Christi College, Oxford, whilst he was Master of Pembroke. Richard Shorton (1518– 34) had been a fellow of Pembroke and then Master of St. John's, where stalls in the old chapel were copied from those at Pembroke. Shorton left to become Archdeacon of Bath. Swinburne, his successor, cannot be recalled with any gratitude; he put in the big west window of the chapel as shown by Loggan, but he sold St. Botolph's Hostel for £55. Perhaps the College was really hard up and could only be saved by such a sacrifice.
The Booth family continued their regard for the College in this generation, Charles Booth, Bishop of Hereford, and his brother Sir Philip giving tenements in London. These at a forced sale in 1833 paid for Paschal Close, now the New Court. North countrymen were very strong in the College at this time; Swinburne had been one, and so were George Folberry (1537–40) and Nicholas Ridley (1540–54). Another was William Turner, compiler of the first English herbal. Ridley was the leading member of a commission for the reform of the University in 1549. He was devoted to the College and his presence meant that the new opinions had the upper hand in it. When the tide turned the College had its martyrs. John Rogers, who had helped Tyndale in Germany, was the first victim under Mary; another was John Bradford, Ridley's chaplain, and of course Ridley himself. On the other side were John Young, Master 1554–9, John Christopherson, Bishop of Chichester, and Nicholas Carr, a most elegant Greek scholar, but all of these were at several colleges and ended up at Trinity. Under Elizabeth I, Edmund Grindal, afterwards Archbishop of Canterbury, who had started at Pembroke, became Master (1559–62) whilst he was Bishop of London. He gave Palmer's Fields, Croydon (Surr.), to the College, the only place where Pembroke has enjoyed that unearned increment through the spread of housing, which has helped to finance so many colleges. Grindal's successor, Matthew Hutton, Master 1562– 7, came from Trinity and became Archbishop of York. It was in his time, on her visit in 1564, that Elizabeth I dubbed the college Domus Antiqua et Religiosa. Next came John Whitgift, a Pembroke man; but after six months as Master he was reft from the College by the Crown and set over Trinity. As Vice-Chancellor in 1570 he had the chief hand in making the statutes, giving more power to the Master in a College, which governed the University until the Statutory Commission of 1856. The new College statutes were printed about 1593. (fn. 16) Whitgift was followed by the second John Young (1567–78). When he became Bishop of Rochester, the fellows could not agree upon his successor, the claims of Humphrey Tyndall and of Thomas Nevile being so nicely balanced. In this dilemma William Fulke was elected from Christ's. He is described in his epitaph inter alia as 'Rome's foe, Truth's champion, and Rhemishes terror', for he wrote copiously in confutation of the Church of Rome, more especially against the Rheims version of the New Testament and in defence of the English translation of the Bible. (fn. 17)
It was in Fulke's time that Edmund Spenser, Pembroke's first real poet, and his friend Gabriel Harvey, the poetaster, entered the College. Before the beginning of the regular Accession Book in 1616 it is only by chance that the presence of a given man in the College can be established. Sometimes a man's College is specified in the University records, or else names have been preserved for a special reason, such as those who got into trouble, those who got fellowships, and those who got special commons owing to sickness. The claim that Spenser was at Pembroke rests solely on records of sickness allowances.
After Fulke Puritanism gave way to more moderate opinions; he was followed by Lancelot Andrewes (1589–1605), who had held one of the seven newly established Greek scholarships on the foundation of Thomas Watts, Archdeacon of Middlesex (1570), a benefaction which had been accompanied by the gift of many valuable books. Andrewes was perhaps the most distinguished bishop of his time and first on the list of King James's translators of the Bible. When he died he left money for another fellowship and the advowson of Rawreth (Essex). Most of the books in the library with interesting bindings belonged to Andrewes. Watts's example produced more Greek scholarships and in 1599 William Smart, a portman of Ipswich, gave scholarships and also about a hundred manuscripts from the library of Bury St. Edmunds. It is in the period from Ridley to Andrewes that the College was of most importance to church and state; in this time some twenty bishops could claim to have been its members.
The mastership of Samuel Harsnett (1605–16) was on the whole unhappy. Bishop of Chichester from 1607 he almost ceased to reside and put in most unsatisfactory presidents to take his place. The opposition to him was headed by the youngest of Andrewes's pupils, Matthew Wren, brother of Christopher the Dean of Windsor, father of the architect. Harsnett resigned in 1616 after a petition had been presented to the king. His financial policy was too enterprising for his opponents; some investments were bad, but wiser acts included the leasing of Paschal Close, the strip along Pembroke Street north of the garden, and the building of most of the north range of the Inner Court (1614–16). He was ultimately Archbishop of York. An Essex man, he founded a school at Chigwell, where he was buried, and he bequeathed his books to the Corporation of Colchester. The year the next Master, Nicholas Felton (1616–19), succeeded was a most important one in the history of the College. College orders began to be entered regularly in Registrum Magnum II, and still better a proper admission book was started. The numbers of the College reached 120; 60 years before in the time of Dr. Caius there were 87 students. Felton was made Bishop of Ely, and after a contested election Jerome Beale (1619–30) took his place. Matthew Wren as president was working on the College records. He had rearranged and catalogued the manuscripts and made lists of donors of books. In 1626 he crossed to be Master of Peterhouse. From the time that Ralph Brownrigg went to be Master of St. Catharine's, Pembroke seems to have been mainly High Church. Benjamin Lany, Master from 1630, was a moderate man, too moderate either for Roger Williams who went off to found his unsectarian state on Rhode Island, or for Richard Crashawe, the poet, who passed from a fellowship at Peterhouse to a canonry at Loretto. Another poet was Thomas Stanley, better perhaps as a classical scholar, editing Aeschylus. In Beale's and Lany's times accounts and admission books were almost unkept. But after litigation the great bequest of a successful lawyer, Sir Robert Hitcham, who died in 1637, brought to the College the castle, advowson, and other property at Framlingham (Suff.), mostly in trust for schools and almshouses there, at Debenham (Suff.), and Coggeshall (Essex). (fn. 18)
Next came the Civil War with Pembroke men on both sides. Matthew Wren, now Bishop of Ely, was in the Tower from 1642. Probably in July of that year all the College plate save the Foundress's Cup and the Anathema Cup, and even the covers of these, were sent to Charles. Most of the fellows had left by the end of the year. William Dowsing came to purge the chapel on 26 December; after a lively argument force prevailed and he broke ten cherubims and pulled down 80 superstitious pictures. In 1635 the hall had been panelled, and apparently the chapel door renewed; the cherubims might well be Laudian decorations of that date. The College was then occupied by soldiers.
In 1644 the Master, Lany, and nearly all the remaining fellows were expelled. It was probably to one of these that belonged 38 gold coins found when the hall was pulled down in 1875. On 10 January 1645 the Earl of Manchester put in a new Master, Richard Vines, and fellows were also intruded in the same way. Vines's right-hand man was his treasurer, William Moses, a Watts Greek scholar from Christ's Hospital. He revived the College register and did all he could to run the College efficiently. Vines, a moderate man, refused the Engagement of 1649 and was turned out in 1650 to make way for the extremist, Sidrach Simpson, who was mostly occupied in London. When he died in 1655 the fellows hastily elected Moses before Cromwell had time to put anyone else in. He settled affairs at Framlingham and used money therefrom and from various subscriptions to begin the south range of the Inner Court, duly ensigned with Hitcham's arms and called by his name. The builder was Peter Mills. Moses seems to have had some idea of joining its west end to the Master's Lodge, giving this a really handsome room. This was later cut up by panelling, but its west wall has a door frame which should have led somewhere, if it were not about 12 feet from the ground. In the time of Moses entered William Sampson, a very good administrator, whom the fellows wanted to make Master in 1694, and who left the College the patronage of Earl Stonham (Suff.) in 1703. Also of his time was Nehemiah Grew, Secretary of the Royal Society, said to have rediscovered the existence of sex in plants.
In 1660 the former Master, Lany, and surviving fellows came back, two or three of the intruded fellows were allowed to stay, but Moses went to London, where he made money and rose to be a serjeant-at-law. Dying in 1688 he was buried in chapel, leaving money for scholarships for Christ's Hospital boys. His building schemes were continued, but the style changed to something much more oldfashioned, with hood-moulds and no transoms, so the Hitcham Building is at first sight rather puzzling. Lany became Bishop of Peterborough almost at once and resigned the Mastership in 1662. He succeeded Wren at Ely and dying in 1675 left money for a bye-fellowship.
Mark Franck, canon and treasurer of St. Paul's Cathedral, was only Master for a year. He was followed by Robert Mapletoft (1664–77), who from 1667 was also Dean of Ely. Under Franck was begun the greatest ornament of the College. Matthew Wren, in the Tower from 1642 to 1659, might have shared the fate of Laud; he vowed to do some great thing if he escaped. The great thing was to build a new chapel for Pembroke, and for its design he went to his nephew, Christopher, the Savilian Professor at Oxford, and a prominent member of the circle which became the Royal Society. Christopher had as yet built nothing but a door at Ely, so this is definitely his first work, followed closely by the Sheldonian Theatre, Oxford, dated 1664. The College possesses a detailed wooden model of the chapel, which must have preceded the contract for the brickwork (16 May 1663) and for the woodwork (10 Jan. 1665). (fn. 19) The candlesticks and most of the other plate belonged to the bishop's chapel at Ely, together with the very remarkable cushions of 'Turkey work'. The chapel is very happy in its high proportions and splendid ceiling and in having an east window instead of the usual blank wall. The altarpiece, Descent from the Cross after Baroccio, belonged to Sir Joshua Reynolds. Hitcham money was used to make a dignified approach to the chapel through the south range of the little Old Court.
Bishop Wren died in April 1667, and had the finest funeral that Cambridge has ever known. (fn. 20) The College still possesses the silver mitre and crozier provided by Sir William Dugdale to be borne on his coffin. He lies in the east vault of the chapel with four of his descendants and four Masters, Moses, Mapletoft, Browne, and Long.
In 1670 the north wing of the Inner Court was extended to its present length. So the College assumed the shape shown by Loggan and essentially unaltered until 1875. When Mapletoft died the fellows elected Nathaniel Coga (1677–94) within four hours. Coga had been intruded under Moses, and it was probably he who began a connexion with Cornwall which lasted until within living memory. Following Emmanuel the College turned the old chapel into a library, which bears the date 1690. Since Christopher Wren had a son at the College about 1691, and the plasterwork is by Henry Doogood who worked for him, it is possible that Wren had a hand in the admirable bookcases. Then the books were moved from Booth's Library, unchained, turned with their spines outwards, rearranged, recatalogued, and furnished with bookplates; and very well the library must have looked to gain the approval of the contemptuous Uffenbach in 1710. (fn. 21) About 1878, when the present library block was built, three bookcases were removed from each side and two and a half left, now filled with 16th- and 17th-century volumes. Under the panelling was medieval painting and the old piscina now removed to the new sanctuary.
Coga was succeeded by Thomas Browne (1694– 1707), who retained the living of Orton Waterville (Hunts.). The tutor was John Westfield, but on Queen Anne's accession he could not take the oath of allegiance and was deprived; the College sympathized with his scruples and made him an allowance. After Browne came Edward Lany (1707–28), greatnephew of Bishop Lany. In the lists of fellows a great name has a train of kinsmen for generations. In his time the society was strongly Tory; two of the fellows opposed in the Senate the University's congratulations on the suppression of the 1715 rising, but in a year or so they put the arms of George I over the gateway. It was evidently a happy family in spite of difficulties about finance. There was nearly always an expensive lawsuit when anything was left to the College. In 1715 Erasmus Earle of Heydon (Norf.) transferred to Pembroke the rich livings of Sall and Cawston (Norf.) with splendid churches, but required that the advowsons should be reserved for his descendants if educated at Pembroke. Even so the family resisted, and litigation continued for six years after Earle's death in 1721. Of recent years his descendants have not been forthcoming. In 1939 Mrs. Duff, his last representative, transferred to the College the presentation of Heydon, so that it could be held with Sall. Another 18th-century bequest which matured only after long litigation was that if Charles Parkin (admitted 1708, died 1765), who left money to found scholarships for boys from Merchant Taylors' School as well as valuable collections on local history. (fn. 22)
About 1712 to 1717 much money was raised by subscription to face the front and the Old Court, originally built largely of clunch with ashlar, and to make the hall brighter. During most of Lany's Mastership his president was Reginald Hawkins of Pennans in Creed (Cornw.). John Hawkins, a fellowcommoner of his family, was elected Master in 1728 and held the nominal position until 1731, but he only came up for a few weeks to begin with and again in 1731. However, he made over to the College his salary as Master. Richard Crossinge, as president, ran the College so far as any running was necessary; his chief friends were Richard Attwood, esquire bedell, who busied himself with College and University history, and James Jeffrey. All three died in 1734 or 1735. Crossinge left money to complete the west part of the College site. Four houses south of the Master's stables by the chapel, called Pembroke or Crossinge Place, made way in 1874 for the Red Buildings. The next Master, Roger Long (1733–70), was a real 'character'. Before becoming a fellow in 1703 he had been master at Soham Grammar School. In 1711 he was presented to the living of Orton Waterville, and later resided as a fellow-commoner at Emmanuel and then at Pembroke. With his Mastership he held the livings of Bradwell-nearthe-sea (Essex) and of Cherry Hinton. He was ViceChancellor in 1733–4 and was nominated again in 1769 when he was 89, but was not elected. His real interest was in astronomy, of which he was professor, and in mechanical ingenuity. He combined them in his 'Sphere', the first planetarium, within which 30 people could sit while a boy outside turned the handle and the fixed stars performed their apparent revolution. The 'Sphere' got in the way of Waterhouse's plans for the Master's new stables, in which it is recorded that one donkey once spent the night, and was broken up. He also had some kind of water velocipede in the garden pond. He was very autocratic and quarrelled continuously with the fellows.
In 1739 entered as sizar Christopher Smart. His contemporaries appreciated his more ordinary poems, and he won the Seatonian prize five times. When the College mistakenly celebrated its 400th anniversary in 1743, he wrote the ode. There also exists an elaborate scheme of lectures in his hand dated 1746, showing what a good scholar he must have been and that there were excellent intentions as to teaching the young men. Now he is valued for his 'Song of David' and the sparks of genius in 'Rejoice in the Lamb'. But his ill-regulated life passed, as he had been warned, from Bedlam to debtor's prison.
In 1742 Thomas Gray returned to Peterhouse as a fellow-commoner. His friendships, with the exception of Richard Stonehewer's, somehow seem to have been formed over the way with James Brown, fellow of Pembroke since 1735, and Thomas Wharton, M.D., fellow 1739. By 1749 he felt himself sufficiently at home there to take part in getting his own friends, Mason and Tuthill, into fellowships supporting Brown. Roger Long obstinately opposed them, justifiably it would appear. Tuthill was sub- sequently expelled for 'great enormities'. A more satisfactory friend of Gray was William Trollope; a whole page of the library register is given up to books taken out by Trollope for Gray's use. On 6 March 1757 Gray took up permanent residence in the College. He was 'extremely well lodged here and as quiet as in the Grande Chartreuse: everybody, even the Dr. Long and Dr. Mays are as civil as they could be to Mary de Valence in person'. In 1759 Long was seriously ill, but, as Gray prophesied, he recovered. In 1768 Gray was made Regius Professor, bound to be 'skilled in modern history and in the knowledge of modern languages': which he was, but he did not lecture. For 15 years he occupied the best rooms in College, above the present Senior Parlour, and died on 30 July 1771. Long had died in 1770 and was succeeded by Gray's friend, James Brown.
In 1775 Mason, to whom Gray had left his papers, produced his Poems and Memoirs of T.G.'s Life and Writings. Editors have been sorting them out ever since. Mason made bequests to Richard Stonehewer of Peterhouse and from him there came to the College three precious volumes of Gray's Commonplace books, his portrait by Benjamin Wilson, posthumous but probably the best surviving likeness, and the portrait of Mason by Reynolds, perhaps the best picture in College. In Gray's memory Mason and Brown founded a fund for rebuilding, which paid for Waterhouse's work after 100 years. Gray had asked his friends to send more boys to the College. During Long's 35 years the average entry was about six, although it increased a little towards the end. Edward Wilson, admitted in 1753, became chaplain to the Earl of Chatham and tutor to his second son. This brought William Pitt to Pembroke in 1773 at the age of fifteen. He resided off and on until 1780, and in the following year he entered Parliament. Two years later he was Prime Minister. The College put him under Joseph Turner, afterwards Master, and George Pretyman (Tomline), afterwards Bishop of Winchester. Pitt's gift of a magnificent soup-tureen is a tangible memorial of his residence.
Brown died in 1784, and was followed by Joseph Turner, Master for 44 years. At first the College prospered under him; it began to produce bishops again. E. G. Sparke of Ely, and Pretyman do not perhaps do it much credit, but Edward Maltby, probably the College's best classic since Thomas Stanley, was a good Bishop of Durham, and there were two great pioneers in T. F. Middleton, first Bishop of Calcutta, and William G. Broughton, first Bishop of Australia.
Soon after 1800 came a great benefaction obscurely connected with Pitt. Since about 1450 the College had shared the ownership of Linton, first with the Parys family, and then with their supplanters, the Millicents, who finally rose to owning Barham Hall, once the home of the Crutched Friars. (fn. 23) As rector, the College defended against them right up to the High Court its claim to the tithes of pease tilled with a hoe. Robert, the last of the Millicents, died in 1740; his relict, a Disbrough, married Christopher Lonsdale, sometime fellow of Peterhouse, but he died and left her a childless widow. In 1784 she obtained from Pitt licence in mortmain to leave the whole estate to the College, one-third of the fund to be for building. Her intention was that her house should form a country house for the Master, but when she died in 1807, Joseph Turner, Dean of Norwich since 1790, was not interested in a third official residence. The house was neglected and finally mostly pulled down to make way for a farmhouse. The contents were dissipated except for some interesting plate, and a dull library, which someone searched every 20 years in the vain hope of finding some treasure, until it was finally disposed of in 1943.
Turner died in 1828. There is a good portrait of him by G. Dawe. In his time fellow-commoners became rare; among the last was a future Earl of Rosebery. Among other members were Dawson Turner, who was related to the Master, a Norfolk antiquary, and patron of J. S. Cotman. More important was Thomas Barnes, editor of The Times.
Gilbert Ainslie, of a Westmorland family, son of one of Pembroke's few senior wranglers, held the mastership until 1870. His great work was the arranging, cataloguing, and summarizing of the college records with the utmost accuracy. He was twice Vice-Chancellor, in 1828 and 1836, and a great force in University affairs. He was anxious for reform, but only if it came from within either College or University. He redrafted the Latin statutes of the College, which were submitted to the Queen in Council in 1837 and granted in 1844, but superseded by the Statutory Commission after 1856. Ainslie would not give texts of the old statutes to be printed, holding himself bound by his oath not to betray the secrets of the house. Perhaps even more valuable than his work on the records was his successful policy in enlarging the College site. His method was to acquire properties that neighbouring colleges coveted and then exchange them for pieces of vital importance to Pembroke. After long negotiations and an Act of Parliament he gained from Corpus the freehold of Paschal Close on the north of the garden and from Peterhouse successive pieces of the common land called Swinecroft to extend the garden to the south. One of these pieces contained two small observatories, the instruments in which were ultimately given to Firth College, Sheffield, now Sheffield University. Another acquisition of his mastership was the purchase of the presentations of Gosbeck (Suff.) and Tarrant Hinton (Dors.) to ease the flow of fellows from the College. (fn. 24)
The new statutes meant the abolition of the old close scholarships, from St. Bees, Ipswich, Christ's Hospital, and Merchant Taylors', which had brought many good men to Pembroke, such as, at the end of the series, W. Haig Brown, refounder of Charterhouse, and C. E. Searle, who remade the College. Other notable men were J. R. Woodford, Bishop of Ely, Sir Henry Maine, the jurist, and Sir George Gabriel Stokes, almost the last of the great Newtonian physicists, and from St. John's came J. Couch Adams who had discovered Neptune. But things must have been at a low ebb; in 1858 there was but one freshman, and he went off to Caius.
Hurt by the encroachment that the new statutes made on the predominance of the heads of houses in University and College, Ainslie retired into himself. Over the College expectancy or menace seems to have weighed, yet in 1863 John Cory was called in to do some repairs, and seems to have made the hall, which had been rather bare and neglected, into a very pleasant room. Ainslie died in January 1870 and five days later John Power was elected Master. At once he brought back Charles E. Searle from a curacy in Suffolk to be Tutor.
The obvious need was to do something about the buildings, and this was reinforced by the fear that the building fund, the accumulations of the Gray and Barham moneys, might be confiscated for the benefit of the University. Alfred Waterhouse was one of the most prominent architects of the day for secular buildings; he had just done much work at Caius and Balliol. His drawings are often quite attractive; it is his texture which most offends us. He had perfect confidence in himself, and must have established a domination over the Master, to whom the resident fellows were strangely submissive. (fn. 25) The first work was the Red Buildings south of the chapel, and a new Master's Lodge looking over the bowling green, both in the style of the châteaux of the Loire. Waterhouse wanted to build an apse to the chapel and a campanile 'high enough to be the most conspicuous tower in Cambridge'. Emmanuel Church just across the street had not yet arisen, nor St. John's chapel. But the chapel did not come next. No doubt the old lodge and the south range of the Old Court were in poor repair and very cramped, but they should not have been demolished before careful consideration had been given to the state in which the adjacent buildings would be left. Instead, they were demolished first, and only then was the College confronted with a report that the hall was beyond repair, and so forced to accept a new one, either on 31 December 1874 or very early in 1875. There is no actual record of the decision. On 6 March a memorial signed by all the most distinguished Pembroke men of the time was sent to the Master and Fellows, but they paid no attention and on 16 March passed an order for pulling down the hall. It is said that part of the building was so strong that it had to be blown up, but this merely means that medieval mortar, being of haphazard composition, would set hard in one place, and turn to powder in another. Modern technique could have saved the building, and so even then could an architect less enamoured of his own grandiose designs. The new hall and combination room were imposing, but the effect of the hall was spoilt by the low tiebeams, and the combination room was a pretentious apartment. Last of all Waterhouse was allowed to build some more Frenchified work, a library with lecture-rooms below and a clock-tower above. But reaction had set in. Although the College had formally decided on the destruction of the old chapel or library and the north side of the court, George Gilbert Scott, son and father of architects, patiently got round that decision and saved them. Enlargement of the chapel was necessary and his extension was very skilfully made, but no view exists of Wren's interior looking east. Finally what was left of Paschal Yard was occupied by six staircases in a rather elaborate 17th-century style; its proportions were much better before additions were made to it.
For 30 years under Searle, first as Tutor and, after Power's death, as Master (1880–1902), with C. H. Prior from Caius and R. A. Neil, the great classic from Peterhouse, as his right-hand men, the College grew and flourished, producing not so much distinguished men as sound evangelical clergymen and various servants of the state especially in the Indian Civil Service. Finances came to be in the hands of W. S. Hadley. Classics were very well taught. In 1899 there was a Senior Wrangler, George Birtwhistle, afterwards fellow, and a great benefactor, founding a new fellowship. Then between 1899 and 1903, Prior, Neil, Searle, and Stokes, Master for five months in 1902–3, died. After such losses things were difficult, but the situation was saved by A. J. Mason, Master 1903–12, and a canon of Canterbury. In his time W. D. Caroe built the Pitt Buildings and an extension of the New Court, joined to the Inner Court by a remarkable bridge, along the street, the peculiar contribution of the Master. The Tutor meanwhile was Hadley with H. G. Comber as treasurer and assistant tutor. They both had a genius for moulding the ordinary, not very brilliant, undergraduate into a most useful member of society. From 1891 to 1906 the dean had been J. F. BethuneBaker, afterwards Lady Margaret Professor of Divinity, one of the most distinguished theologians of his generation. Equally outstanding was E. G. Browne, the greatest of English Persian scholars and from 1902 to 1925 professor of Arabic. The numbers had by now risen to about 250. After a distinguished two years as Vice-Chancellor (1908–10) Mason retired to Canterbury and was succeeded by W. S. Hadley (1912–27), J. C. Lawson becoming Tutor.
When the First World War broke out Comber began giving elementary war training in College. The War Office at first objected, but his practice worked so well that it was adopted officially. This was the origin of the first officers' training school, and other colleges were later used for similar purposes. Pembroke at once offered its buildings without any reservations and so was one of the last to be freed by the War Office. Its men were of the most serviceable type. Three hundred names of members and servants of Pembroke are on the first war memorial in Wren's cloister, designed by T. H. Lyon. This is a larger proportion than that of any other college. A. A. Seaton, fellow, a very promising historian, was killed in the second year of the war, and A. L. Attwater, the historian of the College, (fn. 26) died of his injuries after 20 years of suffering.
In 1925 a new departure was the foundation by Dr. R. M. Courtauld of studentships in physics and chemistry bearing the name of Sir G. G. Stokes. It was difficult to cope with the varied influx of students after the war; the great numbers made an extension of the hall necessary. This was cleverly carried out in 1926 by a Pembroke architect Maurice Webb. It was found possible to incorporate the combination room with the hall, giving them a unity by putting in a flat ceiling with effective heraldic decoration. Above this two stories of rooms were built to utilize the precious space, a repetition of what Laurence Booth had done in the 15th century. The south window of the former combination room makes an attractive and unusual end to the hall. The set of rooms under that occupied by Gray in the Hitcham Building was made into a Senior Parlour, and a Junior Parlour was contrived to take the rest of the ground floor. In 1932 was completed the third Master's Lodge, a practical modern house in the far south-east corner of the College site, provided with a pleasant strip of garden. The architect was again M. E. Webb. The lodge built by Waterhouse, cut up into rooms, houses three fellows and thirteen undergraduates.
Successor to Hadley as Master was Arthur Hutchinson (1928–37), Professor of Mineralogy, whose election to a fellowship in 1892 had been the first recognition by the College of the claims of natural science. The year 1935 brought great changes. J. C. Lawson, Tutor since 1912, died in January, Attwater in May, and in September, H. G. Comber, who to the outer world was perhaps its most prominent figure. In September 1937 Arthur Hutchinson retired from the mastership under the statutes of 1926. Sir Montagu S. D. Butler had been preelected as his successor. He had been a fellow in 1896–7 and then had a brilliant career in the Indian Civil Service. He was the right man to tackle the difficulties resulting from the Second World War. The New Court was taken by the R.A.F., during whose occupation a fire occurred, but the Master's skill turned this to good account, and the rebuilding gave more and better accommodation. Towards the end of the war the hall was greatly improved, gaining more light and a pleasanter appearance. A new building, designed by Marshall Sisson, three stories high and fifteen bays in length, was under construction in 1956.
The 600th anniversary was simply celebrated in 1947. A second war memorial was set up, opposite the first. In 1948 Sir Montagu Butler was succeeded as Master by Sydney Castle Roberts, long secretary of the University Press.
Recent years have been marked by a great increase in the number of fellows. Besides the actual staff there are retired fellows, university lecturers, and junior research fellows. In 1952 the numbers were roughly, Master and Fellows 24 (as the foundress intended), M.A.s in touch with the College 24, research students 50, and B.A.s and undergraduates 320.
Library.
There is a main series of 312 manuscripts, mostly medieval, various later ones, and about 100 incunabula and fragments. (fn. 27) The manuscripts fall into three classes: (i) The remains of the old College library, work books not very interesting either for contents or appearance, about 140 in number. (ii) Books from Bury St. Edmunds, rather over 100 out of the 250 or so known to survive, many are in their original bindings and retain their library-marks of various dates, and their shelfmarks, so that they are of capital importance in the study of monastic libraries. No. 120 was the gift of Edmund Boldero, fellow, afterwards Master of Jesus College. It really belongs to class (iii), that is gifts made since 1600. In these the proportion of books of beauty or interest is much higher than in class (ii). Matthew Wren made an excellent catalogue and started lists of donors which were kept up very well until about 1700.
Among the old manuscripts may be mentioned: 13, Gregorii Moralia, 11th cent., with initials very like Limoges work; 40, Margarita Martini, 14th cent., showing, as only one other book in England, the pecia or unit for university scribes' pay; 59, Esaias Glosatus, 12th cent., with some Hebrew as end-paper; 81, Beda de Templo Salomonis, early 9th cent., in an almost Merovingian hand; 88, Excerpta Gregorii, 10th cent., Carolingian with Insular abbreviations; 113, (not Bury) Juvenal and Persius, with a noted French song between them, 12th cent.; 120, New Testament (162/3x102/3 in.), six leaves of illustrations of Gospel story, 11th cent., certainly Bury work; text with splendid initials, written by William, 12th cent.; 170, Godofredus de Fontibus, Quodlibeta, 14th cent.; 249, Petrarchae, Africa, bound in draft of a Papal provision, c. 1400; 255, Scoti et Mayronis Quaedam, written in college by G. Skipwith in 1460; 300, Household Expenses of Thomas Duke of Norfolk, 1526–7; 301, Gospels (112/3x8⅓ in.), c. 1020, Winchester Style, Canons and Evangelists; (fn. 28) 302, Hereford Gospels (7½x4 in.), Selections, rare narrow shape, Canons, boundaries of the See of Hereford according to Athelstan (1012–86), Four pictures of the Evangelists. Fine pages of lettering opposite each. First rate work; (fn. 29) 307, John Gower, Confessio Amantis, 15th cent.; 308, Rabanus Maurus, super Epistolas Pauli, 11th cent., once at Ely. Across junction of quires Hincmarus Archiepiscopus dedit sacrae Mariae Remensi. Written by eight scribes, each signs his portion, a portio communis at end. Such signed work seems only known in three books; 309, William Lyndewode, fellow, Provinciale, belonged to Bart. Burgoyne, London Carthusian; 310, Evangelistarium Graece, 12th cent., 4to, written in very large minusculus; coloured initials. Besides Bury MSS. there are manuscripts from Buildwas, Christ Church, Canterbury, Durham, Sempringham, Reading, St. Albans, and Tynemouth. Of the later manuscripts may be mentioned the Album Amicorum of Ortelius, and the Devotions of Lancelot Andrewes, collections of Charles Parkin for Cambridgeshire and Norfolk, with a book of miscellanea ranging from two Paston letters to a list of pictures sold from Houghton to Catherine II.
There are important collections concerning C. Smart, Thomas Gray, and William Mason. Chief recent contributors to these have been Sir D. M. Colman and Leonard Whibley, fellow. Gray's Commonplace Books, bequeathed by Richard Stonehewer, which include the final texts of his poems, are kept in the treasury. The College sponsored T. G. Mathias's edition of Gray and his remains, largely drawn from these. R. A. Neil left an almost complete set of editions of Aristophanes. W. S. Hadley bequeathed books dealing with the French Revolution and Napoleon. A. L. Attwater greatly enriched the classes devoted to English literature.
The incunabula contain no items of very general interest: but some have exterior labels with names of donors, and came to Pembroke within a year or two of printing. The library has the only good Romanesque binding in Cambridge, MS. 147 Ezechiel. The Lancelot Andrewes bequest includes many good bindings, such as the best-known copy of the Slavonic Bible, Ostrog, 1581, and Whitgift's copy of the Complutensian Polyglot. Noticeable are the bindings of the three registers, bought about 1488, in which the first attempt was made to note down College history and clear up its records. The three blank books were probably bound in Cambridge, and fix the locality of G. D. Hobson's 'Demon' (really 'goat') binder, and 'Unicorn' binder. (fn. 30)
Portraits.
Foundress, after Faber's mezzotint, 1715, itself adapted from portrait of the Lady Margaret at St. John's; Henry VI, after Faber; Thomas Rotherham, after portrait at King's; Richard Fox, after portrait at Corpus Christi, Oxford; Robert Shorton, after portrait at St. John's; John Rogers, John Bradford, Nicholas Ridley, John Whitgift, Ralph Brownrigg, after Heroologia; Nicholas Ridley, contemporary; John Young, Master 1554–9, after portrait in the Old Schools; Edmund Grindal, after portrait at Lambeth; Edmund Spenser, by B. Wilson, copied from Lord Chesterfield's fancy portrait; Matthew Wren as a young man; Theophilus Field (?); Nicholas Felton; Sir Robert Hitcham, after portrait at Gray's Inn; Benjamin Lany; Sir Benjamin Keene, after Van Loo; Roger Long, by B. Wilson; Thomas Gray, posthumous, by B. Wilson; Christopher Smart, by himself (?); William Mason, by Sir J. Reynolds; H.R.H. Mary, Duchess of Gloucester, by W. Beechey; Joseph Turner, by G. Dawe; Gilbert Ainslie; Sir Henry Maine and Sir G. G. Stokes, by Lowes Dickinson; J. Couch Adams, by H. Herkomer; John Power by W. Vizard; Charles E. Searle, by W. W. Ouless; A. J. Mason, by H. Hayward, and another by George Henry; E. G. Browne, by C. Shannon; H. G. Comber, by G. Kelly; S. C. Roberts, by T. Greenham; Busts of William Pitt by Nollekens and Chantrey; of T. Gray and G. G. Stokes by Hans Thorneycroft.
Altarpiece. Descent from the Cross after Baroccio.
Plate.
The Foundress's Cup, silver gilt, height 6¾ in.; diameter 6 in.; weight 22 oz. Classed as a mazer, to which a foot has been added, (fn. 31) but the bowl is of silver gilt and this may be original. No marks. Inscriptions: under lip, '+ Sayn denes yt es me d're for hes lof drenk and mak gud cher'; upon the stem, 'V M'; round it, 'God help at ned'. The 'print' within is raised and bears the letter M. The work is of about 1480. An entry in an inventory about 1503 says that Dr. Richard Sockburn gave a cup with inscription running round, 'God help at ned', and that it had a wooden cover and a silver gilt ball. A 1546 inventory lists a cup with a wooden cover and a gilt ball, but calls it 'My Ladie's Cup'. Sockburn came from Yorkshire and the longer inscription is in a northern dialect. The shorter inscription agrees. Almost certainly Sockburn's cup was taken to be the foundress's gift. (fn. 32)
The Anathema Cup, silver gilt, height 8½ in.; diameter 8¼ in.; weight 39'1 oz. Almost plain, six beads above the stem and a ribbon and rosette pattern round the base. The small print within has lost its enamel. The body takes apart from the base; each bears hall-mark D (1481), the leopard's head and a maker's mark (Fetter lock ?). D is the second oldest certain mark now known. Inscription within foot, 'T. Langton Winton episcopus aule Penbrochie olim socius dedit hanc tasseam coopertam eidem aule 1497'; above 'qui alienaverit anathema sit lxvij un&cmacr;'. (fn. 33) In the 1503 inventory it is described as 'cum 8to [apparently corrected to 6] pennaculis in summitate'. Thomas Langton, fellow 1461, became Bishop of Winchester and Archbishop elect of Canterbury, and died in 1501.
In 1642 the College sent all its plate to the king save these two cups, and of these it sent the covers. The cover of the Anathema Cup must have weighed 28 oz. resembling in form that of the Foundress's Cup at Christ's of which the finial had six pinnacles. The result of this gift is that Pembroke has no plate between 1481 and 1660.
The Chapel Plate, the gift of Matthew Wren, came from his chapel at Ely. It bears no date; the maker's mark, a hound sejant, is well known but not identified. Chalice, two patens, basin, candlesticks of very original design 1660–1 (orb and star), mitre and crozier. These last bear no mark, and are apparently of foreign work. None other are known in England between 1535 and about 1840. Flagon and basin (Maker IB), 1669–70, made by the College to match. (fn. 34)
The collection is rich from 1690 to 1800: 7 tankards including Browne's, 1661, by R.F.; 20 pairs of candlesticks, including William Coventry's, 1690–1, by T.A.; Bacon's Monteith, 1697–8, by A. Nelme; Ewer, 1706–7, by J. Margas, Basin, 1708, by D. Williams, the pair given by two Jacobites, Sir Wm. Barker and R. D. Belward; 11 cans made from old gifts, 1710, by A. Sheene; 3 more, 1719–20, by G. Sleath; Thom's stoups, 1722–3, by G. Sleath; 4 twohandled cups, including William Godolphin's, 1715– 16, by D. Williams; Lethuillier's Soup-basin, 1725, by M. Parren; Miller's Dish, c. 1700, given 1730, Indo-Portuguese; Lord Strathmore's candelabra, 1762–3, by L. Black; William Pitt's soup tureen, 1778–9, by I. Taylor and John Wakelin. (fn. 35)
Seals.
1. The original seal, c. 1347, silver, vesica shape, 2.6 by 1.6 in. Hatched background; above, between two small cinqfoils, Christ with cruciferous nimbus and hands raised: below him a chapel-like building, probably reversed in engraving, as the impression would then show an east window, a south window, and a door at the west end; details characteristically 'Decorated': stone courses and lead roof indicated. Supporting figures of Aymer de Valence and Mary de St. Pol; on each side of them shields hung from crossed branches, Aymer's showing Valence alone, Mary's Valence and St. Pol dimidiated. Below their feet a field with herbs. Inscrip- tion: s'cvstodis et scolariv' domvs de valence marie in cantebrigī'. The handle on the back is a low ridge rising to allow of a hole for suspension. The Secretum is lost but impressions survive, e.g. on the second copy of the statutes, College Box A. 12, and on deeds in Wissenden Box, C. 6 and 10. It bore a figure of God the Father supporting the Son on the Cross with a tracery frame. secretv' avle valence marie cantebris. (fn. 36)
2. This is a rude reproduction, 17th century, in brass of no. 1 but with a vertical handle. sigil cvstod et sociorvm domvs de valence marie in cantabrigia.
3. Oval, brass, 3 by 2.7 in., late 17th century, fancy shield with decorative curls. sigillum custodis et sociorum aulæ mariæ de valentia in academia cantab.
4. Steel, very similar to no. 3, 18th century. sigillvm cvstodis et soc. avlæ de valentia in acad. cant.
5. In use in 1953. Probably made for Ainslie as soon as the title 'College' came into use. Traces of the Gothic revival in design and lettering. Steel, 2½ by 2 in., o.6 in. thick. Heater-shaped shield suspended from branches, flanking curls. sigillvm cvstod. et soc. coll. valence. marie in acad. cant. (fn. 37)
Masters of Pembroke College
Robert de Thorpe: 1347.
Thomas de Bingham: 1364.
John Tynmouth or Tinmew: c. 1380, died 1385. (fn. 38)
Richard Morys: 1385.
John Sudbury: 1406, resigned 1428, died 1435.
John Langton: 1428, died 22 May 1447.
Hugh Damlet: 1447, resigned 1449, died 17 Apr. 1476.
Laurence Booth: 31 May 1450, died before 20 May 1480.
Thomas Rotherham: 1480, resigned 1488, died 29 May 1500.
George Fitzhugh: 14 Sept. 1488, died Nov. 1505.
Roger Leyburn: 29 Nov. 1505, died c. 1 Aug. 1507.
Richard Fox: 1507, resigned 19 Oct. 1518, died 14 Sept. 1528.
Robert Shorton, or Sherton: 1518, resigned 1534, died 1542.
Robert Swinburn: Before 4 Oct. 1534, resigned Oct. 1537, died 10 Feb. 1540.
George Folberry: 1537, died Oct. 1540.
Nicholas Ridley: Oct. 1540, d. 15 Oct. 1555.
John Young: 24 Dec. 1554, deprived 20 July 1559, died 1579.
Edmund Grindal: 20 July 1559, resigned 16 Aug. 1561, died 1583.
Matthew Hutton: 14 May 1562, resigned 1567, died 6 July 1605.
John Whitgift: 21 Apr. 1567, resigned July 1567, died 1603.
John Young: 12 July 1567, resigned 16 Mar. 1578, died 1605.
William Fulke: 10 May 1578, died 28 Aug. 1589.
Lancelot Andrewes: 6 Sept. 1589, resigned 1605, died 25 Sept. 1626.
Samuel Harsnett: 9 Nov. 1605, resigned 18 Feb. 1616, died 25 May 1631.
Nicholas Felton: 29 June 1616, resigned 18 Feb. 1619, died 5 Oct. 1626.
Jerome Beale: 21 Feb. 1619, died Sept. 1630.
Benjamin Lany: 25 Dec. 1630, ejected 13 Mar. 1644, restored 1660, resigned 16 Aug. 1662, died 21 Jan. 1675.
Richard Vines: 13 Mar. 1644, ejected 1 Oct. 1650, died 4 Feb. 1656.
Sidrach Simpson: 1650, died Apr. 1655.
William Moses: Apr. 1655, ejected 1660, died Nov. 1688.
Mark Franck: 23 Aug. 1662, died Jan. 1664.
Robert Mapletoft: c. May 1664, died 20 Aug. 1677.
Nathaniel Coga: 20 Aug. 1677, died 8 Jan. 1694.
Thomas Browne: 10 Feb. 1694, died 9 Mar. 1707.
Edward Lany: 19 Mar. 1707, died 9 Aug. 1728.
John Hawkins: 15 Aug. 1728, resigned Oct. 1733, died 30 July 1736.
Roger Long: 12 Oct. 1733, died 16 Dec. 1770.
James Brown: 16 Dec. 1770, died 30 Sept. 1784.
Joseph Turner: 6 Oct. 1784, died 3 Aug. 1828.
Gilbert Ainslie: 15 Aug. 1828, died 9 Jan. 1870.
John Power: 14 Jan. 1870, died 18 Nov. 1880.
Charles Edward Searle: 24 Nov. 1880, died 29 July 1902.
George Gabriel Stokes: 26 Aug. 1902, died 7 Feb. 1903.
Arthur James Mason: 11 Mar. 1903, resigned 15 June 1912, died 24 Apr. 1928.
William Sheldon Hadley: 19 June 1912, died 25 Dec. 1927.
Arthur Hutchinson: 16 Jan. 1928, retired 30 Sept. 1937, died 12 Dec. 1937.
Montagu Sherard Dawes Butler: 1 Oct. 1937, retired 31 July 1948.
Sydney Castle Roberts: 1 Aug. 1948.
William Vallance Douglas Hodge: 1 Aug. 1958.