Pages 429-436
A History of the County of Cambridge and the Isle of Ely: Volume 3, the City and University of Cambridge. Originally published by Victoria County History, London, 1959.
This free content was digitised by double rekeying. All rights reserved.
CHRIST'S COLLEGE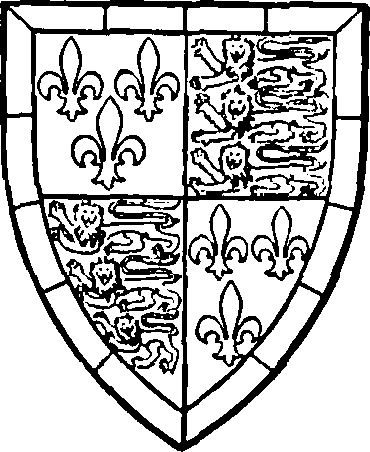 Foundation.
Christ's College (fn. 1) is an enlargement of God's-house, instituted in 1439 by a London parish priest, William Byngham, for training grammar-school masters. (fn. 2) God's-house first stood in Milne Street, of which the north and south ends still exist as Trinity Hall Lane and Queens' Lane. This site, near the Schools, seems to have excited the jealousy of the University authorities, who thought of founding a College themselves; so for protection Byngham obtained royal licence to hand over his foundation to its neighbour, Clare Hall. This, however, was never done, and a later licence, on which he acted, was for an independent College. He was supported in his project by members of Clare, and he took its statutes as a model for his own; indeed the title 'Proctor' given in these to the head of God's-house possibly reveals his original design, though it was gradually replaced by the alternative 'Master' in College deeds, perhaps to avoid confusion with the University proctors.
Site.
Byngham's ground, however, was soon wanted by Henry VI for King's College, and God'shouse was moved to the present site, outside the town's Barnwell gate. The royal licence of 1446 empowered the College to take students in all faculties, not only in grammar; and in a further licence of 1448, which may be called the foundation charter, the king consented to become founder, but desired that Byngham and his heirs and successors should be deemed the second founders. The new site covered two strips of ground, the north (fn. 3) side of the present First and Second Courts.
Endowments.
The revenue consisted chiefly of pensions from alien priories, appropriated by Henry V: Newstead (Lincs.), Sawtry (Hunts.), Monmouth, Chepstow (Mon.), Craswall (Heref.), Totnes (Devon), North Hykeham (Lincs.), Thurlow (Suff.), and Ware (Herts.). God's-house also owned the advowsons of Helpston (Northants.), Fen Drayton (Cambs.), and Navenby (Lincs.).
Original Statutes.
The statutes of God'shouse were sealed by the Vice-Chancellor, and the Prior of Barnwell, William Cambridge, in 1495. Why the execution of the statutes was deferred so long is unknown. They provide for a Proctor, Master or Keeper, and 25 scholars or co-fellows, two in priest's orders to serve as chaplains and say mass daily for the king and his kin, for Byngham and for all benefactors. Only half the members of the foundation might be from one county, with preference for places where the College has property. After graduating in grammar they must accept any post with suitable stipend offered at any school built within the last 40 years. The studies are sophistry, rhetoric, logic, and philosophy, the works of Priscian and Virgil, and the sciences of metrification and versification. One sees here the first gleams of the dawning renaissance. One scholar is to be reader and give three or four lectures daily; and there were to be weekly disputations. Only Latin might be spoken, except on holidays. No fellow, unless reader or parish priest, might remain after taking the B.A. degree.
Suitable persons not on the foundation might be admitted to reside under the same rules of discipline and study. All poor scholars of the University are admitted free to lectures. Lectures were to be given in the autumn term, now the long vacation, doubtless in order that country schoolmasters might refresh their knowledge, while their schools were shut for harvest. (fn. 4) Thus Byngham invented University extension. He also instituted the first secondary training college, by providing poor men with teaching, which the rich obtained in their hostels, to supplement professors' lectures.
Discipline was kept by the Proctor, with two fellows as assessors in serious cases; the penalty for misconduct, neglect of duty, or incapacity was expulsion, but a fellow might appeal against sentence to the Chancellor, who is Visitor. There was elaborate provision for removing the Proctor if incompetent or ill conducted. The Proctor's stipend was 5s. a term, 6s. 8d. if the year's income reached £40, and 10s. if it reached £60; the reader's £2 13s. 4d. annually. A fellow vacated his fellowship on acquiring property to the annual value of £5 6s. 8d. The servants were a manciple, rendering weekly accounts to the Proctor, and a cook.
History of God's-House.
Byngham himself took the Proctorship, and lived to preside over his foundation for nineteen years. Under his successor, John Hurte of Clare, additions were made to the grounds. Hurte retired to a fellowship at Clare, and was succeeded by William Fallan, Archdeacon of London, and perhaps a neighbour of Byngham as rector there. The next Proctor, William Basset, did great service to God's-house in defending its claims to property derived from alien priories, given by Henry VI, and in extending the site to its natural boundary at Christ's, then Rogue's or Hangman's, Lane. No additions were made until the 19th century. It is probable that Basset enlarged the buildings too. With the rectory of Fen Drayton he also held that of Helpston. On retiring he was succeeded by Ralph Barton, one of the early fellows, appointed reader for life by Byngham in 1451. God's-house now acquired its first property in Cambridgeshire, God's-house Grove at Borough Green on the Suffolk border.
Barton's more important successor, John Syclyng, had followed the same course of promotion; but while fellow of God's-house he also became fellow of Bene't or Corpus Christi College and was senior proctor. He continued to play an important part in University business, and was active in the service of the College, enlarging its buildings. About 1496 he visited its properties in the west of England and the Welsh marches, to collect arrears of rent, and waited on Lady Margaret Beaufort at Collyweston (Northants.), perhaps thus laying the foundation of her interest in God's-house.
God's-house was a small College, though not the smallest. It had at least 42 members between 1439 and 1505, of whom 30 are known to have been on the foundation. Its resources, though slender, were adequate, but a new era now began.
Refoundation.
The Lady Margaret Beaufort had buried her third husband, and seen her son on the throne; thenceforward she gave herself to works of beneficence. It was doubtless her confessor, John Fisher, then Bishop of Rochester and Chancellor of the University, who turned her mind to education; (fn. 5) and she was in touch with Syclyng. So she decided to enlarge God's-house, to which she was drawn by her attachment to its first royal founder. Declaring herself 'heir to all Henry VI's godly intentions', she greatly enlarged the buildings and endowments, to support 60 members, a Master, 12 fellow scholars, and 47 pupil-scholars, the difference between the two grades being now established. She modernized (fn. 6) the title 'God's-house' to 'Christ's College', and gave the College royal arms with her own motto, Souvent me souvient, which reflected Henry's N'oubliez pas. The College became the great interest of her few remaining years; she reserved rooms in it for herself or Fisher, and occupied them at times, keeping a motherly eye on discipline. The statutes that she gave were doubtless mainly the work of Fisher, but her guidance may perhaps be traced in limiting the number of scholars in each room to two, and in providing for a nurse in sickness, for clean surplices, and for a country retreat in time of plague.
Endowments.
This retreat was the mansionhouse, still standing, at Malton, where she gave the College the parsonage and manor. Her other chief endowments were the advowson of Manorbier (Pembs.), Creake Abbey (Norf.), 1,600 acres at Diseworth and Kegworth (Leics.), the advowsons of Kegworth and of Sutton Bonington (Notts.) and the manor of Roydon (Essex), surrendered to Henry VIII to give to Anne Boleyn in 1531, in exchange for Bromehill Priory (Norf.). The lands at Diseworth and Kegworth were sold in 1920.
In 1507 lands near Coventry were left by Margaret Warton, probably one of Lady Margaret's household, 'to my lady the King's mother', for the use of the College. Purchases during the first century, all in Cambridgeshire, included the advowson of Caldecote, the manors of Harlestones at Cottenham, and of Burgoynes at Impington, and the advowson of Toft. A yearly pension of £20 due to Bromehill Priory was always in arrears, and finally in recompense for it the manor and parsonage of Bourn were given by Edward VI, who thus ranks as the third royal founder of the College; they supported one additional fellow and three pupil-scholars. The gift is the basis of Fuller's story that a covetous courtier urged the king to take away some of the fellowships because the society considered itself to be founded in imitation of Christ and the twelve apostles. The king replied that he had a better way of marring their conceit, by adding a thirteenth.
In 1682 Sir John Finch, in memory of himself and his friend Sir Thomas Baines, gave £4,000 to augment the mastership and found two new fellowships and also scholarships. These fellows were not limited to any county or to any study, or required to take orders. If studying law or physic they might travel abroad for three years. Preference was given to founder's kin; and Finch retained the nomination for his lifetime, and bequeathed it to his nephew Daniel, Earl of Nottingham, who nominated two of his brothers, two of his sons, and three others as fellows. The family connexion lasted until 1815, when Daniel Heneage held a Finch and Baines scholarship.
In 1681 Seth Ward, Bishop of Salisbury, gave property in Essex and Kent to endow scholarships, with preference for boys from Essex and Hertfordshire schools. Ralph Widdrington, fellow, bequeathed in 1688 an estate estimated at £6,000, but the will was contested and the College got only £1 14s. 6d. Other legacies about the same time came from Thomas Otway, Bishop of Ossory, in 1692, for exhibitioners from Kirkby Lonsdale (Westmld.) or Sedbergh (Yorks.), and from Thomas Plume, Archdeacon of Rochester in 1704. Somewhat later Thomas Sitwell, fellow, left £600 to improve the stipends of the Master and fellows; Dame Diana Drury left land in Norfolk, chiefly to support exhibitioners from free-schools in Norfolk; and Christopher Tancred bequeathed property at Whixley (Yorks.) to maintain students in divinity. Afterwards no considerable benefaction was received for nearly two centuries. In 1923 a fellowship was endowed by Pierpont Morgan, who joined the College on receiving an honorary degree from the University; and in 1927 Sir Arthur Shipley, Master, bequeathed another fellowship. In 1934 Sir E. A. T. Wallis Budge left money for a scholarship, fellowship, or lecturership; in 1943 R. O. Bishop bequeathed money for scholarships in history; the A. H. Lloyd benefaction of 1945 made a considerable donation for fellowships, studentships, and buildings; and in 1950 W. H. D. Rouse bequeathed a fellowship and exhibitions. Benefactions had also been made by W. Lucas, J. M. Synge, N. McLean, F. H. A. Marshall, and F. S. Salisbury.
Statutes.
Of the original copies of the statutes given by Lady Margaret, one chained to a desk in chapel for general reference was worn out in 100 years, and another used by the master in 200; but a third with her royal signature, Nos Margareta, to be kept in the treasury, has been preserved. As the College was not a new foundation, but an enlargement of God's-house, this copy has no formal title. The statutes are not a bald legal document like those of God's-house, but give in fluent Latin full details for the business and life of the College. They begin by likening the members to parts of the body: the Master or Keeper (the title Proctor having been finally abandoned) is the head, the two deans, who correct erring pupils with the rod, are the arms, the fellow scholars the principal members, the reader the organ deputed to procreation, the pupil scholars the seminarium, and the hired servants the feet. Domestic details picture the life of the times. Gates are to be locked at 9 p.m. in winter and 10 p.m. in summer, and the keys brought to the Master. The Master's stipend is £6 13s. 4d. yearly with £1 extra for clothes, and 12d. a week for commons. He may hold only two benefices with cure of souls. He must be a doctor or bachelor in theology, or an M.A. studying theology. He is elected by the fellows or, failing a majority, appointed by the Chancellor or Vice-Chancellor. If erring he may be admonished, or, in the last resort, removed by the Visitor. The deans maintain discipline, with two pupils as monitors; the scale of fines for neglect of duty ranges from 1s. 4d. to 2s. for adults; for minors there is the rod. There are twelve fellow scholars, elected from the pupils, if suitable, with preference for poor men, and for natives of the nine northern counties, but only one from each; they must take priest's orders within a year of election. They had to come to chapel in clean surplices to sing matins, mass, and vespers on Sundays and feast days, and at least five times in the week. Their studies were theology, philosophy, and the arts; and there were to be two disputations weekly in chapel. Only Latin was to be spoken in College, except in a man's rooms or on holidays. They must not take part in drinking-parties, or engage in trade, carry arms, keep dogs or hawks, or play with dice or cards except in hall at Christmas. A fellow's stipend was 13s. 4d. a quarter with 12d. a week for commons; an allowance of 12d. each was to be spent yearly in buying cloth for their gowns at Sturbridge fair. A barber and a launderer were provided, or if no launderer was forthcoming, an honest woman of virtuous conversation was to be engaged as laundress. Women must seldom enter the College except as nurses. A fellow forfeited his emoluments on obtaining an income of £6 13s. 4d. or a benefice with cure of souls. The Master and fellows had to dine and sup in hall unless they were sick, or when the College went away in time of plague. They were allowed 20 days' absence on holiday each year, but only four fellows might be away at once. The reader had an extra stipend of 13s. 4d. a year. He was to give four lectures of two hours in hall daily, in sophistry, logic, philosophy, and the works of the poets and orators. (fn. 7) He was to enforce discipline by fines, which went to his pocket, or by flogging. A course of exercises was prescribed for the pupil scholars.
The pupils had to be poor boys able to speak Latin, intending to take Holy Orders. They were elected with the same local preferences as the fellows, and only three were to come from any one county. They had to graduate in arts, excepting six, chosen as most suitable, who were to graduate in grammar and become schoolmasters. No service was required of them except in weekly turns at dinner, supper, and bevers, when seven were to wait on the fellows and pupils and one was to act as Bibler and read from the Bible or the Fathers until the Master told him to stop; and in chapel, where two were to be servers and prepare the altar and put away the vestments. When of M.A. standing they had to leave. They received 7d. a week for commons, and the services of the barber and launderer. Anyone who came into an income of £5 6s. 8d. or a benefice with cure of souls lost his emoluments. The servants were: a manciple, under the steward, to keep the pantry and buttery (promptuarium), and to bring the keys of the gates to the Master at lock-up—his wages were 6s. 8d. a quarter with commons and moderate perquisites; a head cook at the same wages; an undercook at half these wages; a barber with 5s. a quarter; a launderer or laundress with 13s. a quarter; and a Master's servant, with 7d. a week for commons. Suitable students might be admitted as commoners or pensioners, both fellows and pupils. They were to be under the same rules as the scholars.
The Visitor was to be Bishop Fisher for life, and then the Chancellor or Vice-Chancellor, or if these were members of the College, the Provost of King's. He was to make a yearly visit to hear complaints and to question the Master and fellows in chapel. In the election of fellows and pupil scholars, preference was to be given to places where the College owned property. The foundress reserved the right to appoint the Master and fellows during her lifetime.
Buildings.
The present buildings from the gate to the chapel are substantially those of God'shouse, which was a single court, probably open on the south side; the back still preserves some original features. The Master's Lodge, hall, and the remainder of the first court are Lady Margaret's work. She reserved the first floor and attics of the lodge for herself and for Bishop Fisher as Visitor. The interior of the court was cased in stone 1758–69, but the oriel window dates from Lady Margaret's time, as do the two little windows, reopened in 1905, giving from the first floor of the lodge into the hall, and the doorway into the hall from what is now the senior combination-room. This doorway was originally on the other side of the hall, at the foot of the turret stair to Lady Margaret's apartments, the lower part of which stair was removed in 1928 to make the entrance to the second court. The groundfloor was assigned to the Master; the chamber over the antechapel, with an oratory and private altar, was also his. Afterwards offices for his servants were added north of the chapel. This accretion was enlarged in 1640, and later the Master occupied it himself; it was now called the Little or Private Lodge, whilst the lodge itself was let to wealthy undergraduates. About 1655 the main ground-floor room became the fellows' combination-room. In 1747 it was restored to the Master and became his dining-room, and in 1911 his study, while the Little Lodge was demolished and its materials employed in building new kitchens south of the hall. The room over the buttery now became the combination-room. In 1927 it was opened with the present arches upon the gallery of the hall, which had been rebuilt and raised in height, with the old roof preserved, in 1875; the fellows resumed their former combinationroom, and the rooms over the ante-chapel were remodelled to provide the Master with a study. These rooms are now used as a fellow's set. The three heraldic achievements above the gallery in the hall were designed by Sir Ninian Cooper and completed in 1939. The lodge was extended east of the chapel in 1910 and rebuilt in 1936.
The rule that two pupils were to occupy a room was later altered to enable four to do so; this shows an increase in the numbers wishing to join the College as pensioners. In 1613 a wooden range of chambers, popularly called 'Rats' Hall', was built in the Second Court, parallel with the hall; it was demolished in 1731. Two houses opposite the College, one an inn, the 'Brazen George', were early used as hostels. To obviate the need for this extra accommodation outside the precincts the Fellows' Building was begun in 1640. In the words of an appeal to old members for subscriptions, to which many men of distinction responded, it was to provide 'elegantias aequabiles et salubres recessus'. It was intended for the wealthy men who had now begun to be admitted fellow commoners while undergraduates, but four, later six, of the best rooms were reserved for fellows.
The stucco block on the south side of the Second Court dates from 1824. Its last staircase was added in 1867. The third court was begun in 1889, and the addition commemorating the quatercentenary in 1905. The front of the College was extended to Christ's Lane, enlarging the library, in 1897. The increase in the wealth of the College between the two world wars permitted an extensive programme of building and restoration. Between 1938 and 1953 the fabric was largely overhauled. The repairs in the First Court could not be delayed, and these were continued during the first two years of the war. The stone facings were cleaned and repaired, and attention was devoted to the gateway. The decoration of the achievement above the gate, postponed on account of the war, was undertaken in 1951. As far as possible the original colours were restored. After the war, the work included the re-roofing of most of the buildings and an increase in general amenities. Two new buildings were added to the existing Third Court, the Chancellor's Building in 1951, and the Memorial Building in 1953.
Chapel.
God's-house, unlike older foundations, had a chapel of its own, added after its establishment. This was enlarged for Christ's College and reconsecrated in 1510. The present vestries on the north side were two side-chapels, thrown into one and probably used as a temporary chapel during the alterations. Another on the south side was demolished to make room for the new lodge, which blocked the south window, now reopened. Three English glass windows of God's-house chapel remain west of the organ, balanced east of the organ by three that date from the rebuilding. The brass lectern is medieval. A brass of Syclyng, last Proctor of God'shouse and first Master of Christ's, is within the altar-rails, and in the south-east corner of the antechapel is one of a maid of honour of the foundress and her husband.
The enlarged chapel had an organ, replaced by a new one in 1538. The present organ was built in 1705, just after the chapel was 'rebeautified' with wainscoting and pavement, and themullions of the east window removed; these were replaced in 1847. The wainscot covered up the entrance into the north chapels, a piscina south of the altar, and a piscina, consecration-cross, and holy-water stoup in the antechapel; these have now been made accessible. In 1899 the plaster was removed from the ceiling and its beams and the walls decorated with colour. The walls were, however, whitened in 1939. The stained glass in the east window was inserted in 1912 as a memorial to Dr. John Peile, Master.
Library.
The library was until 1852 one room south of the gate; other rooms were then annexed, and in 1897 the whole was rebuilt and extended to Christ's Lane. English, French, and Italian histories and memoirs were left by Peter Fraser in 1852; John Hutton bequeathed Arabic, Persian, and Hindustani manuscripts, H. M. Scarth books on Roman Britain, John Peile and J. A. Sharkey classical works, and W. Robertson Smith his oriental collections. Of more recent years, valuable collections were given by W. H. D. Rouse, Sir Stephen Gaselee, A. V. Valentine-Richards, and J. A. Robinson, while Persian and Arabic books were bequeathed by J. Stephenson, books on Egyptology by Sir E. A. T. Wallis Budge, and on theology by N. McLean.
The muniment-room, formerly the treasury, over the gate contains chests belonging to God's-house. It has been gradually expanded into a bursary and College office by annexing adjacent rooms. Previously students' accounts were kept by the tutors or at the buttery.
The ground now known as the fellows' garden was leased from Jesus College in 1507 and purchased in 1554. Hammond's and Loggan's views of the College of 1594 and 1688, and Custance's map of 1798, show the ground divided by a wall into two unequal portions, the smaller of which was planted more or less regularly with rows of trees, the other laid out with an orchard. Baker's map of 1830, however, shows the present arrangement, which makes very skilful use of the ground to give a feeling of spaciousness and distance. From 1565 to 1711 there was a tennis court, and a bowling-green was first mentioned in 1686. The garden contains the mulberry tree associated with the name of Milton (fn. 8) and some cypresses grown from seed from the cenotaph of Shelley. The bathing pool and the garden house probably date from the early 18th century.
Historical Sketch.
The first half-century after the refoundation was marked by difficulties due to the exchange of Roydon for Bromehill Priory. Henry Lockwood, the Master, was constantly writing to Thomas Cromwell, who had succeeded to Wolsey's influence at court, for help in maintaining the College rights, and there were heavy charges for travelling to interview Cromwell, who was once presented with half a tun of wine. Cambridge was repeatedly visited by the plague; at least five times in eighteen years the College migrated to its sanatorium at Malton.
Religious changes were echoed by an alteration in some copies of the statutes, where to the oath of obedience to the statutes prescribed for the Master and fellows was added 'so long as these do not contravene the statutes of the realm put forth or to be put forth', doubtless inserted in compliance with the injunction of Henry VIII imposed by Cromwell, directing that all members of the University should 'swear . . . to obey the statutes of the realm made or to be made for the extirpation of the papal usurpation'. In the treasury copy the rules for chapel services and attendance and references to pre- Reformation use, the mass and so forth, have been bracketed or erased; 'great altar' has been changed to 'Lord's Table' but was later restored. In the chapel copy 'mattins, vespers and mass' is replaced by 'morning prayers, communion and evening prayers', and special masses for the day and prayers for the souls of the foundress and benefactors are omitted, alterations doubtless of the time of Edward VI. One copy omits the Pope's licence to the Master to hold two benefices, another the provision of a barber for tonsure.
Plays were acted in hall at Christmas and in the Lent term; one, Pammachius, on a pope who sold himself to the devil, was objected to by Gardiner, Cromwell's successor as Chancellor, but the ViceChancellor's disciplinary court imposed no penalty. The plays continued through the reformed period that followed, and under Mary. Richard Wilkes, Master 1548–53, belonged to the reforming party under Edward VI; and the king's special commission met at Christ's lodge, and found little to complain of at Christ's, but much elsewhere. Under Mary, Wilkes was removed and replaced by Cuthbert Scot, who was influential in the University; and fellowships changed hands rapidly, although no fellow was ejected. Scot retired to be Bishop of Chester, but came back as an active member of the commission of inquiry into the colleges, appointed by Cardinal Pole. His successor, William Taylor, retired after Elizabeth I's accession, leaving the accounts in some disorder. Under Elizabeth residents were in trouble for Puritanism, notably the learned Edward Dering, or for nonconformity; Christ's was probably the most Puritan college in Cambridge. But the Master, Hawford, followed the queen in retaining the old vestments and ceremonial, as being Catholic ritual, not a Roman corruption. John Still, fellow 1562–72, and Lady Margaret's Professor, is said to be the author of Gammer Gurton's Needle, which was acted in Christ's hall.
At this time many members were tried in the Vice-Chancellor's court for schismatic Puritanism and nonconformity. Bainbridge and Johnson were imprisoned, and Johnson had to retire to Holland, where he led the Brownist sect. (fn. 9) In a visitation of 1586 the Vice-Chancellor found many irregularities: laxity in speaking Latin, and in wearing academic dress in the town; the dean's practice of 'correcting' pupils in the buttery or their rooms instead of in hall; remissness in lectures and commemoration of benefactors; women bedmakers; proceeds of timber and fines for renewing leases divided among the Master and Fellows. The Visitor framed 21 special injunctions, which the College refused to accept, though agreeing to reform breaches of statute.
Notable members in the later 16th century were Richard Clerke, one of the translators of the Bible; and William Perkins, converted from drink by hearing a woman say to a naughty child, 'Hold your tongue, or I will give you to drunken Perkins yonder.' He became an earnest student of divinity, and lecturer at Great St. Andrew's, where on his death the College spent £3 15s. 8d. in burying him. Fuller says, 'He was a painful preacher. . . . he would pronounce the word damn with such emphasis as left a doleful echo in his auditors' ears a good while after'. (fn. 10) Many Roman Catholics were educated at the College in Elizabeth I's reign, conforming while in residence but later going abroad, among them Francis Babington, later Master of Balliol and Rector of Lincoln College, Oxford, and Robert Turner, Rector of Ingolstadt University. Some returning on mission suffered for their faith: Ralph Crocket was hanged, drawn, and quartered at Chichester in 1588.
In 1594 accounts showed 5s. 9d. to a swanner for marking six cygnets given by the tenant at Bourn. Charges for 'swan-upping' and 'winter meat' recur yearly. The College has its swan-mark, having from early times had royal licence to keep swans. In 1608 it bought 300 mulberry trees, to please James I, who wished to start the production of silk in England; they were 'set' in the year of Milton's birth, and the tree in the fellows' garden traditionally connected with him is perhaps one of these, as well as another in the Master's garden.
About this time the College acquired a watersupply from the Gog Magog Hills; the brook brought from the Nine Wells in 1610 was tapped at the south end of Trumpington Street for Emmanuel and Christ's. It cost much to keep this 'new river' clean. It still fills the bathing pool in the College garden, dating perhaps from 1673, and the 'runs' in the streets.
In the 17th century Christ's was very prosperous; the numbers were large and included many men of position. Schismatic Puritanism gave way to moderate opinions. Christ's was not one-sided: it trained Quarles and Cleveland as well as Milton, and among men of action was represented in both parties. It happily preserved some of the finest plate in Cambridge; but 'divers pictures and angells' in chapel did not escape the iconoclastic attentions of Dowsing. In 1643 the residents were mostly moderate royalists, but there were prominent Puritans later in the Civil War, and again in 1662. Perkins's pupil William Ames was suspended by the Vice-Chancellor for preaching against 'license' in the colleges at Christmas, twelve days' saturnalia with cards and dice. Moderate and learned Puritans were William Chappell, later Provost of Trinity College, Dublin, and Bishop of Cork, and Joseph Mead, who wrote 'I cannot believe that truth can be prejudiced by truth', and defended conforming with ritual where it was generally practised: 'I love not to be singular where I have no scruple.'
Puritanism found its highest expression in John Milton, who resided from 1625 to 1632. Not unaware of his own parts, he was reserved with his contemporaries, who nicknamed him 'the lady', and rather difficult with his seniors. The story that his tutor whipped him has been exploded, only the praelector and the deans could use the rod, but there is some evidence that he was rusticated for a short period. That his genius was ripening in a congenial atmosphere is proved by the Ode to the Nativity, and the Latin poems; and Lycidas, like In Memoriam, was due to a college friendship. 'Lycidas', Edward King, had been made a fellow by royal mandate and had been lecturer in Greek. Milton's brother Christopher followed him from St. Paul's School to Christ's, and later rose to distinction in the law. There were two outbreaks of plague whilst Milton was in residence. The College was kept shut and only fellows were allowed out without leave. Apparently Malton was no longer used as a sanatorium.
Two leaders in the Civil War were educated at Christ's, the parliamentarian Denzil Holles, and the royalist, Charles Lucas. In 1644 the Earl of Manchester ejected four fellows and confiscated the goods of nine more. But others steered a middle course. The saintly Henry More was royalist in sympathy but Puritan in theology; he carried on in the College his studious life begun at Eton, declining the Provostship of Trinity College, Dublin, the Deanery of Christ Church, and two bishoprics.
Ralph Cudworth was an efficient Master, but was not active in University affairs. With him and More Christ's came to the front in the intellectual movement of the time, since they were both leaders of the Cambridge Platonists, whose reaction against Puritan dogmatism did much to form a rational theology. Both were content under the new régime of the Restoration and lived into the reign of James II. The character of the College under Cudworth and More is illustrated by the careers of the two friends Finch and Baines. Finch was a man of family, Baines a sizar. Meeting as undergraduates, they remained inseparable as fellows, as men of affairs, and as benefactors. (fn. 11) After graduating M.A., they twice went abroad to study, Finch becoming M.D. of Padua, syndic of that University, and professor at Pisa. Turning to diplomacy he represented his sovereign at the court of Tuscany and afterwards at Constantinople, where Baines accompanied him as physician to the embassy. Baines died there; Finch embalmed his body and sent it home to be buried in the College chapel. Within a year Finch was laid beside his friend. John Covel went out with Finch to Constantinople as chaplain to the Levant Company. His diary gives an interesting account of Levantine affairs and of his return through Italy. Later he was chaplain to the Prince of Orange in Holland. At the age of 50 he succeeded Cudworth in the mastership, and held it for 34 years, vigorous to the end. Not unversed in physic and botany as well as divinity, Covel was also a good man of business; an eight years' lawsuit about the College property at Kirkby Lonsdale took him constantly to London.
Under Covel the stewardship was made an annual instead of a monthly appointment. Thus the manciple became a servant and not a capitalist, being paid £30 a year, and the profits went to the College. The numbers, which had declined at the end of Cudworth's mastership, fell lower under Covel. Average yearly admissions sank from 36 in 1671–80 to 7 in 1741–60, and there was little improvement until the next century. Nor were the fellows, with few exceptions, of any distinction; they merely 'waited for their livings, went to them, published an Assize Sermon, sent their sons to the College, and died'. (fn. 12) Nicholas Sanderson, Lucasian Professor of Mathematics, was not a fellow. Blind from childhood, he studied at home, made a name as a mathematician, was elected professor, and admitted M.A. Remarkably successful in his chair, he was a man of general culture, and could repeat Horace's Odes and much other poetry. His algebra, published after his death, was long in use.
In this period there were constant disputes over eligibility for fellowships and other matters, with consequent appeals to the Vice-Chancellor's court. Towers as Master (1723–45) ejected Heneage Finch from his fellowship, when he became a Member of Parliament, on the ground that his election to Parliament implied that he possessed more wealth than the College statutes allowed. Finch appealed, was reinstated, and held his fellowship while residing at Minorca as receiver-general.
Leaders in the Evangelical revival were Thomas Adams, admitted 1720, a parson in Lincolnshire, and William Grimshaw, admitted 1725, active in Yorkshire and Lancashire. Beilby Porteus, fellow 1752, Bishop of London, who was sympathetic with the Evangelicals, took part in the movements for revising the Liturgy and Articles, relieving Roman Catholics, and establishing Sunday schools. He founded three gold medals, for Latin and English theological dissertations and for reading in chapel. William Paley, sizar, senior wrangler 1763, was an active fellow and tutor, when tutors were not statutory officials, although they did all the teaching that was done. He held voluntary classes in divinity, and his lectures later took shape in his Evidences, Horae Paulinae, Natural Theology, and Moral and Political Philosophy, which last marks him as a founder of utilitarian ethics. Cambridge then had little attraction for vigorous ability; Paley at 33 went to a small living, and later received an archdeaconry, a canonry, and an important rectory. Among Paley's contemporaries, Adam Wall wrote on Ceremonies of the University, and Majendie was active as Bishop of Chester and later of Bangor. As a parish priest Majendie had established a Sunday school, at a time when it was 'an act of enthusiasm' to do so.
A lawsuit that had run for nearly 40 years, costing the College thousands, was settled by compromise in 1805, all the other original parties being dead. The College had leased its moiety of the rectory of Burnham Westgate (Norf.) and the rector had refused to pay the tenant's share. In 1815 entries rose again. The only distinguished fellow was Peter Fraser, who was little in residence, but sat in Walter's parlour in Printing-house Square writing leaders for The Times. He retired to a College living and left his library to the College. George Davys, tutor to Princess Victoria, and Basil Montagu, commissioner in bankruptcy and editor of Bacon, also stood out in a bad period, when Thomas Browne, Master 1808–19, was constantly at war with the fellows, holding meetings when they were away so that they might lose their fellowships for nonattendance.
Reform began under John Kaye, senior wrangler, first Chancellor's medallist, Regius Professor of Divinity, and Master at 32. He was consecrated Bishop of Bristol in 1820 and translated to Lincoln in 1827, but did not resign the Mastership until 1830. An active lecturer, Kaye revived patristic studies at Cambridge. Under Joseph Shaw as tutor entries rose to 30, though there were few tripos distinctions, and Shaw, as Charles Darwin his pupil recorded, was usually at Newmarket on race days. Another fellow was Alexander D'Arblay, Fanny Burney's son, an original member of the Analytical Society.
Darwin entered Christ's in 1825. He owed little to its studies, although interested by Paley's Evi- dences, but much to its companionships: he was known as 'the man who walks with Henslow', the Professor of Botany. After his voyage in the Beagle, he returned as a fellow-commoner while working up his results. W. H. W. Betty, 'the Young Roscius', entered as fellow-commoner when his stage career as an infant prodigy was over, but he did not graduate. M. J. Berkely, 'the father of British fungology', for over 60 years a parish priest, was made one of the first honorary fellows in 1883.
Finances improved at this time. In 1818 the weekly payment to scholars was increased, and in 1825 a fellow's payment was raised from 3s. to 15s., and it was agreed to give scholarships to those distinguished in the College examinations, the first time that merit was so rewarded. Reform was in the air. Under Kaye's successor, John Graham, Christ's was reputed 'a radical society'. In 1837 reformed statutes were drafted, admitting nonconformists and allowing fellows to marry. These were opposed by some fellows, and vetoed by the Visitor. To avoid disputes over the Mastership, vacated in 1849, the parties compromised on the easy-going Joseph Shaw, but he found the seclusion of the lodge so irksome after 42 years in the combination-room that in three weeks he resigned. Then he tried a College living, but after six weeks returned, dying in College seven years later. Under James Cartmell, who succeeded unopposed, the liberal movement went on. New statutes were again drafted, but turned down by the law officers in view of the forthcoming University commission. Considerable sums were spent on improving livings, and internal economy was reformed by College order. Resources were increased by the discovery of coprolites on College land, yielding £21,500 in 20 years. Fellows' dividends soared until in 1873 a limit of £300 was enacted. But then the fall in agricultural rents began. In 1879 dividends fell to £260. By the new statutes they were limited to £250. By the end of the century they were considerably lower owing to a decline in revenues. In 1854 the College supported the movement to provide University teaching in natural science, and to obtain contributions from the colleges for University purposes.
The Statutory Commission led to new statutes in 1860, the last written in Latin. Non-residence of fellows was recognized, though the Master could require a fellow to reside in the interest of the College. Five fellows might be laymen for life, and the others need not take holy orders for six years after graduating M.A. Thus were created the prize fellowships without duties, which gave an avenue to the bar or the public services for able men of small means.
Until 1881 the Master or Keeper kept the College accounts, but C. A. Swainson, an elderly Divinity Professor from Trinity, delegated them to a fellow appointed yearly, the Master paying half his stipend. In 1915 a regular bursarship was created. New statutes in 1882 divided the fellowships into senior, tenable with College offices and retained as life pensions after 20 years' service, and junior with no duties attached, lasting six years. All requirement of holy orders was abolished.
John Peile as tutor and Master made his mark on the College, and his work was carried on under A. E. Shipley, Master 1910–27. Eminent in learning beside Peile were Seeley, formerly fellow of Caius, Skeat, and Robertson Smith. Natural sciences and other newer studies were encouraged, and, in keeping with the liberal tradition of the College, students were welcomed from India and other parts of the Commonwealth, to whose universities Christ's sent numerous professors. This movement was emphasized by Field-Marshal Smuts, scholar and honorary fellow, who subsequently became Chancellor of the University.
Revisions of the statutes in 1895 and 1915 made professorships a qualification for senior fellowships and permitted the number of fellows to vary with the available income. The statutes of 1926 instituted non-stipendiary fellowships for those retiring from fellowships, pensioned by the University, and made the pursuit of research a condition of holding nonofficial fellowships. The office of vice-master, which under the statutes had been permitted only on the authority of the Visitor, was instituted in February 1939.
By the statutes granted in 1951 and again in 1952, the fellowships were reclassified. Of the eight classes established by the latter, the holders of official fellowships and research fellowships were alone entitled to receive dividends from the College revenues.
As means of promoting corporate life the following events may be mentioned: the amalgamation of the athletic clubs in 1881, the institution of a College magazine in 1886, and the foundation at the Quatercentenary in 1905 of the College Club of past and present members, which holds annual meetings and publishes lists and news of all living Christ's men. In 1932 an 'alliance of mutual hospitality' was established with Wadham College, Oxford.
After the First World War, the size and wealth of the College increased. Financial policy underwent considerable alteration, which was marked in 1920 by the sale of Kegworth and Diseworth, which belonged to the original foundation of the Lady Margaret. The best agricultural properties were transformed into government securities, and after 1937 into commercial property and industrial equities. The dividends of fellows rose from £180 in 1900 to between £300 and £450 when the fellowship was held with a qualifying office. The number of students also increased, rising from 179 in 1913 to 357 in 1926. The number fell to 306 in 1938 but after the Second World War rose to 458 in 1952. From 1925 to 1952 the numbers of scholars rose from 34 to 63 and of exhibitioners from 18 to 61. In the same period the number of fellows increased from 15 to 24.
Pictures.
In the chapel: Lady Margaret, early 18th cent. In the hall: Lady Margaret (mid-16th century), John Milton, Ralph Cudworth by Soest, William Paley, after Romney, Sir Arthur Shipley by László, Charles Darwin by Ouless; Field-Marshal Jan Smuts by Pan.
In the gallery: Walter Mildmay, founder of Emmanuel College, John Covel, Thomas Linford, John Howe, William Robertson Smith, Sir John Seeley, W. W. Skeat by Brock, Francis Darwin by Rothenstein, E. W. Hobson by Kenneth Green, C. E. Raven by Edmund Nelson.
In the combination-room: Lady Margaret, John Fisher.
In the small combination-room: Sir John Finch, Sir Thomas Baines, William Outram by Mary Beale, Lawrence Echard by Kneller, H. Gunning, esquire bedell, author of Reminiscences, by Woodhouse, J. Peile by Reid, A. C. Haddon by László.
Statuary.
In the library: plaster cast, upper part of figure only, from original mould for bronze figure of Lady Margaret by Torrigiano on her tomb in Westminster Abbey; clay head of Milton said by tradition to have been modelled from life.
In the hall: Marble bust of Milton based on the above by Montford.
In the garden: by swimming-pool, busts of John Milton, Ralph Cudworth, and Nicholas Sanderson, the blind professor of mathematics, urn to Joseph Mead.
Plate.
Chapel plate: Chalice and paten-cover, silver-gilt, London 1567–8. Small flagon, given by Henry, afterwards Earl of Manchester, James, and Sydney Montagu, London 1597–8. Two large flagons, silver-gilt, bequeathed by Valentine Cary, fellow 1597–1600, afterwards Bishop of Exeter, London 1626–7. Salver, silver-gilt, used as almsdish, given by Maria, wife of Thomas Bainbrigge, Master 1622–46, London 1635–6. Two large patens, silver-gilt, London 1635–6.
Secular plate: Foundress's Cup, silver-gilt standing-cup with cover, height with cover 13 in., weight about 39 oz., date c. 1440, bears arms of Humphrey, Duke of Gloucester, impaled with those of his second wife, Eleanor Cobham, bequeathed by Lady Margaret to her confessor, Dr. Wilford, fellow of Oriel and first Lady Margaret Reader in Divinity at Oxford, but he received another piece instead. Hourglass salts, three standing salts with covers, only five or six others are known to exist, a pair, cover of one lost, decorated with Tudor rose, probably 15th cent., the third decorated with rose, portcullis, and fleur-de-lis, London 1507–8. Six Apostle-spoons, including the Master-spoon, silver-gilt, probably foundress's gift, c. 1450–78. Foundress's Beaker, gilt tun with cover, engraved with marguerites and the Beaufort badges, rose and portcullis, London 1507– 8. Scallop-cup with cover and enamelled coat of arms, London 1520–1. Two silver-gilt Tazze, London 1572–3 and 1609–10. Standing-cup with cover, silver-gilt, London 1611–12, presented by J. Pierpont Morgan, 1919. Steeple-cup, silver-gilt, London 1628–9, given by George Montagu, son of the first Earl of Manchester. Old English silver spoons of various periods collected and bequeathed by A. V. Valentine-Richards.
Seals.
God's-house: Common seal lost, impressions 1¾ in. diameter, show a field divided by a horizontal line; above, the Ascension; below, the Nativity. Seal ad causas, copper slightly alloyed, 11/8 in. diameter, middle a building representing the House; above, the feet of our Lord ascending into heaven; below, a rose, borders cabled. Legend: sigillum: de: Godeshouse: Cātebrigie: Ad: Causas.
Christ's College: Common seal, gilt bronze, vesica shape, 2 in. by 3¼ in. Centre, the Resurrection, Christ rising from an open sepulchre, his right hand raised in benediction, his left holding the 'resurrection banner'; on the tomb, 'xp' spes n[ost]ra'. Left, two angels are holding the lid of the sepulchre; right St. Mary Magdalene with long flowing hair holding pot of ointment. Above, crowned Tudor rose, supported by two angels issuing from clouds; over the whole a triple Gothic canopy supported by slender shafts at the sides. Below, in the exergue, the Tudor crowned portcullis, with a conventional daisy (marguerite) on either side. At the sides, field filled by diaper of roses and fleur-de-lis. Legend: s: coe colleg' Cristi Fudati Per Margareta Regis Herici VIJmi matrem. Date, contemporary with the refoundation. Master's seal: silver, circular, 14 in. diameter, a yale rampant, ground semée with portcullis and roses. Legend, sigillu custodis collegii cristi cantibrigie.
Proctors of God's-House
William Byngham: 1439.
John Hurte: 1451.
William Fallan: 1458.
William Basset: 1464.
Ralph Barton: 1477.
John Syclyng: 1490.
Masters of Christ's College
John Syclyng.
Richard Wyatt: 1506.
Thomas Thompson: 1508.
John Watson: 1517.
Henry Lockwood: 1531 or 1532.
Richard Wilkes: 1548.
Cuthbert Scot: 8 Dec. 1553.
William Tayler: 1556.
Edward Hawford: 23 July 1559.
Edmund Barwell: 23 Feb. 1582.
Valentine Cary: 1609.
Thomas Bainbrigge: 26 May 1622.
Samuel Bolton: 1646.
Ralph Cudworth: 1654.
John Covel: 1688.
William Towers: Jan. 1723.
George Henry Rooke: 1745.
Hugh Thomas: 18 Feb. 1754.
John Barker: 11 July 1780.
Thomas Browne: 4 Mar. 1808.
John Kaye: 5 Sept. 1814.
John Graham: 8 Nov. 1830.
Joseph Shaw: 12 Jan. 1849.
James Cartmell: 13 Feb. 1849.
Charles Anthony Swainson: 9 Feb. 1881.
John Peile: 1 Oct. 1887.
Arthur Everett Shipley: 24 Oct. 1910.
Norman McLean: 24 Oct. 1927.
Charles Galton Darwin: 21 Jan. 1936.
Charles Earle Raven: 2 Mar. 1939.
Brian Westerdale Downs: 12 July 1950.