Pages 67-82
A History of the County of Cambridge and the Isle of Ely: Volume 8. Originally published by Victoria County History, London, 1982.
This free content was digitised by double rekeying. All rights reserved.
MELBOURN
THE parish of Melbourn (fn. 1) lies on either side of the Royston-Cambridge road c. 16 km. south-west of Cambridge. Until the late 19th century it extended to the junction of that road with the Icknield Way, and included part of the town of Royston. In 1896 c. 245 a. there, long known as Royston Town's End, became the civil parish of South Melbourn in Hertfordshire, and in 1897 a part of Royston civil parish. (fn. 2) Earlier, under the Divided Parishes Act of 1882, 14 houses in Meldreth village but part of Melbourn parish were transferred to Meldreth. In 1901 and 1971 the parish covered 4,480 a. (1,813 ha.). (fn. 3) It is irregular in shape stretching c. 7 km. from east to west and 5½ from north to south. Except at the corners where it borders Royston the boundary is that of the 18th century, on the north-west following Ashwell Street and then the stream which rises at Melbourn Bury, separating Melbourn village from Meldreth. In the south the parish and county boundaries follow the Icknield Way before diverging where the Melbourn boundary follows a watercourse running north and then east to join the Bran or Heydon ditch. The boundary follows the ditch north-westwards to Black Peak, and then another watercourse to the Cambridge road. The unusual interlocking shape of the modern boundary west of that road, at the north-east edge of the village, dates from the inclosure of Meldreth in 1820 when formerly intercommonable land was divided between the two parishes. (fn. 4)
Melbourn lies on the Lower and Middle Chalk, the latter known as Melbourn Rock, a bank of hard limestone c. 3 metres thick, overlaid by white chalk. (fn. 5) The land rises gently from c. 25 metres at Black Peak, a marshy area in the north-east, to nearly 30 metres in the village, and 60 metres south of the village and then more steeply to over 100 metres at Hyde or Summerhouse Hill, on the heath east of Royston. Springs at Melbourn Bury give rise to the Mill stream, in modern times also called the Mel, which runs northwards to join the river Rhee.
By 1086 there were 50 or 60 tenants in Melbourn. (fn. 6) In 1377 there were 323 adults and in 1563 80 households. (fn. 7) The population increased during the next century, and there were c. 125 houses in 1672 and 266 adults in 1676. (fn. 8) By 1728 there were only c. 90 families (fn. 9) but in 1801 there were c. 130 houses and a population of 819. Nineteenth-century growth was more rapid, numbers reaching 1,931 by 1851. In 1861 there were 1,637 inhabitants, the decline being attributed to emigration, but by 1871 an influx of coprolite-diggers brought numbers to 1,756. After 1881 they declined to 1,462 in 1901, following the transfer of an area with c. 200 inhabitants to Royston, and 1,284 in 1931. After the Second World War numbers rose again from 1,408 in 1951 to 2,851 by 1971. (fn. 10) In 1965 approximately a third of all households had moved to the village in the last ten years, drawn by the new industries in Melbourn and Meldreth, and the possibility of commuting to Cambridge or Royston. (fn. 11)
The parish has, until the 20 century, been predominantly agricultural, and in 1971 agriculture was still important in the local economy, although only employing a twentieth of the population. (fn. 12) The land was cultivated mainly in open fields until their inclosure under an Act of 1839 (fn. 13) which brought into cultivation the heathland in the south of the parish along the Icknield Way. The only pre-inclosure farm outside the village was Noon's or Known's Folly, on the Icknield Way, recorded from the later 18th century. (fn. 14) By 1851 Heath Farm, NW. of Noon's Folly, and three other farmsteads had been built south of the village in the former open fields. (fn. 15) Since the 1940s the population has been increasingly employed in local industries: Metals Research and Rupert Neve in Melbourn, cement works at Meldreth and Barrington, and Fisons at Hauxton. In 1971 half of the working population were employed in Melbourn or Meldreth. (fn. 16)
Two ancient trackways, both Romanised, touch the parish, the Icknield Way along the southern boundary, and Ashwell Street, part of the northwestern boundary and crossing the parish south of the village. The Cambridge-Royston road may also follow the line of an ancient trackway. (fn. 17) Pre-Roman tumuli occur along Ashwell Street and the Icknield Way, and Bronze Age pottery and burials have been found in those areas. (fn. 18) At the north-east edge of the village, towards Black Peak, were found traces of a Roman settlement and cemetery. (fn. 19) Further east, around the Bran ditch, are further signs of RomanoBritish settlement, but the ditch itself probably dates from the 6th century. (fn. 20) In the 1950s an Anglo-Saxon cemetery was partially excavated south of the village close to Ashwell Street. The 28 graves opened were Christian burials from the 7th century and later. (fn. 21)
The present village probably started with settlement close to Ashwell Street and the springs at Melbourn Bury, and spread north-eastwards along the Cambridge road. On the north-west it is bounded by the Mill stream; on the south-east it did not extend beyond the back lane, known as Meeting House Lane and later as Orchard Road, until after inclosure. The church and vicarage, all the manorial sites, and some of the earliest cottages lie between the main street and the stream, and there is a network of lanes in the angle between High Street and Mill Lane, later Station Road, running from the church into Meldreth. A widening of High Street and Mill Lane in front of the church formed the Green, where for many years a large elm stood. Traditionally held to have been there in the mid 17th century, it survived in 1858, but by 1910 only a stump remained. (fn. 22) At the north-east end of High Street some houses spread northwards along the Moor. From the main street Drury, Norgetts, Church, and Water Lanes ran south-east to Meeting House Lane. In 1730 a fire in the village destroyed c. 25 houses and caused nearly £7,000 worth of damage; (fn. 23) another in 1914 destroyed at least 13 cottages south of the church. (fn. 24) Nevertheless the village still contains many houses of the 17th century with underlying timber frames. Among the older houses on High Street are the Manor House of c. 1720, the later-17th-century Old Manor House, and White House and Lordship Farms.
In the earlier 19th century the number of houses in the parish trebled and by the 1830s both sides of High Street were built up west of the church, but east of there, up to the Moor, the north side of the street was largely unoccupied. (fn. 25) By 1851 there were 394 houses in Melbourn. (fn. 26) The first council houses were built after 1918. (fn. 27) The next phase of intensive building came after 1950: by 1961 there were three new council estates and one private one, and between 1960 and 1969 a further 300 private and 60 council houses were built. By 1970 almost one third of the village's houses belonged to the council. (fn. 28) New building filled in the gaps between the older houses north-west of High Street, and then spread southeast of it, on both sides of Orchard Road, as far as the steeply rising ground has allowed. At the eastern end of the village settlement still ends at the Moor on the north side of High Street, but has extended further east on its south side. At the opposite end of the village on a triangle bounded by Back Lane, Water Lane, and High Street, an estate of larger houses has replaced older dwellings, including Townsend Farm and the Congregationalist boarding school. (fn. 29)
Two major roads cross the parish, converging at Royston. That to Newmarket follows the Icknield Way east of Royston before turning north-eastwards. It was turnpiked in 1769 and disturnpiked in 1874. (fn. 30) A toll-house stood within Melbourn where that road joined the road from Cambridge. (fn. 31) The latter, still known as Dunsbridge Turnpike north-west of the village, was a turnpike from 1793 to 1872. (fn. 32) It had a tollgate at Dunsbridge where it left the parish, and in 1818 another was put across Mill Lane. (fn. 33) In 1862 there was also a tollbar, nearly 2 km. south-west of the village. (fn. 34) Until inclosure (fn. 35) Fowlmere Path led north-east from the junction in Royston across Royston Heath and Melbourn's open fields to Fowlmere. At the north-east end of the village Meeting House Lane bent southwards to cross Ashwell Street and meet Fowlmere Path on the parish boundary. Near the western edge of the village Wood Way ran south from Ashwell Street to the Icknield Way. At inclosure Ashwell Street was diverted to join the Cambridge turnpike south-west of Melbourn Bury, and was closed east of Water Lane. Meeting House Lane was stopped beyond Drury Lane, Fowlmere Path was closed, and Wood Way was replaced by New or Barley Road, running from Church Lane (later Mortlock Street) to the Newmarket turnpike. In 1852 an iron bridge was built at the ford on Mill Lane, the cost of its building and upkeep being shared by Melbourn and Meldreth. (fn. 36)
In 1851 a railway line was opened between Royston and Cambridge, (fn. 37) crossing the western corner of Melbourn, with a station in Meldreth serving both parishes. In that year c. 60 railwayworkers lived temporarily in Melbourn. (fn. 38) Their iron shanties gave their name to the Shant, a beer-house on the Royston Road. It was a private house by 1961. (fn. 39) In 1622 Melbourn was described as a 'great town', its roads much frequented by travellers, and it had at least one inn. (fn. 40) In 1686 there were 7 guestbeds and stabling for 20 horses. (fn. 41) In the late 18th century inns called the Dog, not traced later, the Red Lion, and the Hoops are recorded. (fn. 42) The Red Lion, apparently a coaching house, at the eastern end of the village survived until at least the 1880s. By 1937 it was a private house, and was later demolished. (fn. 43) The Hoops, near the Congregational meeting house, remained in use until the early 20th century. (fn. 44) The Dolphin, near the southern end of the village, occurs from 1818 and survived in 1978, as did the Black Horse, on Orchard Road, and the Star, at the Cambridge end of the village, both open by 1847. (fn. 45) The Rose Inn on Rose Lane, north of Dolphin Lane, recorded in 1851 was closed after 1961. (fn. 46) In 1865 Melbourn had 11 inns and alehouses; others which had disappeared by 1977 were the White Lion, the Anchor, the Carriers Arms, and the Red Cow. (fn. 47) The distinctive building in the angle between High Street and the Moor, with heavy rustic quoins and a large arch leading to a courtyard, was built as an inn in the early 19th century and recorded as such in 1839. (fn. 48) At the south-east corner of the parish, on the Royston-Newmarket road, the Coach and Horses, recorded from 1851, (fn. 49) survived in 1978.
One of the largest villages in the county, Melbourn has long had an active commercial and social life. In 1851 it had c. 36 shopkeepers and craftsmen, a mechanics' institute, and a choral society; in the early 19th century there had been three friendly societies. (fn. 50) In 1842 c. 3 a. on the Moor were allotted for a recreation ground, still in use in 1978. (fn. 51) By 1882 a reading room had been established, and by 1888 a Conservative club. (fn. 52) In the 19th century Melbourn Feast was regularly held for three days at the beginning of July, on the Green near the church. In 1881 the vicar objected to the disorder that it created; an order of 1882 limited it to one day, and it was moved to the recreation ground on the Moor. (fn. 53) In 1971 there were c. 20 shops. By the 1960s the county council had built an old people's home, and in 1977 it bought more land near the vicarage for old people's housing. In the same year the Foundation of Edward Storey, Cambridge, built 8 clergy widows' bungalows nearby. (fn. 54)
By 1869 gas-works on the edge of the parish northeast of Mill Lane, next to the bridge, provided lighting for Melbourn and Meldreth. (fn. 55) By 1904 they had expanded, and came under the direction of the Meldreth and Melbourn District Gas and Water Order. New premises were acquired, nearer to the railway in Meldreth. The company was empowered to construct a well and pumping station, and a reservoir in Melbourn on land bought from Heath farm, and to supply gas and water to Melbourn, Meldreth, and Shepreth. (fn. 56) The new works had been built by 1909 when the company seems to have changed hands. By 1911 it was in financial difficulties and was offered for sale. (fn. 57) It seems to have gone out of business in 1914 and the village reverted to oil light until the advent of mains electricity c. 1925. Piped water was introduced in 1935. (fn. 58)
Manors and other Estates.
Five hides at Melbourn and other lands in Armingford hundred granted by King Edgar to Ely abbey in 970 were included in King Edward's confirmation of the abbey's estates in the mid 11th century. (fn. 59) In 1066 the abbot held 6½ hides in Melbourn and Meldreth, and his sokemen a further 53/8 hides. By 1086 the abbot's soke had gone to Hardwin de Scalers and Guy de Reimbercourt and the abbey held only 5 hides in demesne. (fn. 60) Melbourn and Meldreth were amongst the manors assigned to the priory by Bishop Hervey in the early 12th century. (fn. 61) The manor of MELBOURN CUM MELDRETH, later called BURY manor, remained with the priory: in 1276 the prior had right of warren in Melbourn, and in the early 14th century Ely had c. 650 a. of demesne in the two parishes. (fn. 62) In 1541 the manor was granted to the new dean and chapter of Ely. (fn. 63)
The appropriated rectories of Melbourn and Meldreth descended with the manor, and from the 16th century Melbourn rectory was usually leased with the manor and its capital messuage at Melbourn Bury. (fn. 64) In 1565 they were leased to Thomas Sterne, whose daughter Anne married Sir William Ayloffe of Essex. On Sterne's death in 1610 the lease passed to his son-in-law Sir William (d. 1627), and then to Sir William's second surviving son, James Ayloffe. (fn. 65) The latter claimed the lease in 1650 (fn. 66) when the manor with c. 450 a. was sold, on the temporary dissolution of the dean and chapter, to his cousin Guicciardine Ayloffe. (fn. 67) Although in the late 1650s Armiger Warren was recorded as lord, (fn. 68) in 1656 James's son Thomas Ayloffe was lessee. (fn. 69) Thomas's elder brother William Ayloffe of Bassingbourn was living at Melbourn Bury at his death in 1691. His heirs, Thomas's sons, William, Thomas, and James Ayloffe, all died without issue, (fn. 70) and were probably succeeded in the lease by c. 1700 by their father's cousin Sir Benjamin Ayloffe (d. s.p. 1722), who sublet it to his brother Henry (d. 1768) and Henry's son John. (fn. 71) By 1725 the beneficial lease belonged to Sir John Hatton, Bt., of Longstanton (d. 1740). It passed to his widow Mary (d. 1760), (fn. 72) and their son, Sir Thomas Hatton Bt. (d. 1787), (fn. 73) who after 1784 sold it to John Trigg. (fn. 74) In 1791 it was held by Mrs. Mary Trigg, and c. 1806 by John Trigg's executors, (fn. 75) perhaps including John Fordham. (fn. 76)
From the early 19th century the Ely lands were divided between two lessees. In 1812 George Stamford leased the manorial land; he was allotted c. 99 a. at inclosure in 1842, and still held it in 1858. (fn. 77) The rectorial glebe, the great tithes, and Melbourn Bury were leased in 1820 to John Fordham's son, John Edward Fordham (d. 1881), who in 1842 was allotted c. 193 a. as lessee. (fn. 78) After 1864 he bought the freehold of the Bury estate, which descended to his son John Hampden Fordham (d. 1885), grandson Alfred Russell Fordham (d. 1945), and great-grandson Sir A. Stanley Fordham, who held Melbourn Bury in 1978. (fn. 79) The Ecclesiastical Commissioners, however, remained lords of the manor. (fn. 80)
In the later 16th century the manor-house, near the Bury springs, included a kitchen, hall, chamber, and buttery, and in 1650 a hall and two parlours. In 1664 it had 12 hearths. (fn. 81) In 1822 it had a hall, two parlours, and a large kitchen. (fn. 82) Part of the 17thcentury house survives in the north-west corner of the present building, and the central north-south component may represent its main range, although nothing visible is earlier than the 19th century. J. E. Fordham remodelled and enlarged the house at various dates in that century and its final character is the result of major alterations made after his death in the 1880s when the architect is said to have been called Armitage. (fn. 83)
Melbourn church belonged to Ely abbey by the mid 12th century, (fn. 84) and in 1255 the rectory was appropriated to the priory for hospitality. (fn. 85) It remained with the priory, and in 1541 passed to the dean and chapter of Ely (fn. 86) who let it with the Bury manor. (fn. 87) In 1650, when the great tithes were valued at c. £220, the lessee paid the dean and chapter rent in money and wheat. (fn. 88) In 1713 some tithes were paid in kind, as in the early 19th century. Their exact value was then unknown, but was estimated as c. £800. (fn. 89) In 1838 the lessee, J. E. Fordham, was awarded a rent charge of £914 5s. for the great tithes. He then held c. 186 a. of rectorial glebe (fn. 90) which he purchased along with the Bury manor after 1864. (fn. 91)
CAXTONS manor was the later name of an estate, held in 1086 by Hardwin de Scalers, of whom Durand then held 11/8 hide, which in 1066 had been held by Sired, a man of earl Alfgar. Hardwin also held 1 yardland in Meldreth which in 1066 had been held of Ely by Almar the priest, (fn. 92) and in the 1070s had seized the abbot's soke in Melbourn and Meldreth. (fn. 93) He was made to recompense the abbey with a render of corn, which in the early 12th century the bishop transferred to the priory. (fn. 94) Hardwin's successors still owed it in 1284 and under Edward III. (fn. 95) The overlordship descended with the barony of the Scalers of Shelford: in 1166 Geoffrey son of Swein held ¼ fee in Melbourn of Stephen de Scalers. (fn. 96) In the 1230s Geoffrey of Caxton held the ¼ fee, and Niel of Radwell had ½ fee there. (fn. 97) In 1247 Niel and his wife Amphelise, sister of Geoffrey of Caxton, divided the latter's lands with his nephew Stephen of Titchmarsh, their share including a messuage and 140 a. in Melbourn. (fn. 98) In 1302 Robert of Caxton held ¼ fee in Melbourn, and in 1307 his widow Alice held land there. (fn. 99) In 1337 185 a. there were settled on John of Caxton and his wife Joan. By 1346 the ¼ fee was held by William Baldock, John Payne, and others, (fn. 100) perhaps feoffees to whom John of Caxton had transferred the manor. Their successors in 1391 conveyed it to Sir William Castleacre. In 1392 Castleacre was licensed to alienate Caxtons to Ely priory; Robert Freville, as overlord, approved the grant. (fn. 101) In the 16th and 17th centuries Caxtons land was occasionally distinguished from the priory's other possessions in Melbourn. (fn. 102) A moated area north of the village on the Moor, destroyed by 1939 by the building of the Moat House, was probably the site of Caxtons manor house. (fn. 103)
After the Conquest Guy de Reimbercourt held the abbot of Ely's soke in Melbourn. (fn. 104) In 1086 he had nearly 5½ hides there, previously held by 8 of the abbot's and 2 of the king's sokemen, and Edric Pur, king Edward's thegn. With land in Meldreth (fn. 105) it descended with the barony of Warden by 1167 to Robert Foliot, husband of Guy's granddaughter Margery. Robert was succeeded by his son Richard (d. 1203) and Richard's daughter Margaret who had married Wischard Ledet by 1203. (fn. 106) In the 1230s ¼ fee in Melbourn was held of Ledet's fee. (fn. 107) Margaret's daughter Christine Ledet (d. 1271) was succeeded by Alice and Christine, daughters of her grandson Walter Ledet. (fn. 108) They married respectively William Latimer of Corby (d. 1304), and his brother John Latimer of Braybrook (d. 1282). The barony of Warden descended to Christine's and John's heirs, (fn. 109) and the overlordship is recorded until the 15th century. (fn. 110) Nevertheless the fee was said in 1242 to be held of the bishop of Ely, perhaps a recollection of preConquest claims which prompted similar statements in the 15th and 16th centuries. (fn. 111)
About 1210 Richard de Argentine held the manor, later known as ARGENTINES, and presumably that held by his grandfather John de Argentine in 1167 of Robert Foliot. (fn. 112) Richard died on crusade in 1246, having settled the Melbourn lands on his son Giles who held a fee there in the 1230s and 1242. (fn. 113) Giles fought against the royalists at Evesham, and after their victory his manor at Melbourn was seized by Warin of Bassingbourn. (fn. 114) It was later restored and on Giles's death in 1282 passed to his son Reginald, (fn. 115) who already held a fee in Melbourn in 1280. (fn. 116) The manor descended in the Argentine family (fn. 117) from Reginald (d. 1307) to his son Sir John (d. 1318), (fn. 118) and was assigned as dower to John's wife Agnes, who later married John Mautravers. (fn. 119) On Agnes's death in 1375 it passed to her son Sir John de Argentine (fn. 120) (d. 1383) who in 1381 settled Melbourn on his son William and William's wife Isabella. William was perhaps illegitimate, but despite the claims of his three sisters' heirs (fn. 121) the manor had been confirmed to him by 1399. (fn. 122) On his death in 1419 it presumably descended, as did Great Wymondley (Herts.), to his grandson John (d. s.p. 1420), (fn. 123) and in 1428 Argentines was held by William Alington, husband of John's sister and heir Elizabeth. (fn. 124) On William's death in 1459 it passed to their son John (fn. 125) (d. 1480) and John's son William. William Alington was killed at Bosworth in 1485, and his wife Elizabeth (fl. 1502) held Argentines with her second and third husbands, William Cheyne and Ralph Chamberlain. (fn. 126) Her son Sir Giles Alington was succeeded in 1521 by his son Sir Giles who in 1530 bought Trayles manor. (fn. 127) The two descended together, known by 1800 as Melbourn cum Meldreth, Argentines and Trayles.
On his death in 1586 Sir Giles Alington was succeeded by his great-grandson Sir Giles (d. 1638), but the Melbourn manors were held for life by the younger Giles's mother, Margaret Elrington (d. 1626), widow of Giles Alington (d. 1572). (fn. 128) In 1631 Sir Giles settled the manors on his son William's marriage to Elizabeth Tollemache. (fn. 129) They descended in the Alington family to Giles (d. 1660), William (d. 1685), and Giles (d. s.p. 1691), successive Lords Alington. (fn. 130) The Hitch family had been leasing the manors from the mid 17th century (fn. 131) and in 1703 Richard Hitch bought them from Giles's sisters and coheirs Diana, wife of Sir George Warburton, and Catherine, wife of Nathaniel Napier. (fn. 132) In 1704 they were settled in tail male on Richard's marriage to Mary Hawkes. Richard died in 1716, and their infant son Hawkes Hitch in 1718, and Mary married Sir John Hatton (d. 1740), the Bury lessee. At her death in 1760 the remainder under the entail was claimed by John Hitch, Richard's nephew. Lady Hatton's daughters and executors, Elizabeth and Susannah Hatton, resisted Hitch's claim to the Melbourn manors, but it was upheld by a Chancery judgement of 1763. (fn. 133)
John Hitch (d. 1805) was succeeded by his son Wortham (d. 1834) and then by Wortham's nephew John Hitch (d. after 1858). (fn. 134) After inclosure in Melbourn and Meldreth his combined estates covered over 1,000 a. (fn. 135) From 1864 Richard William Hitch was lord of Argentines and Trayles, until 1869 with Henry James Hitch. (fn. 136) In 1891 the manorial rights were sold, and from 1896 A. Meyer of Orwell was lord, followed in 1912 by Mrs. Hannah Bonnett. (fn. 137) In 1918 the manor was sold by her trustees, and in 1929 and 1937 Thomas Meyer was lord. (fn. 138)
In 1898 almost 1,000 a. in Melbourn and Meldreth were sold by the Hitch family, mostly to Alfred John Palmer. The Hitches retained only the Manor House, an early 18th-century brick house on the main street, probably once Argentines's bailiff's house. (fn. 139) A. J. Palmer died after 1900; his wife offered for sale Lordship farm, c. 470 a., in 1916, and the remainder of the estate, c. 500 a., in 1924. (fn. 140) In 1925 Lordship farm belonged to A. J. Palmer's nephew, Collis Palmer (fn. 141) (d. c. 1955). From the 1960s it has belonged to Lt. Col. A. W. Hazelrigg.
The Argentines manor house, later Lordship Farm, has always stood at the north-east end of the village street, near the Moor. The present house is partly surrounded by a moat, originally enclosing a large area. (fn. 142) The house included a chapel in the early 13th century, and a hall, chamber, chapel, and kitchen in the early 14th, when a new chamber was being built. (fn. 143) It was probably uninhabited after John de Argentine's death in 1318, and by the later 14th century was ruinous. (fn. 144) It was not occupied by the Alingtons, and in the 16th century was leased out with the land. In the mid 17th century it had 8 hearths. (fn. 145) The older part of the house, perhaps dating from the 15th century, shows signs of a fire, and the date 1699 on an eastern gable may mark a reconstruction before the Alingtons sold it. (fn. 146) It is a two-storeyed, two-winged house with several 18thand 19th-century additions.
In the late 11th century Guy de Reimbercourt gave 2½ hides and 20 a. in Cambridgeshire to the priory of St. Valéry (Somme), to which Henry I confirmed land in Melbourn, presumably Guy's gift. (fn. 147) The priory granted a perpetual lease of that land to Geoffrey de Trailly, perhaps the same Geoffrey who held a knight's fee in Melbourn c. 1210. He was then said to hold of the bishop of Ely, who may have been reviving pre-Conquest claims. (fn. 148) A Geoffrey de Trailly recorded at Melbourn in 1228 and 1260 (fn. 149) was succeeded in turn by his son William and William's son John (fl. 1268). (fn. 150) John or his son, also John, held land in Melbourn in 1294, paying St. Valéry £6 13s. 4d. a year in place of customary dues. (fn. 151) A John de Trailly of Melbourn occurs in 1305 and 1307. (fn. 152) After 1380 William Wakefield held 2½ hides and 20 a. in Melbourn of St. Valéry, and continued to hold it, as TRAYLES manor, after 1392 when the possessions of St. Valéry were acquired for New College, Oxford. (fn. 153) Before the mid 15th century Trayles had passed to Thomas Browne who was succeeded by his son Baldwin (d. s.p.) and Baldwin's brother John (d. 1467) of Abbess Roding (Essex). Although John's heir was his brother Thomas, Trayles passed to another brother, Robert Browne. (fn. 154) John and Robert and their feoffees were involved in disputes with New College over the annual payment of 10 marks due from Trayles. (fn. 155) Robert died in 1488 and Trayles passed to his younger son Humphrey, (fn. 156) and in 1504 from trustees including Humphrey's brother Wistan Browne, to Sir John Mordaunt, (fn. 157) who in 1530 sold it to Sir Giles Alington. (fn. 158) It thenceforth descended with Argentines manor, although its copyhold lands remained distinct. A rent charge of £5 7s. 4d. was still paid to New College in 1918. (fn. 159)
A moated site NE. of Melbourn Bury known as Old Farm was probably the original site of Trayles manor house, (fn. 160) later replaced by one on the main street. In 1395 there was a chapel in the manor house. (fn. 161) The main front of the present house, the Old Manor House, dates from the later 17th century; it is presumably the house to which Lady Hatton retired after her second husband's death. Her initials can be seen on the adjoining red-brick building, originally stables. (fn. 162) The house, which was extended in the 18th century, is timber-framed and plastered, with geometrical pargetting.
A Robert Paynel occurs in Melbourn in 1250, and in 1302 Thomas Paynel held ¼ fee there. (fn. 163) In 1318 and 1324 it was held of John de Argentine by Anne Paynel, (fn. 164) and in 1346 by John Paynel. (fn. 165) In 1404 Eleanor Flambard held the ¼ fee, and in 1428 William Harvey. (fn. 166) It has not been traced later.
St. Nicholas's hospital, Royston, a chapel and leper hospital founded c. 1200, probably within Melbourn parish, received numerous small grants of land in Melbourn. In the later 13th century its patronage passed to Giles de Argentine (d. 1282), the founder of the Hospital of St. John and St. James in Royston. That hospital also received many bequests of land in Melbourn. (fn. 167) In 1566 Edward Chester received a lease of a hospital in Royston and its lands in Melbourn, perhaps including the possessions of both hospitals. (fn. 168)
Royston priory held c. 4 a. in Melbourn in the late 12th century, and the prior had temporalities there worth £2 16s. 8d. in 1291. (fn. 169) The priory's possessions in Melbourn apparently increased before its dissolution in 1536, whereupon its lands were leased, and later granted, to Sir Robert Chester (d. 1574). He was succeeded by his son Edward (d. 1577) and grandson Sir Robert (d. 1640). (fn. 170) The land remained in the Chester family until 1770 when it was bought by Thomas Brand who devised it to his grandson Thomas Brand, Lord Dacre (d. 1851). In 1838 Lord Dacre owned c. 68 a. in Melbourn, mostly along the north side of the Newmarket road near Royston. (fn. 171) By 1921 it had descended to Thomas William Brand, Viscount Hampden, who then sold it along with Noon's Folly farm. (fn. 172)
Tilty abbey (Essex) held land in Melbourn in 1251, later apparently leased to Royston priory and perhaps merged with that priory's lands. (fn. 173) In the 12th century Coggeshall abbey (Essex) had possessions in Melbourn which were confirmed to them in 1290 and 1389. (fn. 174) They have not been traced later. The prior of Barnwell had land in Melbourn in 1291 which was granted to William Sackville in 1553. (fn. 175) In 1299 the abbot of Warden claimed certain rights in Melbourn and in 1543 a grant of the abbey's manor of Odsey included appurtenances there. (fn. 176) A grant of the lands of the preceptory of Shingay in 1540 included land in Melbourn (fn. 177) not traced elsewhere. In 1330 Henry de Colton granted to Stonely priory (Hunts.) his right to certain crofts in Melbourn. (fn. 178) No more is known of them.
St. John's College, Cambridge, was given land in Melbourn in the 1510s and in 1598 owned 49 a. there. (fn. 179) By the late 18th century it had c. 47 a. farmed from a homestead on the Moor, and c. 16 a. farmed with the college's Meldreth land. (fn. 180) From the early 19th century its whole property was occupied by the Stockbridge family. (fn. 181) In 1842 the college was allotted c. 57 a. in Melbourn. (fn. 182) It sold the land, west of New Road, to Messrs. Wedd and Sons in 1959. (fn. 183)
Peterhouse, Cambridge, acquired land in Melbourn between c. 1450 and 1535, obtaining c. 140 a. and two crofts there in 1486. (fn. 184) In 1833 and 1873 it had c. 192 a. in Melbourn. (fn. 185) The homestead stood on the Moor, north of Argentines manor house, until c. 1870 when two labourers' cottages and a homestead were built on Barley Road where the college owned 188 a. (fn. 186) In 1942 it bought Grange farm in the south-east and in 1978 still held Grange and College farms. (fn. 187)
Three yardlands in Melbourn held by Colswein of Count Alan in 1086, which have not been traced later, were perhaps part of the land in Kneesworth later held of the honor of Richmond. (fn. 188)
The land in Melbourn held in 1086 by the abbey of St. Evroul is treated under Meldreth. (fn. 189)
Economic History.
Melbourn was assessed at 10 hides in 1066 and at 8 in 1086 when the abbot of Ely had 1¼ hide in demesne, and Guy de Reimbercourt 2½ hides. The rest was cultivated with 13 ploughteams by 14 villani, 32 bordars, 16 cottars, and one slave. Each estate included meadow and pasture more than sufficient for the number of plough teams. Except for the abbot of St. Evroul's all the estates had fallen in value since 1066, but Guy's and Colswein's had begun to rise again. (fn. 190)
In 1282 the Argentine demesne had 160 a. of arable, 2 a. of pasture, and 1 a. of meadow, (fn. 191) and in 1307 100 a. of arable and 3 a. of inclosed pasture. (fn. 192) Ely abbey in the early 14th century had over 450 a. of demesne arable divided between three 'culturae', presumably cropping shifts. Much of the land was in fields of 5 a. or more, whose names suggest assarting, and some of them were held in severalty. A fourth 'cultura' of almost 200 a. was marginal land, grazed in common in fallow years. There were also c. 30 a. of inclosed meadow and c. 20 a. of several pasture. A further 5 a. of pasture, and pasture in the third 'cultura', were common every third year. (fn. 193) In 1318 Argentines had 80 a. of demesne arable worth 6d. an acre and 120 a. worth 4d. an acre, and 1½ a. of meadow, (fn. 194) but by 1332 there were c. 12 a. of meadow and 6 a. of pasture as well as c. 100 a. of arable. The latter was cultivated on a three-year rotation, being commonable when fallow. (fn. 195) In 1341 c. 700 a. in Melbourn were uncultivated, and in 1374 40 a. of Argentines' 180 a. of arable lay uncultivated and in common. (fn. 196) In 1383 Argentines had 200 a. of arable half of which was fallow and lay common each year. (fn. 197)
In the 14th century wheat, rye, barley, and oats were regularly grown, with some pease and beans sown on the fallow. (fn. 198) In 1318 c. 80 a. of Argentines' land was sown with winter corn and c. 100 a. with spring corn. (fn. 199) In the late 15th century the main crop was still barley, (fn. 200) and in the 16th century a threecourse rotation was still imposed upon the many fields: in 1565 59 a. of the Ely fallow lay in three different fields. (fn. 201)
In 1307 the Argentine fee had 13 villein halfyardlanders and 4 cottars. The latter performed no works between Michaelmas and Lammas, but a total of 240 in harvest, valued at 2d. each. There were also 10 free tenants who paid £4 in rent, and the whole homage owed aid on the marriage of the lord's daughter. (fn. 202) In 1318 some works were commuted, but all the mowing was done by villein service, as well as reaping, haymaking, carting, and tasks such as digging, manuring, and ditching. The bondmen performed 446 works in winter and 566 during harvest. The lord also employed 4 ploughmen, a carter, 2 shepherds, 2 boys, and a maidservant. (fn. 203) In 1356 some Argentines tenants paid money rents in place of services, and by 1383 only 20 harvest and winter works were recorded. (fn. 204) There were still neifs in 1401. (fn. 205) In the early 14th century (fn. 206) the Ely fee had 28 half-yardlanders in Melbourn, and 12 cottars in Melbourn and Meldreth. At least 33 tenants held molland. The cottars performed 2 works each week throughout the year, the half-yardlanders 2 a week from Michaelmas to Christmas and Candlemas to Lammas, and 3 a week at other seasons, each worth ½d. Villeins performed the usual tasks and also boonworks. Each year a reeve and hayward were elected, who, like the smith, were exempt from other services. In 1415 some services were commuted and in 1418 at least 14 villeins had all their services commuted. (fn. 207) In the 14th century the Ely villeins paid leyrwite, heriot, tallage, and gersum and were subject to other usual obligations and payments, as were the cottars. At least one molman performed labour services as well as paying a money rent.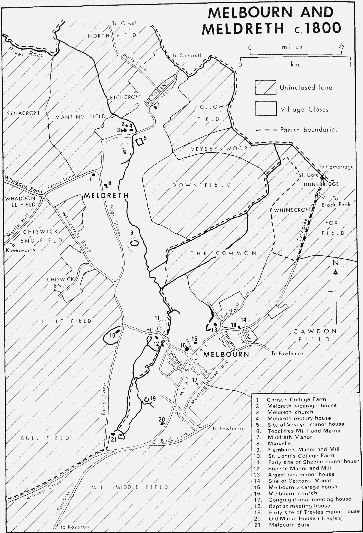 In 1086 2 horses, 11 cattle, 82 pigs, and 696 sheep were recorded in Melbourn. (fn. 208) Sheep were important in the economy and their grazing was carefully controlled. On the Ely fee in the early 14th century the half-yardlanders' sheep could lie in their own folds. (fn. 209) In 1318 Argentines employed shepherds, and customary tenants also worked with the sheep. Its manorial flock numbered c. 200: in 1318 124 fleeces and some woolfells were sold, and c. 25 sheep were butchered. (fn. 210) In 1347 Argentines paid 22½ stone to the wool levy; at least 11 others in Melbourn gave 5 stones or more, and the total Melbourn flock, yielding over 225 stone, may then have numbered c. 2,200. (fn. 211) In the early 15th century fells and wool were sold from the Ely demesne flock. (fn. 212) In the late 15th and early 16th centuries several tenants owned sheep; one left a flock of over 100 at his death in 1503. (fn. 213) In the 1590s Robert Chester claimed common for 80 sheep in the south-west corner of Melbourn. (fn. 214) In the early 14th century, on Argentines demesne, horses, oxen, swans, geese, and hens were kept. (fn. 215) In the late 15th and early 16th centuries some tenants had a few cows. (fn. 216)
In 1356 small parcels of Argentines demesne were leased out for years or life, (fn. 217) and by 1414 parcels of the Ely demesne were leased in the same way. (fn. 218) Amongst the prominent yeoman families were those of Harvey, Chamberlain, Hitch, and Stokes, all of whom were subjected to the 1522 loan, Nicholas Harvey being assessed on £200. (fn. 219) In 1524 they were amongst the nine who paid over £10 to the subsidy; 21 then paid £5 or over, c. 45 between £1 and £5, and c. 30 less than £1. (fn. 220) In 1541 Nicholas Harvey leased the whole of the Ely manor and the rectory. (fn. 221) In 1522 the half-yardland was still the most common holding amongst the Ely tenants, but some held two or more, and many also held molland or other free land. (fn. 222) From the mid 16th century the Ely demesne was continuously leased out, as was Argentines demesne in the late 16th century, (fn. 223) and from the 17th century the Ely land was often sublet. (fn. 224)
By the early 17th century most of Melbourn's arable was divided between four open fields, whose names recalled those of the 13th and 14th centuries, and which survived until inclosure. (fn. 225) West field, covering nearly 1,000 a., lay at the western edge of the parish, nearest to Royston. Nearer to the village was Mill or Middle field, over 1,000 a., then Cawdon or Cawdell field, c. 800 a. Fox field, c. 500 a., lay in the east, near Black Peak and Fowlmere, and east of it were c. 100 a. of moor. In the north-west of the parish was the Common, over 80 a. intercommonable with Meldreth, and in the south-east were c. 500 a. of heathland. Much of the arable still lay in small parcels of between 1 r. and 2 a.; some was inclosed. In 1626 15 out of 34 parcels belonging to Trayles included 5 a. or more, and the Ely demesne in the 1650s included some parcels of more than 10 a. A few yeomen also held inclosed arable. (fn. 226)
In 1565 c. 60 a. of the Bury demesne lay fallow; in 1650 that demesne had c. 230 a. in Melbourne. (fn. 227) In 1626 Trayles manor had c. 140 a. in the open fields. (fn. 228) Wheat, rye, and barley were grown in the early 17th century and saffron was also introduced. (fn. 229) In 1656 on c. 220 a. of sown arable Robert Hitch grew wheat, barley, rye, oats, pease, and lentils. (fn. 230) Between 1699 and 1705 Richard Hitch sowed each year 15 a. of wheat, 17 a. of rye, and 40 a. of barley in the tilth field, and 30 a. of barley, 18 a. of oats, 12 a. of pease, and 8 a. of lentils in the Brook or Breakland field, which was tithed at half the tilth field rate. (fn. 231) Distinction was frequently made between the good land, a strong white loam north of Fowlmere path, and the cold wet land and heathland south of it. (fn. 232) From the later 16th century orchards seem to have been common, usually growing apples, and there was a fruiterer in 1721. (fn. 233) In the 18th century hops were grown on the town land. (fn. 234)
The Ely estate had the largest inclosed pasture, the Berry meadow, north-east of Melbourn Bury, covering c. 30 a. (fn. 235) Sheep and cattle were pastured in the open fields; in 1554 a limit was set on the number of cattle put on the common, (fn. 236) and in the 1660s frequent orders concerning the commoning of sheep, cows, horses, and pigs suggest a shortage of pasture. (fn. 237) In the mid 16th century the Ely lessee had to keep 200 of the dean and chapter's sheep in his fold, (fn. 238) and in 1610 employed at least two shepherds. (fn. 239) In 1650 the Ely manor claimed liberty of fold and right of pasturing any number of sheep on its lands. (fn. 240) In 1595 Argentines had a sheep course for 300 sheep in Melbourn and Meldreth, (fn. 241) and other landholders still kept small flocks. (fn. 242) In the 18th century the pasturing of sheep and cattle was still controlled. Sheep could not feed on the common moor, but were folded on Fox field when it lay fallow. (fn. 243) In 1815 one Melbourn farmer had a flock of c. 180 sheep. (fn. 244) In 1812 the lessee of the rectory had sheep-commons for 40 sheep and cow commons without stint, (fn. 245) and in 1818 Thomas Newling's farm had cow commons, and sheep walk for 320 sheep. (fn. 246) In 1822 there were 340 sheep on the Bury land, and in 1823 the Peterhouse farm had commons for 120 sheep. (fn. 247) In 1826 the parish sheepmasters agreed on the number of sheep which could be kept by different occupiers. Altogether 1,960 were allowed, including 340 on the Ely and 340 on the Argentine manors. The rest were apportioned between 13 farms, allowed 40–160 sheep each. (fn. 248)
In the 1620s Ely had 55 copyhold tenants in Melbourn, and c. 20 tenants of Caxtons manor. (fn. 249) In 1640 25 inhabitants were assessed to the subsidy, only 6 being taxed on over £2. (fn. 250) Prominent amongst them, and amongst Melbourn landholders until the 19th century, were the Hitch family. Robert Hitch who paid £8 to the loan in 1645 probably farmed c. 300 a. He was one of only three inhabitants, all Hitches, who had paid to the loan of 1643. (fn. 251) Also prominent was the Harvey family: John Harvey was lessee and bailiff of Argentines in the 16th century. (fn. 252) In the late 18th century there was some consolidation of copyhold estates, and John Hitch, lord of Argentines, acquired a number of its copyholds himself. (fn. 253) There were several farms of between 60 and 100 a. (fn. 254) In 1778 the Argentine demesne was leased out, and John Fordham, who had farmed the Bury himself until 1813, leased it out from that year. (fn. 255) There were c. 20 farms in Melbourn in 1835, including 4 owned by John and 4 by Wortham Hitch. (fn. 256)
In 1831 30 occupiers employed c. 170 men in agriculture, (fn. 257) but in 1834 there were said to be c. 260 agricultural labourers over 10 years old. The farms were mostly small. (fn. 258) In 1838 (fn. 259) there were 150 landholders, but 120 of those had only a cottage and common rights. Melbourn then had c. 3,400 a. of arable, 215 a. of meadow and pasture, and 850 a. of common and waste. Both the heathland, c. 300 a., and the marshy meadows in the east needed improvement, but there was also 300 a. of very good arable, and 1,000 a. of less good land. A three-course rotation allowed the cultivation of wheat, rye, barley, oats, peas, tares, trefoil, and clover, although in 1833 Peterhouse land was farmed on a four-course rotation. In 1801 wheat, barley, and oats had been the largest crops, followed by peas, rye, turnips and rape. (fn. 260) To grow turnips folding and manuring were necessary. Some seeds were sown on the fallow to make up for a general shortage of hay. Each ancient cottage or house site had rights of common, limited as to the number of sheep which grazed the fallow, but not as to cattle which fed off the balks in the open fields. However there were in 1838 c. 1,600 sheep and only 50 cows: there was little meadow.
Improvement was thought impossible without inclosure and an Act was obtained in 1838, the award being enrolled in 1842. There were then only c. 250 a. of old inclosures, and the award allotted 4,322 a. of open fields and commons. (fn. 261) Almost 2,850 a. were freehold; c. 760 a. were copyhold of the Ely manor, 338 a. of Argentines, 150 a. of Trayles, 86 a. of Topcliffes, 33 a. of Flambards, and 19 a. each of Sheene and Veyseys, the last four being Meldreth manors. Allotments for right of soil were made to all those manors, equivalent to 1/20 of the commons and waste. The vicar was allotted 37 a. for his glebe, and almost 200 a. of the 291 a. allotted to the dean and chapter of Ely were for the rectorial glebe. Of the 139 allottees 39 received only freehold and 49 only copyhold. Seventy-two received less than 5 a., 22 between 5 a. and 10 a., 11 between 10 a. and 20 a., 15 between 20 a. and 50 a., 11 between 50 a. and 100 a., 4 between 100 a. and 200 a., and 4 over 200 a.
The largest allotment was John Hitch's 989½ a., while Wortham Hitch had c. 440 a., both largely freehold. W. C. Carver, whose estate derived from 11 different holdings, had 230 a. John Hitch's (fn. 262) land was divided into three farms: Lordship farm covered c. 460 a. in the north-east of the parish; c. 425 a. in the south were farmed from the Manor House, and c. 140 a. from a homestead on Mill Lane. W. C. Carver's estate, which he farmed from Townsend Farm at the west end of the village, stretched to the Royston-Newmarket road. Some 215 a. of Wortham Hitch's land was divided between White House farm, c. 215 a., Field farm, c. 210 a., (fn. 263) and some smallholdings. Joseph Dickason farmed 160 a. from a house on the Moor. Peterhouse had c. 190 a. also farmed from the Moor, as were Ellis Smith's 125 a. and St. John's 56 a.; Noon's Folly Farm, which had stood next to the Icknield Way since 1773 or earlier, (fn. 264) was owned by Ann Wortham and occupied with c. 130 a. of land there owned by other members of the Wortham family.
Part of Townsend farm was probably bought in 1859 by J. E. Fordham, and A. R. Fordham kept sheep, pigs, and poultry there and at Greenhill farm in 1915. In 1952 the two farms covered c. 160 a. By 1977 Townsend Farm had been demolished and Greenhill Farm was a boarding kennels. (fn. 265) Heath Farm, built near Noon's Folly by 1851, was sold with c. 422 a. in 1898 as part of the Argentine estate to A. J. Palmer and later occupied by Collis Palmer. Since c. 1929 it has been held by the Pepper family. (fn. 266) Lordship farm which covered c. 473 a. in 1898 was in 1916 divided into several lots, the largest being c. 213 a. in the south-east of the parish. (fn. 267) In 1905 Wortham Hitch's children sold White House farm, then c. 180 a., to J. J. Newling. He sold it in 1919 to the county council which in 1978 still let it as small holdings. (fn. 268) Field farm, known by 1864 as Grange farm, covered c. 230 a. in 1905 when it was sold to W. J. Wedd. Peterhouse, Cambridge, bought the farm in 1942. In 1978 it was occupied, with Peterhouse's College farm, by Mrs. Wedd. (fn. 269) Noon's Folly farm, reduced between 1851 and 1921 from 320 a. to 130 a., was occupied from the 1900s to the 1970s by the Wilkersons. (fn. 270) Holland Hall farm, on the Royston road, was held from the 1830s to 1920 by the Titchmarsh family. From 1922 it was held by the Hoys, who in 1977 farmed it with Hyde Hill and New farms. (fn. 271) By 1921 Summer House Farm had been built on c. 185 a. of W. C. Carver's former estate, sold c. 1862. (fn. 272)
In the early 1920s A. R. Fordham kept pigs and poultry on Melbourn Bury farm, and in 1929 there was a poultry dealer in Melbourn. (fn. 273) In 1921 Summer House farm was stocked with pigs and sheep. (fn. 274) By 1977 one farm was devoted mostly to poultry and two to pigs and poultry. (fn. 275) In 1864 there were four cattle dealers in the parish, and a cattle dealer leased Heath farm in 1898. (fn. 276) In the 1880s William Ellis kept a large flock of sheep on his Peterhouse land. (fn. 277) In 1927 Matthew Grey, who had kept sheep and cattle, gave up his milk business, (fn. 278) but in the 1930s the Moat was occupied by an exhibitor of pedigree Jersey cattle, and in 1937 there was a dairy. In 1952 Melbourn Bury dairy farm covered c. 59 a., but few cattle were kept in the parish by 1977. (fn. 279)
In 1905 Melbourn had c. 3,750 a. of arable, 426 a. of grass, and 18 a. of woods and plantations. (fn. 280) In 1919 there were c. 7 a. of watercress beds near Black Peak. (fn. 281) After the arrival of the railway in the 1850s extensive orchards were planted, and Melbourn became particularly known for its greengages and plums. (fn. 282) In the early 20th century J. J. Newling, an authority on fruit growing, planted c. 26 a. on the Moor with plums and apples and members of the Palmer family had c. 150 a. of fruit in Melbourn and Meldreth. (fn. 283) In 1905 145 a. of orchards and in 1925 268 a. were returned under Melbourn. (fn. 284) By 1937 fruit was one of the parish's main crops (fn. 285) and in 1942 c. 15,000 tons of fruit were grown there and in Meldreth. (fn. 286) In 1965 there were c. 500 a. of orchards around Melbourn, mainly devoted to apples (fn. 287) and soft fruits. By 1978 there were at least 6 fruit growers there; fruit was then increasingly sold direct to the public, many of whom picked it for themselves, rather than in wholesale markets. (fn. 288)
In 1086 the abbot of Ely and Guy de Reimbercourt both had mills in Melbourn. (fn. 289) In the early 14th century Reginald de Argentine granted half a water mill there called Baddesmill, which had been held of him by Baldwin son of Ernis, to John son of Geoffrey of West Wratting, and Baldwin confirmed the grant. In 1303 John granted it to the priory of Ely for 30 years and c. 1308 quitclaimed his moiety to Roger son of Walter de Alcruit who granted it to Ely. (fn. 290) That may have been the water mill which is not otherwise recorded but apparently stood north-east of Lordship Farm, its position indicated by water channels and pools. (fn. 291) From 1282 a windmill was recorded on Argentines manor. (fn. 292) It was ruinous by 1383. (fn. 293) In the early 14th century the Ely manor had one water mill, presumably Baddesmill, and one windmill. Windmill Hill was mentioned in 1419. (fn. 294)
There was a windmill in the south-west of the parish, near to the Royston boundary, in 1798, and that and another windmill in the north of the parish, next to the Fowlmere road, occur in 1839. (fn. 295) In 1862 there was also a windmill south of the Royston road, 2 km. from the village. (fn. 296) There were three millers in 1847 and 1858; by 1864 one of them, James Rawlings, was in business as a millwright, engineer, and iron and brass founder at the Moor End works. (fn. 297) His company made the iron bridge over the mill stream in the 1850s. (fn. 298) The works, later known as the Vulcan Iron Works, was sold in 1877 after Rawlings's death. A foundry was still operating there in 1971. (fn. 299) A windmill was recorded in Melbourn in 1883, and a water mill from 1888 to 1908. (fn. 300) The gas and water mill recorded in 1916 was Sheene mill, on the boundary with Meldreth, which presumably had always served the village. (fn. 301)
Amongst the less usual craftsmen in Melbourn were glovers in the 16th, 17th, and 18th centuries, and cordwainers in the 17th and 18th centuries. Weavers occurred in the 17th century and in 1811, and tailors in the 17th and 18th centuries. (fn. 302) In 1851 there were five tailors and dressmakers there. (fn. 303) Coprolite merchants are recorded in the 1870s and 1880s. (fn. 304) In 1855 S. Campkin made umbrellas in Melbourn, and by 1875 J. and W. Campkin were established as grocers and mineral-water manufacturers, on a site near the green where they developed a general stores. (fn. 305) In 1916 the Silva company manufactured baking-powder in Melbourn. (fn. 306)
From 1840 lime was extracted from a quarry on Water Lane. By the 1920s the Melbourn Whiting Co. Ltd. was producing calcium oxides there for tanneries at Potton and Sawston. The quarry was bought c. 1930 from the French family of Melbourn by the Cam Blue Lias Lime and Cement Co. Ltd., which reopened it in 1937 to extract agricultural chalk. The quarry, still known as the Melbourn Whiting Co., was closed in 1967 and the site later became a light industrial estate. (fn. 307) In 1968 work began there on an electronics factory on Back Lane. Neve Electronic Laboratories opened there employing c. 100 people in 1970, and over 200 by 1974. In 1977 a large new plant was opened, and 270 people were employed in 1978, manufacturing sound control equipment. (fn. 308) By 1971 almost 500 nonagricultural workers were employed in Melbourn. (fn. 309) The other large employer was Metals Research Ltd. which started at the Moat House in 1957. The premises were greatly extended in the late 1960s, and in 1974 c. 250 people were employed making crystals and medical and image-analysis instruments. (fn. 310)
Local Government.
In 1299 the abbot of Warden and the prior of St. Valéry claimed view of frankpledge and other rights over their men in Melbourn. (fn. 311) The prior of Ely and Reginald de Argentine also claimed view of frankpledge and other liberties, and the prior had a prison there. (fn. 312)
Court rolls and books for the Ely manor survive for 1283, 1413–21, 1554–60, and 1589–1952, with some gaps. As well as tenurial business and the regulation of agriculture and watercourses, they record cases of theft, assault, breach of the peace, and debt. The lord had the assize of bread and ale, and the right to strays, and tallage was paid on the succession of a new lord. In the 15th century the court met twice a year, once or twice a year in the 16th and 17th centuries, and from c. 1750 only once a year. From the 18th century it was almost entirely concerned with tenurial matters, and from c. 1900 was enfranchising copyholds. Aletasters, haywards, herdsmen, and constables were appointed. In 1601 there were two constables, one for Melbourn and one for Meldreth. Business concerning the two parishes was usually distinguished, and in the 16th century two groups of jurors were recorded. (fn. 313)
A court for Trayles manor is recorded in 1595. (fn. 314) For the manor of Argentines and Trayles court rolls and books survive from 1639 to 1935. (fn. 315) The courts were concerned with tenurial matters and, up to the 19th century, with the regulation of agriculture. Pinders and haywards were elected; in 1666 there were two haywards, one for Melbourn and one for Meldreth. In 1690 two constables were appointed, but from 1718 only one, for Melbourn. (fn. 316) Courts were held only once or twice a year.
By c. 1720 the parish also appointed a constable and a town herdsman, as well as two overseers, and from 1788 a pinder. From 1820 there were two or three constables and sometimes three pinders. (fn. 317) In 1758 a parish meeting formulated agricultural regulations. (fn. 318) From the 1540s a guildhall occurs in Melbourn, and in 1661 the town house or guildhall was held of Ely manor. (fn. 319) Throughout the 18th century the church and town closes occur, rent from both apparently being paid to the parish. (fn. 320) Three almshouses left for the repair of the church were given for the use of the poor rent free in 1731, (fn. 321) and used for the same purpose in 1817. Land attached to those houses had formerly been let as gardens, but by the 1830s it was used as a playground for Triggs school. (fn. 322) In 1824 the old building, on the corner of Church Lane, had been demolished, and a new double tenement built by the trustees for the poor. (fn. 323) In 1863 the house was still occupied by paupers and the land used by the school. (fn. 324) Neither has been traced later. In 1862 a parish fire engine was bought by subscription and a shed built for it from the recently demolished lock-up. It was still in use in 1914. (fn. 325)
In 1719 the overseers' rate raised c. £18 and in 1732 Melbourn spent c. £45 on poor relief. (fn. 326) By 1750 expenditure was still only £47 but by 1775 it had risen sharply to c. £138. (fn. 327) It continued to rise to c. £285 in 1788 and £706 by 1810. (fn. 328) Payments were made in cases of illness, children were apprenticed, and some paupers were set to work. (fn. 329) In 1803 38 adults and 24 children received permanent outside relief. (fn. 330) By 1815, when only 43 were receiving permanent relief, Melbourn's expenditure had fallen to £594, (fn. 331) but it was still one of the three highest amounts in the hundred. It then fluctuated, between £488 in 1822 and £973 in 1832. (fn. 332) In 1835 Melbourn became part of the Royston poor law union, later passing to the Melbourn Rural District, and the South Cambridgeshire R.D. (fn. 333) From 1974 it was in the South Cambridgeshire district.
By 1851 Petty Sessions were held in Melbourn every two weeks. From the 1860s they were held every four weeks in the police station. (fn. 334) By 1958 there was a court house in Cross Lane, whose court room was then being enlarged. (fn. 335) The magistrates' court still met there in 1978.
Church.
The earliest evidence of Christianity in Melbourn is the 7th-century Christian cemetery. (fn. 336) There was probably an 11th-century church building, and a church was recorded in 1152. (fn. 337) In 1229 the bishop of Ely, with the consent of the rector of Melbourn, granted Ely priory 30 marks a year from the rectory of Melbourn, besides a pension of 20 s. and the tithes of their demesne which they already enjoyed. (fn. 338) A vicarage was ordained in 1255 and its advowson descended with the impropriate rectory from the prior of Ely to the dean and chapter with whom it remains. (fn. 339) In 1534 John Bowlys of Wallington (Herts.) presented under a grant from the priory, and in 1772 the bishop collated by lapse. (fn. 340)
In 1217 the rectory was valued at 30 marks, and by 1254 at c. £40. In 1291 the vicarage was worth only £5 6s. 8d., c. 1/8 of the rectory, (fn. 341) and in the 16th century £19 2s. From at least the 17th century the vicar received £6 13s. 4d. from the rectory and in 1649 was allowed a temporary augmentation of £5. (fn. 342) In 1650 the living was worth £50 a year. (fn. 343) In 1685 it was valued at c. £40, and £80 in 1728. (fn. 344) A century later its income was £250, rising to £314 in 1873. (fn. 345)
In 1650 the vicar had tithes of wool, lambs, and hay, and other small tithes. (fn. 346) They were commuted in 1838 for a rent charge of £231 11s. 9d., having been compounded for c. £208 in previous years. (fn. 347) The vicar had at least 23 a. of glebe in the mid 16th century, c. 45 a. by 1615, and 55 a. by 1650. (fn. 348) In 1838 there were 43½ a. of glebe and in 1842 the vicar was allotted c. 37 a. in Mill field. (fn. 349) In 1878 he received a further 7½ a. south-west of the vicarage house, in place of a payment of £25 made by the dean and chapter and later by the Ecclesiastical Commissioners. (fn. 350) In 1887 the glebe covered c. 47½ a. (fn. 351) The vicarage meadow, c. 7 a., was sold in 1970, and parts of the vicarage orchard in 1977. In 1978 the vicar retained 37 a. of glebe in Mill field. (fn. 352)
In the mid 16th century the vicarage house was in bad condition. (fn. 353) In the 17th century it had a parlour, buttery, and chamber, each with a chamber above, a three-storeyed gatehouse, a bakehouse, barn, and other offices. (fn. 354) It was kept in reasonable repair until the 1780s. (fn. 355) By 1833 it was unfit to live in. (fn. 356) A new house completed nearby in 1836 (fn. 357) remained in use until 1972 when it was sold with some land and another vicarage was built in its grounds. The previous house had been demolished c. 1964. (fn. 358)
In 1378 there were three clerks and a chaplain there, two clerks in 1406, and chaplains and curates throughout the 15th and 16th centuries. (fn. 359) In 1408 the vicar was licensed to let out his benefice for seven years while he attended university. (fn. 360) The vicar in 1524 held another cure in Worcestershire. (fn. 361) John Cheeswright, vicar 1534–7, also held Wisbech St. Peter, but employed a curate at Melbourn. (fn. 362) Edmund Humfrey, vicar 1544 to c. 1579, was c. 1560 resident and able to preach, but not licensed. (fn. 363) During his incumbency the church had no sufficient bible, and parishioners were accused of gaming during service. (fn. 364) Thomas Pearne, fellow of Peterhouse and nephew of the dean of Ely, was presented in 1581 but resigned the following year with a pension from the vicarage. (fn. 365) His successor James Scruby held the cure until 1616; in 1593 it was certified that he followed the prayer book and wore the surplice. (fn. 366) Francis Durham, vicar from 1634, had his benefice sequestered in 1644. He was followed in turn by William Wells, 'an able minister', (fn. 367) Oliver Thoroughgood, who was deprived for immorality, and John Cocket, a member of the Cambridge Presbyterian Association. (fn. 368) Durham was reinstated in 1660, but resigned in 1661. (fn. 369) Thomas Day, vicar 1667–1696, and Henry Roper, 1722–1755, were both resident, (fn. 370) as was T. R. Ellis who in 1775 held two Sunday services and quarterly sacraments. He also held Shepreth but lived at Melbourn. (fn. 371)
In 1807 the vicar also held Trumpington, where he lived, and his curate was only occasionally resident. There were still two Sunday services, and thrice-yearly communions, but communicants were few. (fn. 372) In 1817 the next vicar, a chaplain of the bishop of Ely, was dispensed to hold the rectory of Teversham as well. In 1825 his curate, who was resident, claimed that his predecessors' negligence and inefficiency had caused an increase in dissent. Few communicants attended the quarterly sacraments, and few children went to church, although he sometimes catechised c. 12 or 20 of them. (fn. 373) The next vicar was resident in 1836, providing two Sunday services and seven sacraments a year, attended by c. 12 communicants, and he tried to establish a Sunday school. (fn. 374) He was followed by William Selwyn, vicar 1846–53, a canon residentiary of Ely and Lady Margaret Professor of Divinity. (fn. 375) By 1846 there was a Sunday school with c. 30 pupils. (fn. 376) In 1851 c. 165 attended the morning and c. 200 the afternoon service, much lower figures than for the dissenting churches. (fn. 377) By 1873 many dissenters came to the Sunday evening services. There were then three Sunday services, one on Wednesdays, and monthly communions, usually attended by half of the 70 communicants. The Sunday school had c. 110 pupils, and the vicar held an evening school in the winter. (fn. 378) In 1890 229 a. of Melbourn ecclesiastical parish were annexed to Royston. (fn. 379) By 1897 Melbourn had 11 district visitors. There were twice monthly communions with c. 60 communicants, and three Sunday services. The Sunday school had c. 58 members, a bible class c. 13, and the choir 21. (fn. 380) In 1909 there was said to be a re-awakening of church life in the parish. (fn. 381) Since 1952 Melbourn has been held with Meldreth. (fn. 382) In 1968 a new church hall was opened north of the churchyard. (fn. 383)
The church of ALL SAINTS, so called in 1520, (fn. 384) consists of a chancel with north vestry, a five-bay aisled nave with a two-storeyed south porch, and a west tower. It is built mostly of flint and rubble with stone dressings. The 11th-century font probably survives from an earlier building. Parts of the tower, the nave arcade, and the chancel arch are 13th-century, and in the early 14th century the vicar put new windows and carvings in the chancel. (fn. 385) A doorway was cut soon after in the north wall of the chancel to a vestry, a window was put in the south chancel wall above the piscina, and the south chapel was built. In the 15th century the chancel arch was remodelled, a new five-light east window was put in, and the tower was heightened and altered to its present form, the 13th-century tower arch being re-used. In 1487 money was left to make the church roof. Both the chancel roof, which bears the rebus of Bishop Alcock (1486–1500), and the nave roof were raised, a clerestory being added to the nave. (fn. 386) In 1508 Thomas Hitch left money to make the rood screen (fn. 387) which survived in 1978.
In 1644 William Dowsing destroyed 60 pictures in the church, lowered the altar, and removed the cross from the steeple. (fn. 388) The church was little altered, apart from repairs, (fn. 389) until the 19th century. In 1848 dissenters opposed a rate for work on the church. (fn. 390) In 1855 it was reseated. (fn. 391) In 1882–3 the church was restored under the direction of R. R. Rowe. Much of the north and west walls of the aisle, and the east wall was rebuilt, buttresses were put inside the north aisle, the chancel and aisle roofs were replaced, the porch almost entirely rebuilt, and a new north vestry was built. The cost was borne mostly by J. H. Fordham. (fn. 392) Between 1912 and 1913 the tower and five bells were restored, and in the 1950s and 1960s further repairs were undertaken. (fn. 393)
Probably in the 18th century a gallery was built at the west end of the nave. It was taken down in 1852 and later erected in the north aisle, where the organ has stood since c. 1910. (fn. 394) The medieval seating which survived c. 1949 (fn. 395) had almost all disappeared by 1977. In 1743 the south chapel contained a large altar monument erected by Trinity Hall, Cambridge, to William Ayloffe (d. 1691). By the early 20th century the monument had been removed and the inscription, almost obliterated, lay at the entrance to the chapel. (fn. 396) On the south chancel wall is a tablet to Dame Mary Hatton, and there are several Hitch family memorials.
Melbourn was well provided with ornaments and vestments in the 13th and 14th centuries, and in the mid 16th century it had two gilt chalices and several silver ornaments. (fn. 397) It was given a cup and cover paten in 1569 which survived in the 20th century. (fn. 398) The registers date from 1557 and are complete. (fn. 399)
Nonconformity.
In 1638 several parishioners refused to stand at the doxology or to kneel, or went out during services. (fn. 400) In 1640 there was a ship-money riot in Melbourn; (fn. 401) one of the ringleaders, Benjamin Metcalfe, or his son and namesake, was amongst the founders of a Baptist meeting established there by 1654. (fn. 402) The Metcalfe family remained prominent dissenters: in 1665 widow Metcalfe was convicted for not receiving the sacraments, and in 1671 she owed £60 in fines for not attending church. (fn. 403) In 1676 there were 26 nonconformists in Melbourn, probably including c. 20 Anabaptists taught by Benjamin Metcalfe in 1672 when he was licensed to preach in his own house. (fn. 404) By 1685 he had been excommunicated as an Anabaptist. (fn. 405) After his death in 1698 the Baptist church was supplied in an unofficial circuit with Wilbraham, Fulbourn, and Saffron Walden (Essex). (fn. 406) In 1728 there was a meeting house at Melbourn and by then almost half the population were Baptists or Presbyterians. (fn. 407) In 1745 a building was licensed for General Baptist worship, led by Joseph Eedes. (fn. 408) After his death in 1769 the Baptist church declined, but it survived with c. 24 members. (fn. 409) After 1810 it seems to have withdrawn from the General Baptist Assembly. (fn. 410) In 1812 Melbourn and Wilbraham separated from the Fulbourn meeting: in the following year Melbourn had 18 members. (fn. 411) By 1818 the meeting house, at the north end of High Street, had been enlarged to hold 300 and was well attended. (fn. 412) In the same year John Trigg (d. 1821) bequeathed to augment the minister's stipend £200 still so used in 1929. (fn. 413) In 1851 the chapel was attended by over 300 at morning service and c. 420 in the afternoon. (fn. 414) By 1856 a new Zion Baptist chapel and schoolroom had been built on Mortlock Street with c. 500 sittings. (fn. 415) It attracted a sizeable congregation throughout the 19th century. (fn. 416) By 1936 the church had financial problems and could not support a minister, (fn. 417) but it recovered and was still active in 1978.
Before the end of the 17th century Congregationalism was also established in Melbourn. In 1679 12 families there were Francis Holcroft's disciples, and by 1700 the Meldreth/Bassingbourn Congregational church met in Melbourn. (fn. 418) Between c. 1707 and 1717 John Nichols, pastor of Melbourn and Chishill, had c. 400 hearers there, (fn. 419) and by 1716 a square brick meeting house had been built, the earliest part of that church which still stands on Orchard Road. (fn. 420) The Melbourn and Chishill churches separated c. 1744. (fn. 421) The Melbourn meeting house was enlarged in 1815 at the south end and a new front and lantern were added. (fn. 422) In 1819 there were two schools attached to it and the minister kept a boarding school. (fn. 423) John Trigg (d. 1821) left to augment the minister's stipend £200; the interest was still paid in the 1920s when it was administered by the Congregational Union. (fn. 424) In 1851 c. 500 people attended the morning services, c. 600 the afternoon ones, and c. 400 the evening services, held alternately at the Congregational and Baptist churches. (fn. 425)
In 1865 a new chapel was built opposite the first one on land given by the minister, A. C. Wright. The new church, a six-bay building of white and coloured brick in an Italian-Gothic style, with two turrets and apses, could seat c. 800. (fn. 426) The old building was used for the Sunday school and public meetings. (fn. 427) By will proved 1893 William Stockbridge left £200 half of the income to augment the minister's stipend, and half for the Sunday school. In the same year the minister and deacons devoted the income from a further £100 to the minister. (fn. 428) From 1876 the church had an out-station at Meldreth. By 1905 the two had 160 members, 244 scholars, 25 teachers, and 4 lay preachers. Numbers fell after c. 1930, but in 1974 there were still 68 members, 60 children, and 9 teachers. (fn. 429) By 1953 both the old and new churches were in need of repair, and it was decided to renovate the older building, which has been in use since 1955. The newer chapel was used for storage by Pye of Cambridge, and was demolished in 1963. (fn. 430) The brick and slate manse, built on New Road in 1874, was sold in 1953 and a smaller one built. (fn. 431) By 1873 there were two nonconformist burial grounds in Melbourn. (fn. 432)
In 1761 and 1762 John Wesley preached at Melbourn, (fn. 433) and in 1761 a barn there was licensed for Methodist worship. (fn. 434) Methodists were recorded there in 1775, and in 1873 a few Primitive Methodists worshipped in a barn and held a small Sunday school. (fn. 435) The following year they built a brick and slate chapel in Dolphin Lane. Registered in 1876, it was in use in 1885, but no longer by 1896. (fn. 436) By 1897 there was a Salvation Army barracks in Melbourn, said to have occupied the Methodist chapel since 1888. The barracks were registered between 1903 and 1925. (fn. 437)
Education.
Schoolmasters occurred at Melbourn between 1599 and 1625. (fn. 438) In 1690 William Ayloffe conveyed to trustees two-thirds of the impropriate rectory of Gargrave (Yorks.), the income to be divided between Trinity Hall, Cambridge, the vicar of Meldreth, and the schoolmaster of Melbourn who was to receive £15 a year for teaching four poor children of Melbourn and Meldreth, of the Church of England. Any residue was to help repair the schoolhouse and buy catechisms for poor children. (fn. 439) In 1731 the school was kept over the church porch, and then and in 1783 the endowment was thought to be for teaching 40 children. (fn. 440) In 1804 the falling income was still divided in the original proportions. (fn. 441) About 1810 a master was paid to teach 20 boys, but the school later fell into abeyance, and in 1818 the funds were used to repair the church. (fn. 442) In 1833 the former master, who lived elsewhere, was still paid £7 7s. 1½d. by the charity. (fn. 443) In 1849 the vicar and trustees re-established the school, and in 1851 the parish clerk was paid to teach boys at Sunday and evening schools, again over the church porch. (fn. 444)
In 1854 an infant school was built by subscription and a government grant on Church Lane. It was given the money accumulated by Ayloffe's charity before 1849, on condition that the new building could be used by Ayloffe's school in the evenings and on Sundays. (fn. 445) In 1863 the charity had an income of £7 10s. (fn. 446) By 1870 there was no church schoolmaster and the vicar proposed to give a third of the income to Meldreth and two thirds to Melbourn to provide Sunday or night-school teaching. (fn. 447) In 1873 Sunday and night schools were held in the infants' school, (fn. 448) then known as Ayloffe's and controlled by the vicar. (fn. 449) In 1879 it had accommodation for 122 children and an average attendance of 77. It was closed in 1887. (fn. 450) In 1912 the old church schoolroom was used for a Sunday school and as a parish room. (fn. 451)
While the Ayloffe school was in abeyance the need for a school was strongly felt, (fn. 452) and John Trigg (d. 1821), by will dated 1818, left £2,000 to provide an undenominational school for poor children of Melbourn and Meldreth. The school was opened in 1823, and was held for many years in two converted barns on Little Lane, supported by the charity and school pence. In 1835 the average attendance was 165. (fn. 453) The trustees of the charity were all dissenters, and vicars of Melbourn regretted their own lack of influence. (fn. 454) In 1855 a new school, later known as the British School, was built on Church Lane. In 1872 the master and mistress taught c. 42 boys and 51 girls. (fn. 455) By 1879 the average attendance was 137, and by 1889, after the closure of the church infant school, 196. The accommodation had by then been extended from 189 to 299. (fn. 456) Numbers continued to rise to 312 by 1905 when the accommodation had been extended to hold 411. (fn. 457) From 1903 it was a council provided school. The Trigg charity leased the buildings to the council, and under a Scheme of 1908 the charity's income, then c. £65 and £130 in 1960, was spent on prizes, books, scholarships, and special instruction. (fn. 458) Attendance at the school fell slowly to 203 in 1914, 154 in 1927, and 130 in 1938. (fn. 459) The seniors were transferred to Melbourn village college when it opened in 1959. (fn. 460) In 1971 c. 350 children attended the primary school, and c. 430 the village college. (fn. 461) In 1973 the primary school still occupied the Trigg property and the old church school building. Further land was bought from the charities, and the school had expanded by 1978. (fn. 462)
In 1818 a number of unendowed schools taught c. 120 children, and there were five other day schools in 1833, when there was at least one boarding school in the parish. (fn. 463) Several boarding schools, most of them nonconformist, occur throughout the 19th century. (fn. 464)
Charities for the Poor.
Melbourn was one of the 12 parishes to benefit from Lettice Martin's charity, established in 1564 and confirmed by her will, proved 1575. (fn. 465) Less than £1 a year was received until the early 17th century. (fn. 466) In the 19th century the income, £1–£3, was distributed in coals. By 1966 it had fallen below 10s. (fn. 467)
By will proved 1920 W. W. Clear left £1,500 to build almshouses on a site provided from his estate. They were to be named after his brother, Francis John Clear, and were for poor women resident in Melbourn for at least 10 years. Four one-storey brick almshouses had been built by 1925 on Orchard Road, next to the Congregational burial ground. In 1965 the charity's income was over £70. (fn. 468)