Pages 192-195
A History of the County of Cambridge and the Isle of Ely: Volume 9, Chesterton, Northstowe, and Papworth Hundreds. Originally published by Victoria County History, London, 1989.
This free content was digitised by double rekeying. All rights reserved.
OAKINGTON
The ancient parish of Oakington (fn. 1) lies over 6.5 km. (4 miles) north-west of Cambridge, (fn. 2) stretching for almost 4 km. (21/2 miles) northeastward from the Cambridge-Huntingdon road, a turnpike between 1745 and 1874. (fn. 3) The parish formerly covered 1,692 a., forming an approximate rectangle. (fn. 4) In 1953 a square block of c. 158 a. south-east of the village was transferred from Histon parish, so that Oakington thereafter comprised 1,850 a. (749 ha.). (fn. 5) In 1985 the boundary with Long Stanton was straightened, a 12-a. projection being transferred to Oakington, which was also then united for civil purposes with Westwick. (fn. 6) Since the late 13th century Westwick had been attached ecclesiastically to Oakington parish, although remaining a separate township in Chesterton hundred. (fn. 7)
Oakington is largely flat, only at its southern end rising above 15 m. (c. 50 ft.). There the soil lies upon the Lower Greensand, mostly overlaid with gault which stretches northward almost as far as the village. The north-western part of the parish lies on beds of gravel. (fn. 8) Oakington brook, after rising near the main road, passes southeast of the village into Beck brook, which marks the eastern boundary. No woodland was recorded in 1086, (fn. 9) no ancient woods remain, nor are there any modern plantations. The land, mostly arable, was cultivated under a triennial rotation by the early 14th century and until 1833. (fn. 10) From 1940 the whole area north of the village, c. 540 a., was occupied by the runways of R.A.F. Oakington, transferred to the army in 1975. (fn. 11) The runways were being torn up in 1978 and part of the land was sold. (fn. 12)
Burials from an early Anglo-Saxon cemetery have been found south of the church. (fn. 13) The village was relatively populous in the Middle Ages. There were already c. 55 peasants in 1086, (fn. 14) almost 100 landholders by 1279, (fn. 15) and 84 taxpayers in 1327. (fn. 16) In 1315 the village allegedly contained 16 men aged 60-85 and 5 who were 90 to 120 years old. (fn. 17) There were still c. 90 landholders in 1348: of their 55 surnames 31 can be traced back to 1279. (fn. 18) On the largest manor 17 out of c. 35 tenants perished in 1349. (fn. 19) Although 174 people paid the poll tax in 1377, (fn. 20) out of c. 40 dwellings on that manor 7-10 were reported as wasted and unrepaired in the late 1360s, (fn. 21) and still 6-7 in the 1390s. (fn. 22) Many villeins quitted both manor and village. (fn. 23) By 1500 the population had perhaps been halved: there were only 42 taxpayers in 1524, (fn. 24) and 43 households in 1563. (fn. 25) By the 1660s the village had grown again to comprise 55-60 dwellings, (fn. 26) perhaps housing 180 adults in 1676. (fn. 27) In 1728 there were said to be 47 families and probably 166 people. (fn. 28) About 1800 c. 55 families comprised c. 285 people. (fn. 29)
From 1811 the population grew rapidly by c. 100 in each decade to 333 in 1821 and a peak of 610 in 1851. (fn. 30) Poverty and unemployment, however, provoked heavy emigration in the early 1850s, largely, through force of example, to Adelaide (South Australia). Rather than stay to be 'starved to death', some 90 people left in 1851, 11 families in 1852, 9 families in 1853, (fn. 31) and 43 people in 1854, when it was said that the population had fallen by a third in three years. (fn. 32) In the 1860s, however, there were c. 515 inhabitants. Thereafter numbers declined sharply, stabilizing at c. 425 only in the 1890s, then recovered to c. 450 in the 1910s and c. 500 in 1931 and 1951. (fn. 33) New building permitted the civil population to rise sharply to 698 by 1961, 911 in 1971, and 1,128 in 1981. (fn. 34)
The village stands in the northern half of the parish, (fn. 35) beside a road, partly called Jumblatt Way by the 1420s, (fn. 36) whose course was little changed at inclosure. It runs north-east from the turnpike to cross Beck brook by Westwick bridge, recorded by 1315, (fn. 37) and rebuilt in a new position after inclosure in 1834. (fn. 38) At the south end of the village the road was crossed by one running north-westward from Girton into Long Stanton. At inclosure the Oakington landowners prevented the making of a new and more direct road to the St. Michael's end of Long Stanton. (fn. 39) The older road thither was blocked by the construction of the airfield in 1940, and in the 1970s the people of Oakington resolutely opposed its reopening to motor traffic. (fn. 40) The Cambridge-Huntingdon line of the Great Eastern Railway, opened in 1847, ran just inside the parish's north-eastern boundary. (fn. 41) A station built just west of Westwick bridge, opened in 1848, (fn. 42) was closed to traffic in 1970. (fn. 43)
The village stood by 1800 among some 190 a. of ancient closes, (fn. 44) along a street running north-east from Alehouse Green (Broad Green c. 1520), (fn. 45) by the Girton road, which until inclosure covered 41/2 a. The street forks half way along its length. The parallel Water Lane to its southeast may have been the original main street before a rise in the water table in the 14th century drove settlement to higher ground. Medieval house platforms are still traceable along that lane. (fn. 46) The church and principal manor house faced one another at the north end of the modern street's western branch, called Church Lane in the late 14th century. (fn. 47) Immediately to the north were Town End close, so named by 1498, (fn. 48) and the 4-a. Camping close. Other dwellings lay around Sheep's Green, 2 a. c. 1830, off a lane curving northwards from Alehouse Green. There was no settlement elsewhere in the parish until two farmsteads were built to the south after inclosure. Oakington contains few old buildings, only two or three thatched cottages, mostly on the high street, surviving from before 1750. Its streets are lined with 19th-century farmhouses and cottages, usually in grey brick, interspersed with 20th-century infilling, including many bungalows.
About 1800 there were c. 42 houses, (fn. 49) and in 1834 22 houses and 27 cottages. (fn. 50) In the mid 19th century there were probably c. 60 dwellings in the southern half of the village around the two greens and the roads running off them, another 60-70 in the northern half, including Church End. (fn. 51) Later the numbers shrank slightly: 15 houses were empty in 1891, (fn. 52) and in 1910 there were 36 houses and 80 cottages. (fn. 53) The number occupied grew again only slowly in the early 20th century, there being only 132 houses in the parish in 1931 and 156 in 1951, (fn. 54) but more rapidly from the late 1950s. Estates of 25-30 houses were put up on closes off the old streets, especially at the northern end of the village and off the Girton road. In each decade after 1951 80-90 houses were added, until there were 405 altogether by 1981. (fn. 55) They included c. 50 council houses, mostly in two large estates, some consisting of 1940s prefabs. (fn. 56)
Of Oakington's public houses the White Horse at Alehouse Green, recorded from the 1760s (fn. 57) and rebuilt after a fire in 1805, (fn. 58) was still open in the 1980s, when a restaurant had been lately added to it. (fn. 59) Of six others usually recorded from the 1850s, two of which also stood at Alehouse Green in 1861, one closed c. 1900, several were still open in the 1930s, but only the New Inn, started near the station by 1858, (fn. 60) was still open in the 1980s. (fn. 61) In 1852, after a man sold his wife to a farmer, she was followed to her new spouse by the village boys, making 'derisive rough music'. (fn. 62)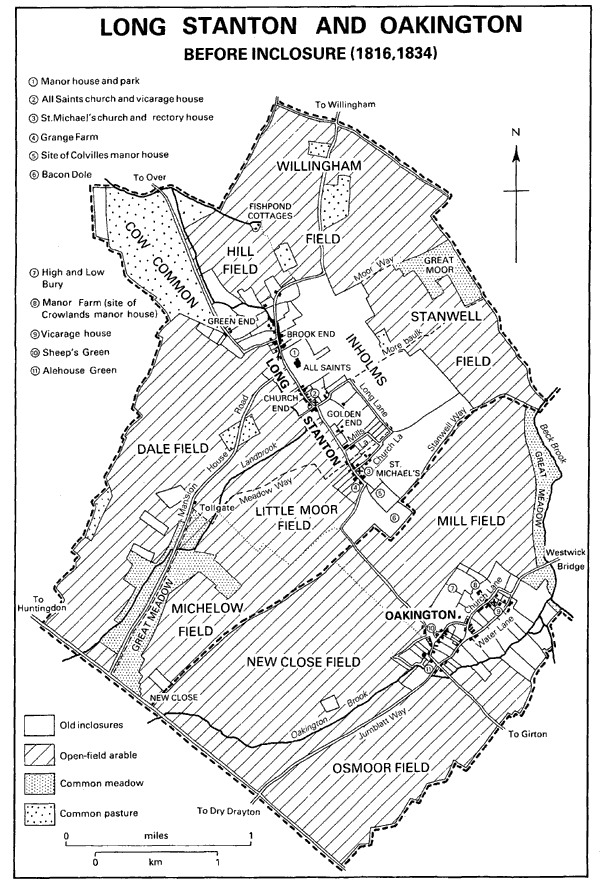 The village Feast was held in the 1860s and 1890s on the last Sunday in May. (fn. 63) It was perhaps superseded by the shows held in mid July by the village horticultural society founded in 1892. (fn. 64) A village festival was started in August 1969, but expired c. 1973 through lack of public support. (fn. 65) It was revived in the mid 1980s. (fn. 66) From c. 1906 the parish council hired a field as a recreation ground, (fn. 67) and bought one after 1945 out of war memorial funds, which were also used to build a village hall and sports pavilion between 1965 and 1970. The hall was also used by the Women's Institute (fn. 68) set up by 1927 in a wooden hut built on parish land. (fn. 69)