Pages 71-74
A History of the County of Cambridge and the Isle of Ely: Volume 9, Chesterton, Northstowe, and Papworth Hundreds. Originally published by Victoria County History, London, 1989.
This free content was digitised by double rekeying. All rights reserved.
DRY DRAYTON
Dry Drayton, (fn. 1) which formerly contained 2,421 a., (fn. 2) lies 8 km. (5 miles) north-west of Cambridge, occupying an approximate quadrilateral, bounded on the north by the CambridgeHuntingdon road and on the south by that from Cambridge to St. Neots, which were turnpikes respectively between 1745 and 1874 (fn. 3) and between 1772 and 1876. (fn. 4) In 1966 c. 350 a. in the north-west angle were detached to form the new civil parish of Bar Hill, to which another 7 a. were transferred in 1982 and 1985 leaving c. 833 ha. to the parent parish. (fn. 5) Although the village was probably named Dry Drayton to distinguish it from Fen Drayton 8 km. to the north-west, (fn. 6) it has occasionally suffered in years of drought, when all springs ran dry. (fn. 7)
The parish lies mostly upon gault, overlying chalk which is exposed in the far north-west, and itself overlaid in the south and even on higher ground in the north by boulder clay. (fn. 8) The land slopes steadily upward towards the south from only c. 15 m. (50 ft.) near the northern road to over 65 m. (200 ft.) by the southern border. Two streams, the Caldwell, later Callow, brook, to the east, so named by 1418, (fn. 9) and probably by the 1320s, and the Dam brook to the west, recorded in 1331, (fn. 10) have carved out valleys for themselves each side of a central ridge, on which the village stands. The brook running eastward into Madingley was called the Gore brook from the 1350s until after 1810. (fn. 11)
No ancient woodland survives. A few 19thcentury plantations, totaling 58 a. in 1905, (fn. 12) including Carlisle wood (31 a.), (fn. 13) established by 1900 on the south-east border, were cleared by the 1920s. (fn. 14) The parish has been mainly devoted to arable farming, being cultivated on a triennial rotation until its inclosure in 1809. After 1960 the planned village of Bar Hill was laid out in its north-west corner.
The vill held 52 peasants in 1086. (fn. 15) There were 48 people paying the fifteenth in 1327, (fn. 16) 122 adults liable to poll tax in 1377, (fn. 17) and 36 people charged to the subsidy in 1524. (fn. 18) In 1563 there were only 31 households, (fn. 19) but by the 1660s some 55 occupied dwellings, (fn. 20) and in 1676 again 122 adults. (fn. 21) In 1728 there were 40-50 households with c. 200 souls. (fn. 22) By 1800 the population had risen to 376, in 80 families. Thereafter it rose gradually usually by c. 20 a decade, although more rapidly in the 1830s, to a peak of 497 in 1851, before settling at c. 475 in the 1860s. By 1881 numbers had fallen sharply to 374. A slower decline, to 323 in 1901, was reversed, following new building at Scotland Farm, only in 1911. (fn. 23) In 1917 numbers had fallen again to 397, including 45 men away at the War, (fn. 24) and were only 373 in 1931. (fn. 25) From 444 in 1949 they fell to 405 in 1951 before growing slowly to 487 in 1971, then almost doubling to 886 in 1981. (fn. 26) At Bar Hill, where settlement began in 1967, (fn. 27) the resident population rose to 674 by 1971, (fn. 28) 1,673 in 1975, (fn. 29) and 2,365 in 1981. (fn. 30)
A possibly Anglo-Saxon burial, in which a 7th-century glass beaker was found in 1915, lay by the Huntingdon road. (fn. 31) In the 14th century the village stood about a mile south of that road. (fn. 32) From the village ancient field ways ran north-east and north to the Huntingdon road, while others led southwards to the St. Neots road and eastwards to Madingley. That leading north-east towards Oakington was probably called the Port way by 1500; (fn. 33) that running north, probably by 1800 known as the Drift, was reduced to a bridle way in 1811, when a parallel third way further east, called Hardwicke way, became a footpath. The main way running south, later called Scotland Road, was then partly straightened. (fn. 34) A way across pastures towards Madingley was probably recorded in 1625. (fn. 35) In the 1960s the building of Bar Hill blocked the north part of the Drift. (fn. 36)
The closes of the village, covering 220 a. in 1810, (fn. 37) lay around a network of lanes. (fn. 38) In the north, beyond Long Lane, those closes perhaps occupied former open-field furlongs. The village may have shrunk in the later Middle Ages: c. 1370 up to ten tenants were charged with not maintaining their customary tenements. (fn. 39) Fallen houses were often reported later, (fn. 40) while tenants paid to be excused repairing their dwellings, and the lord sometimes granted sites on favourable terms provided that new houses were built there. (fn. 41) The medieval pattern was disturbed when much of the manorial closes in the southeast quadrant was thrown together to make a park in the 16th century, blocking some lanes, (fn. 42) and leaving Park Street running along its northwest side as the main street. By 1800 settlement had largely shifted west to High Street, leading north along the village's western side into the Drift, and there was a gap between the cottages there and a line of farmsteads stretching from Duck End east of the park along the Oakington road. Park Street, which had several bends, following old close boundaries, was straightened in the late 20th century. In the 1950s the older houses in the village included two timberframed plastered farmhouses, originally 17thcentury, remodeled or enlarged partly in brick, at Cottons Farm on the high street, demolished in the 1980s, and Crofts Farm by the Oakington road. There were also c. 6 small cottages, onestoreyed and timber-framed, some thatched, and mostly 18th-century, while Vine Farm was a substantial square red-brick farmhouse. (fn. 43)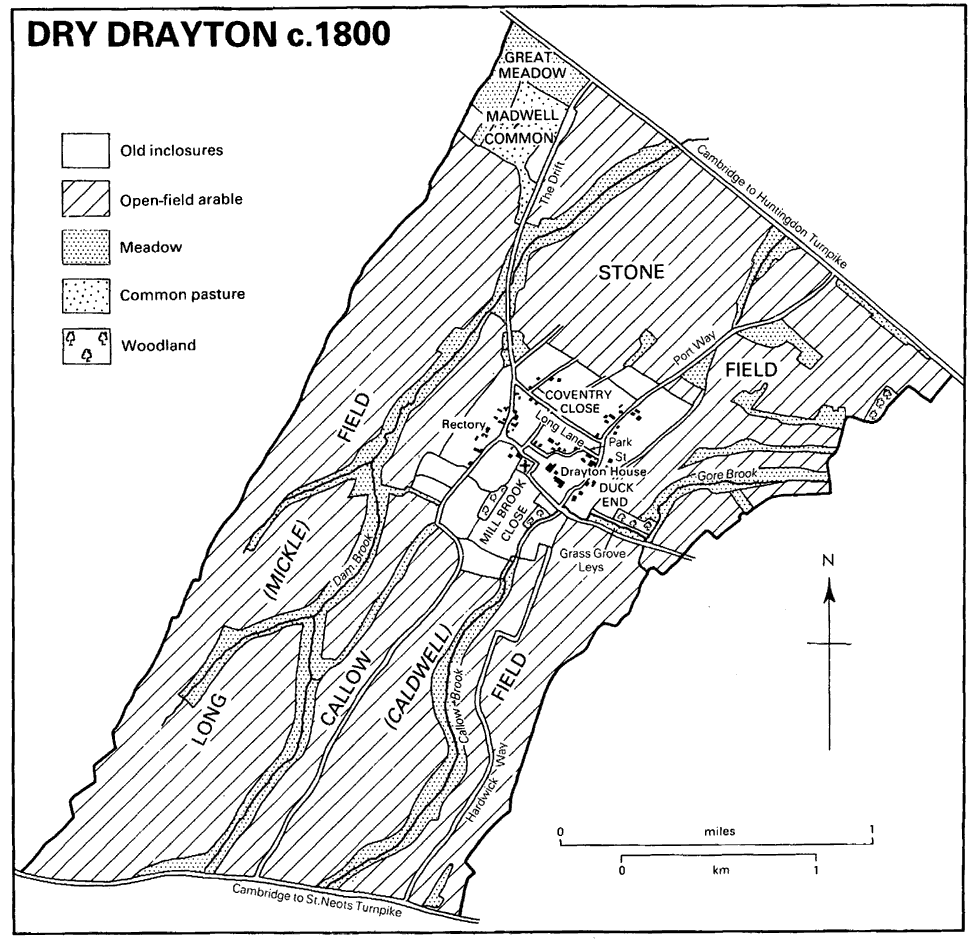 In 1810 the village contained 36 houses, divided into 76 dwellings, among then six farmhouses, and there were no houses elsewhere in the parish. (fn. 44) Afterwards Meadow (later Bar House), Rectory, Edinburgh, and Scotland Farms were put up along the western side of the parish. (fn. 45) The number of inhabited houses increased from c. 55 in the 1810s to c. 95 by the 1830s and 114 in 1851, mostly in the village. By 1881 only 90 were occupied, leaving 16 empty. (fn. 46) In 1907 20 cottages were built in two blocks facing Scotland Farm, (fn. 47) and in 1910 there were 20 houses and 86 cottages, but by 1931 again only 96 dwellings. (fn. 48) New building raised the number to over 120 by the late 1940s, and thereafter it grew steadily to 165 in 1971 and 205 in 1981. (fn. 49) Besides 18 council houses off the Oakington road and much infilling with houses and especially bungalows, larger developments occurred on Pettits Lane to the north-west and Pettits Close off it. A line of more expensive houses was built in the 1970s along the road south from the old Rectory. By then a green, incorporating part of the former manorial closes, had been created by the street north of the church.
Dry Drayton's inns included the Five Bells, opened after 1810, where the Oakington road met the Huntingdon turnpike. Recorded from 1841 it became solely a farmhouse after 1912. (fn. 50) In the village itself were the Three Horseshoes, recorded from the 1760s, and the Black Horse, open by c. 1780, which both survived into the 1930s. (fn. 51) Only the Black Horse remained in 1985. (fn. 52) A clubroom for the labourers' Shepherds friendly society had been built behind the Queen's Head beerhouse by 1876. (fn. 53)
In the late 19th century the village Feast was held on the three days after the first Monday in July, shortly after the patronal feast of St. Peter and St. Paul. It included booths and dancing along High Street, after a cricket match. (fn. 54) A village cricket club was mentioned in the 1890s. (fn. 55) The Feast was eventually replaced by an annual horticultural show in August, organized from 1948 by the local allotments society, which included until 1974 a gymkhana held at Scotland Farm. (fn. 56) There was a reading room by 1899. (fn. 57) In 1913 the parish council tried to revive it at the disused Baptist chapel. (fn. 58) A First World War hut, long used as a village hall, (fn. 59) was replaced with a specially built one in 1967. (fn. 60) In the 1960s the village had two sports and four social clubs. (fn. 61) A newly formed village association revived the traditional Feast, after a 30-year gap, in July 1976. (fn. 62)
Bar Hill. The new village, (fn. 63) established on 350 a. of farmland sold by Chivers Ltd. in 1959, (fn. 64) was planned to be a self-contained and partly self-supporting community, growing to 1,200 dwellings and a population of 4,000 over 15 years. The houses, intended to be leasehold, were to be laid out on closes running inward from a perimeter road and surrounding a central green, which in 1982 covered 11 a., (fn. 65) with an adjacent shopping center and public buildings, while 13 a. in the northern corner were reserved for an industrial estate. Despite opposition from Cambridge city council, which feared loss of business, (fn. 66) the plan was approved in 1964. (fn. 67) Work began, after a sewage plant had been set up in Lolworth, (fn. 68) in December 1965 on building the first 350 houses. (fn. 69) The first inhabitants arrived in May 1967, (fn. 70) and by 1968 there were 200 resident families. (fn. 71) Because growth was slower than expected, Cubitts, the original developer, sold the project in 1968, when only 180 houses had been completed, to Trafalgar House. Building was interrupted for 18 months while new houses were designed in cheaper and more conventional styles, expected to sell better. (fn. 72) The whole northern quadrant of the site was allotted to industry. (fn. 73) Rapid growth followed in the early 1970s, when c. 200 houses a year were being built. The north-eastern section was thus filled up, while 160 other houses were put up further west. (fn. 74) By 1975 there were 599 houses in all. (fn. 75)
Development continued more slowly on the south-western and south-eastern sections, where estates of 50-159 houses were projected in the late 1970s, (fn. 76) and others of 200-250 in the early 1980s, (fn. 77) even though building was sometimes delayed because of objections to the monotonous design and over-crowded layout. (fn. 78) About 1980 a dozen more expensive houses were built beyond the perimeter road on high ground overlooking the golf course, at Crafts Hill to the south-east. (fn. 79) The new parish council, which provided 65 allotments in 1975-6, (fn. 80) in 1976 took over, as trustee for the village, the freehold of the 650 houses then completed, (fn. 81) and set about enfranchising leaseholds. (fn. 82)
By 1980 the northern quadrant had been filled, partly with small factories, of which there were five by 1971, (fn. 83) partly with extensive warehouses, planned from 1971 and enlarged steadily in number and size from 1973. (fn. 84) A shopping mall, opened in the new village center in 1968, then contained 14 shops, among them a supermarket (fn. 85) which closed in 1976. (fn. 86) The residents found that the shops included too many specialist ones, and too few selling basic necessities. (fn. 87) In 1977 Tesco opened a very large store with extensive parking on a site west of the earlier shopping center. (fn. 88)
The Cambridgeshire Hotel by the main road was opened with 100 rooms in 1973-4. To it was attached an 18-hole golf course opened in 1975 on 135 a. below Crafts Hill bought in 1970. (fn. 89) Despite doubts about the new settlement's character and likelihood of success, (fn. 90) it had within a few years won the affection of its inhabitants, (fn. 91) and was provided with numerous social and sporting clubs. (fn. 92) From 1970 it had its own public house in the shopping centre. (fn. 93) A school was opened in 1968, (fn. 94) and a church in 1972. (fn. 95) In 1976 the developer gave £50,000 of the £130,000 needed to build a village hall, (fn. 96) completed in 1979, (fn. 97) and in 1981 the disused Bar House Farm was converted for a youth centre. (fn. 98)