Pages 213-216
A History of the County of Durham: Volume 3. Originally published by Victoria County History, London, 1928.
This free content was digitised by double rekeying. All rights reserved.
BISHOPTON
The parish comprises three townships: Bishopton in the north-east, East and West Newbiggin on the south, and Little Stainton on the west. The surface is comparatively level, having a general elevation of 170 ft. to 200 ft. above the ordnance datum, except for the depression in which the Bishopton Beck winds its way through the centre of the parish and then along the northern boundary, the bed of the stream being little over 100 ft. above the ordnance datum on the eastern boundary. The areas of the component townships are: Bishopton, 2,178 acres; East and West Newbiggin, 852; Little Stainton, 1,145.
The village of Bishopton is centrally placed in its township, on elevated ground north of the beck. The church is in the middle of the village, and the ancient earthwork called Castle Hill lies on low ground to the south-east. (fn. 1) There is a Wesleyan chapel built in 1879 to replace an earlier building which existed in 1850. Stony Flat and Gilly Flat stand in the southern part of the township, Gately Moor on the east side, and Woogra in the western corner. The house called Sauf Hall is in the east of Newbiggin; in the western part is a homestead moat. (fn. 2) There is a plantation in the north of Little Stainton; otherwise the woodland in the parish is but scanty.
Three roads meet at the village of Bishopton. One of these goes south-east, with a branch east to Redmarshall, to meet the roads between Darlington and Stockton, and may be part of an ancient road from the south, through Yarm and Egglescliffe, to Durham. Another road leads north-east to Whitton; the third goes west to Stainton le Street, with branches to Little Stainton and to Stillington; to the last-named place there is a footpath from the village. Through Little Stainton an ancient road leads north towards Durham. There is no railway line within the parish.
Agriculture is the chief industry. The soil is a strong clay, and wheat, oats, and beans are grown. About 1850 there were 2,370 acres of arable to 1,522 of pasture (fn. 3); the arable land is 1,558 acres, permanent grass 2,218, and woods and plantations 107. (fn. 4) Bricks and tiles are made in Little Stainton.
The parish feast was kept on St. Peter's Day.
The principal antiquities are the Castle Hill and moat above-mentioned. The history of the place has been uneventful, with the exception of the resistance to Comyn related below. Twenty-five of the inhabitants joined in the rising of 1569, though, according to Sir George Bowes, (fn. 5) against their will, and seven of them were executed. The Protestation of 1641 was signed in this parish, (fn. 6) but the Sequestration Books show that two residents took up arms against the Parliament—William Rowntree (fn. 7) and Christopher son of Lancelot Todd, 'papist.' In the latter case the parish constable said he was present when 'old Todd' said, 'My son Cursty shall go and fight for the king; and who knows but he may come back a captain, in spite of the crop-ears ?' (fn. 8) There were also the following 'papists' in Little Stainton in 1644: Mr. Midcalf, Henry Johnson, and Richard Johnson of Newbiggin (fn. 9); their lands were sequestrated. (fn. 10)
MANORS
BISHOPTON (Biscopton, xii cent.), with Stainton and Sockburn, was granted by Bishop Ranulf to Roger Conyers early in the 12th century, to be held for one knight's fee. (fn. 11) On the usurpation of the see by William Comyn in 1143, Roger refused to do him homage as other barons had done, and fortified his house at Bishopton so strongly that Comyn's band thought it useless to attempt its capture. The lawful bishop on coming into the bishopric stayed a few days at this place, receiving the homage of some of the barons, and then went forward to Durham. Being resisted, he returned to Bishopton for a time, but it was not for another year that Comyn yielded. (fn. 12) After this the Conyers family appear to have preferred Sockburn as their chief seat, and an account of the descent will be found under that place. Roger de Conyers gave to Durham the three sons of Eylof of Bishopton, with their issue, in return for a horse and 6 marks the monks had afforded him in his need. (fn. 13) Bishopton regularly appears in the Conyers inquisitions. (fn. 14) It was called a 'manor' in 1239 in the release by Robert de Conyers to John de Conyers. (fn. 15) A grant of free warren was obtained by Sir John Conyers in 1372–3. (fn. 16) Sir George Conyers in 1613 began to alienate his lands, (fn. 17) so that Bishopton became divided among a number of freeholders. The manorial rights, however, were not sold, (fn. 18) and appear to have descended with Sockburn; they are now held by Sir H. D. Blackett, bart.
Among the purchasers of land from Sir George Conyers were Michael Forwood (5½ oxgangs), (fn. 19) John Humfrey (3 oxgangs), (fn. 20) Francis Welfoot (fn. 21) and William Leadom (fn. 22) (each 2 oxgangs), Cuthbert Beckfield (about 3 oxgangs), (fn. 23) Nicholas Jackson (1 oxgang), (fn. 24) Richard Mawer (3 oxgangs), (fn. 25) Thomas Aire (2½ oxgangs), (fn. 26) Ralph Johnson (about 5 oxgangs), (fn. 27) Anthony Buckle (the mill and milldam). (fn. 28) The Mawers, Aires, Buckles, and Jacksons were still among the freeholders in 1684, when the others were the heirs of Richard Croft, George Todd (owner of the Castle Hill), John Rippon, Thomas Pearson, and Thomasine Beverley, widow. (fn. 29)
In 1742 an estate here was sold for £6,000 by George Spearman to Morton Davison. (fn. 30)
Roger Gelett (1392) held 89 acres of land here of John Conyers, (fn. 31) and was succeeded by his brother William Gelett, (fn. 32) whose nephew and heir John, in conjunction with his son Robert, in 1403 sold to Henry de Percy, son of the Earl of Northumberland. (fn. 33) Very soon afterwards the lands were forfeited for Percy's rebellion, (fn. 34) and as 'Gillet's lands' were in 1440 granted to Roger son of Thornton. (fn. 35) This must have been the estate held by Richard Lumley, heir of the Thorntons, in 1510, and sold in 1569 by John Lord Lumley to John Hedworth. (fn. 36) Richard Strangways died seised of a messuage and 100 acres here, held of Sir George Conyers, in 1558. (fn. 37)
Some religious houses had lands in Bishopton. Roger son of Roger de Conyers gave 17 acres there, in the time of Bishop Pudsey, to St. Mary's, Neasham, with the right of common pertaining to an oxgang of 24 acres. (fn. 38) Roger de Conyers gave 30 acres of land to Guisborough, according to a confirmation in 1311. (fn. 39) The Templars also had land there at that time (fn. 40); it was probably the source of the 10s. rent afterwards paid to the Hospitallers, Lancelot Nevill being tenant in 1552. (fn. 41) The lands of the Hospitallers were sold by Queen Elizabeth to Stephen Holford and John Jenkins, who sold to Thomas Jackson. (fn. 42) Mount Grace Priory had a rent of 61s. 6d. from Bishopton at the Dissolution. (fn. 43)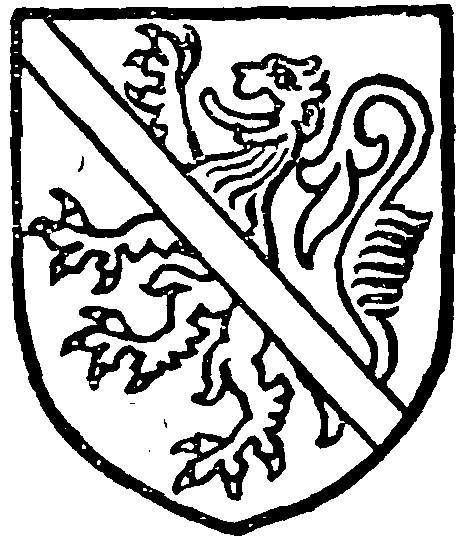 Woogra appears to be the Walgrave where John de Conyers of Sockburn (1395) had the reversion of certain land with other land in Bishopton proper, Little Stainton, and East Newbiggin in Little Stainton, all held of his own manor of Bishopton by knight's service, suit of court at Bishopton, and a rent of 2s. (fn. 44) During the 17th and part of the 18th century Woogra was held with an estate in Elstob (q.v.) by the Scurfield and Spearman families. (fn. 45) It was sold in 1710 with Elstob South Farm by Gilbert Spearman to Richard Smith. (fn. 46)
EAST AND WEST NEWBIGGIN
EAST AND WEST NEWBIGGIN (Newbiggyng, xiv cent.), otherwise called Newbiggin by Sadberge to distinguish it from the place of the same name near Redworth, appears from references already given to have been considered sometimes as part of Little Stainton. The land was held of the bishop as of his Sadberge lordship by free tenants. In 1212 John de Newbiggin had 2 oxgangs of land by a rent of 3s. 6d., but they had been given by him to the hospital of Northallerton with the consent of Bishop Philip and the king, (fn. 47) and in 1535 the hospital had a rent of 10s. from Newbiggin. (fn. 48) About 1359 William de Newbiggin acquired a messuage and land from Thomas Hode. (fn. 49) According to Hatfield's Survey in 1384 Gilbert de Newbiggin and his fellows held 48 acres by rendering 24s.; the free tenants also rendered 13s. 4d., and paid 3s. 8d. for a meadow called Hawing. (fn. 50) Gilbert's son Thomas de Newbiggin (1413) held a messuage and 30 acres in Newbiggin by a rent of 2s. 6d., and another tenement of the same size jointly with his wife Elizabeth; his son John, aged twelve, was his heir. (fn. 51) This was the Thomas Gibson or Gilbertson of Newbiggin whose heirs in 1416 were the representatives of his aunts, Richard Wright, Robert Faucon, and John Hay, all over thirty. (fn. 52) Robert Faucon (1434) held lands in Newbiggin next Sadberge. (fn. 53) The wardship and marriage of his son Robert Faucon was in 1435 granted to John Hartburn. (fn. 54) Robert was dead in 1442. (fn. 55) Thomas Hay had held land in Newbiggin before 1405; his heir was a son John, (fn. 56) probably the John above-mentioned. Lawrence Hay (1498) was stated to have held his lands partly in chief, partly of Christopher Conyers. (fn. 57)
William Houwetson (1365) held three messuages and 23 acres by 40d. rent; his heirs were his daughter Joan, afterwards wife of John de Redmarshall, William Cowper, John Gower, and William Laton. (fn. 58) John Cusson (1583) held lands in East and West Newbiggin of John Conyers, (fn. 59) and Richard Cusson (1632) had 6 oxgangs in West Newbiggin. (fn. 60)
LITTLE STAINTON
LITTLE STAINTON (Parva Steintun, xii cent.) appears to have been held from the first with Bishopton by the Conyers family. (fn. 61) In the time of Bishop Hugh, Roger de Conyers came to an agreement with the monks at Durham respecting the boundary between Little Stainton and Newton Ketton to the west; it was to go according to its ancient course by the dyke extending across Heirigges from the head of Grantesdene as far as Herewardsflat, and thence by a siket encircling Herewardsflat on the east and on the south as far as Eldredesway. (fn. 62) Geoffrey de Conyers (c. 1220) confirmed to William son of Humphrey de Bishopton an oxgang of land given him by John de Lamare. (fn. 63) Sir George Conyers alienated his land here as in Bishopton in the early 17th century to various purchasers. (fn. 64)
Thomas son of John of Little Stainton had an estate in the 14th century of about 150 acres held in chief which descended to the Gowers of Elton and followed the descent of their lands there. (fn. 65) Henry Wethereld and Joan his wife, owners of the Elton estate, conveyed 36 acres of land, meadow and pasture to George Conyers in 1554. (fn. 66) The Elstobs of Foxton had land here in the early 17th century, apparently acquired from Sir George Conyers. (fn. 67)
In 1689 John Elstob mortgaged an estate at Little Stainton, consisting of a messuage and closes called Brakedike Leazes, Long Pasture, and White Water Close. His son John, who succeeded before 1702, conveyed the land in that year to his sister Anne and her husband Humphrey March. Her son John March sold it in 1753 to the Rev. William Davison of Stokesley, co. York. Thomas Davison son of William sold it in 1795 to George Wood of Durham. On the death of his cousin, Isabel widow of Anthony Hubbock of Lee Close House, Great Stainton, George came into possession of another estate at Little Stainton, which had belonged to Isabel's brother Watson Rickaby of Lee Close House, who died about 1759. George Wood left his land to his cousins Anne wife of William Bates and Elizabeth wife of the Rev. John Chambers, daughters of James Leybourne. On a partition in 1812 both estates at Little Stainton came to John Chambers and his son James Leybourne Chambers, Elizabeth being then dead. They sold them in 1830 to John Earl of Eldon, and they now belong to the third Earl. (fn. 68)
Reginald de Winterse released to Finchale Priory (fn. 69) in 1284 all claim to 2 oxgangs and two-thirds of an oxgang of land here. The priory at the Dissolution had a rent of 26s. 8d. from this township. (fn. 70)
The abbey of Blanchland (Northumberland) had a rent of £2 13s. 4d. from Little Stainton at the Dissolution. Its lands here belonged in 1616 to William Metcalfe. (fn. 71) This may have been the estate known as Pitfield in Little Stainton and Newbiggin, part of which was mortgaged in 1686 by Anthony Stelling of Little Stainton. His son Thomas sold it in 1712 to Robert Harrison, who gave it in 1743 to his son William. William was succeeded about 1763 by a daughter Elizabeth wife of Edward Butterfield, and she and her husband sold Pitfield in 1771 to Richard Stonhewer of Curzon Street. On Richard's death in 1809 it passed under his will to his nephew the Rev. John Bright of Kings Grafton, co. Northants, by whose son John Bright it was sold in 1845 to the trustees of the Earl of Eldon. It now belongs to the 3rd Earl. (fn. 72)
In 1849 the Earl of Eldon acquired another estate at Little Stainton. It had been sold in 1734 by John Burdett of Stockton to William Spencer of Guisborough. William was succeeded by a son Thomas who died in 1759, when this land passed to his brother Richard. He left it in 1783 to his niece Dorothy wife of Henry Askew of Redhough. Dorothy died in 1792 and her husband in 1796 and the lands passed under his will to his nephew Rev. Henry Askew, who sold them in 1849 to the trustees of the Earl of Eldon. (fn. 73)
The freeholders in 1684 (fn. 74) were the heirs of Robert Tatham, (fn. 75) John Fewler, Robert Allinson, William Newton of Redmarshall, Anthony Stelling, William Harrison of Sadberge, Thomas Barker, (fn. 76) Thomas Bockfield, and William Batmanson, recusant.
CHURCH
The church of ST. PETER consists of a chancel 31 ft. 3 in. by 14 ft. 4 in. with north vestry and organ chamber, nave 56 ft. by 20 ft., north aisle 37 ft. 6 in. by 8 ft. 10 in., and north-west tower 11 ft. by 12 ft., the tower standing at the west end of the aisle and forming a porch. All the above measurements are internal.
The church was almost completely rebuilt in 1846–7 by the Rev. Thomas Burton Holgate, vicar, (fn. 77) the only portions of the old church now remaining being parts of the chancel walls and of the south wall of the nave. The building formerly consisted of 'a long, narrow chancel and nave,' (fn. 78) the aisle and tower being additions at the time of rebuilding, and was apparently of late 13th-century date, part of a window of c. 1280–90, consisting of a single trefoil light with internal shouldered arch, still remaining on the north side of the chancel arch. No other original architectural features, however, have been preserved. Two stones in the lower part of the east wall bear incised consecration crosses, but the east window itself is a modern one of three lancets. A mediaeval grave slab is built into the south wall of the nave outside, and another at the southwest angle, together with a cusped fragment.
The building is of stone with green slated roofs overhanging at the eaves. A sundial on the south wall is dated 1776 and bears the motto 'Fugit hora,' with latitude 54° 38'. There were repairs in 1877, (fn. 79) and a stone reredos in memory of the Rev. Charles Ford (vicar 1858–88) was erected in 1889. In the chancel are two old oak chairs, each bearing the initials W.B., and below the tower an oak chest.
The font is apparently of late 12th-century date and consists of an octagonal bowl shaped to round on a circular banded stem and moulded base.
There is a ring of three bells cast by C. & G. Mears in 1847.
The plate consists of a chalice and cover paten, without hall-marks, the former inscribed 'Hunc sacrum poculum voluit D[ominus] Ricardus Croft Ecc[les]iæ de Bishopton Vicarius. Anno Christi: 1680' (fn. 80); and a chalice, two patens and flagon of 1849–50, the chalice inscribed: 'Presented to Bishopton Church by the Rev. Thos. Burton Holgate, B.A. Vicar, and by his sisters Elizabeth Holgate and Alice Bamford the widow of Robert Walker Bamford, B.D. late Vicar, Easter 1850.' The two patens bear a similar inscription.
The earliest date in the register is 1649, but the early items are entered in rather a confused manner, and appear to have been copied from an older book. The first volume has regular entries from 1653 to 1752.
The churchyard, which is chiefly on the south side of the building, contains the base of a cross. What is said to be a copy of the old cross was erected on the village green opposite the church in 1883.
ADVOWSON
The advowson must have been appurtenant to the manor originally, for about 1180 the church was granted by Roger de Conyers with the assent of Robert his son and heir to the Hospital of Sherburn. (fn. 81) The rectory and advowson remained with the hospital down to 1860, when the advowson was sold under the scheme made by the Charity Commissioners in 1857 for the better government of the hospital. (fn. 82) The hospital continues to hold the rectory, i.e., tithes of corn, lamb and wool. The trustees of C. Bramwell were patrons about 1885. The patron now is the Bishop of Durham, who recently acquired the advowson from the Rev. George Worthington Reynolds.
The rectory was valued at £20 a year in 1291 (fn. 83); in 1535 it appears to have been less than this. (fn. 84) The date of the ordination of the vicarage is not known, but in 1291 the vicar's stipend was untaxed, as less than 6 marks. (fn. 85) In 1314 there was a parish chaplain as well as the vicar, (fn. 86) but in later times only one seems to have been resident. (fn. 87) In 1535 the vicar's emoluments were valued at £4 7s. 8d. a year, out of which 2s. was paid to the archdeacon. (fn. 88) An augmentation was granted from Queen Anne's Bounty in 1708.
A chapel and garth with an oxgang of land, formerly belonging to the church of Bishopton, by the grant of the Abbot of Blanchland, were in 1585–6 sold to Anthony Collins and George Woodnett. (fn. 89) The oxgang, which was called 'Harbott' oxgang, was devoted to the upkeep of a light in the church of Little Stainton. There is no other mention of a church there.
CHARITIES
In 1686 Thomas Barker by his will gave £1 yearly to the poor, issuing out of lands at East Newbiggin.
In 1715 Robert Thompson by his will gave £5 to the poor in pursuance of the will of his uncle William Robson. A yearly sum of 5s. is paid out of a field known as 'Bell's Field' in Bishopton in respect of this charity.
An annual sum of 5s. charged on some houses in Bishopton and an annual rent-charge of 13s. 4d. issuing out of land in Little Stainton, the origin of which is unknown, are also received by the poor.
The foregoing charities are administered under the title of 'The Charities of Barker, Thompson and others' by a scheme of the Charity Commissioners of 16 March 1897, the income thereof being distributed among the poor in small sums of money.
The Bishopton Church Fund now consists of two cottages adjoining the churchyard purchased with a gift made in 1881 by the Rev. William Cassidi and a sum of £100 contributed by Mr. John Eden. The cottages were conveyed to trustees by a deed of 1 July 1882, upon trust that the rents should be applied for the maintenance of the parish church and for ordinary expenses of divine worship. The cottages are let for £26 yearly.
The fund known as 'The Bamford Fund,' founded by the Rev. William Cassidi by deed poll of 14 January 1874, for the distribution and circulation of religious books, consists of various small sums invested in London and North Eastern Railway stocks producing £5 5s. yearly. The income is applied in buying books for the parish lending library. The district of Stillington in Redmarshall also benefits from this trust to a like amount.
The National School at Bishopton was endowed under the will of the Rev. Thomas Burton Holgate, and also benefits from the funds of Sherburn Hospital. (fn. 90)
The school at Great Stainton was endowed in 1779 by Anthony and Isabella Hubbock on condition that four poor scholars of Little Stainton should be educated there. (fn. 91)