Pages 267-281
A History of the County of Essex: Volume 5. Originally published by Victoria County History, London, 1966.
This free content was digitised by double rekeying. All rights reserved.
DAGENHAM
The parish and municipal borough of Dagenham is about 12 miles east of London. (fn. 1) From the Thames, which forms the southern boundary, it extends north for nearly 8 miles to Hainault, where a small part of the ancient forest survives. By the river the borough is a mile wide. It reaches a width of 2½ miles at Becontree Heath, shrinks to 600 yds. at Marks Gate, and fans out again to 2 miles at the northern end. It has been suggested (fn. 2) that the very narrow 'waist' was created in the 15th century by an alteration of boundaries which transferred the manor house of Marks from Dagenham to the Liberty of Havering. The parish was mainly rural until 1921, when the London County Council started to build the great Becontree housing estate there. Modern industries, notably the Ford Motor Works, soon followed the new population. Dagenham became an urban district in 1926 and a borough in 1938. The area of the parish was 6,554 a. in 1921. (fn. 3) There was a small boundary change in 1946. (fn. 4) The area of the borough in 1961 was 6,565 a. (fn. 5)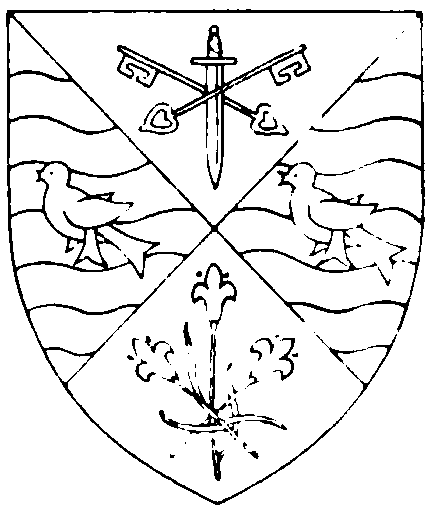 The land rises from the river to a height of 300 ft. at Cabin Hill in the north. From south to north the soil is mainly alluvium, then valley gravel — well shown in gravel-pits now (1963) being excavated at Eastbrook End, in east Dagenham — and then London Clay. Natural drainage is provided by the Beam River, which forms part of the eastern boundary. This river was known as the Mardyke in the 13th century, and as the Fleetsmouth or Dagenham Creek in the 16th century. It may also be identical with 'Writola Burna' which occurs in A.D. 687. It is fed by the Wantz Stream, formerly called Wythedene Brook and later Wisdom Water, which flows south from Romford. (fn. 6) The Wantz itself is fed by the Marley (formerly Maplin) Ditch, which rises in Old Dagenham Park. (fn. 7) Another stream, the Goresbrook, rises north of Wood Lane and flows across Parsloes Park to Dagenham Breach, (fn. 8) a lake near the Thames created by a great flood of 1707. Before 1707 the Goresbrook ran into the Thames. (fn. 9) Most of these waterways, except the Beam, have been enclosed in culverts. In the extreme north of the borough is Seven Kings Water, which rises in the lake near Hog Hill and flows south-west through Ilford to join the Roding.
Dagenham ('Daecca's home') was probably one of the earliest Saxon settlements in Essex: the name is first recorded in a charter of A.D. 687. (fn. 10) From the 13th century onwards references to the parish, its farms and hamlets, are sufficiently numerous to suggest a flourishing community. (fn. 11) In 1670 Dagenham contained 150 houses. (fn. 12) In 1801 the population was 1,057. It rose steadily to 4,324 in 1891, and then, more rapidly, to 9,127 in 1921. (fn. 13) When the building of the Becontree estate began Dagenham was thus already a populous place and, although most of it was still rural, there had been some development near the railway stations at Dagenham village, in the south-east, and at Chadwell Heath in the centre. By 1931 the population of the urban district was 89,362. Building was then still going on at Becontree and elsewhere in Dagenham, and the increase continued to 114,568 in 1951. A slight decline, to 108,368 in 1961, was due to the age-distribution pattern: there were then fewer households with young children than in 1931. (fn. 14)
Maps of 1777 (fn. 15) and 1805 (fn. 16) show the parish before modern changes. In the extreme south was undeveloped marshland. Hainault Forest, in the north, (fn. 17) then comprised 4,000 a., about half of which was in Dagenham. The main centre of population was Dagenham village where there were still remains of common fields. (fn. 18) Two miles further north was the hamlet of Becontree Heath. There were other hamlets at Chadwell Heath, a mile north-west of Becontree Heath, and at Marks Gate, on the southern edge of the forest. Most of the oldest manors and farms lay in the southern half of the parish, between Becontree Heath and the marshes. (fn. 19) These included Valence, west of Becontree Heath, and Parsloes, about a mile further south. The manor of Marks was in the north of the parish, lying partly in the Liberty of Havering.
In the south of the parish the main west-east road from London to Tilbury entered as Ripple Side, known in the 16th century as Ripple Street, and now called Ripple Road. (fn. 20) It turned north as Broad Street, formerly French Lane (mentioned in 1540) and then east past the Church Elm (1456), through Dagenham village, as Crown Street, formerly Dagenham Street (1441), and then south-east over Dagenham (or Dagenham Beam) Bridge. Joining that road at the village was one coming south from Becontree Heath. The northern part of this last road, now Rainham Road North, was formerly Spark Street (1540) and later Bull Lane. (fn. 21) The southern part, now Rainham Road South, was known recently as Romford Road, but this does not seem to have been an ancient name. (fn. 22)
The continuation of Broad Street, north of the Church Elm, was Halbutt Street, named from a farm recorded in 1339. This ran to Five Elms, where there was a small open green. Oxlow Lane, formerly Hokestrete (1456), ran east, from Halbutt Street to the Four Wants (1623), where it crossed Bull Lane. At Five Elms Halbutt Street joined Wood Lane (1563), coming from Barking, which ran north-east to Becontree Heath. Running west through Becontree Heath was Green Lane (1339), the road from Ilford to Hornchurch and Upminster. Whalebone Lane went north from Becontree Heath to Marks Gate and the forest, through Chadwell Heath, where it crossed the main road from London to Colchester, now High Road. Whalebone Lane took its name from whalebones set up at the cross-roads. The first known reference to the bones is in 1641, when it was stated that the rib of a whale had lately been placed at the cross-roads. (fn. 23) A map of 1652 shows a whalebone in the middle of the road there. (fn. 24) In the early 18th century it was stated that a bone fixed there had come from a whale taken in the Thames in 1658. (fn. 25) This tradition is not disproved by the earlier references, for it is clear that several different bones are involved. In 1904 there were two whalebones overhanging the gates of Whalebone House, which stood on the north side of the High Road to the east of the cross-roads, and it was then stated that another pair, which had stood at the opposite corner of Whalebone Lane, had recently been removed. (fn. 26) The pair from Whalebone House is now (1963) at Valence House.
In the extreme west of the parish, forming the boundary for part of its length, was Gale Street (1433), running north from Ripple Side to cross Wood Lane, and continuing as Bennetts Castle Lane, formerly Castle Alley (1600), to a junction with Green Lane. Chitty's Lane, previously known as Bolimereslane (1307), Gotislane (1393), and Groves Street (1440), ran from Green Lane north to Chadwell Heath. At Marks Gate was Rose Lane, named from a medieval family. The road from Cockermouth southwards to the Thames, now Chequers Lane, was formerly the Marsh Way (1563), West Marsh Lane (1630), and Breach Lane (1752). Other marsh roads were Pooles Lane and Choats Manor Way. Workhouse Lane branched east of Halbutt Street, approximately on the line of the present Holgate Road. (fn. 27)
The two most important roads in the parish at the beginning of the 19th century were those, already mentioned, from London to Tilbury and from London to Colchester. The first of these was taken over in 1809 by the Tilbury Fort Turnpike Trust, which about 1810 shortened and improved the route through Dagenham by building New Road from Cockermouth east to Rainham. (fn. 28) The road through Chadwell Heath, which since 1721 had been under the control of the Middlesex and Essex Turnpike Trust, (fn. 29) continued to be the main road to London and Colchester until the opening in 1925 of Eastern Avenue, which was built parallel to it, about ½ mile farther north.
The disafforestation of Hainault, in the 1850's, was followed by the construction of new roads in that area, including Romford Road, Forest Road, and New North Road.
The urban development of the past 40 years has for the most part preserved the lines and the names of the old roads. Among the important new roads are Heathway, which runs south from Becontree Heath to the Tilbury Road, Parsloes Avenue, running south-east from Wood Lane, and Valence Avenue, from Wood Lane north to Chadwell Heath. In north Dagenham Whalebone Lane was extended northwards from Marks Gate to link up with Romford Road, leading to Chigwell Row. (fn. 30)
Dagenham Beam Bridge, which carried the old road to Rainham, was first mentioned in 1299. The name means a 'plank bridge', and the present name of the river itself comes from it by back formation. (fn. 31) The bridge had been built in stone by 1564. (fn. 32) Until the Dissolution it was maintained by Barking Abbey as lord of the manor. In the late 16th and 17th centuries responsibility for it was often in doubt, though usually assigned to the lord of the manor. By 1694 it had been accepted as a county bridge. (fn. 33) The New Road to Rainham, already mentioned, was carried across the Beam about ¾ mile south of the old road by Beam Bridge, which is sometimes confused with Dagenham Beam Bridge, but is quite distinct from it. Between these two bridges, and about 100 yds. west of the river, is the bed of a canal, cut in 1875–8 as part of a scheme to link Romford with the Thames, but abandoned before completion. (fn. 34)
Until the 19th century the parish depended for communications with the outside world mainly on coaches using the London-Colchester Road. The first railway through Dagenham was the Eastern Counties line from London to Romford, opened in 1839, extended to Brentwood in 1840 and to Colchester in 1843. (fn. 35) The nearest stations were originally at Romford and Ilford, but in 1864 one was opened at Chadwell Heath. This was greatly enlarged in 1901. (fn. 36) The line was electrified in 1949. The second railway through the parish was the London, Tilbury and Southend line, opened from Forest Gate to Tilbury in 1854 and extended to Southend in 1856. (fn. 37) This line, soon shortened by a cut-off from Barking to Bow, ran across Dagenham Marsh. Dagenham Dock station was opened in 1908 (fn. 38) to serve the industrial estate then being developed there. In 1885 the London, Tilbury and Southend Railway built the first part of a new line between Barking and Pitsea, to provide a shorter route to Southend. (fn. 39) Dagenham (East) station was opened ¼ mile north of the village. This line was electrified from London to Barking in 1902–8, and from Barking to Upminster in 1932, when a new station, Dagenham Heathway, was built to serve the Becontree estate, and the old station near the village was enlarged.
In 1848 there was a sub-post office, under Romford, in Dagenham village. (fn. 40) By 1863 there was also one at Chadwell Heath, and another was opened at Becontree Heath in 1866. (fn. 41) Improvements were slow to reach the Dagenham office later in the century because of its inefficiency. (fn. 42) The telegraph was installed at Chadwell Heath in 1872, and at the village in 1893. (fn. 43)
Dagenham village in 1653 consisted of a single street — Crown Street — with buildings along most of the north side, some on the south side, including the church, and a few others at the junction of the road to Rainham. (fn. 44) It was little bigger in 1805 (fn. 45) and its growth was slow throughout the 19th century, even after the opening of the railway. (fn. 46) In 1963, although surrounded by the modern town, the old village retained its shape and something of its character. (fn. 47) Many of the houses, however, were unoccupied, and the whole area was awaiting redevelopment. The oldest surviving building, apart from the church, (fn. 48) stands opposite to it on the north side of Crown Street. This is the Cross Keys Inn, a timber-framed hall house with gabled and formerly jettied cross wings, probably dating from the 15th century. (fn. 49) In 1670 this belonged to the Comyns family, who were prominent in Dagenham and Romford. It became an inn, the Queen's Head, about 1700, and received its present name before 1785. One of the rooms has 17th-century panelling. (fn. 50) To the east of the inn the vicarage, (fn. 51) a timber-framed building of early-17th-century origin, stands in its own garden. Farther east, the small houses and cottages on both sides of the narrow street leading to Rainham Road are mostly brick buildings of the 18th and early 19th centuries; a few are of timberframed construction. Nearly all are in poor repair and several, including two 18th-century brick houses of some architectural character (Nos. 33 and 35), are empty and derelict. Many old buildings in the village have been demolished during the past 80 years, (fn. 52) among them George House, west of the church, which has been traced back to 1540. (fn. 53) On the north side of Crown Street Comyn's almshouses, largely rebuilt in the 19th century, still survive. (fn. 54)
Becontree Heath, which was probably the ancient meeting-place of the hundred of Becontree, (fn. 55) had by 1777 become a hamlet of cottagers, who were probably attracted by the uninclosed common. These were men of independent spirit. In the early 19th century some were frequently in trouble with the parish constable, and in 1819 provoked the vicar to buy a pair of stocks at his own expense. (fn. 56) Others seem to have displeased the rulers of the parish in a different way by their devotion to Methodism. (fn. 57) Since 1921 the heath has been transformed into a busy road junction surrounded with houses and shops and dominated by the Civic Centre and a cinema. The small Methodist church (1875), the junior school (1877), and a few 19th-century houses survive from its village days.
The name Chadwell ('cold spring'), first recorded in 1254, was applied to a hamlet along the London-Colchester road, on the boundary between Barking (later Ilford) and Dagenham parishes. (fn. 58) The main part of the original settlement was on the Ilford side, and was sometimes called Chadwell Street. East of the street lay Blackheath Common (1440), which in the 17th century became known as Chadwell Heath. As late as 1652 the only building at the heath seems to have been Wangey House. (fn. 59) By 1777 there was a cluster of houses on both sides of Chitty's Lane, and a few other buildings farther east, on the main road. On the north-east side of the common was a mill, the first of the three for which Chadwell Heath was later well known. (fn. 60) In the early 19th century the inhabitants of the heath are said to have been mainly commoners, including some gipsies, who scraped a living by lopping and grazing. (fn. 61) The opening of the railway station in 1864, and the inclosure of the common in 1866, did not immediately transform Chadwell Heath, (fn. 62) but prepared the way for its suburban growth, which began about 1900 and proceeded steadily up to 1914. (fn. 63) After 1918 development was more rapid. North of the railway, and especially between the High Road and Eastern Avenue, the new houses were erected mainly by private builders. To the south was the first part of the Becontree estate. No pre-19th-century buildings survive at Chadwell Heath. Some of the last of the commoners' cottages were demolished in 1895. (fn. 64) Whalebone (formerly Beansland) House was destroyed by bombing in the Second World War. It had an 18th-century front, but parts of the building are said to have dated from the early 17th century. (fn. 65)
In the 18th century Marks Gate was a hamlet on the edge of the forest, beside the large manor house of Marks, (fn. 66) seat of the Mildmays. Marks was demolished in 1808, and most of the forest was destroyed in 1853 but there were no other important changes until 1925, when Eastern Avenue was opened immediately to the south. The new road, and the hamlet, are shown in an air photograph of 1935. (fn. 67) Since 1950 the borough councils of Dagenham and Ilford have built a housing estate to the north of the road. North and east of the estate farming continues. (fn. 68) In 1921 three of the oldest houses in the parish were at Marks Gate. (fn. 69) All have since disappeared. Padnalls, a 16th-century building in Rose Lane, was demolished by a speculative builder in 1937. Its name was first recorded in 1303. (fn. 70) Sheepcotes, in Billet Road, which was destroyed by a bomb in 1940, was a 16th-century house on a site mentioned in 1456. (fn. 71) Rose Lane Farm, demolished in 1956, dated from the 15th century; it probably succeeded an earlier house, called Rouses Hall (1369). (fn. 72)
Of the old manor houses of Dagenham only Valence (fn. 73) remains, as the headquarters of the borough libraries. Parsloes (fn. 74) was demolished in 1925, but its park has been preserved. The few other old houses still surviving in the borough are widely scattered and surrounded by later development. Hooks, recorded in 1456, (fn. 75) and now adjoining Eastbrook End cemetery, is a timber-framed building of 17th-century, or earlier date, with a 19th-century brick front. Raydons House, in Raydons Road, is probably a late-18th-century rebuilding of a farmhouse recorded in 1653. (fn. 76) Eighteenth-century buildings include Bentry Heath House in Wood Lane. Woodlands (formerly Scrimpshires) and Ashbrooks (formerly Sparks), both in Rainham Road North, are two more pretentious houses of the later 18th century, their symmetrical brown brick façades incorporating some fine Georgian features. (fn. 77) Early-19th-century houses of some architectural distinction are Bell House in Dagenham Road and Stoneford Cottage in Rainham Road South. Paulatim Lodge in Whalebone Lane North, is a brown house of c. 1830 with a stableyard at the rear. In the garden is an octagonal stone well-house, in use until c. 1925, containing a pump operated by a windmill enclosed in its timber superstructure. (fn. 78). Surviving houses of the later 19th century include Pettits Farm, in Heathway.
The Becontree housing estate was by far the largest of the various London County Council estates, being almost three times the size of St. Helier (Surr.), and in 1939 was described as the largest municipal housing estate in the world. (fn. 79) It has been fully described in print. (fn. 80) In 1919 the L.C.C. planned, with the aid of government grants, to provide, within five years, 24,000 houses for working-class people on a 3,000-acre estate, over half of which lay in Dagenham, a third in Barking and the remainder in Ilford. Post-war slumps made progress much slower than had been at first expected. Between 1921 and 1924 3,000 houses were built. Most of these were on the Ilford part of the estate and on the adjoining part of Dagenham, south of Chadwell Heath, but there were also a few in south Dagenham. (fn. 81) During the second period (1924–30) building at Ilford and Dagenham was completed, bringing the total of houses to 18,000. (fn. 82) In the final period (1930–5) the Barking part of the estate was built, and by 1938 there were 25,736 dwellings on the whole estate and a population of 115,652. (fn. 83) The present population is slightly lower. It had been intended that the whole estate should become a new local government area, but this did not happen. The L.C.C. has remained the landlord of the estate and controls tenancies. Other local government services are (1964) provided by the Essex County Council, and by the borough councils of Dagenham, Barking, and Ilford, each within its own boundaries.
The Becontree estate — often loosely termed Dagenham — has been much discussed by architects, sociologists, and journalists. One of its main characteristics, which has often attracted attention, is the social structure. In 1958 89 per cent. of the men on the estate were manual workers, compared with 74 per cent. for England and Wales (in 1951) and 82 per cent. for Bethnal Green (in 1955). (fn. 84) Those in professional and managerial occupations were only 4 per cent., compared with 18 per cent. in the country as a whole, and 6 per cent. in Bethnal Green. A community of such a narrow social composition has disadvantages, but it has recently been argued that its population is much more stable than that of Woodford, where a similar survey was made. (fn. 85) Physically the estate consists almost entirely of small two-storied houses with gardens, built mostly in short terraces at a density of twelve houses to the acre. The design and layout were the work of G. Topham Forrest, architect to the L.C.C. The style is neo-Georgian and, although there is considerable variation in grouping and detail, the general effect is one of uniformity. A few shopping centres are provided at road junctions. There is no town centre — though one was originally planned — and there are few public buildings. (fn. 86)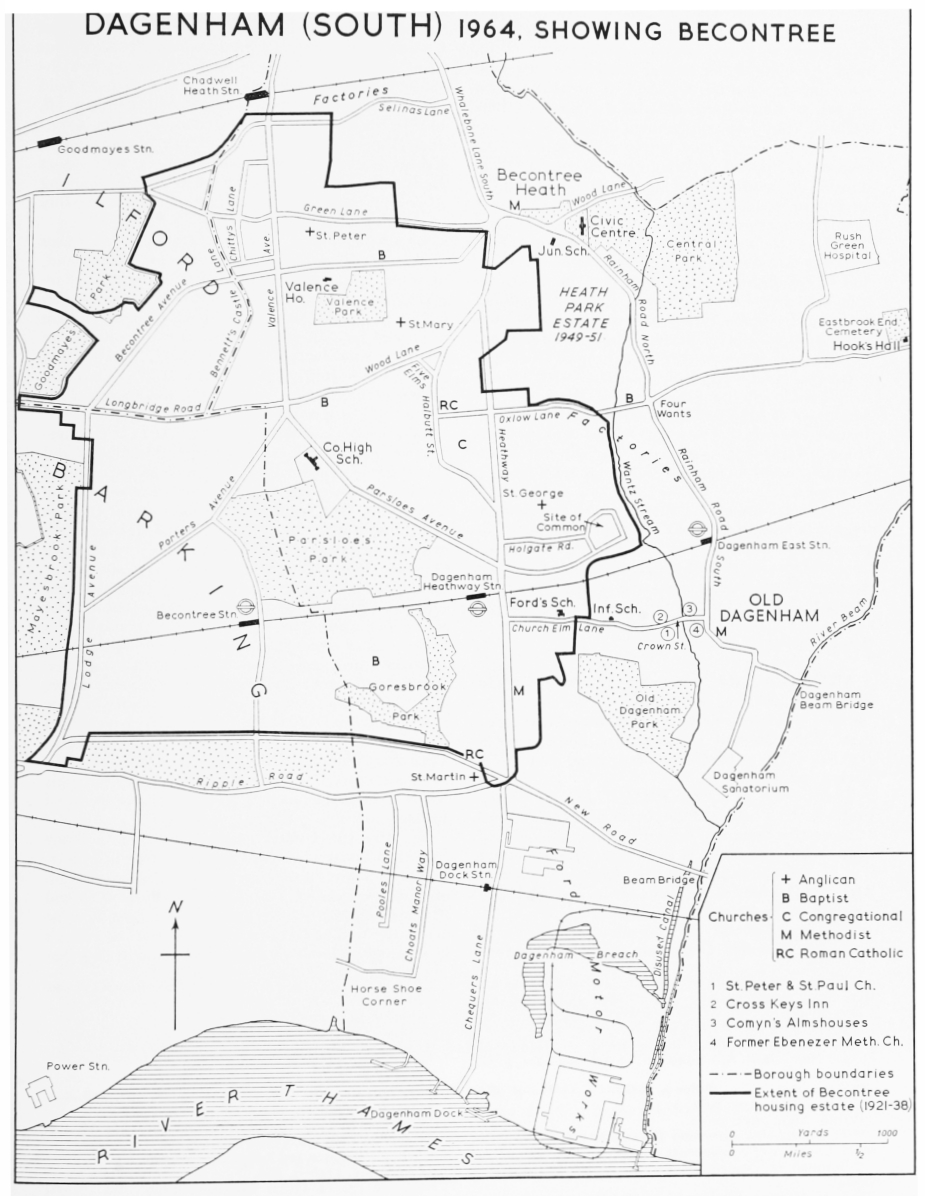 The most important public building erected in Dagenham between the wars was the first part of the Civic Centre (1936), designed by E. Berry Webber. This stands on the east side of Becontree Heath and is a long, rectangular structure of red brick, having a higher central block faced with a tall stone portico of three bays. (fn. 87) Two notable housing estates, at Heath Park and Marks Gate, have been built by the borough council since the Second World War. The former, by Norman and Dawbarn, received a Festival of Britain design award. (fn. 88) The housing in both is of higher density than on the Becontree estate, a much larger proportion of multistory maisonettes and blocks of flats being included. The Hainault housing estate, built by the L.C.C. after the Second World War, lies mainly in Ilford and Chigwell, but a small part of it, including the industrial area, is in Dagenham. In east Dagenham, as well as the north, there is still some farmland, and in the borough as a whole, from the river to Hainault Forest, there is a considerable variety of landscape.
Among notable persons connected with Dagenham have been the Fanshawes of Parsloes, (fn. 89) the Mildmays of Marks, (fn. 90) Elizabeth Fry, (fn. 91) Lord Chief Justice Denman (1779–1854), (fn. 92) and Col. William Hope (1834–1909), one of the first winners of the Victoria Cross. (fn. 93) Denman and Hope both lived at Parsloes.
The social life of the Becontree estate has been treated in books published in 1934 and 1963. (fn. 94) The borough as a whole has had a wide range of organizations, the present list of which occupies 19 pages. (fn. 95) Among them have been the Dagenham Girl Pipers, (fn. 96) formed by the Osborne Hall Congregational church, and the community settlements at Pettits Farm and Kingsley Hall. (fn. 97)
MANORS.
All the manors in Dagenham parish originated as free tenements of the manor of Barking. (fn. 98) There was no capital manor of Dagenham. The manor of Dagenham or Dagenhams or Jenkins, was a free tenement lying mainly in Barking parish. (fn. 99)
The manor of COCKERMOUTH lay in the south-western corner of the parish, near the Thames. It was a free tenement held of Barking Abbey until 1330, when John of Cockermouth, from whom it was named, granted it to the abbey in demesne. After the Dissolution the lords of Cockermouth held separate courts baron for the manor.
In 1293 Thomas of Dagenham conveyed an estate in Barking, Dagenham and Little Ilford, consisting of a messuage, 1 carucate of land, 4 a. meadow, and 12 a. wood to James fitz Stephen and Isabel his wife, and the heirs of the body of James, with the remainder to John of Dagenham, son of the grantor. (fn. 100) This appears to have been a family settlement. Thomas of Dagenham is the first holder of Cockermouth who can be certainly identified; but several earlier members of his family occur in 13th-century records and some of these may have held the manor. They include Gilbert of Dagenham (fl. 1208), (fn. 101) his son Henry, who was dead before 1233, (fn. 102) and Henry's son Gilbert (fl. 1233 and 1262). (fn. 103) Evidence given in a lawsuit of 1233 shows that Henry of Dagenham's estate was held of Barking Abbey by riding service, a form of tenure probably of pre-Conquest origin. (fn. 104)
In 1313 Thomas of Dagenham made a further settlement of his estate, involving his wife Maud, his sons John and William, and John's wife Margaret. (fn. 105) Soon after this John of Cockermouth began to buy the manor. In 1316 he paid £102 to William of Dagenham. (fn. 106) In 1321 William conveyed to him an estate of some 200 a. in Dagenham, Barking and Ilford, which John of East Hall and Maud his wife were then holding for her life; she was no doubt the widow of Thomas of Dagenham. (fn. 107)
John of Cockermouth was a priest in the household of John Sandale, Bishop of Winchester and chancellor to Edward II, and was an executor of Sandale's will. (fn. 108) He was a remembrancer at the Exchequer (fn. 109) and keeper of the exchanges of London and Canterbury. (fn. 110) In 1330 he granted Cockermouth to Barking Abbey. (fn. 111) This was probably a gift, since the abbey later observed his anniversary each year. (fn. 112)
The abbey retained Cockermouth until the Dissolution. Simon Simeon, who in 1348 released to the abbey his claims to the estate, (fn. 113) was possibly a tenant. Later tenancies may have been held by the Sparrow family, several of whom certainly had close connexions with Cockermouth. (fn. 114) In 1540 the manor, together with a tenement called Purlevants in Gale Street, and the Dagenham rectorial tithes, were held by Nicholas Howe, on a 30-year lease granted in 1538, at an annual rent of £25 for the manor and £8 for the rectory. (fn. 115) In 1554, after Howe's death, his widow sub-let the rectory to Richard Bowdyshe of Barking. (fn. 116)
In 1560 the Crown granted to (Sir) Anthony Browne a 21-year lease of Cockermouth, Purlevants, and Dagenham rectory, to run from the expiration of Howe's lease. (fn. 117) The leases to Bowdyshe and Browne mention a tithe barn. Before 1563 Browne evidently bought the unexpired portion of Howe's lease, since a survey of the manor made in that year describes him as the lord. (fn. 118) Cockermouth then consisted of some 220 a., of which 140 a. were sub-let to John Lytell and the remainder to William Stedeman and Andrew Fuller. Purlevants, consisting of 35 a., was occupied by Thomas Osburne.
Another survey of the manor was made by the Crown in 1564. (fn. 119) This includes properties in Ilford as well as the demesne lands. It was the prelude to the sale of the manor and of the rectory of Dagenham to Sir Anthony Browne, in the same year. (fn. 120) Browne was succeeded on his death in 1567 by Wistan Browne, his grand-nephew. (fn. 121) Wistan sold Cockermouth in 1574 to John Bullock. (fn. 122) Bullock sold it in 1576 to William Nutbrowne, of Wakering Place, Barking, and of Stanway Hall, (fn. 123) steward of the manor of Barking, who left it on his death in 1588 to his son William. (fn. 124) In 1590 the younger William Nutbrowne sold the manor to William Meggs, draper, of Whitechapel. (fn. 125) Meggs (d. 1598) left it to his son William, (fn. 126) who in 1601 sold it to (Sir) John Swinnerton, later lord mayor of London. (fn. 127)
After Swinnerton's death in 1616 Cockermouth probably passed, like Stanway, to his eldest son Henry (d. 1617) and then to the second son Richard, before going to the third son, Thomas Swinnerton. (fn. 128) In 1626 Thomas and his wife Joan sold it to John Littlebury. (fn. 129) By 1639 it had come to John Darcy, serjeant-at-law, who in that year was declared a lunatic. (fn. 130) Cockermouth subsequently passed to his grandson Thomas Darcy, created a baronet in 1660. (fn. 131)
Sir Thomas Darcy sold part of the demesne land of the manor, comprising 67 a., to Richard Comyns (d. 1700) from whom it passed to his son, John (d. 1745). (fn. 132) In 1750 John Comyns's five daughters and coheirs sold this tenement to George Spurrell. (fn. 133) It became part of Spurrell's Farm, which in 1790 comprised some 90 a., lying mainly between Dagenham village and the Chequers Inn. (fn. 134)
The remainder of the demesne, along with the manorial rights, was sold by Sir Thomas Darcy in 1690 to William Clarke. (fn. 135) By his will of 1691 Clarke left Cockermouth to his wife Anne for life, with remainder in trust for his daughter Anne, wife of William Tipping, clerk, and her children, and in default to his nephews William and Charles Clarke. (fn. 136) By 1709 Anne Clarke, widow of the testator, was dead, and in that year a new trust was created for the benefit of Anne and William Tipping and their son William. Anne Tipping outlived her son and died before 1732 without surviving issue. The estate then passed to Mary (formerly Clarke), grand niece of William Clarke the testator, and wife of Richard Page. In 1731–2 the estate comprised about 150 a. Richard Page survived his wife and died in 1743 leaving Cockermouth to his daughter Mary, later wife of Thomas Chippingale. In 1768 Mary and Thomas Chippingale conveyed the manor, still further reduced in size, to George Evans and Ralph Cleghorn. (fn. 137) Between 1715 and 1768 there were successive trusts relating to the estate, and various mortgages on it.
The lordship of Cockermouth remained in the Evans family until 1808 or later. (fn. 138) Rowland Stephenson of Marshalls, Romford, the 'fugitive banker', was holding the manor in 1823–8. (fn. 139) In 1829, after his flight to America, his estates were put up for sale. (fn. 140) According to the catalogue he owned the manorial rights of Cockermouth but no land there. (fn. 141) The manor was bought by Thomson Hankey, who sold it in 1854 to Edward Sage and Charles Hulse. (fn. 142) There is evidence that the court baron of the manor met in 1614, 1685, 1792, 1854, and 1872. (fn. 143)
It is clear from the above account that the demesne lands of Cockermouth, already reduced in size, were finally severed from the manorial rights between 1768 and 1829. Exactly when this took place is not clear, but it was probably soon after 1768. Part of the demesne, including the site of the manor house, became known as Pound House Farm. In 1844 this comprised 68 a., belonging to John Scrafton Thompson of Ilford, (fn. 144) and it was probably identical with the estate in Dagenham which between 1780 and 1832 was held successively by John Scrafton and by John Thompson. (fn. 145) Pound House Farm descended with Westbury in Barking until 1879–80, when it was sold to Francis Sterry of Romford, and others. (fn. 146) In 1898 Sterry sold the farm to Samuel Williams, founder of the shipping firm at Dagenham Dock. (fn. 147) It was let to tenants, the last being the Gunary family. (fn. 148) In 1922 it was bought by the London County Council and most of the farm land was built over. (fn. 149)
The manor house of Cockermouth stood at the junction of Ripple Road and Chequers Lane, immediately south of what is now (1964) the Chequers Inn. The 1563 survey states that the house was 60 ft. long north to south, and 15 ft. wide east to west; behind it was a kitchen measuring 15 ft. (fn. 150) In the 19th century this building, or a later one on the site, was demolished and replaced by Pound House, named from the manorial pound which occupied part of the yard. (fn. 151) Pound House was demolished after 1922.
Some 200 yds. west of the present Chequers Inn is a mid-19th-century brick building known now (1964) and for the past 60 years (fn. 152) as Merrielands. This was previously called America Farm. It is just possible, though unlikely, that it was so named because of the connexion with Rowland Stephenson, who fled to America, (fn. 153) but there is no evidence that the farm ever belonged to him. In 1844 it comprised 167 a. owned by Mrs. Ann Laurie, (fn. 154) and there is little doubt that it was identical with the estate in Dagenham which she was holding in c. 1810–32. (fn. 155)
The manor of EAST HALL was north of Marsh Green; some of its fields, called the Leys, are now part of Old Dagenham Park. (fn. 156) It was a free tenement held of the manor of Barking.
John of East Hall occurs in 1321 (fn. 157) but there is no evidence that he held the estate from which he took his name. In the 14th and early 15th centuries East Hall may have formed part of the manor of Dagenhams in Barking. (fn. 158) In 1442 John Helion conveyed the manor of East Hall, formerly held by Sir John de Northtoft and later by Edmund de Northtoft, to David Fyvyan, Henry Sampson, and others. (fn. 159) It subsequently descended with Valence. (fn. 160)
The 'old timber manor house at East Hall' was demolished in 1792. (fn. 161) This was probably the building described in 1649 as consisting of 'a little courtyard, a hall, a parlour, an old kitchen and three other low rooms, and five upper rooms'. (fn. 162)
The manor of FRIZLANDS alias FRISLINGS, which lay at the south end of the modern Frizlands Lane, on the western side, was a free tenement held of the manor of Barking. The family of Firstling or Fristling, from which the manor was named, came from Fristling in Margaretting. (fn. 163)
In 1279 Godfrey de Firstling and Alice his wife conveyed to Alice de Merton, Abbess of Barking, 47 a. land and 2s. rent in Barking. (fn. 164) By a series of conveyances between 1303 and 1307 Godfrey son of Philip de Firstling granted a life interest in the estate, then comprising about 130 a. in Dagenham and Barking, to Godfrey son of Peter of Dagenham. (fn. 165) In 1322 Godfrey de Firstling raised money on his goods and chattels in Dagenham, Margaretting and elsewhere. (fn. 166) In 1347 Richard, son of Godfrey, son of Peter of Dagenham, released to Philip, son of Godfrey de Fristling, lands which Philip's father had acquired from Richard's father. (fn. 167) Philip was dead by 1349, when the manor was settled on his widow Joan for life, with remainder successively to Philip's daughter Alice and to Bartholomew de Fristling. (fn. 168) Joan subsequently married William de Liston and Alice married Guy Upwyk. In 1354–5 these four persons conveyed Fristlings to Bartholomew de Fristling, then described as a corder of London. (fn. 169) Bartholomew leased the manor in 1366 to John Pragell, and sold it in 1374 to John Pound, pouchmaker of London. (fn. 170)
Pound later added to the estate two other small properties, Newmans and Alberds. Newmans, the location of which is unknown, had belonged to Henry Newman, who conveyed it in 1359 to Thomas atte Crouche. In 1360 Crouche conveyed it to John Mille, and in 1375 William Mille, son of John, conveyed it to Pound. (fn. 171) Alberds, later called Halbutt or Haulberts, (fn. 172) lay south of Becontree Heath. It belonged about 1280 to Henry, son of William Alberd, who conveyed part of it to his brother Thomas. In 1339 another Henry Alberd settled the property on his son John and Maud his wife, daughter of William Peet. Alberds subsequently descended to John Alberd's sisters, Joan and Amy. In 1390 Amy and her husband Robert Lamb, and John Oghtryd, son of Joan, conveyed their interest in the estate to John Pound. (fn. 173) In 1412 Pound conveyed Frizlands to Richard Anable, pewterer of London, who in 1413 conveyed it to Alan Everard. (fn. 174) The ownership subsequently descended with that of Valence until shortly after 1870 (see below). Frizlands was leased with Valence until 1536, when it was detached from the rest of the estate and leased for 10 years to Thomas Hutton, husbandman, (fn. 175) elsewhere described as a servant of Lady Norwich, (fn. 176) the lessee of Valence. Hutton's lease was renewed in 1545. (fn. 177) In 1560 his widow signed a separate agreement (fn. 178) relating to Jordans, a piece of marshland belonging to Frizlands, and was probably holding the remainder of the manor also. In 1563 the Dean and Chapter of Windsor, to whom ownership had passed in 1475, surveyed the manor, (fn. 179) and in 1564 leased it to John Stevens of Hornchurch (d. 1565). His sons sold the lease to Thomas Cowper of Dagenham, who was granted a new lease in 1583. (fn. 180)
In 1619 Windsor granted a lease to Timothy Truelove, and later leases, the last in 1678, were made to his descendants. (fn. 181) Subsequent lessees were Robert West of the Middle Temple (Lond.) (1685), (fn. 182) Dr. Thomas Elton of Stepney (Mdx.) (1692), (fn. 183) William Sainsbury of Market Lavington (Wilts.) (1699) and, after 1706, his widow, (fn. 184) Peter Bourdon, a silk-weaver of Stepney (1723), (fn. 185) John Dangerfield (1763), (fn. 186) Joseph Joyner (1814), (fn. 187) John Cliff (1828), and John Smitheman, who succeeded him, until 1870. (fn. 188) Soon after this Frizlands was bought by Coulson D. Parrish, whose family remained owners until 1934, when the farm, then comprising 90 a., was sold for building. (fn. 189) Other lessees mentioned by Shawcross were probably sub-tenants. (fn. 190)
The lease to Thomas Cowper in 1583 bound him to rebuild the manor house of Frizlands with timber from the estate. Joseph Joyner, in 1814, found the house very dilapidated, although the fine for the lease had been increased to £300. He received permission to repair the building with timber from the manor, but during the work the house collapsed. He built a new one at his own expense between 1814 and 1828. (fn. 191) This house, which stood on a moated site, was demolished about 1932. (fn. 192)
The manor of GALLANCE lay east of Broad Street, in the south of the parish, and in the 19th century was called Potters Farm. (fn. 193) It was a free tenement held of the manor of Barking. The name, first recorded in 1412, comes from 14th-century tenants. During the 14th century the lord of Gallance was holding his own manor courts. (fn. 194)
In 1282 Alice de Beyneslee (or Beyllesleye) conveyed to Maud de Beyneslee a messuage, and 100 a. land in Barking. (fn. 195) Maud was to hold it for 40s. a year until Alice's death, after which the rent would cease. In 1317–18 Eleanor de Molyns of Good Easter conveyed to Ralph de Beyneslee and Agnes his wife an estate of 148 a. in Barking and Dagenham. (fn. 196) In 1374–6 Margaret, daughter of Ralph de Beyneslee and wife of Thomas atte Park, carpenter of London, granted to her son, John Galant, and Christine his wife 105 a. 'in the vill of Barking' which Margaret had inherited from her father. (fn. 197) By a series of conveyances, executed between 1377 and 1381, John and Christine released their interest in the estate to Robert Wormewell, armourer of London, and his wife Alice. (fn. 198) In 1385–8 Robert and Alice conveyed the estate to Thomas Belhous of Aveley. (fn. 199) Gallance subsequently descended with Valence. (fn. 200)
Gallance House was described in 1649 as consisting of 'five low rooms and two lofts'. (fn. 201) It has been demolished.
The manor of MARKS, (fn. 202) in Dagenham and Havering, which lay in Whalebone Lane, about ½ mile north of Chadwell Heath, seems to have originated as a free tenement of the manor of Barking. In the 15th century it was enlarged by the addition of lands in Havering, held of the royal manor of Havering. The lord of Marks continued to pay quit-rents to the manors of Barking and Havering until the 18th century, but from the 14th century or earlier also had his own manor court, with many tenants doing suit there. He had the right of estovers in Hainault Forest and could exercise it even during the fence month, which may indicate the pre-Conquest origin of the tenement. He was also entitled to fee deer from the forest. (fn. 203) The name of the manor was probably derived from the family of Merk, tenants in the early 14th century; the family itself no doubt took its name from the forest boundary 'which finds further record in Marks Gate and Marks Stone'. (fn. 204)
It has been suggested that Marks was associated with Simon de Merk, who occurs in a conveyance of 1330. (fn. 205) That document, however, probably relates to Parsloes, not Marks. (fn. 206) In 1352 Robert de Merk and his wife Rose conveyed to Iseult, widow of John Clerbaud, an estate of 101 a. in Barking and Dagenham. (fn. 207) Soon after this Iseult appears to have married John de Clyve (or Clyne), a London fishmonger. In 1353 it was stated that Clyve was unjustly occupying a messuage and 90 a. land in Dagenham and 9 a. in Havering, formerly held by Ingram de Merk, 'an alien of France' who had suffered forfeiture for treason. (fn. 208) Clyve evidently retained Marks, and in 1356 he and Iseult conveyed it to John Michel, a vintner of London and a former steward of the manor of Barking. (fn. 209) From Michel the tenement passed to Robert of Litlington, who in 1365 conveyed it to Robert of York, of London, and John de Kildale, chaplain. (fn. 210) In 1368 Richard de Pertenhale and Richard Stoke conveyed Marks to Thomas Yonge of Wennington, later steward of the manor of Barking, and Alice (formerly Pertenhale) his wife. (fn. 211) Alice de Windsor (better known as Alice Perrers, mistress of Edward III) had some interest in Marks at this period, for in 1385 she quitclaimed her rights in it to Alice Yonge, then a widow, and to William and Alice Kelet. (fn. 212) Alice de Windsor had formerly been in the service of Queen Philippa, (fn. 213) who had an estate at Havering. Alice Kelet was probably daughter of Alice Yonge. In 1387 she and her husband made a settlement of their estates in Dagenham and neighbouring parishes, part of which were held by Alice Yonge. (fn. 214) In and after 1397 William Kelet conveyed Marks to Bartholomew Seman, goldbeater of London and Master of the King's Mint. (fn. 215) Seman died about 1431 (fn. 216) and Marks passed to his widow Katherine, later wife of Robert Otteley (d. 1436), mayor of London in 1434. (fn. 217) A settlement, probably made soon after Seman's death, provided that the manor should be held by Katherine for life, with remainder to Bartholomew's daughter Elizabeth and her husband Robert Knolles. (fn. 218) A rental of Marks was drawn up for Katherine Otteley in 1439–40 and another in 1443. (fn. 219) The 1439–40 rental, which is very detailed, shows that three-weekly manor courts were then being held, to which some 30 tenants owed suit, for lands in Dagenham, Havering, and Romford, totalling about 200 a. Many of the tenants also owed labour services. The 1443 rental gives only tenants' names. In 1456 Katherine Otteley owed 3s. 5d. quit-rent to the manor of Barking, for lands formerly of Geoffrey le Rows. (fn. 220) The family of Rows or Rous gave their name to Rose Lane and Rose Lane Farm, near Marks, and Geoffrey le Rous, who occurs in 1233, may have been the earlier tenant referred to. (fn. 221) Katherine Otteley outlived Elizabeth Knolles and was still holding the manor in 1461, when Robert Knolles conveyed his interest in it to Thomas Urswick. (fn. 222)
Urswick was a prominent lawyer who became Recorder of London in 1454, was M.P. for the City in 1461 and 1467, and was knighted for his defence of London against the Lancastrians in 1471. He became Chief Baron of the Exchequer in 1472. (fn. 223) On the death of Katherine Otteley, which probably occurred soon after 1461, he succeeded to Marks, (fn. 224) and in 1467 bought the neighbouring manor of Uphavering, in Havering. (fn. 225) He may have been largely instrumental in obtaining the royal charter of 1465 creating the Liberty of Havering. (fn. 226) It has also been suggested that the boundary between Dagenham and Havering was at that time altered to include the manor house of Marks in the Liberty. (fn. 227) Later disputes as to whether the house was in Dagenham or in the Liberty (and Hornchurch parish (fn. 228) ) tend to support this theory, as does the shape of the boundary at this point.
Sir Thomas Urswick died in 1479; he was said to have held Marks of the queen as of her manor of Havering, in socage. Marks was then said to comprise 460 a. (fn. 229) Urswick was buried in an altar tomb, still surviving, in Dagenham church. His goods and chattels were valued at the large sum of £317 8s. 5½d. (fn. 230) He was survived by his wife Anne and five daughters: Katherine, wife of Henry Langley, Anne, wife of John Doreward, Elizabeth, Joan, and Mary. Lady Urswick later married John Palmer of Otford (Kent). In 1482 she and John instituted Chancery proceedings against John Pynchon, a trustee of Marks, for not rendering an account of the estate for the benefit of her and her daughters, as provided by Sir Thomas's will. (fn. 231)
Marks did not remain long in the hands of Urswick's heirs. In 1488 it was sold by Thomas Fuller to William Eton (or Heton); both were mercers of London. (fn. 232) By his will, dated 1503 and proved 1506, Eton left Marks to his widow Joan for life. (fn. 233) Richard Eton was holding the manor in 1540. (fn. 234) In 1557 his daughter and heir Elizabeth, with her husband Thomas Hales, conveyed it to James Bacon and Augustine Curteis, agents for Sir Nicholas Bacon (d. 1579), Lord Keeper of the Great Seal. (fn. 235) Sir Nicholas's widow, Anne, was holding Marks in 1584. (fn. 236) Their son Sir Francis Bacon sold it in 1596 to (Sir) George Hervey, (fn. 237) who appears to have been leasing it as early as 1589, when he was described as 'of Marks'. (fn. 238) He died in 1605 and was succeeded by his son Sir Gawen Hervey. (fn. 239) About 1612 the Dagenham parish vestry made an unsuccessful attempt to levy rates on Marks. (fn. 240) Sir Gawen was succeeded on his death in 1627 by his nephew Carew Mildmay (d. 1676), subsequently known as Hervey alias Mildmay. (fn. 241) Carew Hervey alias Mildmay commanded a regiment in the Civil War, and is said to have had a narrow escape from royalist troops who attacked Marks on their way to Colchester in 1648. (fn. 242) After his death Marks passed to his son Francis Hervey alias Mildmay (d. 1703), then to Francis's son Carew Hervey alias Mildmay (d. 1743) and to his son Carew Hervey Mildmay (1690–1784). (fn. 243) The last-named was M.P. for Harwich in 1713, and private secretary to Henry St. John, Viscount Bolingbroke. He kept a large household and entertained in great style. An old man who died in 1858 used to relate that he had often seen as many as half a dozen coaches bringing Carew Mildmay and his guests to Romford church on Sunday morning. (fn. 244) Mildmay was noted, even in old age, for his great vitality. (fn. 245)
According to notes which Carew Mildmay compiled after 1766 Marks then paid a quit-rent of £3 4s. to the manor of Havering and one of 3s. 4d. to the manor of Barking. He stated that the rent to Barking was in respect of lands in Dagenham level, formerly held by his father, but forfeited in 1710 for failure to pay a share of the tax raised to repair Dagenham Breach. In spite of the forfeiture his father and he himself had maintained the rent payment. He stated that the tenants of Marks owed him quit-rents totalling £4 6s. 4½d. but that several of these had not been paid for many years. He also recorded details of the dispute as to whether the manor house was in Dagenham or Hornchurch. (fn. 246)
On Carew Mildmay's death his estates passed to his daughter Anne, who died unmarried in 1789. By his will Marks then passed to Jane (Mildmay) grand-daughter of his brother Humphrey Mildmay and wife of Sir Henry Paulet St. John, Bt., of Dogmersfield (Hants.), who in 1790 assumed the name and arms Mildmay. (fn. 247) Sir Henry and Lady St. John Mildmay did not live at Marks and demolished the house. Since the end of the 17th century the Dagenham part of the estate had been greatly reduced by sales and legacies. (fn. 248) In 1844 Lady St. John Mildmay owned only 42 a. in Dagenham. (fn. 249) In 1855, shortly before her death, Marks was sold to the Crown and became part of Warren Farm. (fn. 250)
The first detailed information about the manor house of Marks comes from Sir Thomas Urswick's inventory of 1479. (fn. 251) There were then 20 rooms, excluding a bakehouse and dairy which were probably outbuildings. In the chapel were kept six books, including a copy of the Canterbury Tales. (fn. 252) One of the bedrooms was called the 'great new chamber'. This house may well have been erected or extended by Urswick himself and was probably the one demolished in 1808. In 1775 it was said to be 300 years old. (fn. 253) About 1796 Lysons described it as 'a very ancient structure of timber and plaster, forming a quadrangle. It is surrounded by a moat, at two corners of which are square towers embattled'. (fn. 254) Lysons's description is accompanied by an engraving showing Marks from the south-west. It was a two-story building, with low towers apparently of brick standing detached at the north-west and south-east corners. A bridge led across the moat to the south front which consisted of a central gatehouse and two flanking gable-ends with overhanging upper stories. By this time most of the windows had been replaced by Georgian sashes. According to a description of 1803 the foundations were of brick, with timber-framed superstructure. (fn. 255) A watercolour of about 1800 (fn. 256) and an engraving of 1805 (fn. 257) show the house from the south and the north-east respectively. A comparison of these with Lysons's illustration confirms the courtyard plan but also shows irregularities on the north side. By this time the house was in decay after years of neglect, (fn. 258) and in 1808 it was demolished. (fn. 259) The 17th-century brick barn was left standing and is still (1964) in use on Warren Farm. (fn. 260) Part of the moat also remains and there are traces of old foundations in the farmyard.
The manor of PARSLOES was a free tenement held of the manor of Barking. The present Parsloes Park was the centre of the estate. From the 17th century to the 20th it was owned by the Fanshawes, who lived there for most of that period and were one of the leading families of the district.
The name of the manor was derived from the Passelewe family. In 1250 Gervase le Halleward and Maud his wife conveyed 13 a. land in Dagenham to Hugh Passelewe. (fn. 261) About the same time Passelewe acquired a substantial estate from Christopher of Lambourne. (fn. 262) Maud, daughter of Henry of Lambourne, later released to Passelewe her interest in the same estate. (fn. 263) She was then a widow, and may have been identical with the wife of Gervase le Halleward. The Lambourne family also held land in Lambourne parish during the 13th century. (fn. 264) A conveyance of 1262 mentions 10 a. land in Dagenham 'which are of the fee of Hugh Passelewe'. (fn. 265)
In 1330 an estate in Barking, Ilford and Dagenham, consisting of 277 a., was settled upon Simon de Merk and Margery his wife. (fn. 266) They and the heirs of Simon were to hold 82 a. in Barking. The residue of the estate was to be held by Simon and Margery and the heirs of their bodies, with remainder to Katherine, daughter of Margery, and the heirs of her body, and to Thomas, brother of Katherine, and his heirs.
Parsloes subsequently descended to the Barnardiston family, of Barnardiston and Kedington (Suff.), with which the Merks had some connexion, possibly by marriage. (fn. 267) In 1402–3 Roger de Barnardiston was holding, in addition to his Suffolk estates, 240 a. in Dagenham and Barking. (fn. 268) In 1440 William Barnardiston held Parsloes of the manor of Barking. (fn. 269) In 1441 Roger Barnardiston paid a quit-rent for Parsloes. (fn. 270) William Barnardiston held the manor in 1456, when he owed a quit-rent of 8s. 6d. to Barking. (fn. 271) George Barnardiston held Parsloes in 1540. (fn. 272) In 1561 John Barnardiston and Joan his wife sold Parsloes to Sir Martin Bowes, a former lord mayor of London and M.P. for the City. (fn. 273)
Sir Martin was succeeded on his death in 1566 by his son Martin, who already owned Dagenhams in Barking. (fn. 274) In 1568 Martin sold Parsloes to Sir Rowland Hayward and Thomas Wilbraham. (fn. 275) Hayward was lord mayor of London in 1570. (fn. 276)
The manor was subsequently acquired by Sir Edward Osborne (d. 1591), another London merchant, lord mayor in 1583 and M.P. for the City in 1586. (fn. 277) He was succeeded by his son Sir Hewett Osborne who was killed in 1599 while serving with the Earl of Essex in Ireland. (fn. 278) Edward Osborne, son and heir of Sir Hewett, sold Parsloes in 1619 to William Fanshawe (d. 1634). (fn. 279) John Fanshawe, son and heir of William, was a royalist in the Civil War, and in 1644 Parsloes was sequestrated by Parliament. It was then stated that Fanshawe and his mother had previously sold a great part of the estate. (fn. 280) In the same year Sir Hugh Kingsmill, father of Fanshawe's wife Dorothea, applied to the Essex Parliamentary Committee for a lease of Parsloes. The Committee replied that the estate, then bringing in £170 a year, was let to several tenants, so that it could not be let to Kingsmill. (fn. 281) In November 1644 the contents of the manor house were sold to Phineas Andrews, who was also granted a year's lease of the house and 7 a. land. (fn. 282) Andrews may have been acting in the family interest; he was a rich London merchant who had married Mildred Fanshawe, a second cousin of John. (fn. 283)
In 1645 the Parliamentary Committee granted Kingsmill's claim, on behalf of his daughter, to onefifth of the income from Parsloes. (fn. 284) In the following year John Fanshawe applied to compound for his property, which included the lease of the Dagenham great tithe. He reached a final settlement with the Committee for Compounding in 1649. (fn. 285) The subsequent descent of Parsloes, in the Fanshawe family, has been fully described in print. (fn. 286) In 1844 the estate comprised some 270 a. in Dagenham. (fn. 287) During the 19th century it was heavily mortgaged. (fn. 288) After the death of the Revd. Thomas Fanshawe in 1858 the house was let, (fn. 289) and none of the family subsequently lived there. (fn. 290) Evelyn John Fanshawe, who inherited Parsloes in 1903, sold part of the estate to the Essex County Council in 1913 and the remainder, including the house, to William Buckley in 1917. (fn. 291) From 1901 to about 1923 the park was used for pony-trotting competitions. (fn. 292) The whole estate was subsequently acquired by the London County Council; 107 a. of it became a public park, while the remainder was built over as part of the Becontree housing estate.
Parsloes manor house, which lay about 1 mile west of the church, was reconstructed in the 16th century, perhaps by the Osbornes. (fn. 293) It was then a rectangular brick building of two stories, with a central hall on the ground floor. Between 1619 and 1634 William Fanshawe is said to have added a north wing. Further alterations were made in the 18th century, some of which can be seen in a drawing of the east front made about 1800. (fn. 294) In 1814 the Revd. John Fanshawe (d. 1843) added a south wing and encased the house in new brick, with battlements and 'Gothic' sash windows. (fn. 295) The house became derelict in the late 19th century and was demolished in 1925. (fn. 296) Some of the bricks were used to build two small houses in Stevens Road, Dagenham. The Fanshawe family manuscripts and portraits (fn. 297) are now (1964) in the Valence House museum, Dagenham.
The manor of VALENCE, which lay 1 mile south of Chadwell Heath, was a free tenement held of the manor of Barking. It was the largest estate in Dagenham and was increased in the 14th and 15th centuries by the purchase of three other properties: Gallance, Frizlands, and East Hall. The manor house of Valence is the only one remaining in the parish. The name is derived from 14th-century tenants.
In 1269 Robert de Dyne (or Dyve) conveyed to Gillian, widow of Hugh de Dyne, a life interest in a messuage and one carucate of land in Dagenham. (fn. 298) In 1284–5 Robert de Dyne conveyed an estate of the same size in Dagenham to Sir Thomas de Weyland, Margery his wife, and Richard their son. (fn. 299) Sir Thomas, who was chief justice of Common Pleas 1278–89, (fn. 300) acquired other land in Dagenham in 1285–7. (fn. 301) He was exiled for corruption in 1290, after which no more is known of him. His widow Margery Weyland (alias de Moese) subsequently conveyed her life interest in the Dagenham estate to Agnes de Valence. Agnes died in 1309 holding the property of the Abbess of Barking for a quit-rent of 17s. 4d. and riding service. (fn. 302) The life interest passed to Agnes's brother Aymer de Valence, Earl of Pembroke (d. 1324). Margery Weyland died after Agnes, and the manor passed to John, son of Hugh de Neville by his wife Eleanor, daughter of Sir Thomas Weyland. It is not clear whether John de Neville gained possession of the estate before or after the death of the Earl of Pembroke. (fn. 303) The association of the estate with the Valences may have been the result of some tie of kindred or interest between them and the Weylands. William Weyland, brother of Sir Thomas, and also a judge, was in Ireland in 1248 with Aymer de Valence, later Bishop of Winchester, uncle of the Earl of Pembroke. (fn. 304)
In 1327 John de Neville leased Valence to Nicholas de Belhous of Aveley, who bought the manor from him in 1334–5. (fn. 305) In 1358–9 John de Belhous, son of Nicholas, released to his brother Thomas his right in the properties in Dagenham and elsewhere which had been held in dower by John's mother Elizabeth. (fn. 306) Thomas de Belhous subsequently acquired a small tenement called Brokmans in 1376 (fn. 307) and the manor of Gallance in 1385–8. (fn. 308) In 1395 Belhous conveyed the properties to Laurence Lynne, mercer of London. (fn. 309) In the same year Lynne added to the estate a 20-a. tenement called Copped Field. (fn. 310) In August 1409 he borrowed £48 10s. 8d. from John Olyve, grocer of London. He defaulted on the repayment and in July 1410 distraint was made upon Valence, Gallance, and Copped Field; the estate was then said to comprise a total of 270 a. (fn. 311) In 1412–13 Lynne conveyed the estate to Alan Everard, also a mercer of London, and two associates. (fn. 312) Everard subsequently bought Frizlands in 1413–14, (fn. 313) Aldwynes (a 30-a. tenement in Havering) in 1417, (fn. 314) and Attegroves, comprising 3 a. in Dagenham Marsh, in 1421. (fn. 315) By 1421 Everard held Valence, Gallance, Frizlands, and the smaller tenements of Brokmans, Copped Field, Newmans, Alberds, Aldwynes, and Attegroves. In 1425–35, by a series of conveyances, the whole estate passed into the hands of persons acting on behalf of St. Anthony's Hospital, London. (fn. 316)
This hospital, in Threadneedle Street, St. Benet Fink, had originally been founded as a dependency of the brothers of St. Anthony of Vienne, near St. Marcellin (Isère, France). (fn. 317) It came into the king's hands by the Alien Priories Act of 1414 and was subsequently refounded. Between 1424 and 1451 persons acting for the hospital built up a substantial estate in Dagenham. In 1424 Master John Carpenter, David Fyvyan, Master William Davy, Master Henry Sampson, clerks, and John Posyngeworth acquired 4 a. land called Pyremans (later Perymans). (fn. 318) Carpenter was Provost of Oriel 1428–35, Master of St. Anthony's, 1435–44, and Bishop of Worcester (1444–76). (fn. 319) Sampson was Provost of Oriel 1449–76. (fn. 320) The acquisition of the Valence estate, already mentioned, was completed in 1435, by a conveyance to Fyvyan and others. (fn. 321) In 1442 the manor of East Hall (fn. 322) was conveyed to Fyvyan, Sampson and others. After further conveyances between the trustees (fn. 323) the whole Dagenham estate was in 1451 vested in Oriel College, which later in the same year granted it to St. Anthony's, on condition that the hospital should pay to the college 25 marks a year to provide exhibitions there. (fn. 324) In 1456 the Master of St. Anthony's owed quit-rents to the manor of Barking totalling £4 13s. 2d. for Valence, Gallance, Frizlands, East Hall, and other lands in Dagenham. (fn. 325)
The arrangements made in 1451 were short-lived. In 1463 Edward IV deprived Eton College of most of its endowments in favour of the Dean and Chapter of Windsor. (fn. 326) In 1467 he made restoration to Eton and apparently compensated Windsor by granting them in 1475 the custody of St. Anthony's. Windsor thus became owners of the Dagenham estate and continued to hold it until 1867, when, by Order in Council, it was vested in the Ecclesiastical (later the Church) Commissioners. (fn. 327) The Commissioners sold Frizlands, (fn. 328) East Hall and Gallance, in the late 19th century, and the remainder of the estate to the London County Council in 1921. (fn. 329)
The scheme for the St. Anthony's exhibitions at Oriel 'seems to have been delayed and diminished'. (fn. 330) Payments do not appear in the college accounts until 1504–5, from which year £10 8s. were received each year. Early in the 16th century there was a dispute between the college and the Dean and Chapter of Windsor over the annuity. In 1616 Oriel granted a lease of the Valence estate to one John Ashworth. (fn. 331) A lawsuit ensued, in which Oriel's right to the annuity was upheld. (fn. 332) Payments were still being made to the college when Windsor handed over Valence to the Ecclesiastical Commissioners. (fn. 333)
In 1475 the Dean and Chapter of Windsor granted a new lease of the estate to Peter Courtenay, Master of St. Anthony's, and later Bishop of Exeter (1478–87) and of Winchester (1487–92). (fn. 334) The next recorded lease (fn. 335) was in 1533–4, to Sir Robert Norwich (d. 1535), Chief Justice of Common Pleas, and lord of the neighbouring manor of Porters in Barking. (fn. 336) After his death the manor of Frizlands was detached from the rest of the estate and was thereafter separately leased. (fn. 337) The remainder of the estate was leased to Norwich's widow Gillian until her death in 1556.
In 1566 the Valence estate was leased for 99 years to Edmund Morrante. (fn. 338) It was a condition of this lease that the estate should not be sub-let for more than three years to anyone other than Henry Fanshawe. Fanshawe, who also held Dagenhams in Barking and the lease of Clay Hall in Ilford, (fn. 339) died in 1568. (fn. 340) Under his will Valence passed to his daughter Susanna and £5 was left to Morrante, who was his servant. (fn. 341) It is evident from this that Morrante had leased the estate on behalf of his master. Susanna Fanshawe married Timothy Lucy of Charlecote (Warws.) who was living at Valence in c. 1594. (fn. 342)
About 1596 the lease of Valence appears to have been acquired by Sir Nicholas Coote. (fn. 343) The next lessee, in 1614, (fn. 344) was Nathaniel Henshaw, whose brother Benjamin had married Anne Bonham, of Ashbocking (Suff.). (fn. 345) By 1635 Valence was occupied by Thomas Bonham, brother of Anne, who in that year signed an agreement with her concerning the property — probably a security for a loan. (fn. 346) Thomas Bonham was a quarrelsome man, a lawyer constantly at law on his own account. (fn. 347) He continued to hold Valence until his death. In 1649 the estate comprised 516 a., valued at £331. (fn. 348) In 1651 the Gurney House Committee, which was then selling church lands seized by Parliament, offered Valence to Bonham. He consulted the Dean and Chapter of Windsor for their directions and was told that he would serve the church by accepting the offer, and would be indemnified for so doing. (fn. 349) He therefore bought the estate, with the aid of money borrowed from Robert Tichborne, regicide and member of the Gurney House Committee. (fn. 350)
At the Restoration Bonham raised the question of the compensation promised him by Windsor for purchasing Valence. The Chapter, viewing the survey of 1649, realized that their Dagenham properties had been seriously undervalued. Bonham received no compensation, but he was granted another lease. (fn. 351) In 1663 he mortgaged this for £1,500. (fn. 352) He died in 1676 and was buried in Dagenham church, with a tombstone describing him as 'an agreable poet and yet sublime, a shining ray of genius'. Valence was held by his widow Anne until her death in 1678 (fn. 353) and then descended to his son Thomas, who in 1684 was granted a new lease, at twice the previous rent. (fn. 354) This was renewed in 1691, 1698, and 1705, and for the widow of Thomas the younger in 1710. (fn. 355)
In 1719 the estate was leased to Henry Merttins, merchant tailor, brother of Sir George Merttins, Lord Mayor of London. (fn. 356) Henry (d. 1725) and his son and successor John Henry Merttins (d. 1776) were both buried at Dagenham. John Henry was succeeded as lessee by Henry Merttins Bird, son of Robert Bird of Barton House, Kenilworth (Warws.), by his wife Mary, daughter of Sir George Merttins. (fn. 357) In 1792 Bird was granted permission to pull down East Hall and use the materials to repair Valence. (fn. 358) He sold the lease of Valence in 1803 to John Hopkins Dare. (fn. 359) In addition to his lease of Valence he owned lands in Dagenham including a farm called Edolph's Lands, which was on the site of the present Osborne Square, (fn. 360) and which in 1920 was bought by the L.C.C. from the Swabey family, descendants of H. M. Bird's daughter Catherine and her husband Dr. Maurice Swabey. (fn. 361)
J. H. Dare died in 1805. (fn. 362) The Valence estate was then divided into three sections, which from 1805–6 were separately leased. Valence, Warren Farm (or Burleys), and other property formed one part, while Gallance and East Hall were let as two farms, with some of the lands of both in each lease. (fn. 363) The Valence section was leased to Samuel Winmill, farmer, whose family held it in 1844. It was later held by the Seabrook family, until 1878, when the Ecclesiastical Commissioners granted a lease to F. May, a farmer from Fremington (Devon). (fn. 364) The May family remained at Valence until the property was sold to the London County Council.
One of the properties formed by the division of East Hall and Gallance was leased in 1806 to Wasey Sterry, whose family held it until 1870, when they purchased the freehold. (fn. 365) The other property was leased in 1806 to Joseph Cuff. (fn. 366) After Cuff's death in 1825 the lease was sold by his trustees to Mrs. Elizabeth Biggs, Henry Gray, and Thomas L. Fanshawe, Vicar of Dagenham. (fn. 367) Mrs. Biggs became lessee, under the Dean and Chapter of Windsor and granted sub-leases to the other two. (fn. 368) In 1842, after her death, Gray became lessee, with Fanshawe as under-tenant. (fn. 369) The lease was granted in 1848 to Gray's widow Esther, (fn. 370) and in 1855 to another Henry Gray, presumably their son, (fn. 371) who in 1870 purchased the freehold. (fn. 372) Small parts of the estate had previously been sold for the building of the railway and to the Dagenham Dock Co. (fn. 373) In 1869 there had been three under-tenants, John Fanshawe, John Shorter, and John Philpot. (fn. 374) All the lands of East Hall and Gallance, like those of Valence, were bought by the London County Council for the Becontree Housing estate.
The sub-letting of parts of the Valence estate by those holding long leases from Windsor, of which some examples are given above, was no doubt the normal practice, in view of the size of the estate. In the 19th century Valence House was sometimes leased by Windsor separately from the rest of the estate: thus in 1843 a 7-year lease was granted to the Revd. W. Bellamy, headmaster of Merchant Taylors' School, London. (fn. 375)
There has been a building on the moated site at Valence since the Middle Ages. The present house, which is L-shaped, of two stories, timber-framed and plastered, is mainly of the late 17th century. Parts of the structure may date from the reign of James I, (fn. 376) and it is possible that even older work is incorporated. A ground floor room at the east end of the old part of the house has panelling probably of the early 17th century, and the well staircase is of the late 17th century. There is another panelled room, in oak, on the first floor. A comparison of a survey made in 1649 and a sale catalogue of 1802 shows that the size of the house was reduced between these dates. (fn. 377) The repair of Valence, with material from East Hall, in 1792, has already been mentioned. In 1863 part of the house was demolished, including a drawbridge over the moat. (fn. 378) Most of the windows in the surviving building date from the 18th and 19th centuries. In 1926 the house was sold by the L.C.C. to Dagenham Urban District Council. It was used for council offices until 1938, when it became the headquarters and museum of Dagenham Borough Libraries. Since 1921 the house has been extended and other buildings, including the Valence Library (1937) erected in the grounds. Part of the moat survives, in fine condition. (fn. 379)
The WANGEY HOUSE estate was built up in the late 16th century by the Harvey family. In the earlier 17th century it comprised about 30 a. freehold, and about 230 a. copyhold, all held of the manor of Barking, together with 5 a. held of the manor of Marks. (fn. 380) Sir James Harvey (d. 1583), lord mayor of London in 1581, devised to his second son, James, a house and land 'in the village of Wangey and Chadwell and thereabouts', also a new house at Becontree Heath, land at Eastbrook End, and a piece of marsh at Sandy Creek. (fn. 381) These properties had been bought by Sir James from Clement Sysley, John Thatcher, Paul Stevens, and others. The main purchase appears to have been that from Sysley, made in 1571. (fn. 382) James Harvey's estate, fully detailed in the 1609 rental of the manor of Barking, comprised many scattered parcels of land, extending south from Chadwell Heath to the Thames. (fn. 383) On his death in 1626 it passed to his wife Elizabeth, with reversion to his elder son John. (fn. 384) John Harvey, who succeeded his mother by 1633, (fn. 385) died in 1656, leaving his estate to his nephew James Harvey. (fn. 386) A map of 1652–3 shows some of the Harvey property at Chadwell Heath, including Wangey House itself, which was on the site of the present Chadwell Heath railway station. (fn. 387) Their fields were intermingled with those of the manor of Wangey, owned by the Osbastons. About 1670 James Harvey appears to have sold his Wangey estate. By 1676 it was held by George Dewey, who had acquired part of it from Thomas Waldegrave, and part directly from Harvey. (fn. 388) Later the estate passed to Samuel Strode, whose widow Anne sold it in 1740 to Josiah Chitty. (fn. 389) Josiah (d. 1750) devised it to his nephew Joseph Chitty, who lived at Wangey House until his death in 1795. (fn. 390) The estate seems to have been broken up when the Eastern Counties Railway built their main line through Chadwell Heath in 1836–9. Under their Act of 1836 the company was empowered to acquire Wangey House and adjoining land from the then owner, Thomas G. Fuller. (fn. 391)
Wangey House, as shown on the map of 1652–3, was a large rectangular building with a tower. (fn. 392) Part of it, said to have been Elizabethan, was pulled down when the railway was built immediately north of it, and another part when Chadwell Heath station was enlarged in 1901. (fn. 393) The remainder of the building was demolished in 1937. (fn. 394) A photograph of 1932 shows an 18th-century front of two stories. (fn. 395) The roof was surmounted by a low tower-like structure, probably an observation platform, which is more clearly shown in a painting of the back of the house made in 1901. (fn. 396)