Pages 97-114
A History of the County of Essex: Volume 5. Originally published by Victoria County History, London, 1966.
This free content was digitised by double rekeying. All rights reserved.
CHINGFORD
The parish and municipal borough of Chingford is 10 miles north-east of London, between the River Lea and Epping Forest. Its western boundary follows the ancient course of the river but much of this, with the marshland immediately west of it, now lies under the Girling and King George V reservoirs. The northern boundary passes through the forest, a small part of which lies in Chingford. Part of the eastern boundary follows the course of the small river Ching (originally the Bourne) (fn. 1) which flows south from Connaught Water in the forest and then turns west to join the Lea. In the extreme south-west of the parish, south of Chingford Hall, was a detached part of Walthamstow parish, comprising 18 a. This was merged in Chingford in 1882. (fn. 2) By the Essex Review Order, 1934, a small part of Waltham Holy Cross urban district was transferred to Chingford, the present area of which is 2,868 a. (fn. 3) Until late in the 19th century Chingford, although so near London, remained rural and isolated. Its growth was slow until 1918 but more rapid between the world wars and especially after 1931. The town is now a dormitory suburb, but there is a little industry in the south-west, beside the North Circular Road.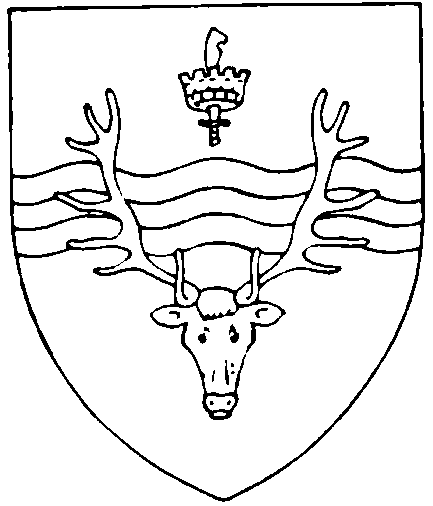 Most of Chingford lies on the western slope of the London Clay ridge separating the Lea valley from the Roding valley. (fn. 4) The highest point is Pole Hill (299 ft.). From the ridge the land slopes down to the alluvial flood plain of the Lea, where the altitude is less than 50 ft.
One mesolithic and three neolithic implements and a few Iron Age and Roman coins and potsherds have been found in Chingford. (fn. 5) Most of these finds were made in the marshes during the excavation of the Girling Reservoir. They are insufficient to provide evidence of settlement in prehistoric or Roman times. The parish name is interpreted as 'ford of the dwellers by the stumps'. The remains of piledwellings were discovered in excavating for reservoirs at Higham Hill, Walthamstow, just south of Chingford, and it is suggested that the original Saxon settlement was near Cook's Ferry, in the extreme south-west of the parish. (fn. 6) This theory is supported by the fact that the medieval manor houses of Chingford St. Pauls and Chingford Earls were both in this part of the parish. Later settlements were made in clearances in the forest, mainly in the north and east. These were being created in the 12th and 13th centuries. Forest was also cleared for Fairmead Park in the 16th century. (fn. 7) In the late 18th century there were small villages at Chingford Green, in the north, Low Street in the north-west, and Chingford Hatch in the east. (fn. 8) Each of these settlements was about a mile from the parish church, which stood isolated on a commanding site at Chingford Mount, in the west. Elsewhere in the parish were scattered farms and cottages. There were also a few larger houses. Robert Snell, owner of Chingford Hall, wrote in 1720 (fn. 9) 'I find the air sweet … the spring water is very pure, the soil the best for gardening I ever knew.' He mentioned the convenience of having coal brought by water, and of being able to take wood from the forest. On the other hand he stressed the inconvenience of poor roads, and it was probably for this reason that Chingford was less fashionable than Walthamstow or Ilford, for example. A few of the gentry did, however, make their homes there in the 18th and 19th centuries. Richard Hodgson, who succeeded the Snells as lord of Chingford St. Pauls, built a new seat at Hawkwood. R. B. Heathcote, rector of Chingford and lord of Chingford Earls, rebuilt Friday Hill. Other gentlemen lived at White Hall, near Chingford Hatch, Rolls, in the south-east of the parish, and Mount Echo, west of Chingford Green. (fn. 10) On the Green William Mellish built a large sporting establishment. (fn. 11) In 1824 a granite obelisk, which still survives, was erected on Pole Hill to mark the direction of true north from Greenwich Observatory. The meridian was changed in 1850 and now passes 19 ft. east of the obelisk.
The modern development of Chingford began with the extension of the railway from Walthamstow in 1873 (see below). Building was at first concentrated at the Green near Chingford station, and in the south of the parish near Highams Park station. In 1884 the Chingford Rise estate, comprising about 120 a. around Chingford station, was acquired by one of the companies associated with Jabez Balfour's Liberator Building Society. Building started there, but was halted by the collapse of the Liberator group in 1892. (fn. 12) The estate was put on the market again in 1897. (fn. 13) By that time most of the streets had been laid out, but 98 a. land still awaited further development. Only Willow Street had been fully built up. There were houses on the south side of Buxton Road, some in Station Road and the streets between it and the railway, and a few in the Drive, Forest Avenue, and Crescent Road. Most of these houses had already been sold by 1897, but the estate, as then offered for sale, included 27 houses in the Drive, Forest Avenue, and Crescent Road. These were villas with 4–7 bedrooms, letting at £50–£80 a year. It is clear from these particulars that building had been slow and piecemeal, and that at least some of it was intended for residents with substantial incomes. The development of Chingford at this period was evidently similar to that at Loughton. (fn. 14) The population of the parish, which had risen slowly from 612 in 1801 to 1,387 in 1881, was only 4,373 in 1901. (fn. 15) By 1914 there had been further building at and near Chingford Green, at Chingford Mount, along the Ridgeway, and in Sewardstone Road. (fn. 16) The population was then about 9,000. (fn. 17) During the next 30 years growth was rapid: to 22,053 in 1931 and 48,355 in 1951. (fn. 18) Most of the increase took place before 1939. Since the end of the war the most important development has been the building of the London County Council's Friday Hill estate, on the last remaining portion of the manor of Chingford Earls. (fn. 19)
Until 1940, when Louisa Heathcote died at a great age, the Heathcotes had continued to live at Friday Hill. If their estate had been broken up earlier the pattern of Chingford's growth would probably have been different. That estate lay mainly in the east of the parish, near the railway. If it had been available for building before 1914 there might then have been rapid development based on the railway as at Ilford.
Because Chingford's main growth took place after 1920 the housing density is much lower than in some of the older suburbs. Public open spaces, including the forest and the municipal parks, comprise about a quarter of the land in the borough. Very few old buildings, however, have survived. The most notable is Queen Elizabeth's Hunting Lodge, a 16th-century 'standing' or grandstand built by Henry VIII for viewing the hunt. (fn. 20) The old parish church, restored in 1930, is the only medieval building. (fn. 21) Pimp Hall farm, which dated from the 16th century, has disappeared during the last 30 years but its 17th-century barn and dovecote survive. (fn. 22) At Chingford Green, and dominating it, is the new parish church (1844) designed by Lewis Vulliamy, with additions by Sir Reginald Blomfield (1903). Also at the Green are the Bull and Crown Public House, a large Edwardian building with terra-cotta decoration 'in the wildest Loire style', (fn. 23) and Carbis Cottage, an early-19th-century weatherboarded house. Friday Hill house, Simmons Lane (1839) was also designed by Vulliamy. Among the most recent buildings are two schools which have been pronounced among the best designed in the county: the Longshaw Primary School, Longshaw Road (1949) and the Heathcote Secondary School, Normanton Park (1950). (fn. 24)
The isolation of Chingford until recent times, which has already been mentioned, was the result of its position between the river and the forest, away from main roads. The road to Cambridge and Newmarket, via Epping, by-passes Chingford to the east. In 1777 this main road was approached from Chingford at three points. (fn. 25) A road east from Chingford Hall ran south-east after passing Chingford Hatch and then forked: the northern fork joined the main road at Woodford Wells, the southern fork at Woodford Green. Part of this road may have been made soon after 1625: in that year Thomas Boothby left £100 to make a causeway from Friday Hill to Woodford and Wanstead. (fn. 26) Another road ran from Chingford Green to Buckhurst Hill. The first of these routes, including the southern fork, is still used. It now comprises Hall Lane, New Road, Hatch Lane, and Chingford Lane in Woodford. The northern fork of the same road had gone out of use by 1844. (fn. 27) Part of of its course appears to be shown by a track across Woodford Golf Course. There have been changes also in the route from Chingford Green to Buckhurst Hill. The Epping New Road, completed in 1834 by the Epping and Ongar Highway Trust, diverged from the old road immediately south of Buckhurst Hill. The road from Chingford Green, comprising Kings Road, Whitehall Road, and Brook Road, passes across the Epping New Road before joining the old main road at Buckhurst Hill. A south-westerly extension of Whitehall Lane joins the main road just south of Bancroft's School. Traffic going north from Chingford Green is also served by Rangers Road which joins the Epping New Road near the Warren, in Loughton.
In the 17th and 18th centuries one of the most important roads in Chingford was that running south from Waltham Abbey through to Walthamstow and London, via Low Street (now Sewardstone Road and Mansfield Hill), and Church Road (fn. 28) (now Old Church Road). In 1614 and again in 1636 the southern section of this road, leading to Salisbury Hall in Walthamstow, was presented as in need of repair. (fn. 29) Another old north-south road, also providing a route to London, was that from Chingford Hall to Higham Hill in Walthamstow. The Chingford section of this road, part of Hall Lane, now feeds the North Circular Road. Its continuation was Folly Lane in Walthamstow, a fact not obvious on a modern map. (fn. 30) In 1715 access to Chingford was being seriously hindered by the bad condition of this road at Higham Hill. Robert Snell of Chingford Hall tried unsuccessfully to enforce its repair. (fn. 31) In 1720 he wrote that the most convenient way (i.e. to London) was across the bridge over the millstream at Chingford Mill, thence over the main stream of the Lea into Edmonton (Mdx.). (fn. 32) That road, now partly surviving as Lower Hall Lane, was certainly in existence by 1629. (fn. 33) At that time there was a ford across the main stream, but a bridge later called Cooks Ferry Bridge, had been built by 1675. (fn. 34) In 1720 the repair of this was the responsibility of the tenant of Chingford Hall. (fn. 35) The mill bridge was repaired by the miller, who in the 17th and 18th centuries levied tolls on those crossing it. (fn. 36) In 1878 both Cooks Ferry Bridge and the mill bridge were taken over by the county. (fn. 37)
The modern development of Chingford has retained the old road plan of the parish, while making many additions and improvements. Two of the most important new roads were built in 1928 to improve outlets to the west. (fn. 38) One is the North Circular Road, which enters Chingford by a new bridge on the site of Cooks Ferry Bridge and runs south-east to Walthamstow. The other is the Lea Valley Road, which runs between the two reservoirs and links north Chingford with Enfield (Mdx.). (fn. 39) This was an improvement of a road built late in the 19th century. (fn. 40) Waltham Way, opened in 1938, provides a short north-south by-pass beside the Girling Reservoir. (fn. 41)
Even when Chingford's position and lack of main roads are taken into consideration it is surprising that as late as 1848 no public transport appears to have been available there. The nearest horse omnibuses and carriers ran from Woodford and the nearest railway station was at Edmonton. (fn. 42) In 1863 the situation was little better: the only conveyance was a carrier who ran twice a week to London. (fn. 43) A railway from London to Chingford was authorized in 1864 but it was not until 1873 that it was completed by the extension of the line from Wood Street (Walthamstow) to Highams Park and Chingford Green (Bull Lane, now King's Road). In 1878 the present Chingford station was built, a little to the north of the original one. (fn. 44) The line was electrified in 1960. (fn. 45)
There was a postal receiving office at Chingford by 1803. (fn. 46) In 1813 the Chingford postman was serving also Woodford, Loughton, and Sewardstone. (fn. 47) In 1830 Chingford was within the London 2d. post area. (fn. 48) From 1856 Chingford Green is shown in postal directories as a sub-post-office under Woodford. (fn. 49) The telegraph service was introduced before 1882. (fn. 50)
The East London Waterworks Co. began to supply Chingford Green in 1878–9 and the New Road Area in 1885–6. The mains were extended as building progressed and the whole borough is now supplied by the Metropolitan Water Board, successor to the East London Co. (fn. 51) A small part of the King George V Reservoir, opened by the Board in 1913, and much of the Girling Reservoir (1951) lie within the boundaries of Chingford. (fn. 52) A sewerage system was first provided by Epping Rural Sanitary Authority, which in 1894 opened a pumping station at Mansfield Hill. (fn. 53) The present borough sewage works are in the extreme south-west of the parish, near the Banbury Reservoir. (fn. 54) By 1894 the Chigwell, Loughton and Woodford Gas Co. had begun to supply Chingford, (fn. 55) which is now in the area of the North Thames Gas Board. Electricity was first provided in 1923 by the North Metropolitan Electric Power Supply Co. (fn. 56) The borough is now served by the Eastern Electricity Board. Chingford Hospital, Larkshall Road, was opened in 1901 as an isolation hospital belonging to the Walthamstow Urban District Council. (fn. 57) It now provides general postoperative, medical, and orthopaedic treatment. (fn. 58) A cemetery was opened at Chingford Mount in 1884 by the Abney Park Cemetery Co. (fn. 59) Chingford Borough Council have provided 205 a. as public parks. The largest of these is Larkswood, formed in 1936. (fn. 60) It includes part of the old woodland and an open-air pool with accommodation for 2,500 bathers. (fn. 61)
Among landowners of the parish, one of the most influential was R. B. Heathcote, rector (1829–65) and lord of the manor of Chingford Earls (1838–65), who rebuilt the rectory and Friday Hill house, provided an infant school, and was largely responsible for defraying the cost of the new parish church at Chingford Green. During his time the parish almshouses were also rebuilt. His daughter Louisa later paid for the restoration of the old church. (fn. 62) The daughter of another rector, Dame Louisa B. Aldrich-Blake (1865–1925), the first woman to qualify as a master in surgery, was born at Chingford. (fn. 63) Sir John Silvester Bt. (1745–1822) of Yardley House became Common Serjeant (1790) and Recorder (1803) of the City of London. (fn. 64)
MANORS.
The manor of CHINGFORD EARLS, sometimes known in the Middle Ages as TEMPLE HALL, (fn. 65) was situated mainly in the east and southeast of the parish, but also included land by the Lea. Several earls, of different families, were connected with the manor. The Earl of Essex, who held it in the 15th century, was probably the one to whom the suffix refers. (fn. 66) The alternative name came from the Knights Templars, lessees of the manor in the late 13th century.
In 1066 this manor, comprising 5 hides, was held by a free man. In 1086 it was held of Robert Gernon by Orgar the Thane, and thus formed part of the barony of Stansted Mountfitchet. (fn. 67) The overlordship descended like that of Battles Hall in Stapleford Abbots until 1437, when Sir John Howard died holding it by courtesy of England in right of his wife Margaret. (fn. 68) Howard's heir was his granddaughter Elizabeth, wife of John de Vere (d. 1462), Earl of Oxford. In the 16th century the manor was considered to be held in chief. (fn. 69)
The demesne tenancy of the manor was held in the early 13th century by the Dover family, lords of Chilham (Kent). (fn. 70) Rose, daughter of Fulbert of Dover, carried the manor in marriage to Richard of Chilham, sometimes called Richard of Dover or Richard Fitz Roy, a bastard son of King John. (fn. 71) In 1229 the manor was temporarily in the hands of Robert of Westminster, a creditor of Richard of Chilham. (fn. 72) In 1242 Richard and Rose leased the advowson of Chingford and two carucates of land there to William of York, Provost of Beverley, to hold for life. William, who gave £180 for the lease, was to pay no rent for 15 years and thereafter £15 a year. If he died before 15 years had elapsed his heirs were to hold for the remainder of that term. (fn. 73) Richard of Chilham died before January 1253, by which time Rose had married secondly William de Wilton. (fn. 74) Rose and William were holding the advowson, and presumably also the manor, in 1254. (fn. 75) Wilton, a prominent justice, was killed in 1264, at the battle of Lewes. (fn. 76) Richard of Chilham, son of Rose by her first husband, died without issue before 1265. His estates passed to his sister Isabel, who married David de Strathbogie, Earl of Atholl. (fn. 77) In 1270 David and Isabel leased the manor and the church to the Knights Templars, who were immediately involved in a dispute with Waltham Abbey concerning suit at the hundred court. (fn. 78) The Templars continued to hold the lease until their order was dissolved in 1308. In 1309 they were said to have held, in the previous year, 493 a. in Chingford, along with the church. In 1308 they had been paying a rent of £40 a year for the manor, and 10d. wardpenny to the lord of the hundred. Their income from the manor was only £36 11s. 1d., so that they incurred a loss of £3 9s. 9d. (fn. 79) This information is recorded in a cartulary of the Knights Hospitallers, but there is no evidence that the Hospitallers took over the Templars' unprofitable lease; a tenement which they held in Chingford, in 1325 and later, comprised only about 30 a., called Danielsland. (fn. 80)
David de Strathbogie, Earl of Atholl, the lessor of the manor in 1270, died in the same year. His wife Isabel later married Alexander de Balliol. She died in 1292 and Alexander held Chingford by courtesy of England until his death in 1310. Isabel's son, John de Strathbogie, Earl of Atholl, had been executed for treason in 1306, and on Alexander's death Chingford escheated to the king, who in 1310–11 granted the manor for life to Bartholomew de Badlesmere, Lord Badlesmere, and Margaret his wife; they had previously been negotiating with Alexander for the property. (fn. 81) In 1322 Badlesmere himself was executed for participating in Lancaster's rebellion, and the king granted his lands to David de Strathbogie, Earl of Atholl (d. 1326). (fn. 82) In 1328 Giles de Badlesmere, Lord Badlesmere, son of Bartholomew, obtained the reversal of his father's attainder. (fn. 83) In the following year Bartholomew's widow Margaret was licensed to lease her manor of Chingford for life to Emeline Longespée. (fn. 84) Margaret died in 1333 and in the same year Giles had livery of his father's lands. (fn. 85) He died holding Chingford in 1338. His estates were divided between his four sisters, and Chingford fell to the share of Margery, wife of William de Ros, Lord Ros of Helmsley. (fn. 86)
The manor remained in the Ros family for over two centuries. William, Lord Ros, died in 1343 and Margery subsequently married Sir Thomas Arundel. (fn. 87) In 1351 Chingford was settled upon her and Sir Thomas for life. (fn. 88) He died soon after, and Margery married as her third husband Sir John Avenel (d. 1359). (fn. 89) She died holding the manor in 1363, and was succeeded by her second son Thomas de Ros, Lord Ros. (fn. 90) Thomas died in 1384, and Chingford passed to his widow Beatrice, who in 1385 carried it in marriage to Sir Richard Burley. (fn. 91) Burley died in 1387 and Beatrice continued to hold the manor until her death in 1415, when it passed to her grandson John de Ros, Lord Ros. (fn. 92) John, who died in 1421, was succeeded by his brother Thomas, Lord Ros (d. 1431), and he by his son Thomas, Lord Ros (d. 1464). (fn. 93) The last named, who was a Lancastrian, was attainted in 1461, forfeited his lands, and was later executed. (fn. 94) In 1462 the king granted the manor to Thomas Colte, of Netherhall, Roydon, who held his court at Chingford in 1464. (fn. 95) In 1467 the manor was again in the king's hands, and was granted to Henry Bourchier (d. 1483), Earl of Essex, uncle of Edward IV. (fn. 96) Bourchier's widow Isabel held her court at Chingford in 1483. (fn. 97) She died in 1484 and was succeeded by her grandson, Henry Bourchier, Earl of Essex (d. 1540). (fn. 98)
At the accession of Henry VII Edmund de Ros, Lord Ros (d. 1508), obtained the reversal of his father's attainder, but since he was abroad his lands were not immediately restored to him. The matter was again considered in 1492, when it was decided that Edmund was 'not of sufficient discretion to guide himself and his livelihood'. Custody of his estates, including Chingford, was therefore granted to Sir Thomas Lovell (d. 1524) husband of his sister Isabel, and lord of the adjoining manor of Higham Bensted in Walthamstow. (fn. 99) Lovell held Chingford until his death. (fn. 100) It then passed to Thomas Manners, Lord Ros, later Earl of Rutland, grandson of Eleanor, sister of Edmund, Lord Ros. (fn. 101) In 1541 Rutland exchanged Chingford with the king for lands elsewhere. (fn. 102)
In 1551 the king granted Chingford Earls and Chingford St. Pauls (see below) to Thomas Darcy, Lord Darcy of Chich (d. 1558). (fn. 103) In 1552 Darcy exchanged these manors with the king for other lands, and in 1553 they were granted to Princess Mary. (fn. 104) In 1554, as queen, Mary granted them to Susan Tonge, one of the ladies of her bedchamber, and widow of Thomas Tonge, Clarencieux King of Arms. (fn. 105) In 1557 Mrs. Tonge made the following settlement of the manors: after her death Chingford St. Pauls was to pass to her nephew John White, with successive remainders to his brothers Humphrey and George, in that order; Chingford Earls was to pass to Humphrey White, with successive remainders to George and John. (fn. 106) In 1558 the queen granted the lordship of 'Chingford' to the re-founded Knights Hospitallers. (fn. 107) This grant lapsed with Mary's death; how it would have affected Susan Tonge's title is not clear. The White family duly succeeded to both Chingford manors. Humphrey White was holding Chingford Earls by 1564, when he leased it for 60 years to Robert Leigh of Sawbridgeworth (Herts.). Leigh, his son Sir Robert (d. 1612), and Robert Leigh, son of Sir Robert, retained the lease until 1621. (fn. 108) They were also lords of Chingford St. Pauls during that period. In 1572 Humphrey White conveyed the ownership of the manor to (Sir) John Branch. (fn. 109) Branch, who also bought Friday Hill (see below), died in 1588. (fn. 110) By a previous settlement his property in Chingford then passed to his widow Ellen, with remainder to his nephew Henry Udall. (fn. 111)
In 1592 Udall sold the reversion of the manor to Lancelot Bathurst and his son Ralph. (fn. 112) Ralph, who died holding Chingford Earls in 1608, was succeeded by his brother Randolph. (fn. 113) In the same year Randolph sold the manor to Thomas Boothby, merchant tailor of London. (fn. 114) Boothby died in 1625, having previously settled Chingford Earls on his son Robert. (fn. 115) Robert (d. 1641) was succeeded by his son Thomas, who became a baronet in 1660 and died in 1661. (fn. 116) Thomas's widow Elizabeth subsequently held courts at Chingford until 1673. (fn. 117) The manor next passed to Sir Thomas's brother William Boothby, who held courts in 1675 and 1678, (fn. 118) and then to William's son, Robert, who held his first court in 1680. (fn. 119) Robert (d. 1733) was succeeded by his son Thomas who died in 1735, leaving an infant son Robert. (fn. 120) Thomas's widow Frances later married Benjamin Moyer, and with him held the manor until Robert Boothby came of age in 1754. (fn. 121) Robert (d. 1774) left Chingford Earls to his halfsister Lydia, wife of John Heathcote. (fn. 122) The manor descended in the Heathcote family until the death in 1940 of Louisa Heathcote, last surviving child of the Revd. Robert Boothby Heathcote. (fn. 123) William Heathcote (d. 1915) who held the manor from 1892, leased it to his brother, Frederick G. Sinclair (d. 1914), who held courts from 1898. (fn. 124) In 1838 the Heathcote estate in Chingford comprised over 600 a. The main part of it lay around Friday Hill and included Pimp Hall. (fn. 125) From 1829, when R. B. Heathcote became rector, until the death of his daughter Louisa, the family lived in Chingford. Parts of their estate were sold for building before the Second World War, but they retained the area around Friday Hill until Louisa Heathcote's death. It was then bought by the London County Council, which after the war built a housing estate there.
The exact site of the original manor house of Chingford Earls is not known. It was probably about ¼ mile south of the manor house of Chingford St. Pauls. This location is indicated by a statement of 1652 that there was a public road over Hobmilles or Gravel Pit Field to the ford in the mill river near the place where the ancient manor house of Chingford Earls stood, and from there to the ford in the great river and over into Edmonton marsh. (fn. 126) The tithe map of 1838 shows a Gravel Pit Field immediately to the south of Chingford Hall. (fn. 127) A map of 1782 shows a dotted line, presumably a footpath, running west from the present Chingford Mount Road to the mill-stream and beyond it to the bridge leading to Edmonton. (fn. 128) It passes immediately north of a gravel pit, and about ¼ mile south of Chingford Hall.
By 1588 Friday Hill, in the east of the parish, had become the manor house. (fn. 129) The ancient manor house evidently disappeared before 1652. The Friday Hill tenement took its name from a local family. John Friday held a messuage at Jackatt Hill in 1467; in 1471 he was followed by Thomas Friday, who was still there in 1483. (fn. 130) In 1528 Alice, widow of John Broke, surrendered a messuage late of Thomas Friday to the use of her son. John Broke held this in 1563. (fn. 131) He later sold it to John Branch, and Friday Hill was thus merged in the demesne of Chingford Earls. A print of 1798 shows Friday Hill house as a brick building of three stories. (fn. 132) It had a long central hall with bay windows and a pedimented porch. At each end was a projecting wing surmounted by Dutch gables. The appearance is of an early-17th-century building with later additions. Thomas Boothby's will, proved 1625, mentions the wainscot in the house. (fn. 133) After the death of Robert Boothby in 1774 the house was let to various tenants; for a time it served as a school. (fn. 134) When R. B. Heathcote inherited the manor in 1838, he pulled down the old house and in 1839 built a large mansion to the design of Lewis Vulliamy, later architect of the church at the Green. (fn. 135) This house is now a community centre. It is a building of yellow brick with an entrance courtyard between projecting wings and has 'Tudor' features including tall chimneys and a small tower.
The copyhold tenements on this manor, as on Chingford St. Pauls, descended by the custom of Borough English. (fn. 136)
The manor of CHINGFORD ST. PAULS or CHINGFORD HALL lay mainly in the west of the parish. It was acquired by the Dean and Chapter of St. Paul's between 998 and 1066. (fn. 137) A charter by which Edward the Confessor is said to have granted the canons 5 mansae at Chingford is a forgery but may be based on fact. (fn. 138) In 1066 St. Paul's held 6 hides in Chingford, but between then and 1086 they had been dispossessed of a hide of land, 8 a. meadow, and some woodland by Peter de Valognes, lord of the neighbouring manor of Higham (Bensted) in Walthamstow. (fn. 139) According to a document preserved at St. Paul's Peter de Valognes confessed on his deathbed that he had robbed the canons of a hide, and made full restitution. (fn. 140) This also is probably spurious. In 1181 Peter's grandson, Robert de Valognes, still retained this property, then called Ruthehyda, (fn. 141) while in 1222 the canons' estate still comprised 5 hides, as in 1086. (fn. 142) Ruthehyda probably continued to descend with Higham Bensted: that manor certainly included land in Chingford, in respect of which its lords owed service to the court of the hundred of Waltham. (fn. 143) In 1086 it was also stated that Geoffrey de Mandeville had seized 10 a. meadow belonging to St. Paul's manor. (fn. 144) Mandeville held the manor of Edmonton (Mdx.), which also adjoined Chingford. (fn. 145)
Early in the 13th century the canons were involved in a dispute with the Abbot of Waltham concerning dues and suit at the hundred court. For withholding these the canons suffered distraint in 1219, when the abbot's bailiff entered their manor of Chingford and carried off cattle. The lawsuit which followed was concluded by an agreement in which the canons appear to have secured substantial concessions. (fn. 146)
Chingford St. Pauls was one of a group of manors which supported the canons' household (communa). (fn. 147) These manors were leased to farmers, who were required to furnish provisions in kind or in cash. In the 12th century at least one farmer of Chingford appears to have been a layman: a goldsmith named William Monk (Guillelmum aurifabrum, cognomento monachum). (fn. 148) From the 13th century until the 16th the farmers of the manor seem always to have been members of the chapter. (fn. 149) In 1529, however, an Act was passed forbidding such practices, except under strict conditions, (fn. 150) and in 1532 Richard Plommer, a clothworker of London, evidently informing for profit, prosecuted John Smith, clerk, for continuing to hold Chingford Hall under a lease originally granted by the chapter to Benjamin Digby. (fn. 151) The last lessee under the chapter was one Medcalf, who held the manor in 1543. (fn. 152) In 1291, when the lessee was Master John de Luco, the manor was valued at £17 12s. 10½d. (fn. 153)
In 1544 Henry VIII acquired Chingford Hall from St. Paul's in exchange for other lands. (fn. 154) It then descended along with Chingford Earls (fn. 155) at least until 1557, when Susan Tonge settled the reversion of the two manors on her nephews, the White brothers. Chingford St. Pauls was conveyed in 1561 by John White to his brother George who in 1565 conveyed it to his brother Humphrey. (fn. 156) In 1567 Humphrey White sold the manor to Joan Leigh, widow, whose late husband Robert Leigh had bought the lease of Chingford St. Pauls in 1563 and that of Chingford Earls in 1564. (fn. 157) In 1584 Joan conveyed her interest in Chingford St. Pauls to her son Robert Leigh. (fn. 158) Robert, later knighted, died in 1612. (fn. 159) He was succeeded by his son Robert (d. 1673). (fn. 160) Edward Leigh, son of the last Robert, died in 1691, leaving sons Robert and Edward. (fn. 161) Edward, the younger son, succeeded his brother, and in 1709 sold the manor to Robert Snell. (fn. 162)
Snell died childless in 1741. (fn. 163) The manor passed to his widow Mary, (fn. 164) who died at Chingford Hall in 1781. (fn. 165) She was succeeded by her husband's nephew, John Snell. (fn. 166) Since he was a lunatic his estates were administered by his brother William, (fn. 167) who succeeded to them on John's death in 1805. (fn. 168) In 1804 the reversion of Chingford Hall was settled on the Revd. Thomas Snell and his wife Barbara. (fn. 169) He later held it until his death in 1843. (fn. 170) In 1838 he owned about 600 a. in Chingford. The main part of this lay in the south-west of the parish, around Chingford Hall, but there were also substantial areas in the north-west, and adjoining the forest in the north-east. (fn. 171)
In 1844 the manorial rights and part of the estate were put up for sale. (fn. 172) They were bought by Richard Hodgson (d. 1866) and were later held by his widow Jane (d. 1880). (fn. 173) A Miss Hodgson appears to have held the manorial rights for the next 30 years. (fn. 174) Richard Hodgson built a mansion at Hawkwood, in the north-west corner of the parish. (fn. 175) This was bought in 1886 by Sidney Cooper, whose family held it until 1922. It was bought in 1937 from a later owner by Chingford U.D.C., which sold it in 1949 to the Essex County Council. (fn. 176) In 1938–9 the building was used by Chingford County High School. (fn. 177) It has since been demolished. Chingford Hall farm, comprising some 170 a., was not sold to Hodgson, but remained in the Snell family until 1875, when it was sold to Enoch Clarke (d. 1881), whose widow Harriet died holding it in 1886. (fn. 178)
The manor house of Chingford St. Pauls is described in a lease of c.1265. (fn. 179) It contained a hall, roofed with oak, at the west end of which was a ground floor room with a stone fireplace and storeroom and another small room. At the east end was a pantry and buttery. Near the hall, but apparently detached from it, were a chapel, a kitchen, a grinding-house, a granary, a dairy, and a room for the clergy with a privy. All these buildings were within the inner gate. Outside that gate lay servants' quarters, granaries, a stable, and a kiln, enclosed with ditches, walls, and fences. Beyond the middle gate were two byres, and beyond the outer gate was a pigsty. Robert Snell, who bought the manor in 1709, found the house, though old, sound enough to warrant spending about £1,500 on its restoration. (fn. 180) A print of Chingford Hall in 1765 depicts a 16th-century building with early-18th-century additions. (fn. 181) In the earlier 19th century this was replaced by a small plain building of yellow brick, which is now enclosed in the premises of the Cork Manufacturing Co. in Lower Hall Lane; a moat was still visible before the Second World War. (fn. 182) Most of the lands attached to both Hawkwood and Chingford Hall were developed for housing between the two world wars.
The copyhold tenements on this manor, as on Chingford Earls, descended by the custom of Borough English. (fn. 183)
The manor of GOWERS AND BUCKERELLS or PIMPS, which lay in the east of the parish near Friday Hill, probably originated as a free tenement held of the manors of Chingford St. Pauls and Chingford Earls. Its names were derived from early tenants. Stephen Buckerell first appears after the battle of Lewes (14 May 1264) when, with Martin of Chingford, he helped to eject Andrew the Goldsmith of London from land in Chingford. (fn. 184) Two years later, after the battle of Evesham (4 Aug. 1265), his own manor was raided by Sir William de Say who soon put himself in seisin of it. (fn. 185) Stephen Buckerell may have been related to the family of that name which was prominent in London under Henry III. (fn. 186) The first specific reference to the tenement called Buckerells occurs in 1271, when its tenant, not named, had neglected to maintain a watercourse. (fn. 187) Its subsequent descent has not been traced until the end of the 15th century. Sir John Gower, groom of the stole to Henry VII, held some 250 a. land in Chingford, formerly belonging to the Buckerell family. (fn. 188) He may have been identical with John, son of Richard Gower, mentioned in 1463. (fn. 189) His daughter and heir Elizabeth married Reynold Pympe. (fn. 190) Their daughter Anne took this tenement in marriage to Sir John Scott. Richard Scott, third son of Sir John, eventually acquired the manor 'by partition and composition'. He, and his mother before him, paid reliefs to the manor of Chingford St. Pauls on succeeding to the estate. (fn. 191) In 1538 Richard sold Gowers and Buckerells, then described as a manor, to Sir George Monoux, draper and former lord mayor of London. (fn. 192) At the time of his death in 1544 Monoux's only tenement in the parish consisted of a house and 13 a. land at Chingford Hatch, with a 'dole' meadow in the marsh, worth 40s. in all. (fn. 193) He had previously sold most of Gowers and Buckerells to the king. On 7 February 1544, two days before Monoux's death, the king granted a 21-year lease of Gowers and Buckerells to Roland Rampston, (fn. 194) who about the same time received compensation for his interest in the property then mostly inclosed in Fairmead Park. (fn. 195) Later in the same year the king sold Gowers and Buckerells to Geoffrey Lukyn, who then conveyed the manor to Roland Rampston. (fn. 196)
In 1550 Roland Rampston was succeeded by his son Robert. (fn. 197) Robert Rampston was Yeoman of the Chamber to Edward VI, Mary and Elizabeth I. He was a benefactor to several Essex parishes, including Chingford, and was commemorated by inscriptions in their churches. (fn. 198) He died in 1585, leaving as heir his nephew Roland Rampston. (fn. 199) Robert's widow Margaret retained two-thirds of Gowers and Buckerells until her death in 1591. (fn. 200) In 1593 Roland Rampston conveyed the manor to John Hare, who in 1598 conveyed it to Nicholas Barnsley. (fn. 201) Barnsley died in 1608, leaving the manor to his wife Joan for life, with remainder to his daughters, Elizabeth, wife of Thomas Creswell, and Susan, wife of George Nodes. (fn. 202) Susan and George appear eventually to have acquired the whole of Gowers and Buckerells. In 1630 George claimed manorial privileges for the estate, which the Crown allowed, free warren excepted. (fn. 203) In 1632 he and his wife sold the manor to Thomas Gundrey, an Exchequer official. (fn. 204) Gundrey was succeeded by his son, grandson, and greatgrandson all named Thomas. The last of these sold the manor in 1729 to Israel Hammond. (fn. 205)
In 1734–5 there was litigation between Hammond and Robert Snell, lord of Chingford St. Pauls. Hammond had set up posts to mark the boundary between the two manors. These were torn up by Snell, who challenged Hammond's claim to hold a manor. Since no evidence was produced in favour of that claim (in spite of the earlier award to George Nodes) the court found for Snell. (fn. 206) Israel Hammond was succeeded by his son James, who was holding in c.1768. (fn. 207) In c.1780–95 Mrs. Hammond, perhaps James's widow, was the owner. (fn. 208) By 1796 the property had passed to Joseph Venour, husband of James Hammond's daughter. (fn. 209)
In 1801 Venour sold Gowers and Buckerells to William Dent, (fn. 210) in whose family it remained for about 30 years. (fn. 211) By 1838 Pimp Hall was part of the Chingford Earls estate, then owned by the Revd. Robert Boothby Heathcote. (fn. 212) In 1870–90 James D. Waters was stated to be lord of Buckerells. (fn. 213) Pimp Hall continued to be a farm until 1934 when it was bought by the urban district council. Since then it has been used by the council's parks department for nursery gardens and allotments. (fn. 214) Members of the Bolton family were tenants of the farm for many years. (fn. 215)
Pimp Hall farmhouse was a two-story building, timber-framed and plastered, probably dating from the late 16th century. (fn. 216) It became derelict and was gradually demolished in 1936–9, (fn. 217) but the 17th-century timber-framed barn and dovecote survive.
ECONOMIC HISTORY.
In 1086 there were two manors, each of 5 hides, in Chingford. Chingford was thus one of the few places in Essex where the ancient 'five-hide unit' survived, though the manor held by the Dean and Chapter of St. Paul's is said to have contained 6 hides in 1066. The two manors seem to have been always about the same size. In 1838 Chingford St. Pauls comprised over 500 a., Chingford Earls over 600 a., but the latter then included the small manor of Gowers and Buckerells, which had grown up in the later Middle Ages. (fn. 218)
In 1086 the arable land in Chingford was being cultivated by a total of 9 plough-teams, 6 of which were on St. Paul's manor. There were 100 a. meadow and woodland for 1,000 swine, equally divided between the two manors. St. Paul's had 9 beasts, 2 rouncies, 27 swine, and 100 sheep. Gernon's manor had 21 swine, and no other animals, but contained the only mill, and 4 out of the 6 fisheries. (fn. 219) The quantity of arable suggested by these figures was well up to the average of south Essex, and perhaps a little higher, since it is stated that Gernon's manor could employ two ploughs more than were in use in 1086. (fn. 220) The later history of Chingford makes it clear that the Domesday meadows were beside the River Lea. They provided pasture for the sheep, then kept for milk as well as mutton and wool. The most notable feature of Chingford's agrarian economy in 1086 was the large area of woodland represented by pasture for 1,000 swine. If J. H. Round's method of calculating the relative density of woodland is applied, the proportion of swine per hundred acres in Chingford was about 36, which was much higher than that for any other place in this part of Essex. (fn. 221) The numbers of livestock on the two manors was not large at the time of Domesday. Between 1066 and 1086 Robert Gernon's manor had lost two plough-teams and almost half the other animals, from what cause is not stated. The Domesday populations of the two manors were very similar. In 1086 Chingford St. Pauls had 8 villeins, 6 bordars, and 4 serfs; one villein and 3 bordars had been added since 1066. Gernon's manor had 7 villeins, 6 bordars, and 4 serfs in 1066 and in 1086.
In Chingford, as in neighbouring parishes, a gradual clearance of the forest (fn. 222) was going on in the 12th and 13th centuries, and new land was brought under cultivation. Chingford St. Pauls was surveyed in 1181 and 1222. In 1181 the demesne of the manor contained 145 a. arable, 17 a. meadow, 17 a. pasture in the marsh, a grove of 2 a. near the manor house, and about 200 a. growing wood (de bosco vestito). (fn. 223) In 1222 there were 180 a. arable, 18½ a. meadow in one place, and in another a virgate less 7 a. suitable for reaping, 18 a. pasture for oxen, a grove of 3 a., and a hide of growing wood. (fn. 224) The increase of arable, meadow and pasture and the decrease of woodland is clear from these figures. The tenants' land in 1222 comprised some 250 a., and also some 35 a. old assarts and 19½ a. new assarts, which were presumably additional to assarts made on the demesne. (fn. 225) In 1227 St. Paul's had licence to assart 16 a. in Chingford, and in 1277 they were arrented for a further 24 a. (fn. 226) In 1421 the manor of Chingford Earls contained 200 a. arable, 35 a. meadow, and 19 a. pasture. (fn. 227) Buckerells carried at least 2 plough-teams, 300 sheep and 10 cows in 1265. (fn. 228)
A survey of Chingford St. Pauls in 1558, and one of Chingford Earls in 1564, suggest (though some of the details are ambiguous) that the proportion of arable to meadow and pasture had remained fairly constant. The St. Paul's survey describes a total of some 525 a., of which 176 a. were on the demesne. (fn. 229) Of the total some 45 a. were meadow, 40 a. marsh and 30 a. pasture. There were a few groves of 2 or 3 a. and the rest of the land lay in closes, presumably arable. Chingford Earls comprised over 600 a., of which at least 70 a. were marsh, 25 a. meadow, 50 a. pasture, and 100 a. woodland (mainly at Larkswood). The remainder, 300 a. or more, appears to have been arable, described as 'field', 'close', 'land', or 'tenement'. (fn. 230) Gowers and Buckerells, surveyed about 20 years earlier, presents a different picture. (fn. 231) It contained 80 a. arable, 30 a. meadow, 100 a. pasture, 40 a. wood and 10 a. marsh. The large proportion of meadow and pasture suggests dairy farming and the fattening of livestock such as were being carried on elsewhere in south Essex at this time by enterprising graziers like William Pownsett of Barking. (fn. 232)
By the beginning of the 19th century pasture predominated throughout the parish, as elsewhere in this part of Essex, which was then well known for its dairy farming. (fn. 233) Ogborne (1814) stated that Chingford then contained 590 a. arable, 1,320 a. pasture, and 120 a. wood; these figures clearly do not include the forest wastes. (fn. 234) In 1838 there were estimated to be 462 a. arable, 1,505 a. meadow or pasture, 142 a. woodland and 350 a. common land, most of which was forest waste. (fn. 235) At that time the four largest farms were of 271 a., 178 a., 126 a., and 98 a. There were 7 other farms of 50 a. or more. Soon after this much of the forest land in the parish was inclosed for cultivation, but this new farm land was returned to the forest by the Epping Forest Act of 1878. (fn. 236) Until the First World War the suburban development of Chingford was slow, and as late as 1922 there were still a dozen farms under cultivation. (fn. 237) Since then most of the parish has been built up, but the forest remains and the town council has also retained over 200 a. of land in its parks and allotments: the largest of these is Larkswood Park (47 a.), where part of the ancient wood is preserved. The building of the King George V Reservoir (completed 1913) and the Girling Reservoir (1951) has involved the flooding of most of the marshland meadows beside the Lea.
It seems likely that at Chingford, as at Waltham Holy Cross and Nazeing, there were arable open fields in the Middle Ages. In the St. Paul's survey of 1222 the holding of each tenant is listed. Excluding the assarts there were three half-virgate tenements, three of a quarter-virgate, 17 of 8 a. and 9 of 5 a. (fn. 238) The survey states that on this manor the hide contained 4 virgates, the virgate 30 a., that the acre was 40 perches long and 4 perches wide, and that the perch was 16½ ft. (fn. 239) Thus described the acre is clearly in the form of the 'furlong' into which blocks of open-field strips were grouped. The fact that there was so little difference in the size of the tenants' holdings also suggests farming in common. In 1271 a tenant at Chingford was presented for removing a boundary mark (divisa) between her land and that of another. (fn. 240) Their lands must have been in an open field. Open fields had certainly disappeared in the parish by the mid-16th century, when surveys were made of the three manors (see above), but on Chingford Earls manor there were inter alia two fields called Great Southfield and Little Southfield, of 50 a. and 13 a. respectively. (fn. 241) Both were inclosed by that time, but if they had previously been one, the great size of the original Southfield as well as its name, would seem characteristic of an open field. Another field in Chingford was Manfield (near the present Mansfield Hill), the name of which actually meant 'open field'. (fn. 242)
The existence of open field arable is strongly supported by the certain evidence that some of the marshland meadows beside the Lea were farmed in common until the 20th century. In 1838 there were three such areas. In the extreme north was Chingford Common Marsh. (fn. 243) Adjoining this to the south lay three meadows, Long Farthings, Short Farthings and Goslings: these were called 'changeable lands'. In the extreme south of the parish was another meadow called the Naze or Ney. (fn. 244) This also comprised changeable lands. Both the common marsh and the changeable lands were divided up into numbers of strips or doles, each of which was for part of the year in private ownership. (fn. 245) In the common marsh the owner of a strip cut the grass grown on it. In the changeable lands the ownership of the grass, though not of the soil, was re-allotted each year: each owner might cut the grass on a strip equal in size to his own holding. Grass-cutting began on 24 June and had to be completed by 13 August (Old Lammas Day). After this householders resident in the parish had the right to pasture certain animals on the meadows until the following 6 April. These common rights of after-pasture certainly applied to the common marsh, Long Farthings, Short Farthings, and Goslings. It is not clear how far they applied to the Naze. In 1735 it was stated that the lord of each manor in Chingford had the right of after-pasture on his lands in the Naze. (fn. 246) In 1821 the parish vestry rejected a proposal to employ an attorney 'to try the right of the pasture of the Ney as Lammas land or not'. (fn. 247) These common rights were extinguished about 1903, when the marshland was acquired by the East London Waterworks Co. for the construction of its reservoirs. (fn. 248)
The river Lea does not seem to have been much used by Chingford men as a means of communication, but the fisheries there were important. In 1086, as stated above, Chingford (Earls) had four fisheries and Chingford St. Pauls two. There continued to be fisheries in the Chingford part of the river until the present century. About 1295 John de Luco, lessee of Chingford St. Pauls, made an agreement with Richard Manning concerning a bank which Richard had raised in the Lea to improve his fishery. (fn. 249) The Manning family were fishermen in Chingford until late in the 14th century. In 1355 Ralph and William Manning were said to have obstructed the river within the manor of Chingford (Earls) for the purpose of their trade. (fn. 250) In 1363 John Bernewelle, rector of Chingford, leased to John Manning a fishery a league in length, at 2s. a year. That fishery was subsequently granted to Walter Smith, then to Peter Hereford, who in 1407 was said to have withheld the rent for 17 years. (fn. 251) In 1369 John, son of William Manning, released to John Bierners of London all his rights in a fishery. (fn. 252) Another medieval fishery is mentioned in a conveyance of 1411. (fn. 253) A fishery belonged to the manor of Gowers and Buckerells in 1544. (fn. 254) Fisheries attached to Chingford Earls are mentioned in various 16th- and 17th-century documents. (fn. 255) At least one of them was copyhold, and lay in the mill-stream near Chingford Mill. One belonging to the lord of the manor continued until c.1906. (fn. 256)
In 1086 there was a mill on the manor of Chingford (Earls) (see above). There are further references to a watermill on that manor until the 17th century. (fn. 257) In and after the 16th century a watermill was appurtenant to Chingford St. Pauls. (fn. 258) This was near Chingford Hall. In c. 1777 it was a fulling mill. (fn. 259) In c. 1848–82 it was a corn mill. (fn. 260) In 1882 it was taken over by the East London Waterworks Co. which constructed a pumping station there. (fn. 261)
The clay soil of the parish provided material for the making of pottery, tiles, and bricks. This industry was carried on from early times, though never on a large scale. 'John the potter' and 'the potter's widow' occur in 1222. (fn. 262) There was a tilehouse in 1476–7 and 1564, which still existed in 1760. (fn. 263) Tilekiln field, at north Chingford, is shown on the tithe map of 1838. (fn. 264) In c. 1863 there was a brick-kiln on the Plain, near Pole Hill. (fn. 265) There was a brickmaker in New Road in 1906. (fn. 266) Two weavers of Chingford occur in 1586. (fn. 267) The use of Chingford Mill for fulling, in c. 1777, has been mentioned above. A glover occurs in 1646. (fn. 268) About 1850 pinmaking was being carried on at Roper's Farm. (fn. 269) After the opening of Epping Forest in 1882 feeding and entertaining holiday visitors became an important occupation in Chingford. Eight tea-gardens appear in a directory of 1886. (fn. 270) In 1906 10 teagardens, 7 other eating-places, 2 refreshment contractors, and a steam roundabout proprietor are listed. (fn. 271) During the past 40 years a small industrial area has grown up in south Chingford, near the North Circular Road. Factories there make cork, wood and rubber products, and typewriter platens. (fn. 272)
FOREST.
The whole parish of Chingford lay within the ancient Forest of Essex. In the Middle Ages it was part of the forest bailiwick of Waltham. (fn. 273) In the 16th century, when the bailiwicks were replaced by smaller 'walks', the parish comprised Chingford Walk. (fn. 274) The forestership of this walk was held in the mid-16th century by Roland Rampston and later by his son Robert, both lords of the manor of Gowers and Buckerells. (fn. 275) In 1590 the forester was (Sir) Robert Wroth (d. 1606), lord of the manor of Loughton, and forester also of Loughton Walk. (fn. 276) The office was held in the early 17th century by Edward Denny, Earl of Norwich, lord of the manors of Waltham and Sewardstone, who also held New Lodge and Epping Walks; he was succeeded by his grandson James Hay, Earl of Carlisle. (fn. 277) Edward Russell was appointed forester in 1663 (succeeding Carlisle) and John Russell in 1666. (fn. 278) They were probably relatives of William Russell, Earl (later Duke) of Bedford, who was one of Carlisle's executors. (fn. 279) In the 18th and early 19th century the forestership descended along with the manor of Chingford Earls. (fn. 280)
The Domesday figures for swine-pastures show that Chingford was well-wooded in the 11th century, but even then the parish had a considerable amount of arable land, which was increased by subsequent forest clearance. (fn. 281) The making of Fairmead Park in 1543–4 is described below. Although this project was soon abandoned it probably resulted in some clearance of woodland at Chingford Plain, in the north of the parish.
By c. 1640 the woodland in Chingford covered an area little greater than it does today. (fn. 282) In the mid19th century considerable inclosures of forest land took place, mainly at Chingford Plain. In 1863 it was stated that Richard Hodgson, lord of Chingford St. Pauls, had inclosed at least 170 a., west of Queen Elizabeth's Hunting Lodge, and that the Revd. R. B. Heathcote, lord of Chingford Earls, had inclosed 50 or 60 a., also near the Lodge. (fn. 283) Much of this inclosed land was ploughed up (fn. 284) but, following the Epping Forest Act (1878), it was thrown back into the forest after some contention. (fn. 285) Shortly before the Act the City of London had bought the soil of the waste lands of the manor of Chingford St. Pauls, comprising 275 a., and that of Chingford Earls, comprising 141 a. (fn. 286) Since 1878 there have been some small additions to the forest at Chingford. (fn. 287)
The inhabitants of Chingford had the ancient right to pasture cattle, branded with their mark, a crowned 'G', within the forest. (fn. 288) Until the 17th century they also had extensive rights of estovers but these seem to have lapsed by the time of the Epping Forest Commission. (fn. 289)
Until the 17th century the kings of England frequently hunted deer in the forest. Henry VIII, who acquired Chingford Earls in 1541 and Chingford St. Pauls in 1544, and who for a short time before 1544 also held Gowers and Buckerells, converted part of the forest in the north of Chingford and the south of Waltham Holy Cross (fn. 290) into Fairmead Park, furnishing this with 'standings' or grandstands. In February 1543 £30 were paid towards finishing the Great Standing in the new park, and making paddocks there. (fn. 291) A few months later a further payment was made for the work, (fn. 292) and in the same year Sir Richard (later Lord) Rich was appointed keeper of the new park with the old and new lodges. (fn. 293) The old lodge was probably Fairmead Lodge (fn. 294) and the new one the Great Standing already mentioned. In 1544 Roland Rampston received £20 compensation for his interest in the manor of Gowers and Buckerells, mostly enclosed in Fairmead Park. (fn. 295) The park appears to have included also 57 a. within the manor of Chingford St. Pauls. (fn. 296) It is not clear whether the park was completed, but in any case it had been 'disparked' by 1553. (fn. 297) The king's short-lived project, which has received little attention from local historians, did, however, leave its mark on local topography. The name survives in Fairmead Bottom and Fairmead Thicks, and one of the park buildings is Chingford's outstanding ancient monument, now called Queen Elizabeth's Hunting Lodge. (fn. 298) There is no doubt that the Hunting Lodge is identical with the Great Standing of 1543, having been originally built to provide a good view of the hunt. It is a small L-shaped building of three stories with a staircase wing, timber-framed, with exposed moulded beams within and open roof trusses; the two upper stories formerly had open studding instead of windows. It was still known as the Great Standing in 1589, when a royal commission surveyed it for repairs. (fn. 299) On a map of c. 1640 it appears as the High Standing. (fn. 300) During the later 18th century it became customary for the manor court of Chingford Earls to meet there, no doubt because the lords of that manor were foresters of Chingford Walk. (fn. 301) In c. 1814, and probably earlier, the building was being used as a gamekeeper's house. (fn. 302) By that time it was known as Queen Elizabeth's Hunting Lodge, a name that goes back at least as far as 1777. (fn. 303) When the City of London became conservators of Epping Forest, under the Act of 1878, the Crown transferred the Hunting Lodge to them, and in 1895 it became the Epping Forest Museum. (fn. 304) The building was thoroughly restored in 1899–1900. (fn. 305)
Between 1798 and 1806 a pack of staghounds was kept at Chingford Green by William Mellish. (fn. 306) The kennels, which formed a large quadrangle, are said to have been among the most complete in the country. (fn. 307) The house 'Kilgreana' survives from this establishment, which included two ornamental ponds. (fn. 308)
The preservation of Epping Forest and its dedication to the public came soon after the opening of the railway to Chingford, (fn. 309) which gave Londoners rapid access to this part of the forest. Chingford Plain became popular with day-trippers for whom the railway provided an excellent service. The peak of railway travel to the forest was probably reached immediately after the First World War. On Whit Monday 1920 100,000 people arrived at Chingford station by a 5-minute service. (fn. 310) The pleasure fairs on the Plain inspired part of Somerset Maugham's Liza of Lambeth. (fn. 311)
LOCAL GOVERNMENT.
Court rolls or books of the manor of Chingford Earls survive for 1463–75, (fn. 312) 1554–67, (fn. 313) 1587–1615, (fn. 314) and 1660–1934. (fn. 315) There are also two collections of extracts from court rolls, for 1366–1518 and 1367–1518. (fn. 316) All these records are of courts baron only. For the manor of Chingford St. Pauls there are rolls and books for 1587– 1685 and 1710–1924. (fn. 317) Some of these overlap and there are extracts of part of the series. Courts leet for this manor were recorded up to 1822. They were normally held annually, in Whit week, up to about 1760, after which they became irregular and infrequent. The number of jurors varied between 12 and 15. The leet was concerned mainly with the upkeep of roads, unlicensed inclosures of manorial waste, the cutting of wood in the forest, and the regulation of the common marsh. It appointed two constables, two aleconners, and a marshwarden (2 marshwardens from 1677). The latter's duties included the supervision of cattle on the common marsh and the changeable lands, and the annual marking-out of strips there. (fn. 318)
During the late 18th and early 19th centuries the courts of Chingford Earls were held at Queen Elizabeth's Hunting Lodge. In 1814 the courts of Chingford St. Pauls were being held at a public house at the Green. (fn. 319)
Vestry minutes survive for 1764–71, 1785–95 and 1813–23, overseers' accounts 1795–1836, surveyors' accounts 1810–21, and churchwardens' accounts 1810–32. (fn. 320) In the period covered by the vestry minutes meetings were held monthly. Attendance, as indicated by the numbers signing the minutes, was usually between 5 and 12. The rector was usually present. There was a salaried vestry clerk and the vestry appointed the usual unpaid officers. In 1786 it also appointed an assistant overseer and surveyor. In 1823 an assistant overseer, surveyor, and tax collector was appointed at £25 a year. As the court leet declined the vestry began to nominate the constables, marshwardens, and aleconners.
Separate rates were levied by overseers, surveyors of highways, and churchwardens. The distinction between them was not always rigidly maintained. Thus in 1810 and 1811 the churchwardens' accounts included small sums spent on casual poor relief, while the overseers paid some of the churchwardens' bills in 1810 and in the following years were instructed to make payments to the church singers. The constables' expenses were paid out of the poor rates.
The parish records often mention the poorhouse and the workhouse. A reference of 1814 makes it clear that these were then one and the same institution, and it is probable that this was always so. In c. 1800–10 the vestry was sending some of its poor to a workhouse (sometimes called a hospital) kept by a Mr. Overton at Mile End, in Stepney (Mdx.). From 1800 there are also references to parish almshouses, which were distinct from the poorhouse. These were maintained and administered by the vestry, which sometimes charged their inmates a small rent. They were probably at Chingford Green, on the site where in 1859 new almshouses were built. (fn. 321)
For most of the period the vestry also gave outdoor relief in cash or in kind to paupers whose numbers varied from about 7 to 25. In 1813, however, it was decided that in future relief should be provided only in the workhouse. A workhouse committee was appointed, a different, and no doubt larger, house was leased from a Mr. Carter for use as the workhouse, and a contract was made with a master to farm the paupers there. This building was probably identical with Little Tushers, which in 1838 stood at the junction of the present Endlebury Road and the Ridgeway, and was then occupied by George Carter. (fn. 322) In 1820 it was further decided that farmers in the parish should be compelled to provide work at 6s. a week for unemployed labourers, who were to be assigned to them by lot. This scheme continued for at least two years. In 1815 the vestry ordered the building of a lock-up or cage. This was demolished in 1887. (fn. 323) In 1803 the vestry sponsored the formation of a company of volunteer infantry. (fn. 324)
Between 1766 and 1770 the poor rate averaged about £175. The average for 1783–5 was £260. (fn. 325) Between 1796 and 1811 it was about £370. It then rose sharply, to about £560 between 1812 and 1821. (fn. 326) The new relief policy introduced in 1813 was no doubt designed to check this increase, but it failed to do so. The average for 1825–8 was about £810. These figures, however, compare favourably with those for Nazeing, a neighbouring parish with similar population, which was itself less severely depressed than some other parishes in this part of Essex. (fn. 327)
In 1836 Chingford became part of Epping Poor Law Union. It was made an urban district in 1894 and a municipal borough in 1938, (fn. 328) since when there have been 7 wards. (fn. 329)
Chingford was part of the Central Criminal Court District and thus, in 1839, came under the Metropolitan Police. (fn. 330)
CHURCHES.
The church of Chingford is first mentioned in 1181. (fn. 331) It was evidently built on the manor of Chingford Earls. The advowson descended along with that manor. (fn. 332) It was usually held by the lord of the manor, but during two periods it was held by the lessees of the manor: the Knights Templars (1270–1308), and the Leigh family (1564–1621). Robert Leigh presented in 1632, even though no longer lessee, but from the following year the advowson reverted to the lord of the manor. On several occasions the presentation was sold for one turn. In 1254 the Abbot of Waltham was said to be patron jointly with the lord of the manor, (fn. 333) but there is no other evidence of this claim or that the abbot ever presented. In 1441 the king presented during the minority of Thomas Ros, Lord Ros. In 1960 the patron was Mr. J. H. B. Heathcote. (fn. 334) The benefice has always been a rectory except for a short period in the late 13th and early 14th centuries when the Knights Templars, to whom the advowson was leased along with the manor in 1270, appropriated the church and appointed a vicar. (fn. 335) After the dissolution of the Templars the benefice again became a rectory and there are no later references to vicars.
The rectory was valued at £10 in 1254, (fn. 336) £11 6s. 8d. in 1309, (fn. 337) and £14 5s. 4d. in 1535. (fn. 338) In 1650 the value was estimated at £94 (fn. 339) and in the 18th century at £160. (fn. 340) In 1181 it was stated that the church received nothing from the demesne of Chingford St. Pauls, but only the tithes of the tenants' corn. (fn. 341) In 1230 the rector, by agreement with the lessee of Chingford St. Pauls, surrendered his claim to the tithes of the demesne in return for 2 a. wheat and 1 a. oats. (fn. 342) In 1309 it was stated that the vicar had been receiving annually 4 qr. corn, 4 qr. oats, and the small tithes. (fn. 343) By 1838, when the tithes of Chingford were commuted for £565, there was no tithe-free land. (fn. 344) In 1637–8 the rector, John Russell, was engaged in litigation with three parishioners whom he accused of withholding tithes: Robert Snell (hay), (fn. 345) a man named Taverner (pigs and fruit), (fn. 346) and William Clarke (tithes of a mill). (fn. 347) In the last case Clarke claimed that the rector had agreed to remit tithes on his mill on condition that he and his friends had free passage over a toll-bridge controlled by the miller. A terrier of the rectory, also dated 1637, claims tithes of 'corn, hay, wool, calf, fruits, pigeons, pigs, geese and wood, paid in kind'. (fn. 348) In 1650 the tithes were valued at £74. (fn. 349) In 1735 it was stated in the court of the manor of Chingford St. Pauls that no tithes were paid on wood in the parish and that the rector had 4 'doles' of meadow in the Ney in lieu of hay tithe. (fn. 350) These doles, or strips, of meadow had been described in 1637 as 'lately discovered, and now in the possession of the church'. (fn. 351) In that year the glebe consisted of 28 a. in addition to the doles. (fn. 352) In 1610 there had been only 22 a. glebe. (fn. 353) There were 18 a. glebe in 1838. (fn. 354)
The original rectory house stood at the west end of the churchyard. In 1610 it contained 'a parlour with a buttery adjoined, a hall, with a buttery for beer, a kitchen with a little low house adjoining to it, wherein is a little milkhouse… 4 upper chambers, one with a study, and another with a little closet'. The house had been recently repaired by the rector, Nicholas Bowe, who had also erected new outbuildings. (fn. 355) In 1637 the rectory was said to be 'in part new built'. (fn. 356) During the long incumbency of Robert Lewis (1778–1828) the house became dilapidated, and his successor, Robert B. Heathcote, rebuilt it in 1829. (fn. 357) Heathcote, who was lord of the manor of Chingford Earls as well as rector, later built and lived at Friday Hill. (fn. 358) In 1848 a curate was occupying the rectory. (fn. 359) Since the late 19th century several houses near the Green have served successively as the rectory. (fn. 360) The old rectory, now called Rectory Court, still survives in Rectory Close.
Morant describes a strange custom connected with the rectory of Chingford. (fn. 361) An estate in the parish 'lately in possession of Daniel Haddon of Broxted', called Scotts Mayhews, alias Brindwoods, and worth £24 a year, was held of the rector. Each owner, on succeeding to the estate, went to the rectory with his wife, manservant and maidservant, all on horseback, taking a hawk and a greyhound for the use of the rector that day. He blew three blasts on his horn and was then received by the rector, who provided refreshment for the visitors, including a peck of oats for the tenant's horse, a chicken for the hawk, and a loaf of bread for the greyhound. After the meal the tenant blew three more blasts on his horn and then departed. The custom had died out by 1796. (fn. 362) Whether it was still observed in c. 1768, when Morant wrote, is not certain, but it certainly survived until 1721, when the rector, Francis Haslewood, described it in a letter which states that Scotts Mayhews was at Chingford Hatch, and gives certain details not mentioned by Morant. (fn. 363)
John Russell, whose disputes with parishioners have already been mentioned, was instituted in 1634. He was a Laudian, and author of The Solemn League and Covenant Discharged. (fn. 364) In 1636–7 he carried out promptly the order to rail the communion table. (fn. 365) He was ejected in 1644, when he was charged with cursing, swearing, and gaming. (fn. 366) During the next 16 years five ministers in succession served the cure. (fn. 367) Russell was restored in 1660 and remained rector until his death in 1688. (fn. 368) In the 18th and 19th centuries there are occasional references to assistant curates. (fn. 369)
In 1265 there was a chapel on the manor of Chingford St. Pauls. (fn. 370) With this exception the parish church appears to have been the only place of worship until the 19th century. In the 18th century services were being held twice on Sundays. (fn. 371) The church was situated in an isolated position in the west of the parish about a mile from each of the three main hamlets. In 1844, during the incumbency of R. B. Heathcote, a new church was built at Chingford Green. The old church was allowed to decay but was restored in 1928–30 and is now used regularly as a chapel-of-ease.
The old church of ALL SAINTS was so called in 1397. (fn. 372) By 1710 its name had been changed to ST. PETER AND ST. PAUL, (fn. 373) but in 1844 that dedication was transferred to the new church, and the old church has since then been known by its earlier name of All Saints. The building consists of chancel, nave, south aisle, south porch, and west tower. (fn. 374) The walls are mainly of ragstone and flint rubble except for the porch, which is of brick. There was certainly a church here in the 12th century (see above) and the north wall of the nave probably dates from that period. The south aisle and arcade were built late in the 13th century, and the tower was added about 1400. In the mid 15th century the chancel was completely rebuilt and the nave and aisle were reconstructed. A will of 1460 mentions the making of the new chancel, and one of 1467 the repair of the aisle. (fn. 375) The porch was built early in the 16th century. In 1547 the churchwardens pawned a chalice and cross to pay for a new roof and other repairs to the church. (fn. 376) In 1565 it was stated that the 'arches of the chancel wall' had fallen down. (fn. 377) In 1636–7, when the communion table was railed, new tiles were laid in the chancel. In carrying out this work the rector, John Russell, and the churchwarden, John Burnett, became involved in a dispute with the parishioners, who thought that they had acted in a high-handed and extravagant manner. (fn. 378) In 1683 the archdeacon ordered that the communion table should be railed and placed altar-wise. (fn. 379) This suggests that the rails set up in 1636–7 had been removed during the Civil War. About 1700 the walls of the aisle were heightened in brick.
A writer in 1794 describes the church as being in very sound repair. (fn. 380) By this time, however, much of the building was overgrown with ivy, (fn. 381) which caused it to be known as 'the green church', (fn. 382) and contributed to its decay. After the new church was opened All Saints was used only for occasional services. (fn. 383) It gradually became a picturesque ruin, the resort of artists and photographers. (fn. 384) In 1904 the roof of the nave and south aisle collapsed, wrecking the arcade. The chancel had throughout been better preserved, and in 1905 this was again repaired and most of the ivy was removed from the church. (fn. 385) By the First World War suburban building was approaching the old church, and the repair of the whole building was being discussed. (fn. 386) A thorough restoration, by C. C. Winmill, was completed in 1930, with the aid of £6,000 from Miss Louisa Heathcote. In rebuilding the south arcade much of the old material was used. (fn. 387)
When the new church was built in 1844 the 12th-century font, 17th-century chest, 18th-century pulpit, the bells, plate, and some of the sepulchral monuments were transferred from the old church. In 1930 the bells, part of the plate, and the monuments, were restored to All Saints. There are three bells, of 1626, 1657, and 1835. (fn. 388) The plate at All Saints includes a cup and paten of 1595. (fn. 389) The chalice and cross, pawned in 1547, have been mentioned above. A chair in the sanctuary, dated 1630, came from Friday Hill house. (fn. 390)
The oldest sepulchral monument is a slab containing the indents of brasses to Robert Rampston (1585), lord of Gowers and Buckerells, and his wife Margaret (1590). This was originally part of an altar tomb in the south aisle. (fn. 391) When the church was dismantled in 1844 the tomb was removed and the slab with the brasses placed in the chancel. The brasses were stolen in 1857 but rubbings of them exist. (fn. 392) A brass to Mary (d. 1580) wife of William Udall, has disappeared since 1715. (fn. 393) Also in the chancel are a number of monuments to members of the Leigh family, lords of Chingford St. Pauls, and the Boothby family, lords of Chingford Earls. That to Mary, wife of Sir Robert Leigh (1602), depicts a reclining woman with a swaddled child. (fn. 394) Sir Robert himself (1612) (fn. 395) and Margaret Leigh (1624), wife of his son Robert, are shown kneeling at prayer-desks.
The church of ST. PETER AND ST. PAUL, at Chingford Green, consists of nave, aisled chancel, and west tower with spire. The original building was designed by Lewis Vulliamy, in the Gothic style, in 1844. In 1903 the present very large chancel, with Perpendicular features, was added by Sir Reginald Blomfield. The church is of yellow brick with panels and chequerwork in dark flints. The 12th-century font, 17th-century iron-bound chest, and 18th-century pulpit, a paten of 1698, and flagon of 1705 all came from the old church.
The church of ST. EDMUND, in Chingford Mount Road, was opened in 1909. (fn. 396) A church hall was built in 1927, and a new church designed by N. Cachemaille-Day, in 1938. (fn. 397) The patronage was originally held by the bishop and the Crown alternately but the Crown last appointed a minister of the district in 1936. A separate parish was formed in 1939 and since then the advowson of the vicarage has been held by the bishop alone. (fn. 398)
An iron mission church was opened at Chingford Hatch in 1890 on a site given by the Ainslie family of Rolls, Inks Green. (fn. 399) Elizabeth Ainslie, by her will proved 1901, left £1,500 for the erection of a permanent church. (fn. 400) By 1953 this legacy, including interest, amounted to £4,056. In that year it was used, with other funds, to build the present church of ST. ANNE, for which a new parish was formed. The advowson of the vicarage is held by the bishop. (fn. 401)
The mission church of ST. FRANCIS, Hawkwood Crescent, was erected in 1951. It is within the parish of St. Peter and St. Paul. (fn. 402)
ROMAN CATHOLICISM.
The church of OUR LADY OF GRACE AND ST. TERESA, Station Road, was founded in 1919. The present building was erected in 1931. (fn. 403) The Dominican Convent of the Holy Rosary, Forest View, was opened in 1921. (fn. 404)
PROTESTANT NONCONFORMITY.
In 1644 Abraham Burton of Chingford was indicted for being absent from church and frequenting unlawful conventicles. (fn. 405) In 1790 the only dissenters in the parish were 'two or three Methodists'. (fn. 406) In 1829 a Wesleyan society at Chingford, numbering about 30, formed part of the Waltham Abbey Circuit. (fn. 407) In 1862 a small Wesleyan church was built in Hatch Lane, Chingford Hatch. (fn. 408) There is no evidence that this was connected with the congregation of 1829. In 1936 the site of the church was compulsorily acquired by the London County Council for a slum clearance scheme. After delays caused by the Second World War a new church was built in 1948, in Connington Crescent. The Chingford Hatch Church was in the Wanstead and Woodford Circuit from 1879 until 1954, when it was transferred to the Chingford Circuit. (fn. 409)
In 1898 the Wanstead and Woodford Wesleyan Circuit began to consider building a church at north Chingford. Little progress was made and responsibility was eventually transferred to the Clapton Circuit, which in 1905 erected an iron building in Station Road. (fn. 410) The present church, designed by George Baines & Son, was built in 1927. (fn. 411) It is now in the Chingford Methodist Circuit, formed in 1941. (fn. 412)
Another Wesleyan church, also in the Clapton Circuit, was opened in New Road in 1931. This is now used as the church hall. The present church was opened in 1935. (fn. 413) It is now in the Chingford Circuit.
In 1829 the London Itinerant Society had a Sunday school in the parish, and an evening lecture attended by about 50. (fn. 414) The society was active in Chingford Green in 1829–30, and occupied a room in Chingford Hatch in 1835, but these missions did not prosper, (fn. 415) and the present Congregational churches have no connexion with them.
The Congregational Church, Buxton Road, was founded in 1888, and met at first in the Victoria Coffee Palace. (fn. 416) In 1889 a site was bought and services were held there in an iron building. The Spicer Hall was opened in 1890 as a memorial to James Spicer of Woodford, whose family provided most of the money for it. The Revd. J. W. Ellis, of Walthamstow, and the Revd. E. T. Egg, of Woodford, acted successively as honorary pastors until the appointment, in 1890, of the Revd. H. T. Andrews (later a distinguished New Testament scholar), as the first minister. A new church, adjoining the Spicer Hall, was built in 1910. (fn. 417) In 1893 the church opened a mission in Low Street (now Sewardstone Road). This closed in 1903, but by that time another mission had been started in south Chingford, which led to the formation of a new church. Throughout its history the Buxton Road church has maintained a minister with only short vacancies. Membership has usually been between 100 and 150. (fn. 418)
The South Chingford Congregational church originated in work done by Baptists and Congregationalists in the Chingford Mount district. (fn. 419) In 1901 this mission was taken over by the Buxton Road church and in 1905 an iron building was erected on the corner of Chingford Mount Road and Hampton Road. Mr. George Gain, from Buxton Road, acted as superintendent from 1905 until 1919, when the South Chingford church became independent and appointed its first minister. The present building was erected in 1954. (fn. 420)
A Baptist mission at north Chingford (1888) and another at south Chingford (1901) were both taken over by the Buxton Road Congregational church. (fn. 421) A Strict Baptist place of worship in King's Road was licensed in 1929, and a church was formed in 1934. (fn. 422) The present church building was erected in 1953. (fn. 423) The Baptist church in Leadale Avenue was founded in 1936; the present building was erected in 1961. (fn. 424)
The Plymouth Brethren built a hall in Kings Head Hill in 1880. (fn. 425) This was sold in 1961 to the St. John's Ambulance Brigade. (fn. 426) The Salvation Army opened a citadel in Chingford Mount Road in 1935. (fn. 427) A Christian Science church, in Woodland Road, was opened in 1925. The present building was erected in 1937. (fn. 428) The Brotherhood Movement opened a hall in Chingford Mount Road in 1926. This was rebuilt in 1954 as the Emerson Memorial Hall. (fn. 429)
SCHOOLS.
In c. 1796 there were a Sunday school and a day school at Chingford, each containing about 20 children and supported by voluntary contributions. (fn. 430) In 1807 there were only two small dame schools in the parish. (fn. 431) In 1815 the parish vestry reserved two rooms in the almshouses (fn. 432) for the use of a charity school, supported by voluntary contributions. (fn. 433) By 1817 a National School for girls had been founded; it then had 36 pupils and received £70 in subscriptions. (fn. 434) In 1818 there were 45 girls attending, and a boys school with 56 pupils, also supported by subscriptions, was reported to be in existence. (fn. 435) Between 1832 and 1838 a new building was probably erected, as during that period the National Society made a building grant to the parish. (fn. 436) In 1846–7 there were 48 boys and 50 girls at the schools, taught by a master and a mistress. (fn. 437) A separate Church school for infants was founded in 1856–7 (see below). In 1868 the three schools, which had 156 children on their books, were being jointly managed. Evening classes were being held for those over 14 years of age. (fn. 438) At this time the boys school was in High Street (now The Ridgeway) near the present Town Hall, and the girls school in Church Street (now Old Church Road). (fn. 439) In 1872–3 a new National School with accommodation for 175 boys and girls, was built in Kings Road adjoining the infants school. The government contributed £251 and subscribers £1,379. (fn. 440) The school was enlarged in 1896 and again in 1911, to provide for the increasing population. (fn. 441) In 1931 the school was re-organized for mixed juniors and senior girls and in 1932 for mixed juniors only. It was granted Controlled status in 1949. (fn. 442) Its present name is the Chingford Church of England junior school.
In 1856–7 an infants school with 48 places was built in Kings Road by the rector, R. B. Heathcote, who retained full control of it until 1873, when a committee of management was formed. It was not in union with the National Society. It was enlarged for 80 places in 1886 and in 1890 received its first government grant. (fn. 443) Further extensions were made as the population increased, and by 1938 there was accommodation for 230. In 1949 the school was granted Controlled status. (fn. 444) Its present name is the Chingford Church of England infants school.
In 1906 the Essex Education Committee opened an elementary school in a temporary building in New Road. A permanent school, South Chingford council school, also in New Road, was erected in 1908, but the temporary building continued to be used for infants until 1912–13, when a new infants department was completed. Attendance rose from 563 in 1914 to 824 in 1929, when the school was enlarged. (fn. 445) In 1931 the senior boys were transferred to the new Chingford senior school and in 1932 the senior girls also. In 1942 the junior and infants departments became separate schools, now known as the Larkswood county junior school and the Larkswood county infants school. (fn. 446)
The following primary schools have been built by the county council during the past 30 years: (fn. 447) Chase Lane junior and infants schools, York Road, opened in 1934 and separate from 1936; Yardley primary school, Hawkwood Crescent, opened 1939; Whitehall primary school, Normanton Road (1940); Longshaw junior and infants schools, Longshaw Road (1949). St. Mary's Roman Catholic primary school, Station Road, was opened in 1931 and became Aided in 1951.
Chingford county secondary (modern) schools for boys and girls, Wellington Avenue, were opened as senior schools in 1931 and 1932 respectively. Heathcote county secondary (modern) school, Normanton Park, was opened in 1950. (fn. 448) Chingford county high school (a mixed grammar school) was opened in 1938, in temporary premises at Hawkwood House. (fn. 449) In the following year it was evacuated to the west of England and it did not begin to occupy its present buildings in Nevin Drive until 1941. The school was enlarged in 1957. (fn. 450)
Among private schools existing in Chingford the most notable is the Roman Catholic St. Egbert's college for boys, The Ridgeway, opened in 1920, and conducted by the Brothers of Mercy. (fn. 451)
CHARITIES FOR THE POOR.
Robert Rampston (d. 1585) left rent charges to be used for the poor in various Essex parishes. (fn. 452) That for Chingford was £3 a year, charged on Stone Hall in Little Canfield. In 1835 the income was being used along with Thomas Boothby's charity (see below) to buy bread, which was distributed every Sunday. (fn. 453) The income of Rampston's charity was received in 1955 but was not distributed; £14 accumulated income thus remained in the hands of the trustees. (fn. 454)
By will proved 1625 Thomas Boothby, lord of Chingford Earls, left a rent charge of £5 4s. a year to provide bread for the poor. (fn. 455) In 1835 the income of this charity was only £3. (fn. 456) Boothby's charity has disappeared since then.
By the gifts of John Popplewell, in 1820, and of his sisters Ann and Rebecca Popplewell, in 1831, a total of £400 was placed in trust, the income to be used to provide coal. (fn. 457) In 1955 the income was spent on coal for the almshouses. (fn. 458)
The Widows' Grass charity, founded at an unknown date, appears originally to have derived its income from the sale of grass grown on about 1½ a. land in the common marsh: this was distributed to poor widows at Christmas. (fn. 459) In c. 1796 the land was being let for £1 10s., which was applied for the same purpose. (fn. 460) By 1833 the rent had risen to £4. (fn. 461) In 1902 the land was sold for £80 to the East London Waterworks Co., who were then planning the King George V Reservoir. The money was invested; in 1955 the income was spent on coal for the almshouses. (fn. 462)
In 1859 four almshouses were built at The Green by public subscription. They appear to have taken the place of some older almshouses, which in the early 19th century were being maintained by the parish. (fn. 463) A fifth house was added in 1887. The management of the houses was vested in the rector and churchwardens. It was originally stipulated that the almspeople were to be members of the Church of England, but this rule is no longer enforced. (fn. 464)
Several charities were subsequently founded in connexion with the almshouses. Anne Ainslie, by will proved 1880, left £1,000 to her sister Elizabeth Ainslie for life, and afterwards for the repair and maintenance of the almshouses, or for gifts to the inmates. Elizabeth died in 1901 leaving a further £1,000 for the same purpose. (fn. 465) Mary Hartwell, by will proved 1922, (fn. 466) and E. S. Young, by will proved 1937, each left £100, (fn. 467) the incomes to provide coal for the almspeople. In 1939 Nelly Ridgers left a house to be sold, the proceeds to be applied to the almshouses at the trustees' discretion. The house was sold in 1956 for £3,675. (fn. 468) In 1960–1 new almshouses comprising six flats in a two-story block were built in Templeton Avenue, at a total cost of £10,221. The assets of Ridger's gift were used for this work, together with £2,000 formerly belonging to the District Nursing Association, £200 from the sale of the site of the old almshouses, and funds raised by public subscription. The sum of £1,000 left over from the public appeal was invested as an additional endowment of the almshouses. (fn. 469)
Harriet Waters, by will proved 1879, left £180, the income to provide coal for the poor. (fn. 470) In 1916 Mrs. Eliza King left £1,000 for the same purpose. (fn. 471) In 1955 the income from these charities was used as stated. (fn. 472)
By her will proved 1933 Mrs. Elizabeth Beech left a house in Chingford Mount Road for use as a holiday home for poor women and girls and provided that part of her estate might be used to convert and endow the building. In 1936 £40,000 was allotted for this purpose and in 1937 the home was opened in rebuilt premises, opposite St. Edmund's church. (fn. 473)