Pages 25-31
A History of the County of Essex: Volume 7. Originally published by Victoria County History, London, 1978.
This free content was digitised by double rekeying. All rights reserved.
HORNCHURCH
Manors, p. 31. Economic History, p. 39. Marshes and Sea Defences, p. 42. Forest, p. 42. Local Government, p. 42. Public Services, p. 44. Parliamentary Representation, p. 45. Churches, p. 46. Roman Catholicism, p. 49. Protestant Nonconformity, p. 49. Judaism, p. 51. Education, p. 51. Charities for the Poor, p. 53.
Hornchurch, about 12 miles east-north-east of the city of London, forms the southern part of the London borough of Havering. (fn. 1) It was a large industrial village until the 1920s, when it rapidly became a dormitory suburb.
The ancient parish of Hornchurch, which was conterminous with the royal manor and liberty of Havering, contained 16,100 a., divided into eight wards. 'Romford side', comprising the five northern wards, became independent of Hornchurch, gradually forming the separate parishes of Romford (four wards) and Havering. 'Hornchurch side' comprising the three (later two) southern wards, with 6,783 a., remained under Hornchurch parish vestry, and from the earlier 19th century constituted the parish of Hornchurch. The following account is restricted to that smaller area, with a few obvious exceptions. Hornchurch parish became an urban district in 1926. The district was extended in 1934 and 1935 to include Upminster, Rainham, Wennington, Cranham, and parts of Great Warley and North Ockendon, all of which were in Chafford hundred. In 1965 the urban district was united with Romford M.B. to form the London borough of Havering.
Hornchurch adjoins Dagenham to the east, extending from the Thames north-east for about 6 miles. The ancient parish church stands in a commanding position 4 miles from the river, on a hill 100 ft. above sea-level. Hornchurch village grew up on the gravel terrace below and west of the church. South of it were Hornchurch marshes, to the north the heavy London clay. The north-east corner of the parish comprising the manors of Gubbins and Redden Court, became known in the later 19th century as Harold Wood, from the railway station there. It must be distinguished from Harold Wood ward of Romford side, which lay farther north. The river Rom, continuing as the Beam, flows south to the Thames, forming Hornchurch's western boundary. (fn. 2) South-west of the old village it is joined by the river Ravensbourne, formerly Bolles or Bowles brook, coming from Gidea Park, in Romford. (fn. 3) The river Ingrebourne, which also flows south to the Thames, is Hornchurch's eastern boundary, with Upminster and Rainham. It was sometimes known in the Middle Ages as the Bourne or the Haveringesheth. (fn. 4) It is joined at Harold Wood by Paine's brook, coming from Harold Hill, in Romford. (fn. 5)
Roman remains, sufficient to prove a settlement, have been found at Mardyke farm, south Hornchurch. (fn. 6) In 1086 the name Havering was applied without distinction to the whole of that large manor, and it is not until the middle of the 12th century that the records begin to show the pattern of settlement in fuller detail. By the 1150s the king's house stood in its park by Havering Green. (fn. 7) In c. 1158 Henry II gave land at Havering, i.e. Suttons in south Hornchurch, and by 1163 also the church of Havering, i.e. Hornchurch, to the hospice of St. Nicholas and St. Bernard, Montjoux (Valais, Switzerland): that was the origin of Hornchurch priory, which was built beside Hornchurch church. (fn. 8) Since the parish church was already there, Hornchurch village was probably a well-established settlement by c. 1158. The name Hornchurch was first recorded in 1222. (fn. 9) From the 13th century onwards Hornchurch was a flourishing community, with at least 10 subordinate manors, several other farms, and a leather industry. (fn. 10) In 1522–3 it contained 156 taxpayers, of whom 56 were in the 'town' ward, 73 in South End, and 27 in North End. (fn. 11) Over the whole area that represents one taxpayer to 43.5 acres, a density only a little lower than in Romford side, where the corresponding figure was 42.35. The town ward, i.e. Hornchurch village, had a very small area, and thus a relatively dense population. (fn. 12) In 1670 the three wards contained a total of 185 houses, compared with 364 in Romford side. (fn. 13) This suggests that between 1523 and 1670 Hornchurch did not grow much, and was far outstripped by Romford. It was, however, more populous in 1670 than Dagenham, a neighbouring parish of similar area. (fn. 14) In 1801 the population was 1,331. (fn. 15) It rose slowly to 2,186 in 1831, but then remained almost stationary until the 1870s. It increased to 3,841 in 1891, 9,461 in 1911, and 28,417 in 1931. Later figures were for the enlarged urban district: 90,800 (estimated) in 1938, (fn. 16) 104,082 in 1951, and 131,014 in 1961. At each of the last two dates about 70 per cent were in Hornchurch parish. (fn. 17)
In the Middle Ages the main street of the village was Pell (now High) Street, probably named from the leather industry. (fn. 18) At the east end of the street, nearly opposite the church, a hoard of 448 silver pennies of c. 1223–60, with a few contemporary Scottish and Irish coins, was found in 1938. (fn. 19) The dissolution of Hornchurch priory in 1391 had little effect on the topography of the village. The priory buildings seem to have been adapted to serve as the Rectory (Hornchurch Hall), east of which the Vicarage was built in the year 1399–1400. In c. 1618 most of the houses in the village were concentrated in that street, but there were a few others in Billet Lane, North Street, and Suttons Lane. (fn. 20) There were hamlets south of the village at Hacton and South End, north in Hay Street (now Wingletye Lane) and at Hardley (now Ardleigh) Green, west at Maylards Green, and north-west at Havering Well. (fn. 21) The hamlet at Havering Well already existed in the later 13th century. (fn. 22) There was still a well there in c. 1777. (fn. 23) Among other topographical features in c. 1618 were the park at Bretons, about 2 m. SW. of the village, a large area of inclosed and common marsh, and Havering gulf, an inlet created by a recent breach in the east bank of the river Beam. (fn. 24)
From the 17th century to the 19th Hornchurch was a residential area much favoured by the gentry, for whom many of the older houses were improved or rebuilt, and some new ones built. (fn. 25) Otherwise the settlement pattern changed little until the early 19th century, when agricultural prosperity tended to attract farmers rather than gentry, and at the same time a brewery, and an iron-foundry making farm machinery, were opened.
Hornchurch village was at first by-passed by the railways, but Harold Wood lay on the Great Eastern main line, and the first suburban building in the parish was there. In 1866 300 a. of Gubbins farm were bought by a group of developers led by Hugh Campbell, M.D., of Margaretting, W. R. Preston, a Brentwood solicitor, and A. G. Robinson, of Warley Place, Great Warley. (fn. 26) The Harold Wood Estate Co. was formed to build a new town there, and contracted with the Great Eastern Railway for the building of a station in Gubbins Lane, on the main London-Colchester line. In February 1868, when the station was opened, the King Harold public house had been built, new roads laid out between the station and Colchester Road, the London Eastern District Land Co. had bought 40 a. of the estate, under covenant to build large villas worth not less than £1,000 each, and a site had been reserved for a church. Harold Wood grew much more slowly than intended, however, and until the First World War was hardly more than a village. There was little local employment. Prosperous commuters, whom the developers had hoped initially to attract, could find pleasanter suburbs nearer London like Wanstead, Woodford, and Loughton, while poor clerks could choose between the thousands of terrace houses of Stratford, Leyton, or Manor Park. (fn. 27) The original development soon petered out. In 1877 the estate was bought by John Compton, who built the Grange as his own residence, and played the part of the local squire, while promoting further building, mainly to the south of the railway. (fn. 28) Among his tenants was one of the original developers, W. R. Preston, who c. 1868 had built the mansion of Harold Court, on the Upminster side of the parish boundary, and later had become the sewage farmer of Brentwood town. The last enterprise ended in Preston's bankruptcy and flight in 1881. (fn. 29)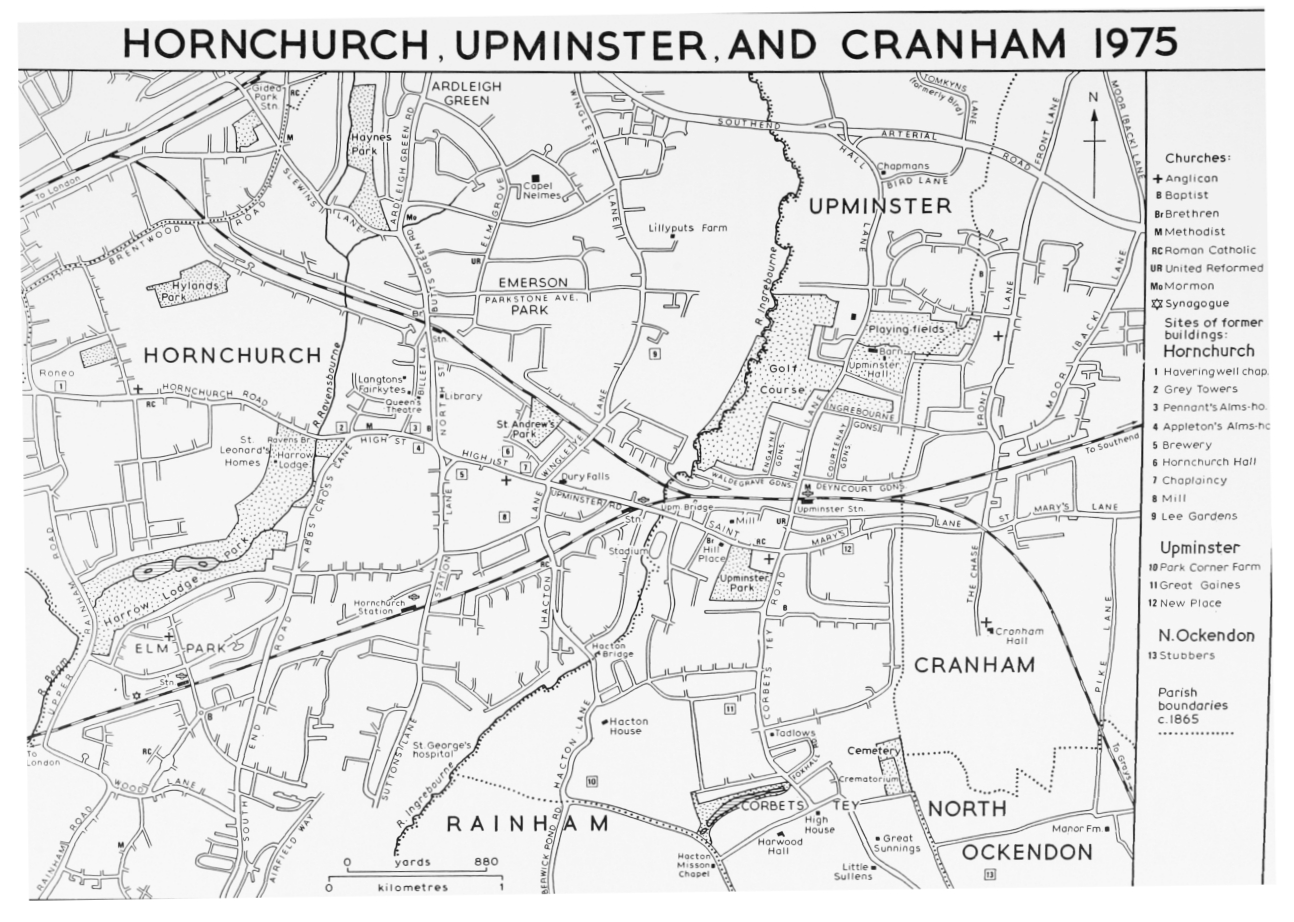 In 1876 Hornchurch was a 'large and busy-looking' industrial village. (fn. 30) When the railway station was opened there in 1885 the village was brought within a half-hour journey of London. This was expected to 'open up a new field for the speculative builder'. (fn. 31) It did not happen immediately, but in 1895 William Carter, of Parkstone (Dors.), bought the southern part of the manor of Nelmes, comprising 200 a., and some adjoining land, and began to build the Emerson Park estate. (fn. 32) Carter, a large developer in several counties, is thought to have named Emerson Park and its roads from his personal associations. By c. 1905 his company, then Homesteads Ltd., had built over 200 houses in Ernest and Herbert Roads, Parkstone Avenue, and adjoining roads. (fn. 33) Emerson Park was planned as an exclusive garden suburb, with many plots of an acre or more. The original prices ranged from £300 to £1,000. In 1901 the northern 241 a. of Nelmes was sold for similar development, which by 1904 was taking place in Elm Grove and Woodland Avenue, to the designs of Clare & Ross, architects. (fn. 34) By 1914 building was also in progress west of Emerson Park in Walden Road and Wickham Avenue, south of the village in Station Lane and adjoining roads, and also in Harrow Drive, north of Hornchurch Road. (fn. 35) Meanwhile Hornchurch was being affected by the expansion of Romford, southwards from Brentwood Road.
In the 1920s and 1930s there was rapid building throughout the central and northern parts of Hornchurch. At Harold Wood estates were laid out in the Church Road area, at Redden Court, and to the west of Gubbins Lane. New suburbs sprang up around the old village, at Ardleigh Green, and in the west of the parish at Elm Park, where a new railway station was built. By 1939 north Hornchurch formed a continuous built-up area with Romford. In south Hornchurch there had also been some building between Rainham and New Roads. After the Second World War large housing estates were built at Elm Park and south Hornchurch, and there was large-scale industrial development on Hornchurch marshes. By 1965 the only large area of open land was the former R.A.F. station at Suttons. That had been in military use almost continuously from 1915 to 1963, when it was put up for sale. By 1976 the western side of it was being built on, and gravel-digging was in progress on the remainder.
Most of the houses built since 1918 are semidetached or in short terraces. Those in the north of the district were sold mainly to owner-occupiers. At Elm Park and south Hornchurch a large proportion of those built since 1945 are council houses. At Harold Wood, where land was cheap, and the shrinkage of the heavy clay tended to damage two-storey houses, a number of small bungalows were built in the 1920s and 1930s. Large detached houses continued to be confined mainly to Emerson Park and Nelmes. During the past 15 years flats have become more common, notably at Mardyke, where the council built a group of tower blocks.
In the Middle Ages Hornchurch's communications with London seem to have depended mainly on the road running west from the village, on the line of the present Hornchurch and Rush Green Roads, to Becontree Heath, in Dagenham, thence by Green Lane to Ilford. That was the road often described, in and after the 13th century, as the road from Hornchurch to London, or from Hornchurch to Ilford. (fn. 36) The main London-Colchester road formed the NE. boundary of the parish. In the 17th and 18th centuries travellers towards Colchester could join it via Ardleigh Green, by Hay Street (Wingletye Lane), and Gubbins Lane, or by Upminster and Brentwood. (fn. 37) Hay Street, mentioned in 1438, took its name from the Hay (enclosure) and Hay Green, near Lilliputs Farm; its present name probably came from Wingletye Hill. (fn. 38) Gubbins Lane, named from the manor, was mentioned in 1601. (fn. 39) In the south of the parish there were lanes leading west to Dagenham and Barking, and east to Rainham and Tilbury. About 1810 the Tilbury Fort turnpike trust shortened and improved that route by building New Road through Hornchurch. (fn. 40) The spinal N—S road in that part of the parish left Hornchurch Road at Abbs Cross (mentioned 1514), (fn. 41) and followed the course of the present Abbs Cross Lane and South End Road. The lane leading south from the village to Suttons, now Station Lane and Suttons Lane, seems to have been known in the 13th–15th centuries as Lake Street. (fn. 42) The lake from which the street was named existed in 1297 and 1320. (fn. 43) It may have been on the site of the railway sidings south of Hornchurch station, which is marshy ground several feet lower than the adjoining road. (fn. 44) Modern growth has, in the main, preserved the lines of the old roads, but there are exceptions. The Southend Arterial road, opened in 1925, ran through the north-east corner of the parish, severing Ardleigh Green Road and Wingletye Lane, the northern ends of which became Bryant Avenue and Redden Court Road respectively. (fn. 45)
Dagenham Beam bridge, which carried the old road to Dagenham, and Beam bridge, carrying New Road, have been mentioned elsewhere. (fn. 46) So have Red (or Rainham), Hacton, Upminster, Cockabourne, and Putwell bridges over the Ingrebourne, and Paine's bridge over Paine's brook. (fn. 47) Wye or Bowles bridge, carrying an ancient lane, now upper Rainham Road, over the Ravensbourne, is the successor to a bridge dating from the 13th century or earlier. (fn. 48) Ravens bridge, mentioned in 1777, carries Hornchurch Road over the Ravensbourne. (fn. 49) Noreyses bridge (1325) (fn. 50) probably carried Suttons Lane over the stream, a tributary of the Ravensbourne, which runs just south of High Street.
In 1769 a stage-coach ran through Hornchurch to London on five days a week. (fn. 51) There was still only one coach a day in 1838. (fn. 52) Many other coaches could be boarded at Romford. (fn. 53) Romford railway station, on the Eastern Counties (later Great Eastern) main line was opened in 1839. Harold Wood station (1868) mentioned above was on the same line. Squirrels Heath (later Gidea Park) station (1910), also on the Great Eastern line, was in Romford parish but was convenient for dwellers in Ardleigh Green. The London, Tilbury & Southend line from Barking to Upminster was opened in 1885, with a station at Hornchurch, continued to East Horndon in 1886 and Pitsea in 1888. (fn. 54) Elm Park and Upminster Bridge stations, on that line, were opened by 1937. (fn. 55) Emerson Park station, on the London, Tilbury & Southend branch between Romford and Upminster, was opened in 1909. (fn. 56)
Postal services have always been provided through Romford. (fn. 57) Hornchurch had a receiving house by 1838. (fn. 58) There was a telegraph office by 1874. (fn. 59) By 1922 there were a few Hornchurch subscribers on the Romford telephone exchange. (fn. 60)
Most of old Hornchurch has disappeared during the past 50 years. (fn. 61) In 1923 there were thought to be 25 houses in the parish built before 1714. (fn. 62) Nine of them had gone by 1953, but there were still at least 50 built before 1800. (fn. 63) In 1976 only 16 of the 50 survived. Destruction has been the greatest in the village, which has become a shopping centre. It was stated in 1917 that the village 'may generally be described as of the 17th century.' (fn. 64) In 1953 at least 32 pre-19th-century houses remained there, but in 1976 only 10.
During the Middle Ages there were manor-houses on 12 sites. Hornchurch Hall was in the village. Suttons, Bretons, Dovers, Mardyke, Maylards Green and Wybridge, and Whybridge (Rands) were south of the village, Gubbins, Lee Gardens, Nelmes, and Redden Court north of it. In 1976 only two former manor-houses survived: Bretons, dating from the late 17th century, and the Grange, built in 1884 to replace Gubbins. Nelmes, a fine manor-house dating from the 16th century, was demolished in 1967, but one of its out-buildings remains as Capel Nelmes, a 16th-century structure much remodelled in the present century. Of the other large domestic buildings known to have existed before the 19th century only six survive. Albyns, Dury Falls, and Lilliputs date from the 17th century, Langtons, Fairkytes, and Harrow Lodge from the eighteenth.
Albyns, South End Road, takes its name from the Albyn family, recorded in the 13th century and later. (fn. 65) The east end of the present building is part of a timber-framed house of the 17th century. The initials TC and the date 16 [20?] are scratched on the plaster of the first-floor landing. The main, south range appears to have been reconstructed and given a a brick front in the 18th century. Dury Falls, Upminster Road, was named from the family of Doryval alias Alwy, who lived in that part of Hornchurch from c. 1230 to c. 1380. (fn. 66) It is an early-17th-century timber-framed house extended and altered in the 19th century. (fn. 67) Lilliputs, Wingletye Lane, is a 17thcentury timber-framed house encased in brick in the early 18th century. An embanked pond SW. of the house is probably an early-18th-century canal. The present name is first recorded in 1777, but a building there is shown as 'new house' c. 1618. (fn. 68) The site seems to have been part of a tenement called Mayland alias Drywoods in the Lane, which can be traced from 1345. (fn. 69) An old house called Drywoods, adjoining Lilliputs to the SE., was demolished some years before 1917. (fn. 70)
Langtons stands on an ancient site in Billet Lane. In 1489 it was also called Marchauntes, a name previously recorded in 1446. (fn. 71) It was rebuilt early in the 18th century as a red-brick mansion of three storeys and five bays. Some of the original rooms survive behind the south front. Later in the 18th century canted wings of two storeys were added to the east and west. By 1777 Langtons had a landscaped park stretching down to High Street. (fn. 72) The central part of that is preserved as a public garden. Among the ancillary buildings of the 18th century are a stable-block, an orangery, and a gazebo. (fn. 73) In the later 18th and early 19th centuries Langtons belonged to the Massu family, silk merchants of London. (fn. 74) The house was remodelled early in the present century, when the south front was rebuilt, part of the ground floor was opened into a staircase hall, and a large billiard room was added to the west. In 1929 Langtons was given to Hornchurch U.D.C. by Varco Williams and his daughter Mrs. E. V. Parkes. (fn. 75) It was used as the council offices from 1929 until 1965. In 1976 it was occupied by the superintendent registrar for Havering.
Fairkytes, Billet Lane, was recorded from 1520. (fn. 76) The present house of five bays, with two storeys and attics, was built in the mid 18th century and has an original staircase with turned balusters. It was refronted and enlarged in the 19th century. Thomas Wedlake lived there in the early 19th century, and opened an ironworks on the opposite side of Billet Lane. (fn. 77) Joseph Fry, son of the prison reformer Elizabeth Fry, lived at Fairkytes from c. 1870 until his death in 1896. (fn. 78) Fairkytes was a public library from 1953 to 1967. (fn. 79) In 1976 it was Havering Art Centre.
Harrow Lodge, Hornchurch Road, is a stuccoed building of two storeys with a slate roof, said to have been built in 1787. (fn. 80) It was damaged by fire in 1858. (fn. 81) It was a public library from 1936 to 1967. In 1944 it was damaged by a flying bomb. (fn. 82)
Among the oldest houses which have disappeared in the present century, were the Chaplaincy, (fn. 83) Bush Elms, Hacton Farm, Mount Pleasant Farm, and the White House. Bush Elms, Hornchurch Road, was probably named from the family of William le Busch (fl. 1269). (fn. 84) In 1923 some 13th-century glazed tiles were still preserved in an out-building there. (fn. 85) Deeds of the property survive from 1612. (fn. 86) Hacton Farm, Hacton Lane, which must be distinguished from Hactons in Upminster, (fn. 87) is thought to have been rebuilt in the late 16th century. (fn. 88) In 1594 it was one of the principal houses of Hornchurch, the seat of John Jackman. (fn. 89) John's father Edward Jackman (d. 1569), alderman of London, had bought it in 1561, and it remained in the Jackman family at least until 1634. (fn. 90) Mount Pleasant Farm, Southend Arterial Road, which has been demolished since 1953, was a timber-framed house dating from the 16th century, extended in the 18th century, and greatly altered in the 20th century. (fn. 91) It was called Wingletye in the 19th century, and it was probably identical also with North House, recorded from 1384. (fn. 92) North House was bought in 1502 by John Barrett and descended throughout the 16th century with Belhus in Aveley. (fn. 93) In the late 16th and the early 17th century the North House estate included the neighbouring tenements of Gowells, to the NW. and Hubbards, to the south. (fn. 94) No later record of Gowells has been found, but Hubbards Farm survived until the present century and gave its name to Hubbards Chase. (fn. 95) The White (formerly Grosvenor) House, North Street, was a weatherboarded house of the 16th or early 17th century. (fn. 96) It was demolished in 1957. (fn. 97)
Suttons Gate, Suttons Lane, was the country house of Sir Francis Prujean (d. 1666), physician, and remained in his family for over a century. (fn. 98) It was probably rebuilt in the 18th or earlier 19th century. (fn. 99) It was demolished in 1936. (fn. 100) Little Langtons, Billet Lane, dating from the late 17th or 18th century, was pulled down in 1961. (fn. 101) Wych Elm, Wingletye Lane, which has also disappeared, was thought to be one of the oldest houses in the parish, but its symmetrical front, of three bays with attics, was probably not older than the 18th century. (fn. 102) Grey Towers, a crenellated mansion in Hornchurch Road, was built in 1876 by Henry Holmes, owner of Hornchurch brewery. (fn. 103) Standing near the village, in a 50-acre park, it was the last country house built at Hornchurch, and it had only a short life. During the First World War it was occupied by the Army, eventually as a New Zealand base camp. (fn. 104) It was demolished in 1931, and the site became Grey Towers Avenue. (fn. 105)
Hornchurch had 8 inns in 1762, of which 4 were in the village. (fn. 106) In 1848 the corresponding numbers were 9 and five. (fn. 107) Of those existing in 1762 only the King's Head, High Street, still functions in its ancient buildings, which are timber-framed, and date from the 17th century. (fn. 108) The Bull, High Street, which in 1923 was thought to be a 16th-century building, extended south in the 18th century, (fn. 109) had been rebuilt by 1953. (fn. 110) The White Hart, High Street, said to have been of great age, was destroyed by fire in 1872 and since then has been twice rebuilt. (fn. 111) The present house, dating from c. 1935, is a large house dominating the island site at the junction of High Street and Station Lane. The Crooked Billet, Billet Lane, was closed c. 1870. The building, thought to be about 300 years old, had been demolished by 1917. (fn. 112) The Harrow, a thatched and weatherboarded house in Hornchurch Road, was rebuilt in 1894. (fn. 113) The Crown, Hornchurch Road, Havering Well, which claimed to date from 1433, had been almost entirely rebuilt by 1923. (fn. 114) The Cherry Tree, Rainham Road, recorded in 1773, was rebuilt in 1935. (fn. 115) The Albion, Dovers Corner, formerly the Canteen, was built c. 1880 to serve the London Rifle Brigade volunteers whose firing range was near. (fn. 116)
St. Leonard's, Hornchurch Road, formerly called Hornchurch Children's Home, was built in 1889 by the poor-law guardians of the parish of St. Leonard, Shoreditch, to the design of F. J. Smith. (fn. 117) It was designed as an improvement on the barrack type of home, and comprised 11 'cottages', each originally for 30 children, with school, workshops, bakery, swimming bath, infirmary, and other buildings, on an 80-acre site. It was extended between 1893 and 1895. The home was taken over by the L.C.C. in 1930, and in 1965 by the London borough of Tower Hamlets.
Hornchurch Rifle Volunteers were formed in 1860, and a drill hall was built by subscription in 1866. (fn. 118) Hornchurch Artillery Volunteers were formed in 1882. (fn. 119) In 1892 Henry Holmes of Grey Towers built a drill hall in High Street for them, but they were disbanded by 1898. (fn. 120) R.A.F. station Hornchurch originated in 1915, when a military airfield, to defend London from Zeppelins, was opened at Suttons farm. (fn. 121) That was closed in 1919, but reopened in 1924. During the Second World War fighter squadrons from Hornchurch were prominent in the Battle of France and the Battle of Britain. Flying ceased there in 1944, but the station was retained by the R.A.F. for other purposes until 1963, when the site was sold. (fn. 122)
Hornchurch cinema, Station Lane, was opened c. 1914, and closed in 1935. (fn. 123) The building, later the Queen's theatre, still survived in 1976. The Towers, later Odeon, cinema, High Street, was opened in 1936. (fn. 124) It became a bingo club c. 1972. (fn. 125) The Queen's civic theatre was opened in 1953 by Hornchurch U.D.C., which had bought the old cinema in Station Lane, and had formed a repertory company. (fn. 126) Management was vested in the Hornchurch Theatre Trust Ltd., which continues to receive grants from Havering L.B.C. and from the Arts Council of Great Britain. A new theatre, built to the design of R. W. Hallam, borough architect, Havering L.B.C., was opened in Billet Lane in 1975. (fn. 127)
Hornchurch was an early sporting centre. An annual wrestling match, held in Mill field on Christmas day for the prize of a boar's head, is said to have lapsed, but to have been revived in 1824. (fn. 128) It was last held in 1868. (fn. 129) Mill field was also being used for cock-fighting in 1769, and for prize-fighting in 1785. (fn. 130) Trotting races were being held in Whybridge park, south Hornchurch, in the 1860s. (fn. 131) Hornchurch cricket club, formed in 1783, was playing successfully in the following year. (fn. 132) Early in the 19th century the Hornchurch club was outstanding. (fn. 133) At that period home matches were played in Langtons park. A new Hornchurch club, formed in 1889, played in Grey Towers park up to the First World War. (fn. 134) In 1974 some 45 sports clubs were meeting in Hornchurch. (fn. 135) At that date there were also about 45 cultural and recreational societies. Those numbers did not include clubs and societies meeting in Romford, many of which were available to Hornchurch people. Hornchurch historical society, founded in 1959 has been publishing a journal since 1970, and has helped Havering borough council to open Upminster windmill and Upminster hall barn.
Among notable persons living in Hornchurch was Thomas Witherings (d. 1651), chief postmaster of Great Britain. (fn. 136) John Meyrick (d. 1599), vicar of Hornchurch, was later bishop of Sodor and Man. (fn. 137) A later vicar was the Puritan William Whitaker. (fn. 138) Sir Francis Prujean (d. 1666) is mentioned above. Augustine Garland (fl.1666), regicide, had an estate at Hornchurch. (fn. 139) Richard Morris (d. 1894), (fn. 140) philologist, and Sir Joseph Broodbank (d. 1948), (fn. 141) member of the Port of London Authority, lived at Harold Wood. John Hopkins (d. 1732), owner of Redden Court, was a miser of whose costly funeral Pope wrote:
When Hopkins dies a thousand lights attend
The wretch who living saved a candle's end. (fn. 142)