Pages 9-17
A History of the County of Essex: Volume 7. Originally published by Victoria County History, London, 1978.
This free content was digitised by double rekeying. All rights reserved.
HAVERING-ATTE-BOWER
Havering-atte-Bower, about 3 miles north of Romford, forms the northern part of the London borough of Havering. (fn. 1) It is still mainly rural, with a suburban fringe in the south-west.
The ancient manor and liberty of Havering-atteBower, which was conterminous with the parish of Hornchurch, was divided into eight wards. Haveringatte-Bower ward, in the north-west corner of the manor and parish, contained 2,093 a., bounded west by Dagenham parish, and north by Lambourne, Stapleford Abbots, and Navestock. (fn. 2) In the 16th century Havering-atte-Bower ward, which was also a chapelry, was subject not only to Hornchurch parish but also, for some purposes, to Romford chapelry. By the late 17th century, however, it was virtually independent for civil purposes, and in the 1780s it became a separate parish. In 1934 Haveringatte-Bower was annexed to Romford urban district. It became part of Havering L.B. in 1965. (fn. 3)
Havering is on a ridge of rising ground between Romford and the river Roding. The soil is mainly London clay, with Bagshot Beds in the centre of the parish where the village is, and patches of Boulder Clay farther east. The village is about 350 ft. above sea-level, with wide views west towards Hainault forest. Until the 17th century the royal Havering House stood beside the village green with its 1,300-acre park stretching north and west. The Bourne brook flows through the NW. of the parish, continuing as the river Rom into Romford. Another stream flows south from the village past Chase Cross to Rise Park in Romford. There are ponds and springs in many parts of the parish. Others formerly existed. (fn. 4)
Excavations in 1972 and 1975 revealed remains of Roman agricultural and industrial activity over a wide area in fields about ½ m. west of Havering village. (fn. 5) Finds consisted mainly of pottery, but included a complex of gullies and ditches associated with metal-working. A group of cremation burials was found, and much building rubble. There was clearly a Roman settlement at Havering.
Legend and local tradition link the manor of Havering with Edward the Confessor. (fn. 6) He was depicted in ancient stained glass in Hornchurch parish church, and in the old chapel at Romford, which was dedicated to him. (fn. 7) The Romford glass, probably inserted in 1407 when the chapel was being built, bore an inscription commemorating the return to Edward of the ring which he was supposed to have given to St. John the Evangelist. A chronicle of c. 1436 names Havering as the place where the ring was returned. That well-known legend has been traced from the 12th century, but the earlier versions do not mention Havering. According to another legend, first recorded in the 17th century, Edward's devotions at Havering were disturbed by nightingales, and he prayed, successfully, that those birds might be for ever banished from the park.
Although there is no contemporary record of Edward the Confessor's connexion with Havering, the legends strengthen the probability that he was the predecessor there of Earl (later King) Harold. The manor passed to William the Conqueror, and remained with the Crown until 1828. From the 13th to the 17th century it usually formed part of the jointure of the queen consort or dowager, from which came the suffix 'atte-Bower.' (fn. 8) There was a royal house there, with a park, by the early 12th century, and they were visited by successive kings and queens until 1638. About 1536 a smaller park was made at Pyrgo, north-east of the village, by the king's steward, Sir Brian Tuke, from whom it soon passed to Henry VIII himself. From c. 1536, therefore, about 80 per cent of the parish was park-land. In the early 17th century settlement in Havering was restricted mainly to the village and the adjoining area to the east, between Broxhill Road and Lower Bedfords Road. (fn. 9) During the Interregnum Havering House became derelict, and its park was permanently cut up into farms, but Pyrgo park remained, and by the later 18th century there were also smaller parks south of the village at Bower House and Bedfords. John Heaton, owner of Bedfords from 1771 to 1818, was a progressive landowner who promoted inclosure, endowed the living, and rebuilt the vicarage.
About 1850 David McIntosh, whose father had bought the manor of Havering from the Crown in 1828, built the mansion of Havering Park on the site of Havering House, and laid out a park of 250 a. adjoining it. About the same time a new mansion was built at Pyrgo, and the park there was extended. Several other big houses were also built in the parish in the mid 19th century by wealthy men attracted by the scenery and easy access to London. A writer commented in 1838 that gentlemen's seats were 'thickly strewn' there. (fn. 10)
With so much park-land it is not surprising that Havering was sparsely populated. There were only 22 taxpayers in 1523, and 38 houses in 1670. (fn. 11) In 1801 Havering had 188 inhabitants, occupying 36 houses. (fn. 12) The population climbed steadily, to 427 in 1841, but for the next 80 years remained near that level. In 1931, the last year for which separate figures are available, there were 591 inhabitants. By that time the Havering Park and Pyrgo estates had been broken up, and large areas were being bought by developers, but their plans were soon halted by the Green Belt policy, and since 1931 there has been little building in the parish except in North Road, and in the extreme SW., in the triangle bounded by St. John's Road, Clockhouse Lane, and Kingshill Avenue.
About 1618, and no doubt earlier, Havering's communications depended mainly on the lane running north-south through the village, now North Road, continuing as Orange Tree Hill and Havering Road. (fn. 13) To the north this led via Stapleford Abbots to the Abridge—Ongar road. To the south it ran via Chase Cross to Romford. At Chase Cross it intersected a track, now Chase Cross Road and Lower Bedfords Road, running west to Collier Row and east to Noak Hill. Another lane, now Broxhill Road, ran east and south from the village to Romford common, now Straight Road. All these roads survive, but others have disappeared. About 1618 Newbury Lane skirted the E. edge of Pyrgo park. Another lane ran from North Road through Pyrgo park to Broxhill Road, while a third ran from Broxhill Road south past Bedfords to Lower Bedfords Road. Newbury Lane, which took its name from a small medieval manor merged in Pyrgo park in the 16th century, had apparently disappeared by c. 1777. (fn. 14) The lane past Bedfords was apparently closed c. 1775 by John Heaton, owner of that estate. (fn. 15) A few years later Edward Howe, owner of Pyrgo, closed the lane through his park, and an attempt in 1812 to re-open it failed for lack of support. (fn. 16) Wellingtonia Avenue was laid out in the mid 19th century, as part of Havering park. Except for a few houses at its eastern end it has been little altered.
No medieval buildings remain in Havering. There were manor-houses on six sites, but all had been demolished or rebuilt by the 19th century, including Havering House, which fell down c. 1700. Only one of the sites is still occupied by a manor-house: Earls, now Upper Bedfords, rebuilt c. 1771. The medieval vicarage was rebuilt in 1786, and the church in 1878. The oldest surviving building in the parish is Blue Boar Hall, Orange Tree Hill, a timber-framed house of the earlier 17th century, with later additions including a 19th-century brick front. It was an inn in 1712, but was no longer licensed in 1762. (fn. 17) Rose Cottage, a timber-framed and weatherboarded house in North Hill, may have been built in the 17th century, partly with re-used medieval materials. (fn. 18)
The Bower House, Orange Tree Hill, is a small Palladian mansion built in 1729 by John Baynes (d. 1737), serjeant-at-law, from plans by Henry Flitcroft. (fn. 19) The staircase is decorated with paintings by Sir James Thornhill, which in 1976 were boarded over. An inscription in the entrance hall states that remains of the royal house were used in the building, and a stone corbel with the arms of Edward III is preserved in the hall. Charles Bridgeman, named in the inscription as designer, presumably laid out the grounds. About 1800 wings were added to east and west. In the mid 19th century the main room in the east wing was fitted with panelling in 17th-century style, with an original fireplace, dated 1659. In 1976 the house was a conference centre belonging to the Ford Motor Co.
The Round House, Broxhill Road, is a three-storey house built for William Sheldon in the 1790s. (fn. 20) It stands on the crest of the ridge, with views north and south. The plan, which is elliptical, is similar to that of Ickworth (Suff.). Most of the original fittings survive, and some early-19th-century wallpapers. The house was long the home of the Revd. J. H. Pemberton (d. 1926), the rose-grower.
The Hall, Broxhill Road, which adjoins the Round House, is a large brick double-fronted house of three storeys, built in 1858 or 1859 by W. Pemberton-Barnes. (fn. 21) It replaced an earlier house which can be traced from the 18th century. The 19th-century mansions of Havering Park and Pyrgo have disappeared, though some of their out-buildings, lodges, and home farms survived in 1976, notably the Bower Farm and Park Farm. (fn. 22) Havering Court, Havering Road, was previously called Rose Court, and originally Cromwell House. It was built c. 1858 by John Gladding, and was enlarged by (Sir) Herbert Raphael (Bt.), tenant in the 1890s. (fn. 23) It was damaged by fire in the 1930s, and in 1976 it was derelict and partly demolished. (fn. 24)
A few other houses of the 18th or early 19th centuries survive. Bellevue, Lower Bedfords Road, is a late-18th-century timber-framed and weatherboarded house. Fairlight, Bower Farm Road, and Ivy Holt, North Road, date from the early 19th century. On the north side of the Green is a late-18th-century row of four timber-framed cottages. The cottage at the east end, with an extension, was formerly a forge. The cottages adjoining this row to the west date from the mid 19th century. There is a row of early-19th-century cottages west of the Green. Elizabeth Row, North Road, demolished in 1967, was originally called Abraham's Place, and later Jew's Row. It was built c. 1800, probably by Benjamin Abrahams. (fn. 25)
The earliest known inn was the Blue Boar, already mentioned. In 1762 there were two inns in the parish, the Royal Oak and the Orange Tree. (fn. 26) The Orange Tree, which gave its name to Orange Tree Hill, continues in a modern building. (fn. 27) The Royal Oak, recorded from 1744, gave up its licence in 1792. (fn. 28) A later house of that name, in North Road, has been trading since c. 1920. (fn. 29)
Havering green, in the centre of the village, was preserved when the other commons and greens were inclosed in 1814. (fn. 30) On it stand the double stocks and whipping post, rebuilt in 1966. (fn. 31) The water tower, Broxhill Road, a prominent landmark, was built by the South Essex Waterworks Co. in 1934. (fn. 32)
Havering's long association with royalty has already been mentioned. Among other prominent families with local connexions were the Greys, the Cheekes, and the Archers, successive owners of Pyrgo between the 16th and the 18th centuries. (fn. 33) John Heaton (d. 1818), James Ellis (d. 1845), and Collinson Hall (d. 1880), were notable agriculturists. (fn. 34) Havering's historian was the Revd. Harold Smith (d. 1936), who lived at Fernside, Broxhill Road. (fn. 35) Its best-known eccentric was Elizabeth Balls (fl. 1815), who shared a cottage near the Green with a large company of goats. (fn. 36)
MANORS AND OTHER ESTATES.
Before the Conquest the manor of HAVERING, comprising 10 hides, was held by Earl (later King) Harold. (fn. 37) It had probably been granted to him by Edward the Confessor, whose legendary connexion with Havering is mentioned above. (fn. 38) The manor had outlying appurtenances in Leyton, Loughton, and Fyfield. (fn. 39) In 1086 it was held in demesne by William I. By then the Leyton and Fyfield outliers had been lost. The one at Loughton was still linked with Havering in 1086, but no later references to it are known.
The manor of Havering, based on the royal house and park at Havering village, included the whole of the ancient parish of Hornchurch. It was a royal liberty, confirmed by charter in 1465. The manor remained with the Crown until 1828. It came to include, in addition to the royal demesne, many tenements, some styled manors, but all subordinate to the manor of Havering. Among them were four manors originally held in serjeanty: Earls, Romford, and Gooshayes, the tenants of which were custodians of the royal woods, and Redden Court, the tenant of which had to furnish reeds for the king's chamber at Havering. The tenement called Cely's (later Havering Grange) was held in the 16th century by custody of the south gate of Havering park. The lands given by the Crown to Hornchurch priory in the 12th century appear to have become the manor of Hornchurch Hall and Suttons. Among the priory's later acquisitions were Newbury and Risebridge. All the priory's manors passed to New College, Oxford, but Newbury was acquired by the Crown in the 16th century and was thrown into the new park of Pyrgo. The manor of Marks, in Havering and Dagenham, has been treated in a previous volume. (fn. 40)
Until 1197 the manor of Havering seems always to have been administered by the sheriff. In 1198–9 Hornchurch priory was custodian, and during the following years the manor was often farmed out. (fn. 41) In c. 1230–46 the tenants of the manor jointly had custody. (fn. 42) In 1262 Henry III granted the manor to Queen Eleanor. (fn. 43) From then until the early 16th century it usually formed part of the jointure of the queen consort or dowager. (fn. 44) After Jane Seymour's death in 1537 it was kept in the king's hands, and was not granted to Anne of Cleves or her successors. (fn. 45) In 1619 James I granted the manor to Charles, prince of Wales (later Charles I), who later assigned it to Henrietta Maria. (fn. 46) Courts baron were held there in the queen's name as late as 1647. (fn. 47) In 1650 the manor was surveyed by commissioners appointed under a recent Act for the Sale of Crown Lands. (fn. 48) The demesne included the manor-house, the park (1,312 a.), three lodges, and two farms, Wolves (71 a.) and Joyes (27 a.). Montagu Bertie, earl of Lindsey, had before the war been tenant of the park by virtue of his office of lord warden of the forest of Essex, (fn. 49) but he had suffered sequestration as a royalist, (fn. 50) and in 1650 the tenants of the park were two regicides, Col. (later Admiral) Richard Deane (d. 1653) (fn. 51) and Lt.-Gen. Thomas Hammond (d. before 1652). (fn. 52) Wolves and Joyes farms were held on leases granted before the war.
The commissioners recommended that the park should be split into four sections, to be sold separately. It was actually sold in two sections, in 1652. (fn. 53) The eastern division, of 497 a., with the manorhouse, was bought by the previously mentioned Admiral Deane, in association with John Sparrow the elder, and John Sparrow the younger, who may have been related to Deane. (fn. 54) The western and larger division was bought by John Grove, Edmund Chittenden, Thomas Chamberlayne, Samuel Dale, and Joseph Sabbarton. Under its new owners the park was cut up into farms. Some further changes of ownership, the full details of which are not known, occurred before 1660. (fn. 55)
The manorial rights were separated from the demesne, and in 1652 were bought for public use with funds raised by subscriptions from the manorial tenants. The purchase had been negotiated by a committee including Laurence Wright of Dagenhams, Carew Hervey Mildmay of Marks, and Joachim Matthews of Gobions. (fn. 56)
In 1660 the manor was restored to Henrietta Maria (d. 1669), and it was subsequently granted by Charles II to Catherine of Braganza (d. 1705), who appears to have been the last queen to hold it. (fn. 57) After the Restoration Havering was never again a royal residence, and the fragmentation of the park was maintained, both divisions being leased. The eastern division, often described as a quarter of the park and later known as Bower (or Manor) farm, was restored to the earl of Lindsey, whose family continued as lessees until 1769. (fn. 58) In 1757 it comprised 417 a., adjoining Havering Green to the west, north-west, and south-west; it was sublet to two tenants. (fn. 59) In 1769 the Berties sold the lease to (Sir) Richard Neave (Bt.), who about that time was tenant of the neighbouring Bower House. (fn. 60) Neave sold the lease in 1776 to John C. Sole, from whom it was bought in 1779 by George Masterman. (fn. 61) Masterman (d. 1798) was succeeded by his son William, who bought a new lease from the Crown. (fn. 62) William Masterman (d. 1825) was succeeded as lessee by his sister Mrs. Elizabeth Taylor. (fn. 63)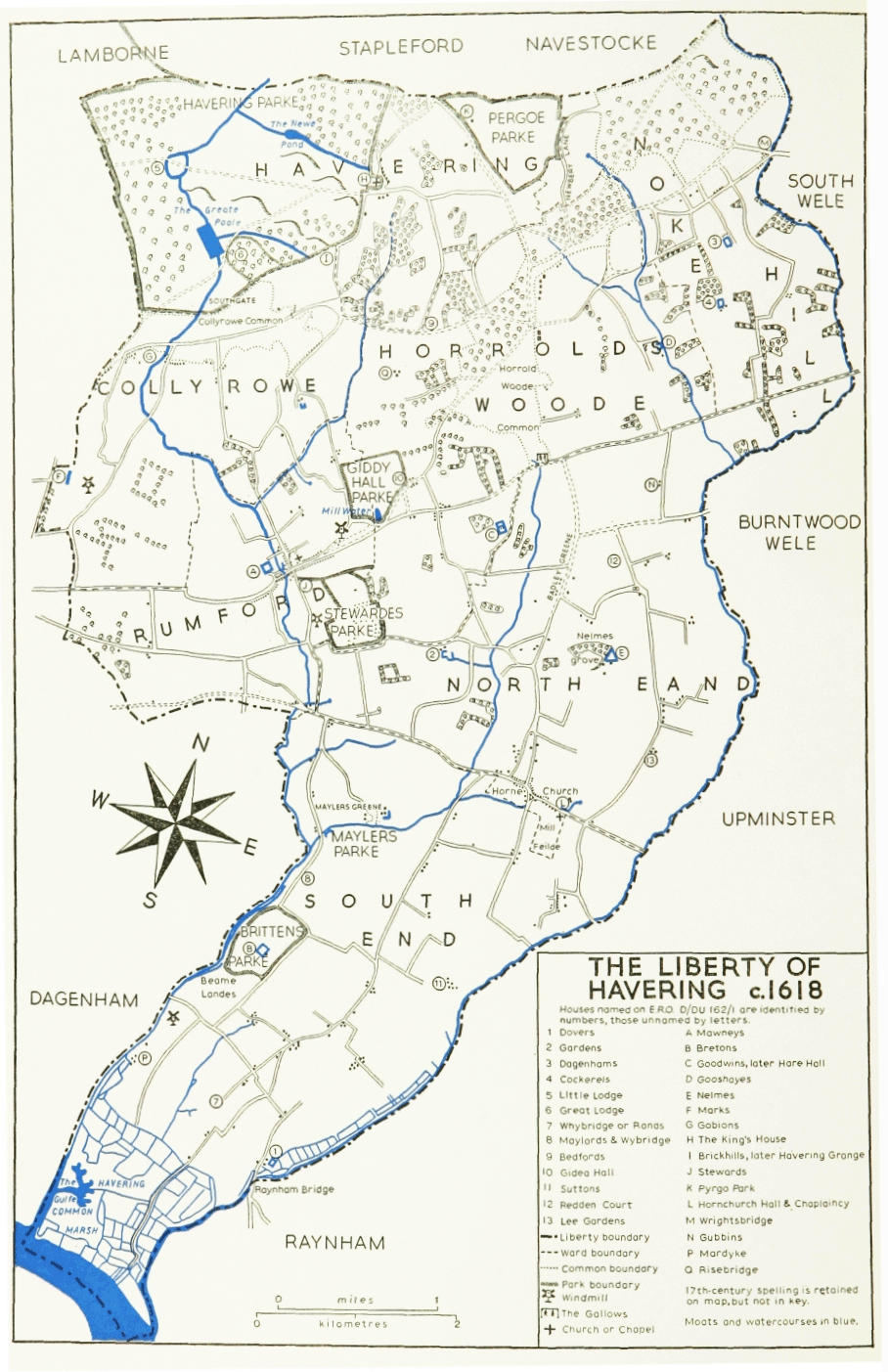 The western division, described as three-quarters of Havering Park, and later as Havering (or Lower) Park farm, was in 1662 leased for 21 years to John Gauden (d. 1662), bishop of Exeter, whose widow Elizabeth secured an extension of the lease for a further 13 years. (fn. 64) By 1670 Mrs. Gauden's lease had come into the possession of Sir William Ayloffe, who was subletting to three tenant-farmers. (fn. 65) In 1696, when that lease expired, the western division passed to Isabella Fitzroy, duchess of Grafton, under a reversionary lease granted to her father, Henry Bennet, earl of Arlington (d. 1685). (fn. 66) The duchess also secured a further reversionary lease of 99 years, running from the death of Catherine of Braganza (1705). (fn. 67) The duchess and her second husband, Sir Thomas Hanmer, Bt., sold the lease to Richard Holdrich, a director of the South Sea Company. (fn. 68) On Holdrich's forfeiture in 1721 the lease was sold to Richard Ladbroke, in whose family it descended until 1819. (fn. 69) Richard Ladbroke (d. 1765), nephew of the previous Richard, seems to have been the only Crown lessee who lived at Havering. (fn. 70) The other lessees sublet the estate. (fn. 71) In 1819 a new Crown lease was bought by James Ellis, a hop-grower. (fn. 72)
The manorial rights seem to have been leased separately from the demesne after the Restoration, (fn. 73) though no lessees' names have been noted before Sir John Eyles, Bt. (d. 1745), who was already high steward of Havering liberty when he was granted a lease of the manor in 1741. (fn. 74) Eyles's son and heir Sir Francis Eyles-Stiles, Bt. sold the lease in 1746 to Charles Benyon (d. before 1751) from whom it passed to his brother Richard Benyon of Gidea Hall. (fn. 75) The lease of the manor, periodically renewed, descended in the Benyon family until 1819, when Richard Benyon (later Benyon de Beauvoir) sold it to Sir Thomas Neave, Bt., of Dagenhams. (fn. 76)
In 1828 the Crown sold the manor, including the demesne, to Hugh McIntosh, a contractor who had built the East India and London Docks. (fn. 77) The manorial rights were still on lease to Sir Thomas Neave, Bt., but were resumable at will. (fn. 78) The demesne comprised 1,530 a., small parts of which lay in neighbouring parishes. (fn. 79) The western division, then containing 1,101 a., comprised Havering Park farm, Havering Little Park farm, and Hainault Lodge farm, all leased and occupied by James Ellis. The eastern division (Bower farm, 431 a.) was still on lease to Mrs. Taylor. Collinson Hall, her son-in-law, later took over Bower farm, and after James Ellis's death in 1845 Hall appears to have occupied the whole of the Havering manor estate until both leases expired in 1849. (fn. 80)
Hugh McIntosh (d. 1840) was succeeded by his son David (d. 1881), who about 1850 settled at Havering and built a mansion on the site of the old Bower Farm. (fn. 81) Charlotte McIntosh, David's widow, lived there until her death in 1923. (fn. 82) In 1924 the estate, then 1,551 a., was bought from the McIntosh trustees by Allen Ansell of Romford, who in the same year sold Fairlight farm (about 100 a. in the northeastern corner) to a farmer. (fn. 83) Ansell (d. 1933) was succeeded by his son John W. Ansell, a contractor, who in 1937 sold most of the remainder of the estate to T. F. Nash Properties Ltd. (fn. 84) Since 1937 there has been building development in the south and southwest of the estate, but some 400 a. in the north and north-east, including Bower and Fairlight farms, were in 1938 bought by Essex county council to facilitate their preservation as part of the Metropolitan Green Belt. (fn. 85)
There was a royal house at Havering, with a park, by the early 12th century. (fn. 86) Building was in progress there in the early and mid 13th century, and by that time the house was already extensive, with a 'great chamber', apartments for both the king and the queen, two chapels, and various out-buildings. (fn. 87) The great chapel, later the parish church, was rebuilt between 1374 and 1377, but after that most of the recorded expenditure was on repairs, and the replacement of service and park buildings. Substantial repairs, including new stone doors and windows in the presence and privy chambers and elsewhere, were carried out in 1573–4. (fn. 88) In 1576–7 a new block of lodgings was built between the privy kitchen and the park gate. (fn. 89) It was a long timber building of two storeys, with 26 rooms. At that time, however, the main building was still basically medieval, with an irregular plan, and with most of the important rooms on the first floor. (fn. 90) The great chamber lay north-south, with the great chapel at its southern end, and the royal apartments to the north and north-west.
Very little seems to have been spent on Havering House in the following years. It was in a poor condition in 1596. (fn. 91) James I often used it as a huntinglodge. (fn. 92) Charles I was rarely there, and visited Havering for the last time in 1638. (fn. 93) In 1650 the Parliamentary surveyors reported that the house was 'a confused heap of old, ruinous, decayed buildings.' (fn. 94) At the Restoration Havering House, as it was then called, was leased with the eastern division of the park to Montagu Bertie, earl of Lindsey (d. 1666). He was occupying the house in 1662, when it had 50 hearths. (fn. 95) Between 1662 and 1678 he and his successor, Robert Bertie, earl of Lindsey, carried out considerable repairs. (fn. 96) In 1670 Havering House, then unoccupied, had 58 hearths, which suggests that it had been enlarged or partly rebuilt. (fn. 97) In 1686, after it had been damaged by storms, the earl petitioned the Treasury for funds to repair it. (fn. 98) No further action seems to have been taken, however, and in 1719 the house, said to have been built of freestone and leaded, was in ruins and uninhabitable. (fn. 99) The remains may have been robbed c. 1705–9 to repair Havering chapel, and in 1729 to build the Bower House. (fn. 100) By c. 1740 some of the walls were still standing, but not enough to show the form and extent of the house. (fn. 101) Pieces of walling still remained in 1796, but none was visible c. 1816. (fn. 102)
By the later 18th century Bower (or Manor) Farm had been built on part of the site of the royal house. (fn. 103) Soon after 1849, when the leases fell in, David McIntosh laid out the eastern part of the estate once again as a park. He demolished Bower Farm, and on the site built for himself Havering Park, an Italianate mansion of brick with a tower. (fn. 104) The name Bower Farm was transferred to a new house about ½ m. NW., built about the same time. Havering Park, which stood due west of the church, was demolished c. 1938, (fn. 105) but the stable block, north of the church, still survived in 1976. Bower Farm, with its extensive out-buildings and farm cottages, also survived. The southern and eastern sides of David McIntosh's park had been built on, and the northern side restored to farm use, but a few copses and plantations survived.
On the western division of the Havering estate there were two houses in the later 18th century: Havering (later Lower) Park Farm, and Havering Park (later Clock House). (fn. 106) In 1869 David McIntosh built Park Farm about 600 yd. north of Lower Park Farm (fn. 107) Park Farm, which still survived in 1976, is a striking example of a model farm from the heyday of 19th-century farming. The buildings, grouped round a courtyard, included several large brick barns, workers' cottages, and an original engine house. Nothing then survived at Clock House, and only out-buildings at Lower Park Farm.
The manor of BEDFORDS and EARLS (or NEARLES) comprised two adjoining tenements, lying south-east of Havering village, which were amalgamated in the 15th century. Bedfords was in 1412 part of the Gidea Hall estate, then held by Robert Chichele. (fn. 108) It probably took its name from the family of John Bedford, who was holding land in the area in 1362. (fn. 109) Earls originated as a tenement which in the early 13th century was held by the serjeanty of guarding the king's outwood of Havering. John Derewin, who held it in 1212, suffered forfeiture for homicide, after which king John gave the land to William d'Aubigny, earl of Arundel (d. 1221). (fn. 110) In 1227 it was held, still in serjeanty, by Hubert de Burgh, earl of Kent, the justiciar, as guardian of Hugh d'Aubigny, earl of Arundel (d. 1243), then a minor. (fn. 111) In 1240 the king remitted to the earl of Arundel his offence in not paying the sparrowhawk which he owed each year for his land at Havering. (fn. 112) There is no reference then, or later, to tenure in serjeanty, which seems to have lapsed soon after 1227. The same earl granted the tenement in fee to Richard, son of Reynold Elms (de Ulmis), who in or before 1245 gave it to the abbey of Stratford Langthorne. (fn. 113) In 1253 it comprised 100 a. land, 15 a. wood, and 5 a. meadow. (fn. 114) In the 13th and 14th centuries it was apparently known as Beaurepeir. (fn. 115) The name Earls, though not recorded until the 15th century, clearly refers to the brief association with the Arundels. In 1445 Stratford Abbey gave Earls to Thomas Bernewell and William Hulyn in exchange for land in West Ham. (fn. 116) By 1452 the 'manor or messuage' of Earls had been acquired by Thomas Cooke, who in that year also bought Bedfords, as part of the Gidea Hall estate. (fn. 117) Bedfords and Earls descended with that estate until 1659, when Richard Emes sold them to Joachim Matthews, lord of Gobions in Romford. (fn. 118)
Sir Philip Matthews, Bt., son of Joachim, sold Bedfords and Earls in 1668 to Simon Rogers and his wife Sarah, from whom they were bought in 1678 by Robert Woolley (d. 1695). (fn. 119) At that period Bedfords comprised about 110 a. and Earls 120 a. (fn. 120) John Woolley, son of Robert, sold the combined manor in 1707 to Robert Bristow. (fn. 121) In 1710, after Bristow's death, his executors sold Bedfords and Earls to Wight Woolley, whose relationship to the previous Woolleys is not clear. (fn. 122) Wight Woolley conveyed the manor in 1737 to his son Houlton Woolley (d. 1752), who devised it to his cousin Nathaniel Houlton. (fn. 123) The lords of the manor from Simon Rogers to Nathaniel Houlton were all London merchants or tradesmen, and none of them is known to have lived at Havering.
In 1771 Nathaniel Houlton sold the manor to John Heaton, who enlarged the estate, lived there until his death in 1818, and was prominent in local affairs. (fn. 124) He was succeeded by his grandson Charles Heaton Ellis, who in 1846 held 537 a. in Havering. (fn. 125) C. H. Ellis let the estate to a succession of tenants until 1854, when he sold it to James W. Hawkesley. (fn. 126) Hawkesley sold Bedfords and Earls in 1865 to Charles Barber, whose mortgagee sold the estate in 1870 to Henry R. Stone (d. 1876). (fn. 127) Henry J. Stone, son and heir of H. R. Stone, sold part of the estate, including Earls (or Upper Bedfords), about 1920. (fn. 128) H. J. Stone died in 1931, and in 1933 his widow Emma, who had remarried, sold Bedfords to Romford urban district council for use as a public park. (fn. 129)
Bedfords house was rebuilt by John Heaton, probably soon after 1771, as a two-storey brick mansion, rendered with cement. (fn. 130) It was altered and enlarged by Charles Barber between 1865 and 1867. (fn. 131) James Theobald (d. 1894), M.P. for Romford, lived there for some years before his death. (fn. 132) Romford U.D.C., after buying the estate in 1933, opened the house to the public. (fn. 133) During the Second World War Bedfords was occupied by the National Fire Service. (fn. 134) After the war it lay empty, was damaged by vandals, and in 1959 was demolished. (fn. 135)
Earls (Upper Bedfords) was also rebuilt by John Heaton after 1771, in a crenellated style, including a tower which has often caused it to be mistaken for a church. (fn. 136) It still survived in 1976.
The tenement known as CELY'S PLACE or PARKER'S later as BRICKHILLS, and finally as HAVERING GRANGE, lay on the south side of Havering Park. (fn. 137) In the early 16th century it was held ex officio by George Cely, keeper of the south gate. In or about 1537 the keepership and the tenement were transferred from Cely to Thomas Cromwell. (fn. 138) (Sir) John Gate or Gates was keeper from 1545 until his execution in 1553. (fn. 139) He was succeeded by Sir Edward Waldegrave, who was deprived of his offices on Elizabeth I's accession. (fn. 140) In 1559 the keepership was granted for life to Sir Anthony Cooke (d. 1576) of Gidea Hall. (fn. 141) Sir Robert Cock, who was holding Cely's Place or Brickhills from c. 1618 until his death in 1635, was the husband of Penelope, daughter of Sir Anthony Cooke of Gidea Hall (d. 1604). (fn. 142) Penelope, who later married Sir Francis Sydenham, died in 1650. Brickhills was later occupied by her grand-nephew John Davys (d. 1659). (fn. 143)
About 1661 Brickhills was acquired by Robert Rich, earl of Holland and later also of Warwick, who had other properties in Havering. (fn. 144) In 1695 Edward Rich, earl of Holland and Warwick, sold Brickhills to Christopher and Elizabeth Batt. (fn. 145) Christopher Batt (d. 1738) was succeeded by his son Christopher, who died childless in 1756. Brickhills then passed to John Mayne (d. 1785), nephew of Christopher Batt the younger. Mayne, also childless, was succeeded by William Batt (d. 1792), grandson of Christopher Batt the elder. John Thomas Batt, nephew and heir of William, sold Brickhills in 1807 to Margaret, Lady Smith-Burges of the Bower House, who was already the lessee. The property then comprised 92 a., of which 65 a., including the farm-house, lay west of the road to Romford (Orange Tree Hill) and the remainder east of the road. (fn. 146) Lady Smith-Burges sold Brickhills in 1808 to Daniel Ximenes, but apparently retained the fields west of the road, which even before 1807 had been thrown into the grounds of the Bower House. (fn. 147)
William Hewson owned Havering Grange in 1814. (fn. 148) It was occupied in the 1830s by Major Anderson. (fn. 149) In 1846 the owner was Mr. Dalmaine, who occupied the house and 16 a., and let the remaining 104 a. (fn. 150) Stephen Hope, who was leasing the property from Mrs. Delamare in 1848, later bought it. (fn. 151) He died in 1871. (fn. 152) His son remained at Havering Grange until c. 1920, when it was bought by Lawrence Leefe. (fn. 153) Leefe was listed as occupier until c. 1929. (fn. 154)
Havering Grange house is said to have been rebuilt in 1842. (fn. 155) It was burnt down c. 1935 after being unoccupied for some time. (fn. 156) In 1963 Essex county council built Havering Grange special school on the site. (fn. 157)
The manor of PYRGO lay on the northern edge of Havering, extending into Stapleford Abbots and Navestock. The name, originally Portegore, is recorded from the 14th century. (fn. 158) Until the 16th century it appears to have been applied to a district rather than a particular estate. By 1518 the manor was occupied by (Sir) Brian Tuke, a royal official, who in that year leased from New College, Oxford, the adjoining manor of Newbury. (fn. 159) In 1530 Tuke acquired from Henry Rede and Alice his wife, daughter and heir of Thomas Roley, an estate at Pyrgo comprising 2 virgates, 5 a. 1 rood, and 8 dayworks of land. (fn. 160) The earlier history of Thomas Roley's estate has not been traced. It may have been identical with a tenement called Garnetts, which seems to have been named from the family of William Garnet (fl. 1322). (fn. 161)
Sir Brian Tuke was appointed steward of the manor of Havering in 1536, and in 1537 was licensed to empark 300 a. of his lands in Havering, Stapleford Abbots, and Navestock. (fn. 162) He continued to live at Pyrgo until about 1541, when the king acquired the manor, possibly in exchange for that of Stapleford Abbots. (fn. 163) Henry VIII completed the emparking of Pyrgo, in which Newbury was then permanently merged. (fn. 164) Pyrgo was managed by a succession of stewards, including Sir John Gate (1545–53) and Sir Edward Waldegrave (1553–8), both of whom were also keepers of Cely's Place and the south gate of Havering Park. (fn. 165)
In 1559 Elizabeth I granted Pyrgo in tail male to Lord John Grey (d. 1564), brother of Henry Grey, duke of Suffolk (d. 1554), and uncle of Lady Jane Grey. (fn. 166) Lord John was succeeded by his son Henry, later Lord Grey of Groby (d. 1614). (fn. 167) Henry's heir was his grandson Henry Grey, Lord Grey, later earl of Stamford, who in 1621 sold Pyrgo to Sir Thomas Cheeke (d. 1659). (fn. 168) The manor passed successively to Sir Thomas's sons Robert (d. c. 1670), and Thomas Cheeke (d. 1688), lieutenant of the Tower of London. (fn. 169) The last Thomas was succeeded by his son Edward (d. 1707). Edward's infant son Edward died in 1713, and his widow Ann in 1723. Pyrgo then passed to Ann (d. 1728), daughter of Thomas Cheeke (d. 1688), and wife of Sir Thomas Tipping, Bt. Lady Tipping left two daughters, of whom the younger succeeded to Pyrgo: she was Katherine (d. 1754), wife of Thomas Archer (d. 1768), who in 1747 was created Lord Archer of Umberslade. (fn. 170) Thomas Archer's son Andrew, Lord Archer, died in 1778, leaving four daughters as coheirs. (fn. 171) In 1790 the trustees of the Archer estates sold Pyrgo to Edward R. Howe. (fn. 172)
In 1828 E. R. Howe sold Pyrgo, then comprising 460 a., to Michael Field (d. 1836), a member of the Stock Exchange, who was succeeded by his brother Robert (d. 1855). (fn. 173) Robert Field's trustees sold Pyrgo in 1857 to Joseph Bray, a railway contractor. (fn. 174) Bray sold it in 1873 to Maj.-Gen. Albert Fytche, formerly chief commissioner of British Burma. (fn. 175) Fytche later bought Wolves and Joyes farm and other neighbouring properties, thus enlarging the estate to over 600 a. His purchases were soon followed by the agricultural depression, and in 1887 the estate was sold by order of the mortgagees to William E. Gibb. (fn. 176) In 1901 Gibb sold it to Alice Mary (d. 1921), the rich widow of Thomas O'Hagan, Lord O'Hagan. (fn. 177) Lady O'Hagan further enlarged the estate: when put up for sale in 1919 it comprised 824 a. (fn. 178) None of it seems to have been sold then, but after Lady O'Hagan's death it was sold piecemeal by her son Maurice Towneley-O'Hagan, Lord O'Hagan. (fn. 179) Of the larger sections Asheton farm (284 a.) and Standish farm (95 a.) were both sold in 1922. Pyrgo Park house, with 158 a., was bought in 1925 by Herbert J. Mitchell, who sold it in 1935 to a group of estate developers. (fn. 180) In 1937, however, the property was bought from the developers by Essex county council, to facilitate its preservation as part of the Metropolitan Green Belt. (fn. 181) The county council also bought Standish farm in 1938, and Asheton farm in 1939. (fn. 182)
The site of the early house at Pyrgo was northwest of the surviving farm buildings. The terracing of the gardens could still be seen c. 1921, and was partly excavated in 1972. (fn. 183) The house was repaired for Henry VIII in 1543. (fn. 184) In 1594 it was described as 'a fair house'. (fn. 185) It is depicted on a map of c. 1618 as a large gabled building. (fn. 186) In 1670 it had 30 hearths. (fn. 187) It had a small chapel in which were the tomb of Thomas Grey (d. 1564) marquess of Dorset, and floor slabs to Anne (d. 1513) wife of George Lovekyn, clerk of the stables to Henry VIII, several members of the Cheeke family and their descendants, and Walter de Bounstede, an unidentifiable canon. (fn. 188) Under the will of Lord Archer (d. 1768) all the Cheeke remains were removed to the parochial chapel of Havering. (fn. 189) Between c. 1771 and 1778 the chapel and the wings of Pyrgo house were demolished by Lord Archer (d. 1778). (fn. 190) The monuments of Walter de Bounstede, Anne Lovekyn, and Lord Dorset probably disappeared at that time. Pyrgo continued in use for a short time, but the remainder of the house had been apparently demolished by c. 1814. (fn. 191)
Robert Field, who succeeded to the estate in 1836, lived in a farm-house which had been built to the south-east of the old house. In 1851–2 he demolished it and built Pyrgo Park on the site, to the designs of Anthony Salvin, completed in 1852 by the firm of Cubitt. (fn. 192) The next owner, Joseph Bray, enlarged the house in 1862 to the designs of E. M. Barry. (fn. 193) Pyrgo Park was a mansion in the 'Classic Italian' style, faced with Suffolk white bricks, with dressings and columns of Portland stone. In 1863 Bray employed Edward Kemp to landscape the grounds. In 1867 Pyrgo Park was advertised for sale as fit for 'a gentleman of rank and wealth, or for a merchant prince.' (fn. 194) It then had its own gasworks, and a private chapel had been built at Tysea Hill, on the northern side of the park. (fn. 195) Lady O'Hagan added a picture gallery to the house c. 1905. (fn. 196) Pyrgo Park was demolished c. 1940. (fn. 197) A large symmetrical stable-block, and the north and south lodges, all of the later 19th century, remain, as well as parts of the Victorian gardens. The present Home Farm, which lies immediately south of the site of the Tudor house, dates from the later 18th century, but was enlarged before 1867. (fn. 198)
The manor of REYNS, later NEWBURY, adjoined Pyrgo to the east. It appears to have originated as a tenement of ½ virgate and ¼ virgate which Adam de Reyns in 1222 granted in fee to William Dun. (fn. 199) Dun later granted it in fee to Richard son of Osbert. (fn. 200) In 1243 Richard Newman, who was probably identical with Richard son of Osbert, joined with Margery his wife to convey to Hornchurch priory the reversion, after their deaths, of a 40-acre estate held of the fee of William Dun. (fn. 201) These and later records, when collated, show that the prior's demesne of Reyns had belonged to Richard Newman, and that it became known as Newbury. (fn. 202) Reyns was probably not the only property acquired by the priory from Newman. About 1240 Geoffrey son of Robert confirmed Richard Newman's grant to the priory of a tenement which was of Geoffrey's fee. (fn. 203) That was probably the property conveyed, about the same time, by Geoffrey son of Robert to Richard son of Osbert. (fn. 204) Newbury first occurs under that name in 1306. (fn. 205) In c. 1355 the priory's tenement 'called Reyns and now called Newbury' comprised ½ virgate and 3/16 virgate. (fn. 206) In 1376 the priory leased its manor of Newbury for 6 years to John Cullynge of Havering. (fn. 207) The property included a grange called Otberne (oat barn), and tithes of hay from several tenements in the north-east of the parish, including Dagenhams and Cockerels, and Gooshayes. A new lease of the manor, for 15 years, was granted in 1385 to Nicholas Longe of London. (fn. 208)
Newbury, with the priory's other manors, was conveyed to New College, Oxford, in 1391. (fn. 209) In 1518 the college leased Newbury, then comprising 47 a. in five fields, to (Sir) Brian Tuke. (fn. 210) Tuke, a prominent servant of Henry VIII, lived for many years at Pyrgo. (fn. 211) In the 1540s, when Henry VIII acquired Pyrgo, he also took over the lease of Newbury. When the lease expired in 1549 Edward VI took permanent possession of Newbury, for which New College eventually received in exchange lands in Gloucestershire; by 1555 Newbury was part of Pyrgo Park. (fn. 212) Newbury field and Upper Newbury field, on the eastern edge of the park, appear on a map of 1828. (fn. 213) North of them was Lower Ley field, which was probably identical, in whole or part, with the Leffeld of 1306. (fn. 214) Newbury had no separate identity after the 16th century, though Newbury Lane, which had linked it with Navestock (north) and Noak Hill (south) still existed in 1650. (fn. 215) Nothing is known about Newbury manor-house, which probably disappeared before the 16th century.