Pages 196-206
A History of the County of Essex: Volume 8. Originally published by Victoria County History, London, 1983.
This free content was digitised by double rekeying. All rights reserved.
MATCHING
Matching is an isolated rural parish 7 km. east of Harlow town. (fn. 1) The ancient parish comprised 2,417 a. (978.2 ha.), including a detached portion of 1.5 a. locally situated in Sheering, and merged in that parish in 1883. (fn. 2) In 1955 the area was extended west to include part of Harlow parish, bringing the total area to 3,777 a. (1,529 ha.). (fn. 3)
The land is level, lying at about 75 m. The soil is mainly boulder clay, with small outcrops of glacial loam. Pincey brook and a tributary stream which rises at the east end of the parish form part of the northern boundary with Sheering and Hatfield Broad Oak. East of the church is a lake, fed by a chalybeate spring, draining northwards into the stream.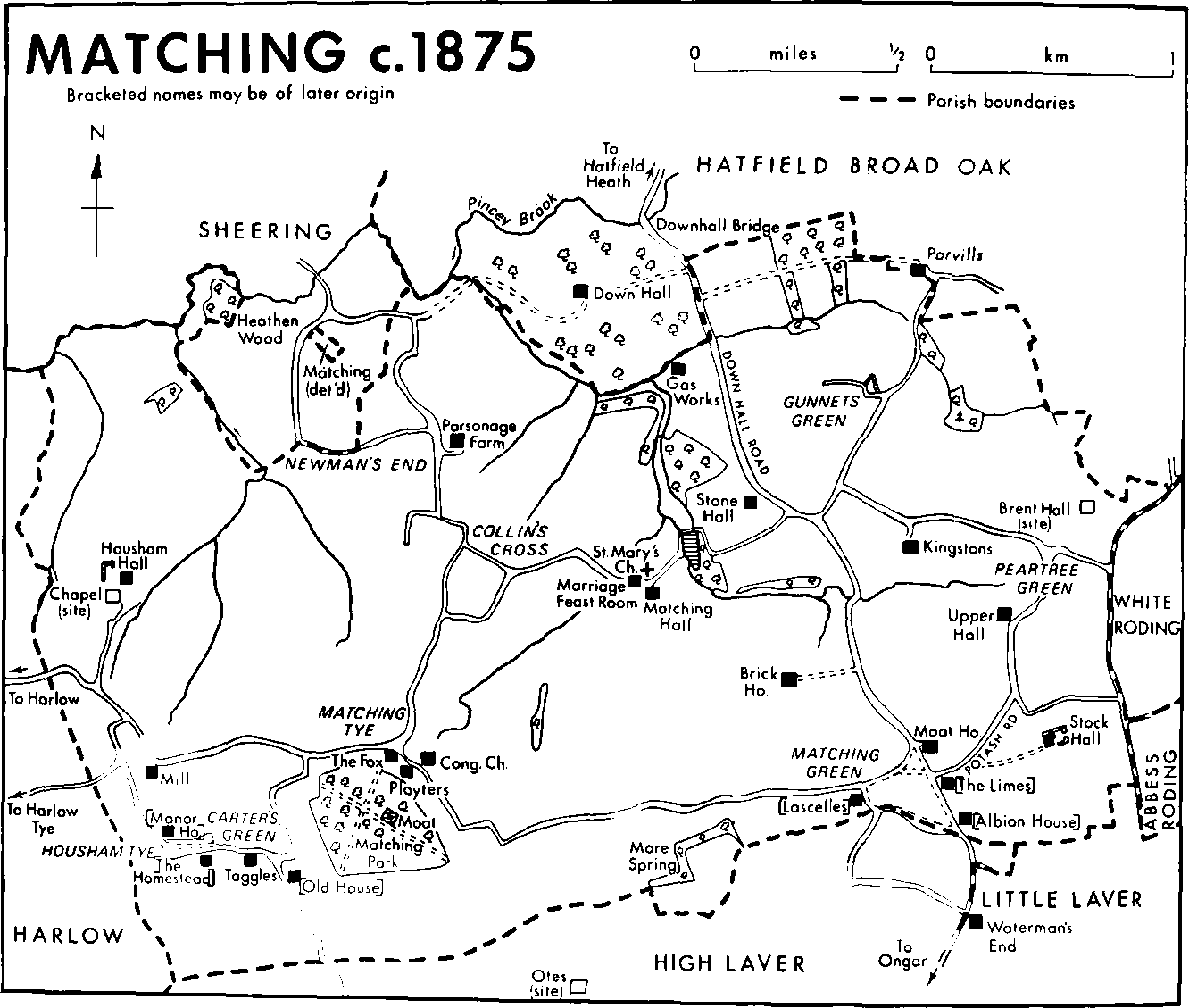 In 1086 Matching had a total recorded population of 32. (fn. 4) Twenty-seven persons were assessed to tax in 1327, and 47 in 1524–5; on both occasions Matching ranked fourth in the hundred. (fn. 5) There were 63 houses in 1662. (fn. 6) By 1778 there were 85 houses and some 450 inhabitants. (fn. 7) The population of the parish in 1801 was 540. It rose to 687 in 1841, but declined, with fluctuations, to 463 in 1921. In 1971 the population of the enlarged parish was 793. (fn. 8)
The ancient pattern of settlement has changed little. Matching Hall stands beside the church in the centre of the parish. Three other manor houses stand on or near their medieval sites: Housham Hall on the western side of the parish, Parvills on the north-eastern boundary, and Stock Hall in the south-eastern corner. The moat at Gunnetts Green, south of Parvills, may have been the site of Waterman's manor house. (fn. 9) By the 18th century the main settlement was at Matching Green, straddling the southern boundary with High Laver, near Stock Hall; there were smaller hamlets, all of medieval origin, at Carter's Green and Matching Tye, south-west of the church, and at Newman's End, north-west of the church. (fn. 10) There has been little building since the 18th century except for infilling at Matching Green and a small council housing estate of the 1950s at Matching Tye. The district council designated three conservation areas in the parish: Matching Green, Matching Tye, and the church with the adjoining Vicarage, Marriage Feast room, and Matching Hall. (fn. 11)
Down Hall Road, from Matching Green to Hatfield Heath, existed in the 13th century, when it was mentioned as part of the highway from Chipping Ongar to Bishop's Stortford. (fn. 12) Potash Road, running north-east from Matching Green to Peartree Green, is joined north of Stock Hall by a lane leading west from Abbess Roding. The lane was closed during the Second World War, when Matching airfield was built in Abbess Roding, (fn. 13) but it was reopened in the 1970s. Two lanes leading from Down Hall Road have been cut short since the 19th century. One of them, leading westwards to Matching Hall, formerly continued to Collin's Cross. The other, leading eastwards to Kingstons, formerly branched north-east to Parvills before continuing to Peartree Green. The lane from Newman's End north to Sheering was straightened between 1875 and 1897. (fn. 14)
Matching Green village is built around a large triangular green on which cricket is played. The south-western side of the green, including St. Edmund's chapel, the school, and the Chequers inn, is in High Laver parish. (fn. 15) The houses are of various periods, from the 14th to the 20th century, and constructed in a wide variety of materials, including weatherboarding and plastered timber, with thatched, tiled, or slate roofs. (fn. 16) Lascelles, at the western end of the green, is a large 14th-century house with central hall and cross wings. An upper floor and chimney were put into the lower end of the hall, probably in the late 16th century. After being occupied as cottages the house was restored and a large rear wing was added c. 1970. Moat House, at the north-east corner of the green, retains a hall and parlour cross wing of the 15th century, both with crown posts. A large chimney was put into the lower end of the hall in the late 16th century. There are later additions on the east side of the house. The linenfold panelling was sold in the 1960s. (fn. 17) Albion House, at the south-east corner of Matching Green, is a late 17th-century house refitted in the late 19th century and restored in the mid 20th century. The Limes, at the junction of Matching Green and Potash Road, is of early 18th-century red brick. Lascelles Lodge, north of Lascelles, is an early 19th-century house. (fn. 18)
North of Matching Green, on a moated site, is Kingstons, named from a family which held it in the 14th century. (fn. 19) The present house has a 16thcentury kitchen cross wing. The hall and the other cross wing were rebuilt in the 17th century. An extension to the kitchen was built in the 18th century. The house was cased with lath and plaster early in the 19th century, and then with brick later in the same century. In 1979 a new, timber-framed staircase hall was built between the cross wings. Upper Hall, another moated house dating from the 16th century, stood 500 m. south-east of Kingstons. It was destroyed by bombing during the Second World War. (fn. 20) Brick House, formerly Bakers, north-west of Matching Green, was built in the later 18th century.
At Matching Tye there are several timberframed houses, including Ployters, named from the family of Maurice le Playtere (fl. 1288), (fn. 21) which retains a cross wing and part of the hall of a late medieval building. The house was remodelled in the 17th century, when the hall was reduced in size and a second cross wing was built. Old House, at Carter's Green, is a small, late medieval hall house with a chimney and upper floor inserted in the 17th century. Taggles, at Housham Tye, was named from the family of John Tagel, recorded in 1327. (fn. 22) It is a small, late medieval house with a central hall into which a chimney and upper floor were inserted in the later 16th century. The Manor House, Housham Tye, which dates from the 17th century and was once a copyhold tenement, is described below. (fn. 23) Other 17th-century houses include the Homestead, Housham Tye, and Parsonage Farm, Newman's End, which incorporates much re-used material, some of it medieval. West of Parsonage Farm is another 17th-century house with re-used material which may incorporate fragments of an earlier house. It was being reconstructed in 1981.
There are two inns in the parish, both at Matching Tye: the Fox, licensed by 1809, and the Hare and Hounds, licensed by 1937. (fn. 24) The Cock, at Matching Green, recorded as an alehouse in 1709, traded until the mid 19th century. (fn. 25) There is a sub-post office, combined with a village shop, at Matching Green, and another at Matching Tye.
Since the early 19th century foxhunting has been strongly supported at Matching. (fn. 26) Dudley H. J. Ward (d. 1980), of the Limes, Matching Green, was master of the Essex Hunt for 30 years. (fn. 27)
Some notable residents are mentioned below. (fn. 28)
Manors.
In 1086 there were four estates called Matching and two called Ovesham (Housham). At Matching the estate of Robert Gernon and that of Edmund son of Algot seem later to have merged as the manor of Matching Hall. St. Valery abbey's estate became Matching Barns manor in Hatfield Broad Oak, while Geoffrey de Mandeville's small estate may have become part of Brent Hall, which eventually merged with Matching Barns. (fn. 29) William de Warenne's Housham estate became Housham Hall. The other Housham estate, comprising ½ hide held in 1066 by Etmar and in 1086 by Roger as tenant of Ralph de Tony, may have become part of Otes manor in High Laver. In 1086 Roger also held of Ralph de Tony 1 hide at Laver and in Harlow hundred. Neither Housham nor Laver is known to have been held by Ralph de Tony's heirs, the lords of Flamstead (Herts.), (fn. 30) but an estate in Housham and High Laver can be traced from the 13th century. In 1288 Emma, daughter of Eustace son of Walter, granted her lands at High Laver and Housham to Henry of Enfield. (fn. 31) She was probably identical with Emma, who with her husband Bartholomew of Laver had held land in High Laver in 1262. (fn. 32) Bartholomew may have been related to Eustace of Laver, who early in the 13th century held part of Little Laver. (fn. 33) In 1282 Henry of Enfield had acquired land in High Laver from Richard de Mucegros, whose family had held estates in Housham, Matching, and High Laver earlier in the 13th century. (fn. 34) Sir John of Enfield, son of Henry, in 1329 divided his estate between his three sons, of whom Richard received 2 carucates of land, 12 a. of meadow, and 40s. rent in High Laver and Housham. (fn. 35) That portion seems to have become part of Otes manor. (fn. 36) Otes lay in the northern corner of High Laver, near both Housham and Little Laver.
The manor of Matching Hall lay in the centre of the parish. In 1086 Edmund son of Algot held in demesne 1 ½ hide which had belonged in 1066 to Almar Holefest. (fn. 37) Hugh, as tenant of Robert Gernon, held 1 hide which had belonged in 1066 to Alvric Cild, a free man. (fn. 38) Gernon's estate certainly became part of Matching Hall, for the tenancy in chief of that manor later passed to his successors the Montfitchets, lords of Stansted Mountfichet. The descent of Edmund son of Algot's estate is not certain, but it seems from the 13th-century tenancy in demesne (below) that it merged with Gernon's estate.
Richard de Montfichet, at his death in 1267, held in chief 1 knight's fee in Matching. It descended to his grandniece Evelyn de Forz (d. 1274), who married Edmund Crouchback, earl of Lancaster. She was succeeded at Matching by Roger de Lancaster (d. 1291), husband of Philippa (de Bolbec) (d. 1294), another grandniece of Richard de Montfichet. The manor passed to John de Lancaster (d. 1334) son of Roger and Philippa. (fn. 39) In 1320 John and his wife Annora (d. 1338) sold the reversion of Stansted Mountfichet to Robert de Vere, earl of Oxford. (fn. 40) The overlordship of Matching probably passed with Stansted. It was held in 1419 by John de Vere, earl of Oxford, and it later descended with the earldom. (fn. 41)
The tenancy in demesne had passed by 1216 to Thomas de Arderne, whose family from 1122 had also held Ardern Hall, Horndon-on-theHill, a manor probably identical with Edmund son of Algot's Domesday holding of Horndon. (fn. 42) Thomas was living in 1229 but dead by 1231. (fn. 43) Lucy de Arderne held 1 knight's fee of Richard de Montfichet in 1235 or 1236, and was patron of the church in 1254. (fn. 44) In 1275 Thomas de Arderne, probably grandson of the previous Thomas, sold Matching to Geoffrey of Roding. (fn. 45) Geoffrey was still living in 1282, but by 1289 had been succeeded by his son William. (fn. 46) William of Roding sold the manor in 1305 to (Sir) Humphrey of Walden. (fn. 47)
Sir Humphrey of Walden was still holding Matching Hall in 1310. (fn. 48) Roger of Walden, who had succeeded to the manor by 1314, conveyed it in that year to his brother Sir Humphrey (d. 1331). (fn. 49) In 1325 Sir Humphrey settled the reversion of Matching Hall on his son, also Sir Humphrey. (fn. 50) The last named was still alive in 1372, but by 1377 the manor had passed to his brother Sir Alexander of Walden. (fn. 51) John of Walden (d. 1406) was succeeded by his son (Sir) Alexander of Walden (d. 1409), whose heir was his nephew Alexander, son of John of Walden. (fn. 52) John, son of John of Walden and probably brother of the last Alexander, died holding Matching Hall in 1419. The manor passed to his younger sister Margaret, wife of Henry Langley. (fn. 53) Thomas Langley held it at his death in 1471. (fn. 54) Thomas's son Henry (d. 1488) was succeeded by his daughter Catherine (d. 1517), wife of John Marshall. (fn. 55) Her heirs were her daughters Eleanor, wife of Henry Cutt, and Mary, wife of John Cutt, each of whom took a half share of Matching Hall. (fn. 56)
Eleanor Cutt died in 1537, and her husband in 1573. (fn. 57) Their share of the manor passed to their son Sir Henry Cutt (d. 1603). (fn. 58) Sir Henry's widow Barbara, who retained a life interest, made two later marriages, to Thomas Fludd and Sir Edward Gill. She was still alive in 1616, but by 1618 her share of Matching Hall had passed to her son John Cutt. (fn. 59) The other half of the manor, which in 1517 had descended to Mary Cutt, had passed by 1541 to her son Peter Cutt. (fn. 60) Peter died in 1547, having settled it on his wife Catherine. (fn. 61) Their son and heir Richard Cutt (d. 1592) was succeeded by his son, also Richard (d. 1607), who left the half manor to his nephew Francis Cutt. (fn. 62)
Between 1622 and 1624, by a series of conveyances, Sir William Masham bought both halves of Matching Hall from John and Francis Cutt. (fn. 63) Thus reconstituted the manor became part of the Masham estate of Otes in High Laver, with which it passed until 1800, when Richard Palmer sold the estate. (fn. 64) Matching Hall was then bought by Thomas Poole, maltster. He died before the conveyance was completed, and the manor passed to his widow Sarah, in trust for their daughters Hannah, wife of Benjamin Gaffee, Elizabeth, wife of the Revd. Cornelius Berry, and Caroline, wife of William Pavitt, each of whom inherited a third share on reaching her majority. In 1830 the manor was bought from the three owners by John Selwin of Down Hall, Hatfield Broad Oak. (fn. 65) It descended with Down Hall until 1920, when Major Horace W. Calverley sold it to Thomas J. Howard, who had been the tenant since c. 1890. (fn. 66) In 1981 the owner was Mr. J. F. Tinney.
Matching Hall, standing on a moated site south of the church, is two-storeyed, timber framed, and plastered. (fn. 67) The northern cross wing is of late medieval date, but the main range was rebuilt in the 17th century and the parlour end was reconstructed early in the 19th century. A separate block to the north-east of the cross wing was probably added in the 18th century. A barn and dovecot of the 17th century survive.
Matching wood, at Matching Tye, was imparked by Thomas de Arderne under licence granted in 1229. (fn. 68) Though it was a mile from Matching Hall it remained part of the manor, and became known as Matching park. Apple trees were growing there in 1231. (fn. 69) In the 14th century the park was partly arable. (fn. 70) Since the later 18th century it has comprised about 51 a. of woodland. (fn. 71) The moat in the centre may have been the site of the park keeper's house, mentioned in 1278. (fn. 72)
The manor of Ovesham or Housham Hall lay in the western half of the parish. It was held in 1086 of William de Warenne by Richard, probably Richard Guet, his wife's brother, and then included also a virgate held in 1066 by Ulvric, a free man. (fn. 73)
The tenancy in chief descended with the earldom of Surrey until 1314. The demesne tenancy appears to have been held in 1241 by Ralph de Assartis, the mesne tenant of Quickbury in Sheering, a neighbouring manor which in 1086 had been held, like Housham, by Richard of William de Warenne. (fn. 74) In 1258 Housham was held by Ralph de Arderne as the inheritance of his wife Erneburga. (fn. 75) She, who was probably Ralph de Assartis's daughter, was later wife of Sir Richard of Coleworth. In 1265 Coleworth suffered forfeiture as a rebel, but in the following year Housham was restored to Erneburga as her own inheritance. (fn. 76) She was succeeded by her son Thomas de Arderne, who in 1284 conveyed Housham to Avice, widow of John Horn. (fn. 77) Avice granted the manor in 1287 to Adam of Stratton, chamberlain of the Exchequer. (fn. 78) On Stratton's disgrace and forfeiture in 1290 the year, day, and waste of Housham were granted by the Crown to John de Warenne, earl of Surrey, the tenant in chief. (fn. 79) In the same year John, son of John Horn, brought an action against Stratton for possession of the manor. (fn. 80) In 1293, however, Horn relinquished his right to the earl of Surrey, and from that date the tenancy in demesne was merged in the tenancy in chief. (fn. 81)
In 1314 John de Warenne, earl of Surrey, conveyed Housham to his brother-in-law Edmund FitzAlan, earl of Arundel. (fn. 82) Arundel was attainted and executed in 1326, and in 1328 Housham was granted by the Crown to the former owner, the earl of Surrey. (fn. 83) In 1330, however, Richard FitzAlan, son of the previous earl of Arundel, was restored to his father's honours and lands, including Housham, which he granted for life to his wife Isabel. (fn. 84) She still held the manor in 1346, but by 1347, following the annulment of their marriage, Lord Arundel had resumed control of it. (fn. 85) Housham passed to his son, Richard FitzAlan, earl of Arundel, who was attainted and executed in 1397. The manor had since 1380 been held for life by the earl's yeoman William Rees, whose title was confirmed by the Crown in 1397. (fn. 86) Thomas FitzAlan, son of Richard, was restored to the earldom in 1400. (fn. 87) He died holding Housham in 1415, when the manor was on lease to Bermondsey abbey. (fn. 88) A third of the manor passed for life to the earl's wife, Beatrice (d. 1439). (fn. 89) The remaining two thirds were equally divided between his three sisters, Elizabeth de Mowbray, duchess of Norfolk, Joan de Beauchamp, Lady Abergavenny, and Margaret, wife of Sir Roland Lenthal. (fn. 90) All the sisters predeceased the countess Beatrice, whose share was in 1439 equally divided between their heirs. (fn. 91)
Joan de Beauchamp, Lady Abergavenny (d. 1435) in 1428 vested her share of the manor in trustees, the survivors of whom in 1457 settled it on her grandson Thomas Butler or Ormond, later earl of Ormond (d. 1515). (fn. 92) He lost it by attainder in 1461, but recovered it after pardon in 1472. (fn. 93) Elizabeth de Mowbray, duchess of Norfolk, alienated her original share of two ninths to Hugh Boyvyle in 1425 shortly before her death. (fn. 94) Her grandson John de Mowbray, duke of Norfolk, died in 1461, leaving to his son John de Mowbray (d. 1476) a ninth of the manor inherited from the countess of Arundel, and also half of a ninth and two ninths. (fn. 95) The two latter portions probably represent his share of the Lenthal inheritance. Margaret Lenthal's original share of two ninths had been held by her husband Roland until his death in 1450, when it passed to trustees under a settlement made in 1444 by their son Edmund Lenthal, who predeceased his father. (fn. 96) That share, together with Edmund's one ninth share from the countess of Arundel, were probably divided, like Woolston Hall in Chigwell, between the duke of Norfolk and George Neville, Lord Abergavenny (d. 1492). Neville was a descendant of Joan de Beauchamp, Lady Abergavenny, but did not inherit any of her share of Housham. (fn. 97)
By a series of conveyances between 1469 and 1483 the shares in the manor held by the duke of Norfolk, the earl of Ormond, and Lord Abergavenny were bought by William Scott. (fn. 98) Scott evidently acquired the two ninths share alienated by the duchess of Norfolk in 1425, for he held the whole manor at his death in 1491. (fn. 99) William Scott, son and heir of the last, died in 1532 leaving the manor to his grandnephew Walter Scott (d. 1550). (fn. 100) Housham descended with Stapleford Tawney manor until 1655, when Sir Edmund Aleyn, Bt., sold it to George Scott of Woolston Hall, Chigwell. (fn. 101) It descended with Woolston until the 20th century, in the Scott, Bodle, Watlington, and Ethelston families. (fn. 102) In 1765 Housham Hall, comprising 270 a., was occupied by Richard Parris. John Bishop, nephew of Mrs. Jane Parris, was tenant in 1841. (fn. 103) The lordship of Housham Hall manor was in 1921 separated from the demesne land and was sold to Frank H. Jones, who occupied a former copyhold property at Housham Tye later called the Manor House. (fn. 104) The lordship was bought in 1949 by Capt. Guy E. Ruggles-Brise, who held it in 1981. Housham Hall farm belonged in 1981 to Mr. C. J. Tinney. (fn. 105)
Housham Hall lies 2 km. west of the church. In 1609 it comprised a timber-framed hall with a cross wing. (fn. 106) The present house incorporates part of a 16th-century building, but it dates mainly from the 17th century and was cased in brick in the 18th century. Part of a moat survives west of the house, and there are 17th-century barns. (fn. 107) The Manor House, Housham Tye, dates from the 17th century but was greatly enlarged in the 19th and the early 20th century.
Housham Hall free chapel, appurtenant to the manor, was recorded in 1284. (fn. 108) Walter of Leicester, the chaplain, in 1285 vindicated his right to the chapel's endowments, comprising 20 a. of arable land and 1 a. of meadow. (fn. 109) In 1407 the chapel was repossessed by the lord of the manor after the chaplain, John Virly, had failed to celebrate divine service there for seven years. (fn. 110) In 1609 Chapel field (25 a.) lay west of Housham Hall, and Chapel croft (2 a.) was near Newman's End. (fn. 111) Remains of the chapel could still be seen c. 1720. (fn. 112) It lay south of the moat. (fn. 113)
PARVILLS FARM lies in the north-east corner of the parish, extending into Hatfield Broad Oak. It may have originated as a free tenement of Matching Hall manor. (fn. 114) The tenancy in chief was held in the 14th century by the Plaiz family, which suggests that it had been separated from that of Matching Hall after the death of Richard de Montfichet in 1260, and had descended like those of Battles Hall in Stapleford Abbots and Plaiz manor in West Ham. (fn. 115) Richard de Plaiz died in 1360, holding 2 knight's fees in Matching and Great Wenden, which in the following year were released in dower to his widow Margaret. (fn. 116) They do not appear to have descended to John de Plaiz (d. 1389), son of Richard and Margaret, nor to his heirs. (fn. 117) The 2 fees had by 1327 been subinfeudated to Thomas de Berkeley, tenant of Richard de Plaiz. (fn. 118) Sir Maurice de Berkeley held the same fees of Richard in 1360. (fn. 119) No later reference has been found to the Berkeleys at Matching. They held a mesne lordship between the tenants in chief and the tenants in demesne.
The tenancy in demesne, or part of it, was held in the 13th and 14th centuries by the Pereville family, from whom the farm took its name. (fn. 120) In 1228 Agnes de Pereville conveyed 50 a. of land in Matching to her son, Peter of Wakering. (fn. 121) In 1233, with Amice her sister and John de Pereville, she conveyed 1 virgate of land in Hatfield Broad Oak to Peter son of William, who was probably identical with Peter of Wakering. (fn. 122) William de Pereville at his death in 1341 held a moiety of a messuage and 26 a. of land of Maurice de Berkeley. (fn. 123) William's heir was Peter of Wendover, but the Pereville family was still holding land in Matching in 1346 and 1365. (fn. 124)
In 1624 Parvills belonged to Edward Covell. (fn. 125) In the 1840s Parvills farm, comprising 32 a. in Matching and 41 a. in Hatfield Broad Oak, was owned by the Revd. John Connop. (fn. 126) In the later 19th century it was acquired as part of the Down Hall estate, in which it passed until it was sold in 1920 to William Scantlebury. In 1982 the owners were Scantlebury Bros. (fn. 127)
The original Parvills Farm house lay on a moated site on the boundary with Hatfield Broad Oak. In 1921 it was a two-storey building, timber-framed and weatherboarded, probably dating from the 17th century. (fn. 128) In 1900 Lord Rookwood of Down Hall built a new, red brick house north of the moat. The old house was used as farm cottages until c. 1945, when it was demolished after a fire. (fn. 129)
The manor of STOCK HALL lay in the southeast corner of Matching near the boundaries of four other parishes: White Roding, Abbess Roding, Little Laver, and High Laver. It may have originated in an estate of 104 a. in Little Laver which in 1253 was conveyed to Edmund of Essex by Richard son of Henry Alcher, lord of the manor of High Laver. (fn. 130) John of Essex in 1286 leased to John Marsh (de Marisco) an estate of c. 150 a. in Matching and Roding. (fn. 131) John Marsh put in his claim in 1291 when John of Whitchurch (de Albo Monasterio) and his wife Margaret conveyed to Ralph of Hengham the reversion of 103 a. in Matching, Abbess Roding, and White Roding, then on a six-year lease to William of Molton and his wife Agnes. (fn. 132) Ralph of Hengham in 1308 leased for life, from John Stock of Black Notley and his wife Margaret, 129 a. in Matching and Abbess Roding. The estate was Margaret's inheritance (fn. 133) and it is likely that she had previously been the wife of John of Whitchurch; John Stock's name suggests that the property was Stock Hall. Ralph Stock was one of Matching's largest taxpayers in 1327. (fn. 134)
Robert Browne of Rookwood Hall, Abbess Roding, held Stock Hall at his death in 1488, supposedly of Matching Barns manor in Hatfield Broad Oak. (fn. 135) Stock Hall descended with Rookwood Hall until 1554, when Sir Humphrey Browne sold it to John Lindsell and Thomas Aylett. (fn. 136) As a result of the sale part of the demesne lands of Stock Hall appears to have passed to the Lindsell family, while the Ayletts took the manorial rights with some land. (fn. 137) Thomas Aylett (d. 1607) left the manor to his son of the same name. (fn. 138) In 1611 John Aylett conveyed Stock Hall to Thomas Gittens, probably on Thomas's marriage to Susannah Aylett, John's daughter. (fn. 139) Thomas and Susannah Gittens sold the manor in 1622 to Thomas Bennett. (fn. 140) It passed to Thomas's son John, whose trustees sold it in 1710 to Benjamin Braine. (fn. 141) Stock Hall later passed to James Braine, whose daughter and heir married Daniel Quare. (fn. 142) Quare sold it in 1755 to William Selwin of Down Hall, Hatfield Broad Oak. (fn. 143) It descended with Down Hall until 1920, when it was sold to the occupier, Samuel Stephens. It then comprised 173 a., mainly in Matching but including small portions in Little Laver and White Roding. (fn. 144) In 1981 it was owned by Dr. and Mrs. C. M. Taylor.
Stock Hall is a timber-framed house of two storeys with a double moat. The hall range probably dates from the early 16th century and has a plain crown post roof. The parlour cross wing on the west is of the early 17th century, possibly rebuilt when an upper floor and chimney were put into the hall. The eastern cross wing has been demolished, and the service rooms are in a late 17th-century addition along the north side of the hall range. (fn. 145)
The manor of WATERMAN'S or MATCHING GREEN lay on the eastern side of the parish, extending into Little Laver, where the name is preserved in Waterman's End. The origins of the manor are obscure. The tenancy in demesne was acquired, probably before 1359, by Waltham Abbey. In that year Waltham granted to John Roberd a 300–year lease of lands in High Roding and Matching, which had been given to the abbey by William atte Ree. It has been suggested that the surname Waterman, recorded at Little Laver in 1398, was a variant of atte Ree, and that would explain the manorial name. (fn. 146)
The property in Matching included in the lease of 1359 was a 'place' at Matching Green. The lessee, besides paying an annual quitrent, was to collect the abbey's rents in Matching, Little Laver, and High Laver. That lease appears to have been surrendered by 1535, when the abbey leased its Matching property, then comprising 30 a., to Thomas Lindsell. (fn. 147)
Waltham Abbey was dissolved in 1540. In 1545 its manor of Matching Green was granted by the Crown to George Clifford and Michael Welbore. (fn. 148) Welbore sold it in 1547 to Geoffrey Lukin of High Ongar (d. 1550). (fn. 149) Thomas, son and heir of Geoffrey Lukin, conveyed the manor in 1550 to his brother William, who sold it in 1554 to Sir William Petre of Ingatestone. (fn. 150) In 1637 William Petre, Lord Petre, conveyed Waterman's to his brother Edward, who sold it in 1644 to Sir Thomas Barrington, Bt., of Barrington Hall, Hatfield Broad Oak. (fn. 151) Waterman's descended with the Barrington Hall estate until the early 19th century. It was last recorded in 1832 as part of William Lowndes's share of that estate. (fn. 152)
Waterman's manor house, said to have been ¾ mile from the church, had fallen down by c. 1720, when only 'something of an orchard' remained. (fn. 153) According to a later statement it was ¾ mile north of the church. (fn. 154) That would have put it in Hatfield Broad Oak, but ¾ mile north-east of the church, at Gunnetts Green, is a deserted moated site. In 1624 some of Lord Petre's lands lay in that area. (fn. 155)
Economic History.
Matching has always been a rural parish, in which arable farming has predominated. All its Domesday manors were small and poor. In 1086 Edmund son of Algot's manor of Matching had less land under cultivation and fewer animals than in 1066. The ploughteams had decreased from 5½ to 4, and the stock from 7 cows, a pig, 100 sheep, 40 goats, a rouncey, and 6 hives of bees, to 4 'beasts', 9 swine, 24 sheep and 2 hives. The recorded population had risen from 11 (7 villeins and 4 serfs) to 13 (9 villeins and 4 bordars). In 1086 there were 10 a. of meadow and woodland for 50 swine. (fn. 156) On Robert Gernon's manor ploughteams had decreased from 1½ in 1066 to 1 in 1086, and population from 5 (1 villein, 1 bordar, 3 serfs), to 4 (all bordars), but livestock had increased, from 8 swine and 1 rouncey to 4 'beasts', 16 swine, 12 sheep, and 8 goats. In 1086 there were 8 a. of meadow and woodland for 40 swine. (fn. 157) On William of Warenne's manor at Housham there were 6 ploughteams both in 1066 and in 1086, but the stock had increased from 5 'beasts', 1 calf, 40 swine, and 40 sheep to 6 'beasts', 50 swine, 90 sheep and 3 hives of bees. The recorded population had increased from 13 (6 villeins, 4 bordars, 3 serfs), to 15 (10 villeins, 4 bordars, 1 serf). In 1086 there were 14 a. of meadow and woodland for 60 swine. (fn. 158) The three small manors held by St. Valery abbey, Geoffrey de Mandeville, and Ralph de Tony each had a single ploughteam in 1066. St. Valery's team had disappeared by 1086; the other two remained. Geoffrey's manor had woodland for 10 swine and 3 a. of meadow. There was a serf in 1066, but none in 1086. (fn. 159) The most striking change indicated by the Domesday figures was the replacement of all but one of the serfs by bordars and villeins.
Unlike some of the neigbouring parishes Matching was not densely wooded in 1086, and the amount of open woodland was sharply reduced in 1229, when Thomas de Arderne, lord of Matching Hall, was licensed to impark Matching wood. (fn. 160) The inclosure of the park seems to have caused local resentment in the 13th and 14th centuries, leading to trespass in the park, theft of timber, and attacks on the park keeper. (fn. 161) Housham Hall manor in 1607 contained 7 a. of woodland. (fn. 162) It included the Grove, lying near Pincey brook and known in the 19th century at Heathenwood. (fn. 163) Matching contained some 70 a. of woodland in 1843 and 20 ha. (49 a.) in 1977. (fn. 164)
Areas of former woodland are probably indicated by outlying roadside greens or tyes. (fn. 165) Housham Tye, Carter's Green, and Matching Tye are in the south-western corner of the parish, Peartree Green and Gunnets Green near the eastern boundary, and Matching Green in the south-eastern corner, extending into High Laver and Little Laver. In 1668 the tenants of Waterman's manor and Otes in High Laver were said to have commoned at Matching Green time out of mind. (fn. 166) The green comprised 16 a. in 1843. By then it formed part of the impropriate rectory, but the cottages retained grazing rights there until the 20th century. (fn. 167) In 1981 the green was used mainly for recreation.
There were open fields in the Middle Ages. Remains of two of them, Downe and Stockett, survived on Housham Hall manor in 1609. (fn. 168) Some inclosure had taken place there by 1462. (fn. 169) Field names suggest the fragmentation of open fields after inclosure. Great and Little Powdon (22 a. each), Laye Powdon (8 a.), and Bushey Powdon (6 a.) lay north of Housham Hall in 1609. First and Further Three Pieces and two long, narrow fields, of 1 a. and 5 a., called Long Common in 1843 probably indicate the site of the open fields of Matching Hall manor.
Two small common meadows survived in 1843. (fn. 170) One, belonging to Matching Hall, lay north-east of Newman's End, on the parish boundary. The other, north-west of Matching Tye, had in 1609 been part of Housham Hall. (fn. 171) Former common pasture is indicated by the place name elements 'leaze' or 'ley'. Horse leaze (19 a.) and Bushey leaze (6 a.) were north of Housham Hall in 1609 and 1843. Upper and Lower Goodleys (23 a.), on Parsonage farm, was recorded in 1745. (fn. 172)
Labour services still predominated on Matching Hall manor in 1342. Tenants of ½ virgate did 3 weekworks for 40 weeks and 5 weekworks between Lammas and Michaelmas. Tenants of 10 a. did 2 weekworks for 40 weeks and 3½ during harvest. Tenants of 3 a. did 1 weekwork for 40 weeks and 2 works at harvest. The half-virgaters also paid pannage, tallage, and woodsilver, and rendered hens, eggs, and corn. There had been some commutation of services. One half-virgater did service for a third of his land and paid 2s. 6d. rent for the remainder. (fn. 173)
In the later 14th century there was a considerable trade in sheep between Housham Hall and Hatfield Broad Oak. (fn. 174) There were 116 sheep at Housham in 1397, with 6 stots, 3 oxen, a bull, and 17 cows. (fn. 175) The importance of dairy farming is shown by the fact that the small tithes of Matching were customarily paid in cheese. It was stated in 1610 that 13 farms paid 9 cheeses each, one paid 5, another 4, while the rest paid 4½d. for each hundredweight. (fn. 176) Returns for the parish in 1866 included 293 sheep, 19 cows, 81 other cattle, and 114 pigs. Those for 1906 listed 690 sheep, 40 cows, 115 other cattle, 55 pigs, and 96 horses. In 1926 there were 51 cows, 107 other cattle, 56 pigs, 53 horses, 1,357 poultry, but no sheep. The 1977 returns showed 238 sheep, 545 cattle, 1,346 pigs, and 33,360 poultry. (fn. 177)
Recorded figures suggested that arable farming has predominated since the 13th century. (fn. 178) Stock Hall in 1308 comprised 108 a. arable, 6½ a. meadow, 14 a. pasture, and 1 a. wood. (fn. 179) At Waterman's in 1540 there were 100 a. arable, 6 a. meadow, 10a. pasture, and 11 a. wood. (fn. 180) Housham Hall in 1609 was mainly corn ground. (fn. 181) In 1840 the parish was estimated to contain 1,804 a. arable and 200 a. meadow. (fn. 182) The proportion of arable fell in the later 19th century, but has risen during the 20th. Returns for 1866 included 865 a. of cereals, 266 a. of vegetables, and 744 a. of grass. Those for 1906 listed 863 a. of cereals, 242 a. of vegetables, and 817 a. of grass. In both returns wheat was the main cereal, and beans were the largest vegetable crop. Returns for 1926, probably incomplete, included 585 a. of cereals, mainly wheat, 93 a. of vegetables, mainly peas, and 614 a. of grass. The 1977 returns, for the enlarged parish, list 915 ha. (2,261 a.) of cereals, almost equally divided between wheat and barley, 192 ha. (474 a.) of vegetables, mainly potatoes and horticultural crops, and 164 ha. (405 a.) of grass. (fn. 183) In the above figures cultivated grasses and bare fallow have been included in the total for grass.
In 1843 there were 11 farms in the parish with 50 a. or more. The largest was Housham Hall (301 a.). Two farms contained between 200 and 300 a., five between 100 and 200 a., and three between 50 and 100 a. (fn. 184) The 1906 returns listed two farms over 300 a., and seven between 50 and 300 a. Those for 1977 show three farms between 200 and 300 ha. (494–741 a.) and two between 50 and 100 ha. (123–247 a.). (fn. 185)
In 1241 corn for Housham Hall was apparently being sent for grinding to Quickbury in Sheering, which suggests that there was then no mill at Matching. (fn. 186) There was a mill at Matching Hall by 1350. (fn. 187) Windmill field in 1624 lay south of the lane leading to Matching Hall. (fn. 188) In 1843 there were two windmills in the parish. One, belonging to John Selwin, lay about ¼ mile east of his mansion of Down Hall. Matching mill lay about 700 yds. south of Housham Hall. (fn. 189) The Down Hall mill had gone by 1874. (fn. 190) Matching mill, a post mill, continued to trade until the 1870s. (fn. 191) The round house was later used as a smithy. (fn. 192) It survived in 1981.
An attempt in 1633 to establish saltpetre works at Matching Green was defeated by local opposition. (fn. 193) A belt of soil running south-east from Down Hall has been exploited for brickmaking. In 1843 Brick Kiln mead and Further Brick Kiln field lay near Down Hall. Farther south were Brick Kiln field, and Brick House Farm. (fn. 194) In 1897 there were brickworks in the field immediately west of Brick Kiln mead. (fn. 195) They were probably supplied with gas by the Down Hall gasworks, which stood in the adjoining field. (fn. 196) There were maltings in the mid 18th century at Smallways Farm, Newman's End. (fn. 197) Malthouse field in 1843 lay west of the farm. (fn. 198) Maltings at Matching Green operated from 1845 or earlier. (fn. 199) They stood north of Albion House, and in 1902 occupied ½ a. (fn. 200) Potash making is indicated by the field names Potash mead and Potash pasture, recorded in 1843 north of the lane leading to Brick House. (fn. 201) Potash Road runs east from Matching Green.
Local Government.
Court rolls of Matching Hall survive for 1307–97, 1423–53, 1466–89, and, with a few short gaps, from 1524 to 1767. Courts leet were held until 1678, but not regularly nor every year. In the 14th century they appointed aletasters and coroners, usually two of each. The coroners were responsible for making presentments to the court. In 1309 four men were appointed to guard the lord's corn. In the 16th and 17th centuries the court appointed a constable, and occasionally two, as in 1660 and 1678. (fn. 202) Court rolls and books of Housham Hall survive for 1407, 1417, 1441, and, with gaps, from 1461 to 1915. They record only courts baron. (fn. 203) Court rolls of Waterman's manor survive for 1613, 1617, and 1620. In 1613 a court leet was held, at which a constable was appointed. The rolls for 1617 and 1620 record only courts baron. (fn. 204)
No parish records have survived except registers and some tithe papers. (fn. 205) There is no doubt, however, that parish government was conducted as required by law. In 1770 the vicar built a pew in the church for the use of the choir, and for vestry meetings. The vestry appointed a salaried parish clerk in 1773. (fn. 206) There were two constables in 1669 and 1674, but it is not clear whether they were parochial or manorial officers. (fn. 207) A constable's rate was recorded in 1723. (fn. 208) In 1614 there were three surveyors of highways. (fn. 209) A highway rate was levied in 1762. (fn. 210)
Workhouse field, recorded in 1843, lay south of Carter's Green. (fn. 211) There is no other evidence of a workhouse. In the 18th century the Marriage Feast room and the Cockalehouse, both belonging to the church, were used for poor relief purposes. (fn. 212) The Marriage Feast room, near the church, housed two poor persons c. 1715. (fn. 213) The Cock, also called Church House, at Matching Green, had been given to provide funds for church repairs, but it was stated c. 1771 that the rent was often given to the poor. (fn. 214) The parish overseers were paying quitrent for Church House in 1709 and in 1824. (fn. 215) In 1834 they were renting a cottage at Matching Tye, later the Fox public house, possibly as a poorhouse. (fn. 216)
Expenditure on poor relief was £7 12s. in the year 1613–14. (fn. 217) In 1776 it was £291, and during the three years 1783–5 it averaged £279. (fn. 218) Between 1803 and 1817 the annual average was £737, with peaks of £1,216 in 1813 and £1,084 in 1817. (fn. 219) Matching became part of Epping poor law union in 1836. (fn. 220)
Church.
A church probably existed c. 1150, when Hugh, dean of Matching, was recorded. (fn. 221) The advowson of the rectory passed with the manor of Matching Hall until c. 1260, when Thomas de Arderne sold it to Hervey of Boreham, later dean of St. Paul's (Lond.). Hervey gave the advowson to Little Leighs priory, which in 1274 was licensed by the bishop of London to appropriate the rectory. At the same time a vicarage was ordained, to which the priory was to present as directed by the bishop. (fn. 222) On the priory's dissolution in 1536 the rectory and advowson of the vicarage were granted to Sir Richard Rich, later Lord Rich, who in 1555 settled them on his new chantry at Felsted. In 1564 they became part of the initial endowments of Felsted School. (fn. 223) The advowson has since remained with the Felsted trustees, subject to the nomination of the bishop of the diocese. (fn. 224) Felsted sold the rectory in 1876 to Sir Henry Selwin-Ibbetson, Bt., later Lord Rookwood, of Down Hall, Hatfield Broad Oak. (fn. 225)
The rectory was valued at £10 in 1254 and 1291. (fn. 226) In the 1530s it was leased for 20 marks, which was said to be less than its real value. (fn. 227) The rectorial glebe, called Parsonage farm, at Newman's End, comprised 63 a. in 1745 and 56 a. in 1843. The great tithes were commuted in 1843 for £454. (fn. 228)
The earliest valuation of the vicarage, probably before 1274, was only 40s. (fn. 229) In 1274 it was ordained that the vicar should retain the ancient Vicarage house and should have all small tithes, 11 a. of arable land, and all tithes of corn and hay from the area lying east of the road from Ongar to Bishop's Stortford, between Matching Green and Downhall bridge. He was also to receive 2 marks a year from Leighs priory. (fn. 230) The vicarage was valued at £4 13s. 4d. in 1291 and £12 10s. 4d. in 1535. (fn. 231) In 1610 the vicarial glebe comprised 8¼ a. and a 'little pikle'. (fn. 232) In 1650 the vicarage was valued at £50, including £5 from the house and glebe, £25 from the tithes of 500 a. of land, and £20 rent from Felsted School. (fn. 233) In 1710 the small tithes were customarily paid in cheese; the vicar was still receiving also the corn and hay tithes from the land east of the road from Ongar to Bishop's Stortford. (fn. 234) In 1785 the vicarage was valued at £75. (fn. 235) The vicarial tithes were commuted in 1843 for £252. There were then 10 a. of glebe. (fn. 236)
The Vicarage house in 1610 had a hall, parlour, kitchen, four other small rooms, four bedrooms, a study, and two staircases. (fn. 237) The present house, north-west of the church, is a low 17th-century building which was remodelled shortly before 1771 by William Dearling, vicar 1761–85. (fn. 238) The taller west wing was added in 1884 to the designs of G. E. Pritchett. (fn. 239)
Vicars are recorded from 1274, but the list is far from complete until 1368. (fn. 240) Before the 17th century incumbencies were short. Between 1433 and 1553 there were at least 15 vicars, of whom 12 or more left by resignation. In the neighbouring parish of Hatfield Broad Oak, where the vicar's income was similar, there were only five vicars between 1423 and 1548, all of whom died in office. That suggests that it was not merely the poverty of the living that made Matching unattractive. Possibly the isolation of the parish was a more important factor. In the 15th and 16th centuries several vicars were pluralists. Robert Horne, vicar 1546–53, held Matching with a London rectory and the deanery of Durham. He was later bishop of Winchester. (fn. 241) Robert Snell, instituted in 1608, was sequestrated in 1643. He was succeeded by John Allen and then by Nehemiah Long, who was at Matching from 1647 to 1660. Snell regained the living in 1660, but died in 1661. Long remained briefly as curate under Snell. Nehemiah Holmes, vicar 1661–84, had been ejected from Writtle in 1660 but conformed. (fn. 242) George Stirling, 1684–1728, was also vicar of Hatfield Broad Oak, where he lived for much of his incumbency. (fn. 243) During the 18th century an assistant curate was often employed. (fn. 244) John Morgan, a distinguished Welsh scholar, was curate 1713–28 and vicar 1728–33. (fn. 245) William Dearling, vicar 1761–85, renovated the church as well as the Vicarage. John Houghton, 1837–83, is said never to have slept a night outside the parish.
The church of ST. MARY THE VIRGIN stands on a green in the centre of the parish, close to Matching Hall. (fn. 246) It comprises chancel with north organ chamber and vestry, south chapel, nave with north and south aisles, south porch, and west tower. The walls are of flint rubble with stone dressings; the porch is of brick and timber.
A 12th-century chancel remained until 1873, but the nave was rebuilt, with three-bay aisles, early in the 13th century. The south aisle was widened in the later 14th century, and the central window and south doorway, partly restored, survive from that period. In the 15th century a plain square tower of three stages and the south porch, of which an original tiebeam remains, were added. The church was renovated in 1730 and again in 1770, when the roof was repaired and ceiled. (fn. 247)
The church was restored and enlarged in 1875 to designs by Sir Arthur Blomfield, at the cost of Sir Henry Selwin-Ibbetson, Bt. (fn. 248) The nave was extended one bay eastwards, the north aisle, chancel, and south porch were rebuilt, and the north organ chamber and vestry and the south chapel were added. The roof timbers were renewed, but three 14th-century corbels remain in the south aisle. Further roof repairs were carried out by Felsted School in 1907. (fn. 249)
The church has six bells, the oldest of which date from 1615 and 1640; two others, of c. 1500, were recast in 1875. (fn. 250) The silver plate includes a cup and paten of 1685. (fn. 251) The font, which dates from the 15th century, has an octagonal bowl with shields of arms. (fn. 252) The octagonal carved and pannelled pulpit was given in 1624 by Richard Glascock of Down Hall. (fn. 253) The canopy was removed in 1875. There are four 16th-century benches in the north aisle. (fn. 254) There are traces of red wall painting on the south arcade. Few monuments survived the 1875 restoration. (fn. 255) There is a brass to John Ballett (d. 1638), a wall monument to Nicholas Ashton (d. 1716), and a window in the south aisle to Lord Rookwood (d. 1902). (fn. 256)
Church House, Matching Green, recorded in 1668, was said in 1768 to have been given for the repair of the church. In the 18th century it was the Cock alehouse, the rent of which was often applied to poor relief. (fn. 257) It still belonged to the church in 1843. (fn. 258) In 1981 it was a private house, Lone Pine Cottage.
The Marriage Feast room, immediately west of the church, was built, probably in the later 15th century, for the entertainment of poor people on their wedding day. (fn. 259) It was used as an almshouse in the 18th century, and as a school in the early 19th century. (fn. 260) The building was restored in 1897 and was later used as a church hall. (fn. 261) It is of two storeys, timber-framed and plastered. The main room, which occupies the whole of the upper floor, has a crown post roof of four bays. It is approached from the outside by an integral staircase in the north-west corner. The ground floor originally had one dividing wall but was later made into several smaller rooms. In 1981 the building was being renovated. (fn. 262)
Housham Hall manorial chapel and the church of St. Edmund, Matching Green, are described elsewhere. (fn. 263)
Nonconformity.
Two conventicles were registered in 1672, one by William Collins, Baptist, at Anne Boreham's house at Matching Green, the other by Henry Lukin, Congregationalist, at Edward Casse's house at Matching. (fn. 264) William Collins was still active in the district in 1689. (fn. 265) Joseph Collins, possibly a relative, was a preacher at Matching in 1715. (fn. 266) Henry Lukin, formerly tutor to Sir William Masham of Otes, in High Laver, lived at Matching Hall, the home of Sir William's mother, and preached regularly at Matching Green, where a chapel was built. After Lukin's death in 1719 the chapel was served by Congregational ministers from Abbess Roding and Hatfield Heath, but it had closed by 1745. (fn. 267)
In 1778 there were 24 Baptists, 65 Independents, and 7 Presbyterians in Matching, and in 1810 it was reported that some 200 parishioners frequented meeting houses. (fn. 268) A Congregational meeting was listed in 1829. (fn. 269) In 1851 there were two dissenters' meetings: a lecture room holding 83, and a cottage at Matching Tye attended by 30. (fn. 270)
Matching Tye Congregational church was built in 1875 on the initiative of Joseph Matthews and with assistance from Hatfield Heath Congregational church. (fn. 271) In 1972 it joined the Evangelical Fellowship of Congregational churches. There were about 20 members in 1981. (fn. 272)
Matching Green Baptist church was opened in 1885 as a mission of Fore Street church, Harlow. (fn. 273) It was grouped with Bishop's Stortford from 1898 to 1914, and later for a time with Harlow. The church was destroyed by bombing in 1941, and was rebuilt in 1950. There were 5 members in 1979. (fn. 274)
Matching county primary school originated c. 1824 as a Church Sunday school, held in the Marriage Feast room. A church day school, opened in 1832, was maintained by school pence. It was open to children from Matching, High Laver, and Little Laver. In 1839 there were 97 on the roll. The school was kept 'by a governess on her own account' under the vicar's superintendence. (fn. 276) She was probably Hannah Hasler, the wife of a shoemaker at Matching Tye, who held the post in 1848. A later schoolmistress, in 1870, was living at the school. The Marriage Feast room was inconveniently placed, and the accommodation was poor. In 1875 Sir Henry Selwin-Ibbetson, Bt., later Lord Rookwood, owner of Down Hall, who already supported an infant school at Newman's End, built a new school for 123, with a teacher's house, about 500 m. north of Matching Tye, on the road to Sheering. (fn. 277) Annual government grants were received from 1878. (fn. 278) The church school building remained the property of Lord Rookwood and his successor, Major Calverley, until 1929, when the county council bought it and took over the school. (fn. 279) The county school was reorganized in 1947 for juniors and infants, and was closed in 1969. (fn. 280)
From 1836 Matching children could attend Fawbert and Barnard's school, Harlow. (fn. 281) Matching Green Church of England primary school, in High Laver, has been described under that parish. (fn. 282) Matching benefits from the Tom Parkin educational charity, founded in 1977. (fn. 283)
Charities for the Poor
None known.