Pages 317-346
A History of the County of Gloucester: Volume 12. Originally published by Boydell & Brewer for Victoria County History, Woodbridge, 2010.
This free content was digitised by double rekeying. All rights reserved.
TAYNTON
THE Gloucestershire parish of Taynton lies 10 km WNW of Gloucester in rolling countryside below May hill. Although parts contained ancient tree cover and supported woodland crafts, it was predominantly agricultural in character and in the 17th and 18th centuries was known particularly for the growing of pears. Its medieval church was destroyed in military action during the Civil Wars and its replacement, dating from the 1650s, is a rare example of a parish church aligned north–south. (fn. 1)
BOUNDARIES AND DIVISIONS
The ancient parish covered 2,521 a. (1,020 ha) extending south-westwards from the hamlet of Kent's Green to a tongue of land climbing Glasshouse hill on the lower slopes of May hill. (fn. 2) Irregular boundaries included the Glasshouse brook on the north-west and the Tibberton brook on the south-east. On the north, where a relatively straight road marked the boundary west of Kent's Green, the long boundary with Newent was adjusted in two places in 1992 to bring the whole of Kent's Green and Clifford Manor below Glasshouse hill within Taynton. (fn. 3)
Taynton was anciently divided between the manors of Great and Little Taynton. (fn. 4) Little Taynton, assessed for tax separately in 1327, (fn. 5) was much the smaller. Comprising the north-east corner of the parish, it extended westwards to Norman's Farm and south-westwards to Taynton Court (fn. 6) and was bounded on the south by a lower stretch of the Glasshouse brook. (fn. 7) Although not administered apart from the rest of the parish in the early modern period, Little Taynton asserted its separate identity in some aspects of parish government in the mid 19th century. (fn. 8)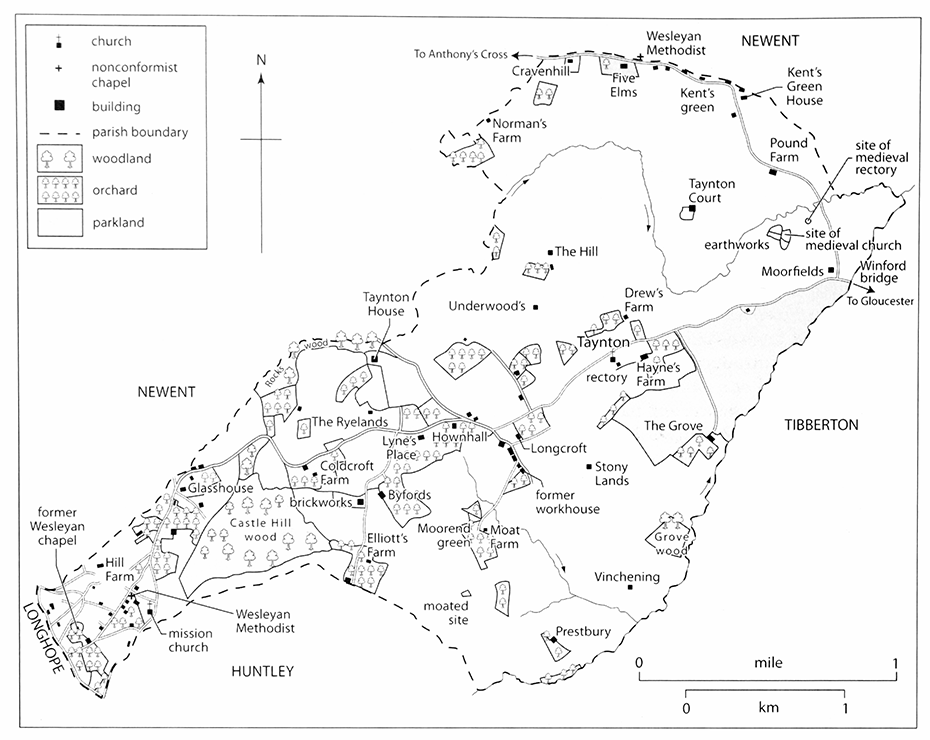 LANDSCAPE
The east end of Taynton is open country rising gently to 40 m on the ridge followed by the boundary west of Kent's Green and to 50 m in the centre of the parish. Further west the topography becomes hilly, the land rising in places to over 86 m before it ascends steeply to reach 213 m on Glasshouse hill. Streams flowing off May hill from west to east drain the parish into tributaries of the river Leadon and are prone to flood across low land. (fn. 9) The Glasshouse brook runs south of Norman's Farm across the eastern end of the parish. Another stream, fed by a spring at the foot of Glasshouse hill called Monk's well in the early 18th century, emerges from its valley and turns south-eastwards in the centre of the parish near Hownhall to flow past Moorend green and join the Tibberton brook. (fn. 10) Except for areas in the east with alluvial soil the land is formed by marls and shales with sandstone formations and limestone outcrops making the higher ground of the west. (fn. 11)
The scattered nature of settlement indicates that much of it followed the clearance of ancient woodland. King John (1199–1216) extended forest law to the covert of Taynton (fn. 12) and the parish remained within the official bounds of the Forest of Dean until the early 14th century. (fn. 13) By that time Taynton's woods were presumably confined to its south-western end, where commonable woodland and waste called Taynton wood once covered Glasshouse hill. The hill was denuded of trees probably by the early 18th century when the main wood was below it on Castle hill. (fn. 14) Inclosed by the late 16th century (fn. 15) and extended at 89 a. in 1840, (fn. 16) Castle Hill wood was enlarged to the south in the early 20th century (fn. 17) and has remained by far the largest piece of woodland. Lewis grove (40 a.) recorded in the late 16th century (fn. 18) was cleared and inclosed in the mid 17th. (fn. 19) Among woodland remaining in the mid 19th century were Tuns wood (8 a.) on the north side of Castle Hill wood, Rocks wood (14 a.) along the north-western boundary of the parish, and Hayne's wood (4 a.) and Grove wood (10 a.) in the east; (fn. 20) Hayne's wood was grubbed up a few years later. A covert of 8 a. planted at the end of the century on the Newent Court estate at Cravenhill in the north (fn. 21) was grubbed up in the mid 20th century. (fn. 22) Field names in the early 19th century suggest that land in the east next to earthworks marking perhaps the original site of Great Taynton manor may have been parkland. (fn. 23) By the time of the Commons Registration Act of 1965 the former commons of the parish had been reduced to a few small patches of roadside waste, including remnants of Glasshouse green below Glasshouse hill and of Kent's green on the Newent boundary. (fn. 24)
ROADS
Taynton's roads are narrow lanes used by local traffic. That from Tibberton to May hill running from east to west through the centre of the parish past its 17th-century church was a highway from Gloucester in 1648. (fn. 25) It enters Taynton at the stream crossing known as Winford bridge c.1703, (fn. 26) where a lane branches northwards towards Kent's Green. A way further south, perhaps another route from Gloucester, ran westwards past the Grove. (fn. 27) Further west, where it was known in the later 17th century as Puck Lane, (fn. 28) it joined Moat Lane, which runs from Moorend green to the south (fn. 29) to a junction with the road to May hill just before Hownhall. In the west the road to May hill, curving through the hills before its ascent of Glasshouse hill, was the way to Mitcheldean in the mid 17th century (fn. 30) and a section became known as Gatling Lane (the Gatling). (fn. 31)
The principal ancient route from south to north through the parish was probably that in the west followed in places by the road from Huntley, and earlier Newnham, to Newent. (fn. 32) South of Taynton House, where in 1694 John Holder filled up the lane leading to the house with earth, (fn. 33) the road turns eastwards to follow the east–west route back to Hownhall. From there it continues north-westwards past Taynton House and its grounds down to a bridge built on the parish boundary in 1813. (fn. 34)
POPULATION
Sixteen tenant households were recorded on the Great Taynton and six on the Little Taynton estates in 1086. (fn. 35) In 1327 20 men were assessed for tax in Great Taynton and 8 in Little Taynton, (fn. 36) and a muster of 1542 named 22 men for Great Taynton and 11 for Little Taynton. (fn. 37) The parish had c.140 communicants in 1551 (fn. 38) and 41 households in 1563, (fn. 39) and the number of communicants was put at 60 in 1603 (fn. 40) and the number of families at 86 in 1650. (fn. 41) The total population, estimated at 200 c.1710 (fn. 42) and 250 c.1775, (fn. 43) rose from 378 in 1801 to 634 in 1841. From 689 in 1861 it declined to 463 in 1901 and, after a small increase, to 394 in 1961. Despite the boundary changes of 1992 it remained 405 in 2001. (fn. 44)
SETTLEMENT
Much of Taynton is settled in scattered farmsteads, many with medieval origins. The farmsteads were once more numerous and the locations of some of those that have been abandoned, for example Welsh Place and Over House recorded in the later 17th century, the latter at a place called Allow End, (fn. 45) have not been identified. In later centuries few houses were erected on entirely new sites.
The church recorded from the mid 12th century (fn. 46) stood on the east side of the parish within substantial earthworks between an ancient lane and, to the north, the stream that marked the southern boundary of Little Taynton. (fn. 47) The earthworks probably originated in the late 11th or early 12th century as a ringwork that was remodelled as a motte and bailey fortification, probably with a moat. (fn. 48) The likely builders were the lords of Great Taynton, William Goizenboded and his successors of whom Maud de Wateville relinquished her rights in the church by 1148. (fn. 49) In the early 18th century the bulk of the earthworks belonged to the Little Taynton estate, part of which was in Great Taynton. (fn. 50) The church was destroyed along with the nearby rectory house, which stood inside a circular moat to the north-east within Great Taynton, (fn. 51) by royalists soon after the raising of siege of Gloucester in 1643. (fn. 52) A thatched building on the south side of the churchyard, described in 1704 as the parish house, (fn. 53) accommodated several dwellings when in private ownership (fn. 54) and was removed in the mid 20th century. (fn. 55)
In the early 19th century a farmhouse (Moorfields) was built to the south by the road leading westwards from Winford bridge on land temporarily out of the ownership of a Dumbleton charity. (fn. 56) Two pairs of council houses were built on the south side of the road in 1936 (fn. 57) and a third pair a few years later. More houses and bungalows were built there in 1963. (fn. 58) Further west on the road farm buildings on the Cinders estate were remodelled after their absorption by the Grove estate in 1849 (fn. 59) as a farmstead with a single-storeyed dwelling (the Stalls). (fn. 60)
The Grove, across the fields to the south-west, stands south of the line of an old east–west route and probably on the site of a medieval dwelling; two men surnamed 'at the grove' were assessed for tax in Great Taynton in 1327. (fn. 61) The house, which probably served the demesne farm of Great Taynton in the late 16th century, became the residence of Thomas Pury (d. 1693) (fn. 62) and later was the principal farmhouse on a substantial estate. (fn. 63) In the mid 19th century fields to the north were planted as a park with a drive southwards from the road leading westwards from Winford bridge (fn. 64) and in the mid 1920s M.P. Price built a pair of cottages at the entrance to the drive (fn. 65) and enlarged the house. (fn. 66) To the south-west at Vinchening, formerly known as Vinchend or Vinchingend, was a farmhouse called Awberry's in 1716. (fn. 67) A barn remained standing after the house became derelict in the early 20th century. (fn. 68) In the same general area a farmstead called Drinkwater's probably after a family resident in Taynton in the early 18th century was abandoned before the mid 19th century (fn. 69) and other cottages in the fields to the north were also abandoned long ago, the site of a homestead in the place called Stony Lands being covered by a copse. (fn. 70)
Two farmsteads set back on opposite sides of the road leading westwards from Winford bridge are named after the families of Giles Haynes and John Drew, who in the mid 1640s were among petitioners for a church in the centre of the parish. (fn. 71) The new church, standing near by on the south side of the road, was in use in 1659. (fn. 72) A rectory house was built next to it in 1849 and 1850 (fn. 73) and a schoolroom, later the parish room (church hall), on the north side of the road in 1883. (fn. 74) Further west along the road Marchfield (formerly March Croft) dates from 1912 (fn. 75) and one of its outbuildings was enlarged in the late 20th century to make a house.
Further west a few cottages stand east of a small green at Hownhall where the road to Newent turns north-westwards. On the south side of the green Hownhall Farm, the chief dwelling on the Ayleway family's estate in the 16th century, (fn. 76) presumably marks the spot occupied in 1327 by Walter of Hownhall (Heuwenhulle). (fn. 77) In 1953 an oak tree was planted on the green to replace an old one that had been destroyed by fire. (fn. 78)
Longcroft, the largest house at the top of Moat Lane, south-east of Hownhall, in the mid 19th century, stands north of the line of Puck Lane (fn. 79) in the place of a cottage recorded from 1655. (fn. 80) Musgrove Cottage, one of two timber-framed cottages to the south, belonged to a parish charity (fn. 81) and Hill View House, next to it, was built in 1818 as a parish workhouse. (fn. 82) Later houses on Moat Lane include a pair of council houses built opposite the former workhouse by 1945. (fn. 83)
Further south stands a couple of houses at Moorend green, south of a stream at the bottom of a lane that in 1323 was a way called 'Crowelone' street. The area, known in the later Middle Ages as the mere end, included in 1452 the home of William Horn's widow Agnes. (fn. 84) Moat Farm, the principal house, is timber-framed. The rectangular moat next to it, enclosing an orchard in the mid 19th century, (fn. 85) was destroyed in the late 1960s to make way for turkey sheds. (fn. 86) Further south, in the fields some way northwest of the farmstead at Prestbury, a rectangular earthwork within a moat was covered in trees in the mid 19th century. (fn. 87)
In the north-east of the parish, in Little Taynton, the farmhouse at Taynton Court stands within the remains of a rectangular moat and was the principal dwelling of Kilpeck's tithing, (fn. 88) the lords of Kilpeck being the owners of Little Taynton in the early Middle Ages. (fn. 89) In 2006 a new house stood to the north-east. Further north-east a cottage was built at the entrance to the drive from the road from Winford bridge to Kent's Green c.1900. (fn. 90) Pound Farm, further east on the road, has a house dating from the 17th century.
Kent's Green The hamlet of Kent's Green formed with the building of small farmhouses and cottages by and on a green at the boundary between Taynton and Newent. Settlement there began by the early 17th century (fn. 91) and a homestead adjoining the Taynton side of the green was called Ittons in 1684. (fn. 92) In 1828 a roadside cottage being built on the waste was demolished. (fn. 93) At the east end Kent's Green House, the principal house, dates mainly from the mid 19th century. (fn. 94) Five Elms Farm, to the west by the road to Anthony's Cross, belonged to the Nelme family until Joseph Clarke (d. 1738) added the farm to his estate. (fn. 95) The house at Cravenhill (Craven Hill), further along the road, occupies a site that was the centre of an estate recorded in the later 13th century (fn. 96) and was occupied by John of Cravenhill in 1327. (fn. 97) The present house dates from a rebuilding, probably as a gamekeeper's lodge, in the late 19th century. (fn. 98) Norman's Farm, across the fields to the south-west on the boundary with Newent, was part of a farm acquired by Joseph Clarke (d. 1705). (fn. 99)
To the south, back in Great Taynton, the small timber-framed cottage by Haskins stands between the sites of two farmsteads that Thomas Underwood left to William Haskins in the late 18th century. The southern farmstead, where Underwood had lived, (fn. 100) was provided with new outbuildings in the later 19th century and the old house at the northern farmstead was adapted as a farm building and its name, the Hill, transferred to its southern neighbour after a fire in the 20th century. (fn. 101) Further south the house at Green Croft Farm, known in the early 19th century as Palmer's, (fn. 102) has brick additions of the 1920s. (fn. 103) Taynton Villa, near by, is a brick house of c.1850. (fn. 104)
In the west of the parish Elliott's Farm, near the southern boundary by the Huntley–Newent road, was long owned by the Elliott family, whose property in the late 18th century included Adams, (fn. 105) a farm that Peter Charles had owned at the beginning of that century. (fn. 106) At Elliott's Farm, also known as New House Farm after it was taken into Edmund Probyn's Huntley estate in 1861, (fn. 107) the oldest building is an 18th-century barn. (fn. 108) In the later 20th century a house was built between the farmstead and the road. Further north there was presumably a dwelling at Byfords before the early 14th century, when John of Byford was among Great Taynton's wealthiest residents. (fn. 109) The farmhouse, one of the Whittington family's possessions in the early 16th century, (fn. 110) stands on a rock outcrop overlooking a crossing of a stream (fn. 111) and its yard occupies a terrace immediately below. (fn. 112) The farmstead at Lyne's Place, to the north-east by the road leading westwards down from Hownhall, belonged to the Hartland family in the early 18th century (fn. 113) and was part of the Cadle family's estate in the early 19th. (fn. 114)
Taynton House, standing near the northern boundary west of Newent road, was a farmhouse known as Jack's House owned by the Holder family from the later 17th century. (fn. 115) In the early 19th century it was extensively remodelled as a country house and to the south another gentleman's residence (the Ryelands) was built on the edge of its grounds on the site of a cottage (fn. 116) taken into the Holders' estate in 1822. (fn. 117)
A number of buildings in the area were pulled down by John Holder after he inherited Jack's House in 1684. (fn. 118) South of the road to May hill at Kingetts (or Kingketts), (fn. 119) where a dwelling probably existed by the early 14th century, (fn. 120) he dismanted a barn and a cider house in 1696 and the farmhouse, having been sold in 1699, was removed to Little Taynton. (fn. 121) The farmstead a little further west at Coldcroft Farm was known until the mid 19th century as Tuns, a name that has been transferred to a cottage on the road near by. (fn. 122) Among other dwellings scattered on the hills of the west a cottage called Thornton (or Thornington) in the late 16th century stood at Crockett's orchard on the north boundary with Newent. (fn. 123)
Glasshouse The hamlet of Glasshouse at the foot of May hill is named after glassworks that opened within Newent in the late 16th century. (fn. 124) Of the dwellings there in the 17th century at least one was a copyhold of Great Taynton manor. (fn. 125) Cottages were built next to the site of the works on waste land (Glasshouse green) and those within Newent, the majority, (fn. 126) were removed by the mid 19th century. (fn. 127) Cottages north of the lane to Hownhall were demolished in the late 19th century during the creation of the grounds of the new Clifford Manor, in Newent. (fn. 128) To the south Monk's Spout Cottage, next to Castle Hill wood, stands near the spring called Monk's well and the spot where, according to tradition, a chapel, presumably the woodland hermitage acquired by Gloucester abbey in the 12th century, once stood. (fn. 129) Within the wood a circular earthwork above the north side of a small valley was probably formed with a watchtower in the late 11th or early 12th century. (fn. 130)
Although scattered building had taken place on the common on Glasshouse hill by the early 18th century, (fn. 131) the oldest surviving houses there date from the late 18th century. That at Hill Farm was built with outbuildings near an older barn. (fn. 132) Higher up a farmhouse known as the Folly in 1799 (fn. 133) was home to a curate in the 1890s and 1900s. (fn. 134) Building, which also took place at Gander's green on the boundary with Huntley in the valley to the south, continued in higgledy-piggledy fashion in the early 19th century (fn. 135) and among new buildings in the 1860s and 1870s were a chapel on what was to become the main road over the hill and a mission church. (fn. 136) In the 20th century more houses and bungalows were built among the lanes on the hill and the scattered settlement, extending into Longhope, became recognised as the village of May Hill.
BUILDINGS
Among physical evidence of medieval building in Taynton are the earthworks raised on the east side of the parish after the Norman Conquest, part of which was the site of the parish church, and the moat around the rectory house near by. The medieval farmsteads have been redeveloped. Taynton Court, where the house stood within a moat, presumably marks the site of Little Taynton manor. (fn. 137) Its house, for which Henry Westerdale was assessed on five hearths for tax in 1672, (fn. 138) was altered using material brought in 1699 by John Viney from the dismantled house at Kingetts (fn. 139) and it has four bays and is of stone with one mullioned window. The church and the rectory house were destroyed in 1643. A new church, erected on a different site in the 1650s, was transformed from a single-cell preaching box into a conventional medieval-style church during the 19th century. (fn. 140)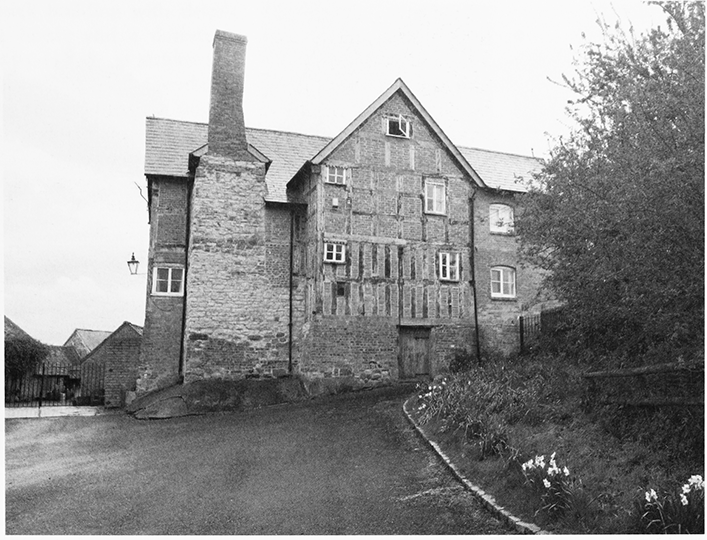 Of the principal houses of Great Taynton Hownhall Farm contains a fragment of the house occupied by the Ayleways in the 16th century. The Grove and Taynton House (formerly Jack's House) seem to have been rebuilt in the late 16th or early 17th century with timber frames and brick infill. Both were H-plan houses (fn. 141) and at Taynton House at least the outlines of Jack's House have survived, together with a record that in 1672 the owner Robert Holder had four hearths. (fn. 142) The Grove faced north-west and the square panels of a substantial two-storeyed house are evident on its north-west and south-east fronts. The high end of the house was to the north-east, where a large chimney stack was shared by a central hall and parlour and chambers in a north-east wing. South-east of the stack a dog-leg staircase in a gabled projection served the hall. The house's southwestern end, possibly jettied and slightly different in date, had a projecting stack. (fn. 143)
Among the smaller farmhouses Byfords and Pound Farm are 17th-century timber-framed dwellings. Byfords, built for a farm on a larger estate, (fn. 144) looks taller and more striking because of its position on an outcrop on the side of a steep slope. (fn. 145) On the south and west fronts the house is twostoreyed and on the north and east it has three storeys and an attic and a high cellar. The square panelled frame is varied on the south and north by bands of close studding and is infilled with large local bricks. Some of the original stone roof tiles survive. The L plan accommodates two large but plain main rooms with intersecting beams on each floor. In the longer west range the hall is heated by a west chimney stack. Behind the hall and chamber above are a small unheated room and an oak winder staircase. The kitchen, at a slightly lower level to the east, has at its north end a massive external chimney stack. In the semicircular farmyard below the house the oldest buildings, a cider house and stable with raised cruck roof, were probably built in the early 18th century, part of the improvements made by John Holder, who installed a new cider press in 1705 and erected a cart house and dairy in 1707. (fn. 146) One barn is dated 1864. (fn. 147)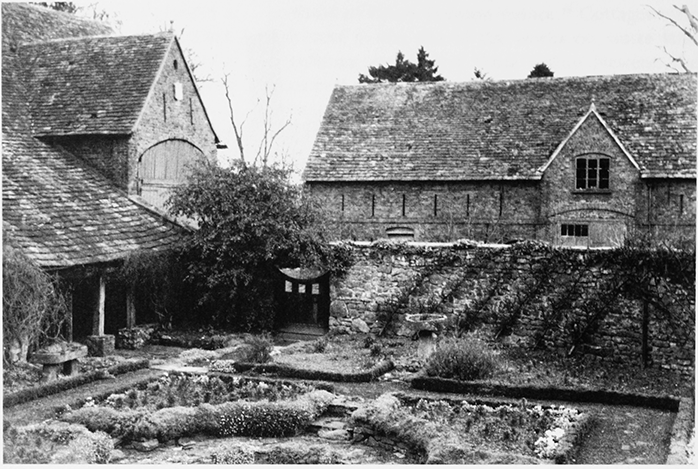 The smaller house at Pound Farm stands on a fairly level site. It has a simple plan of three rooms and attics in line. The hall was heated by an external brick chimney stack on the north wall and the east room was probably unheated until a north stack was added in the 19th century to warm a bread oven. In the late 17th century the west room was rebuilt as a chamber block of two full storeys with end chimney stack and framed newel staircase. A long range south-east of the house incorporates a cider house and, together with a three-bayed barn further south-east, dates probably from the 17th century.
In the later 17th century the principal farmhouses had up to four or five heated rooms. One or two may have been considerably larger but most houses in the parish were very small. (fn. 148) Surviving examples include Tudor Cottage at Glasshouse, Monk's Spout Cottage, and the, perhaps slightly later, cottage by Haskins. All three have two-bayed, 1½storeyed cores. (fn. 149)
The use of brick for external walls rather than for the infilling of timber frames is seen in Taynton from the late 17th century, notably in buildings erected on John Holder's estate. At Taynton House he created a walled farmyard immediately north of the house with a symmetrical arrangement of a sixbayed barn of 1695 on the north and an oxhouse (later stables) and a cider house with cellar of 1699 on the east and west respectively. The buildings, of brick with stone roof tiles and finials, (fn. 150) are of a standard above most of the area's domestic buildings at that time and are matched in quality and ambition only at the farmhouse at Hownhall, which Holder bought in 1698. (fn. 151) There one room of the old house, which had been repaired in the mid 17th century after 1643, (fn. 152) was retained as the north service wing of a new red brick house. (fn. 153) With a single pile of rooms raised on a brick vaulted basement well ventilated for storing produce, the house from the east has a fashionable symmetrical five-bayed façade of two storeys and attics, timber sashes, and a small forecourt with a low wall swept up to higher piers. The south façade, comparable in style, has three bays of blind windows in front of a chimney stack, the blank panels filled with the local orange brick that is used for all the dressings. Only the south-eastern corner of the roof is hipped. The west elevation is distinctly the back, its three wide gabled bays accommodating an extra storey and its windows having (replaced) cross-casements. A projecting east bay contains a dog-leg service staircase. The main staircase, plain but handsomely made, fills a central entrance hall flanked by two parlours. (fn. 154) Near by a brick building with details matching those of the house and a datestone inscribed 1723 was built by Holder as stables and cattle sheds. A timber-framed barn to the south has full cruck trusses taken in 1720 by Holder from a barn he dismantled at a place called Collards. (fn. 155)
Among houses rebuilt as compact brick dwellings in the late 17th or early 18th century, that at Five Elms Farm has two storeys and a projecting porch linked by band courses. Few other new houses were built in the 18th century. The Grove was partly refaced in brick and a timber-framed dairy and scullery were added on the north-east possibly as late as the 1730s or 1740s. In those changes the high and low ends of the house were reversed, the hall was divided into hall and sitting room, service rooms were added to the southeastern front of the hall, and a brick cider house and granary were built close to the south-eastern angle of the house. (fn. 156)
In the early 19th century both Taynton Court and Taynton House were refaced, the former modestly with sash windows. At Taynton House, in work probably undertaken for William Holder, (fn. 157) the east front of the house was turned into that of a cottage ornée with rendered walls, an extra gable over the hall, sash windows, and a trellis porch (since replaced by a timber verandah) and a ha-ha was dug in front of it. The interior was stripped and gutted and a new staircase built at the back. The refitting included doorcases with lions' heads (fn. 158) and in 1825 the house was advertised for letting, under the name of the Ryelands, with entrance hall, dining and drawing rooms, and six bedrooms. (fn. 159) The house now called the Ryelands, standing on the edge of the grounds of Taynton House, was built slightly later by the Holders as a smaller gentleman's residence and was sometimes known also as Irelands. (fn. 160) In the mid 20th century pineapple finials were added to the east front (fn. 161) and a lodge was built half way along the drive from the Newent road. (fn. 162)
Kent's Green House was embellished with scalloped bargeboards when it was built or enlarged on an L plan in the mid 19th century. (fn. 163) With the exception of the rectory house completed in 1850 most other houses in Taynton dating from the 19th century were small plain dwellings of red brick. (fn. 164) Hill View House, built as a workhouse in 1818, has three storeys with few windows towards Moat Lane. (fn. 165)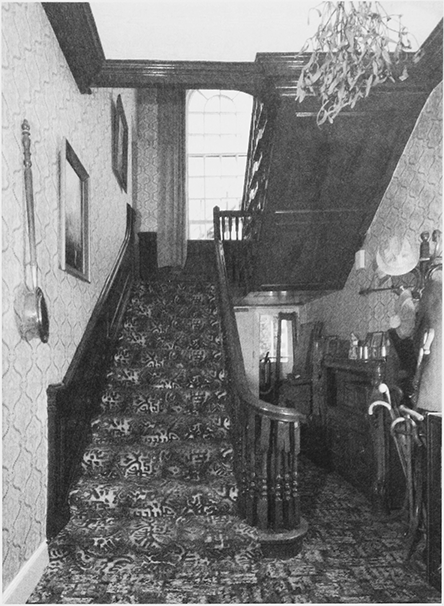 Few new houses were built in the 20th century. Marchfield (formerly March Croft), the largest, was constructed in 1912 using locally made bricks. (fn. 166) Of the principal houses only the Grove was much altered, it being enlarged to designs made in 1924 by Harold Trew for M.P. Price, who the previous year had built a pair of cottages at the entrance of the drive to the house. The drawing room was to become the study and the entrance hall a dining room and a new south-west wing was to contain a drawing room, a sitting room, a west loggia, and a hall entered from the south and interconnecting with a new staircase in the place of an earlier study. (fn. 167)
MANORS AND ESTATES
Of the two estates in Taynton described in Domesday Book the larger became the manor of Great Taynton, which covered most of the parish. The manor of Little Taynton derived from the other estate, which the lords of Kilpeck held in the 12th and 13th centuries, and included Cravenhill, the subject of a grant from the Crown c.1270. The manor of Taynton that passed from Richard Lister (d. 1558) to his son Michael remains to be identified. (fn. 168)
Gloucester abbey owned land in the parish from the mid 12th century and the changing pattern of landownership under the manors produced a number of estates, (fn. 169) some based in the 16th and 17th centuries on the Grove and other houses in the parish. Much of the land, some of which was copyhold, (fn. 170) belonged to farming families, notably the Holders from the mid 17th century. Non-resident owners included the Gloucester lawyer and politician Thomas Pury (d. 1666). (fn. 171) His contemporary William Sivedale, landowner in Taynton and Malswick, in Newent, was fined for his support of the Royalist cause during the Civil Wars. (fn. 172) In the shifting pattern of landownership the Probyn family added Castle Hill wood to its possessions in the early 1740s (fn. 173) and remained among the principal landowners in the parish (fn. 174) until 1884, when on the sale of the Huntley estate its land passed to the Ackers family. (fn. 175) In the mid 19th century, when the Probyns had 148 a., four landowners, including two members of the Holder family and the politician Benjamin Disraeli, each had over 300 a. in the parish. (fn. 176) In the later 19th century P.R. Cocks, Lord Somers, made piecemeal purchases of land in the west of Taynton in creating an estate that centred on the house he built at Clifford Manor, in Newent. (fn. 177) Land elsewhere was taken into the Newent Court estate built up by Andrew Knowles and split up after his death in 1909. The Grove became part of the Price family's Tibberton Court estate in the early 20th century and was sold off towards the end of it.
GREAT TAYNTON MANOR
An estate of 6 hides that Alwin held immediately before the Conquest was one of the possessions of William Goizenboded in 1086. (fn. 178) William and his immediate successors, of whom Maud de Wateville was lady of Taynton in the mid 12th century, (fn. 179) probably raised the substantial earthworks on the east side of Taynton that included the medieval parish church. (fn. 180) William's main estates descended to Arnald du Boys, a tenant of the honor of Leicester (fn. 181) and a landholder in Taynton in 1236. (fn. 182) Later Great Taynton manor, claimed in 1287 to be part of the honor, (fn. 183) was held for a knight's fee of William du Boys (fn. 184) but by 1303 it was held together with an estate in Kilcot, in Newent, from the king in chief as ½ knight's fee. (fn. 185)
Ralph Avenel, who required Ralph the clerk of Taynton to pay an annuity to St Bartholomew's hospital in Gloucester until it received land in Longford from him, (fn. 186) died by 1217 (fn. 187) and his widow Margaret had dower in his Taynton estate. The estate passed to Douce, the daughter of his son William, by 1236 when she was made the ward of Robert de Mucegros. Under the name Cecily, she married Robert's son John (d. c.1275) (fn. 188) and was succeeded in Great Taynton manor at her death c.1301 by her granddaughter Hawise, daughter of Robert de Mucegros and wife of John de Ferrers (fn. 189) (d. 1312) of Chartley (Staffs.). (fn. 190) Hawise's next husband John de Bures survived her and at his death in 1350 the manor passed to her grandson John de Ferrers, (fn. 191) a minor. (fn. 192) John died in 1367 and at the death in 1375 of his widow Elizabeth, who had married Reynold of Cobham, the manor passed to his son Robert, a minor. (fn. 193) Robert (d. 1413) was succeeded by his son Edmund (fn. 194) and Edmund (d. 1435) by his son William (fn. 195) After William's death in 1450 without male issue the manor was awarded to his brother Edmund Ferrers (fn. 196) (d. 1453), from whom it passed in turn to his brothers Martin (fn. 197) (d. 1484), Henry (fn. 198) (d. 1486), and Richard. (fn. 199) Richard died in 1494 and from his widow Elizabeth (fn. 200) the manor reverted to the direct descendants of William de Ferrers, a line represented in 1503 by the infant Walter Devereux, Lord Ferrers. (fn. 201)
Lord Ferrers, who thus became the principal landowner in Taynton, (fn. 202) was created Viscount Hereford in 1550. He died in 1558 and his grandson and heir Walter Devereux, created Lord Bourchier in 1571 and earl of Essex in 1572, died in 1576. Although Walter's son Robert, the next earl, granted a lease of the demesne, (fn. 203) the manor was retained by Walter's widow Lettice, who married in turn Robert Dudley (d. 1588), earl of Leicester, and Sir Christopher Blount (ex. 1601). The Crown seized the manor on Blount's attainder (fn. 204) and granted it in 1603 to Sir Simon Weston and John Wakeman. (fn. 205) Weston was the lord in 1608 (fn. 206) and by reason of its grant the Crown in 1617 rescinded a gift of the manor to George Villiers, then earl of Buckingham. (fn. 207)
In 1627 Great Taynton belonged to Robert Parkhurst, (fn. 208) a London alderman who was knighted and died in 1636. He was succeeded by his son Robert, (fn. 209) who was also knighted, and the latter's son Robert (fn. 210) quitclaimed the manor to Jerome Smith in 1656. (fn. 211) Jerome conveyed it to Abraham Shapton, a London cheesemonger, and his wife Judith in 1673 (fn. 212) and they broke up the estate by sales in 1687. Part, including the manorial rights, was bought by Thomas Pury, (fn. 213) a former MP for Gloucester who had inherited land in Taynton from his father Thomas (d. 1666) and had sponsored the building of a new parish church in the 1650s. (fn. 214) Thomas died in 1693 (fn. 215) and the manor was settled in 1695 on his daughters Elizabeth Whittington and Sarah Pury and their infant niece Sarah Huggins. (fn. 216) Sarah Pury died in 1709 (fn. 217) and Elizabeth Whittington in 1733. In the late 18th century the manor was ascribed to Morgan Price, owner of the Grove in Taynton, (fn. 218) but in the early 19th century there was no agreed lord, the estate having been much divided. (fn. 219)
LITTLE TAYNTON MANOR
The manor of Little Taynton originated in an estate that was held by Wulfgar in 1066 and by William son of Norman in 1086. A yardland in the Forest of Dean attached to that estate (fn. 220) became the hay of Hereford, which was in the keeping of the lord of Little Taynton in the mid 13th century. (fn. 221) William's estate passed to his son Hugh (fl. 1130) and descended with the lordship of Kilpeck (Herefs.) (fn. 222) to Hugh of Kilpeck (d. c.1244). (fn. 223) In 1258 in a division of Hugh's property between his daughters Joan and Isabel, respectively the wives of Philip Marmion and William Walrond, Little Taynton was assigned with Kilpeck to Isabel (fn. 224) and the following year, as part of an exchange, she and William gave it to Robert Walrond. (fn. 225) Bevis de Knovill, who married William Walrond's granddaughter Joan, held the manor in 1273 and was granted free warren in the demesne in 1285. (fn. 226) The manor was held for ¼ knight's fee in the early 14th century (fn. 227) and Henry of Pembridge had a mesne lordship in it as of the inheritance of Robert Walrond in 1338. (fn. 228) In 1364 the overlordship belonged to the earl of Ormonde, as lord of Kilpeck. (fn. 229)
Bevis de Knovill (d. 1307) was succeeded by his son Bevis. (fn. 230) He forfeited his lands for taking part in a rebellion against Edward II but was restored to them (fn. 231) and at his death in 1338 he held Little Taynton jointly with his wife Joan. His son and heir John de Knovill (fn. 232) was in possession in 1343. (fn. 233) John's widow Margery married Thomas Moyne and on her death in 1361 the manor was divided between the descendants of John's paternal aunts Margaret and Elizabeth, the wives of Thomas Verdun and Thomas Maudit. (fn. 234) Margaret's son John Verdun granted the reversion of a moiety of the manor to Richard of Pembridge in 1363. (fn. 235) The other moiety was settled in 1385 on the marriage of Henry and Maud Green (fn. 236) and was acquired in 1397 by John Cassey of Wightfield in Deerhurst parish. (fn. 237) In 1393 he had acquired a reversionary right to a quarter of the manor previously owned by Richard Burley and retained by Richard's widow Beatrice, wife of Hugh Waterton. (fn. 238) The remaining quarter of the manor passed to John Barre (d. 1483) and on the death of his widow Joan was inherited by his daughter Isabel, wife in turn of Humphrey Stafford, earl of Devon, and Thomas Bourchier (fn. 239) (d. 1491). Isabel died in 1489 (fn. 240) and after Thomas's death her share of the manor was divided between Richard Delabere, Edward Hanmer, and Thomas Cornwall. (fn. 241) It has not been traced later.
John Cassey died in 1400 and his descendant John Cassey (fn. 242) had a substantial estate at Little Taynton in 1451. (fn. 243) Little Taynton manor, which Ursula, the widow of John Cassey (d. 1508), retained in 1530, (fn. 244) passed to her husband's grandson Robert Cassey (d. 1547) and to Robert's son Henry (fn. 245) (d. 1595). Henry's son Thomas sold the manor in 1604 to Robert Atkinson (fn. 246) of Stowell. Robert (d. 1607) was succeeded in turn by his sons Henry (fl. 1630) and John (fn. 247) and the latter, who held his first manor court in 1631, (fn. 248) sold the manor in 1656 to Charles Pitfield of Hoxton (Middx). (fn. 249) The next sale, in 1669, was to Robert Holder (d. 1684) and he left the manor to his grandson John Holder, (fn. 250) who sold it in 1698 to John Viney of Gloucester. (fn. 251)
The site of the manor, presumably at Taynton Court, followed a different descent from 1577 when Henry Cassey sold it with its land to Christopher Westerdale (fn. 252) (d. 1581). Christopher's eldest son Christopher (d. 1655) (fn. 253) left the estate to his grandson Henry Westerdale (fn. 254) (d. 1681) (fn. 255) and it was presumably thorough the marriage of Henry's daughter Mary to John Viney that the site was reunited with the manor. (fn. 256)
John Viney (d. 1719) was succeeded in the manor by his son William (fn. 257) (d. 1744) and on the death of William's widow Mary in 1760 the estate, including land in Great Taynton, (fn. 258) passed to their son Revd James Viney (fn. 259) (d. 1767). James's son and heir James, a Royal Artillery officer who was made a knight, died in 1841, (fn. 260) his estate of 330 a. at Taynton Court and Pound Farm (fn. 261) having passed to his niece Mary Anne Evans, wife in turn of Wyndham Lewis (d. 1838) and the politician Benjamin Disraeli. (fn. 262) The Disraelis sold the estate in 1862 to William Laslett (fn. 263) (d. 1884). (fn. 264) In 1889 Robert Bridges Bellers sold it with Kent's Green House, part of the estate from 1874, to Andrew Knowles (fn. 265) and when his Newent Court estate was split up after his death in 1909 Taynton Court farm was sold, with Kent's Green House, to its tenant F. Smith and Pound farm to its tenant A. Wintle. (fn. 266) Smith died in 1944 and Taynton Court passed from Joseph Harrison (d. 1975) to his son-in-law Brian Griffiths, whose son, Mr James Griffiths, farmed there in 2006. (fn. 267)
OTHER ESTATES
Byfords
The house at Byfords was the centre of an estate that John Whittington (d. 1525), lord of Pauntley, settled on the marriage of his son Thomas (d. 1546). (fn. 268) In 1583, in a Chancery suit to which George Burrell and John Ayleway were a party, (Sir) Thomas Throckmorton of Tortworth and Thomas Bodenham of Rotherwas (Herefs.), descendants of two of Thomas Whittington's coheirs, were confirmed in their titles to parts of the estate. (fn. 269) Throckmorton's share, which included Castle Hill wood, (fn. 270) passed at his death in 1608 to his son William, (fn. 271) who was made a baronet in 1611. (fn. 272) Ayleway was the owner of Hownhall with which Byfords was sold as a farmhouse in 1698 to John Holder. (fn. 273) The Athertons owned the farmhouse with Taynton House in the early 20th century, (fn. 274) after which it had a succession of owners. Mr Eric Freeman, the owner from 1982, kept it with 20 ha (50 a.) in 2006. (fn. 275)
Cravenhill
About 1270 Henry III granted Bevis de Knovill an estate called Gravenhull. (fn. 276) The estate, which was held from the king in chief for 1/20 knight's fee, descended with Little Taynton manor to John de Knovill (fl. 1349) (fn. 277) and was based on the house in Little Taynton at Cravenhill (Craven Hill), by the road leading westwards from Kent's Green. (fn. 278) The house with its land passed to Richard Hooper (d. 1577) (fn. 279) and to Thomas Nelme (fl. 1630). (fn. 280) John Pritchard sold it to Thomas Burgis of Gloucester, who by will proved 1715 left it to his son Thomas (d. 1718). (fn. 281) Cravenhill belonged with 31 a. to James Clarke in 1840 (fn. 282) and was sold as part of Norman's farm in 1910. (fn. 283)
The Grove
The Grove, a farmhouse on the east side of Taynton, stands probably on the site of the demesne farm of Great Taynton manor leased from Robert, earl of Essex, to John Addis in the late 16th century. (fn. 284) The residence of Thomas Pury (d. 1693), (fn. 285) the Grove passed with the manor to his daughters Elizabeth and Sarah (fn. 286) and in 1742 it belonged with its land to John Grove. (fn. 287) From John, a parishioner in 1737, (fn. 288) the Grove passed to Samuel Grove by 1769. (fn. 289) Samuel (d. 1787) (fn. 290) was succeeded by his daughter Catherine (fn. 291) (d. 1820). Her husband, Revd Morgan Price of Knebworth (Herts.), died in 1830 and the estate passed to their son Samuel Grove Price who bought the adjacent Hayne's farm in 1826. (fn. 292) Samuel, MP for Sandwich (Kent), lived at Sunninghill (Berks.) (fn. 293) and died in 1839 leaving the estate, which covered 333 a. of Taynton, to his widow Marianne. (fn. 294) After her death in 1868 their son Stanhope Grove Price acquired the estate. (fn. 295) He changed his name to Stanhope Grove Grove in 1870 (fn. 296) and at his death in 1909 was succeeded by his son Stanhope Pury Grove. (fn. 297) In 1911 the Grove and its land were bought by Morgan Philips Price, owner of the adjoining Tibberton Court estate, and in 1926, soon after he had moved into the farmhouse, (fn. 298) he owned 437 a. in Taynton. (fn. 299) Price, who became a Labour MP and represented the Forest of Dean (later West Gloucestershire) from 1935 to 1959, died in 1973. (fn. 300) His son (William Philips) Peter sold the farmland in the early 1980s and, on the death of M.P. Price's widow Elisa in 1985, their daughter Margaret Tatiana Rose sold the house at the Grove. (fn. 301) In 2006 house and farm were owned by Col. R.H. Ker.
Hownhall
An estate based on Hownhall, in the centre of the parish, was built up by the Ayleway family. In 1268 Henry Ayleway and his wife Joan granted a yardland in Taynton to Geoffrey Ayleway, who may have acquired 5 a. there in 1254. (fn. 302) Walter Ayleway was a juror on an inquisition post mortem conducted at Taynton in 1301 (fn. 303) and the reversion of his estate, which included a yardland, was settled in 1306 on Reynold Ayleway. (fn. 304) John Ayleway owned land in Great Taynton in the early 16th century (fn. 305) and Roger Ayleway was Taynton's wealthiest resident landowner in 1522. (fn. 306) John Ayleway (fn. 307) (d. 1599), who was similarly wealthy, lived at Hownhall and was succeeded by his son Christopher (d. 1605). Hownhall and its estate passed from the latter's son Richard (d. 1654) (fn. 308) to his son Thomas (fn. 309) and he mortgaged them in 1666 to his brother-in-law Richard Cocks (d. 1670). Richard's son Richard, who owned Hownhall in 1682, inherited a baronetcy with Dumbleton manor in 1684 and sold Hownhall in 1698 to John Holder, (fn. 310) the owner of Jack's House. (fn. 311) John (d. 1734) left Hownhall to his youngest son Robert (d. 1769), who left it to his son John. John (d. 1801), who lived in Ross-on-Wye (Herefs.), was succeeded in his Gloucestershire estates by his nephew John Holder. (fn. 312) He owned 331 a. in Taynton in 1840 (fn. 313) and was succeeded in 1850 by his son John. (fn. 314) Hownhall became part of Edmund Probyn's Huntley Manor estate in 1872 and following the sale of the estate in 1884 (fn. 315) was possibly acquired by William Viner Ellis (d. 1888) of Minsterworth. (fn. 316) Mrs A. Viner Bradford, the owner c.1910, (fn. 317) sold the farm in 1920 to Albert House (fn. 318) (d. 1929). (fn. 319) In 1994 the farm was broken up and sold, part being bought by Col. Ker, owner of the Grove. (fn. 320) John House remained at the farmhouse in 2006.
Norman's Farm
Norman's Farm, standing on Taynton's northern boundary with Newent, was the centre of an estate owned in 1677 by John Crockett (fn. 321) and in 1691 by Joseph Clarke (fn. 322) (d. 1705). Joseph's son Joseph (d. 1738) enlarged the estate, purchasing Five Elms farm from Thomas Nelme, and left Norman's farm to his wife Elizabeth (d. 1754) and Five Elms to his son Thomas (d. 1789). (fn. 323) Norman's farm descended to Joseph Clarke of Newent and after his death in 1833 (fn. 324) it was sold to John Cocks Bower (d. 1860). He left it to Sophia Maile and Harriet Elizabeth Radclyffe and the latter sold her share to Caleb Maile, Sophia's husband. In 1863 the Mailes sold the farm (161 a.) to a trust for the family of Sir John Owen Bt (d. 1861) and in 1895 the trust sold it to Andrew Knowles. (fn. 325) In 1910, on the break up of his Newent Court estate which also included Five Elms farm, Norman's farm was bought by Selwyn Smith. (fn. 326)
Taynton House
Taynton House, so called in 1819, (fn. 327) is a country house created by the remodelling of a farmhouse known as Jack's House for the Holder family. (fn. 328) Robert Holder, who bought the reversion of the farmhouse from Robert Parkhurst in 1655, laid the foundations of the Holders' estate, his purchases including a group of fields in the east of Taynton called the Cinders from Thomas Pury in 1668. At his death in 1684 his lands passed with Little Taynton manor to his grandson John Holder. (fn. 329) From John (d. 1734) the house and its estate passed in turn to his sons John (d. 1752), William (d. 1758) and Robert (d. 1769) and then to Robert's son William. (fn. 330) William (d. 1819) left Taynton House and its land to his nephew William Charles Holder. (fn. 331) In 1826 he, prior to taking Holy Orders, (fn. 332) transferred the estate to his uncle Edward Howell (d. 1834) (fn. 333) who devised it, subject to a life interest of his widow Hester, back to his nephew. W.C. Holder died in 1837 leaving the estate (314 a.) to his brother John (fn. 334) (d. 1850), who left it to his daughter Louisa Henrietta Holder. (fn. 335) She died in 1888 and at the death of her husband Charles Bernard Atherton in 1904 Taynton House passed to her son Henry Holder Atherton (d. 1913) and later her daughters Catherine (d. 1939) and Henrietta (d. 1950). (fn. 336) Henrietta left the estate of 210 a. to a nephew, Hamilton Alexander Gardner, and following his death in 1951 it was broken up by sales. (fn. 337) Taynton House was owned by Mr Richard Ashcroft in 2006.
Medieval Monastic Estates
Through its gift of Taynton church in the mid 12th century Gloucester abbey acquired a man and his family as well as a chapel and a yardland there. (fn. 338) By its acquisition of Kilpeck church in the 1130s it also obtained tithes from Taynton given to Kilpeck probably by Hugh of Kilpeck. (fn. 339) About 1158 Samson, the abbey sacrist, was instituted in Taynton church (fn. 340) and later sacrists received a pension of 2 marks (26s. 8d.) from it. The Kilpeck tithes were worth 16s. in 1291. (fn. 341) Following the Dissolution the sacrist's pension was granted, in 1541, to the bishop of Gloucester (fn. 342) and the Kilpeck tithes passed to the dean and chapter of Gloucester. Those tithes, used during the Interregnum to support St Mary de Lode church in Gloucester, (fn. 343) became known as Kilpeck's tithing and, taken from Taynton Court and 142 a. in Little Taynton, were commuted in 1843 for a corn rent charge of £27. (fn. 344) Gloucester abbey's land in Taynton was included, as part of the manor of Tibberton, Taynton, and Bulley, in the endowment of the dean and chapter in 1541. (fn. 345) That manor, an account of which will be given under Bulley in another volume, passed to the Ecclesiastical Commissioners who in 1860 enfranchised 52 a. at the Ryelands. (fn. 346)
In 1244 Studley priory (Warws.) held ½ yardland in Little Taynton. (fn. 347)
ECONOMIC HISTORY
AGRICULTURE
Although much of Taynton was under the plough in the Middle Ages pastoral farming and orcharding were long significant in Taynton.
The Middle Ages
In 1086 eleven ploughs were recorded in Taynton. The Great Taynton estate, worth £3 compared with £6 in 1066, had one in demesne and its tenants, 9 villans and 7 bordars, had nine between them. The other plough belonged to 6 bordars on the Little Taynton estate, which was worth 20s. (fn. 348) Five ploughteams were recorded in Great Taynton and one in Little Taynton in 1220. (fn. 349)
In 1301 the manor of Great Taynton had 100 a. arable, 8 a. meadow, and 5 a. pasture in demesne. Its tenants, apart from 12 freeholders with 9½ yardlands and 4 a. between them, owed labour services. Fourteen holding in all 7 yardlands for cash rents and customary payments were expected to perform services during winter and spring ploughing and haymaking and harvest bedrips. Similar services were required of eight tenants holding 2 yardlands between them. Five bondmen with ½ yardland and 6 a. owed a day's work a week and a day's work carrying hay. During August and September their weekly duty increased to two days, four cottars owed a day's work a week, and another cottar was expected to perform six harvest bedrips. (fn. 350) In 1307 the manor of Little Taynton, extended at two ploughlands, had 120 a. arable, 6 a. meadow, 2 a. several pasture, and 3 a. woodland in demesne. Seven customary tenants holding 1½ yardland owed cash rents and labour services that increased during August and September and three cottars owed autumn services as well as cash rents. One tenant on the manor was a freeholder and seven tenants on the lord's estate at Gravenhull also owed only cash rents. (fn. 351) A threecourse rotation was evidently followed on the lord's demesne estate at Little Taynton and Kilcot in 1338; of 60 a. arable on the demesne, a third was cultivated, another third was fallow during Lent, and the last third was to lie fallow until the following year. (fn. 352)
A north field by a highway in the early 16th century was possibly an open field (fn. 353) and open fields and common meadows in the eastern half of the parish are attested by later evidence. (fn. 354) In the Moorend green area part of a field or close called Clark's field was an orchard in 1530. (fn. 355) Apples were grown in Taynton for cider and eating and in the later Middle Ages the rector or the farmer of the rectory collected tithes of cider and of 'hoarding fruit' from parishioners' houses. Hemp was among other crops mentioned in statements made about tithe customs in 1552. (fn. 356)
The Early Modern Period
Taynton had numerous farms of varying sizes. In Great Taynton manor by the late 17th century many customary tenements had been enfranchised and a pattern of farms based on whole, and fractions of, yardlands had been obscured by amalgamation and division of holdings. A yardland had covered 64 a. (fn. 357) The Hownhall estate was made up of three farms, including Byfords, (fn. 358) and in the mid 18th century the Grove estate contained two principal farms. (fn. 359) In the late 18th century the Probyn family's estate had two farms with land in Taynton, (fn. 360) and in Little Taynton one farm represented the manorial demesne and two other holdings belonged to the lord's estate. (fn. 361)
Much of the farmland was in closes but the retention of a dole of land and the division of fields called Stony field and the Wire in the early 17th century represent the remnants of open fields in the south of the parish. (fn. 362) In 1655 a half yardland in Great Taynton comprised two pieces of land, the smaller of which was in a common meadow. (fn. 363) At that time Great Taynton had two common meadows, both beside the stream on the parish's eastern boundary north-east of the Grove: Chare (or Chard) meadow included a piece called Orley dole; Middle Ditch was to its south-west. (fn. 364) Both probably ceased to be common meadows by the mid 18th century through consolidation of holdings. (fn. 365) In Little Taynton the disposition of the lands of Kilpeck's tithing in 1562 indicates several areas of ridge and furrow and common meadow, one called Berry field being by the road to Kent's green. (fn. 366)
In the 17th century farming was a mixture of arable and pastoral husbandry with sheep and dairy cattle, and perhaps also pigs, reared in numbers. Some flax was grown. (fn. 367) There was a sheepcot at the Ryelands, then a close on the Gloucester dean and chapter estate. (fn. 368) John Holder, after coming of age in 1691, enlarged and consolidated his farm at Jack's House (later Taynton House) in a series of purchases, sales, and exchanges of land, and managed the land directly, pulling down redundant farmhouses, planting and replanting hedges and brakes, ploughing up several fields before returning them to grass in the 1710s, and digging channels to water the meadows below his house. He added to his land in Chare meadow and dug drainage trenches, and in 1713 inclosed 2 a., there. He undertook new planting and building around his house and garden, where notably he built a large barn in 1695 and an oxhouse and a cider house in 1699, and he provided new outbuildings on two farms that he acquired in 1698, namely a cart house and a dairy at Byfords in 1707 and stables and cattle sheds at Hownhall in 1723. (fn. 369)
Fruit growing was widespread and, although walnuts, cherries, and plums were mentioned along with hops in the tithe customs in 1704, (fn. 370) the orchards were mostly of apples and pears for the table and for drink. In the mid 17th century pears were the main fruit crop with a variety of squash pear making what was regarded as the best perry locally. (fn. 371) Farmsteads usually had their own cider mills (fn. 372) and when cider and perry were made the rector was entitled to the twelfth part, bringing his own vessels for it. (fn. 373) John Holder, who planted new orchards on his farm and in 1700 installed a mill and press in a new outbuilding, reckoned that 200 of his fruit trees were blown down by the great storm of 1703. He planted and grafted new apple and pear trees, including a nursery of stocks begun in 1720, and in 1705 he installed new cider presses at the farmsteads at Hownhall and Byfords. (fn. 374) In the later 18th century the parish continued to be esteemed for the excellence of its cider and perry, that made from the Taynton Squash pear having a market in London. (fn. 375)
In the later 18th century the farmland was divided almost equally between arable and pasture. According to Samuel Rudder in the mid 1770s the farmers, assured of sufficient crops from the naturally fertile soil, were deficient in their management of the land and as a result the grass on the wet lands was poor in quality and yield. Farmers were also encouraged to poll young oak trees by their entitlement to the loppings. (fn. 376) Nearly three quarters of 516 a. reported as being cropped in 1801 were under corn, mostly wheat of which a third more than usual had been sown. Peas, beans, and turnips were all grown but potato cultivation was limited to gardens and the holdings of the poor. (fn. 377)
The Nineteenth and Twentieth Centuries
In the early 19th century the remnants of the common on Glasshouse hill were inclosed (fn. 378) and in 1840 barely any waste was left in the parish, the farmland being reckoned as 1,200 a. of pasture and 900 a. of arable. (fn. 379) In 1866, when at least 1,030 a. was permanent grassland, 301 cattle, including 119 milch cows, 488 sheep, and 178 pigs were returned for the parish. Wheat was the main arable crop and some 71 a. lay fallow or uncultivated. (fn. 380) In the later 19th and early 20th century dairying increased and there was a corresponding decline in cereal farming. The parish contained 453 a. of arable and 1,640 a. of permanent grassland in 1905 (fn. 381) and reported livestock numbers in 1926 were 581 cattle, including 226 dairy cows, 292 ewes, and 280 pigs. (fn. 382)
The farmers, of whom 10 of 26 identified in 1831 did not employ labour, had holdings that varied considerably in size. The agricultural workforce at that time included 72 labourers. (fn. 383) The larger farms were in the east and centre of the parish, where in 1851 the Grove estate was divided between the Grove farm (350 a.) and Hayne's farm (170 a.) and the Disraelis' estate between Taynton Court farm (300 a.) and Pound farm (120 a.). The other large farms were Hownhall (281 a.), Lyne's Place (140 a.), Norman's (120 a.), and Drew's (120 a.). Several other farms, also employing labour, had more than 70 a. and there were smaller units, some of a few acres only, throughout the parish. (fn. 384) In 1889 Taynton Court farm, then newly part of the Newent Court estate, was run by a bailiff (fn. 385) and in the early 20th century the estate had six farms of between 62 a. and 159 a. in the north-east of Taynton. (fn. 386) In 1924 M.P. Price took the farm at the Grove in hand. (fn. 387) In 1926 23 farms of over 20 a. were returned, three of them having more than 150 a. and one more than 300 a., and 58 agricultural labourers were reported, 42 of them in regular employment. (fn. 388) By the later 20th and early 21st century the creation of larger units had led to a reduction in the number of farms and the sale or abandonment of unwanted farmhouses. A total of 23 holdings returned for the parish in 1986 included 15 farms of over 10 ha (c.25 a.), three of them having over 50 ha (c.125 a.) and one over 100 ha (c.250 a.). The farms, of which the smaller ones were part-time businesses, were worked by a total of 49 people. (fn. 389) On the break up of Hownhall farm in 1994 much of its land passed to Grove farm. (fn. 390)
Apple and pear cultivation remained important (fn. 391) and the reported area of orchards increased from 98 a. in 1896 to 190 a. in 1956. Small fruit was also grown, 4 a. being returned in 1926. In the mid 20th century greater numbers of pigs and poultry were reared, 401 pigs being returned in 1956. (fn. 392) Dairying remained the main business of farming in the 1980s, with six specialist dairy units among the holdings returned in 1986. Several other farms raised cattle and sheep and some wheat and barley were grown, the return recording 1,304 cattle, including 621 dairy cows, 1,320 sheep and lambs, 25 pigs, and 129 ha (c.319 a.) of cereals. Two farms were primarily poultry units, nearly 50,000 birds being reared for egg production or for the table. (fn. 393) Rare livestock breeds were raised at Hill farm (formerly the Hill). (fn. 394) Many fruit trees had been grubbed up by the 1980s and less than 5 ha (c.12 a.) of apple orchards, of which only part was being cultivated commercially, was returned in 1988. (fn. 395) The remaining orchards were mainly in the Kent's Green area, where a vineyard had been planted in 1979. (fn. 396) In 1994 a sapling of the Taynton Squash pear, then a rarity, was planted on Hownhall green. (fn. 397) By 2006 the number of dairy farms had fallen to three, the largest herd being at Taynton Court. Among recent farming ventures was the conversion of an intensive poultrylaying unit to free-range egg production. (fn. 398)
WOODLAND MANAGEMENT
Castle Hill wood, the largest wood in Taynton, belonged to the Whittingtons of Pauntley in the early 16th century when it included an area known as Cut wood. (fn. 399) The woodland, which contained crab stocks in 1595 when it belonged to Sir Thomas Throckmorton, (fn. 400) passed to the three surviving daughters of William Acton of Sneedham, in Upton St Leonards, on his death in 1674 (fn. 401) and William Sergeaunt of Hart's Barn, in Longhope, had acquired a two-thirds interest in it by 1727. Sir Edmund Probyn added the wood to his estates in the early 1740s (fn. 402) and John Probyn included it in his concession of 1761 allowing the agent of the owner of the Flaxley ironworks to make charcoal in his woods. (fn. 403) Fifty-five acres of oak coppice grown for 16 years were sold in 1797. (fn. 404) In the early 18th century John Holder had the wood above his house coppiced for the sale of cordwood; (fn. 405) earlier charcoal production accounts for the presence of a collier in Great Taynton in 1608. (fn. 406)
A timber dealer from Newent lived in Taynton in 1819 (fn. 407) and one or two parishioners were wood dealers in the mid 19th century. (fn. 408) In Castle Hill wood, part of the Ackers family's Huntley estate from 1884, (fn. 409) 42 a. of ash and oak coppice were for sale in 1899. (fn. 410) Farmland between the wood and Cherry wood, to the south in Huntley, was filled with trees in the early 20th century (fn. 411) and the estate's woods were managed mostly as coniferous plantations in 2006. (fn. 412)
In the early 20th century a gamekeeper on the Newent Court estate lived at Cravenhill next to a newly planted covert. (fn. 413) A charcoal burner was among parishioners in 1925. (fn. 414)
WOODLAND CRAFTS
Two coopers were listed in Great Taynton in 1608. (fn. 415) Illicit felling in Castle Hill wood and elsewhere in the late 16th century (fn. 416) and the clearance of Taynton wood on Glasshouse hill probably by the early 18th century (fn. 417) were possibly the piecemeal endeavours of local people engaged in woodland crafts. Hoop makers were recorded in 1738 and 1790 (fn. 418) and a large part of the population of Glasshouse hill, notably members of the Hook family, was involved in making hoops, hurdles, mop handles, and brooms in the early 19th century. (fn. 419) The number of people on the hill employed in those crafts and in wood cutting, about a score in 1851, (fn. 420) fell in the later 19th century and one hoop maker and a handful of woodcutters were recorded in 1901. (fn. 421) A besom maker worked in Castle Hill wood in the 1920s. (fn. 422) A turnery established on Glasshouse hill by H.V. Barnes in 1932 employed 45 people in 1950 and closed in 1961. (fn. 423) In the late 20th and early 21st century tent pegs were made by hand at Hill Farm. (fn. 424)
MILLS
A mill was recorded on Walter Ayleway's estate in 1306 (fn. 425) and two mills on an estate in Great Taynton and Byfords that Henry Wyville and his wife Catherine quitclaimed to Walter of Cirencester in 1339. (fn. 426) A miller was assessed for tax in Great Taynton in 1327. (fn. 427)
A mill called the Brass Mills stood south-east of Moorend green by a stream rising at the foot of Glasshouse hill. (fn. 428) Manufacturing brass wire, it was established by 1638, when a wire drawer was resident (fn. 429) and its customers included John Tilsley and his brother, pinmakers in Gloucester and Bristol. (fn. 430) A pinmaker lived in Taynton in 1658. (fn. 431) Part of the Hownhall estate, the mill was evidently used as a corn mill by 1661. (fn. 432) John Holder sold the mill house in 1702 and pulled down the mill in 1706. (fn. 433) The site, which became overgrown with trees and bushes, was cleared and levelled in the 1960s. (fn. 434)
OTHER INDUSTRY AND TRADE
Stone has been quarried in several places (fn. 435) and that used for building at the parish church in the mid 1820s came from W.C. Holder's land. (fn. 436) May hill also yielded substantial deposits of iron ore, which were reputed to contain traces of silver and gold. (fn. 437) Discoveries that Abraham Shapton claimed to have made while prospecting for coal on his acquisition of Great Taynton manor in 1673 led the Society of Mines Royal and Mineral and Battery Works to grant a lease of mines in the manor to John Claypole. (fn. 438) The mining rights passed through several hands from 1677 but the refining of the ore, mined perhaps in Rocks wood, was given up on proving unprofitable. (fn. 439)
Large quantities of cinders observed in Taynton c.1700 contained the discarded slag from ironworking in Roman and perhaps earlier times. (fn. 440) Some deposits in the eastern half of the parish were listed c.1670 for possible use at the Foleys' Ellbridge furnace (fn. 441) and field names on the parish's eastern boundary beyond the Grove (fn. 442) record an area of slag that also spread across part of Tibberton. (fn. 443)
Personal names suggest that craftsmen in Taynton included a thatcher or weaver in 1287, a tailor in 1306, (fn. 444) and possibly a lead beater in 1327. (fn. 445) A woman was making thatch in 1522 (fn. 446) and a weaver lived in Taynton in 1543. (fn. 447) Other weavers were recorded until the early 18th century. (fn. 448) A smith, a baker, and a butcher were among men listed in Great Taynton in 1608. (fn. 449) Later smiths, some of whom were described as gunsmiths, (fn. 450) included a blacksmith at Kent's Green in 1737, (fn. 451) and a smithy operated by the green at Hownhall in the later 18th century. (fn. 452) A mason was one of several builders working in the parish in the mid 17th century. (fn. 453) Glass making was under way at the foot of May hill in the late 16th century. The glasshouse, from which the hamlet there took its name, was in Newent (fn. 454) but the site of an old quarry and glasshouse was recorded within Taynton in the mid 19th century. (fn. 455)
As well as blacksmiths, carpenters, masons, and practitioners of other common crafts, Taynton's inhabitants in the early 19th century included a drainer in 1835 and a brazier in 1841. (fn. 456) A brick maker lived at Glasshouse in 1827 (fn. 457) and there was a brick yard by the Huntley–Newent road in the early 1830s. (fn. 458) The yard, part of a farm on which John Smith employed 8 men in 1851, (fn. 459) was acquired in 1862 by Edwin Phillips (d. 1908). Under him it also produced tiles, pipes and a range of pottery, some of it ornamental. It closed finally during the First World War. In the late 19th century there was also a brick yard in Moat Lane. (fn. 460) The population of Glasshouse hill included several craftsmen in the early 20th century, (fn. 461) a carpenter and a baker remaining there in 1923 and a boot repairer in 1939. (fn. 462)
A sailor present in Taynton in 1608 was possibly engaged in local trade. (fn. 463) Mention in 1632 of a market was probably a reference to trading that took, or used to take, place by the medieval churchyard. (fn. 464)
A haulier lived in the parish in 1832 (fn. 465) and a shopkeeper at Hownhall carried goods to and from Gloucester on three days a week in 1856. At the turn of the 20th century there was also a carrying service between Glasshouse hill and the city. In the later 1930s Taynton was served by a carrier from outside the parish and by buses running between Ledbury and Gloucester. (fn. 466) In 1799 and 1826 a farmer on Glasshouse hill acted as a news carrier. (fn. 467) Taynton had several shops in the mid 19th century, (fn. 468) shopkeepers being recorded on Glasshouse hill from 1841 and at Kent's Green in 1861. (fn. 469) The parish also had a post office in 1856. In 1906 there was a post office in Moat Lane and in 1939 a shop on Glasshouse hill served as a post office. (fn. 470) A shop on Hownhall farm was accommodated from 1988 in a former cider house (fn. 471) and remained open in 2006.
There was an insurance agent in Taynton in 1888. (fn. 472) Farming brothers on Glasshouse hill offered veterinary services in 1889 (fn. 473) and the farmer at Tuns and a resident at Glasshouse both undertook horse breaking in 1891. (fn. 474) A fruiterer lived at Kent's Green in 1891. (fn. 475) In the early 21st century there were an equestrian school, stables, and livery yard at Coldcroft Farm.
LOCAL GOVERNMENT
MANORIAL GOVERNMENT
In 1287 Cecily de Mucegros claimed view of frankpledge and waifs in Great Taynton manor and excused her lack of gallows and a tumbrel by her ownership of those at English Bicknor. Bevis de Knovill, who claimed the assize of bread and ale and pleas concerning hue and cry and bloodshed in Little Taynton manor, was also without the necessary instruments of punishment. (fn. 476)
The Little Taynton manor court held views of frankpledge, in 1607 conducting a joint session as leet and court baron in April and in the next three decades convening in similar session in October. A book covering those courts until 1638 is probably a complete record of meetings in that period, during which the court several times abandoned leet, and in 1629 all, business for lack of attendance. The court elected a constable, the choice presumably determined by a rota of farmers, and frequently ordered the repair of a pound and stocks. It was unable to ensure that the archery butts were maintained, no men in its jurisdiction having bows and arrows as required by law. The court dealt with the obstruction and repair of lanes and paths and of streams, in addition to the usual business of a manor court. In 1634 it required the landowner Christopher Westerdale to remove an inclosure from a meadow, to restore the adjoining stream to its original course, and to remove a family he had placed in a cottage without licence. Presentments occasionally included the felling of trees. (fn. 477) The court continued to hold a leet session in the early 18th century. (fn. 478) The court of Great Taynton manor and its view of frankpledge were summoned in April 1713 to their usual meeting place. (fn. 479)
The court for the manor of Tibberton, Taynton, and Bulley recorded grants of land in Taynton until at least 1822. (fn. 480)
PAROCHIAL GOVERNMENT
The earliest surviving records of parish government are the churchwardens' accounts for the years 1794–1841. (fn. 481) The accounts included the expenditure of rents from property in the parish that had been assigned by the later 17th century to poor relief and became known as Dame Cecilia Musgrove's charity. (fn. 482)
Supported by the income from the rents, the cost to the parish of relief rose little in the late 18th century. (fn. 483) A cottage in Moat Lane, part of the property, was used as a poorhouse (fn. 484) and in 1803 the parish, in spending £105 on relief, paid a subscription to the Gloucester infirmary and gave regular help to 24 people. (fn. 485) In 1813 expenditure on relief was £201, although only 11 people received regular help, and in the next two years it reduced. (fn. 486) A workhouse built next to the Moat Lane cottage in 1818 (fn. 487) was shared in its first two years with Tibberton parish, which paid the governor a weekly salary. (fn. 488) In 1822, when Taynton maintained the governor and his family in return for a weekly payment, the acting overseer of the poor was awarded an annual allowance or salary and in 1826 he was left to agree terms with Paul Barnard, a local hurdle maker, as the new governor and the vestry appointed a workhouse visitor. From 1831 Barnard was also employed as assistant overseer with a salary replacing that of the overseer. In the early 1830s the vestry decided to restrict relief in aid of house rents, a surgeon contracted to attend parishioners, and Tibberton and Huntley parishes were allowed to use the workhouse. Work in the parish quarry was among forms of relief. Although repayment of a debt of £200 was charged on the poor rate in 1823, (fn. 489) the vestry's striving to contain parish expenditure on relief meant that during the late 1820s and the early 1830s, when charity income was used to provide the poor with cheap coal, (fn. 490) the highest annual figure recorded was £269. (fn. 491)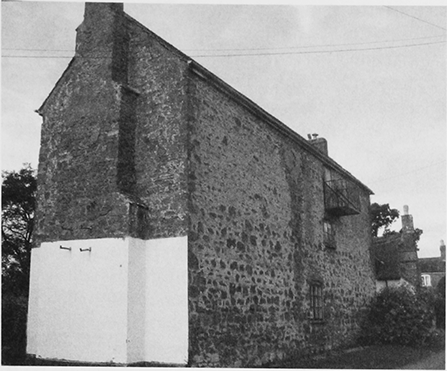 Taynton became part of the Newent poor-law union in 1835 (fn. 492) and the parish, which had a cottage on Glasshouse hill among its property in the mid 19th century, (fn. 493) employed a salaried assistant overseer and rate collector from 1845, Paul Barnard being the first holder of the posts. In 1888 the vestry decided not to publish the list of persons receiving outdoor relief on the church door. (fn. 494) The parish retained ownership of the former workhouse (Hill View House) until 1960, latterly with the parish council letting its rooms to tenants. (fn. 495)
In the late 18th and early 19th century parish government also included the regulation of encroachments on common land and the highways. Landowners made several surveys of the encroachments (fn. 496) but, despite an agreement in 1829 by 22 landholders for concerted action, an ultimatum of 1838 from the vestry for the removal of encroachments on Glasshouse hill (fn. 497) was not implemented. (fn. 498)
Historically Taynton shared the cost of repairing Winford bridge with Tibberton. (fn. 499) In 1813 it contributed towards the cost of building a bridge on the Newent road (fn. 500) and in the 1820s and 1830s the highest rate burden it imposed was for road repairs on Glasshouse hill and elsewhere. The landowner Edward Howell, who oversaw the repairs from 1827, was allowed to employ a deputy surveyor and, although the vestry placed a cap on his total annual expenditure, when he stood down as surveyor in 1832 the parish owed him moneys. His successor received a salary. In the mid 1840s the parish elected two surveyors, one for Little Taynton, and from 1847 it again employed a salaried surveyor. Little Taynton residents re-elected their own surveyor in 1856. After the formation of Newent highway district in 1863 Taynton elected one waywarden to its board. (fn. 501)
SOCIAL HISTORY
SOCIAL STRUCTURE
In 1327, a time when most of Taynton's population were customary tenants owing labour services on its manorial demesnes, (fn. 502) John de Bures and Bevis de Knovill, the lords of Great and Little Taynton, were assessed for a subsidy at 8s. and 4s. 3d. respectively. Of the other men taxed one (John of Byford) was assessed at 6s. 6d. and the remainder at 3s. or less. (fn. 503) In the absence of later lords of the manors Taynton had few wealthy inhabitants. In 1522, when the goods of landowner Roger Ayleway and the rector were valued at £20 and £12 respectively and those of ten others were worth between £3 and £10, seventeen men had goods valued at less than £3 and for eight others no valuation was given. (fn. 504)
In the later 16th and early 17th century the Ayleways and the Westerdales were among Taynton's few established gentry families. The Ayleway household employed Alice Ciprian (d. 1590) as a servant, (fn. 505) and a servant of Christopher Westerdale was among the men named for Taynton in the muster roll of 1608. In the roll Westerdale and two others were described as gentlemen, 9 as yeomen, 6 as husbandmen, 8 as labourers, 8 as craftsmen and tradesmen, and 3 more as servants, the last being in the employ of a yeoman, a husbandman, and a butcher. (fn. 506) Between 1634 and 1643 several 'Dutchmen' were recorded in Taynton. (fn. 507) For the hearth tax of 1672 a simple majority of 31 parishioners had a single hearth and six had 2 hearths. Three others each had 3 hearths, three more each 4 hearths, Henry Westerdale 5 hearths, a Mr Burge 8 hearths, and Peter Charles, a farmer who owned a house and farm called Adams, 10 hearths. (fn. 508) Thomas Pury was resident in 1687 when he became lord of Great Taynton (fn. 509) and the Grove became the main house on his estate. (fn. 510)
Details of the family life of the farmer John Holder of Jack's House (later Taynton House) from 1691 are reported in a volume of annals, in which he also recorded his land dealings and farming activities and wrote verses composed by himself and Latin quotations. (fn. 511) Following his death in 1734 a memorial to himself and his late wife was by his instruction carved by Thomas Ricketts of Gloucester with a Latin inscription and erected in the parish church. (fn. 512) Other resident landowners included Joseph Clarke (d. 1705), a property owner in Newcastle upon Tyne and elsewhere in Northumberland. (fn. 513) Among non-resident landowners were Dorothy Cocks (d. 1714) and John Cocks (d. 1728), members of an established county family; she used Taynton land to endow charity schools in Dumbleton and Gloucester and he did similarly for an apprenticing charity in Dumbleton. (fn. 514)
The parish community was predominantly one of farmers and labourers but the settlement of Glasshouse hill, under way by the early 18th century, (fn. 515) produced in the far west a society largely of cottagers and squatters living off local woods and seasonal employment and accounting for more than half of the population in the mid 19th century. (fn. 516) Social and geographical divisions were reflected in the church's seating plan in the early 19th century; the seats closest to the pulpit were reserved for the owners or occupants of Taynton House, the Grove, and other farmsteads in the east and centre of the parish and those at the opposite end of the building were free. (fn. 517) Taynton House was used as a country house by the Holders and their relative Edward Howell (d. 1834), formerly a builder in Chelsea (Middx). Revd W.C. Holder (d. 1837), who inherited the family estate in 1819, (fn. 518) left Paul Barnard, governor of the parish workhouse, and his wife Hannah £10 each. (fn. 519) Barnard, a craftsman and native of the parish, lived on Glasshouse hill. (fn. 520) In 1868 6 a. provided by a landowner was let as allotments of ¼ a. each. (fn. 521)
Taynton had a resident clergyman from 1829, when W.C. Holder became curate, and the rector was resident from 1864. (fn. 522) In the mid 19th century, when several farming households included one or two domestic servants, there were larger private households at Taynton House and its daughter house, the Ryelands. (fn. 523) Taynton House was let to tenants, (fn. 524) including the impecunious baronet John Owen (d. 1861), MP for Pembroke Boroughs, (fn. 525) before the Athertons settled finally in it. (fn. 526) The Ryelands, (fn. 527) occupied by a curate in 1841, (fn. 528) was in 1879 the home of Philip Reginald Cocks. (fn. 529) He played a part in church life in Taynton after he moved to his new house at Clifford Manor, in Newent, and joined the peerage, as Lord Somers. (fn. 530) Other houses used as private dwellings included Longcroft and Kent's Green House, the latter in 1851 the home of the solicitor Henry Evans. (fn. 531) The Grove continued to serve as a farmhouse before being occupied permanently by its owners, the Prices (later Groves), towards the end of the century. (fn. 532)
Although the number of domestic servants in farming households declined in the later 19th century, Taynton's farmers remained among its principal inhabitants. Taynton House, the main private residence, (fn. 533) passed to the Misses Atherton, the last of whom died in 1950. (fn. 534) Another spinster active in parish business was Mary Cockburn, for whom March Croft (later Marchfield) was built. (fn. 535) The daughter of a Birkenhead (Ches.) man, she died in 1937 (fn. 536) having been a patron of the school and a member of the parish council. (fn. 537) In the 1920s several Taynton men were in service, in posts such as butler and chauffeur, in houses in the area. (fn. 538) M.P. Price, who moved into the Grove to take up farming in the mid 1920s, balanced the life of a radical politician with that of a landowner, including the pursuit of traditional country sports, and lived there until his death in 1973. (fn. 539) Taynton ceased to have a resident clergyman in 1963 (fn. 540) and the number of farming and labouring families declined in the late 20th century as professional and retired people moved into former farmhouses and other buildings in the parish. (fn. 541)
CHARITIES FOR THE POOR
In the late 17th century an income of 40s. from a cottage and three small closes, by tradition the gift of Cecily Musgrove for the tenants of Great Taynton manor, was used for the parish poor. Its application was determined at public meetings of the tenants and before 1683 it funded apprenticeships. (fn. 542) The cottage was in Moat Lane and the land included the pieces called Keptepot and the Poor's Meadow (later the Poor's Patch), some way to the east and south respectively. (fn. 543) In the late 18th century the cottage, having been rebuilt after a fire, was used as a poorhouse and the churchwardens distributed the same income, sometimes allowed to accumulate for two or three years, in cash. Thirteen people received up to 3s. each in 1798. In the early 19th century the income was increased and the churchwardens occasionally applied it in other ways, as in 1801 for midwifery and a distribution of potatoes and in 1809 for inoculating children. In 1820, to distinguish the industrious from the idle poor, it was spent on white hats for eight men who had supported their families during the previous year without parish relief. From the mid 1820s, when it was known as Dame Cecilia Musgrove's charity, it was used at Christmas to provide coal at a reduced price as well as cash doles. The income then included a rent for the use of the cottage garden by the inmates of the neighbouring parish workhouse. The charity had 32 recipients in 1830 and 44 in 1840. (fn. 544)
William Gilding (d. 1793) of Linton (Herefs.) by will left £100 to fund an apprenticeship every other year for boys from Taynton. (fn. 545) The charity was augmented by a legacy of £160 from Revd W.C. Holder, by will proved 1838, (fn. 546) but was in abeyance in 1848. (fn. 547) A bequest of £50 for the poor from Edward Howell's widow Hester, by will proved 1847, (fn. 548) was assigned by a Scheme approved in 1857 to support a day school. (fn. 549) The Scheme also regulated the Musgrove and the Gilding and Holder charities. (fn. 550) The latter funded a couple of apprentices and in 1896 the vestry selected masters in Gloucester and Newent for two of three apprentices. (fn. 551) The charity was the subject of a new Scheme in 1906 and provided financial help for school leavers in the late 1960s. (fn. 552) It continued as an education charity after the Scheme was amended in 1976 and its income, £119 in 2004, (fn. 553) paid for books in 2006. (fn. 554) The Musgrove charity, which accommodated two dwellings in its cottage in 1825, (fn. 555) was the subject in 1907 of a Scheme that eschewed cash payments. It distributed coal to a dozen or more elderly or widowed people in the late 1960s (fn. 556) and with an income (£304 in 2004) (fn. 557) that included the rent of Keptepot paid fuel bills in 2006. The cottage was sold in 1959. (fn. 558)
EDUCATION
In 1712 fourteen children were taught to read in Taynton, ten of them at the expense of the rector, Benjamin Newton. (fn. 559) By will proved 1739 Robert Aldridge, a tailor, provided 52s. a year to instruct four poor children to read the Bible. (fn. 560) The charity was administered by the owners of property in Elton, in Westbury-on-Severn, on which the payment was charged and the teacher was usually a poor woman living in Taynton. (fn. 561) In 1818 two other schools taught between them 56 children, attendance varying according to the season of the year, (fn. 562) and in 1833 three day schools had 50 pupils, of whom 4 were paid for by the charity and 20 by subscriptions. (fn. 563) A Sunday school started in 1823 was supported by donations and from 1831 was held in the new vestry at the parish church. It had 70 pupils in 1833. (fn. 564)
One of two infants' school in the parish in 1856 (fn. 565) was presumably the school managed by the curate, William Hughes, that was supported under a Scheme of 1857 by the charity of Hester Howell. (fn. 566) A school established in the church vestry under the management of the rector in 1866 had rules modelled on those of a school at Newent and was supported by pence and subscriptions as well as the Hester Howell charity. On its opening it taught 42 boys and girls in a single department. (fn. 567) The other infants' school in 1856 was kept on Glasshouse hill by Hannah Barnard for many years (fn. 568) and was supported for some time by voluntary contributions and pence. By the late 1860s attendance had fallen from 30 to five or six and some children from the hill went to Huntley school. (fn. 569) In 1861 there was a small boarding school at Kent's Green House. (fn. 570)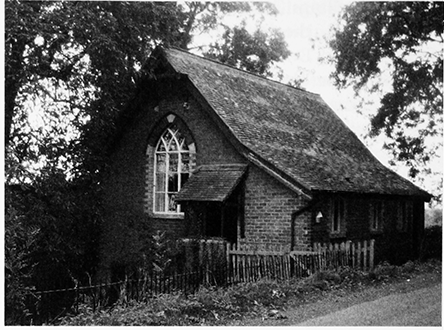 From 1883 the Taynton school was held in a new building erected near the church on glebe land donated by A.D. Bagshawe. (fn. 571) It had an average attendance of 45 in 1885, (fn. 572) 63 in 1904, (fn. 573) and 30 in 1922, (fn. 574) and it was among the beneficiaries of the Lady Wedderburn Prize Fund established in 1910 to reward practical work by children in the Newent area. (fn. 575) In 1931 the older children were transferred to schools in Newent (fn. 576) and the following year the 19 children remaining on the roll were sent to schools in Tibberton and Newent. (fn. 577)
SOCIAL LIFE
A church house stood next to the medieval churchyard. It was the parish house in 1704 (fn. 578) but was occupied as cottages by the mid 19th century. (fn. 579) The schoolroom erected near the 17th-century parish church in 1883 was used as a church hall after the day school's closure in 1932 (fn. 580) and following its sale in 1979 was run by the parochial church council as a parish room. (fn. 581) In 1933 a village hall for Taynton and Tibberton was built near Winford bridge on land given by M.P. Price. A committee room, the first of several extensions, was added to the hall in 1938 and a playing field opened next to it in 1953. (fn. 582)
In 1923 the landowner C.P. Ackers (fn. 583) built a hall on Glasshouse hill as a reading room and meeting place for the May hill district. (fn. 584) A cross in memory of the men of the district killed during the First World War was erected on the hill by 1921 (fn. 585) and a parish memorial was erected in St Lawrence's churchyard in 1922. (fn. 586)
With the possible exception of an inn near Kent's green in the early 18th century (fn. 587) the first indications of there being a public house in Taynton are from the mid 19th century (fn. 588) when Glasshouse had the New inn. (fn. 589) In 1872 agricultural labourers formed a union at the Glasshouse inn. (fn. 590) Then a beerhouse run by a shoemaker, (fn. 591) it remained open in 2006.
Although sports were part of Taynton's celebrations to mark the Golden Jubilee of 1887 and the coronation of 1902 (fn. 592) there are no earlier references to sports clubs. In the early 20th century a boy's club met in an outbuilding at the rectory. (fn. 593) Taynton had a football club and a young men's club in 1933 and the building that year of a village hall led to clubs and societies for Taynton and Tibberton together, including a branch of the Women's Institute. Football, cricket, and tennis clubs used the hall and the playing field opened in 1953 (fn. 594) and a horticultural society held its annual show in the hall in the later 20th century. (fn. 595) In 2006 a snooker club meeting at Green Croft Farm had recently celebrated its 40th anniversary. (fn. 596) In 1981 the Taynton Society, formed to foster the parish's identity, published a local history. (fn. 597)
In 1933 a pageant based on accounts of the sacking of the parish church in 1643 was held in the grounds of Taynton House. (fn. 598) In the early 1960s opera, ballet, and theatre were staged in the great barn there. (fn. 599)
Part of Taynton was included in a nursing association for the Tibberton district formed in 1903. (fn. 600) An endowment by M.P. Price in 1922 continued to finance care for the sick after the association lapsed (fn. 601) and under a Scheme of 1978 paid for goods and services for ill and disabled people of the district. (fn. 602)
RELIGIOUS HISTORY
EARLY HISTORY AND STATUS OF THE PARISH CHURCH
The medieval parish church stood near Taynton's eastern boundary within earthworks probably raised first soon after the Norman Conquest for the lord of Great Taynton. (fn. 603) Its early history was evidently as a chapel of Newent church, for together with Newent it was claimed as a possession of Cormeilles abbey (Eure) in 1181 (fn. 604) and Newent priory had a portion in it worth 2s. in 1291. The portion passed to Fotheringhay college (Northants.). (fn. 605)
Maud de Wateville, lady of Taynton, endowed Taynton church and gave it to Gloucester abbey in 1134 × 1148. (fn. 606) The abbey also acquired tithes in Little Taynton that were granted by its lord to Kilpeck church and became known as Kilpeck's tithing. Although Maud persuaded its priest to resign in favour of the abbey sacrist c.1158 and later sacrists had a portion in it, (fn. 607) Taynton church remained a rectory. (fn. 608)
The medieval church was burnt down in 1643 and a new parish church was built on a more central site after a few years. The benefice, from which the May hill district in the west of the parish was removed in 1935, (fn. 609) was united with Tibberton in 1975 (fn. 610) and the united benefice was merged with Highnam with Lassington and Rudford in 1984. (fn. 611)
PATRONAGE AND ENDOWMENT
Gloucester abbey's patronage of the rectory (fn. 612) was exercised by the king in 1306 during a vacancy in the abbacy (fn. 613) and was granted to the dean and chapter of Gloucester in 1541. (fn. 614) At the next vacancy, in 1545, Thomas Payne, a Gloucester draper, was patron by grant from the abbey. John Veale of Longford was patron under the dean and chapter for a term of years in 1560 and members of his family presented in 1585 and 1597; the Crown presented in 1595 following the rector's deposition for simony. Revd Edward Savacre exercised the patronage in 1602 and 1613 (fn. 615) and Giles Fowler was patron for a turn in 1633. (fn. 616) The dean and chapter presented from 1677, apart from 1864 when the Crown was patron, (fn. 617) and were with Peter Price joint patrons of the benefice of Tibberton with Taynton created in 1975. They retained an interest in the larger benefice of which Taynton was part from 1984. (fn. 618)
The rectorial tithes excluded Kilpeck's tithing and were commuted in 1843 for a corn rent charge of £444 19s. 4d. (fn. 619) The glebe was measured at 26 a. in 1612 (fn. 620) and 29 a. in 1840. (fn. 621) Most of it, including the old churchyard, was sold in the early 1920s. (fn. 622) The rectory was worth £5 15s. 4d. in 1291, (fn. 623) £8 5s. 9d. in 1535, (fn. 624) £45 in 1650, (fn. 625) £100 in 1750, (fn. 626) and £349 in 1856. (fn. 627)
The rectory house, recorded from 1525, (fn. 628) stood north-east of the medieval church (fn. 629) and was burnt down with it in 1643. (fn. 630) The living remained without a house (fn. 631) until the rector Francis Jeune built one next to the 17th-century church. (fn. 632) The new house, to designs in Tudor Gothic style by John Hayward of Exeter, was completed in 1850 and enlarged in 1881. (fn. 633) It was divided into two flats c.1957 (fn. 634) and was restored as a single dwelling after it was sold in the late 20th century.
RELIGIOUS LIFE
The Middle Ages
A woodland chapel or hermitage in Taynton was an adjunct of Taynton's church on its acquisition by Gloucester abbey in the 12th century. (fn. 635) The church was dedicated to St Lawrence by 1148. (fn. 636) The priest who resigned it in favour of the Gloucester abbey sacrist c.1158 was evidently to remain the celebrant with a pension of 10 marks (£6 13s. 4d.). (fn. 637)
In 1346 Elizabeth Coly of Taynton was licensed to have mass celebrated in an oratory in her house. (fn. 638) Richard Phipps or Phillips, accused of incontinence in 1468, resigned as rector in 1481. David Phipps, rector from 1484, (fn. 639) was presumably the same as Richard Phillips, priest in Taynton at his death in 1506. (fn. 640) Richard Ede, rector in 1508, faced several accusations of incontinence and, having confessed in 1522, was given a penance of six beatings, three each at Taynton and Hereford. Roger Brayne, his successor in 1524, was also vicar of Lydney and rector of Staunton-on-Wye (Herefs.). (fn. 641)
From the Reformation to the Civil Wars
George Blundell, rector from 1527 until his death in 1545, employed a curate at Taynton in his last years. (fn. 642) At that time services included two annual obits, both perhaps recent foundations; one was for Margaret Falconer and the other for a member of the Horn family. (fn. 643) Blundell's immediate successors were both former monks of Gloucester abbey; Walter Stanley (d. 1551), who married, was resident and Thomas Kingswood (d. 1559), a prebendary of Gloucester cathedral, (fn. 644) had in 1551 a curate who was generally satisfactory but was unable to prove the Apostles' Creed from Scripture. (fn. 645)
John Yannes (James), rector 1560–85, (fn. 646) was in dispute with his curate and parishioners in 1575. (fn. 647) In 1576, when an unlicensed minister held services and read the Gospels on perambulations, the churchwardens were lax in enforcing church attendance, there was one communion service a year, and the catechism was not regularly taught. (fn. 648) Richard Wood, who became rector in 1585 by the gift of Thomas Veale of Gloucester, was deprived for simony. William Masters, his successor in 1595, resigned in 1597 (fn. 649) after many parishioners boycotted services (fn. 650) and a mob including Veale's wife entered the rectory house. (fn. 651)
The Building of a New Parish Church
In 1643, a few days after the raising of the siege of Gloucester, Royalists burnt down the parish church and neighbouring rectory house. (fn. 652) Although parts of the church remained standing (fn. 653) parishioners headed by Ferdinando Stratford, rector 1634–77, (fn. 654) obtained a parliamentary ordinance in 1648 for building a new church and house on glebe in a more central position, the old church having been inaccessible to most inhabitants especially in winter. (fn. 655) The building of the new church, under way in 1657 when Gloucester corporation made a gift of the seats remaining in Holy Trinity church in the city, (fn. 656) was sponsored by Thomas Pury the younger, MP for the city and a former parliamentary soldier. (fn. 657) The first baptism in it was that of his daughter Deborah in 1659, the first burial there that of his son Theophilus in 1665. (fn. 658)
The new church, built of local rubble, was a narrow rectangular box oriented, contrary to Laudian principles, north–south. It had a tiebeam roof and its east and west fronts were of four bays with regularly spaced windows marked by roughly finished quoins and lintels and, on both fronts, a doorway in the north bay. There may also have been a north doorway as one was reinstated in the 1820s. (fn. 659) The original interior plan is unknown but surviving elements of the woodwork, among them late medieval panels from the Holy Trinity seats, suggest that the furnishings were of high quality and that some were in a fashionable style. A new bell, recorded in 1681, (fn. 660) was housed in a wooden north bellcot. The church kept the dedication to St Lawrence (fn. 661) and among its goods were a chalice and paten cover from the old church. (fn. 662)
From the Restoration to 1800
Two families attended a small Quaker meeting in Taynton in 1669 (fn. 663) and two nonconformists were recorded in the parish in 1676. (fn. 664) Abraham and Judith Shapton, who bought Great Taynton manor in 1673, were Quakers (fn. 665) but his children by a new marriage in 1689 (fn. 666) were baptized at Taynton. (fn. 667) Quaker farmer Augustine King lived in Taynton at his death in 1720 or 1721. (fn. 668)
From the late 17th century the parish was often served by a stipendiary curate, (fn. 669) the rectors being usually prebendaries of Gloucester cathedral and invariably non-resident. Benjamin Newton, who succeeded his father John as rector in 1710, was master of the cathedral school from 1712 to 1718 and cathedral librarian from 1731. He resigned the living in 1733. (fn. 670) Of his curates the first, in 1713, was Samuel Whittington, (fn. 671) the son of Elizabeth Whittington, lady of Great Taynton manor. (fn. 672) Benjamin Newton's son John, rector 1737–54, (fn. 673) was also cathedral librarian but officiated at Taynton church and provided full services except in winter. (fn. 674) Thomas Parker, rector from 1755, was also rector of Welsh Bicknor (Mon., later Herefs.) at his death in 1800. (fn. 675)
Church and Chapel in the Nineteenth Century: missions to Glasshouse Hill and Kent's Green
John Luxmoore, dean of Gloucester, had the rectory from 1800 to 1806 and George William Hall (d. 1843) and Francis Jeune, masters of Pembroke College, Oxford, had it in turn between 1810 and 1864. (fn. 676) During that period the parish remained in the care of a stipendiary curate (fn. 677) and in 1825 the church had one Sunday service, alternately in the morning and afternoon, and the average congregation was said to be 150 and the number of regular communicants was put at between 40 and 50. Religious instruction was given every other Sunday; (fn. 678) a Sunday school had been started in 1823. (fn. 679) Nonconformists registered houses in the parish in 1797 and 1802 (fn. 680) and Wesleyan Methodists built a chapel on Glasshouse hill in 1820. (fn. 681) In 1836 Kent's Green was among many places around Newent visited by the evangelist Thomas Kington. (fn. 682)
William Charles Holder of Taynton House, (fn. 683) who instigated alterations to the church in the mid 1820s while churchwarden, (fn. 684) became Taynton's minister as curate in 1829 (fn. 685) and with his uncle Edward Howell donated several pieces of church plate. (fn. 686) In 1834 a meeting of 47 men, mostly farmers, craftsmen, and labourers, declared their attachment to the Established Church and its role in the State. (fn. 687) Holder's successors as curate from 1835 were also resident, William Hughes (1850–64) being the first occupant of Francis Jeune's new glebe house. (fn. 688) In 1851 the church had morning and afternoon services with congregations averaging between 70 and 80. (fn. 689) The Wesleyan chapel on Glasshouse hill, served from Ledbury, had an average attendances of 65 and 60 at morning and afternoon services and another Methodist meeting on the hill, using a building erected in 1810, had similar attendances. (fn. 690) In the late 1840s the Newent Congregational church conducted cottage meetings at Kent's Green. (fn. 691)
In 1864 Wesleyans built a new chapel lower down Glasshouse hill (fn. 692) and a year or two later moved a wooden chapel from Highleadon to Kent's Green. The latter building, placed north of the road to Anthony's Cross, was also part of the Ledbury circuit but was occasionally off its plan for lack of support. (fn. 693) The Anglicans, for whom Charles Yonge Crawley, rector 1864–76, (fn. 694) was the first in a succession of resident incumbents, (fn. 695) held a monthly service on Glasshouse hill. (fn. 696) A mission room built there in 1879 (fn. 697) was served by Alfred Drake Bagshawe, rector 1877–91, (fn. 698) and had an adjacent burial ground. (fn. 699) Under Norman Shelton, rector 1891–1903, a curate lived on the hill (fn. 700) and the mission took in Kent's Green. (fn. 701)
Transformations of the Parish Church
In the early 19th century the church had proprietary seats at its south end, where the pulpit rose behind the communion table on the west side, and free seats at the north end, where the area under a small singers' gallery stored lumber. (fn. 702) The gallery was in place in the later 18th century (fn. 703) and the decoration of the church included royal arms paid for in 1796. (fn. 704) In 1825 the pulpit, which together with the clerk's desk and reading desk formed a three-tiered arrangement, was moved to the south wall and the communion table to the east wall for liturgical reasons, an east window was painted, and the font was embellished. At the north end the east and west doorways were blocked, the gallery was enlarged and free seats placed below it, and a porch was built to shelter a reinstated north doorway. The alterations, made without a faculty, were sponsored primarily by churchwarden W.C. Holder. The remaining cost was met by a grant and donations and by a rate which several parishioners refused to pay. (fn. 705)
In 1830 and 1831 the pulpit was moved forward and the south window was adapted to create a doorway into a vestry. The new room was also used for a Sunday school, part of its cost having been met by a grant from the National Society. (fn. 706) In extensive alterations in 1865 the church ceiling was removed and battens and a plaster lining were added to the roof, the wooden windows were replaced by stone mullions with Pependicular style tracery, a window was inserted above the porch to light the gallery, and the height of the pews was reduced. (fn. 707) The bellcot was replaced in stone in 1875 after it was struck by lightning. (fn. 708) In the later 19th century the church had a succession of organs, (fn. 709) one being donated in 1880 by P.R. Cocks (later Lord Somers). (fn. 710)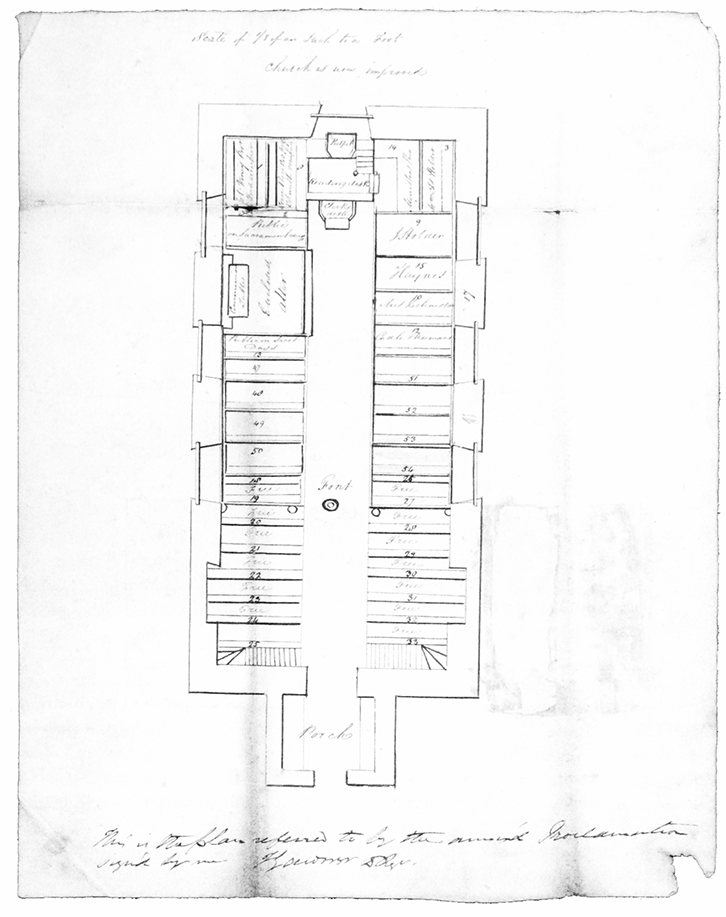 In 1893 and 1894, against local opposition, (fn. 711) a chancel was created in place of the vestry. In its design, by the Gloucester firm of Medland & Son, the south wall was refaced, the roof was raised to a higher pitch, a Gothic chancel arch and south window were inserted, and a west organ chamber was added. At the same time the gallery was removed, the entire church was reseated, and the old oak pews were re-used as a reredos behind the communion table, which was moved into the chancel, and as a dado around the nave. An oak lectern was made and presented by Revd W.B. Atherton as a memorial to his mother and other members of the Holder family. The north doorcase is probably made from the frame of a reredos, a 'curious erection' installed in 1825 and dismantled in 1893. (fn. 712) The single-decker pulpit is fashioned out of late medieval panels from the seats from Holy Trinity, Gloucester, and 17th-century pieces, and a combination of linen-fold panelling and classical carving is repeated in the reredos panelling and on two chairs in the chancel. The font, one of the church's mid 17th-century fittings, has a bowl carved with cherubs' heads and acanthus and resting on a fluted pedestal.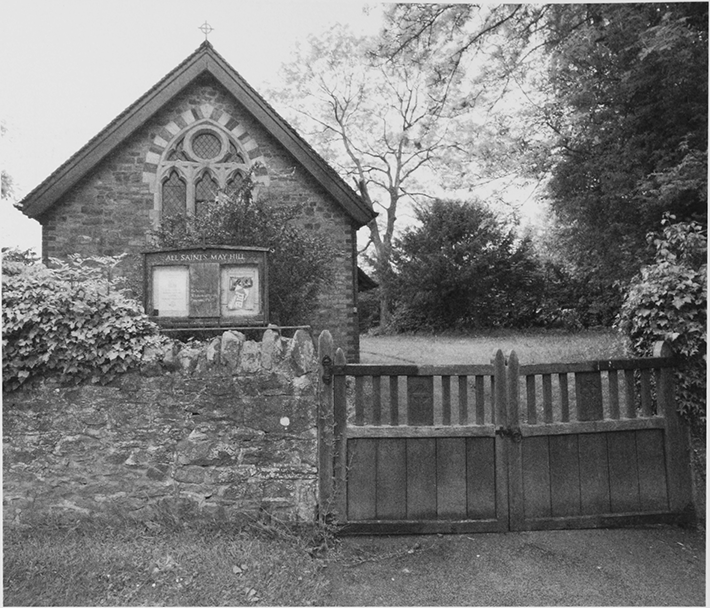 The Twentieth Century and Later
At the beginning of the 20th century a chancel was added to the mission church on Glasshouse hill, the work being financed by Revd Norman Shelton, in part from donations. (fn. 713) With a dedication to All Saints in 1919, (fn. 714) the church was served until 1930 by a curatein-charge, the last of whom, J.R. Rimes, (fn. 715) donated a pulpit. (fn. 716) A medieval bell is said to have come from Westbury-on-Severn. (fn. 717) The church, which with its district was part of Huntley for ecclesiastical purposes from 1935, (fn. 718) had a weekly Sunday morning service in 2006. The parish church, where a new organ was installed in 1909, (fn. 719) was served with Tibberton church from 1946 and had a resident rector until 1969. (fn. 720) Taynton church was later in the care of priests-in-charge living in Tibberton and from 1984 in Highnam. (fn. 721)
The chapel at Kent's Green, which from 1912 to 1921 housed a mission run by the rector, B.K. Foster, closed in 1969. (fn. 722) It stood abandoned and overgrown in 2006. The Methodist chapel on Glasshouse hill, to which a new schoolroom was added in 1922, (fn. 723) had a weekly Sunday morning service in 2006.