Pages 120-123
A History of the County of Gloucester: Volume 4, the City of Gloucester. Originally published by Victoria County History, London, 1988.
This free content was digitised by double rekeying. All rights reserved.
TOPOGRAPHY 1547–1720
During the first hundred years of the period there were no major changes in the plan or extent of Gloucester. In the early 17th century there was some new building in the cathedral close (fn. 1) and, as a result of a quickening of activity in the river trade, at the quay. Most of the houses and warehouses fronting the south part of the quay were built on land leased by the city corporation in 1610, 1620, and 1633. (fn. 2) Otherwise the main activity in the late 16th century and the early 17th was the rebuilding and embellishment of the city's timber-framed houses. One indication of that process was the increase in the number of purpresture rents payable to the corporation for encroachments on the common soil: c. 120 such rents were payable in 1630, about two thirds of them incurred since 1544. Many were for 'underbuildings', probably for new encroachments caused by jettying, and some specified new 'parlour windows'. (fn. 3) The city's houses remained almost exclusively of timber frame until the mid 17th century. The earliest house of brick found recorded was one built by John Hanbury c. 1633 on the north side of Bearland. (fn. 4) Timber framing continued to be used for street fronts and for the less visible back elevations, and, as in the late medieval period, both close studding and box framing, with decorative bracing, remained fashionable; floors were often emphasized by overhanging jetties. Among the isolated examples that survived in 1984, no. 8 Hare Lane, which is perhaps of the late 16th century, has close studding, while no. 26 Westgate Street, which was built in several stages, probably in the earlier 17th century, has ovolo-moulded mullion and transom windows and a fireplace dated 1622. (fn. 5) The latter house is of four storeys with attics, but a more common height was two or three storeys. A house in lower Westgate Street (the folk museum) is of three storeys with prominent gables and shallow oriel windows beneath the jetties. The 'Golden Cross' in Southgate Street is a notable example of decorative box framing, but some of the framing was evidently redesigned in the 19th century when new fenestration was inserted. No. 9 Southgate Street, which has a carved wooden fireplace with the date 1650 and the arms of the Yate family of Arlingham, (fn. 6) has the most decorative timber front in the city.
The major changes in the city during the period occurred at the time of the Civil War and Interregnum. Most notably there was a sudden reduction in its size by the burning of the roadside suburbs outside the gates by the defenders at the start of the siege on 10 August 1643. (fn. 7) As John Dorney, the town clerk, described it, the city became 'as a garment without skirts, which we were willing to part with all, lest our enemies should sit upon them'. (fn. 8) Including some pulled down in the course of the siege, a total of 241 houses was lost, later valued together with their contents at £28,740. Outside the south gate 88 houses were destroyed in Severn Street, lower Southgate Street, and Small Lane, including most of the property of Gloucester's main private landowners, the Dennis family, who had succeeded to the former Llanthony Priory property acquired after the Dissolution by Sir Thomas Bell; beyond the east gate 67 houses were destroyed in the inner Barton Street suburb; beyond the outer north gate in Newland and Fete Lane, and in Brook Street, 69 houses; and beyond Alvin gate and in Kingsholm hamlet 17 houses. (fn. 9) The destruction outside the gates was probably not total, however: a few early timber cottages remained in inner Barton Street in 1984, while the Littleworth suburb on the Bristol road south of the junction with Severn Street may have escaped the burning. (fn. 10)
After the siege no effort was made to rebuild the suburbs, but a new development, intended to make up some of the loss, (fn. 11) was promoted by the corporation within the city on land north of the castle between the quay and the west end of Longsmith Street. In Marybone Park, a railed-off piece of waste ground between the quay and Castle Lane, (fn. 12) the corporation leased 11 plots for building in 1644, 1645, and 1647, and a row of new houses was built on them fronting the south side of Quay Street. (fn. 13) The largest house, standing at the corner with Castle Lane, was built by John Singleton, an innkeeper, in 1647 and became the New Bear inn. (fn. 14) The land east of Castle Lane, known as the Bearland, was traditionally a site of common dunghills, (fn. 15) and was still used for that purpose in 1631 when the dunghill used by the Boothall inn was required to be walled off from the roadway. (fn. 16) Five houses were built on the south side of the road at Bearland on land leased by the corporation in 1644, four of them on a plot taken by a carpenter, William Sparks. (fn. 17) Another house at Bearland (later known, imprecisely, as Marybone House) was built on a plot leased in 1651 to Walter Harris, a cordwainer; it was acquired before 1686 by Alderman Benjamin Hyett, (fn. 18) a lawyer, and was later enlarged, remaining a residence of the Hyett family for several generations. (fn. 19)
The Civil War and Interregnum also saw some major changes to the city's stock of public buildings, notably the loss of several of its churches. St. Owen's was taken down at the start of the siege; in 1648 the corporation rebuilt the Tolsey, incorporating the adjoining church of All Saints within it; and in the mid 1650s the churches of St. Aldate, St. Catherine, and St. Mary de Grace were all demolished. (fn. 20) There were, however, some improvements to the secular public buildings. Apart from the new Tolsey, new market houses were provided in Eastgate Street and Southgate Street in 1655 and 1660 respectively. (fn. 21)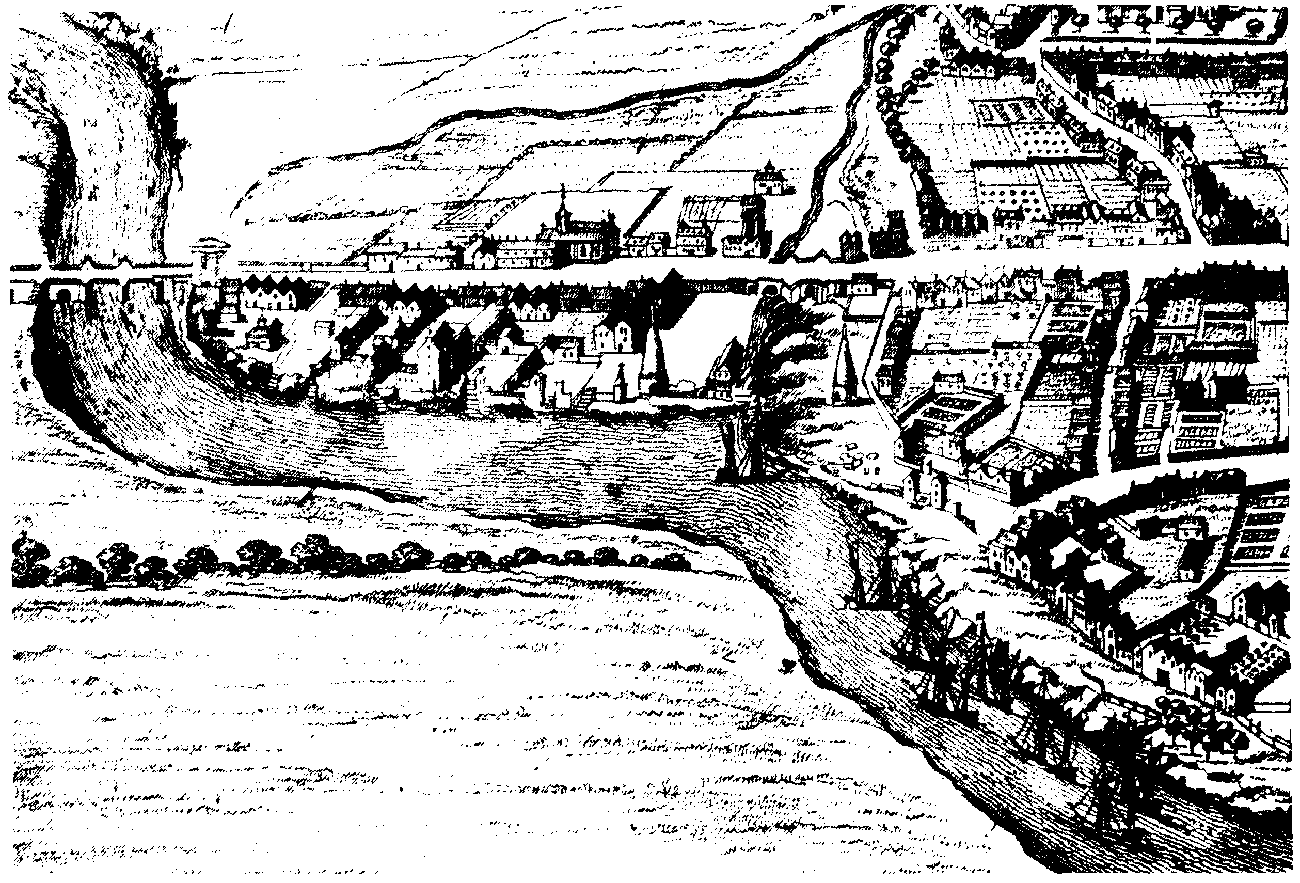 In the late 17th century and the early 18th, a period when Gloucester enjoyed a new popularity as a resort for the local gentry, (fn. 22) rebuilding of some of the houses with more fashionable brick fronts began to transform the appearance of the city's principal streets. Brick was made locally from the mid 1640s, (fn. 23) and most of the new houses in the Marybone Park and Bearland development were of brick, though at least one was of timber; (fn. 24) by the end of the century brick was also being imported from Worcester and other places on the river. (fn. 25) By 1714, though gabled timber fronts still predominated in the four main streets, (fn. 26) there were substantial numbers of the new brick façades (fn. 27) with their heavy cornices, long-and-short stone quoins, and sash windows. (fn. 28) In some cases the old timber houses were merely refronted rather than being completely rebuilt, as was the case with a house in Northgate Street, for which a builder's contract of 1701 specified a three-storeyed brick front with six sash windows. (fn. 29)
The largest of the new brick houses were detached dwellings built away from the main streets, presumably attracted to their sites by the availability of land for large gardens. One of the earliest, built soon after 1681 when the site was leased to Alderman John Webb, (fn. 30) was a house (later called Elton House) on the south side of the entrance to Barton Street; it had a hipped roof, mullioned and transomed windows, and prominent ornamental gatepiers. (fn. 31) About 1704 Ladybellegate House, with a tall façade with seven bays of sash windows, was built by Henry Wagstaffe on the north side of Longsmith Street. (fn. 32) Bearland House, opposite the south end of Berkeley Street, was also of late 17th- or early 18th-century origin, though extended and refronted later. Despite the new building much open land remained, much of it laid out as formal gardens, nurseries, and orchards. (fn. 33)
By the end of the period the growth of commercial activity connected with the river trade had caused new industrial building in the riverside area called the Island. (fn. 34) A great conical glasshouse was built just west of the entrance of Dockham ditch (or the Old Severn) in 1694 and a conical limekiln was built east of the ditch in 1696. (fn. 35) Another building shown on a view of c. 1710, by Dockham ditch north of the Foreign bridge, was probably a glasshouse, (fn. 36) and standing by the riverside was a tall structure of four storeys and attics, possibly built as a sugar refinery. (fn. 37) By the early 18th century the Island was also the site of a number of malthouses. (fn. 38)