Pages 41-54
A History of the County of Gloucester: Volume 4, the City of Gloucester. Originally published by Victoria County History, London, 1988.
This free content was digitised by double rekeying. All rights reserved.
Trade and Industry 1327–1547
In the late Middle Ages Gloucester continued to play a limited role in the import and export trade and enjoyed an apparently significant share of the down-river trade in corn. The basis of its economy remained, however, its industries, to which the new trades of pinning and capping were added, and its function as a local market centre and distributor of goods to the surrounding market towns. In common with many English towns it suffered a slump in prosperity in the 15th century, but its varied sources of livelihood enabled it to surmount its problems by the early years of the 16th. (fn. 1)
The wine trade evidently retained its importance. In the 1330s deputy customers were appointed to collect duty on wine imported to Gloucester, (fn. 2) and in 1404 the burgesses were allowed to recoup a £100 loan to the Crown out of the customs duties they owed on wine and other merchandise. (fn. 3) The murage collected in the town in 1394 included that on 101 tuns of wine. (fn. 4) Some Gloucester merchants probably also had a share in the growing export trade in English cloth, particularly as clothmaking remained one of the town's main industries; the appointment in 1347 of a deputy customer for cloth exported from Gloucester and the other 'creeks' of the lower Severn is, however, the only evidence found for that trade. (fn. 5) The considerable trade in herring and other fish from Ireland to the Severn (fn. 6) was another branch in which Gloucester men probably had a share, though no record of their involvement has been found before 1536. (fn. 7) The export of fruit and cider down river and as far as Cornwall, recorded in the 1580s, (fn. 8) is likely to have formed another part of the town's trade from the late Middle Ages.
One branch of waterborne trade in which Gloucester played a significant role was that in corn. The town was evidently a centre for the collection of corn from the Vale of Gloucester and from further up river, to be sent for export or to supply Bristol and South Wales. In the 1330s three Gloucester men were granted export licences for corn, two of them to ship it to the continent and the third to ship it to Wales and Ireland, (fn. 9) and in 1347 some men of the town complained that the amount exported from the Gloucester area was causing a shortage locally. (fn. 10) In the early 16th century, perhaps by long established practice, much of the corn brought in from the surrounding countryside for sale was carted directly to the town quay. (fn. 11)
In the late 14th century Gloucester's trade in corn, wine, and other merchandise enriched a small but influential group of merchants. Probably the most significant was John Banbury (d. c. 1404) who was exporting corn in 1386. (fn. 12) Other merchants of the period were John Monmouth, who became lessee of the demesne of Elmstone Hardwicke manor in 1373; (fn. 13) Thomas Pope (d. 1400), (fn. 14) who was bailiff in three years in the 1390s and founded a chantry in Holy Trinity church; (fn. 15) John Head (or Anlep), who was described as a draper in 1382 (fn. 16) and was possibly involved in the export of cloth at his death in 1391 when he had goods overseas and left 20 marks for the upkeep of the quay; (fn. 17) and, probably, William Heyberare, who served as bailiff in six years between 1361 and 1384, gave a number of religious endowments, (fn. 18) and was employed by the Crown on various commissions, including an inquiry into smuggling on the South Wales coast in 1389. (fn. 19) Some of those men made considerable investments in property both within and outside the town. Banbury made the first of many purchases of house property in Gloucester in 1378 and also acquired an estate at Horsemarling, in Moreton Valence parish. (fn. 20) In 1389 Head held 8 houses and 10 shops in the town and an estate of 2 ploughlands outside it and Heyberare held 4 houses, 6 shops, and an outlying estate of 1 ploughland. (fn. 21)
Thomas Pope, John Head, and William Heyberare were from families that had been prominent in the town since the early 14th century (fn. 22) but there is no record of the families of any of the late 14th-century merchants occupying a prominent position later, a fact that presumably reflects the declining fortunes of the town in the 15th century. It may be that the grain trade on the Severn suffered a decline in the middle years of the century; that situation could lie behind the Crown's response in 1447 to a request for measures to halt the town's decline— permission to build two corn mills at Westgate bridge. (fn. 23) During the 15th century very few Gloucester men can be identified as merchants. One of the few was Philip Monger, who had the major share in overland trade from Southampton in the 1440s, bringing in woad and madder, used as dyestuffs in Gloucester's clothmaking industry, and some wine. (fn. 24) Monger was apparently a man of some wealth, for he and his wife rebuilt the chapel of St. Thomas outside the north gate. (fn. 25) Other merchants were Walter Spring (fl. 1444), (fn. 26) Henry Dood, (fn. 27) bailiff in 1446, and probably the wealthy burgess Richard Manchester who died in 1454. (fn. 28) By the end of the 15th century, when a revival of trade seems to have begun, the merchant Garet van Eck, presumably a Fleming by origin, was established in the town as one of its aldermen. (fn. 29) Another Gloucester man, David Vaughan, was importing goods into Bristol in 1502 in a 100-ton ship, built to his order. (fn. 30) Merchants who occur later included Robert Hawardine, who probably traded in wine, for he was lessee of the New Inn in 1508, (fn. 31) and Aldermen Robert Poole (d. 1545) (fn. 32) who built an 80-ton ship, the Mary Fortune, at Gloucester and traded with it to Spain and Portugal. (fn. 33)
Gloucester's lack of a large merchant class reflected the fact that it was mainly dependent on Bristol for the trade it conducted with the continent. An order made in 1387, commissioning two Gloucester men to check smuggling, stated that goods were shipped overseas directly from the town, (fn. 34) but other evidence, though fragmentary, suggests that the town's merchants usually transhipped their goods at Bristol. Nicholas Birdlip of Gloucester joined some Bristol merchants in a venture in the Baltic trade in 1389 (fn. 35) and John Rawlings of Gloucester granted a Bristol ship, with his goods in England and overseas, to Thomas Pope in 1391. (fn. 36) John Banbury carried on at least part of his trade through Bristol, (fn. 37) as did David Vaughan. (fn. 38) Gloucester's dependence on Bristol was emphasized by its inclusion for customs purposes in the Bristol port area, though in the mid 14th century the town and the creeks below, such as Newnham, Gatcombe (in Awre parish), Frampton on Severn, and Berkeley, were controlled by separate deputy customers, (fn. 39) an arrangement that prefigured the creation of the port of Gloucester in 1580.
Although the narrows and shallows of the stretch of river immediately below Gloucester were presumably less of an obstacle to navigation in medieval times, when seagoing vessels were still very small, than they were in later centuries, they were already a factor that contributed to the use of Bristol and the creeks on the lower Severn for shipping and landing goods for Gloucester. Among the creeks, Gatcombe in particular was firmly established as a principal outlet for Gloucester's maritime trade by the 1580s (fn. 40) and probably had been used as such from an early date; an inhabitant of Gatcombe, James Whaley, who had property in the town before 1509, (fn. 41) was possibly involved in that trade.
Few occupations concerned with the river or maritime trade figure in the records of late-medieval Gloucester: a roll of non-freeman inhabitants in 1423 lists a single trowman (fn. 42) and entrants to the freedom in the period 1535–45 included two boatmen, a waterman, and a mariner. (fn. 43) As in later centuries, Gloucester men probably provided a regular connexion with Bristol by trows, but much of the trade with other places on the river was in the hands of outsiders. In 1411 the townspeople joined Bristol in a complaint that they were being forced to hire at extortionate prices trows belonging to men of Bewdley (Worcs.), Shropshire, and Wales for carrying their goods on the upper part of the river; that was disrupting in particular their supplies of firewood, and a group of Gloucester men bringing wood past Bewdley on some kind of raft had been attacked and their cargo lost. (fn. 44) Four Bewdley trowmen with seven vessels between them were trading regularly to Gloucester in 1481. (fn. 45) Coal, two grades of which were on sale in the town in 1500, (fn. 46) and timber, the sale of which at the quay was regulated in 1514, (fn. 47) continued to bulk large in the cargoes brought to the town from further up the Severn in the early 16th century. The supply of salt to the town, which was being maintained by Droitwich salters in the 1390s and 1481, (fn. 48) may also have come by river.
The greatest part of the trade on the Severn was, however, carried on between places up river and Bristol, a fact that caused jealousy in the Gloucester burgesses and aggravated the resentment at their dependence on Bristol. Their attempts to profit from that passing trade, a recurrent feature of the town's history over several centuries, were recorded from 1400 when complaints were made that the bailiffs had arrested boats carrying victuals down to Bristol. (fn. 49) The following year they were also accused of levying tolls on boats carrying victuals up river and forcing them to sell their cargoes in the town, (fn. 50) and a similar complaint was made in 1411 that Gloucester, Worcester, and Bridgnorth (Salop.) were exacting toll on wine, oil, and other merchandise carried up river. (fn. 51) In 1505, following an Act of the previous year that declared the Severn a toll-free river, Gloucester and Worcester registered claims to tolls and were opposed by the trowmen of Tewkesbury, Bewdley, and other places further up river; their opponents complained that the Gloucester burgesses, in attempting to exact 6d. for each ton of merchandise landed at the quay or merely passing Westgate bridge, shot arrows and threw stones in order to force them to come in to the bank and sometimes made them sell their goods in the town. (fn. 52) The hostility of the Tewkesbury trowmen probably reflected a long standing trading rivalry between the two towns, particularly over the corn trade on the river, in which Tewkesbury's share was a substantial one. (fn. 53) In 1401 Tewkesbury was one of several towns in Gloucestershire and Worcestershire which Gloucester complained were interfering with those coming to sell corn in its market. (fn. 54) The attempt by Gloucester to exact toll from Tewkesbury men had evidently had a long history before 1483 when a special clause in the new borough charter established Tewkesbury's claim to be free of all tolls and customs in Gloucester. (fn. 55)
Although Gloucester's relationship to Bristol inhibited its economic development, it did gain some benefit from its position on trade routes to that city. Merchants from towns of the Midlands and Welsh Marches which looked to Bristol as their main export outlet (fn. 56) traded goods in Gloucester and used it as a staging post as they came down the river or along the main road routes through the town. Among regular visitors were merchants from Coventry: three Coventry men were trading in the town in 1481 (fn. 57) and in 1498 its mayor complained that Gloucester was levying toll illegally on its merchants. (fn. 58) A Chester man had a dispute with the town authorities in 1398, perhaps over toll. (fn. 59) Men from Leominster (Herefs.) and Ludlow (Salop.) were among regular traders to the town in 1423, (fn. 60) and the latter place, which shipped its goods at Bewdley, was at law with Gloucester over the tolls charged at the quay in 1493 or 1494. (fn. 61) In the early 16th century Manchester merchants were apparently frequent visitors and on more than one occasion were forced by the town authorities to substantiate their claim to be free of toll as inhabitants of the duchy of Lancaster. (fn. 62)
One direction in which Gloucester continued to extend its influence through overland trade was into South Wales. In 1378 it was among the chief towns of the Marches which complained that their traders who travelled in Wales were being unjustly distrained, (fn. 63) and in 1438 a Gloucester man was one of two commissioners appointed to arrest traders coming out of Wales in reprisal for the imprisonment of a Bristol merchant. (fn. 64) Richard Barret, a wealthy draper (fn. 65) who was reported in 1394 to have been attacked on the road through Monmouth and Usk, (fn. 66) was probably one of many Gloucester men who traded into Wales. Traders from Brecon were often in Gloucester: as many as six paid the bailiffs for the right of trading in the town in 1423 and a carrier was journeying between the two towns in 1481. From further along the main road into South Wales the town of Llandovery (Carms.) sent six traders in 1481, two of them drapers and another a dealer in the cloth known as Welsh friezes. (fn. 67) Probably Gloucester had regular links with other towns on the same route, such as Monmouth, Abergavenny (Mon.), and Carmarthen, but those towns were presumably able to establish their freedom from toll and so do not figure in the lists of 'foreign' traders which provide the main evidence for Gloucester's trading connexions at the period. The more southerly trading route, along the South Wales coast, appears also to have been of importance to Gloucester, for the Gloucester capper John Falconer left £40 for the rebuilding of Chepstow bridge at his death in 1545. (fn. 68) The cattle trade out of Wales presumably continued throughout the period, though a Welsh cowherd who was listed in the roll of traders in 1396 (fn. 69) is the only evidence found. Its Welsh trade was one of the most stable elements in Gloucester's economic history and the bridge over the Severn, described by the burgesses in 1505 as that by which 'all the king's subjects have their passage between England and Wales with their goods and chattels and all other merchandise', (fn. 70) was prized by the town as one of its major assets.
Other long distance overland trade included the regular connexion with Southampton, mentioned above, and a ropemaker from Bridport (Dors.) who was trading in the town in 1396. (fn. 71) There was also a regular trade with the capital, dealings between Gloucester men and London mercers and other wholesalers being frequently recorded. (fn. 72) Such trade made long distance carrying a source of employment for some of the town's inhabitants, an early example being Reynold the carter, owner of a wagon, loaded with wine, and a team of eight horses which met with an accident at Coates in 1381. That particular wagon was probably on its way from Southampton but the fact that men of Oxford and Tetsworth (Oxon.), places on one of the London routes, acted as Reynold's mainpernors suggests that he also operated a service to the capital. (fn. 73) Four carriers were mentioned in Gloucester in 1455 (fn. 74) and three carriers and a haulier were admitted as freemen in the late 1530s. (fn. 75)
The trade in wool was one that continued to draw some of the merchants from more distant parts who appeared in Gloucester. Men from Coventry and Stratton St. Margaret (Wilts.) were buying and selling wool in Gloucester in 1380, and two woolmongers were listed among the unfranchised inhabitants of the town that year. (fn. 76) Oliver Wulman of Wootton Bassett (Wilts.), who was listed in 1481, was presumably also involved in that trade. (fn. 77) A Cirencester wool merchant, trading in the town in 1380, (fn. 78) and a wool buyer of Tormarton, to whom a Gloucester capper was indebted in 1505, (fn. 79) may represent regular links between the town and the main Cotswold wool-raising area. The wool market, held in the Boothall, was obviously a significant part of the market business in the early 16th century; detailed regulations for it were enacted in 1527. Wool was also traded at the annual fairs, and under regulations made in 1514 the rules preventing 'foreigners' from buying from one another were relaxed at those times. In spite of Gloucester's own clothmaking industry, visiting merchants appear also to have brought finished cloth for sale in the town, (fn. 80) but one piece of evidence for that trade, the appearance on the roll of traders for 1481 of no fewer than 12 men described as 'kendalman', (fn. 81) is difficult to interpret. They appear to have all been 'foreigners' and were presumably dealers in the type of cloth made in Kendal (Westmld.), but the large number is surprising, particularly in view of the fact that the only other record of a trade in that commodity appears to be a bequest of Kendal cloth in the will of John Kendal, a Gloucester lawyer who died in 1447. (fn. 82)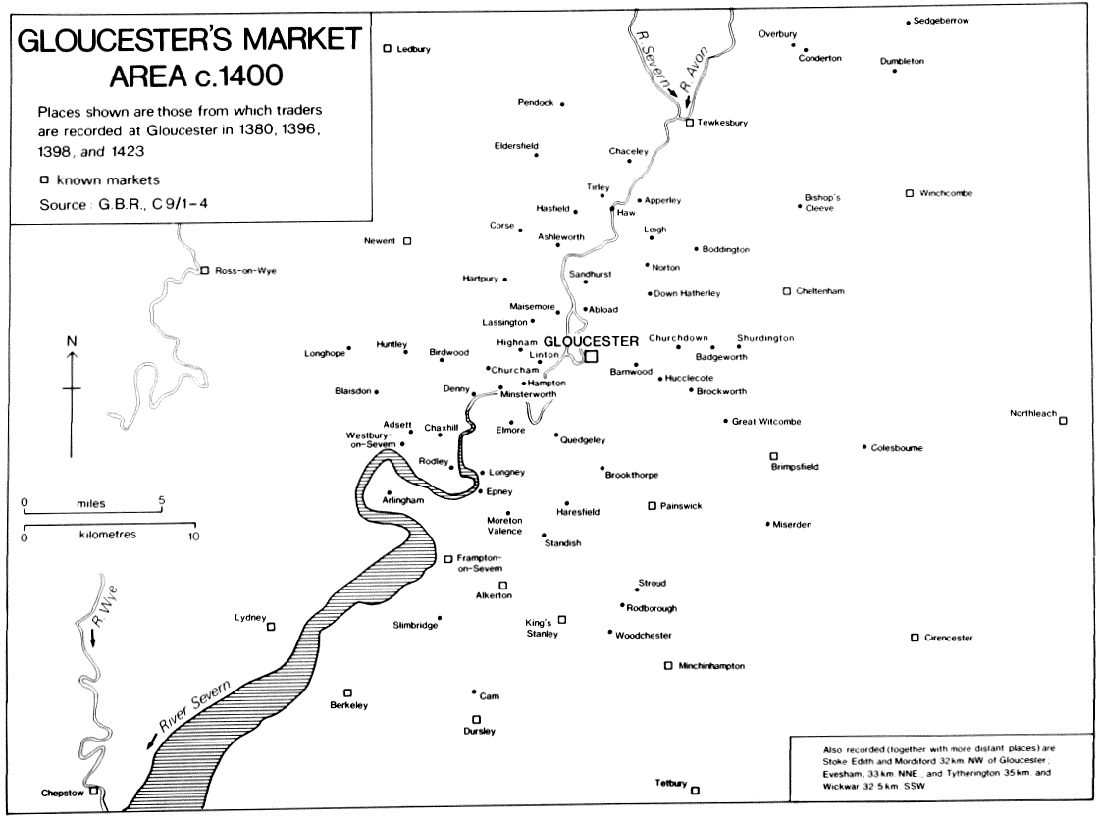 More significant for Gloucester, however, was the local trade with the villages of the surrounding countryside and the neighbouring market towns. The evidence for the nature and extent of that trade in the late Middle Ages comes from five surviving rolls which listed (together with unfranchised residents) the 'foreigners' who traded regularly in the town in return for an annual fine or composition paid to the bailiffs; (fn. 83) the total numbers of those identified as foreigners were 87 and 108 in 1396 and 1398 respectively and 98 in 1423, (fn. 84) but some men for whom no address was given on the rolls may also have been foreigners. The rolls show that the villages from which men came regularly to trade in Gloucester's market lay within a relatively small surrounding area of the Vale and Severnside, most of them within or close to the well-known limit of 62/3 miles (c. 11 km.) given by Bracton for the usual day's market journey. (fn. 85) Beyond that limit a ring of smaller market towns was effective in restricting Gloucester's influence, at least as a market for agricultural produce. In particular Gloucester appears to have had little impact as a market centre above the Cotswold ridge, where Cirencester and to a lesser extent Painswick and Minchinhampton provided market services.
The roll for 1380, more informative than the later ones, specifies the commodities brought for sale by some of the villagers, bread and ale being most often mentioned while six men from places west of the Severn brought honey. Fish from the Severnside parishes was evidently an important part of the incoming produce: two Longney men selling fish were listed in 1380 and another two in 1481, and fishmongering presumably explains the appearance on the rolls of men from such small riverside hamlets as Epney, in Moreton Valence, (fn. 86) and Denny, in Minsterworth. (fn. 87) Other produce of the Severnside parishes is suggested by the man surnamed Fowler from the Haw, in Tirley, who came in 1396. One group of regular traders who were particularly important to the town's industry was represented in 1380 by six men who brought iron to the town; no places of origin were given for them but all came in by the west gate and were evidently from the Forest of Dean. Two King's Stanley men given the description 'askeberner' in 1396 were possibly charcoal burners supplying the town's smiths.
Only one or two traders from each of the surrounding villages were listed each year. Many may have been general dealers who bought and sold on behalf of other villagers, men who came regularly enough to the market to warrant playing an annual composition rather than tolls on each load of produce and who possessed sufficient capital to be able to pay it. It can be assumed that many other villagers from those same places also used Gloucester as their market.
Higher numbers of traders were recorded from the two nearest market towns, Painswick at 9.5 km. and Newent at 13.5 km., which were evidently satellites of Gloucester for trade purposes. In 1396 and 1398 respectively 7 and 9 traders came from Painswick and 7 and 5 from Newent, though in two other years, 1380 and 1423, the numbers were smaller. The relationship to Tewkesbury, further out at c. 16 km. and more of a manufacturing town and rival to Gloucester, is less easy to assess. It sent five traders in 1423 but only one in each of the three other years mentioned above; the number listed may have depended on the success of Tewkesbury men in upholding their claim to freedom from tolls.
Table 1: Trades of non-freemen and 'portmen'
1396–7
1398–9
1423–4
1481–2
Metal Workers
ironmongers
2
farriers
1
1
smiths
5
4
2
1
braziers
2
locksmiths
1
1
bladesmiths
2
1
cutlers
1
8
spoonmakers
1
pinners
2
1
1
2
wiredrawers
2
3
1
lorimers
1
spurriers
1
1
nailers
1
pewterers
2
latten makers
1
bellmakers
1
furbishers
2
goldsmiths
1
1
Textile Workers
dyers
1
1
walkers
1
1
weavers
5
4
3
1
shearmen
2
1
chaloners
1
1
5
1
cardmakers
3
2
1
woadmen
1
Leather Workers
tanners
4
4
3
2
skinners
2
1
1
curriers
2
whittawers
4
cordwainers
14
10
8
4
saddlers
3
1
1
sheathers
1
Clothing Trades
tailors
7
5
6
1
hosiers
1
cappers
1
glovers
5
3
1
pursers
2
Distributive Trades
drapers
1
mercers
1
1
retailers
1
tranters
1
4
chapmen
3
Sellers of Food and Drink
butchers
7
3
3
1
bakers
3
6
3
fishmongers
3
5
brewers
1
3
1
1
maltmakers
1
salters
1
spicers
1
cooks
1
2
innkeepers
1
1
Transport
trowmen
1
carriers
1
Building and Allied Trades
masons
2
carpenters
1
2
turners
1
1
1
glaziers
1
1
painters
1
Other Trades
wheelwrights
1
1
1
hoopers
1
2
1
ropers
1
bowyers
2
fletchers
1
sieve makers
1
2
patten makers
1
?charcoal burners (askeberner)
1
1
barbers
3
1
millwards
1
Sources: G.B.R., C 9/2–5.
Beyond the basic market area various scattered villages sent traders regularly to Gloucester. Villagers who came from the Stroud area were mainly it seems clothworkers. (fn. 88) Another group, whose presence is more difficult to explain, came from villages between Tewkesbury and Evesham, c. 24 km. from Gloucester: men from Overbury in 1396 included a maltman and a man who was probably a slater working a quarry on Bredon Hill. There were also some more distant villages, such as Stoke Edith and Mordiford, near Hereford, and Tytherington, some way down in the Vale, whose presence on the rolls is probably explained by the trade in some particular commodity. Most of the more distant places which appear on the rolls are, not surprisingly, other towns. A ring of market towns within c. 30 km. of Gloucester, including Northleach, Cirencester, Tetbury, Berkeley, Lydney, Ross-on-Wye (Herefs.), and Ledbury (Herefs.), are represented. Most sent only one or two traders each year, the main exception being Ross, at a distance of 24 km. but standing on Gloucester's main trading route into Wales: 6 men came from Ross in 1380, 4 and 3 respectively in 1396 and 1398, and 8 in 1423.
For the market towns around Gloucester the trade in fish was evidently of some significance. Three of the Ross men who came in 1380 were selling fish, as was a man from Chepstow (Mon.). The same year two Cheltenham men were buying fish, while men from Evesham (Worcs.) and Winchcombe surnamed 'Fisher', who were listed in 1396, were probably fish buyers, as perhaps was a Cirencester man surnamed 'Heryng' in 1423. Gloucester appears to have been acting as a centre for distributing inland the fish caught in the Severn and Wye fisheries and perhaps also the saltwater fish that the Irish trade brought to the Severn.
Supplying Gloucester's leather workers with their raw material was another trade in which some of the market towns were involved. Men selling leather came from Newent, Painswick, and Ross in 1380 and a tanner was among the traders from Ross in 1423. Some of the goods taken out of the town may be indicated by the appearance on the rolls of a Tewkesbury draper and a Ross mercer, while a Minchinhampton man recorded in 1380 as buying and selling bread but described as a smith in the poll-tax returns of the following year (fn. 89) perhaps carried back iron or ironware to his town. A Tetbury man, one of those described as 'using his craft' in Gloucester in 1380, was a hosteler (fn. 90) and perhaps acted as a carrier and general dealer for his town.
Gloucester's traditional industries maintained their strength in the late-medieval period. The main evidence is provided by the occupations given in the surviving lists of unfranchised tradesmen, analysed above, but it should be remembered that those lists included only a proportion, perhaps a minority, of the town's tradesmen and tended to emphasize the poorer trades at the expense of the richer ones, whose members mostly had the freedom. Also there are other people on the lists whose trade is not specified (see Table I). At the end of the period further evidence for the relative strength of the town's trades is provided by the records of entrants to the freedom in the 1530s and 1540s (see Table II).
Table II: Trades of freemen admitted Michaelmas 1535 to Michaelmas 1545
Metal Workers
smiths
3
wiredrawers
3
cutlers
2
pewterers
2
goldsmiths
2
Textile Workers
weavers
22
dyers
2
clothiers
2
tuckers
1
Leather Workers
cordwainers
17
tanners
8
saddlers
2
Clothing Trades
tailors
16
cappers
8
hosiers
4
glovers
2
hatmakers
1
Distributive Trades
mercers
7
drapers
4
merchants
4
Sellers of Food and Drink
brewers
9
bakers
6
butchers
5
innkeepers
2
cooks
1
Transport
carriers
3
boatmen
2
watermen
1
mariners
1
Building and Allied Trades
carpenters
4
sawyers
3
turners
2
masons
2
tilers
2
glaziers
1
Other Trades
wheelwrights
1
ropers
1
mattress makers
1
barbers
1
Agricultural
yeomen
18
labourers
3
husbandmen
2
gentlemen
3
undifferentiated
13
Source: G.B.R., C 9/6.
Metal working retained its strength and variety and seems still to have been regarded as the most characteristic Gloucester industry in the late-medieval period: horseshoes and nails, which appeared as devices on the seal for merchant debts acquired in 1348 under the Statute of Acton Burnell of 1283, were used again on the mayor's seal that was made soon after 1483 (fn. 91) and on the coat of arms granted to the town in 1538. (fn. 92) Seventeen different metal-working trades were recorded in the late 14th century and the early 15th. A new one, later to become one of Gloucester's most important trades, was the manufacture of pins, which was recorded from 1396 when 2 pinners and 2 wiredrawers were listed; it was well established by the beginning of the 16th century, when 6 pinners and 2 wiredrawers occur in the hundred court records for the years 1502–7. (fn. 93) Among the other trades the making of cutlery appears to have been particularly strong during the 15th century: 8 cutlers were listed among the unfranchised inhabitants in 1423 and 12 were mentioned as tenants in a rental of 1455. (fn. 94) Bellfounding was probably one branch that was maintained continuously throughout the period. Gloucester founders included John of Gloucester who cast bells for Ely cathedral in 1346, (fn. 95) Henry Prince, recorded as a bellmaker in the town in 1398, (fn. 96) apparently Robert Hendley, whose name appears on a bell made for St. Nicholas's church c. 1500; (fn. 97) William Henshaw (d. 1522), (fn. 98) who served as mayor in five years between 1503 and 1520, (fn. 99) and Richard Atkyns (d. 1530). (fn. 100) In 1507 Gloucester also had a clocksmith, William Green (or Chimemaker), who contracted with Llanthony Priory to keep its clock, chimes, and bells in repair. (fn. 101)
The continuing strength of the clothmaking industry is shown in particular by the number of weavers recorded. The weavers had formed themselves into a trade company by the late 15th century (fn. 102) and in the earlier 16th were one of the most numerous groups of tradesmen, 22 being admitted to the freedom between 1535 and 1545. All the other main branches of clothmaking continued to be carried on in Gloucester, with dyers, fullers, and shearmen all recorded throughout the period, but it is possible that some part of the finishing work for the Gloucester industry was already being done in the mills of the Stroud valleys. Men from villages in that area who figured on the rolls of traders included a Woodchester fuller in 1380, (fn. 103) a King's Stanley dyer in the 1390s, (fn. 104) and a Stroud fuller in 1481. (fn. 105) In the earlier 16th century the clothier John Sandford, who worked a fulling mill at Stonehouse but was settled in Gloucester as a leading burgess by 1544, (fn. 106) provides the most obvious connexion between the industry in the two places. Another connexion may be the purchase in 1524, perhaps as more than just an investment, of a fulling mill at Ebley, in Stonehouse parish, by the wealthy mercer John Cooke. (fn. 107)
Another branch of the woollen industry, the knitting of woollen caps, appears to have been an important contributor to Gloucester's economic recovery in the earlier 16th century. It had been established in the town by 1481, and nine cappers were mentioned in the period 1502–7. (fn. 108) By the 1530s, when the main cappers were John Falconer and Thomas Bell, it was probably the town's principal industry. (fn. 109) Bell was said to employ over 300 people in 1538. (fn. 110)
Gloucester's leather trades continued to flourish during the period. Nine tanners were mentioned in the hundred court records for the years 1502–7 (fn. 111) and the trade produced some wealthy men; (fn. 112) the tanners and the cordwainers were among the earliest groups of tradesmen to form themselves into trade companies. (fn. 113) Cordwainers were particularly numerous: 14 were listed among the unfranchised tradesmen in 1396, and 17 were admitted as freemen between 1535 and 1545.
Among more specialist craftsmen were the masons who built and maintained the many churches and religious houses and found employment in the surrounding region. Gloucester masons included Nicholas Wishanger, who was employed to build Arlingham church tower in 1372 (fn. 114) and three years later was retained by Llanthony Priory as its chief mason, (fn. 115) and John Hobbs, who built a new chapel at Blackfriars, Worcester, in 1475. (fn. 116) John Hoggs (or Deacon) of Gloucester, described as a carpenter and carver, contracted to work for Llanthony c. 1510. (fn. 117) The specialist trade of shipbuilding seems to have been carried on only intermittently, at least in the early 16th century. The building of the 80-ton Mary Fortune at Gloucester c. 1540 was later remembered as an exceptional event, while one or two smaller vessels commissioned by Gloucester men at that period were built down river at places like Elmore and Minsterworth. (fn. 118)
Although a small group of wealthy merchants is identifiable in the late 14th century (fn. 119) and the significant role played by lawyers is evident in the 15th, (fn. 120) it is probable that the mercers and drapers, the men who sustained the town's function of supplying imported goods and its own cloth and other products to the region, were always an important element in late-medieval Gloucester. For the 100 years up to 1483 the occupations of only 24 of the men who held office as bailiffs have been identified; that very small and random sample was made up of 6 mercers, 4 lawyers, 4 merchants, 3 drapers (one also a hosier), 3 brewers, a fishmonger, a dyer, a chaloner, and a brazier. (fn. 121) For the late 15th century and the earlier 16th the fuller surviving records show that the mercers and drapers were then the dominant trades. That is underlined in particular by the composition of the town's inner governing body, the twelve-strong bench of aldermen, which at that period included almost all the most wealthy men. (fn. 122) Between 1483 and 1547 the occupations of roughly half of all the men who attained the bench of aldermen are known: they were 9 mercers, 8 drapers, 4 merchants, 4 cappers, 3 tanners, 2 clothiers, a dyer, a brewer, a cutler, a wiredrawer, a goldsmith, a bellfounder, and a lawyer. (fn. 123) In 1513 the 11 wealthiest townsmen, judged on their assessment at a muster, included 5 mercers and a draper, but some of the manufacturing trades also produced individuals of great wealth. William Henshaw, the bellfounder, shared the highest rate of assessment with the mercers John Cooke and William Cole in 1513, and at the subsidy of 1524 the tanners William Matthews and John Allen, the dyer William Hazard, and the clothier Thomas Tayloe were among the top 7 payers, and two representatives of the rising trade of capping, John Falconer and Ralph Sankey, were among the top 12. John Cooke was by far the wealthiest man in 1524, his assessment of £300 being more than twice that of anyone else. He died in 1528 and his pre-eminent position in the town was probably matched later only by the capper Thomas Bell, who in 1524 was just beginning his career, a man of moderate wealth (fn. 124) serving his first term as sheriff. (fn. 125)