Pages 326-354
A History of the County of Gloucester: Volume 5, Bledisloe Hundred, St. Briavels Hundred, the Forest of Dean. Originally published by Victoria County History, London, 1996.
This free content was digitised by double rekeying. All rights reserved.
INDUSTRY
Its timber and mineral resources have given the formerly extraparochial Forest of Dean a rich and distinct industrial history. The Forest lies in a basin formed by carboniferous strata and is almost coterminous with fields of coal and iron ore. The coal measures, which outcrop in three roughly concentric circles near the edge of the Forest, are mostly thin but some 14 seams have proved workable. The ore, found in the sandstone and the limestone formations beneath and around the coalfield, has also been mined together with associated deposits of ochres and oxides, used as colouring agents. (fn. 1)
Ore mining and ironmaking, the latter sustained for many centuries by charcoal burning, began in early times. Later much iron ore and coal was taken away by road and river and Forest stone was also quarried and dressed for local and distant markets. Mining, which was long regulated by custom and limited by flooding in the basin, was largely confined to the edge of the coalfield until the 19th century. The mining and ironmaking industries were at their peak in the 19th century when they spawned an intricate network of tramroads and railways and a number of related industries, including engineeering. In the 20th century deeper mining was abandoned as reserves of ore and coal became uneconomic to work, and jobs in mining and heavy industry disappeared to be replaced by other forms of employment.
MINING TO THE 18TH CENTURY.
There is little direct documentary evidence of Dean's mining industry before the mid 13th century. The rich deposits of iron ore were exploited by the Romans (fn. 2) and supplied ironworkers operating in Dean by the later 11th century. (fn. 3) Coal was being dug in several of the Forest's bailiwicks in the mid 1240s (fn. 4) but its extraction was of secondary importance to ore mining until the 17th century. Red oxide and yellow ochre were also mined before the 15th century. (fn. 5)
About 1250 the Crown received rents from some ore and coal mines and ½d. for every load of coal carried on the river Severn, the toll, which was apparently also levied on ore carried on the river, being farmed to Pain of Lydney for £24. Other royal revenue came from a toll on traffic using the road to Gloucester and from cinders, (fn. 6) the slag produced by early ironworking which was rich in iron. (fn. 7) Control over the digging of ore differed in the various bailiwicks. In 1282, when the Crown farmed its revenues from ore mining for £46 and was entitled to ½d. for every load of ore taken out of the Forest, perhaps excepting Lea bailiwick, the woodwards of Abenhall, Bicknor, and Blakeney bailiwicks took or claimed the ore within their jurisdictions and Richard Talbot took the ore in Lea bailiwick. Miners in Bearse and Mitcheldean bailiwicks paid the Crown 1d. a week and, like those in Staunton bailiwick who owed ½d., had to sell ore to sustain one royal forge at a fixed price. In each productive ore mine in Mitcheldean and apparently in Bearse and Staunton bailiwicks the king employed a man alongside the miners and took his share of the profits. In those three bailiwicks and apparently in Abenhall bailiwick the king also bought a fixed amount of ore each week known as 'law ore', the amount in Bearse bailiwick, which had greater reserves of ore, being four times larger than in each of the others. (fn. 8) The regulation of coal mining similarly varied. In the mid 1240s the constable of St. Briavels castle and the woodwards of Blakeney and Staunton bailiwicks seem to have shared payments from colliers working in those areas, while the woodward of Abenhall bailiwick received 1d. for each horse-load of coal. (fn. 9) In 1282 coal found in Bearse, Littledean, Mitcheldean, and Ruardean bailiwicks belonged to the Crown and that in Abenhall, Bicknor, Blakeney, Lea, and Staunton bailiwicks was taken or claimed by the respective woodwards. (fn. 10) The woodward of Blakeney continued to claim all mines within his bailiwick in 1634. (fn. 11)
The techniques of medieval mining were necessarily primitive. Ore was extracted from the limestone outcrops to the west and east of the coalfield by surface workings, often known locally as scowles. (fn. 12) Such workings usually left behind winding trenches and some reached great depths to win ore found in chambers or 'churns' varying considerably in size. The coal outcrops were mined by short drifts or levels and by small pits. (fn. 13) Dean's miners with their expertise in excavating and burrowing were valued by the Crown as sappers and by the 1220s they were frequently conscripted for military service. In 1253 twenty of them were impressed to accompany the king on a Gascon expedition and later many served in Scotland under Edward II and Edward III and in France under the latter. In 1319 twelve miners were also conscripted to work the iron mines of Hugh le Despenser the younger in South Wales. The call for Dean's miners to serve in armies overseas was renewed in 1419, 1522, (fn. 14) and 1577. (fn. 15)
The Dean miners enjoyed privileges which included a code of customary mining law. Tradition states that they acquired those privileges from the Crown in return for their services in the Scottish wars of the 14th century, and particularly at sieges of Berwick. (fn. 16) The earliest surviving records, of the 17th century, attribute the laws to Edward III but their reference to the wider bounds of the Forest, (fn. 17) in force from some time before 1228 until 1301 and from 1305 to 1327, (fn. 18) indicates an earlier origin. Later the miners' franchises and laws, which by the mid 19th century had become known as the 'Book of Dennis', (fn. 19) applied only to St. Briavels hundred, which covered a smaller area than the reduced bounds of the Forest confirmed in 1327. The franchises were evidently gained by long usage in respect of ore mining and in time were applied to the winning of coal and ochre. (fn. 20) The Crown's right, recorded in 1282, to buy 'law ore' from miners in at least three bailiwicks (fn. 21) implies the existence of a mining court. Such a court met in 1469 at a place called Hill pit and was later known as the mine law court. It had exclusive jurisdiction over the miners and their workings and protected their privileges and customs. Disputes, including pleas of debt, were tried by a jury of 12 miners and appeals were allowed to a jury of 24 miners and, in the last resort, to one of 48. (fn. 22) Among their privileges the miners were taking wood to shore up their works in 1282. (fn. 23) They also enjoyed free access to their works from highways, (fn. 24) and carrying rights were possibly at the heart of a dispute with the ironworkers in 1375. (fn. 25)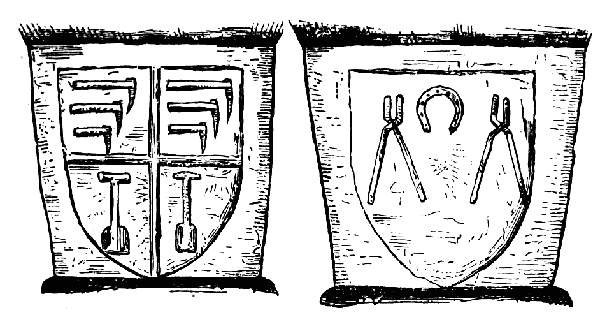 By the later Middle Ages the Crown also regulated mining in Dean through the office of gaveller or keeper of the 'gale'. The office had been created by 1464, when it was granted, together with the Crown's mining revenues, to Robert Hyett for life, and by 1484 it was held by two men in charge respectively of the eastern and western halves of the Forest. (fn. 26) The division existed by 1435 when the Crown farmed its mining revenues, known as the gavel, in the area 'under the wood' to two men for £22 and in the area 'above the wood' to one man for £20 3s. 4d. (fn. 27) The area 'under the wood', comprising the eastern part of the royal demesne woodland with Flaxley, Littledean, Mitcheldean, Ruardean, and parts of Awre and Lea, was sometimes called the gale of Mitcheldean. That 'above the wood', comprising the western part of the royal demesne with English Bicknor, St. Briavels, Newland, and Staunton, was sometimes called the gale of Newland. (fn. 28) In the early 17th century there was a single gaveller and many of his duties, notably the collection of royal mining revenues, were carried out by deputies. At the Restoration the Crown apparently reverted to the practice of appointing a gaveller for each half of the Forest, Sir Baynham Throckmorton the younger of Clearwell being granted the keepership of the gale above the wood, but by 1681 the two keeperships were again vested in a single person. (fn. 29) The number of deputy gavellers is known to have varied from two to six in the 17th and 18th centuries. (fn. 30)
Iron ore, cinders, and coal were presumably exploited throughout the later Middle Ages. (fn. 31) From the late 16th century the Forest produced considerable amounts of ore and cinders for blast furnaces operating in an area extending into Herefordshire and Monmouthshire. (fn. 32) In 1612 the Crown, by the agency of the earl of Pembroke, attempted to divert all the ore and cinders to new ironworks established on the royal demesne of the Forest but the miners continued to sell ore and cinders elsewhere. By 1614 over 35 of them had formed an association pledged to supply ironworks outside the Forest. Some had contracts with agents of William Chesshall, a London merchant, (fn. 33) who under a licence of 1606 traded in ore and cinders to Ireland. (fn. 34) The miners responded to the Crown's interference in their customary rights in 1612 by rioting. (fn. 35) Lessees of the king's ironworks also attempted to restrain the mining and sale of ore and cinders but the miners refused to give up their privileges. Coal miners were as equally adamant in 1637 when Edward Terringham secured a lease for 31 years of all coal mines and quarries in the Forest. More than 100 families then depended on mining ore or coal. Terringham mined coal in several places but his works were destroyed and he relinquished the lease in 1640. By that time Sir John Winter of Lydney owned the ore and coal mines in most of the Forest by virtue of a royal grant. The miners worked their own pits and levels throughout the period, (fn. 36) as they did after 1668 when Terringham's son Francis (d. by 1675) acquired a new lease of the collieries and quarries. (fn. 37) Ore and cinders continued to be sent to furnaces outside the extraparochial Forest after those within it were demolished in 1674 and the Irish trade remained important. (fn. 38) Although experiments in the 1650s to use Forest coal for smelting ore failed, (fn. 39) the coalfield in the later 17th century had markets in parts of Gloucestershire, Herefordshire, and Monmouthshire for three grades of coal, used as fuel in houses, forges, and limekilns respectively. (fn. 40) Grading was according to size by means of sieves made in places such as Mitcheldean, Newnham, and Tidenham. (fn. 41)
Ochre mining also continued in the 17th century. About 1611 Robert Treswell, the surveyor of Crown woods, sought permission to dig for yellow ochre (fn. 42) and in 1634 Henry Hippon and Edward Lassells wanted, in return for taking timber to a Kent shipyard, a monopoly in mining yellow ochre on the edge of the Forest above Littledean. (fn. 43) In that area, and particularly in Abbots wood, were rich deposits of red oxides and yellow ochres, (fn. 44) and in 1650 a mine known as Maple pit or the Yellowshraft was possibly supplying two London merchants with ochre. (fn. 45)
The mine law court, customarily summoned by the gavellers when need arose or when three actions were pending, met in the presence of the deputy constable of St. Briavels castle, the castle clerk who was the court steward, and the deputy gavellers in the early 17th century. Having no fixed meeting place, it was convened in the open, under a hedge or tree, or in a house, and at times it employed a crier. (fn. 46) In 1656 it held a session in Littledean and later it met often at Clearwell and also at Coleford, Mitcheldean, and Ruardean. In 1680 it assembled at the Speech House, which became its usual venue in the 18th century. (fn. 47) During that period the court acted like a corporation for a society or fellowship of miners. It settled disputes between miners and sought to preserve the system of mining shaped by customs established in the Middle Ages. Fines for breaches of custom, paid in ore or coal and sometimes in cash, were divided between the Crown and plaintiffs. The customary system, born of a need to support small-scale co-operative ventures, stifled individual enterprise and it was increasingly challenged, sometimes with the connivance of Crown officials. (fn. 48) The court modified customs when change was desirable or consistent with the miners' interests. (fn. 49) The customs, which in 1634 were apparently declared to have no legal basis, (fn. 50) centred on an exclusive right to win ore, ochre, and coal in the Forest and to carry and sell those minerals in the surrounding countryside. The right to mine originally extended to all land but was later banned in gardens, orchards, and curtilages and in the extensive inclosures for the growth of timber created in the Forest under the reafforestation Act of 1668. That Act confirmed the miners' privileges in a general way without specifying what they were, and an attempt, immediately after its enactment, to make miners pay for the wood required for their works was soon abandoned. To provide legal defence of the customs, as was needed in 1675, and relief for injured miners the mine law court levied rates on the miners, and in 1685 it ruled that any jury making a rate was to represent equally the colliers and ore miners. (fn. 51)
The right or freedom to mine was restricted to native residents of St. Briavels hundred and came to be reserved to those who were sons of free miners. By custom aspirants to the freedom worked for a year and a day in the mines and usually provided a dinner for the miners' fellowship. The freedom was forfeit for breaches of mining custom and for perjury in the mine law court. In 1668 the court ruled that natives might acquire the freedom by an apprenticeship of six years to a free miner and that cabiners or squatters born in the Forest might obtain them by working seven years in the mines. In 1680 it restricted the freedom to men who had been apprenticed for five years to their fathers or other free miners and had reached the age of 21. From 1737 sons of 'foreigners', persons not born in the hundred, were allowed to qualify by serving a seven-year apprenticeship to a free miner. (fn. 52)
In the early 17th century miners prospected for ore and coal at will without seeking landowners' permission. After they had opened up the ground and dug three steps they summoned the gaveller to 'gale' or license that mine to them and assign a right of way to the nearest highway, each miner paying 1d. Each mine was developed by a partnership of up to five miners, and the partners, known as 'verns', were helped sometimes by sons and apprentices. The Crown, acting through the gaveller, was entitled to instal a miner in each mine to win for it a share of the ore or coal raised, and private landowners also had the same right in mines oh their land. The king's man was long regarded as the third most important member of any company of miners. Active miners paid the Crown 1d. a week and 'law ore'. The latter, a quarterly payment for the mine law court in ore or coal, was sometimes commuted for 3d. and many miners compounded for an annual sum to cover all their dues. (fn. 53) By custom a miner was free to dispose of his share or 'dole' in a mine to whom he chose; (fn. 54) c. 1650 six miners leased an ochre mine near Littledean to John Brayne for 21 years. (fn. 55)
Where possible miners drove adits or levels upwards on hillsides to assist drainage and the removal of coal. Drains were occasionally impeded by the sinking of new pits, a problem which the mine law court sought to remedy in 1674 by obliging miners opening works within 100 yd. of a drain to obtain the consent of its owners. Much mining was on a larger scale than had been permitted by ancient custom, which had protected a mine within the radius in which the spoil from it could be thrown. The mine law court attempted to inhibit the growth in the size of mines. In 1668 it restricted each miner's output to the amount of ore or coal that four horses could carry away, but in 1754 it extended to 1,000 yd. the distance within which a working level had protection from new pits. (fn. 56) Horses worked inside some mines, presumably drifts, by 1687. (fn. 57) With the growth in coal mining in the later 17th century there was greater damage to the woodland as miners took wood to shore up their workings, and some Newland residents, alarmed at the destruction, formed an association to work a drift at Milkwall and buy the wood needed for its support from elsewhere. (fn. 58) Some of the largest and deepest mines were created by exploiting the iron ore on the eastern and southwestern sides of the coalfield. Many centuries of ore mining had exhausted deposits near the surface and in the 17th century miners dug below abandoned labyrinths of workings to form large caverns, some of them over 450 ft. underground. (fn. 59)
Minerals were carried out of the Forest by horses, donkeys, and mules (fn. 60) and loaded on boats and barges plying on the rivers Wye and Severn. There were numerous pitching places on the banks of the Wye, including Monmouth and, in Newland parish, Redbrook, and in the later 17th century Brockweir handled ore bound for Ireland. (fn. 61) On the Severn some ore was shipped at Lydney Pill in the 1650s, and Newnham, which conducted trade with Ireland, handled ore and coal in the 1660s. (fn. 62) The carrying trade gradually came under the control of foreigners. The miners' exclusive right to deliver ore and coal outside St. Briavels hundred was sanctioned by the mine law court in 1668 but it proved prejudicial to the interests of friends and tenants of the marquess of Worcester, constable of St. Briavels, in Monmouthshire and Herefordshire and it was rescinded in 1674 to allow foreigners to purchase coal at the mines for their own use. (fn. 63) The demand for Forest coal grew to the point when in 1687 the residents of the hundred could not buy enough for their household needs. Merchants and agents from Monmouthshire and Herefordshire removed large amounts and in 1719 the miners attempted, albeit with little success, to regain control of the carrying trade by allowing only inhabitants of adjoining parts of Gloucestershire, including Newent and Westbury-on-Severn, access to the mines to collect coal for their own use. (fn. 64)
The miners' loss of the carrying trade was almost certainly brought about by controls to prevent them from underselling one another. (fn. 65) To that end the mine law court set the minimum prices they were to charge at the mines and outside the Forest and entrusted negotiations with their customers to a few of their number. Ore sales were conducted in that fashion until 1676. (fn. 66) Some colliers ignored price regulation and in 1680 the court attempted to support the coal price in and around Monmouth by fixing the minimum prices to be paid at pitching places on the river banks above the town. For some reason all price controls were lifted in 1687 but they were reintroduced from 1693 and the practice of appointing bargainers to act for the miners resumed. In 1699 the court imposed a ban on the carriage of coal on the Wye below Welsh Bicknor (Mon., later Herefs.), presumably to maintain prices at Monmouth by diverting its trade overland. (fn. 67) By 1719 the court was regulating traffic on the river in a way that divided the Herefordshire and Monmouthshire markets between the mines of the east and west sides of the Forest respectively and in 1741 it gave free miners with barges on the river preference in carrying that traffic. (fn. 68) Much trade went through Lydbrook, where the main wharf was busy in 1770, with cranes loading coal destined for Hereford and elsewhere into barges. (fn. 69) Outlets for Forest coal on the river Severn in the 18th century included Lydney Pill, Purton Pill, Gatcombe, and Newnham. (fn. 70)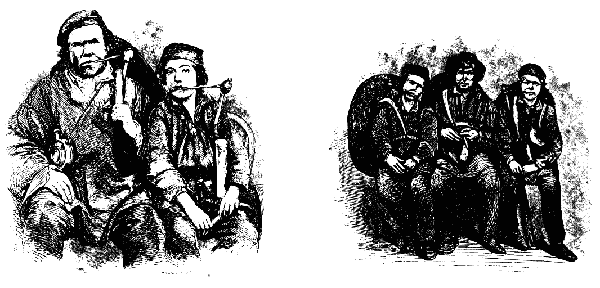 MINING FROM THE 1770s.
In the 18th century furnaces near the Forest, which needed a supply of cinders to produce good iron from local ore, (fn. 71) depended increasingly on ore from Lancashire, As a result regular ore mining in Dean ceased, leaving abandoned chambers, (fn. 72) known as 'old men's workings', to be rediscovered in the following century. (fn. 73) In 1787 about 22 men, each paying the gaveller 4s. a year, dug ore occasionally in old workings, (fn. 74) and in 1788 Parkend walk was said to have 8 ore mines employing c. 20 free miners and 3 boys or apprentices. (fn. 75) The coal industry on the other hand expanded in the 18th century. New pits and levels were frequently opened. Some of their names, such as Long Looked For, Pluck Penny, and Small Profit, reflected the speculative nature of the industry, which until David Mushet published a survey of the strata in 1824 relied on personal knowledge of the geology of the outcrop. (fn. 76) In 1787 the Forest was found to have 121 coal mines, of which 90 were at work producing 1,816 tons a week and employing 662 free miners. (fn. 77) The following year 106 collieries were noted employing over 442 miners, including many boys and 6 women; the bulk of the mines were in Parkend and Ruardean walks. The outcrops most intensively worked were those running northwards from Cinderford to Nailbridge and thence south-westwards across Serridge green to Beechenhurst hill, those running northwards from Whitecroft to Moseley Green and Staple Edge, and those on the west side of the Forest towards Coleford. (fn. 78)
With the expansion of coal mining and the growth in the size of mines disputes in the coalfield became more frequent. Deeper working increased the risk of flooding from adjacent mines, a hazard that Churchway (or Turnbrook) colliery had experienced by 1748. (fn. 79) The free miners, often at odds with one another, became embroiled with foreigners, who participated in the industry in greater numbers. The growth of the industry and the intervention of foreigners sealed the collapse of the customary system of mining. The breakdown had been manifested in the early 18th century by the conferring of free miners' privileges on local landowners; earlier the mine law court had been more sparing in granting those rights to Crown officials and others. (fn. 80) Ownership of coal mines became unevenly distributed. Of 66 partnerships reported in 1787 as working 98 mines about a third controlled more than one colliery and one as many as seven. (fn. 81) The mine law court became ineffective, its proceedings marred by disorder and violent arguments and its decisions ignored. In 1775 it tried to prevent foreigners from owning or working mines. That year its papers disappeared from the Speech House, being removed allegedly by John Robinson, a deputy gaveller, who had opened a number of mines in partnership with foreigners. Although officials refused to reconvene the court without its records, (fn. 82) the free miners apparently continued to meet to deliberate mining matters, and in 1807 a group of 48 of them, a reference to the jury of 48 which had been the court's highest authority, called at the Speech House for the court's revival to implement new rules for the mining industry. That group, led by William Bradley, a Baptist minister, met regularly until 1809 (fn. 83) or later but assemblies of free miners at the Speech House had become infrequent by the 1820s. (fn. 84)
The lapse of the mine law court left the supervision of mining customs solely to the gaveller. By the later 18th century miners sought, before digging on Crown land, the consent of the gaveller or his deputy, who on receipt of a fee of 5s. marked out and registered the land required for the new mine. Mining rights lapsed if they were not exercised on at least one day in every year and a day. The gaveller also fixed a royalty to be paid for the mine in proportion to the number of men to be employed in it and the payment, deemed a commutation of the Crown's right to put a man in each mine, came to represent a fifth of the output of each pit or level. The gaveller had used the mine law court to enforce payment of the Crown's dues, and the court's discontinuance led to many miners defaulting in their payments. The gaveller took the Crown's mining revenues for his own use and before 1788 farmed them to one of his deputies for £100. (fn. 85) That practice continued until c. 1808, when the gavellership became an honorary post vested in the office of Surveyor General of Woods and the Crown's income from mining became part of the general revenues of the Forest. (fn. 86) The term 'gale' came to be applied to the grant of a mine and to the land granted for it, as well as to the royalty. (fn. 87)
In the 1770s and 1780s the coalfield supplied a large part of the county beyond the Severn, including Gloucester, Stroud, and Berkeley, and Hereford, Monmouth, Chepstow (Mon.), and Bristol remained among its markets, (fn. 88) but by the 1790s markets were being lost, because of the high cost of carriage, to pits in Monmouthshire, Shropshire, and Staffordshire. The northern side of the coalfield, which was also affected by the development of the Newent coalfield, depended principally on sales to the Herefordshire hop yards. (fn. 89) The trade in Forest minerals and stone was boosted by the building of tramroads to link the Forest with Bullo Pill, Lydbrook, Lydney, Monmouth, and Redbrook in the early 19th century, (fn. 90) but some trade to Bristol and other places was lost by the imposition of duty on shipments of coal in the Severn estuary. (fn. 91) Mining was also stimulated by the opening of coke-fired blast furnaces in Dean in the late 1790s, (fn. 92) and quantities of yellow ochre were dug during the Napoleonic Wars. (fn. 93)
In the later 18th century many miners were too impoverished to pay their gale rents (fn. 94) and most lacked the money needed for the pumping and winding machines necessary for deeper working. (fn. 95) Coal pits remained shallow and once flooded were abandoned in favour of new workings. (fn. 96) Coal was hoisted from some pits by bucket or basket using a hand-operated windlass or a horse gin (or whim). (fn. 97) By the 1770s two or three crank-driven pumps had been installed in the coalfield. (fn. 98) The first mine to use steam power for pumping was a drift near Broadmoor known in 1754 as Water Wheel Engine (fn. 99) and later as Oiling Gin. A steam engine was set up there, perhaps as early as 1766, by a group of foreigners, who in 1776 surrendered a major share in the mine to a company of miners. (fn. 100) With few exceptions the provision of machines was possible only with the investment of outside capital. Some miners formed partnerships with foreigners and borrowed money from them (fn. 101) but only a handful of them benefited in the long term from such cooperation. (fn. 102) One was James Teague (d. 1818), who in the 1790s was partnered by several Shropshire industrialists. He acquired coal and ore mines on the west side of the Forest, installed a steam engine at one of them, built the first tramroads in Dean, established ironworks at Whitecliff near Coleford, and employed other free miners. (fn. 103) Some miners sold out to foreigners and others continued to work small mines. (fn. 104)
Before 1775 foreigners rarely held gales, being forbidden to do so by custom. Following the lapse of the mine law court it became common for them to buy or take leases of gales and for free miners to acquire gales on their behalf. (fn. 105) At first foreigners received little return on their capital but by the 1820s they operated nearly all the large mines in the Forest, investing substantial sums in deep mining and tramroads and thereby producing coal competitively with collieries elsewhere. (fn. 106) The dominant figure in the coalfield at that time was Edward Protheroe (d. 1856), a West Indies merchant from Bristol and M.P. for the city 1812-20. (fn. 107) He acquired several collieries at Parkend from his uncle John Protheroe in 1812, purchased Bilson colliery in 1826, and, having gained control of the Forest's principal tramroads, extended deep mining of coal at Parkend and Bilson and opened up ore mines near Milkwall. From the mid 1820s he sent coal to local ironworks and among the collieries which he developed were Crumpmeadow in 1829 and New Fancy in 1831. (fn. 108) David Mushet and other ironmasters operating in the Forest were also prominent in the development of mines and tramroads. (fn. 109) William Crawshay, owner of the Cyfarthfa ironworks near Merthyr Tydfil (Glam.), collaborated with Moses Teague (d. 1840), a free miner, in sinking deep mines on the east side of the Forest to supply ore and coal to the Cinderford ironworks. (fn. 110) Shakemantle and Buckshraft (later Buckshaft) ore mines near Ruspidge were begun in 1829 and 1835, (fn. 111) and Lightmoor coal mine further west was deepened in the late 1830s. (fn. 112) Also in the late 1830s Sir Josiah John Guest, Bt., sank Westbury Brook (or Edgehills) mine below old workings south of Mitcheldean to supply ore to his Dowlais ironworks near Merthyr Tydfil, (fn. 113) and Anthony Hill, a South Wales ironmaster licensed in 1832 to remove cinders from Crown lands, became involved in Dean's mining industry. (fn. 114) In 1838 G. E. Jackson, a Birmingham ironmaster, sank Old Sling ore mine below old workings at Clearwell Meend. (fn. 115) Of 52 collieries in production in Dean in 1841, Strip And At It, one of the deeper mines, (fn. 116) was worked from a shaft sunk in the mid 1830s on Serridge green by John Harris, a free miner. (fn. 117)
Table IV: Coal and Iron ore raised in dean 1841-1965
The figures are tons.
year
coal
iron ore
1841
145,136
18,872
1850
337,948
73,990
1860
590,470
192,074
1862
474,168
109,056
1871
837,893
170,611
1877
638,319
79,646
1885
826,167
35,249
*fig. for 1901
year
coal
iron ore
1894
860,312
27,780
1900
1,050,000
* 9,769
1920
1,206,000
** 1,727
1930
1,303,000
1940
1,204,200
1950
723,000
1965
46,000
** fig. for 1921
Sources: Fisher, Custom and Capitalism, 57-8; Glos. N. & Q. vi. 140; Forest of Dean Coalfield (H.S.M.O. 1946), 17-18; Hart, Ind. Hist. of Dean, 235, 290.
From the 1820s the large coal mines were run on a 'little butty' system. Each stall was developed under contract by a collier and his mate, the buttymen, who employed four or five men or boys on a daily basis. In the 'big butty' system of the Staffordshire coalfield the contractors were responsible for a whole seam or even a complete pit. In Dean's large mines perhaps a quarter or third of the workforce were buttymen and the rest day labourers, of whom a few were directly employed by the masters. The larger collieries were thus an important source of casual employment, affording seasonal work after the harvest and attracting men from Wales and elsewhere to the Forest. There were attempts to curb the hiring of workmen other than free miners. (fn. 118) Many boys, some as young as six, worked in the larger coal and ore mines in 1841, when of 700 hands employed at Bilson colliery 40 were aged under 13. Female labour was not used at the larger mines (fn. 119) but women hoisted coal and loaded it on carts and mules at the free miners' pits. (fn. 120)
With the introduction of deep mines and wage labour the customary system of mining in Dean rapidly diminished in economic significance (fn. 121) and the industry entered a troubled period. Disputes arose over boundaries, and the principle that mining in any gale was to cease when mattocks clashed, that is when the mine ran up against another, was increasingly ignored by the driving of long narrow headings to secure coal in other gales. The interests of native free miners and foreign capitalists frequently came into conflict (fn. 122) and resentment of foreigners was a potent factor in riots that occurred over commoning rights in 1831. (fn. 123) The next year the granting of gales to free miners was halted temporarily and from 1838, following a report by commissioners investigating conditions in the Forest, mining was subject to a statutory framework of regulation. (fn. 124) Registered free miners retained the sole right to take gales from the gaveller for mining coal, ore, and ochre within St. Briavels hundred, but, with the confirmation of earlier sales, mortgages, and leases and of the free miners' power to sell or lease, foreigners were able to secure title in law to gales. Mine owners were left free to employ whom they chose. Men born and living in the hundred, aged 21 or more, and having worked a year and a day in a mine in the hundred could register as free miners and 829 had done so by 1841. (fn. 125) Their right to take wood for their pits, a custom already withdrawn from those using the Forest's tramroads, (fn. 126) was abolished.
Many provisions of the Act passed in 1838 to regulate mining were implemented in 1841 when commissioners set out the boundaries of 104 gales of coal and 20 of iron ore, awarded them to those judged to be entitled to them, fixed the royalty to be paid, and codified the rules for the conduct of mining. Each gale specified the seams to be worked and the royalty was linked to output. The Crown was guaranteed a minimum or dead rent from each gale assessed on an assumed annual tonnage and when output exceeded that figure ('overworkings') the surplus payment could be offset by any previous 'shortworkings'. Gales granted after 1841 paid royalties in the same way and the amount from each was revised every 21 years. (fn. 127) The office of gaveller remained honorary, being vested in the First Commissioner of Woods, Forests, and Land Revenues in 1838 and assigned to another of the commissioners in 1852. Its duties were performed by the gaveller's deputy and the deputy surveyor. (fn. 128)
The reforms of 1838 and 1841 strengthened trends that had been evident in the industry many years earlier. Production expanded and was concentrated in fewer hands as existing pits were enlarged and new deep mines sunk. William Crawshay (d. 1867) and his son Henry (d. 1879) took a lead in mining coal and ore on the east side of the Forest, (fn. 129) primarily to feed the Cinderford furnaces, and their Lightmoor colliery had four shafts open in the mid 1850s. (fn. 130) Henry, who took over his father's mining and smelting interests in the Forest and became known as the 'iron king' of the Forest of Dean, (fn. 131) employed as many as 250 hands to dig ore in Buckshaft, Shakemantle, and St. Annal's mines in the mid 1860s. (fn. 132) He also developed Foxes Bridge colliery, at Crabtree hill next to Crumpmeadow colliery, (fn. 133) in partnership in 1858 with Stephen Allaway and Timothy Bennett (fn. 134) (d. 1861) and later with Bennett's son-in-law Osman Barrett. In 1861 Bennett, a Mitcheldean maltster and miller with substantial local mining interests, (fn. 135) sold Resolution and Safeguard coal pits to Henry Crawshay, (fn. 136) and in 1889 the firm of Henry Crawshay & Co. Ltd. was established to run the Crawshays' businesses in the Forest. (fn. 137) Of Edward Protheroe's large collieries, Bilson and Crumpmeadow were acquired between 1841 and 1846 by a company headed by Aaron Goold, (fn. 138) formerly his agent, (fn. 139) and in 1884 by the Lydney & Crumpmeadow Collieries Co. (fn. 140) Parkend and New Fancy, which Protheroe retained until his death, later had several owners before their purchase in 1883 by, among others, T. H. Deakin (d. 1935), founder of Parkend Deep Navigation Collieries Ltd. (fn. 141) Trafalgar colliery near Cinderford, (fn. 142) which was in production in 1860, was developed by the Brain family and was the only large mine in the coalfield run by free miners in the later 19th century. The colliery, which in 1882 became the first in England to have electric pumps, (fn. 143) took over the workings of Strip And At It colliery to the north, and a short tramroad through a tunnel connected the pitheads. (fn. 144)
The coalfield's output rose steadily from 145,136 tons in 1841. Production slumped in the early 1860s but it soon recovered and increased to 837,893 tons in 1871. (fn. 145) Of the 460,432 tons raised in 1856 Parkend and Lightmoor collieries produced 86,973 and 86,508 respectively and Crumpmeadow colliery 41,507. (fn. 146) Many mines had an annual output of less than 5,000 tons. They were drifts and shallow pits in the outcrop worked by free miners supplying surrounding villages and farmsteads with house coal, and they represented only a fraction of the coalfield's total output. In 1870 nearly half of the 40 working coal mines were in that category while, at the other end of the scale, six collieries (Resolution and Safeguard, Lightmoor, Foxes Bridge, Crumpmeadow, Trafalgar, and New Fancy) each produced more than 50,000 tons and together accounted for almost three quarters of the field's output. Most of the coal was sent to markets outside the Forest but large amounts were used by local industry. (fn. 147) The coalfield's output, which fell between 1871 and 1877, (fn. 148) did not show any appreciable increase above the 1871 figure until the end of the century, (fn. 149) 1,176,712 tons being raised in 1898. At that time most of the principal collieries were near Cinderford or Parkend and worked the upper measures for household and other coal. Elsewhere a few large mines tapped the lower measures, including the Coleford High Delf seam, near the outcrop to produce coal for gasworks and steam engines. On the south side of the coalfield they included Flour Mill colliery in the Oakwood valley near Bream and Park Gutter west of Whitecroft, both worked by the Princess Royal Colliery Co., and on the north side a large colliery at Lydbrook was worked by the tinplaters Richard Thomas & Co. (fn. 150)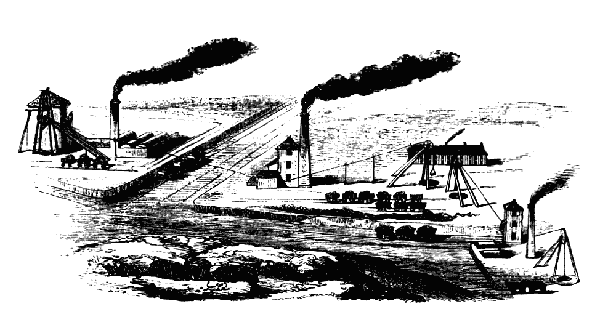 Exploitation of the lower measures far below the centre of the Forest involved considerable investment in pumping and other machinery and was hampered by the free miners' opposition in the late 19th century to modifications in the system of galing. (fn. 151) To expedite the sinking of deep mines the gaveller, using powers acquired in 1904, (fn. 152) created seven large holdings by amalgamating many gales and granted them to the free miners. Each united gale, held by several hundred free miners acting through a committee, was leased to a company and the companies paid the galees ½d. for each ton of coal raised, the royalty being shared out annually at the Speech House. (fn. 153) Within a few years four deep mines operated under that system. Cannop colliery near the bottom of Wimberry Slade (fn. 154) began production in 1909, (fn. 155) and in the same year H. Crawshay & Co. Ltd. started developing Eastern United colliery, a drift mine at Staple Edge near Ruspidge, (fn. 156) and the Lydney & Crumpmeadow Collieries Co. reopened Arthur and Edward (or Waterloo) colliery above Lydbrook. (fn. 157) Princess Royal colliery between Whitecroft and Bream's Eaves incorporated the pits of Flour Mill colliery and after 1914 its production centred on a new shaft at Park Gutter. (fn. 158) Among the large collieries closed during that period was East Slade near Ruardean Woodside in 1905. (fn. 159)
Although output from individual iron-ore mines fluctuated, ore production in Dean in the mid 19th century followed the same trend as coal production, rising from 18,872 tons in 1841 to 170,611 tons in 1871. (fn. 160) Much of the output was from deep pits but some was from drift mines in the limestone outcropping on the south-western side of the coalfield. (fn. 161) Most of the ore, for example almost two thirds of the 1869 output, went to local ironworks. (fn. 162) Like the Crawshays, the owners of the Parkend furnaces created deep ore mines, including by the mid 1850s China Engine and others in the Oakwood area and Perseverance and Findall mine in the Cinderford (or Soudley) brook valley below Staple Edge. (fn. 163) Beginning in 1854 the Ebbw Vale Co. purchased and worked a number of ore and coal mines near Oakwood, where it had a furnace, (fn. 164) and by 1856 the Allaway brothers were developing an ore mine at Wigpool, on the north side of the Forest. (fn. 165) Some ore continued to go to South Wales. Henry Crawshay supplied his father through Cardiff in 1858, (fn. 166) and the Dowlais Iron Co. employed nearly 200 hands at Westbury Brook mine in the mid 1860s (fn. 167) and worked a mine at Mitcheldean Meend on the north side of the Forest. (fn. 168) In the mid 1860s Old Sling mine employed nearly 100 hands and Easter, a deep mine at Milkwall, c. 50 men and boys. (fn. 169) In the later 19th century several mines, including New Dun at Clearwell Meend, also produced red oxide, that from Buckshaft being sent overseas and becoming known as Crawshay Red. (fn. 170) After 1871 the amount of ore raised in Dean declined. (fn. 171) Large mines such as Buckshaft, Westbury Brook, Wigpool, Old Sling, and Easter supplied much of the output, (fn. 172) but in the deeper workings, particularly on the eastern side of the Forest, water was a constant problem and accessible deposits of ore were mostly exhausted by the early 20th century. (fn. 173) Economic depression and competition from Spanish imports reduced ore production to 35,249 tons in 1885 and mines on the south-western side of the Forest, having lost markets in Staffordshire and South Wales, fell idle. (fn. 174) Mines elsewhere, including Wigpool, were also abandoned, (fn. 175) and the closure of the Cinderford ironworks (fn. 176) led to the abandonment of Buckshaft and other ore mines near the town in 1899. With other closures, including Edgehills in 1893, (fn. 177) ore output plummeted to 9,769 tons in 1901. In the early 20th century the amount of ore mined continued to dwindle and more workings were abandoned. A few ore mines were reopened during the First World War and seven were operating in 1917, (fn. 178) but by 1921 most, including Easter and Old Sling, had closed. (fn. 179) At Wigpool, where the principal mine was abandoned in 1918, an adit driven into a hillside a few years earlier by gold prospectors was used from 1921 to extract ore. Its closure in 1924 marked the end of ore mining on the eastern side of the Forest. (fn. 180) By that time ore production on the south-western side of the Forest was restricted mainly to New Dun and in places was incidental to the extraction of oxides and ochres. Much of the mining there was in the hands of the Watkins family and some was undertaken by a company which built colour works at Milkwall in 1926. (fn. 181) Ore mining ended with the closure soon after the Second World War of New Dun. (fn. 182)
Sedimentary rocks embedded in the Old Red Sandstone underlying, and outcropping around, the Dean coalfield contain traces of gold. In 1906, following a reported discovery near Mitcheldean, the Chaston Syndicate Ltd. was formed to prospect for gold. After test workings at Lea Bailey and Staple Edge, it was concluded that gold and silver could not be extracted economically and the syndicate was wound up in 1908. (fn. 183)
The mining population of St. Briavels hundred more than doubled between 1841 and 1871. In those years male employment in the coalfield, which probably did not increase much as a proportion of the total workforce, rose to 3,375 while ore mining saw a fivefold increase in jobs to 1,114. In 1871 over half of the employed men living in the former extraparochial area of the Forest, 3,604 out of 6,782, were miners and 119 were managers and other professionals in the industry. (fn. 184)
By the mid 1850s production at larger collieries and other industrial works was occasionally disrupted by strikes. (fn. 185) A miners' committee at Cinderford in 1870 had contacts with other coalfields, and following strikes led by buttymen at Trafalgar and Parkend collieries in 1871 an association of Dean miners was formed and affiliated to the Amalgamated Association of Miners. Despite opposition, notably from the Baptist minister and former colliery owner Thomas Nicholson, the union was strongly supported in the coalfield and by the time of its second annual demonstration in 1873 the Dean branch had 13 lodges in the Forest. The union, for which Timothy Mountjoy was the local agent, attempted to protect the interests of both buttymen and daymen. Following its defeat in a long strike begun in 1874 membership fell but some lodges continued to meet after the branch organization was disbanded in 1877. An attempt to revive the union in 1882 was repeated successfully in 1886 (fn. 186) and G. H. Rowlinson, who acted as local agent until 1918, became a respected figure in the Forest. (fn. 187) The union organized solid backing for the national coal strikes of 1921 and 1926. (fn. 188) Trade unionism also spread among other groups including the Forest's quarrymen; their trade organization attended the miners' 1873 gala. (fn. 189) The large collieries employed many hands: in 1922 Princess Royal had 1,138 employees, New Fancy 694, and Cannop 685. (fn. 190) In 1930 Cannop became the first in the coalfield to provide pithead baths. (fn. 191) The 'butty' system, retained well into the 20th century, was abolished at Eastern United in 1938. (fn. 192) There was a number of fatal accidents in the mines in the late 19th century and the early 20th, (fn. 193) one of the most serious occurring in 1902 when four men died as a result of flooding in Union pit, in Bixslade. (fn. 194)
Coal production, which was boosted during the First World War, was interrupted by the strikes of the 1920s and fell during the economic recession of the early 1930s. In 1936 it rose to 1,439,000 tons and thereafter it declined. (fn. 195) During that period several older deep mines closed once they had worked out accessible reserves. Trafalgar, where flooding halted production in 1919, (fn. 196) closed in 1925, (fn. 197) Crumpmeadow stopped production in 1929, and Foxes Bridge was abandoned in 1930 (fn. 198) because of flooding from disused mines. The number of jobs in the industry fell from 7,818 in 1920 to 5,276 in 1930 and the closures, besides adding to a high level of unemployment locally, left Lightmoor, with a workforce of 600 in 1934, as the main colliery in the Cinderford area. (fn. 199) At that time several mines on the north side of the coalfield were deepened (fn. 200) and many miners found work in a deep mine, called Northern United, which H. Crawshay & Co. began sinking north-west of Cinderford by the Mitcheldean-Coleford road in 1933. (fn. 201) Mining in the south part of the coalfield was rationalized by the Princess Royal Colliery Co., which from 1937 worked Norchard colliery, adjoining its principal mine, from a new drift entered near Pillowell. (fn. 202) Further jobs were lost by the closure of Lightmoor and New Fancy collieries in 1940 and 1944 respectively, (fn. 203) but some new ones were created at the remaining large mines (fn. 204) and there were many collieries with fewer than 40 employees each. Coal mining remained the principal source of jobs in the Forest, employing 55 per cent of the adult male population, 84.5 per cent in the Cinderford area. (fn. 205)
Following nationalization of the coal industry in 1946 (fn. 206) the National Coal Board operated the principal mines and awarded licences for working smaller ones. (fn. 207) Annual production, which including the output of the free miners' workings was 777,000 tons in 1948, continued to decline as rising costs, reflecting particularly drainage problems, led to the closure of most mines. Of the main collieries Eastern United and Arthur and Edward shut in 1959, Cannop in 1960, Princess Royal in 1962, and Norchard Drift and Northern United in 1965, when deep mining ended in Dean. (fn. 208) From 1965 some coal was extracted, under licence from the National Coal Board (later British Coal) and the Forestry Commission, by the opencast method. Such mining was piecemeal and short-term, the land afterwards being returned to forestry or used for other industrial purposes. Steam Mills and Yorkley were among places mined by opencast in the later 1960s, (fn. 209) and during the late 1970s there was a scheme at Woorgreen, north of the road between Cinderford and the Speech House, where the reclamation of the land created a large pond. (fn. 210)
The deputy gaveller, who had worked from an office in Coleford from 1861, (fn. 211) continued to deal with matters concerning the free miners, his status and duties being untouched by the vesting of the gavellership in the Forestry Commission in 1924 (fn. 212) and by the nationalization of royalties from coal mining in 1942. (fn. 213) The free miners' rights were not abrogated by the nationalization of the coal industry in 1946, (fn. 214) after which a number of small pits and levels were worked privately under grant from the deputy gaveller. (fn. 215) Many active free miners, of whom there were 50 in 1975, (fn. 216) had full-time jobs elsewhere and the number of their workings gradually declined. (fn. 217) In 1992, when electricity generating stations were the main customers for their coal, seven mines were operating and the deputy gaveller collected the royalties for British Coal. Of those mines four provided full-time work for c. 11 men and the others part-time jobs for c. 9. (fn. 218)
Much of the surface evidence of the mining industry in Dean was removed soon after the closure of the principal workings. (fn. 219) The elaborate head-gear of the larger collieries, some of which had three or four shafts, was dismantled and their spoil tips were levelled or planted with trees. (fn. 220) By 1992 only a few colliery buildings, including two houses at Trafalgar, (fn. 221) survived, and at Lightmoor the coalfield's last remaining engine house was derelict. Some sites were put to other uses. Rank Xerox acquired buildings at Northern United soon after 1965 for warehousing. A small industrial estate was established at Eastern United, and in 1970 a Birmingham college ran a field studies centre in offices at Cannop. From the late 1960s the extensive workings of Old Ham ore mine at Clearwell Meend were developed, under the name Clearwell Caves, as a mining museum and venue for social events. (fn. 222)
QUARRYING.
Stone has been quarried in the Forest for many centuries, grey, blue, and red sandstones being worked principally for grinding, building, and paving, and limestone being burnt to produce lime. (fn. 223) In 1252 lime from Dean was sent by the river Severn to the king's works at Gloucester. (fn. 224) Grindstones were produced before the mid 13th century (fn. 225) and were quarried at Bixhead on the west side of the Forest in the mid 1430s. At that time several millstone and other quarries in Abenhall, Blakeney, Lea, and Mitcheldean bailiwicks were idle and two active quarries, including one at Hanway south of Ruardean which was worked by John Mason of Mitcheldean, were held for a rent of 3s. 4d. each. (fn. 226) Throughout the 16th century grindstones and millstones from the Forest area were shipped to Bridgwater (Som.) for sale, (fn. 227) most coming evidently from quarries near the river Wye. (fn. 228)
In the early 17th century quarrying and lime burning supported several men living near the Forest. (fn. 229) Grindstones were quarried in the south-east, above Blakeney. (fn. 230) Much activity centred on Bixhead, where in 1621 Sir Richard Catchmay of Bigsweir, in St. Briavels, attempted to control the digging of grindstones and stone for building windows. Some grindstones were sent to Bristol for sale. The quarrymen, whose operations were small in scale, claimed the right to dig by ancient custom for an annual payment to the Crown of 3s. 4d. for each quarry. (fn. 231) They resisted any interference with that practice and continued to work after 1637, when the Crown granted Edward Terringham a lease for 31 years of all coal mines and grindstone quarries in the Forest. Francis Terringham acquired a new lease of the quarries in 1668, and in 1675 his widow Catherine challenged the quarrymen's rights without success. Under the reafforestation Act of 1668, which safeguarded the Crown's right to grant leases of quarries, quarrying was forbidden in inclosures of timber. In the late 17th century quarrying was concentrated at Bixhead and Ruardean Eaves (later Ruardean Hill and Ruardean Woodside). In 1683 those places had 6 and 4 working quarries respectively and one Bixhead quarry had supplied stone for the Hall family's new mansion at Highmeadow c. 1670. (fn. 232)
During the 18th century quarrying evidently continued in small, scattered workings. New limekilns were built at places such as Edge Hills and Vention, (fn. 233) the latter on the Forest boundary east of Lydbrook, and in 1758 there was a row of four midway between Blackpool brook and Danby Lodge. (fn. 234) In 1787 there were 19 kilns in the Forest and at least 43 quarries, old and new, in Blakeney, Parkend, Ruardean, and Worcester walks. (fn. 235) Many of those quarries were on Blakeney hill and Ruardean hill and the industry mainly supplied paving stones. (fn. 236) In the years 1746-54 up to 19 quarrymen paid the customary rent of 3s. 4d. to the lessee of the Crown's St. Briavels castle estate. (fn. 237) The rent sometimes covered several adjoining quarries or several partners in an enterprise and it was sometimes replaced by a composition from each quarry or from each partner. In the early 1820s one of the deputy gavellers resumed the practice of levying 3s. 4d. for each individual quarry. (fn. 238) The quarrymen's rights, though never within the jurisdiction of the mine law court, (fn. 239) were assimilated to those of the free miners. The miners claimed an exclusive right to work stone within the Forest under their ancient customs and the gaveller took a fee of 2s., by the end of the 18th century 3s., for galing a quarry. In the 1820s the hereditary woodward of Blakeney claimed control of those in Blakeney bailiwick, (fn. 240) a claim that was held to have no legal basis in 1858. (fn. 241) In the early 19th century the stone industry benefited from the building of tramroads to Bullo Pill and Lydney. (fn. 242) New quarries were opened and foreigners became involved in the industry. (fn. 243) In 1816 a Coleford man had 18 quarries in the extraparochial Forest. (fn. 244)
Like mining, quarrying in the Forest came under statutory regulation in 1838. Men with the same qualifications as free miners as to birth, residence, and age and having worked a year and a day in a quarry in the Forest were deemed to be free miners but only with the right to quarry stone. (fn. 245) Some 175 men meeting those criteria immediately registered. (fn. 246) Claims to quarries worked in the period 1833-8 were considered by the mining commissioners, who in 1841 defined the boundaries of 315 quarries or gales, granted leases to the successful claimants, and drew up rules for working all quarries in the Forest. The gaveller or his deputy continued to supervise the industry. (fn. 247) New quarries were to be leased by the Commissioners of Woods to free miners, including those with mining privileges. (fn. 248) Some leaseholders of quarries sold or assigned their interests to foreigners, a practice acknowledged in 1871 by a relaxation of the rules for granting leases. (fn. 249) A minimum rent, paid by quarries up to 20 yards in length, was fixed at the customary sum of 3s. 4d. until 1859 when it was raised to 20s. (fn. 250)
Quarrying employed 295 Foresters in 1851 and 340 in 1871. (fn. 251) Quarries were worked on all sides of the Forest (fn. 252) and most provided blue or grey sandstone for structural and ornamental use. (fn. 253) Many of the largest quarries were in the western valleys above the Severn & Wye tramroad (later railway) and some of them supplied stone for Cardiff docks in 1853. (fn. 254) Parkend, the meetingpoint of several tramroads and railways, became a centre for the industry. E. R. Payne, who had stoneworks there in 1870 (fn. 255) and worked Point quarry at Fetter Hill, (fn. 256) sent stone through Lydney harbour to Birkenhead, Cardiff, and Newport docks in 1872. (fn. 257) Although production was often constrained by traditional practices and the industry in general was in decline by the 1880s, some businesses prospered in the later 19th century and works were established alongside the Severn & Wye railway to dress stone for use in building and paving. (fn. 258) David & Co., established in 1889, built extensive works at Parkend and in 1892 merged with two other businesses to form David & Sant, controlling 37 quarries. One of the merged companies, Trotter, Thomas, & Co., (fn. 259) had operated works by the Coleford road in Howler's Slade west of Cannop for many years (fn. 260) and had established works by the railway at Cannop more recently. (fn. 261) David & Sant invested in new machinery, and in 1898 the firm owned 41 quarries on the west side of the Forest and employed c. 325 men, including 60 at Parkend. (fn. 262) Among other quarry owners at that time was the firm of E. Turner & Sons of Cardiff, which in 1901 established works at the bottom of Bixslade south of Cannop ponds. (fn. 263) A quarry at Trafalgar colliery provided stone supports for the mine's galleries. (fn. 264) On the eastern side of the Forest limestone was quarried extensively and burnt on Wigpool common and Plump hill, above Mitcheldean; (fn. 265) at Staple Edge, where several limekilns operated in 1825, (fn. 266) a large quarry had been formed near Shakemantle mine by the late 1870s. (fn. 267) On the south-western side kilns worked at quarries at Bream Tufts and Clearwell Meend. (fn. 268) The production of lime, which during the 19th century was used as flux in local ironworks as well as for farming and building, continued after the First World War in several places, including Shakemantle, Lydbrook, and Milkwall. (fn. 269)
Many of the principal quarries were acquired by Forest of Dean Stone Firms Ltd. in 1900 and by United Stone Firms Co. Ltd. in 1910. The latter company, which took over the stoneworks south of Cannop ponds and others at Cannop and Parkend, was in financial difficulties as a result of the contraction in the market for monumental and building stone by 1917. It was reorganized in 1926 and again in 1939, when under the Scott-Russell family its name reverted to Forest of Dean Stone Firms Ltd. (fn. 270) The decline of the quarrying industry before the Second World War was felt keenly on the west side of the Forest, where three of the four main stoneworks had shut by 1937. (fn. 271) The principal stoneworks at Parkend closed in 1932. (fn. 272) Several stoneworks, including one at Fetter Hill, remained in use after the Second World War (fn. 273) and the Forest's quarries employed at least 92 men in 1950. Sandstone was supplied for building and limestone for roadworks and other uses. (fn. 274) In the 1960s limestone was quarried in several places, including Shakemantle, (fn. 275) but in 1992 quarrying continued on a large scale only at Bixhead, where 4 men extracted sandstone mostly for restoration and monumental use, and 17 men were employed at the works south of Cannop ponds, where stone from outside the Forest was also dressed. (fn. 276)
IRONWORKS.
Ore mined in Dean possibly supplied ironmakers there by Roman times. (fn. 277) In 1066 the iron was forged at Gloucester, which owed iron goods to the Crown as part of its farm. The Forest sent much iron to the town throughout the Middle Ages (fn. 278) and was the chief iron producing district of medieval England at least until the 14th century. (fn. 279)
Dean's medieval ironworks included simple forges or bloomeries which were mobile and used charcoal as fuel. (fn. 280) In some forges the blast was provided by bellows worked by foot, a feature that survived in some of the more rudimentary ironworks operating in Dean in the mid 1630s. (fn. 281) Before smelting the ore was roasted or was crushed by stamping, a practice indicated by personal-name evidence in the mid 13th century. Some improvement in design by the mid 13th century apparently allowed the forges to resmelt cinders or slag left by earlier works.
Under Henry II and his successors some forges active within the Forest's jurisdiction belonged to the Crown and others were in private hands. (fn. 282) Private forges were licensed by the Crown often for working in private woodland (fn. 283) but some of them operated without permission and many strayed into the royal demesne from nearby settlements. Among the few authorized to enter royal woodland was one at Ardland (St. White's), south-west of Littledean, belonging to Flaxley abbey. (fn. 284) The Crown made several attempts to restrict the destruction of woodland by charcoal burning: in 1217 it ordered all forges to be removed, except those belonging to its St. Briavels castle estate and its serjeants-in-fee, four held by hereditary woodwards, and two which Ralph Avenel had by the grant of King John. (fn. 285) In 1220 the Crown halted the operation of all private forges and demanded that their owners show warrant for them. (fn. 286) In the following months many owners, including 6 woodwards and 10 serjeants-in-fee, were allowed to resume ironmaking (fn. 287) and, despite a further attempt to remove all itinerant forges in 1226, (fn. 288) ironmaking continued in the mid 13th century. (fn. 289) The forges' impact on the Forest's timber reserves is indicated by Flaxley abbey's right to take two oaks a week for its forge, a right it surrendered in 1258 in return for a grant of Abbots wood in the Forest. (fn. 290)
The Crown had 3 forges working within the Forest in 1226 (fn. 291) and set up 8 forges there in 1237. (fn. 292) Those ceased working in 1240. (fn. 293) By the later 1240s a great forge belonging to St. Briavels castle was worked in the Crown's woods but, together with several smaller royal forges erected in or shortly before 1255, (fn. 294) it was pulled down a few years later to protect timber. (fn. 295) A few private forges continued to work within the Crown's woodland. Others, based on outlying settlements and each paying the constable of St. Briavels 7s. a year, may have invaded the royal woodland but in the mid 1240s part of the charcoal consumed by 20 or more forges operating in English Bicknor, Ruardean, Mitcheldean, Littledean, and Lydney came from Wales or other places outside the Forest. The woodwards of Bicknor, Ruardean, Mitcheldean, and Littledean levied a payment from the forges within their bailiwicks. (fn. 296) Bristol burgesses visited the area to buy iron, (fn. 297) and 43 residents of parishes within the Forest had itinerant forges in 1270 (fn. 298) and at least 60 people, mostly living on the east or west edge of the area, had them in 1282. (fn. 299) One or two years later the number had fallen to 45, (fn. 300) Private ironmaking continued in the later Middle Ages, and 49 forges, mostly in St. Briavels, Ruardean, Mitcheldean, and Littledean parishes, were operating in 1317, and 33, mostly in Mitcheldean and Newland, were at work in the mid 1430s. (fn. 301) A smiths' court, held presumably to regulate forges throughout the Forest, was then mentioned but no sessions were held during the years 1434-7 and it may have lapsed. (fn. 302) Ironworkers were active in the Forest in the mid 16th century (fn. 303) and some were sent to operate a royal forge in Glamorganshire c. 1531. (fn. 304)
The sites of early ironmaking were later marked by deposits of cinders, which were found, sometimes in large mounds, throughout the Forest. The name Cinderford, recorded in 1258, indicates at least one site near the stream crossed by the Littledean-Coleford road in the eastern part of the Forest. (fn. 305) As the forges worked at low temperatures they smelted the ore inefficiently so that the cinders remained rich in iron. (fn. 306) Resmelting the cinders may have been practised by the mid 13th century, (fn. 307) but most of them were removed in the 17th and 18th centuries when they were mixed with the ore to be consumed by more efficient blast furnaces, reliant on water power. (fn. 308) Several such furnaces worked near the Forest from the late 16th century and the Crown allowed them to operate within the royal demesne of the Forest from 1612; a lease then gave William Herbert, earl of Pembroke and constable of St. Briavels castle, leave to build ironworks, fell timber, and mine ore and cinders. (fn. 309)
Under that lease (fn. 310) Edmund Thomas and Thomas Hackett, manager of the Tintern wireworks (Mon.), (fn. 311) built and ran four furnaces and three forges, which became known as the king's ironworks. Two furnaces were on Cannop brook at Cannop and Parkend, another was on Greathough (or Lyd, formerly How) brook above Lydbrook, and one was on Cinderford (or Soudley) brook below Staple Edge some distance upstream of Soudley bridge. The forges stood downstream of the Parkend, Lydbrook (or Howbrook), and Soudley furnaces, the Soudley forge being also some way above Soudley bridge. (fn. 312) The ironworks consumed large amounts of charcoal, for which the Crown assigned to the lessees an allowance of cordwood from the woodlands, (fn. 313) and of ore and cinders, and so posed a serious threat to the woodlands and to the customary rights of the miners. In 1613 the ironworks were shut down, but in 1615 the Parkend and Soudley works were leased to Sir Basil Brooke of Madeley (Salop.) and a partner and the Cannop and Lydbrook works to George Moore and a partner. Illegal felling of timber led the Crown to close them again in 1618. In 1621 it assigned them to Sir Richard Robartes and he handed them over to Philip Harris and Richard Challenor. The Cannop and Soudley works were not in regular use in 1625. From 1628 the ironworks were operated under the earl of Pembroke by Sir Basil Brooke, George Mynne, and Thomas Hackett. The partners, who also ran the Tintern and Whitebrook wireworks (Mon.), built forges on Soudley brook at Bradley and on Cannop brook (or the Newerne stream) at Whitecroft. Hackett later left the partnership and Mynne in 1634 sold his share in it to Sir John Winter. The ironworks, which the Crown closed in 1634, were dilapidated in 1635. Each forge had two or three fineries and a chafery and those at Parkend, Bradley, and Whitecroft two hammers. (fn. 314) In 1636 the king's works were leased to the baronets Baynham Throckmorton and Sackville Crowe and the Bristol merchants John Gonning the younger and John Taylor; the lease restricted the operation of the furnaces and forges and required all unlicensed ironworks to be demolished. The unauthorized works comprised several of the more primitive type (fn. 315) and may have included the improved bloomery which John Broughton, deputy surveyor of Dean Forest, worked in 1637. (fn. 316) Throckmorton and his partners retained the king's ironworks at Parkend, Whitecroft, Soudley, and Bradley after the grant in 1640 of the bulk of the Forest to Sir John Winter. (fn. 317) On the cancellation of Winter's grant in 1642 the Cannop and Lydbrook works were leased to John Browne, the king's gun founder, who assigned them to a partnership headed by William Donning of Purton. (fn. 318)
During the Civil War production at the king's ironworks was severely disrupted. The Soudley furnace supplied shot to royalist forces for a time. (fn. 319) In 1644 John Brayne of Littledean, who had apparently been ordered by Edward Massey, commander of the garrison at Gloucester, to seize the belongings of Sir John Winter, captured some of the furnaces and forges, (fn. 320) and the following year Prince Rupert's troops apparently destroyed some works. (fn. 321) Later in 1645, when Brayne was operating the Bradley and Lydbrook forges, the Soudley forge was idle. In the late 1640s John Gifford rebuilt some of the works, including the Parkend furnace, and in 1649 he was running the Lydbrook furnace and forge and several of the other works. (fn. 322) Ironmaking ceased in 1650 when parliament ordered the destruction of all works within the Forest. Most of the remains of the early 17th-century king's ironworks were destroyed by later activity on the sites, leaving only traces of building platforms, ponds, and watercourses in the late 20th century. The site of the Soudley furnace, for which two ponds upstream at Cinderford had provided power, was marked by the remains of a building and large deposits of cinders. (fn. 323) The Bradley forge may have been at one of two sites, in Newnham, where forges were working in the later 18th century. (fn. 324)
In the late 16th century and early 17th iron mills and forges were started at Lydbrook. A hammerman lived there in 1610 (fn. 325) and a founder in 1612. (fn. 326) Ironworks of Robert Devereux, earl of Essex, may have been used shortly before 1597 by Richard Hanbury for trial making of Osmund iron for the Tintern wireworks. (fn. 327) From 1600 the earl's works, which retained a connexion with the Tintern works and comprised two forges, were operated with furnaces at Bishopswood by George Catchmay. (fn. 328) A forge, later called Lower forge, was built c. 1600 some way above Lower Lydbrook in place of a grist mill and fulling mill on Greathough brook. Standing on the boundary of a detached part of Ruardean with English Bicknor, it was held in succession by Thomas Hackett, George Moore, Richard Tyler, and John Kyrle. The Crown, which claimed it as an encroachment on the Forest waste, (fn. 329) granted the forge to Robert Treswell in 1626 (fn. 330) but Kyrle, who was made a baronet, (fn. 331) remained in possession in 1635. (fn. 332) Ownership of the forge descended with the earl's English Bicknor estate, (fn. 333) which Benedict Hall purchased in 1634. (fn. 334) The lessees of the king's ironworks evidently forced the forge's closure c. 1637 (fn. 335) but it was quickly back in operation with several fineries. Hall remained the owner (fn. 336) but in 1648 Baynham Vaughan of Ruardean granted a lease of part of it to Griffantius Phillips. (fn. 337) It was apparently rebuilt c. 1650. (fn. 338)
A short distance upstream a grist mill, within Ruardean parish, had been converted as an iron mill, later known as Middle forge, by 1619. It was then owned by Alexander Baynham and worked, together with the king's Lydbrook forge and furnace some distance above, by George Moore and his partner. In the early 1620s it was worked by the lessees of the king's ironworks. George Vaughan purchased the forge in 1623 (fn. 339) and held it in 1645, when John Brayne was working it. (fn. 340) Benedict Hall was the owner in 1657. (fn. 341) Downstream of Lower forge, in a detached part of Newland at Lower Lydbrook, a corn mill was used as a nailer's workshop in 1622. Nearby was apparently a forge worked, possibly from 1611, by Thomas Smart, who in 1622 formed a pond for a battery or plating mill he built there. His assistant Richard Tyler took over the works in 1627 and operated them until c. 1637, (fn. 342) when the lessees of the king's ironworks evidently suppressed them. (fn. 343)
Ironmaking resumed in the royal demesne woodland in 1654 when a new furnace at Parkend was in blast. Built by John Wade, the Forest's chief administrator, to supply the Commonwealth with iron for shot and ordnance, it was a little downstream from the site of the king's furnace. To make use of iron discarded in manufacturing shot Wade built a forge downstream at Whitecroft. In addition to providing shot and fittings for the navy Wade supplied iron to shipbuilders on the river Severn, produced pig iron and bar iron, and sent chimney backs and baking plates to Bristol. (fn. 344) Also in the 1650s several experimental ironworks using local ore were constructed in Dean by a partnership apparently including John Birch and John Wildman, a speculator in royalists' and papists' lands. They employed an Italian glassmaker from Bristol and sought the advice of Dud Dudley, the Worcestershire ironmaster, but their efforts were unsuccessful. (fn. 345) At the Restoration supervision of the Parkend and Whitecroft works under the Crown passed to William Carpenter and from 1662 they were operated by Sir John Winter's nominees, Francis Finch of Rushock (Worcs.) and Robert Clayton, a London scrivener, who also worked a furnace at or above Lydbrook. (fn. 346) The works possibly remained in use for a while after Winter's connexion with the Forest ended in 1668 (fn. 347) but, to preserve the woodland, the Crown sold them and a forge at Parkend in 1674 for demolition to Paul Foley, owner of ironworks near the Forest. (fn. 348) Cinders sent to Parkend from English Bicknor under an agreement of 1692 were evidently not resmelted there. (fn. 349)
After the Restoration Middle and Lower forges at Lydbrook were owned by the Halls of Highmeadow, (fn. 350) and in the early 18th century their estate was said also to include a furnace at Lydbrook. (fn. 351) In 1671 Paul Foley acquired a lease of both forges and a furnace at Redbrook. (fn. 352) He and his partners made Osmund iron for the Tintern and Whitebrook wireworks at Middle (later Upper) forge and, probably until 1694, manufactured anvils at Lydbrook. (fn. 353) The Foleys and their partners, including William Rea who was manager of their Gloucestershire, Herefordshire, and Monmouthshire ironworks until 1725, remained lessees of the Lydbrook and Redbrook works in the early 18th century. In the late 1720s they operated three forges at Lydbrook with the Bishopswood furnace. (fn. 354) The third forge, which had been a grist mill not long before, was at the bottom of Lower Lydbrook and was part of the Vaughan family's Courtfield estate. It became known as Lower forge (fn. 355) and the Foleys retained it after they had relinquished the other forges. In the late 1740s it worked blooms from the Bishopswood forge and pig iron from Lancashire and Scotland. (fn. 356)
Upper (formerly Middle) and Middle (formerly Lower) forges at Lydbrook were leased in 1742 to Rowland Pytt. (fn. 357) After his death in 1755 (fn. 358) they were operated by his son Rowland, (fn. 359) and from 1763 Richard Reynolds of Bristol and John Partridge (d. 1791) of Ross-on-Wye (Herefs.) worked them. (fn. 360) The partnership was presumably the Bristol company which shortly before 1769 built a forge near Lydbrook, (fn. 361) perhaps in place of one of the existing buildings. Partridge's son John (fn. 362) worked Upper, Middle, and Lower forges in the late 1780s, when his partners included James Harford of Bristol. (fn. 363) About that time an additional finery and a channel to improve the water supply were built. (fn. 364) By 1793 Upper and Middle forges and the Redbrook ironworks were worked by David Tanner (fn. 365) of Monmouth, who sublet the forges before 1798, when he was declared bankrupt. From 1799 the forges were worked under Viscount Gage, owner of Highmeadow, by his steward James Davies, whose partners included the Gloucester bankers Sir Edwin Jeynes and Robert Morris. (fn. 366) Henry Davies held Upper and Middle forges and the Upper Redbrook tinplate works in 1818, when the Crown, which had bought the Highmeadow estate, put them up for sale. (fn. 367) Lower forge had been purchased by William Partridge c. 1810. (fn. 368)
The first coke-fired furnaces in the extraparochial Forest appeared, almost simultaneously, at Cinderford and Parkend. The Cinderford furnace, built principally at the instigation of Thomas Teague, was probably blown in in 1797. (fn. 369) It was situated at a place, then called Daniel ford, on the stream 800 m. north of Cinderford bridge (fn. 370) and used coke brought from Broadmoor, to the north, by a short canal. (fn. 371) The Parkend furnace dated from 1799 and was possibly operated by Richard Perkins in 1807. (fn. 372) Both furnaces fell idle about that time, unable to compete with the iron industry of South Wales and Staffordshire. Their failure reflected in part the poor quality of local coking coal. (fn. 373) Problems in the manufacture of iron were addressed by David Mushet of Coleford, whose innovations earned him a high reputation as a metallurgist. In 1818 or 1819 he built a cupola for experimentation at Dark Hill, (fn. 374) where a year or two later Moses Teague found a way to make good iron with the coke of local coal. In 1824, to exploit his discovery, Teague formed the Forest of Dean Iron Co. with William Montague of Gloucester, Benjamin Whitehouse of Monmouth and Redbrook, and, later, John James of Lydney. The company reopened the Parkend furnace and later Teague revived smelting operations at Cinderford. (fn. 375) Teague's enterprise established Parkend and Cinderford as the main centres, with Lydbrook, of Dean's iron industry, which developed to manufacture tinplate, wire, and metal castings. The industry depended closely on local mines, in which the leading ironmasters invested substantially, (fn. 376) and provided many jobs. In 1841 it relied in part on child labour, boys being employed at the blast furnaces and tinplate works and girls at the latter. (fn. 377)
The Forest of Dean Iron Co. built a second furnace at the Parkend works and initially derived power from Cannop brook, a large pond being formed in 1825 some way upstream by flooding a quarry at the bottom of Bixslade. In 1827 a large water wheel was installed at the works, which included a bridge or covered way carrying a pipe and rails over the Severn & Wye tramroad. A steam engine was built at the works later in 1827 and a second pond was created at Cannop, upstream of the first, in 1829. (fn. 378) The works were closed down in 1841 but were back in use by 1846. Following William Montague's death in 1847 John James (d. 1857) ran the works in partnership with Charles Greenham (d. 1866) and in 1849 a second steam engine was installed. (fn. 379) Tinplate works completed north-west of the ironworks by James and Greenham in 1853 (fn. 380) were worked in 1854 by Nathaniel Daniels, who became insolvent. (fn. 381) In 1856 they were sold to Thomas and William Allaway, (fn. 382) who enlarged the works and employed 200 men there in 1866. At the ironworks, which had 300 employees at that time, a third blast furnace was built in the late 1860s. (fn. 383) Production had begun to decline by 1871 and Henry and Edwin Crawshay, who bought the ironworks and the tinplate works in 1875, closed them in 1877. (fn. 384) Charles Morris of Llanelli (Carms.) reopened the tinplate works in 1879 but competition from South Wales was among factors in their closure in 1881. (fn. 385) The furnaces at the ironworks were demolished in 1890 and most of the remaining buildings on both sites had been removed by 1900. (fn. 386)
Smelting resumed at Cinderford in 1829 at new works provided by Moses Teague, William Montague, and others on the site of the aban doned blast furnace. Activity ceased in 1832, during an economic slump, but was resumed with financial help from the South Wales ironmaster William Crawshay and a second furnace was built. In 1834 or 1835 William Allaway and John Pearce, operators of the Lydbrook tinplate works, joined the partnership running the ironworks (fn. 387) and in 1841 there were three furnaces producing 12,000 tons of iron a year (fn. 388) and employing 100 men and boys. (fn. 389) Crawshay's son Henry, who ran the works from 1847, was given his father's share in the furnaces in 1854 and bought out the only other partner, Stephen Allaway, in 1862. (fn. 390) In the mid 1850s the works always had three of its four furnaces in blast (fn. 391) but in the later 1870s only two furnaces were in production. Two new furnaces were built in 1880 (fn. 392) but only one furnace at the works was in blast in 1890 and the works closed in 1894. Demolition of the furnaces was completed by 1901. (fn. 393)
Upstream on Bilson green, a forge standing idle in 1856 (fn. 394) was acquired by James Russell, whose family had wireworks at Lydbrook, and in 1864 it produced wire rods and cable iron using pig iron, chiefly from the Cinderford furnaces. (fn. 395) Known as the Forest Vale Ironworks, the works were enlarged in 1867 (fn. 396) and passed after Russell's death in 1871 to his son A. J. Russell. (fn. 397) In 1880 they employed 100 men making wire, some of it from iron smelted by charcoal. (fn. 398) The works were demolished in 1892. (fn. 399) Further north at Hawkwell new tinplate works were started in 1879 by Jacob Chivers, formerly a tinplate manufacturer at Kidwelly (Carms.). The Hawkwell works, which on Chivers's death in 1883 passed to his brotherin-law A. C. Bright, were shut down in 1895 (fn. 400) and were converted as brickworks in 1905. (fn. 401)
Lydbrook was dominated in the early 19th century by ironworks and mills extending along the stream below Upper Lydbrook almost to the river Wye. (fn. 402) Upper and Middle forges were purchased in 1818 by James Russell (fn. 403) (d. 1848) and passed to his sons Edward, William, and James. (fn. 404) The Russells erected wireworks there before 1848 (fn. 405) and made telegraphic wire and iron for use by blacksmiths in the mid 1850s. (fn. 406) In the mid 1860s, taking pig iron mostly from Cinderford, they employed 100 hands and also produced fencing wire. (fn. 407) Their workforce had been halved by 1880 (fn. 408) and the works closed by 1896. (fn. 409)
Downstream tinplate works and forges were worked by William Allaway and John Pearce in 1834. The tinplate works, a short way below James Russell's mills, (fn. 410) were apparently built by Thomas Allaway in 1798 or 1806 (fn. 411) and were described as extensive in 1807. (fn. 412) In 1817 the works, held under William Partridge, comprised three forges, rolling and bar mills, and a tin house, (fn. 413) one of the forges being Lower forge, and in the early 1820s, when James Pearce was a partner in the business, (fn. 414) they were enlarged. (fn. 415) After William Allaway's death in 1849 (fn. 416) the works, which used iron from Cinderford and dispatched tinplate by boat, were run by his sons. (fn. 417) The works were a major source of employment but were virtually idle in 1871 when Richard Thomas became the lessee. Thomas, who later took over the Lydney tinplate works, (fn. 418) added many buildings at Lydbrook, where four out of five mills were in use in 1880. (fn. 419) Financial difficulties caused by litigation concerning Thomas's mining interests in Dean led to the mills' closure in 1883 and a limited company was formed in 1884 to resume working at Lydbrook and Lydney. The company, headed from 1888 by R. B. Thomas, (fn. 420) concentrated production at Lydbrook on the mills at Lower Lydbrook, those higher up being demolished by the early 20th century. (fn. 421) The works were closed several times, the men finding temporary employment at local collieries. (fn. 422) Tinplate production ceased during the First World War and the works, having reopened in 1919, were closed again in 1925. The buildings were demolished in the 1930s. (fn. 423)
In the 19th century several furnaces operated outside the iron industry's main centres of Parkend, Cinderford, and Lydbrook. One established in Ruspidge by 1835 (fn. 424) was owned by Moses Teague and William Crawshay in 1838. Its building, which also accommodated a foundry, (fn. 425) housed workshops and stores in 1849 (fn. 426) and was unused in 1872. (fn. 427) A company formed in 1849 built a furnace at Oakwood, and its prop erty, including iron-ore and coal mines there, was purchased by the Ebbw Vale Co. in 1854. (fn. 428) The furnace was idle in 1859 (fn. 429) and it had gone out of use by 1870. (fn. 430)
At Dark Hill David Mushet built a second furnace before 1845 when he handed the works over to his sons William, David, and Robert. Their partnership ended in 1847. (fn. 431) Robert Mushet, who later introduced spiegeleisen to the Bessemer process and also invented a self-hardening tool steel, (fn. 432) formed a partnership with T. D. Clare of Birmingham and built small steelworks, known as the Forest Steel Works, some way to the north-west on Gorsty knoll. Mushet, who employed 41 men in 1851, added a cupola and a small Bessemer converter to the works in 1856 and enlarged them again after forming the Titanic Steel and Iron Co. in 1862. Financial difficulties caused the winding up of the company in 1874 and the buildings were used as brickworks in 1928 and fell into ruin later. (fn. 433) The Dark Hill ironworks, where the furnace described in 1847 as newly erected was possibly never in blast, were sold before 1874 to the Severn & Wye Railway, which constructed an embankment across the east end of the site to carry the Coleford railway. An archaeological restoration of the site, begun by 1968, was completed in 1987. (fn. 434)
In the later 18th century slag from blast furnaces operating in the Forest area was used to mend roads and make green glass. For glassmaking the slag was reduced to powder by large stamping machines, lumps of iron being removed to be worked at the forges with pig iron, and much of the powder was sent to Bristol glass-bottle manufacturers. (fn. 435) One stamping machine was installed at Parkend in 1809 by Isaac and Peter Kear. They built a new mill there by Cannop brook c. 1815. (fn. 436) It powered twelve stamping blocks in 1841, (fn. 437) but was idle in the early 1850s, owing to a cheaper operation at Redbrook. It was restarted by John Morse (fn. 438) and apparently continued working until the 1880s. (fn. 439) At the end of the century the slag of abandoned ironworks at Cinderford and elsewhere was crushed and sold for ballast or for making concrete. (fn. 440)
In the 19th century a number of small foundries were established around the Forest to provide simple castings, mostly for the tramways. The first was built, possibly before 1821, by Samuel Hewlett, who worked a forge at Bradley (fn. 441) and in 1851 employed 14 men. (fn. 442) The foundry, upstream of the forge between Lower and Upper Soudley, (fn. 443) was the principal supplier of tramplates to the Severn & Wye Co. (fn. 444) and was run by Thomas Hewlett in 1841. (fn. 445) Samuel's son George took over the lease on his father's death in 1852 and the foundry closed after 1862. (fn. 446) A foundry in Howler's Slade near Cannop belonged to Trotter, Thomas, & Co. in 1835. Known as the Cannop foundry, it was rebuilt in 1874 and was taken over in the 1890s by Richard Young and Thomas Herbert. Herbert's son Ewart transferred the business to Cinderford in 1957. (fn. 447) By the 1840s Cinderford had a number of foundries and small engineering firms supplying the mining industry with machine parts. (fn. 448) In the Upper Bilson district a foundry built by Timothy Harris c. 1838 ceased operating before 1852 (fn. 449) and another foundry, west of High Street and belonging to Timothy Bennett in 1841, (fn. 450) was used by the Cowmeadow family as boiler works in 1856 and 1868. (fn. 451) Engineering works south of the later Station Street originated as a foundry (fn. 452) operated by Joseph Tingle in 1868 (fn. 453) and were run by his descendants until their closure in 1924. (fn. 454) On the west side of the Forest a foundry in the Oakwood valley, dating from 1852, made nails for export. (fn. 455) Idle in 1859, (fn. 456) it was later worked by the Pearce family and closed c. 1916. (fn. 457) Engineering works at Milkwall belonging in 1889 to Tom Morgan continued casting metals after the First World War. (fn. 458) Some foundries working in the early 20th century were attached to large collieries such as Lightmoor. (fn. 459)
MILLS.
In the later Middle Ages there were several mills around the edge of the Forest. (fn. 460) The greatest concentration was on the stream at Lydbrook, where at least one was working in 1256. (fn. 461) Two mills belonging to English Bicknor manor in 1301, one of them used for fulling, (fn. 462) were presumably there, as were two to which Richard Talbot had a reversionary right in 1335. (fn. 463) Two thirds of another mill at Lydbrook belonged to the Ruardean estate of Alexander of Bicknor in 1306. (fn. 464) In 1375 Thomas Hathaway leased his share of a mill at Lydbrook to Alexander Carrant (fn. 465) and in 1428 Thomas Carrant granted that mill, together with a manor in Ruardean, to Robert Baynham. (fn. 466) Another mill was recorded at Lydbrook in 1437 (fn. 467) and Flanesford priory (Herefs.) had two mills there in 1535. (fn. 468)
At Lower Lydbrook a grist mill called Gabbs Mill, in a detached part of Newland, was probably on the site of a water mill built before 1434. (fn. 469) In 1622 it was a nailer's workshop (fn. 470) and later it resumed grinding corn. (fn. 471) Upstream, on the boundary of a detached part of Ruardean with English Bicknor, a mill was leased in 1501 to Hugh Morse by Alice Baynham, (fn. 472) who had a manor in Ruardean. (fn. 473) The building later housed both a grist and a fulling mill and was held by John Morse (d. 1596), a Cirencester woollen draper. About 1600 Robert Devereux, earl of Essex, pulled it down to make room for a forge, and Morse's nephew John Morse built a small grist mill on waste land belonging to the earl's Bicknor manor. (fn. 474) Two other mills at Lydbrook, owned in 1579 by Christopher Monmouth, were operated by Richard Morse as a corn mill and a fulling mill in 1583. (fn. 475) A corn mill held under Bicknor manor in 1577 (fn. 476) may have been that at Lydbrook held in 1611 by Joseph Baynham, whose son and heir Alexander (fn. 477) in 1619 had ironworks there in a building earlier used as a grist mill. (fn. 478) Lydbrook's cloth industry was represented by at least three weavers in 1597 (fn. 479) and presumably by some of the cloth workers recorded under English Bicknor and Ruardean in 1608. (fn. 480) One of two corn mills in Lydbrook acquired by Richard Vaughan in 1666 (fn. 481) and belonging to the Vaughans of Courtfield in the early 18th century was converted for fulling cloth before 1717. (fn. 482) Both mills were presumably on the site at the bottom of Lower Lydbrook occupied by a grist mill in 1724 and by a forge not long afterwards. (fn. 483) Corn milling continued elsewhere in Lydbrook in the mid 18th century. (fn. 484)
A mill operating at Cinderford in 1275 (fn. 485) may have been that said in 1282 to have been built by Walter of Huntley. (fn. 486) Flaxley abbey had a water mill, known in 1485 as the new mill, elsewhere on the Crown demesne. (fn. 487) A mill built c. 1434 on Horwell hill (later Bream's Meend) by Richard Lawrence of Bream (fn. 488) was demolished before 1623. (fn. 489) It probably stood on a tributary, since disappeared, of Oakwood brook. (fn. 490) The latter brook powered Oakwood Mill, a corn mill recorded from 1520 in a detached part of Newland. (fn. 491) Another corn mill belonging to Newland was on the stream below Pope's hill at Blackmore's Hale, north-east of Littledean. It was acquired by the Heane family in 1659 (fn. 492) and was evidently working in 1718. (fn. 493) Its building was perhaps that used as a skin house in 1840. (fn. 494)
By the mid 19th century the number of corn mills working in the Forest and at Lydbrook had increased. Waterloo Mill, on Greathough brook above Lydbrook, (fn. 495) was on or near the site of the king's furnace of the early 17th century. (fn. 496) The mill was operated by Thomas Burdock in 1841 (fn. 497) and steam power had been installed by 1885. (fn. 498) Downstream the Cooper family worked a corn mill at Newland bridge in Upper Lydbrook in 1841. (fn. 499) A corn mill at the bottom of the valley, on the east side of the main street of Lower Lydbrook, belonged to the Highmeadow estate in 1792. (fn. 500) In 1818 or 1819, when it was held by William Partridge, it was sold to James Pearce and in 1856 it was bought by Edward Russell. (fn. 501) By the early 1820s it was held with nearby Gabbs Mill, to the south-east, (fn. 502) which was worked in 1856 by the Little family. (fn. 503)
Whitecroft had two corn mills in the early 19th century. One, on an eastern tributary of Cannop brook (or the Newerne stream), (fn. 504) was known as Kidnalls Mill and was possibly in use in 1808. (fn. 505) It may have been working in 1841. (fn. 506) The other mill, on the west side of Whitecroft, stood at the end of a long race leading from Cannop brook in Whitemead park. (fn. 507) It was worked by the Morse family by 1829 (fn. 508) and had steam power in 1885. (fn. 509) On Cinderford brook Thomas Brace converted a building below Cinderford bridge with an old water wheel, once used for drying coal, as a corn mill in 1818 or 1819. (fn. 510) Moses Teague owned it and George Bright operated it in 1839. (fn. 511) Downstream below Upper Soudley, at a wood turnery acquired in 1867 by Henry Crawshay, a new building was erected c. 1877 as a flour mill known as Camp Mill (fn. 512) and a pond upstream of the site was enlarged. (fn. 513) Shortly before 1846 a maltster, Timothy Bennett, built a steam-powered corn mill at a place known later as Steam Mills, north of Cinderford by the road and tramway to Nailbridge. (fn. 514) Thomas Wintle worked it in 1856 (fn. 515) and purchased it later, (fn. 516) and in 1890 it passed with his Mitcheldean brewery to his son Francis. (fn. 517)
Most of the corn mills were closed in the late 19th century or the early 20th. The mill in the main street of Lower Lydbrook was a paper factory in 1883 (fn. 518) and for a number of years it made sugar paper for insulating detonator wire. (fn. 519) Lydbrook's other corn mills ceased operating later, (fn. 520) Waterloo Mill being used before 1912 to pump water to a nearby mine. (fn. 521) Camp Mill at Soudley was used for millboard manufacture by 1888 and was sold in 1901 to James Joiner of Dulcote (Som.), who transferred ownership to his Dulcote Leather Board Co. (fn. 522) The mill fell idle after the company went into receivership in 1908 and Joiner opened a saw mill there in 1922. That was closed c. 1952 (fn. 523) and the site later became the premises of the Dean Heritage museum, opened in 1983. (fn. 524) Oakwood Mill, which used steam power by 1885, closed c. 1900. (fn. 525) Milling stopped at Cinderford bridge when the water supply there was reduced in the early 20th century (fn. 526) and at Steam Mills before 1922. (fn. 527) The mill in the west part of Whitecroft was abandoned in 1915 (fn. 528) but by 1919 the Lydney and District Farmers' Co-operative Society had taken it over (fn. 529) and it continued to operate it in 1970. (fn. 530) The building was disused in 1992.
OTHER INDUSTRY AND TRADE.
The timber of the Forest has supported many local industries. Charcoal burning, an essential adjunct of the early iron industry, was widespread by the 13th century and caused much damage in the woodland. (fn. 531) Despite a ban on the activity in 1270, (fn. 532) many people were making charcoal in the late 1270s, (fn. 533) and 2,685 charcoal pits were recorded in the Forest in 1282, most of them in Staunton, Abenhall, and Blakeney bailiwicks. (fn. 534) In 1471 the chief forester had the right, by ancient custom, to 20d. from each charcoal pit every 6 weeks. (fn. 535) That payment was levied on 47 pits in Abenhall bailiwick in 1478, when the bailiwick's woodward also took some profit from charcoal burning. (fn. 536) In 1634 the chief forester, Sir Baynham Throckmorton, Bt., claimed 16d. for each charcoal pit in the Forest. (fn. 537) Charcoal continued to be consumed in large quantities by ironworks, particularly the blast furnaces established in or near the Forest from the late 16th century. From the mid 19th century much of the market for Forest of Dean charcoal was supplied by chemical works, but a few families continued traditional charcoal burning and the last charcoal burner was active until after the Second World War. (fn. 538)
In 1881 five chemical works produced a range of substances by distilling wood, including charcoal, pyroligneous acid, tar, and naphtha, and employed a total of c. 130 men. (fn. 539) The oldest works, near Cannop bridge, were in use in 1835, (fn. 540) and George Skipp, who manufactured lead acetate there in 1841, (fn. 541) built similar works in the Oakwood valley near Bream in 1844. (fn. 542) In 1854 the Oakwood factory belonged to Isaiah Trotter of Coleford. (fn. 543) The Cannop factory later produced sulphuric acid and crushed charcoal for making lampblack. (fn. 544) At the Upper Lydbrook works, established in 1857, (fn. 545) Samuel Russell produced naphtha in 1859 (fn. 546) and the Broadmoor works, built north of Cinderford by John and Thomas Powell c. 1864, later made lead acetate. (fn. 547) In 1870 the firm of Chapman & Morgan operated the chemical works some way south of Whitecroft. (fn. 548) S. M. Thomas took over the Lydbrook factory in the mid 1870s, (fn. 549) acquired the Cannop and Oakwood works c. 1890, and sold them all in 1894 to Thomas Newcomen, who ceased operations at Oakwood and Cannop in 1900 and 1902 respectively. (fn. 550) The Whitecroft works, which had closed by 1883, (fn. 551) may have been in use again in the late 1880s and early 1890s (fn. 552) and the Broadmoor works were abandoned before 1900. (fn. 553) The Lydbrook factory, which also made foundry blackings, remained in use until c. 1933. (fn. 554) In 1913 the Crown built distillation works at Cannop to turn waste and unsaleable timber to profit. The factory, beside the Severn & Wye railway next to the Mitcheldean-Coleford and Lydbrook-Parkend roads, produced charcoal, tar, alcohol, and acetate of lime. Run by the Ministry of Munitions during the First World War, it was idle from 1919 to 1924 when it was sold to Wood Distillation (England) Ltd. Following a reorganization of the company in the late 1920s the factory was modernized and in 1935 it employed 22 men. From 1960 it produced only charcoal (fn. 555) and in 1971 it was closed. (fn. 556)
The management of the Forest's timber and its use for naval shipbuilding are discussed elsewhere. (fn. 557) Some wood and bark went to craftsmen, tanners, and shipbuilders living in nearby parishes. (fn. 558) Within the Forest, where a cardboard maker lived at Moseley Green in 1628, (fn. 559) there were possibly a dozen or more saw pits earlier in that century. (fn. 560) In the 19th and 20th centuries large saw mills operated on several sites. One at Parkend, run in 1859 by James Hughes, employed 65 men in 1950 but was used as a store for imported hardwoods from 1977. (fn. 561) Mining in Dean depended on local wood to shore up workings, and in the late 19th century and the 20th some large collieries ran their own saw mills. (fn. 562) The largest saw mill in the Forest in 1992 was that established in 1966 on the site of Lightmoor colliery, near Cinderford, by James Joiner & Sons Ltd. (fn. 563) Among trades using local wood were turning and brushmaking. In 1849 Samuel Hewlett had a turning mill next to his foundry at Soudley (fn. 564) and for much of the 1860s it was operated by a brush manufacturer, (fn. 565) who created a pond upstream of the building. (fn. 566) Upper Bilson had brushworks in 1859. (fn. 567) In 1906 a carpenter at Soudley was making carriages and wagons for road use. (fn. 568)
Oak bark from the Forest was used in many local tanneries (fn. 569) and during the 18th century large quantities were shipped to Ireland, from Newnham and elsewhere. (fn. 570) Personal-name evidence suggests that tanning had been introduced to Lydbrook by 1386 (fn. 571) and two tanners recorded in English Bicknor and Ruardean in 1608 (fn. 572) presumably lived at Lydbrook. The village had at least three resident tanners in 1638 (fn. 573) and tanning possibly continued there in 1776. (fn. 574) By the later 18th century Lydbrook conducted a thriving river trade in coal and other produce of the Forest (fn. 575) carried in barges owned by, among others, the Wheatstone family, (fn. 576) and in the early 19th century a few barges and trows were built there. (fn. 577) In 1398 John de Montague, earl of Salisbury, took salmon fry at his weir in the Wye at Lydbrook. (fn. 578)
In the 19th century the range of activities supporting and supported by the mining industry increased. Several men made and repaired boilers for steam engines. One such business, conducted by James Cowmeadow in 1841, (fn. 579) later had works in the Upper Bilson district of Cinderford and apparently in the Drybrook area. (fn. 580) In the late 1880s engineering works were started at Steam Mills by M. E. Teague, whose invention of automatic expansion valves for steam engines was adopted widely by the mining industry. (fn. 581) The works employed c. 40 men in 1905 (fn. 582) and specialized in maintaining pumping and winding engines in Dean. (fn. 583) Cinderford with its small foundries and engineering workshops (fn. 584) remained a centre for metal industries in the early 20th century. They included a business run by the Wheeler family which produced bearings for local collieries and industry. (fn. 585) By 1874 electric fuses produced by the Brain family, owners of Trafalgar colliery near Cinderford, were used by the mining and quarrying industries and by civil engineers for blasting. Francis (later Sir Francis) Brain devised improvements in shotfiring mechanisms (fn. 586) and by 1900 a fuse factory had been built west of Trafalgar. (fn. 587) Insulated wire for the fuses was made at the colliery in the early 20th century (fn. 588) and the factory continued to assemble detonators in the First World War. (fn. 589) In the mid 1860s a factory was built next to the Severn & Wye railway at Whitecroft to make briquettes from coal dust from a mine at Pillowell. The factory was idle for several periods before its machinery was sold in 1908. (fn. 590)
To produce a colouring agent, red oxide may have been burned in Lea bailiwick under licence from the Crown in 1436. (fn. 591) Much later, colour and paint works were opened to process ochres and oxides mined locally, and in the mid 19th century red and yellow colouring was used locally in marking sheep and tinting whitewash. (fn. 592) In 1831 William Tingle and William Cooper obtained permission to build a machine for grinding ochre on Cinderford (or Soudley) brook in Ruspidge, (fn. 593) evidently on the site west of the brook where William Crawshay and Moses Teague owned a paint mill in 1838. The mill was also used as a machine shop, (fn. 594) and paint manufacture stopped there before 1856. (fn. 595) In 1872 Henry Crawshay had a paint factory downstream near Upper Soudley (fn. 596) using pigments, principally red oxide, from his Buckshaft mine. (fn. 597) After the First World War colour works were started at Oakwood (fn. 598) and Milkwall. The Milkwall factory, built in 1926, employed 7 people in 1965, when in addition to processing oxides mined elsewhere it ground coal for use in the paper and fibreboard industries and in drills. (fn. 599) In the 1960s the baths and canteen of the former Eastern United colliery at Ruspidge were taken over by a pigment manufacturer, (fn. 600) which in 1992 employed, on two sites, c. 30 people producing material for paint sprays and inks. (fn. 601)
Brickmaking had become a Forest industry by the early 19th century (fn. 602) and expanded considerably after 1838, when the digging of clay and sand was permitted under licence from the Commissioners of Woods. (fn. 603) Brickyards were opened in various places, including Whitecroft, (fn. 604) Ellwood, (fn. 605) Parkend, (fn. 606) and Staple Edge. (fn. 607) They usually manufactured fire bricks as well as ordinary bricks and several were attached to local ironworks. (fn. 608) David Mushet, who had brickworks next to his ironworks at Dark Hill in 1832, (fn. 609) supplied bricks to South Wales in 1843. (fn. 610) Brickworks established by the Coleford-Parkend road at Fetter Hill by 1858 also produced pottery. (fn. 611) By the late 1870s, when several brickyards were in production at Steam Mills and Nailbridge, (fn. 612) the industry made extensive use of shale from colliery spoil tips. The Brain family used clay from Trafalgar colliery at brickworks at Steam Mills; (fn. 613) later the Princess Royal Colliery Co. near Whitecroft manufacured bricks (fn. 614) and in 1923 the Lydney & Crumpmeadow Collieries Co. opened brickworks at Broadmoor. Brickworks occupying abandoned steelworks on Gorsty knoll in 1928 were closed in 1937. (fn. 615) Brickmaking continued into the later 20th century, particularly in the Cinderford area where the Hawkwell and Broadmoor yards employed 62 people in 1959. (fn. 616)
The road haulage industry in the Forest area, which had its origins in the carrying of timber and coal, (fn. 617) was well established by the mid 19th century. At that time some haulage businesses were part-time ventures. (fn. 618) With the advent of motorized transport the industry expanded and after the First World War a number of bus companies were established, some of them by haulage firms, to handle passenger traffic. (fn. 619)
By the 1870s many Forest settlements had small retail shops. (fn. 620) A co-operative society formed at Cinderford in 1874 opened shops in the town and elsewhere, and in the early 20th century similar societies were trading in Bream, Pillowell, and Upper Lydbrook. Cinderford became a centre for the retail trade, and the co-operative movement, which had large grocery, furnishing, and hardware stores there in the mid 1960s, (fn. 621) built a new supermarket near the town centre c. 1990. In the later 20th century many shops in the Forest closed and from 1991 Lydbrook had only one general store. (fn. 622) Livestock sales held at the Speech House from 1857 included an October fair until 1874 or later. (fn. 623) Produce markets held in Cinderford town hall from 1869 (fn. 624) moved to a different site later in the century. (fn. 625) In the early 1870s livestock fairs were also held in Cinderford (fn. 626) and in 1873 a market hall was built at Lydbrook to stimulate trade in cattle and corn from higher up the Wye Valley. (fn. 627)
The early 20th century saw the establishment of several enterprises unconnected with the area's traditional industries. The most significant of them was started by the Jarrett family in 1910 to make safety pins at the abandoned briquette factory in Whitecroft. (fn. 628) It acquired markets at home and overseas and became the principal employer of female labour in the area. The workforce rose to c. 400, including many outworkers, before the Second World War. During the war the factory also made small components for radio and radar equipment (fn. 629) and later the firm, which after its acquisition by an American company in 1964 was known as Whitecroft Scovill Ltd., produced aerosol valves, zip fasteners, and a range of metal haberdashery goods. (fn. 630) At Upper Lydbrook a mineral-water factory opened by E. J. Flewelling, a builder, after the First World War (fn. 631) ceased production c. 1970. (fn. 632)
In 1938, to counteract the large-scale loss of mining and quarrying jobs, a committee representing local government, employers, and trade unions was formed to foster industry in the Forest and its region. The committee, re-formed in 1943 as the Royal Forest of Dean Development Association, (fn. 633) was successful from the end of the Second World War in attracting new industries and expanding existing ones. Thereby the area's industrial base diversified and more jobs were provided for local women, many of whom had earlier been in domestic service in Cheltenham. New factories established at Coleford, Lydney, and Mitcheldean employed many Forest residents, who also travelled in increasing numbers to factories and offices in the Gloucester area. (fn. 634)
Most projects supported by the development association within the Forest itself centred on Cinderford. To relieve pressure on its Dursley works R. A. Lister & Co. Ltd. established an engine assembly plant in the town in 1944 and built a factory at the bottom of Station Street after the war. (fn. 635) The factory manufactured a range of machines, including diesel engines from 1952, (fn. 636) and its workforce had risen to 582 by 1969. (fn. 637) Rosedale Associated Manufacturers Ltd., a plastics manufacturer, opened a factory in Foundry Road c. 1945 and employed 220 people, mostly women, in 1950. (fn. 638) The factory, at which toys and domestic articles were assembled, was destroyed by fire in 1968 and was not rebuilt. By that time some plastic components were made in new works at Steam Mills. (fn. 639) On the outskirts of Cinderford brush and biscuit factories were established next to each other in Valley Road, west of the town. In 1959 the brush factory, dating apparently from 1948, employed 43 people and the biscuit factory, built in 1950 for Meredith & Drew Ltd., had 550 employees, mostly women. (fn. 640)
The opening of Lister's factory consolidated the importance of the engineering industry in the Forest's economy after the Second World War. Part of the industry was carried on in small, scattered works and foundries, some of them long established. Many were in the Cinderford area, (fn. 641) to which the business of the Cannop foundry was transferred in 1957. Occupying the former Bilson gasworks in Valley Road, it produced manhole covers and other castings for road and ornamental use (fn. 642) and it was operating in 1992. Among other foundries in the area was that of the engineering works established at Steam Mills in the late 1880s. (fn. 643) Those works closed in 1968 and were taken over by a firm of welders. (fn. 644) At Lydbrook engineering works were started in 1925 by S. C. Meredith, who made machinery for the cable industry. In 1947 he built a factory at Lower Lydbrook and in 1969 he employed more than 60 people. (fn. 645) Fred Watkins, who was dealing in second-hand machinery by 1935, built a factory for repairing boilers at Sling in 1942. (fn. 646) The works, later run by his son F. B. Watkins, also made machine tools and employed c. 150 people in the late 1960s. (fn. 647) At Whitecroft the engineering firm of Nash & Morgan was building motor coaches in 1954 (fn. 648) and the J. Allen (later the London) Rubber Co. of Lydney acquired a new factory for warehousing in 1964. (fn. 649) In 1983 the factory was purchased by a firm which made insulation material for the building trade and employed 20 people in 1992. (fn. 650) Other new businesses included a small oil refinery occupying the buildings of the former Flour Mill colliery near Bream from 1940. It produced lubricants and in 1976 employed c. 20 people. (fn. 651) In 1949 Remploy established a factory at Parkend to employ disabled people, including former miners. (fn. 652) The factory made various goods, including brushes and protective clothing, and packed spare parts for Rank Xerox Ltd. of Mitcheldean and in 1992, when it was producing small items such as photograph frames, purses, wallets, oven gloves, and washbags, its workforce numbered 60. (fn. 653)
Further loss of mining jobs from the late 1950s and the closure of cable works near Lydbrook in 1965 (fn. 654) prompted renewed initiatives to increase industrial employment in the Forest. Many miners found work in established concerns such as Lister's factory in Cinderford and Rank Xerox's factory in Mitcheldean, both of which were enlarged at that time. With the successful creation of new jobs, the development association lapsed in the late 1960s. (fn. 655) Among businesses brought to Cinderford was that of Engelhard Industries Ltd., which purchased the biscuit factory in Valley Road in 1962 to refine precious metals and produce industrial chemicals, catalysts, inks, and paints; it employed 430 people in 1984. (fn. 656) An industrial estate was created at Whimsey, northwest of the town. Its first factory, built in 1965 for constructing and galvanizing transmission pylons, (fn. 657) had been acquired by 1970 by Rank Xerox Ltd. (fn. 658) In 1985 it became the home of Temco Ltd., a specialist wire manufacturer, which moved from a factory near Lydbrook (fn. 659) and in 1992 employed 95 people. (fn. 660) Beginning in 1975 the district council laid out the Forest Vale industrial estate, covering 104 a. (40 ha.) on the west side of Cinderford; 40 businesses had premises there by 1985 and more factory space was provided in 1986. (fn. 661) A smaller industrial estate was laid out south of the town on part of the abandoned Eastern United colliery site at Ruspidge. (fn. 662)
With economic recession in the early 1980s many jobs in the Forest disappeared, notably at Lister's Cinderford factory which closed in 1985. (fn. 663) Later the workforce at Engelhard's factory fell as its operations were gradually transferred elsewhere and in 1992 it numbered 67, including those engaged in refining and in providing sales and technical services. (fn. 664) In the early 1990s other established businesses, including Whitecroft Schaeffer (formerly Whitecroft Scovill), shed jobs (fn. 665) and, although the Forest retained many small employers in traditional and newer industries, its inhabitants increasingly looked to centres such as Gloucester, Lydney, Hereford, and Ross-on-Wye for work.
TRAMROADS AND RAILWAYS.
Before the late 18th century coal and iron ore from the Forest were moved by packhorse. (fn. 666) Given the lack of roads, carts and wagons were of limited use, and the blast furnace commissioned at Cinderford in 1797 received coke brought by a private canal and ore brought by mules. (fn. 667) Coal and ore for more distant markets were taken to wharves on the rivers Severn and Wye (fn. 668) and the capitalization of the mining industry from the late 18th century was accompanied by the provision of tramroads to carry coal and stone to the rivers. Schemes for building tramroads were supported by the wealthier mine owners, other local industrialists, and merchants in the coalfield's traditional markets and opposed by the Crown, which viewed tramroads as a threat to its woodland, and free miners anxious to protect their claim to a monopoly of carrying. (fn. 669)
The first tramroad was a short line built in 1795 by James Teague from his mine called Engine pit, in Perch Inclosure, to the Coleford- Mitcheldean road. Teague and his partners began a second line between the same pit and road the following year and had extended it to the Wye at Lydbrook by 1803. That line enabled Teague to sell coal more cheaply in Hereford, whose citizens had for some years been in favour of such a venture. It was in use in 1808 but the track was lifted in 1815. (fn. 670)
By that time Crown opposition to mineral lines had been withdrawn and three tramroads linked the Forest with the Severn and Wye. Those lines, the Bullo Pill, the Severn & Wye, and the Monmouth, were to form the basis of the Forest's tramroad network. Construction of the tramroad to the Severn at Bullo Pill was begun in 1807 by Roynon Jones in collaboration with Margaret Roberts and the Gloucester bankers William Fendall and James Jelf. It ran alongside Soudley brook from Cinderford bridge, on the east side of the Forest, through Abbots wood and Jones's estate in Newnham, and before its completion in 1810 it was extended northwards from Cinderford bridge over Crown land to the summit above Churchway Engine colliery. The proprietors set up a company to make use of the line. Instead of rent for the section through Abbots wood the Crawley-Boeveys received a tonnage, which they retained in 1836 when they sold the estate. (fn. 671) The tramroad linking the Severn at Lydney with the Wye at Lydbrook was built by a partnership including John Protheroe, other local industrialists, and several Herefordshire gentlemen and known from 1810 as the Severn & Wye Railway & Canal Co. The line, which was completed in 1812 or 1813, followed the course of Cannop brook in the west part of the Forest and included a tunnel at Mirystock. The steep descent to the Wye at Lydbrook was an inclined plane controlled by ropes. (fn. 672) The Monmouth tramroad, opened in 1812, served the western edge of the Forest and ran through Coleford to the Wye at Redbrook and Monmouth. (fn. 673)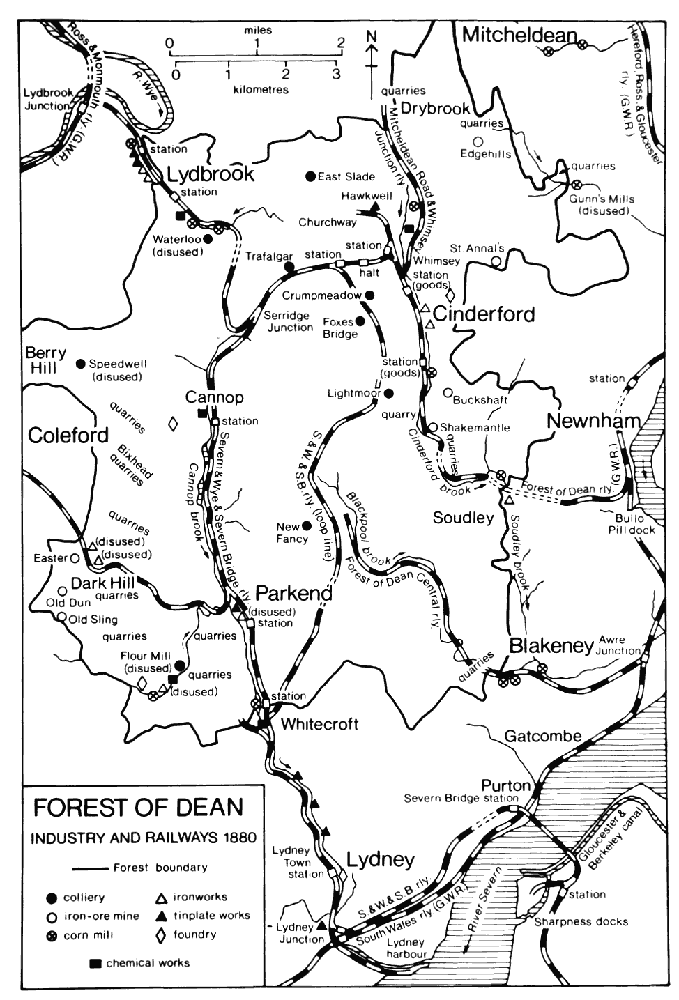 The Bullo Pill and the Severn & Wye tramroads in particular provided outlets for numerous branch lines supplying local ironworks with coal and iron ore and transporting coal, ore, and stone out of the Forest. (fn. 674) Several early branches were constructed by the tramroad companies but most were laid down by mine and quarry owners. Some included rope-operated inclines. The pattern of subsidiary lines was frequently varied and extended. In 1812 the Severn & Wye Co. built a branch from Mirystock to Churchway, where a permanent junction with the Bullo Pill tramroad, involving a change of gauge, was formed in 1823. The company also provided early branch lines to serve mines and quarries in the slades west of Cannop brook and built a line from the top of the Lydbrook incline down to the Wye at Bishopswood. (fn. 675) Parkend, on the company's main line, became the junction for four tramroads, of which the Dark Hill branch, built by the company before 1814 and extended to Milkwall later, possibly had a short-lived connexion with a branch of the Monmouth tramroad. The Bullo Pill tramroad, which included a branch to Whimsey constructed in 1822, was in 1826 sold to Edward Protheroe, already the principal shareholder in the Severn & Wye Co., and vested in a new company, the Forest of Dean Railway. (fn. 676) The principal collieries on the east side of the Forest were linked to the Bullo Pill tramroad by private tramroads, long lines from Lightmoor and Crumpmeadow having been constructed by the late 1830s. (fn. 677) Whimsey became the terminus for several lines from mines further north and north-east; one was built by Sir J. J. Guest, Bt., in 1841 to enable ore from Westbury Brook mine to be shipped from Bullo Pill to his ironworks in South Wales. In the early 1820s there were also short private tramroads, unconnected to the main lines, serving a mine at Moorwood and quarries at Lea Bailey. (fn. 678)
The tramroad companies delayed the use of steam traction in the Forest for many years. By clinging to old working methods, neglecting investment in new lines, and charging high tolls they retarded the development of the mining industry. Criticism of them from the Crown, other railway companies, mine owners, and industrialists mounted as the tramroad network proved increasingly inadequate.
The Forest of Dean or Bullo Pill line was replaced by a broad-gauge steam railway after it had been purchased by the South Wales Railway in 1849. The new railway, which opened in 1854, ran from Churchway and Whimsey to the main Gloucester-South Wales line in Newnham. It overlaid the tramroad in places and it included tunnels south of Ruspidge and under Bradley hill. Goods stations were provided at Bilson and Cinderford bridge in the early 1860s and at Whimsey in 1884. (fn. 679) Of the branch tramroads some were retained and some replaced by railways often following different courses. The Severn & Wye Co. constructed a short loop line at Mirystock in 1847 to give access from the south to its Churchway branch, but required financial help from the South Wales Railway before it made other improvements in the mid 1850s. Little traffic used the northern end of its tramroad and the incline at Lydbrook had been abandoned by 1856. The company's dilatory attitude encouraged support for other ventures such as the Forest of Dean Central railway. Schemes for a steam railway from collieries in the centre of the Forest to the Severn were first mooted in 1826, and Charles Mathias of Lamphey (Pemb.) started to build one to Purton Pill but failed to complete it. (fn. 680) Under powers obtained in 1856 a railway was built to link the central collieries with the South Wales line in Awre. Construction of the railway, which entered the Forest along the valley of Blackpool brook, was slowed by lack of funds and the Great Western Railway opened the line to just beyond Brandrick's green in 1868. (fn. 681) A branch line to New Fancy colliery, which provided most of the traffic, was completed the following year.
In 1864 the Severn & Wye introduced steam locomotives on its tramroads and in 1865 it opened up the tunnel at Mirystock and constructed a new spur to the Churchway branch line. In the following decade the company established a railway network in a change of policy prompted by rivalry with the G.W.R., owner from 1863 of the Forest of Dean railway, and by the demand from South Wales industry for iron ore and timber. In 1869 a broad-gauge railway was opened alongside the tramroad between Lydney and the bottom of Wimberry Slade, and in 1872 a standard-gauge loop line was completed leaving the railway at the Tufts, south of Whitecroft, and rejoining it below Wimberry Slade. The loop, which included a tunnel at Moseley Green, ran near several large collieries, and a short branch making a junction with the Forest of Dean railway at Bilson in 1873 aided the movement of minerals between the eastern and western sides of the Forest. Beginning in 1872 the Severn & Wye constructed a standardgauge railway from Lydney to Bilson and Lydbrook. That line, which replaced the main tramroad, followed the existing railway track to Wimberry Junction and incorporated the section of the loop line to the north-east. The Lydbrook branch, which left the loop line at Serridge green and joined the Ross-Monmouth railway at Stowfield, in English Bicknor, included a tunnel at Mirystock and a viaduct on piers c. 90 ft. high at Lower Lydbrook. (fn. 682) After that work was completed in 1874 surviving sections of the tramroad and some of its branches were abandoned. (fn. 683) In 1875 the company, ahead of the G.W.R., opened a railway to Coleford. It left the main line at Parkend and in places shadowed the Milkwall branch tramroad. The Monmouth tramroad carried little traffic by that time and its track east of Coleford was lifted in the late 1870s. The Severn & Wye amalgamated with the Severn Bridge Railway in 1879, when the opening of the Severn bridge gave Forest mines direct access to Sharpness docks; the combined company was purchased jointly by the Midland Railway and the G.W.R. in 1894. The traffic carried by the branch line between Coleford and Parkend increased in 1916, on the closure of the G.W.R.'s own Coleford line west of Whitecliff.
The enterprise of the Severn & Wye Railway in the early 1870s ultimately destroyed two rival ventures. The Forest of Dean Central railway, which the G.W.R. worked at a loss, lost much of its traffic to the loop line and was idle for a few years from 1875, when mines in the central area were temporarily shut. The section above Howbeach colliery was abandoned at that time and regular traffic ended above Blakeney when the colliery closed in 1921. The G.W.R., which officially took over the Central company in 1923, continued to run some trains above Blakeney until 1932. The completion of the Lydbrook railway in 1874 severely curtailed the potential of a new railway linking the Forest of Dean line at Whimsey with the Gloucester-Hereford line in Lea. The new line was intended to carry South Wales traffic and stimulate iron-ore mining around Drybrook, and it had the support of the Crawshays and Alfred Goold, owner of the Lower Soudley ironworks. (fn. 684) Construction began in 1874 and was completed by the G.W.R. after it took over the project in 1880, but the line, which included tunnels at Drybrook and Euroclydon, was never worked throughout. The section northwards from Whimsey was opened to Nailbridge for mineral traffic in 1885 and to Drybrook for passengers in 1907. The track north of Drybrook was taken up in 1917 (fn. 685) but was reinstated as far as the Drybrook quarries in 1928.
Following the conversion of the Forest of Dean railway to steam traction in 1854 mine owners and industrialists in the eastern part of the Forest, led by the Crawshays, built mineral lines and sidings to bring their works into the railway network. Several lines converged on Bilson green, where wagons were marshalled in sidings belonging to the G.W.R. (fn. 686) Among the first collieries to have railway links were Lightmoor and Crumpmeadow, and the Crawshays ran their own locomotives on the Lightmoor line, which had a branch to the Cinderford ironworks. Horse tramroads and rope-controlled inclines served many mines and quarries in the later 19th century where steep gradients made the use of steam railways impracticable. (fn. 687) Among the longer tramroads was one built by the Allaways to Wigpool and extended northwards to meet the Gloucester-Hereford line in Lea. (fn. 688) A tramroad from two collieries near Ruardean Woodside to the Forest of Dean railway's Churchway terminus was replaced c. 1863 by a long rope-controlled incline connecting East Slade mine with screens for sorting coal in the railway sidings by the Mitcheldean-Coleford road. Foxes Bridge colliery sent coal down to Bilson by a long inclined plane built c. 1868. With the proliferation of differing gauges 'wharves' were built at many places in the Forest for the exchange of goods.
From the 1870s mines in many parts of the Forest were served by the Severn & Wye's lines. New Fancy, Lightmoor, Crumpmeadow, and Foxes Bridge collieries were all soon joined to that network, the loop line of 1872 having many advantages over the Bilson sidings for them. (fn. 689) Trafalgar colliery, which had been linked to the tramroad network in 1860, was served by a narrow-gauge railway, built by Cornelius Brain c. 1862 and leading to the Bilson sidings. A branch line, begun by Brain and completed in the mid 1870s, ran northwards by way of Steam Mills and Nailbridge to iron-ore workings near Drybrook. In 1890 the Severn & Wye provided Trafalgar with a line to Bilson but the narrow-gauge railway continued to carry coal to Steam Mills and Nailbridge. (fn. 690) The needs of the mining and quarrying industries shaped the pattern of railways in the Forest well into the 20th century. (fn. 691) Among its more striking features in 1913 was a long rope-worked tramway running from the Arthur and Edward pithead, above Lydbrook, and over the Mirystock and Mitcheldean roads to screens at Mirystock. (fn. 692)
Passenger services were introduced on the Severn & Wye railway in 1875. Stations or halts were provided at Whitecroft, Parkend, Cannop (Speech House Road), and Drybrook Road (for Cinderford) on the main line from Lydney, at Upper and Lower Lydbrook on the Lydbrook branch, and at Milkwall on the Coleford branch. In 1876 a halt was built nearer Cinderford at Bilson, east of Drybrook Road, and in 1878 a station was opened on a spur to the north-east, even nearer the town. That station was abandoned in 1900 when the company extended its track to a new station on the east side of Bilson green. In the early 1890s a halt at the junction of the Coleford line north of Parkend served a nearby stoneworks. The station at Lower Lydbrook closed in 1903. Passenger services from Gloucester and Newnham were started on the Forest of Dean railway in 1907. Stations or halts were provided at Upper Soudley, Staple Edge, Cinderford bridge (Ruspidge), Bilson, Whimsey, Steam Mills, Nailbridge, and Drybrook. Bilson halt closed in 1908, when the completion of a new loop line enabled trains to run into the Severn & Wye Co.'s station at Cinderford. To continue to Drybrook trains had to reverse to Bilson, where the halt was later used by miners going to and from work. (fn. 693)
Passenger traffic was always of secondary importance to the Forest's railways. Most services were withdrawn in 1929 and 1930, leaving only that from Gloucester to Cinderford, which continued until 1958. The decline of mineral traffic as a result of the closure of the larger collieries from the later 1920s led to the abandonment of branch lines, tramroads, and inclined planes and, after the Second World War, to the virtual disappearance of the railways. Closure of the main lines was piecemeal, the line between Serridge Junction and Cinderford being closed in 1949, that between Mirystock and Stowfield in 1956, and that between Speech House Road and Mirystock in 1960. The Lydbrook viaduct was demolished in 1965. (fn. 694) On the loop line track was lifted north of Pillowell in 1951 and the northern end was abandoned in 1953. The southern end carried coal until 1957. The Coleford-Parkend railway, which was used by traffic from Whitecliff quarry in Coleford, was abandoned in 1967. (fn. 695) The Forest of Dean railway, on which the extension from Whimsey to the Drybrook quarries closed in 1953, was abandoned in 1966 when Cinderford station was closed to freight. (fn. 696) The last working section of railway in the Forest, that from Parkend to Lydney, carried stone ballast until 1976 and was purchased in 1983 by the Dean Forest Railway Preservation Society (later the Dean Forest Railway Co.). (fn. 697)