Pages 21-44
A History of the County of Gloucester: Volume 7. Originally published by Oxford University Press for Victoria County History, Oxford, 1981.
This free content was digitised by double rekeying and sponsored by Victoria County History Gloucestershire. All rights reserved.
BIBURY
The Large Rural Parish of Bibury lies 10.5 km. north-east of Cirencester. The ancient parish, which included the hamlets of Arlington and Ablington and the chapelry and village of Winson, was irregular in shape with an area of 2,596 ha. (6,414 a.). (fn. 1) Land in the parish belonged to the bishop of Worcester's estate by the river Coln in the early 8th century when land in Ablington was leased to Leppa and his daughter Beage, (fn. 2) from whom the first part of the name of the parish derives, (fn. 3) but Winson to the north-west comprised three distinct estates in Bradley hundred in 1066. (fn. 4) The parish was thus divided between two hundreds and Winson became a separate unit for poor-law purposes, being described as a tithing of Bibury in 1804. (fn. 5) From the later 19th century Winson, which comprises 492 ha. (1,216 a.), was accounted a separate civil parish and in 1975 had its own parish meeting. (fn. 6)
The parish is bisected from north-west to south-east by the winding valley of the river Coln, near crossing-points of which the four principal settlements in the parish grew. The valley, which in the north is met at a right-angle by a valley running south-westwards from Downs Barn and on the southern boundary by a stream flowing through Shagborough Bottom, crosses the parish at c. 107 m. Above it the land rises to 168 m. in the west, to 149 m. in the south near Ready Token, and to 158 m. in the north-east before falling to 122 m. at the river Leach, the north-eastern boundary of the parish. The other boundaries, apart from short sections of the northern and southern which are marked by the Coln and the tributary stream mentioned above, follow field boundaries and ancient roads, including the Roman Akeman Street in the south and a road between Coln Rogers and Barnsley in the west.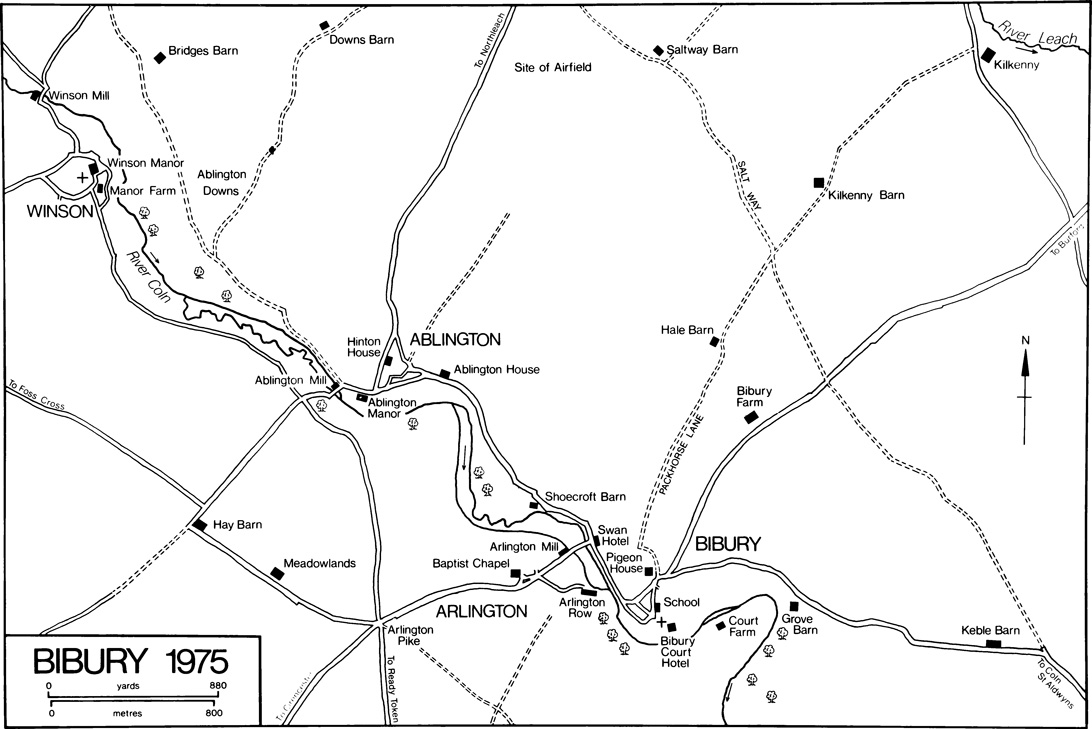 The parish lies on the Great Oolite, which on the high ground is overlaid by Forest Marble, but the floor of the Coln valley is formed from fuller's earth from which issue many springs, the most notable rising near the Swan at the north-western end of Bibury village street. (fn. 7) There are many disused quarry sites. Apart from heavier land near Ready Token and in the south-west part of Winson, the soil is of good quality, with areas of grassland in the south-west and in Winson. (fn. 8) The water-meadows of the Coln valley provide excellent meadow land. The high ground was covered by open fields and extensive commons on which sheep-farming was important. Winson was inclosed in 1726, Bibury and Arlington in 1768, and what was left of the Ablington open fields in 1780, and since then the land has been mainly devoted to arable. A landing strip laid out south of Oldwalls Sheds during the Second World War was retained by the Air Ministry until 1957; (fn. 9) traces of the runways survived in 1975 when some of the remaining buildings were used for agricultural purposes.
The woodland in Arlington which measured a league by ½ league in 1066 (fn. 10) presumably represented Oxhill wood and Shagborough copse in the southern part of the parish. Park-land was recorded in Bibury in 1628. (fn. 11) Trees have remained an important feature of the Coln valley landscape, notably around Ablington hamlet where in 1548 or 1549 it was recorded that Henry Daubeney, earl of Bridgwater, and former lord of the manor, had sold 161 elms and ashes to his tenants. (fn. 12) In 1575 the manor court ordered each tenant to plant three trees, elms or ashes, a year (fn. 13) but in 1581 the number was reduced to two for every yardland. (fn. 14) In 1823 a single gale was said to have brought down 100 elms there. (fn. 15) In Arlington the activity of wood pickers was under scrutiny in 1814 and a woman was summoned in 1826 for collecting wood. (fn. 16) In Winson the main area of woodland is Cadmoor copse. In 1840 86 a. of woodland were recorded in Arlington, Ablington, and Winson tithings (fn. 17) and in 1901 the parish had 113 a. of wood and plantation. (fn. 18)
The reputation of the Coln as a trout stream has brought renown to Bibury. (fn. 19) On Bibury manor a customary payment by the tenants at Midsummer called fish fee was recorded in the 1260s. (fn. 20) The bishop's fishery was mentioned c. 1285 (fn. 21) and in the later Middle Ages men were frequently presented in his court for fishing. (fn. 22) In 1575 a similar presentation was made in Ablington manor court. (fn. 23) In the later Middle Ages Oseney Abbey (Oxon.) owned the fishing rights in a stretch of the river at Arlington. (fn. 24) The excellence of Bibury trout was noted in the late 17th century, (fn. 25) and a trout farm established c. 1906 next to Arlington mill by Arthur Severn (fn. 26) served markets at home and abroad in 1975.
Bibury has also become famous as a beauty spot, on account of its setting and its buildings, notably Arlington Row. In 1726 Alexander Pope wrote of 'the pleasing prospect of Bibury' and William Morris in the late 19th century considered Bibury 'surely the most beautiful village in England', (fn. 27) but Bibury achieved widespread fame after the publication in 1898 of A Cotswold Village by Joseph Arthur Gibbs of Ablington Manor. (fn. 28) The tourist trade grew and by 1939 there were two tea rooms and a boarding-house in Bibury and a guest-house in Arlington. (fn. 29) Rack Isle, the meadow between the Coln and the leat of Arlington mill, became a wildfowl preserve c. 1956 (fn. 30) and it was owned with Arlington Row, in front of which it lay, by the National Trust in 1975. The trout farm and the mill, which housed a folk museum and an art gallery, were then tourist attractions.
The growth of Arlington hamlet and Bibury village, the two main settlements, on the west and east sides respectively of crossing-points of the Coln indicates the early importance of the Cirencester–Oxford road, which crosses the parish from south-west to north-east, where it was recorded as Burford way in 1619. (fn. 31) From the south-west it originally ran through Arlington Corner, a group of buildings west of Arlington mill, to crossings upstream from the mill. The river and mill leat had been bridged by 1527 when a bequest was made for the repair of bridges in Arlington. (fn. 32) The road, which probably took the more direct descent south of the mill when it was turnpiked in 1753, (fn. 33) continued behind the site of the Swan and north of Bibury village. (fn. 34) Another important route between Cirencester and the Coln, indicated by the reference in 1625 to the lower port way in the southern part of the parish, ran north-eastwards from Ready Token and down Awkward hill (Hawker's hill) past Arlington Row. (fn. 35) The route probably disappeared long before 1769 apart from the section down Awkward hill which then provided access from the turnpike to a bridge. That was a more important crossing than the ford and footbridge on the turnpike (fn. 36) where, however, a new bridge was built by subscription in 1770. (fn. 37) In 1790 the turnpike was diverted through the village, along the left bank of the Coln as far as the churchyard. (fn. 38) The route running behind the Swan fell out of use between 1829 and 1844. (fn. 39)
Several other ancient routes crossed the parish. The levying of toll on carts carrying salt across the bishop's estate in the late 13th century (fn. 40) points to the importance of the salt-way between Droitwich and Lechlade running across the north-eastern part and recorded in 1388. (fn. 41) At Saltway Barn, dated 1732, (fn. 42) the route was crossed by an old road from Ablington hamlet to Sherborne and both roads were specified in the inclosure award of 1780 together with a road branching from the salt-way near the northern boundary towards Northleach. (fn. 43) Of the route from Ablington the section from Saltway Barn to the road from Coln St. Aldwyns to Northleach in the north-eastern corner had gone out of use by 1840 (fn. 44) and the remainder was replaced before 1882 by a road to the north-west which joined the salt-way near Oldwalls Sheds. (fn. 45) The ridgeway recorded in Winson in 1654 (fn. 46) was part of the road between Foss Cross and Fairford recorded as Fairford way in 1625; (fn. 47) at Arlington Pike it crossed the Cirencester road and a route from Ready Token to Ablington and Winson. Packhorse lane, recorded in 1712 as Packer's lane, (fn. 48) ran north-eastwards from Bibury village to join the road to Northleach from Coln St. Aldwyns at Kilkenny and was possibly a continuation of the route from Ready Token to the Coln and important for the wool trade. It fell out of use soon after the turnpiking of the Cirencester—Oxford road (fn. 49) and in 1975 was a track. The road from Ablington to Coln St. Dennis, specified in 1780, (fn. 50) had become a track by 1840. (fn. 51)
The existence of a church at Bibury by 899 suggests that the village, established not far from the site of a Roman villa, (fn. 52) was then the most important settlement in the parish. Nevertheless in 1327 it had fewer people assessed for a subsidy than Arlington or Ablington and a considerably lower assessment than Arlington (fn. 53) but in 1608 it had more adult males listed than the other settlements. (fn. 54) The village had 307 inhabitants c. 1775. (fn. 55) An early focal point was the village square, the junction of various routes including Packhorse lane and a road to Coln St. Aldwyns. On the north side the Pigeon House, so called by 1714, (fn. 56) is a small early-16th-century house with cross-passage and central chimney stack surmounted by a carved stone cowl. The principal room was on the first floor to the south of the stack and had an open roof with arch-braced collar-truss and a fireplace hood supported on carved brackets. North of the house is an old stone dovecot restored and reroofed in 1975. (fn. 57) Many of the cottages date from the 17th century, including east and south of the square three gabled buildings on a traditional crosspassage plan. The lane leading southwards to the church was built up in that century and east of the church stands Bibury Court, the 17th-century manor-house. During the 17th century the village, which was then called Bywell, (fn. 58) expanded north-westwards along the river bank to form a long street which ended at the Swan, recorded from the late 17th century, opposite Arlington mill. The buildings included the church house, mentioned in 1636 and demolished in 1878 to make way for a readingroom, (fn. 59) and Westwood Cottage, a 17th-century alms-house restored in the early 20th century. Of the cottages surviving in 1975 many had been much restored in the late 19th century after the closure of the route bypassing the village. Court Farm, a little way east of the manor-house and south of the river, dates from the 17th century and was formerly a millhouse.
On the north-east side of the square an 18th-century cottage, dated 1769, (fn. 60) was later enlarged and a cottage on the west side dates from the 19th century. Church House, probably on the site of an early vicarage west of the church, is dated 1802 but is of several periods; in 1975 Sir Tobias Clarke lived there. North-west of the village the Glebe House was built as a vicarage c. 1844. In the later 19th century some estate cottages were built south-east of the Swan, and c. 1953 a small council estate was built outside the village by the Burford road. (fn. 61)
Of several outlying post-inclosure farm-houses and barns, Shoecroft Barn was built in 1769 for the vicar's glebe. (fn. 62) By the river Leach a farm-house, built for Estcourt Cresswell (fn. 63) between 1769 and 1777 (fn. 64) and called Kilkenny by 1799, (fn. 65) is a plain building refronted to the west in the 19th century. It was bought by Lord Sherborne, apparently in 1816. (fn. 66) Near by is a large barn dated 1795. Kilkenny Cottages by the Burford road date from the mid 19th century. North-east of the village Bibury Farm was also built in the mid 19th century together with some cottages to the south-west.
The settlement at Arlington included two mills in 1066. The hamlet enjoyed an early prosperity based on the manufacture of woollen cloth and by 1327 it had more persons assessed for the subsidy and a higher assessment than Bibury. (fn. 67) Many buildings date from the 17th century but the woollen industry declined in the 18th and c. 1775 the estimated population of 255 was smaller than that of Bibury. (fn. 68)
In the absence of land by the river suitable for building the hamlet developed up the hillside on the two roads leading to Cirencester. An early focal point was a green south-west of Arlington Corner on which there was a pound in the early 19th century. (fn. 69) From the green a lane leads to Awkward hill at the foot of which stands Arlington Row. The row, a long east-west range of uncertain date, but probably late-14th-century, almost spans the valley floor and was originally of one storey and had an open roof. The building, which was well placed to use the abundant water-supply of the leat of Arlington mill, was converted in the 17th century or early 18th into seven small cottages, each of which had an attic. Then or later cottages were added to both ends of the range. (fn. 70) The row was bought by the Royal Society of Arts in 1928 (fn. 71) and conveyed to the Bristol and Gloucestershire Archaeological Trust which repaired it the following year. It was acquired by the National Trust in 1949 (fn. 72) and was restored in the early 1970s, some of the cottages being amalgamated. West of the row are some 17th-century cottages. At the top of the hill a 17th-century farm-house was converted after 1839 as cottages (fn. 73) and a barn among its outbuildings was converted as a house after the Second World War.
The hamlet has several other 17th-century buildings, among them the mill and a cottage north of the green. A house at Arlington Corner has later additions and several cottages around the green date from the 18th century. Arlington Lodge on the south side of the Cirencester road was built in the early 18th century and to the south-west stands Arlington House, an 18th-century building in which a curate lived in the early 20th century. (fn. 74) Arlington Manor, on the corner of the lane to Awkward hill, is a 17th-century house with an 18th-century south-west front which dates from a rebuilding of a south wing. In 1839 it was a farm-house on the Barnsley Park estate and the out-buildings to the south included a barn which is dated 1808 (fn. 75) and has initials indicating that it was then part of William Hall's estate; (fn. 76) the barn had been converted as a house by 1939. (fn. 77) In the 19th century the hamlet expanded considerably. A nonconformist chapel, schoolroom, and manse were built near the green and a farm-house to the north-west. (fn. 78) Nine houses had been built west of the green by 1836, (fn. 79) one of them becoming a police station by 1882. (fn. 80) In the 1960s and early 1970s several large detached houses were built in traditional style near the green and south of the Cirencester road where a small private estate was developed on the site of a quarry. To the south and west of Arlington are a few outlying farms and barns built after the inclosures, including Quarryhill (formerly Deanhill) Farm. (fn. 81) At Arlington Pike is a small group of late-19th-century cottages and mid-20th-century houses, both council and private. Some way to the north-west is a substantial modern dwelling called Meadowlands. (fn. 82)
Evidence of early settlement in and around Ablington is provided by an Iron Age hill fort on the southern rim of the Coln valley and an ancient fieldsystem on the downland to the north. (fn. 83) The hamlet, first recorded in 855, (fn. 84) grew east of a river crossing on an old route from Barnsley to Sherborne. The bridge which in 1692 needed repairing (fn. 85) was possibly that of stone swept away by floodwater in 1795. (fn. 86)
In 1327 Ablington, though with a lower assessment, had as many taxpayers as Arlington (fn. 87) but in 1608 it had fewer adult males listed than Bibury or Arlington (fn. 88) and with 91 inhabitants c. 1775 was the smallest settlement in the parish. (fn. 89) The hamlet, which forms a loose collection of dwellings, developed around a small green, on which the former Coln St. Dennis road converged, and along the lane leading eastwards past the 16th-century manorhouse. Ablington House, at the eastern end of the hamlet, is a mid-17th-century farm-house, later extended on both sides; its entrance is flanked by 19th-century carved stone lions from the Houses of Parliament. (fn. 90) In the 19th and early 20th centuries the house was used for Lower farm (fn. 91) but in the 1930s it was owned by Judge A. R. Kennedy (fn. 92) (d. 1943) (fn. 93) with a small estate of c. 65 a. called Old farm. (fn. 94)
In the hamlet are several substantial, 18th-century farm buildings. A barn north of the manorhouse was built by John Coxwell in 1727 (fn. 95) and Manor Farm, a post-inclosure farm-house near by, in 1780 by Charles Coxwell, (fn. 96) who also built a barn north of Ablington House in 1797. (fn. 97) Hinton House, a small house dated 1753, was probably built for Samuel Tawney (fn. 98) (d. 1756). (fn. 99) The house, enlarged on the north in the late 18th and early 19th centuries, belonged to Hinton farm in 1875 (fn. 100) but in the mid 20th century it was sold separately. (fn. 101) Beside the river crossing a house, formerly a mill, dates from the 18th century and a house on the western bank is of the same date. Nineteenth-century buildings include two houses west of the river and a few cottages on the Coln St. Dennis track. (fn. 102) There are several modern houses in traditional Cotswold style.
Winson village, 3.5 km. north-west of Bibury, grew west of a ford recorded in 1394 (fn. 103) and around a small green and along a narrow lane entering it from the south. Two buildings to the north were in Coln St. Dennis parish, namely Winson Mill Farm, which is dealt with under that parish, (fn. 104) and Winson mill. The village, which by the 12th century had a chapel, has always been small; its assessment for the subsidy in 1327 was the lowest in the parish (fn. 105) and in 1608 it had the smallest number of adult males listed. (fn. 106) Manor Farm, west of the lane, has a 17th-century cross-wing to the south but the main front is dated 1729 with initials indicating that it was then enlarged by Thomas Matthews. (fn. 107) In 1839 it was owned by Samuel Bridges and in 1975 was a private residence. By the green Winson Manor is a mid-18th-century house and Village Farm is an early-19th-century farm-house which in 1839 belonged to the Barnsley Park estate. (fn. 108) In 1882 a pound stood south-west of Village Farm. (fn. 109) The village contains extensive stockyards and barns. College Cottage south of the Barnsley road was recorded as a barn in the early 20th century. (fn. 110) A school was built in the 19th century and the most substantial 20th-century building is the Clover House at the southern end of the village, dating from the 1930s. (fn. 111)
By 1839 there were a few scattered buildings on the downlands south-west of the village, including a keeper's lodge, later called Montreal House, and two barns. (fn. 112) The site of Pool House recorded in 1882 (fn. 113) was occupied by farm buildings in 1975. Oxwold House was built in the early 1960s for David Henriques. (fn. 114)
In 1086 88 tenants were listed in the parish. (fn. 115) Eighty-three people were assessed for the subsidy in 1327 (fn. 116) and at least 91 for the poll tax in 1381. (fn. 117) In 1551 80 communicants lived in the parish (fn. 118) and in 1563 there were 49 households. (fn. 119) The population had risen considerably by 1603 when there were 202 communicants, (fn. 120) and in 1650 96 families were estimated to live in the parish. (fn. 121) The 18th century saw a large increase in the population, from c. 500 about 1710 (fn. 122) to c. 780 in the 1770s (fn. 123) and in 1801 it was 852. It continued to rise to 999 by 1821 and, after falling to 950 by 1831, reached a peak of 1,116 by 1851. It then declined and, despite a small rise between 1901 and 1911, had fallen to 663 by 1921. It then increased to 783 by 1961 but had dropped to 671 by 1971. (fn. 124)
In 1635 premises near the river Coln were used for the illicit production and consumption of beer. (fn. 125) A house occupied by Francis Crawford and assessed on 3 hearths in 1672 (fn. 126) was evidently the coaching inn called the Swan, where his widow lived at the end of the century (fn. 127) and which stood opposite Arlington mill. (fn. 128) The building occupied an important place in the life of the parish in the late 18th and 19th centuries; (fn. 129) the tradition that the manor court was held there (fn. 130) is perhaps supported by the building of a small lock-up to the north-west in the later 18th century. The inn, which was rebuilt in the 19th century and has 19th-century stabling, was later called the Swan hotel. It remained part of the Bibury estate until 1926 (fn. 131) and was remodelled and enlarged c. 1930. (fn. 132) Of the two victuallers licensed in 1755 (fn. 133) one possibly occupied the Catherine Wheel recorded south-east of the Swan in 1829. (fn. 134) It may have closed soon afterwards, for one of the two beerhouses in Arlington in 1838 was called the Wheel (fn. 135) and later the Catherine Wheel; (fn. 136) the latter occupied premises south of the Cirencester road in 1975.
A friendly society began meeting at the Swan in 1835. (fn. 137) The village reading-room, built in 1878 on the site of the church house by Lord Sherborne, (fn. 138) was later enlarged and became the village hall. (fn. 139) In the early 1970s it was maintained out of the church lands charity and a trust established by Judge Kennedy. (fn. 140) A social club met in Ablington at the end of the 19th century in a building in the grounds of Ablington Manor. (fn. 141)
For over three centuries the Coxwell family dominated events in Ablington and under Charles Coxwell, vicar 1806–9, the whole parish benefited from his philanthropy and interest in education. (fn. 142) His grandson Henry Tracey Coxwell (1819–1900) was a pioneer aeronaut. (fn. 143) Yeoman families, notably those of Howse, recorded from 1394, (fn. 144) Bridges, and Matthews, were prominent in the affairs of Winson for several centuries. Among persons associated with the parish who achieved national prominence were Thomas Tryon (1634–1703), merchant, writer, and vegetarian, who was born at Bibury, and Samuel Bowly (1802–84), slavery abolitionist and temperance advocate, who was the son of an Arlington miller. (fn. 145)
Threshing machinery was destroyed in Bibury during the agricultural labourers' riots of 1830; (fn. 146) the Arlington tithingman was seeking the offenders on 30 November. (fn. 147) The Bibury Club, a private racing club, is dealt with under Aldsworth. In 1951 an old Valentine's day custom of throwing heated coins to children after they had sung was recorded in Bibury. (fn. 148)
Manors and Other Estates
The bishopric of Worcester had an estate of 15 'cassati' by the river Coln in the early 8th century and between 718 and 745 Bishop Wilfrith leased 5 'cassati' in Ablington to Leppa and his daughter Beage for their lives. (fn. 149) In 1086 the bishop's estate, which included land in Barnsley, comprised 21 hides. (fn. 150)
The manor of BIBURY, assessed at 1½ knight's fee, (fn. 151) was held by the bishops of Worcester, who were granted free warren there in 1254, (fn. 152) until 1549. Then, by an exchange of lands, it was acquired by John Dudley, earl of Warwick. (fn. 153) Dudley was created duke of Northumberland in 1551 (fn. 154) and later that year he sold the manor to the Crown. (fn. 155) In 1554 it was granted to John Walters and Thomas Carpenter (fn. 156) who sold it later that year to Hugh Westwood of Chedworth. (fn. 157) The manor, known as Bibury Episcopi in the early 17th century, was more usually called Bibury Northumberland to distinguish it from Bibury Oseney manor. (fn. 158)
Hugh Westwood, who also acquired Bibury Oseney and Arlington manors, died in 1559 leaving as his heir his nephew Robert Westwood. (fn. 159) Robert died in the Fleet prison (fn. 160) in 1600 and his son and heir William (fn. 161) sold the manor c. 1625 to Sir Thomas Sackville. (fn. 162) Sir Thomas (d. 1647) was succeeded in turn by his sons John (d. 1647) and Richard (d. 1670), (fn. 163) who in turn was succeeded by his sons John (fl. 1685), a lunatic and the ward of Jane Trinder (fl. 1694), and Henry. (fn. 164) Henry died in 1712 leaving as his heirs his daughters Elizabeth and Katherine. (fn. 165) On the division of his property in 1713 Bibury passed to Elizabeth, the elder, (fn. 166) who married Edmund Warneford of Sevenhampton in Highworth (Wilts.) (d. 1724). (fn. 167) Elizabeth (d. 1756) left her property to her grandson Estcourt Cresswell, son of her daughter Anne and Thomas Estcourt Cresswell of Pinkney (Wilts.). (fn. 168) Estcourt Cresswell, M.P. for Cirencester 1768–74, (fn. 169) sold part of the estate in 1816 to James Dutton, Lord Sherborne, (fn. 170) and died in 1823 heavily in debt. His will was the subject of a long Chancery lawsuit and in 1829 his son Richard Estcourt Cresswell conveyed most of the Bibury estate to John Dutton, Lord Sherborne, (fn. 171) with whose manor of Sherborne it then passed. James Huntley Dutton, Lord Sherborne, (fn. 172) owned 3,372 a. in Bibury and Ablington in 1921 (fn. 173) but sold part of the manor with the manor-house in 1925 to Orme Bigland Clarke (fn. 174) who in 1932 succeeded to a baronetcy. Sir Orme (d. 1949) was succeeded by his son Sir Humphrey Orme Clarke, (fn. 175) whose son Sir Tobias Clarke (fn. 176) owned Court farm in 1975. Lord Sherborne retained Bibury and Kilkenny farms in 1926; (fn. 177) Kilkenny had been broken up by 1938 but the two parts were acquired in 1966 and 1967 by S. J. Phillips & Sons (Kemble) Ltd. which had bought Bibury farm from Albert Perry in 1953. (fn. 178)
Bibury Court is a large gabled house of the early 17th century commanding a view down the valley. The main range is entered at its centre by a porch on the east bearing the initials of Thomas and Barbara Sackville and the date 1633, and there is a former stair tower on the west. The south end of the range contained the principal rooms and is extended by a contemporary wing projecting eastwards. A similar wing of less ambitious design and containing service rooms was added at the north end of the east front, presumably in the later 17th century. Rain-water heads dated 1759 presumably mark the succession of Estcourt Cresswell and the interior appears to have been remodelled at about that time. (fn. 179) Richard Estcourt Cresswell left the house in 1825. (fn. 180) In 1838 James Dutton lived there (fn. 181) but after inheriting Sherborne he and his successors leased the house. (fn. 182) Extensive remodelling in the 1920s removed most of the 17th- and 18th-century features. The house, which remained a private residence until the death of Elfrida, widow of Sir Orme Clarke, in 1963, was sold in 1966 and converted as a hotel in 1968. (fn. 183) In 1975 the interior contained a variety of styles from the 17th to the 20th centuries.
An estate of 5 hides in Arlington was held in 1066 by Chenvichelle. It was later granted to Earl Roger who by 1086 had forfeited it to the Crown. (fn. 184) Earl Roger's property formed part of the endowment of the honor of Gloucester, (fn. 185) from which ARLINGTON manor, assessed at 1 knight's fee, was held as a member of Fairford manor. (fn. 186) At the division of the honor the overlordship of Arlington manor, assessed at ½ fee by the mid 14th century, passed with Fairford and was granted after the death of Hugh le Despenser in 1349 to his widow Elizabeth in dower. (fn. 187)
Land in Arlington was held from Geoffrey de la Mare in the early 13th century. (fn. 188) In 1233 during Richard Marshal's rebellion the manor was confiscated from John le Sor and granted during pleasure to William Bluet. (fn. 189) In 1253 it was held by Robert le Sor (fn. 190) and by 1285 had passed to John le Sor (fn. 191) (d. c. 1300). (fn. 192) In 1327 John of Pembridge was described as lord of Arlington (fn. 193) and his widow Alice was holding about two-thirds of the manor in dower in 1333 when it was settled on Roger Norman of Southampton and his son Roger. (fn. 194) The elder Roger had secured the land by 1337 when he was granted free warren (fn. 195) but later he held only four-fifths of the demesne. (fn. 196) He was succeeded in 1349 by his grandson Giles, (fn. 197) during whose minority the wardship was granted in turn to John of Pembridge in 1350 (fn. 198) and William of Fifehyde in 1359. (fn. 199) Giles died in 1361 leaving as his heir his cousin Margaret, wife of John Chamberlayne, (fn. 200) but the manor later passed to William de Shareshull and William of Garsington who sold it in 1363 to Oseney Abbey. (fn. 201) Although in 1391 the grant of free warren was confirmed to Roger Norman's kinswoman Alice and her husband Richard Becket, (fn. 202) the manor was retained by the abbey (fn. 203) and passed with Bibury Oseney manor (fn. 204) until 1713 when on the division of Henry Sackville's estate it was granted to his younger daughter Katherine. (fn. 205) Katherine (d. 1760) (fn. 206) left the manor to her great-nephew Estcourt Cresswell, a minor. (fn. 207) Cresswell, owner of the Bibury estate, held Arlington until his death in 1823. (fn. 208) In 1829 his son Richard Estcourt Cresswell sold c. 120 a. in Arlington to Michael Hicks Beach of Williamstrip (fn. 209) and the manor and certain tithes to Sir James Musgrave of Barnsley Park. (fn. 210) The manor passed with Barnsley (fn. 211) and was retained by Wenman Humfry Wykeham-Musgrave in 1939. (fn. 212) In 1975 most of Arlington belonged to the Barnsley Estate Co.
In 1607 William Westwood sold part of the manor, including a copyhold estate of over 160 a. and other land occupied by Robert Hall, to Charles Cox of London and his brother Christopher. In 1625 that property, comprising over 250 a., was included in a lease for life to Robert who apparently acquired the freehold, for later that year he settled it on the marriage of his son Robert (fn. 213) (d. c. 1652). (fn. 214) The younger Robert Hall's son William settled the property in 1680 on the marriage of his son William, whose son, also William (fn. 215) (d. 1760), was succeeded by his son Richard. (fn. 216) Richard, who was allotted 440 a. in 1768, (fn. 217) died in 1781 and was succeeded by his son William (d. 1824). (fn. 218) By 1839 his estate, including the barn near Arlington Manor, had been acquired by Sir James Musgrave. (fn. 219)
The bishop of Worcester's estate included land in Ablington in the early 8th century. In 855 Bishop Alhuun was exempted from all obligations, except the trinoda necessitas, in respect of 10 'manentes' in Ablington by Burgred, king of the Mercians, (fn. 220) and in 899 Bishop Waerfrith leased 5 'manentes' there to a priest. (fn. 221) From the 12th century the overlordship of ABLINGTON manor passed with the bishops' manor of Bibury. (fn. 222) Ablington manor, assessed at ½ fee in 1241, (fn. 223) was held in 1285 for I knight's fee and a rent of 33s. 4d. (fn. 224) Later assessed at ½ fee (fn. 225) and then in the mid 14th century at ¼ fee, (fn. 226) it was said in 1574 to be held by the rent alone. (fn. 227)
In the early 12th century the manor, comprising 2 hides, was held by Geoffrey de Meysi who gave it with his daughter in marriage to Geoffrey d'Evercy. Geoffrey's son Robert d'Evercy held I knight's fee from the bishop in 1166 but was elsewhere said to hold the 2 hides, assessed at 2/5 fee, and another 6 hides and 4 yardlands. (fn. 228) Robert, who gave property in Ablington to Bruern Abbey (Oxon.), was the grandfather of Olympia who with her husband Ralph of Willington was granted a reversionary right in half of the manor in 1207. (fn. 229) Ralph, who was holding the 2 hides in 1208 or 1209, (fn. 230) acquired 2½ hides there in 1211 from Cecily de Quercy by an exchange of lands. (fn. 231) About 1276 a lease of the manor was granted to Roger Clifford by another Ralph of Willington (fn. 232) who held the manor in 1285. (fn. 233) In 1299 it was held by John of Willington (fn. 234) who was granted free warren in 1311. (fn. 235) John forfeited the estate in 1322, when custody was awarded to Robert of Aston, (fn. 236) but recovered it the following year (fn. 237) and was succeeded in 1338 by his son Ralph. (fn. 238) Ralph (d. 1348) left as his heir his uncle Reynold but the manor passed to Henry of Willington. Henry (d. 1349) was succeeded by his son John, a minor, (fn. 239) and in 1350 custody of the manor was granted to the tenants. (fn. 240) John, later Sir John (d. 1378), granted a life-interest to Thomas of Willington, his brother, who survived him. After Thomas's death the manor reverted to Sir John's son Ralph, a minor who was succeeded in 1382 by his brother John, also a minor. In 1384 Ralph's widow Joan, who married Thomas West, received dower in a third of the manor but in 1396 it was said that after Ralph's death Ablington had been held by Thomas West the elder and his wife Alice and after Alice's death by Thomas's son Thomas. (fn. 241) John of Willington, an idiot, died in 1396 leaving as coheirs his sister Isabel, wife of William Beaumont, and nephew John Wrothe, a minor. (fn. 242) In 1397 the Crown assigned two-thirds of the manor to Isabel (fn. 243) and in 1404 the other third reverted to John and Isabel on the death of Joan West. (fn. 244) Until John Wrothe's death in 1412 the Crown evidently retained an interest in the manor, (fn. 245) which Isabel held at her death in 1424. (fn. 246) It then passed with Westonbirt manor until 1574 (fn. 247) when Arthur Basset sold it to John Coxwell of Cirencester. (fn. 248)
John Coxwell, who had acquired property in Bibury and Coln St. Dennis from Richard ap Owen in 1565, (fn. 249) was succeeded in 1618 by his son Nathaniel. (fn. 250) Nathaniel, who in 1624 purchased a yardland in Arlington formerly held by Sir Edmund Tame of Rendcomb and then by his sister Isabel, (fn. 251) died in 1638 and the manor passed in the direct line to Edward (fn. 252) (d. 1645) and John. (fn. 253) John conveyed the estate in 1695 to his son Charles (fn. 254) (d. 1702), who was succeeded by his son John, a minor. John (d. 1754) was succeeded in turn by his sons John (d. 1762) and Charles, (fn. 255) who became rector of Barnsley and vicar of Bibury. (fn. 256) From Charles (d. 1829) the estate passed to his son Charles Coxwell, rector of Dowdeswell (d. 1854), who was succeeded by his son Richard Rogers Coxwell Rogers of Dowdeswell. (fn. 257) Richard, whose brother Charles Rogers Coxwell (d. 1893) (fn. 258) also held lands in Ablington, (fn. 259) died in 1895 leaving a son and heir, Godfrey Hugh Wheeler Coxwell Rogers, and two daughters, Ellen, wife of George Edward Beale Browne, and Grace. (fn. 260) The daughters' interest in the estate ended with Godfrey's death in 1914 (fn. 261) when he was succeeded by Richard Hugh Coxwell Rogers who began the break-up of the estate, (fn. 262) Lower farm being sold to Lauriston Batten in 1914 and the manor-house to Lt.-Col. C. G. Martyr in 1915. Richard was killed in action in 1915 (fn. 263) and his successor Miss F. A. Coxwell Rogers sold Manor farm in 1918 to Edward Dutton, Lord Sherborne, who had acquired Lower and Oldwalls farms in 1916. (fn. 264) S. J. Phillips bought those farms from the Sherborne estate in 1944 and 1946, and in the latter year he established S. J. Phillips & Sons (Kemble), a limited company. (fn. 265)
In the early 16th century non-resident lords leased the manor-house to members of the Howse family. (fn. 266) The house, apparently set in park-land mentioned in 1575, (fn. 267) presumably occupied the same site as Ablington Manor. It is a substantial house of traditional three-roomed plan with a porch on the north side dated 1590 and leading to a former crosspassage. The house was enlarged in the earlier 17th century by the addition of terminal wings on the south side which faces the river Coln. In 1650 John Coxwell set aside certain rooms for his mother Katherine. (fn. 268) About 1780 for the Revd. Charles Coxwell the interior was refitted, the south elevation refenestrated, the area between the wings taken in for a staircase, and the roofs partly reconstructed. (fn. 269) At that time and during the 19th century considerable additions were made on the east side for service rooms, and a stable court dated 1860 was added. Nevertheless in the later 19th century the Coxwell Rogerses preferred to live at Dowdeswell Court. (fn. 270) After Col. Martyr's death in 1936 (fn. 271) his widow owned the house (fn. 272) which his daughter-in-law, Mrs. West, sold to Mr. V. Walker. He sold it in 1975 to Mr. Robert Cooper. (fn. 273) Successive owners in the 20th century have refitted the interior. Gardens run down from the house to the river.
In 1227 Ralph of Willington granted 1 hide in Ablington to Gloucester Abbey. (fn. 274) After the Dissolution 3½ yardlands passed to the dean and chapter of Gloucester with Coln Rogers manor, (fn. 275) from which land, known as College lands, was leased in the later 18th century. (fn. 276) The land, which was extended at c. 125 a. in 1789, (fn. 277) was leased for 21 years in 1796 to William Hinton (fn. 278) (d. c. 1812). His son William, who in 1826 acquired an estate of 72 a. allotted in 1780 to John Howse, (fn. 279) evidently bought the land, for in 1840 he owned 208 a. in Ablington. (fn. 280) Robert Hinton by will dated 1860 left his property to his cousin John Hinton Bryan of Down Ampney (d. 1867), who was succeeded in turn by his widow Ann (d. 1870) and his son John, under whom the estate, called Hinton farm, was broken up. Richard Rogers Coxwell Rogers bought parts in 1874 and 1875 and Robert Garne of Aldsworth c. 174 a. in 1875. By will dated 1900 Robert left the farm to his nephew William Thomas Garne (fn. 281) who sold it c. 1945 to Mr. Jelf from whom an estate of 80 a. was bought by S. J. Phillips & Sons in 1959. (fn. 282)
An estate of 5 hides in Winson, held as three manors by Edric, Leuric, and Elric in 1066, had passed by 1086 to Ansfrid de Cormeilles. (fn. 283) The manor of WINSON, assessed at ½ fee, (fn. 284) passed with the honor of Cormeilles. In 1303 the earl of Hereford was recorded as overlord, (fn. 285) possibly by virtue of a grant of the overlordship of the honor in 1141 by the Empress Maud to Miles of Gloucester. (fn. 286) The manor was held by Richard de Cormeilles in 1192, and by his brother Walter (fn. 287) in 1213. (fn. 288) Walter died leaving as coheirs four daughters, at least two of whom, Aubrey wife of Richard le Brun and Margaret wife of Walter of Stoke, received a share in the manor. (fn. 289) The estate, held from the honor for 1 knight's fee in 1236 by Walter de Baskerville, (fn. 290) was held in 1243 by Lucy de Cormeilles from John le Brun, (fn. 291) the son of Richard le Brun and Aubrey de Cormeilles. (fn. 292)
John le Brun held a quarter of the manor with Elkstone manor at his death c. 1266 and was succeeded by another John le Brun. (fn. 293) In 1304 John granted a reversionary right in a third of the manor to John, son of John of Acton, (fn. 294) who had succeeded him by 1316. (fn. 295) John of Acton forfeited his lands in 1322 (fn. 296) but recovered them, and his Winson property, sometimes called Winson manor, passed with Elkstone until the early 17th century after which it has not been traced. (fn. 297)
A part of Ansfrid de Cormeilles's estate passed through Margaret of Stoke's elder daughter Alice, wife of Robert Archer, (fn. 298) to Nicholas Archer. Nicholas granted a life-interest in 60 a. of land and 40s. rent in Winson to William Absalom who may have been the Absalom Clark recorded in 1285. (fn. 299) William was still in possession in 1305 when Nicholas's son Nicholas granted a remainder in the property, held by the serjeanty tenure of carrying the king's bow when he was hunting in Gloucestershire forests, to John of Acton. (fn. 300) John held it at his death in 1312 when he was succeeded by his son John. (fn. 301) Nicholas Archer's widow Alice secured her dower in a third of 70 a. in 1316 or 1317 (fn. 302) and was still in possession in 1333. (fn. 303) The property presumably passed with John of Acton's other property in Winson and Elkstone.
Another part of Winson manor passed through Margaret of Stoke's younger daughter Isabel, wife of Simon de Sollers, (fn. 304) to Thomas de Sollers who in 1278 granted 3 yardlands and 40s. rent to another Simon de Sollers. (fn. 305) Simon, who held property in Winson in 1285 and 1316, (fn. 306) forfeited rents there in 1322. (fn. 307) The estate has not been traced after 1346 when it was held by John de Sollers. (fn. 308)
By 1285 part of Winson manor was held by Walter of Burton (fn. 309) who in 1304 granted a third of the manor, including 9 messuages, 10 yardlands, and a third of a mill, to Richard of Burton and his heirs. (fn. 310) That property was evidently held in 1316 by Thomas of Burton (fn. 311) whose son Thomas secured permission to grant 10 messuages, 11½ yardlands, and a third of the mill to Walter of Cirencester in 1344. (fn. 312) The property has not been traced after 1346. (fn. 313)
The estate of Walter of Cirencester or John de Sollers in 1346 may have formed part of the manor of WINSON held by Sir Edmund Tame. Sir Edmund (d. 1534) left it to his wife Elizabeth who died in 1545. (fn. 314) Sir Edmund's son and heir Sir Edmund Tame of Rendcomb had died without issue and at a partition made among his three sisters in 1547 Winson manor passed to Margaret, wife of Sir Humphrey Stafford. (fn. 315) Sir Humphrey's son John (fn. 316) with others conveyed it to John Dryden in 1567. (fn. 317) By 1583 the manor of Winson or Dryden's Winson was owned by William Aubrey (fn. 318) and after his death in 1595 it passed to his second son Thomas. (fn. 319) In 1603 Thomas divided the manor into three parts by grants to John Matthews, William Bridges, and Thomas Howse the younger, (fn. 320) members of the principal copyholding families on the estate. (fn. 321)
The part acquired by John Matthews, described in 1608 as lord of Winson, (fn. 322) was later known as Winson manor and was held by the Matthews family for over a century. A Richard Matthews died in 1620 leaving a son Richard (fn. 323) (d. 1669). (fn. 324) Richard Matthews, lord of the manor in the early 18th century, (fn. 325) settled it on his son Richard in 1711. (fn. 326) The younger Richard, who had inherited 423 a. by 1728, (fn. 327) sold the manor in 1738 to Alexander Ready of Fairford, (fn. 328) from whom it was purchased in 1741 by Charles D'Oyley (fn. 329) (d. 1776). The estate passed, evidently with land in Southrop, to his son Charles (d. 1802), (fn. 330) whose heir put up 600 a. in Winson for sale in 1806. (fn. 331) By 1836 the estate had been acquired by Sir James Musgrave of Barnsley Park (fn. 332) who acquired the other parts of the manor and was described in 1856 as lord of the manor. (fn. 333) The estate, which passed with Arlington, (fn. 334) was sold in the 1950s to the author Robert Henriques (d. 1967), whose sons Michael and David owned land in Winson in 1975. (fn. 335)
Winson Manor is a small double-pile house of c. 1740 with a principal front of 5 bays to the east. The decoration inside and out is in the style associated with the books of James Gibbs. In 1839 it was a farm-house on the Barnsley Park estate (fn. 336) and c. 1954 was bought by Mrs. M. Y. Darwin. (fn. 337)
The part of the manor acquired by William Bridges, who was mentioned in 1608, (fn. 338) was held by his descendants for over two centuries. John Bridges was recorded in 1645. (fn. 339) In 1700 Thomas Bridges settled 3 yardlands on his marriage (fn. 340) and in 1725 he settled the property, in return for an annuity of £15, on the marriage of his son Thomas (fn. 341) who held 181 a. in 1728. (fn. 342) The elder Thomas died in 1751 and the younger in 1796. (fn. 343) The latter's son, also Thomas, was succeeded in 1808 by Samuel Bridges, (fn. 344) who in 1830 exchanged 101 a. with Sir James Musgrave for 48 a. and certain tithes. (fn. 345) Samuel died in 1845 and his property passed to his sister Mary. After her death in 1850 it was sold to William Weeks, a relative by marriage, from whom it was bought in 1852 by Sir James Musgrave. (fn. 346)
The third part of the manor, which passed to Thomas Howse the younger (fl. 1608), (fn. 347) was held by his descendants for over two centuries. Richard Howse (d. c. 1718) left his lands to his son Richard (fn. 348) who held 194 a. in 1728. (fn. 349) Richard (d. c. 1753) was succeeded by his son Richard (fn. 350) (d. c. 1766), whose widow Esther quitclaimed the lands settled on her to his brother and heir John in 1767. John (d. 1807) was succeeded in turn by his sons Richard (d. 1808) and William. William, who held 380 a. in Winson and Coln St. Dennis, sold his property in 1824 to Sir James Musgrave. (fn. 351)
In 1086 a priest held 3 hides from Bibury manor. (fn. 352) Some land was presumably appropriated with Bibury church and its tithes by Oseney Abbey in 1151, (fn. 353) for the abbey, which in 1248 acquired 2/3 yardland in Bibury, (fn. 354) held 2 yardlands there in 1291. (fn. 355) The appropriated rectory, with which went the peculiar jurisdiction of Bibury church, the tithes of wool and lambs, and all the tithes of the rectory estate, was held by the abbey until the Dissolution (fn. 356) and was granted in 1542 to Christ Church, Oxford. (fn. 357) The rectory estate, which included land in Arlington, had been resumed by the Crown by 1547 when it was granted to John Harrington. (fn. 358) Known later as BIBURY OSENEY manor, (fn. 359) it was held by various speculators and in 1552 Sir William Sharington sold it to William Herbert, earl of Pembroke, who sold it to Hugh Westwood. (fn. 360) Hugh later bought Bibury manor with which it afterwards descended. (fn. 361) The rectory was valued at 200 marks in 1603. (fn. 362)
In 1620 William Westwood sold the tithes of wool and lambs in Arlington and some land to Elizabeth Clarke and Elizabeth Bedford (fn. 363) but in 1632 they were sold back to Sir Thomas Sackville. (fn. 364) The Arlington tithes which Sir Thomas had apparently sold to Richard Westwood in 1628 (fn. 365) were evidently the grain tithes from land once belonging to the rectory estate there which Richard sold to Nathaniel Coxwell in 1629. (fn. 366) On the partition of the Sackville estate in 1713 the tithes of wool and lambs in Arlington, Ablington, and Winson passed with Arlington manor. (fn. 367) In 1780 Estcourt Cresswell received an allotment of 68 a. for the tithes of wool and lambs in Ablington then inclosed. (fn. 368) In 1830 Sir James Musgrave conveyed some of the tithes of wool and lambs in Winson to Samuel Bridges. (fn. 369) The tithes of wool and lambs in Arlington and Winson were commuted in 1839 for a rent-charge of £57 3s. 2d., £46 0s. 8d. being awarded to Sir James Musgrave, £5 2s. 6d. to Sir Michael Hicks Hicks Beach, and £6 to Samuel Bridges. (fn. 370)
A rent of 8s. from Winson, received by the appropriator in 1280 (fn. 371) and until the Dissolution, derived from a yardland of glebe belonging to the chapel there. (fn. 372) In 1546 the yardland was regranted to the dean and chapter of Christ Church, Oxford, (fn. 373) who held 33a. in 1728. (fn. 374) The land was sold to the Barnsley Park estate in 1874. (fn. 375)
The ½ hide which Cirencester Abbey was said to hold in the parish at 'Walle' in the early 14th century (fn. 376) was at Wall Farm in Aldsworth.
Economic History
AGRICULTURE. In 1086 the bishop's estate had a demesne of 4 plough-lands with 11 servi and ancillae. (fn. 377) Bibury manor, which c. 1285 had 2 cart-horses, 4 draught-beasts, and 12 oxen for two ploughs and could support up to 500 sheep and 6 cows, (fn. 378) had in 1299 446¼ a. of arable in demesne, on which wheat, barley, and oats were sown as a mixed crop. Only 8 a. of meadow land were in demesne. Labour-services were provided by the tenants who were given a wether and cheese for haymaking and sheaves for harvesting. In 1302 or 1303 surplus labour-services, mostly after the harvest, were sold back to the tenants, some of whom were among the hired farm-servants of 3 ploughmen, a reap-reeve, a smith, and a carter. (fn. 379) Although the demesne was apparently leased in 1327 for £20 a year (fn. 380) it was kept in hand in the later 14th century and was devoted to corn and sheep husbandry. In the early 1370s dredge and some oats, wheat, barley, and vetches were grown. In 1372 127 harvesters were each paid 5d. for a day's work and the grain was threshed by farm-servants and hired labour. From 1395 the manor was leased out (fn. 381) and in the later 15th century the farm of the demesne was £4. (fn. 382) The demesne had been taken in hand by the mid 16th century and Hugh Westwood is said to have had 70 kine, as well as 500 sheep and a large barn of corn, at his death in 1559. (fn. 383)
Winson manor had 4 ploughs in demesne with 10 servi and ancillae in 1086. (fn. 384) The demesne of Arlington manor, which in 1066 had 4 ploughs with 16 servi and ancillae, (fn. 385) was extended in 1350 at 170 a. of arable, 6 a. of meadow, and some pasture held in severalty (fn. 386) and was let at farm in the early 16th century. (fn. 387) Ablington manor was leased in the mid 16th century. (fn. 388)
In 1280 Oseney Abbey, the appropriator, administered its land in Bibury with its property in Aldsworth, Turkdean, and Winson. The estate, from which much corn, principally barley and some wheat, was sent to the abbey or sold, and on which cattle and pigs were kept, was also organised for sheep-farming. The rectory demesne was let at farm by 1493 when Richard Bagot took a 20-year lease. In 1512 Bagot was granted a lease for 21 years (fn. 389) and in 1535 the demesne was farmed by Hugh Westwood. (fn. 390)
The appropriator's retention of the tithes of wool and lambs rather than those of grain (fn. 391) indicates that in the Middle Ages sheep-farming was more important than arable. In 1327 two shepherds were listed in Arlington. (fn. 392) In 1280 Oseney Abbey had 766 sheep, including some at Turkdean, and another 80 had been sent to Water Eaton in Kidlington (Oxon.). The abbey's crop included 180 fleeces, besides 65 taken for tithe, and 357 skins. (fn. 393) In 1299 there was sufficient pasture for 300 sheep on the bishop's demesne (fn. 394) where in 1372 a shepherd looked after 442 wethers, including 171 which had been brought from Withington. (fn. 395) In 1389 the sheep from the rectory estate had grazing rights with the bishop's flock from Lammas. (fn. 396) In 1507 or 1508 Oseney Abbey wintered 80 wethers in Arlington, (fn. 397) where later the lessee of the abbey's rectory estate appears to have been required to erect a sheepfold. (fn. 398) The abbey's shepherd, who in 1510 had a stipend of 10s. charged on Arlington manor but earlier had received barley, oats, and salt, used buildings in Bibury and Arlington in 1512; (fn. 399) the latter was possibly the sheep-house which had been converted as cottages by 1758. (fn. 400)
In 1086 the bishop's estate supported 19 villani and 2 bordars with 11 ploughs, a priest with 3 hides and 4 ploughs, and 3 radknights with 4 hides and 4 ploughs. (fn. 401) The freeholds of the manor recorded in 1299 were substantial estates, including two in Aldsworth owing suit of court at Bibury. The free tenant of 1 yardland, who owed 2 ploughingservices, 8 autumn bedrepes with 8 men, and carrying-services for two days, was also required to carry writs of the bishop and the steward within the diocese at his own cost and to London, Winchester, and elsewhere for 3½d. a day, and to buy food for the bishop at Cirencester and 'Tornisham'. The same tenant held a mill, ½ hide, and 6 a. of land in Ablington. (fn. 402) In 1399 the bishop remitted similar services, including writ-carrying and the duty to serve as beadle, to the tenant of a holding with 8 yardlands in Bibury and Ablington. (fn. 403)
Of the 17 customary tenants recorded on Bibury manor in 1299 6 held yardlands and 11 held halfyardlands. The tenant of each yardland owed 4 ploughing-services, 3 bedrepes with 4 men, works at harrowing, threshing, and haymaking, and carryingservices which included fetching wood from Withington. The tenant was expected to perform weekwork every day except Saturday for most of the year, to work with 2 men during the harvest, and even to perform carrying-services with pack-horses on Sundays if need arose. The tenant was quit of his rent of 5s. if all his works were performed. Three more tenants held enchelondi, a half-yardland, 16 a., and 16 a. respectively, by service as ploughmen or for cash rent and the services of a third-yardlander, indicating a yardland of 48 a. Of 5 cotmani paying rent three also owed services at haymaking and reaping. The customary payments owed by the unfree tenants included pannage, tithing penny, and a toll on brewing and those tenants were obliged to attend a fustale. The assized rents of the free and customary tenants were valued at 119s. 6d. and the works at 105s. (fn. 404)
In 1280 the tenants on the rectory estate paid 22s. 6d. in assized rents; (fn. 405) the rents from the estate in the early 16th century amounted to 56s. 10d. (fn. 406) Arlington manor supported 12 villani and a bordar with 6 ploughs in 1066. (fn. 407) In the early 14th century Roger Norman had 8 tenants at Arlington, of whom 7 owed 10s. each and one 4s.; the holder of the other part of the estate had 5 tenants, 4 of whom owed 10s. for ½ yardland each and the fifth owed 12d. (fn. 408) Roger Norman's tenants were listed in 1350 as 3 freeholders and 5 unfree half-yardlanders. (fn. 409)
In 1086 9 villani and 4 bordars with 5 ploughs were recorded on Winson manor (fn. 410) where in 1583 there was some ambiguity over the customary rights of 7 copyholders. (fn. 411) In Arlington, where a yardland contained c. 80 a., five large tenements, of ½–3 yardlands, were held from the manor by copy for up to 3 lives in 1607. (fn. 412) Most of the Arlington copyholds had been enfranchised by the time of inclosure in 1768 when 8 small freeholders received allotments and only one copyholder, who was awarded 58 a. (fn. 413) Gloucester Abbey granted leases of several tenements in Ablington in the early 16th century for terms of 70 years or lives with heriots payable. (fn. 414) A yardland there comprised 48 a. and from the manor in 1548 or 1549 were held a freehold tenement of 3 yardlands and copyholds of 5½, 4¾, and 4½ yardlands. (fn. 415) Although several leaseholders were mentioned in 1731, copyhold tenure persisted there in 1737. (fn. 416)
Before the inclosures of the 18th century there were several extensive commons and Bibury, Arlington, Ablington, and Winson each had two fields. Pasture rights in those fields were used primarily for sheep. The Bibury fields, an east and a north (later west) field, were recorded in 1299. (fn. 417) In 1626 a stint of 45 sheep to the yardland was ordered in the fields, (fn. 418) for which a guardian was appointed in the early 18th century. (fn. 419) The east and west fields of Arlington were mentioned in the mid 13th century; (fn. 420) the former was also called the south field. (fn. 421) Those fields took in furzy ground near Ready Token where some land lay uncultivated in 1734. (fn. 422) The east and west fields of Ablington, also recorded in the mid 13th century, (fn. 423) were separated by the old Sherborne road (fn. 424) and extended beyond the salt-way. (fn. 425) From 1639 the practice was recorded of opening the more northerly part of the stubble field to the commoners about Michaelmas and the rest on the feast of SS. Simon and Jude (28 October), (fn. 426) and a similar procedure was followed in the early 18th century. (fn. 427) In the 17th century two men, sometimes called sheep-tellers, were chosen to enforce the stint in the fields, (fn. 428) where the number of sheep commons was abated in the late 17th century and early 18th (fn. 429) but on the eve of inclosure in 1780 the stint was 50 sheep, 2 cows, and a horse to the yardland. (fn. 430) The cultivation of the Ablington fields, called Bibury and Down fields in 1649, (fn. 431) was still regulated by the manor court in the 1730s. (fn. 432) The east and west fields of Winson were recorded in 1654. (fn. 433)
In 1086 only 10 a. of meadow were recorded in Bibury and 15 a. in Winson. (fn. 434) Although meadow land is found by the river Coln, where rich watermeadows have been created by periodic flooding, (fn. 435) and in the south-west part of the parish, (fn. 436) in the later Middle Ages a lack of good meadows led to the renting of meadow land in Inglesham (Wilts.) for Bibury manor and the rectory estate. (fn. 437) In Winson in 1583 there were 3 common lot meadows, Broad mead, Cratlands, and Cadmoor, which were opened by agreement among the copyholders and closed on Lady Day. (fn. 438) Broad mead was probably the great meadow which with Cratlands, a water-meadow, (fn. 439) was divided between the three principal landholders, Alexander Ready, Richard Howse, and Thomas Bridges, in 1739. (fn. 440) Cadmoor in the south-west remained a common meadow in 1806. (fn. 441)
In the mid 13th century the tenants of Bibury manor had common rights in a pasture called Ruyndone for which they owed a ploughing service or paid ½d. if they did not have plough-beasts. By 1299 Ruyndone was the principal pasture on the manorial estate, having been appropriated by the bishop who allowed only the priest and two others to graze a total of 10 beasts. (fn. 442) It probably lay on the site of Bibury Downs, recorded adjoining the river Leach in 1412 (fn. 443) and pastured with cattle in the mid 18th century. (fn. 444)
In Ablington the area between the tributary valley of the Coln and the parish boundary, which was presumably commonable in the early 8th century when it was not part of the property put out to farm by the bishop, (fn. 445) included two commons, Ablington Downs (fn. 446) and, to the north-east, Ox Down, (fn. 447) probably the two commons mentioned in 1384. (fn. 448) Under an agreement among the commoners in 1612 the lord of the manor was allowed to hold the northern part of Ablington Downs in severalty and to pasture a flock of 300 during winter in the part remaining common; (fn. 449) the area inclosed by the lord was extended at 80 a. in 1680. (fn. 450) By 1780 Ox Down had been held in severalty by the lord of the manor for several years. (fn. 451) The lord's park was used as a common before 1575 when orders were issued for its conservation. (fn. 452) Cow Downs, a common for both cattle and sheep recorded in 1699, (fn. 453) lay by the Coln. (fn. 454)
In Arlington the main common, Arlington Hay, was in the west adjoining Winson, (fn. 455) and was used for cattle in 1595 (fn. 456) and in the mid 18th century. (fn. 457) Winson Wold or Old, in the west part of the parish, was open in 1583 to cattle from Holy Rood Day (3 May) until All Saints when sheep were admitted until Candlemas. (fn. 458)
John and Nathaniel Coxwell inclosed open-field land in Ablington by exchange in the early 17th century (fn. 459) and several demesne closes were recorded in 1632. (fn. 460) From the later 17th century an abatement of the number of sheep commons was ordered because of inclosures and in 1719 three tenants were presented in the manor court for inclosing open-field land. (fn. 461) By 1780 760 a. in Ablington were inclosed. (fn. 462) Old inclosures in the eastern part of the parish were recorded in 1717. (fn. 463)
In Winson most of the open and commonable land was divided and inclosed in 1726 (fn. 464) by agreement; 1,080 a. were affected (fn. 465) and the new holdings were described in a deed of 1728. The principal landholder, Richard Matthews, held 423 a. and his mother Anne and his brother Thomas had 123 a., Richard Howse 192 a., Thomas Bridges 180 a., and the dean and chapter of Christ Church, Oxford, 33 a. (fn. 466) Bibury and Arlington were inclosed by a private Act and the award made in 1768 dealt with 2,551 a. Estcourt Cresswell, the principal beneficiary, was allotted 204 a. in Arlington and, with his father, 1,065 a. in Bibury. Elsewhere in Bibury the vicar took 222 a. for his tithes and a leaseholder 14 a. In Arlington 440 a. and 330 a. were awarded to Richard Hall and Giles Hall respectively, 90 a. to John Taylor, a freeholder and copyholder, and 17 a. to the churchwardens; eight other proprietors received small allotments. (fn. 467) The remaining commonable land in Ablington was inclosed under a private Act in 1780. The award, which affected 1,045 a., allotted 780 a. to Charles Coxwell, 72 a. to John Howse, and 68 a. to Estcourt Cresswell, and three sub-tenants of the dean and chapter of Gloucester were awarded a total of 123 a. (fn. 468)
There were many farms after the inclosures and most were large. By 1771 the Bibury estate had been organized with four farms comprising 705 a., 401 a., 352 a., and 325 a., (fn. 469) and in 1881 it included Kilkenny farm (786 a.), Bibury farm (733 a.), and a farm (probably that later called Shoecroft) of 149 a. (fn. 470) In the early 1780s farms of 815 a. and 605 a. were recorded on the Ablington estate (fn. 471) which in 1914 comprised Manor farm (869 a.) and Lower farm (612 a.). (fn. 472) In 1921 Lord Sherborne's estate included seven farms in Bibury and Ablington, including Bibury farm (fn. 473) which had been reduced to 512 a. by 1926. (fn. 474) In 1839 there were farms of 468 a., 322 a., 165 a., two of c. 110 a., and two of c. 30 a. in Arlington and farms of 578 a. and 423 a. in Winson. (fn. 475) In 1926 104 labourers found full-time employment in the parish, where there were 22 farms, including 9 with less than 50 a. each. (fn. 476) In the mid 1970s Phillips & Sons let out its lands in Ablington but farmed Bibury and Kilkenny. (fn. 477) The rest of the land was cultivated in large farms or in a few smallholdings worked part-time. (fn. 478)
After inclosure much downland was converted to tillage, a process noted c. 1775, (fn. 479) and corn and sheep husbandry remained dominant in the 19th century. In 1866 5,427 a. were returned as arable and temporary grass and only 424 a. as permanent grass, and large flocks, numbering at least 4,194 sheep, were kept. They were folded on the turnips and grass leys, which with wheat, barley, oats, peas, and beans were the main constituents of the crop rotation. (fn. 480) Pastoral farming became more important in the later 19th century and early 20th, and in 1926 3,072 a. of arable and temporary grass and 1,931 a. of permanent grass were returned. There were also 262 a. of rough grazing. Sheep-farming on a large scale continued and the number of cattle kept increased considerably during that period: in 1866 380 cattle, including 69 milk cows, were returned and in 1926 869, including 118 milk cows. (fn. 481) At that time Bibury and Kilkenny farms were devoted to cereal production and dairying. (fn. 482) In 1975 the principal crops were barley and wheat, the acreage of the latter having increased after the Second World War, and beef- and sheep-farming were important. In the mid 20th century part of Kilkenny had been a pig farm owned by Gilletts, a baconproducing company, (fn. 483) and in 1975 there was a pig unit on the site of Pool House in Winson. There were also stud farms in Bibury at Court farm and in Winson at Village farm, on which the poll variety of Hereford cattle was also kept.
Mills
Five water-mills were recorded in the parish in 1086. Of the two on the bishop's estate (fn. 484) one was probably in Ablington. The other, leased from Bibury manor from the late 13th century, (fn. 485) was in ruins by 1487. (fn. 486) A miller listed in Bibury in 1608 (fn. 487) probably worked the mill east of Bibury Court belonging to the Bibury estate in 1769. (fn. 488) It was in use as a corn-mill in the 1920s (fn. 489) but was disused by 1934. (fn. 490) The 19th-century mill building was used for storage in 1975 when the 17th-century mill-house was the farm-house for Court farm.
There were two mills on Arlington manor in 1066 (fn. 491) and the manor had a water-mill in 1350. (fn. 492) Arlington mill was worked by Thomas Carter, a fuller, in 1638 (fn. 493) and from 1670 by Richard Smart, who was described in 1684 as a cloth-maker. (fn. 494) The site then also included several corn-mills (fn. 495) and, after it had passed to Elizabeth Sackville in 1713, (fn. 496) it was used both as a corn- and a fulling-mill. (fn. 497) In the early 19th century the mill was worked by Samuel Bowly of Cirencester (d. 1820) (fn. 498) and in 1839 by its owner, William Crotch Bowly (fn. 499) (d. 1861). (fn. 500) The Bowlys used it solely as a corn-mill and in 1859 a steamengine was installed and the building strengthened by external butresses. (fn. 501) The mill, owned by William Bowly in the early 1890s, (fn. 502) was bought by Lord Sherborne in 1895. (fn. 503) Milling stopped c. 1913 (fn. 504) and the building was acquired in 1926 by the tenant Arthur Severn (d. 1949). (fn. 505) The engine shed had fallen down by 1965 when the mill was bought by Mr. D. C. W. Verey, who restored the mill and an adjoining cottage for use as a folk museum. (fn. 506) The mill with its mill-house, situated on a long mill race, is of various dates from the 17th to the 19th centuries.
A mill in Ablington was among the property granted, probably in the mid 12th century, by Robert d'Evercy to Bruern Abbey (Oxon.) (fn. 507) which held it in the mid 1380s. (fn. 508) Another mill there was recorded on the bishop's estate from 1299. (fn. 509) In the late 14th century and early 15th millers were frequently presented from Ablington for taking toll, (fn. 510) indicating possibly that both mills were in use as corn-mills. By 1540 Bruern Abbey's mill had passed to Sir Edmund Tame, who leased it to Ralph Eve, a Cirencester fuller. By 1564 Ralph had built a fullingmill there. (fn. 511) The mill was sold by Richard ap Owen the following year to John Coxwell, (fn. 512) who acquired other mills with the manor in 1574. (fn. 513) Of the two mills facing each other at the western end of the hamlet in 1777, (fn. 514) Ablington mill on the north-eastern bank remained in 1840. (fn. 515) It was worked solely as a corn-mill in 1862 (fn. 516) and 1914 (fn. 517) but had apparently gone out of use by 1920. (fn. 518) The mill, an 18th-century building, was later converted as a house.
The mill recorded in Winson in 1086 (fn. 519) and mentioned in 1221 (fn. 520) was called Winson mill by 1527. (fn. 521) The mill, north of the village with its buildings mainly in Coln St. Dennis, may be of the 17th century but was remodelled and enlarged to include a miller's house in the 19th century. It was worked as a corn-mill in 1836 by Robert Coles (fn. 522) (d. 1862) and then by his son William. (fn. 523) It was in use in 1882 (fn. 524) but was abandoned c. 1912 (fn. 525) and later converted as a house.
Other Industry and Trade
Until the mid 18th century a woollen textile industry was based on the mills in Arlington and Ablington. Benedict of Ghent, who lived in Arlington c. 1300, (fn. 526) may have been connected with the wool trade. Arlington had a walker in 1327 (fn. 527) and possibly a weaver in 1381. (fn. 528) In 1608 3 fullers were listed in Ablington and 2 weavers in Arlington. (fn. 529) Thomas Tryon as a child was occupied between 1643 and 1646 in spinning and carding in Arlington (fn. 530) where fulled cloths were evidently dried on Rack Isle, which was associated with Arlington mill by 1680. (fn. 531) Rack Close in Ablington was used for the drying of narrow fulled cloths in 1690. (fn. 532) A Bibury weaver was mentioned in 1685 and Benjamin Archer of Arlington, described as a clothier in 1694, (fn. 533) had a warehouse which by 1727 had passed to his daughter Sarah, wife of William Field, a Cirencester wool-comber. (fn. 534) No later evidence of the woollen cloth industry has been found.
Quarrying was once important. From the earlier 8th century quarries were recorded in Ablington (fn. 535) which later had the reputation for the best tiles in the Cotswolds; (fn. 536) a field north of Downs Barn was called Slate Quarry Ground in 1840. (fn. 537) In 1382 there was a quarry at Bywell hill (fn. 538) where a new quarry was mentioned in 1436. (fn. 539) A quarry recorded near Ready Token in 1625 (fn. 540) was being worked in the late 17th century. (fn. 541) Two masons were noted in Bibury in 1608, (fn. 542) a free mason in 1699, (fn. 543) and a mason in the mid 18th century. (fn. 544) In the early 18th century masons were recorded in Arlington (fn. 545) where in 1777 there was a quarry at Arlington Pike. (fn. 546) In the early 19th century the most important quarries were to the south-west, partly in Barnsley. (fn. 547) In 1806 2 masons and 5 slaters lived in Bibury (fn. 548) and in 1856 there was a stonemason in Bibury and another in Arlington. (fn. 549)
Most inhabitants were employed in agriculture but the usual village trades were regularly represented in Bibury and its hamlets. In 1831 127 families were supported by agriculture and 67, of whom over half came from Arlington, by trade, manufacture, and handicraft. (fn. 550)
A smith was recorded on the Bibury estate in 1302 or 1303 (fn. 551) and in the later 15th century, (fn. 552) and trade surnames of villagers assessed for the subsidy in 1327 included those of carter and chapman. (fn. 553) In the later 19th century several shopkeepers, a butcher, a baker, a carpenter, a plasterer, a glazier, a tailor, a shoemaker, a saddler, and a surgeon lived there. (fn. 554) Among the more unusual trades represented were those of tallow-chandler in 1776 (fn. 555) and collar-maker in 1787. (fn. 556) A farrier worked in the parish in the mid 20th century. (fn. 557) In 1975 several shops in the village catered for the tourist trade.
The trades followed in Arlington were more varied, some early ones arising from the cloth industry. In the 1860s calico was manufactured in the hamlet (fn. 558) where the tradesmen listed in 1856 were a shopkeeper, a grocer and draper, a butcher, a carpenter, a cooper, a tailor, a shoemaker, a watchmaker, a cattle-dealer, a drillman, and a surgeon. (fn. 559) A blacksmith was recorded there from 1698 (fn. 560) and in 1870 there were two. In the early 20th century trades connected with motoring became significant and Arlington residents in 1939 included 3 motor engineers. (fn. 561) In 1975 an agricultural contractor lived at Meadowlands.
Few trades were recorded in Ablington and Winson. Ablington had a shoemaker in 1381 (fn. 562) and a carpenter in the later 19th century. Residents in the early 20th century included a sack-dealer and in the 1930s a haulier. (fn. 563) In 1975 a small firm of agricultural engineers occupied premises at the former airfield near Oldwalls Sheds. In Winson there was a blacksmith in 1672 (fn. 564) and in the early 20th century, (fn. 565) and a joiner in the early 1830s. (fn. 566) In 1856 Winson tradesmen included a shopkeeper, a stonemason, a carpenter and postmaster, a butcher, a baker, and a carrier. A dress-maker lived there in 1919 and a tobacco dealer in the 1930s. (fn. 567) The village had a post office in 1975.
Local Government
In 1086 Bibury was named as a distinct hundred including Arlington, Aldsworth, and Barnsley (fn. 568) but by 1221 the court attended by the vills of Bibury, Arlington, Aldsworth, Barnsley, and Eycot in Rendcomb implemented orders of the officers of the abbot of Cirencester, (fn. 569) lord of Brightwells Barrow hundred. The ascription of hundredal status to Bibury presumably resulted from the liberties held by the lord of the manor, the bishop of Worcester, who in 1276 was excluding the royal bailiffs and claiming return of writs, vetitum namium, gallows, and assize of bread and of ale. (fn. 570) In 1287 he was summoned to justify his claim to view of frankpledge, waif, free warren, and vetitum namium. (fn. 571) In 1299 customary tenants were obliged to guard and conduct prisoners to Gloucester. (fn. 572) The duty of a free tenant to attend the county court (fn. 573) was commuted in 1399. (fn. 574) Edward II's confirmation to the bishop of the liberty of return of writs led Cirencester Abbey to complain in 1314 or 1315 that its hundredal rights were prejudiced. (fn. 575)
For the Bibury court, mentioned again c. 1270, (fn. 576) rolls survive for the periods 1382–90, 1432–77, 1496–8, 1611–44, 1684, 1712–15, and 1723. The court, which was then the court leet for the tithings of Bibury, Ablington, Aldsworth, and Eycot, dealt with the assize of bread and of ale, pleas of debt, bloodshed, hue and cry, sale of meat, fishing, and the maintenance of ditches and roads, besides tenurial and agrarian matters. In the early 17th century presentments were made for playing bowls, not maintaining the butts, and not keeping a crows' net. In some earlier courts tithingmen for Bibury and Aldsworth and a reeve for Bibury were elected and from the 17th century constables for Bibury and Aldsworth and tithingmen for each of the tithings. In 1626 a hayward and two sheep-cleaners were appointed for Bibury. (fn. 577)
About 1290 the bishop quitclaimed the suit of Oseney Abbey to the court and view (fn. 578) but in 1441 the abbey was presented for holding its own view. (fn. 579) Court rolls for Bibury Oseney manor survive for 1427, 1479–80, 1499, 1501–2, (fn. 580) and the period 1611–1723 during which it still exercised leet jurisdiction. The court elected its own tithingman (fn. 581) but that officer was not recorded in 1627 and 1636 when Bibury, Arlington, Ablington, and Winson each had its own tithingman. (fn. 582)
Although the lord of Bibury manor was said in 1697 to have leet jurisdiction over Arlington, Winson, and Barnsley (fn. 583) there is no evidence on the Bibury court rolls that those tithings attended. Arlington, withdrawn from the bishop's view by Richard de Clare, earl of Gloucester 1243–62, (fn. 584) attended the view of the honor of Gloucester held at Fairford, (fn. 585) although in 1383 a distraint on the lord of the manor to attend the Bibury court was ordered. (fn. 586) The tithingman of Arlington attended the Fairford court during the period 1788–1836. (fn. 587) Winson tithing attended the view held in the Bradley hundred court in the early 15th century. (fn. 588) Tenants of Gloucester Abbey in Ablington in the early 16th century owed suit twice a year to Coln Rogers manor court. (fn. 589)
Court rolls for Arlington manor survive for 1427, 1479–80, 1499, and 1501–2, (fn. 590) and for the period 1612–44 when it dealt with agrarian matters. (fn. 591) Records of the Ablington manor court include rolls and papers 1574–1737 and draft rolls and original presentments 1652–72. The court was concerned mainly with copyhold and agrarian matters but in 1692 it dealt with the repair of a bridge. (fn. 592)
Bibury had two churchwardens in 1498 and 1543. (fn. 593) Three churchwardens were recorded from 1576, Bibury, Arlington, and Ablington each having its own, (fn. 594) until the mid 19th century after which there were two. Their accounts survive for the periods 1651–7, (fn. 595) 1703–26, (fn. 596) and 1844–89. (fn. 597) In Winson two churchwardens were recorded from 1543 (fn. 598) and their accounts survive from 1812 to 1915, (fn. 599) but by 1939 Bibury and Winson had the same churchwardens. (fn. 600)
Bibury had two surveyors of highways whose accounts survive from 1811 to 1836. (fn. 601) In 1848 two surveyors each were also chosen for Arlington and Ablington but later they had one each. (fn. 602) In 1636, when Bibury parish for poor-law purposes comprised Bibury, Arlington, and Ablington tithings, the overseers of the poor were neglecting to provide accommodation for a poor parishioner although the church house was being used as a poorhouse. (fn. 603) The house, which in 1720 was assigned to trustees for the maintenance of the poor and the repair of the highways, (fn. 604) was occupied by paupers in 1806 (fn. 605) but had been leased by 1844. (fn. 606) The three tithings each had an overseer in 1720 and later, (fn. 607) although in 1781 only two were recorded for the parish. Winson, which was not rated for poor-relief with the rest of the parish, (fn. 608) had clearly become a separate administrative unit by 1636. It had its own constable possibly in 1627 (fn. 609) and certainly in 1715 (fn. 610) and a surveyor in 1861. (fn. 611) A poorhouse west of Winson village was recorded in 1839. (fn. 612)
Between 1776 and 1803 expenditure on poorrelief more than doubled in Bibury from £202 to £570 and in Winson it rose from £63 to £106. (fn. 613) After the poor harvest of 1795 the vestry in Bibury agreed to provide cheap flour, and bread and money were later distributed to the poor; in 1799 it was agreed to raise the weekly wage to 9s. and proposals to aid relief in 1800 included selling rice to the poor, distributing bread or money, obtaining spinning work from Witney (Oxon.), and using charity money to buy clothes for the most needy children at Christmas. (fn. 614) In 1803 45 people in Bibury were helped regularly and 39 occasionally and in Winson 15 people received aid regularly and 40 occasionally. (fn. 615) In the next ten years expenditure almost doubled to £1,057 in Bibury and to £199 in Winson; the numbers receiving regular relief rose to 81 and 32 respectively but those on occasional relief fell in both places. By 1815 there had been a considerable drop in the numbers receiving aid and in the cost of relief which was £651 in Bibury and £107 in Winson. (fn. 616) In the late 1820s expenditure averaged £440 in Bibury and £104 in Winson (fn. 617) but by 1834 it had risen to £506 in Bibury and had fallen to £78 in Winson. (fn. 618) In 1836 Bibury and Winson became part of the Northleach poor-law union (fn. 619) and they remained in Northleach rural district until 1974 (fn. 620) when they were included in Cotswold district.
Churches
A church had been founded at Bibury by 899 when Bishop Waerfrith in leasing land to a priest reserved the church-scot and soul-scot paid to Bibury. (fn. 621) A priest was recorded in 1086. (fn. 622) In 1151 Oseney Abbey was permitted by the bishop to appropriate the church and its dependent chapels; (fn. 623) the latter, at Aldsworth, Barnsley, and Winson, were mentioned in 1276. (fn. 624) The abbey was taking mortuaries in Aldsworth and Barnsley in the mid 13th century, (fn. 625) and in 1291 the Aldsworth tithes were included in the valuation of the living. (fn. 626) Aldsworth and Barnsley later achieved independent status but Winson remained a chapelry.
From the later 12th century Bibury church was served by canons of Oseney Abbey specially nominated to the custody and cure of the church and its chapels. (fn. 627) The parish priest ordered in 1339 to induct a canon was probably the official of Bibury peculiar. (fn. 628) The process of nominating canons was recorded in 1457. (fn. 629) In 1498 the church had two chaplains, one of whom may have served at Winson. (fn. 630) No record of the ordination of a vicarage has been found but the priest serving the living was styled vicar in 1532 (fn. 631) and in 1535 he had a portion of the tithes. (fn. 632) After the Dissolution the living was accounted a vicarage. In 1932 Bibury with Winson was united with Barnsley. (fn. 633)
Oseney Abbey had presumably claimed a peculiar jurisdiction for the church and its chapels by 1173 when the bishop's rights were safeguarded in an agreement under which the abbey paid £3 a year for the church; (fn. 634) that pension was later paid to Worcester Priory. (fn. 635) The bishop's right of visitation was upheld in 1276, (fn. 636) suggesting that the scope of his jurisdiction was disputed then. For the jurisdiction exercised by the abbey through its official (fn. 637) and the peculiar court, recorded in 1280, (fn. 638) the bishop received a pension of 10s. in 1347 (fn. 639) and of 12s. from c. 1380. (fn. 640) The peculiar had archidiaconal jurisdiction in the 17th century (fn. 641) but exemption from episcopal visitations was persistently claimed from the late 16th (fn. 642) and marriage licences were granted in the 17th. (fn. 643) In the 17th century and early 18th the official, who might be the vicar, was appointed by the lay rector for terms of 3 or 4 years. (fn. 644) The dispute over visitations was not ended by an award of the Court of Arches in 1741 which, besides upholding the bishop's right to hold triennial visitations in Bibury or Barnsley church, protected the peculiar's testamentary jurisdiction and granted its official concurrent authority with the bishop's chancellor in issuing marriage licences within the peculiar. (fn. 645) No episcopal visitations were held after 1752. (fn. 646) Records of the peculiar's probate jurisdiction survive for the period 1590–1833; (fn. 647) other records of the peculiar include marriage licences for the period 1769– 1813, (fn. 648) churchwardens' presentments 1619–23, and an act book 1638–9. (fn. 649)
After the Dissolution the advowson of the vicarage passed with the rectory estate. (fn. 650) The Crown presented to the living in 1548 and the patronage was granted away for one turn in 1561. The Crown presented in 1576 but in 1582 Edward Evans of Mold (Flints.) claimed to be patron. In 1599 John Coxwell of Ablington presented to the living (fn. 651) under a grant from Richard Platt, patron for the turn. In 1622 William Westwood sold the next turn to Arthur Crewe of Hawkesbury, from whom it was acquired by Francis Heydon of Shipton Solers. In the late 1620s Heydon was contesting the patronage with Sir Thomas Sackville and Richard Westwood; another claimant to the patronage was Nathaniel Coxwell. (fn. 652) Eventually, in 1629, Heydon's presentee was instituted. Richard Westwood unsuccessfully presented in 1641. (fn. 653) In 1697 Henry Sackville sold two presentations (fn. 654) but at the second in 1756 the bishop collated through lapse. In 1843 William Strahan was patron for the turn. (fn. 655) In 1962 Elfrida, Lady Clarke, and W. H. Wykeham-Musgrave had alternate rights of appointment to the united benefice (fn. 656) but by 1975 Lady Clarke's interest had been acquired by the bishop. (fn. 657)
Oseney Abbey appropriated the tithes with the church in 1151. (fn. 658) The Arlington tithes, however, had been acquired by the early 12th century by Lire Abbey (Eure) (fn. 659) which c. 1230 agreed to let them at farm to Oseney Abbey. (fn. 660) The farm was paid to Sheen Priory (Surr.) from 1414 (fn. 661) and was recorded in 1607 when the grantee of part of Arlington manor was exempted from payment. (fn. 662) Cirencester Abbey had a tithe-portion in the church in 1291 for its property in Aldsworth. No mention was made then of the Winson tithes (fn. 663) although in 1224 Oseney Abbey farmed two-thirds of them from a prebendary of Romsey Abbey (Hants). (fn. 664)
In 1280 Oseney took the tithes of wool and lambs, (fn. 665) the other tithes presumably being set aside for the canon serving the church. By 1535 the vicar had been assigned the grain tithes (fn. 666) but the tithes of the rectory estate went to the appropriator. (fn. 667) In 1576 no tithes were being exacted in Winson (fn. 668) but in 1617 the vicar made an assignment of his Winson tithes (fn. 669) and in 1730, after inclosure, he was disputing certain tithes there. (fn. 670) The open-field tithes taken by him in Bibury and Arlington were commuted at inclosure in 1768. (fn. 671) In the 18th century the vicar took a modus in kind or cash for the tithes of milch cows, calves, sows, and gardens, and customary payments of eggs for poultry on Good Friday. His remaining tithes taken in kind (fn. 672) were leased to land-holders in the early 19th century. (fn. 673) Agistment tithes which he claimed in 1824 (fn. 674) were paid to him the following year. (fn. 675) In 1839, when 212 a. formerly belonging to Oseney Abbey were described as tithefree, the vicar's tithes in Arlington and Winson were commuted for a rent-charge of £650 18s. 6d. (fn. 676) His tithes in Ablington were commuted the following year for a rent-charge £364 5s. (fn. 677)
The church was worth £26 13s. 4d. in 1291 and included a portion of £2 13s. 4d. paid to the bishop of Worcester (fn. 678) from 1285 by Oseney Abbey instead of providing hospitality. (fn. 679) In 1535 the clear annual value of the vicarage and Winson chapelry was £13 1s. 4d., the vicar's income being derived principally from the grain tithes, for he had no glebe apart from a small close. (fn. 680) In 1650 the living excluding the chapelry provided an income of £103. (fn. 681) In the early 18th century the glebe comprised c. 4 a. (fn. 682) but in 1768 the vicar was allotted 222 a. in Bibury and Arlington for his tithes there. (fn. 683) The glebe was extended at 242 a. in 1838. (fn. 684) The value of the vicar's tithes increased considerably with the extension of arable farming in the later 18th century (fn. 685) and the living rose in value from £400 in 1750 (fn. 686) to £1,045 in 1856. (fn. 687) Most of the glebe was sold to S. J. Phillips & Sons in 1956. (fn. 688)
In 1520 a house on the rectory estate was provided for the canon serving the living. (fn. 689) The vicarage recorded in 1617 (fn. 690) stood by the churchyard (fn. 691) and was assessed on 4 hearths in 1672. (fn. 692) The house, described in the late 17th century as 'the parson's brave house', (fn. 693) was rebuilt in the early 18th. (fn. 694) A new vicarage was built in Tudor style north-west of the village c. 1844 (fn. 695) but between c. 1894 and c. 1906 the vicar lived in a cottage in Arlington. (fn. 696) The vicarage was sold with 10 a. of land c. 1965. Saltway Cottage, east of Packhorse lane, then became the vicarage and was enlarged. (fn. 697)
Of the canons serving Bibury, Peter Oxenford, appointed in 1453, burdened the church with pensions and wasted its goods before being recalled in 1457. His successor Thomas Walgarcote (fn. 698) resigned in 1458 on being elected prior of Chetwode (Bucks.). (fn. 699)
The clergy serving the living in 1525 included a curate. William Shelden, vicar from 1548, (fn. 700) who could not recite the Commandments or prove the Articles in 1551, (fn. 701) was deprived in 1554 for being married. Lawrence Gase, vicar from 1559, was succeeded in 1561 by Richard Bagge (fn. 702) who granted him a pension of £4 which they later disputed. (fn. 703) Bagge, formerly a baker's apprentice and then a friar, was presented in 1563 for not serving every Sunday, immoral conduct, not being a grammarian, and laxity in enforcing the peculiar jurisdiction, a duty to which he had presumably been appointed by the lay rector. In the same year he was dispensed to hold two benefices (fn. 704) but was said to be resident. (fn. 705) During the incumbency of the non-resident Lewis Evans, vicar 1566–76, the church was served by curates; (fn. 706) in 1576 the curate was said to neglect the church through his work at Winson. (fn. 707) David Rice, vicar 1576–99, (fn. 708) was excommunicated for violence in Winson chapel but the sentence was lifted in 1577. (fn. 709) Rice was described as neither graduate nor preacher in 1584 when he held another benefice. (fn. 710)
In 1627 John Randall was presented to the vicarage (fn. 711) which was claimed by Robert Knollys, in whose favour Randall resigned in 1629. (fn. 712) Knollys (d. 1641), who also held the living of Wick Rissington, (fn. 713) involved himself in many lawsuits, (fn. 714) including one against Nathaniel Coxwell with whom he had entered into an agreement to secure his title to the living. (fn. 715) Against Sir Thomas Sackville he alleged an encroachment on the churchyard during the building of the manor-house. (fn. 716) Knollys also claimed all the tithes and the right to hold the peculiar court; in 1631 he suspended his curate for refusing to recognize his court. (fn. 717) In 1639 the parishioners complained that through his litigiousness and consequent absence he neglected services, did not catechize, preached seldom, and did not provide the Sacraments. (fn. 718)
Benjamin Winnington, vicar 1641–73, (fn. 719) described in 1650 as a constant preacher, (fn. 720) was remembered for his long sermons. (fn. 721) John Vannam, rector of West Camel (Som.), was vicar 1673–1721, (fn. 722) and in 1718 a curate was licensed to serve the church. William Somerville, vicar 1756–1803, appointed curates and in 1774 he was dispensed to hold Aston Somerville rectory. (fn. 723) Charles Coxwell, rector of Barnsley and lord of Ablington manor where he lived, was vicar from 1806 until 1809 when he resigned in favour of Sackville Cresswell (d. 1843). (fn. 724) F. G. Dutton, vicar 1874–1916, succeeded later, as 5th Baron Sherborne, to the Bibury estate. (fn. 725)
In the mid 1540s 18 a. of land, mostly in Ablington, were given for a lamp in the church. (fn. 726) The land, valued at 2s. in 1548, (fn. 727) was the subject of grants by the Crown until 1609 when it was bought by Nathaniel Coxwell. (fn. 728) Property including the church house and land, given for the repair of the church, (fn. 729) was administered by trustees in 1656. (fn. 730) At the inclosures of the later 18th century the churchwardens were allotted c. 19 a. in Arlington and Ablington for the land. (fn. 731) The church house was used as a poorhouse in 1636 and until the early 19th century, but by the mid 19th century the house and several cottages, a shop, and 20 a. of land were leased and the rents applied to church repairs. (fn. 732) The house was pulled down in 1878 to be replaced by the readingroom and several cottages. (fn. 733) The cottages, which had been brought under a charitable Scheme by 1896, (fn. 734) were used as alms-houses in the early 20th century. (fn. 735) William Forden of Ampney Crucis by will dated 1683 gave a stock of £5 to the churchwardens for the use of the church. The principal was lent out until 1725 when it was spent on repairs to the church. (fn. 736)
The church of ST. MARY, so called by the mid 13th century, (fn. 737) is built of rubble and ashlar and has a chancel and an aisled and clerestoried nave with north-west tower and south porch. The underlying plan is that of a large pre-Conquest church, part of whose walls survive almost to roof level in places. It had a simple plan of chancel and nave, there being no evidence for lateral extensions, and the walls were of rubble with long and short quoins and narrow pilaster buttresses of ashlar. The church appears to have survived without alteration until the later years of the 12th century when a period of major alterations, extending well into the 13th century, began.
The first addition was a north aisle with an arcade of three bays, and later the chancel was extended eastwards to almost double its length and the nave was extended westwards by two bays. Simultaneously the north aisle was extended and the tower was built over its westernmost bay. Finally the south aisle, which has three bays and extends only half the length of the nave, and south porch were added. The only later addition to the plan arose from the rebuilding of the north aisle to a slightly greater width in the earlier 14th century. The original 12th-century doorway was then reset and cusping added to the tympanum. The walls of the nave were heightened in the 15th century when a clerestory was added and a new roof put on. Other windows were also put in, notably those in the south aisle and the west end of the nave. The Wilcox chapel mentioned in 1527 was presumably in one of the aisles. (fn. 738)
Repairs to the north aisle and tower were carried out in 1760. (fn. 739) About that time a large figure of St. Christopher on the aisle wall was whitewashed over. (fn. 740) The church was restored in 1863, apparently by Sir Gilbert Scott, (fn. 741) and between 1895 and 1900 by Messrs. Waller. (fn. 742) In 1920 the chancel was cleared by moving the choir stalls to the nave and the chancel arch opened to full view by removing the organ to the south aisle. (fn. 743) Some of the 19th-century innovations were removed in 1949 when the tiles on the chancel floor were replaced by stone and a red colour wash on the walls was covered with a lime wash. (fn. 744)
Several sculptured stones in the Scandinavian and native Saxon tradition were moved from the churchyard to the tower in 1896; one was reset in the external north wall of the chancel c. 1913 when four others were presented to the British Museum. (fn. 745) The font, a square bowl on an octagonal stem surrounded by four octagonal shafts, dates from the early 13th century. The church bells mentioned c. 1652 (fn. 746) numbered five c. 1703 (fn. 747) and were recast into six by Abraham Rudhall in 1723. (fn. 748) The plate includes a chalice and paten of 1681. (fn. 749) The church had a clock by 1635. (fn. 750) The east window commemorates Lady Elizabeth Dutton (d. 1845) and John William Dutton (d. 1850), mother and brother of Edward Dutton, 4th Baron Sherborne. (fn. 751) The registers survive from 1551 but no burials were recorded between 1588 and 1602. (fn. 752)
Part of the churchyard called Bisley piece was believed by tradition to have been used for burials of Bisley parishioners while that parish was under interdict. (fn. 753)
Architectural evidence shows that at Winson the chapel, dedicated to ST. MICHAEL by 1457, (fn. 754) existed by the 12th century but the earliest known documentary reference is of 1276. (fn. 755) Church-scot, paid by the inhabitants of the chapelry to the bishop, (fn. 756) had been appropriated by 1450 or 1451 by Nicholas Poyntz, owner of part of Winson manor, (fn. 757) but by 1487 had been recovered by the bishop. (fn. 758) The chapelry had its own churchwardens and presumably its own rates for, although in 1639 the churchwardens made payment to the Bibury churchwardens, (fn. 759) the chapelry was not rated for the repair of the parish church in 1704. (fn. 760) The right of burial, exercised from 1602, (fn. 761) was confirmed to the chapel in 1738. (fn. 762)
The chapel was served from the parish church in the Middle Ages but may have had its own chaplain in 1498 (fn. 763) and possibly a stipendiary priest in 1535. (fn. 764) In the early 1540s it was served by a curate supported by the lessee of the rectory estate. (fn. 765) In 1563 the vicar served in person (fn. 766) and in 1576 the curate of Bibury, when he was ordered to stop serving and the vicar to appoint a curate specifically for the chapel. (fn. 767) Curates were recorded from the later 16th century until the early 18th; (fn. 768) in 1650 the curate had a stipend of £16. (fn. 769) In 1738 the chapel had a service every Sunday. (fn. 770) Charles Coxwell during his incumbency employed a curate for Winson and Barnsley, (fn. 771) but thereafter the chapel was usually served with Bibury church by the vicar or his curate. (fn. 772)
The chapel comprises chancel and nave with south porch and west bellcot. The chancel and nave are of the 12th century. There was some enlargement of the windows in the 13th century and in the 14th when the south porch was added and the nave reroofed. The chancel walls were said in 1620 to be on the point of collapse. (fn. 773) The chapel was restored in the 19th century, possibly c. 1882 when the east window was presented by Mrs. G. M. Wilson of Ablington Manor. (fn. 774) There was some renewal of tracery, the chancel roof was replaced, and the walls were covered with stencil decoration. The font has a 12th-century bowl on a 19th-century base. Most of the other fittings are of the 19th century. The two bells were cast by Thomas Rudhall in 1764. (fn. 775) The plate includes a chalice and paten of 1800. (fn. 776) In the churchyard are several elaborate tomb-chests. The chapel had its own separate registers from 1577. (fn. 777)
Nonconformity
In 1676 ten protestant non-conformists were recorded in the parish. (fn. 778) A house in Bibury was registered in 1706 for use by Independents (fn. 779) and there was a dissenting preacher in 1715. (fn. 780) The meeting may have been that of Congregationalists, founded by a Mr. Jacobs (d. c. 1710), which in 1743 numbered forty, (fn. 781) but no record has been found of it after 1750. (fn. 782) There were 11 nonconformists in Bibury village in 1806. (fn. 783) Premises in Bibury and Ablington were registered for use by nonconformists in 1842. (fn. 784)
A house in Arlington was registered by Independents in 1730. The Independents who in 1760 intended holding a meeting in Arlington Row were probably Presbyterians, by whom six children were baptized that year. (fn. 785) A newly built house registered in Arlington in 1754 (fn. 786) may have been used by the Baptists. Their chapel, standing north-west of the green, was rebuilt in 1839 (fn. 787) when the meeting's connexion with Fairford was severed. (fn. 788) In 1806 22 nonconformists were recorded in Arlington (fn. 789) but in 1851 the Baptist chapel had an average attendance of c. 220. (fn. 790) A legacy of £100 by Molly Taylor (d. 1822) was applied to the minister's salary by 1834. (fn. 791) The manse south-east of the chapel, dating from the 1830s, was sold in 1966 and a new one built. (fn. 792)
In Winson one nonconformist was recorded in 1676 (fn. 793) and seven in 1806. (fn. 794) A meeting established there before 1800, had an average attendance of 35 in 1851, when it was described as Primitive Methodist, (fn. 795) and from the late 19th century occupied a hut east of the Coln Rogers road. (fn. 796) The hut was sold in 1965 (fn. 797) and had been demolished by 1975. Premises in Winson were registered for use by unidentified nonconformists in 1823 and 1842 and by Baptists in 1843. (fn. 798)
Education
In 1568 a school was being held without licence by John Stone of Bibury. (fn. 799) About 1640 Thomas Tryon attended a school in the village. (fn. 800) Charles Coxwell, during his incumbency 1806–9, paid four women, two in Bibury, one in Arlington, and one in Ablington, to teach children to read (fn. 801) and in 1807 he reported that reading was adequately taught but not writing. (fn. 802) In 1818 the poor were educated by private subscription, (fn. 803) and in 1833 a boarding school with 26 children and a day-school with 12 boys, begun in 1831, were both run at the parents' expense. There was also a day-school on the Lancastrian system with 60 children, supported by weekly pence, contributions, and £5 a year from Lord Sherborne, who provided the schoolroom. (fn. 804) It was replaced by Bibury National school, established in 1845 in a building on the glebe north-west of the church, which was supported by subscriptions and school pence in 1852 when it had an average attendance of 70. (fn. 805) The building was enlarged in 1872 to include an infants' department (fn. 806) and by 1885 the average attendance was 112. (fn. 807) As Bibury C. of E. school it had an average attendance of 118 in 1904, (fn. 808) 62 in 1922, (fn. 809) and 112 in 1932. (fn. 810) In 1975 there were 38 children on the roll of Bibury Primary school. (fn. 811)
In the early 19th century an evening-school was formed at Arlington mill by Samuel Bowly (fn. 812) but the only school recorded in Arlington in 1833 was the Baptist Sunday school which was supported by subscriptions and had an attendance of 80. (fn. 813) In 1845 Arlington British school was opened in a new schoolroom adjoining the Baptist chapel. The school, supported by school pence and voluntary contributions in 1870, was later closed. (fn. 814)
There was no school in Winson in 1833. (fn. 815) By 1847 there was a C. of E. school, supported partly by subscriptions and payments; some of the 19 children came from Coln Rogers whose rector defrayed half the expenses. (fn. 816) Coln Rogers children also attended Sunday school in Winson in 1851. (fn. 817) The day-school, a National school by 1856, (fn. 818) occupied a small building, altered in 1874, north of the chapel. The school, supported in 1875 by voluntary contributions and school pence, was closed in 1922 (fn. 819) when its average attendance was 19. (fn. 820) The building was unused in 1975.
Charities for the Poor
Hugh Westwood (d. 1559) left the rents from his lands in Ampney St. Peter, Ampney Crucis, and Ampney St. Mary to provide weekly payments and wood and coal for four poor men of Bibury who were to live in an almshouse, for the building of which he gave £40 charged on Arlingham manor. The endowments, however, were appropriated by Robert Westwood (d. 1600) against whom the trustees took legal action. In 1603 a Chancery decree ordered the purchase of a site for the alms-house, to be called Jesus Almshouse, to house four elderly bachelors who were each eventually to receive a coat, 18s. 6d. for firewood a year, and a weekly payment of 1s. 4d. (or 1s. 6d. for the alms-man chosen as master). They were to attend church three times a week. (fn. 821) The alms-house had been built by 1607 (fn. 822) on land belonging to the parish (fn. 823) in the northern angle of the village street and the road to the square. (fn. 824) It needed repairs in 1829. (fn. 825) By the later 19th century women were recipients of the charity. (fn. 826) Under a Scheme of 1901 the income was laid out in pensions for two men and the alms-house was repaired for letting; it was sold to Lord Sherborne in 1902. (fn. 827)
Katherine Sackville (d. 1760) left £100 for the poor to be administered by her niece Anne Cresswell who at her death in 1791 left a similar sum. Payments from the charities ceased in 1823 and had not been resumed by 1829. (fn. 828) In the mid 19th century the charities were used occasionally to buy flannel and calico (fn. 829) and from 1914 to pay for dental treatment. (fn. 830)
John Smithyer of Arlington (fn. 831) left £10 for four or five poor people. The charity, first recorded in 1639, (fn. 832) was paid to 4 widows by 1653. (fn. 833) About 1691 it was appropriated for the use of the church (fn. 834) and from then 10s. a year from the church- or poor-rate was shared among the widows. (fn. 835) Payments were made in 1844 (fn. 836) but ceased before 1866 when it was agreed to resume them. (fn. 837) By a bequest, apparently made in 1676, Thomas Tawney left £50 in reversion to the poor. The principal was lent out in the early 18th century, a distribution of the interest among the poor being recorded in 1725. The same year the principal was appropriated for paving the church and until 1753 it was held by the vicar, £2 10s. a year derived from church property being distributed at irregular intervals to the poor. In 1753 the principal was transferred to the churchwardens but no record of any distribution has been found between 1754 and 1829 when the £2 10s. was used to buy linen at Easter for poor elderly women. (fn. 838)
The above-mentioned charities, together with the church lands charity which included cottages used as alms-houses, were consolidated and brought under a single trust as the United Charities in 1898. Under the Scheme the churchwardens were to pay 10s. and £2 10s. for the Smythyer and Tawney charities but the latter sum had not been paid for many years by the early 1970s when the united charities were benefitting the elderly. (fn. 839)
Charles Rogers Coxwell (d. 1893) by will established a Christmas charity for the poor of Ablington. In the early 1970s its income of £7 was shared between seven needy people. The Eric William Bowman Vaughan charity, established in 1926, had an income of £5 in the early 1970s and was distributed in wood at Christmas to c. 32 elderly people. (fn. 840)