Pages 86-96
A History of the County of Gloucester: Volume 7. Originally published by Oxford University Press for Victoria County History, Oxford, 1981.
This free content was digitised by double rekeying and sponsored by Victoria County History Gloucestershire. All rights reserved.
Hatherop
The Rural Parish of Hatherop, which included the hamlet of Netherton, lies 13.5 km. ENE. of Cirencester. The ancient parish was irregular in shape, with a peninsulated part extending southeastwards beyond the Fairford—Southrop road, and an elongated tongue stretching north-eastwards from the river Coln to take in Dean Farm and Dean Camp, an ancient hill fort beyond the river Leach, which had ceased to run there by 1976. The parish enclosed on three sides Williamstrip, a large detached portion of Coln St. Aldwyns parish (fn. 1) represented in 1086 by an estate called Hatherop, (fn. 2) probably attached to Coln St. Aldwyns through the grant before 1096 of some of its tithes to Gloucester Abbey. (fn. 3) In 1530 tenants of Coln St. Aldwyns were presented in court for driving their animals through Hatherop manor. (fn. 4) The boundary with Williamstrip was changed after inclosure, and by an exchange before 1812 61 a. were transferred to Hatherop and 92 a. to Coln St. Aldwyns. (fn. 5) In the later 19th century Hatherop parish with an area of 2,124 a. was bounded by the Coln on the west, a salt-way on parts of the south and east, the Burford road and Akeman Street for short sections north-east of Hatherop village, which grew up near the western boundary, and streams and field boundaries elsewhere. (fn. 6)
In 1935 the parish was reduced to 1,360 a. (550 ha.). The tongue of land extending beyond the Leach and parts of Williamstrip park north of Hatherop village, a total of 818 a., were exchanged for 57 a. of Coln St. Aldwyns thereby placing the northern boundary of the parish on the roads to Coln St. Aldwyns and Burford. The transfer of 3 a. to Quenington (fn. 7) brought the western boundary back into line with the river Coln which between 1862 and 1881 had been diverted eastwards along the race of Netherton mill. (fn. 8) The account printed below covers the area included in the parish until 1935 except for those parts in Williamstrip park which are dealt with under Coln St. Aldwyns.
The parish rises from c. 91 m. in the Coln valley and the south to over 122 m. south-west of Dean Farm and over 137 m. north of the Leach which crossed the parish at over 107 m. The land is formed by Forest Marble or the underlying strata of the Great Oolite but there are areas of cornbrash south of the village and in the far south. (fn. 9) The area of Dean farm was inclosed earlier than the rest of the parish which mostly lay in open fields and common pasture until parliamentary inclosure in 1766. Arable farming has predominated, there being only a small area of meadow land, and sheep-farming was important by the mid 13th century.
The woodland on the eastern bank of the Coln was depicted in an engraving of c. 1710 (fn. 10) and was called Netherton coppice. (fn. 11) Several coppices recorded by the Leach in 1785 (fn. 12) had been joined together by 1862 to form Dean Farm covert, (fn. 13) and Swanhill covert east of the village was greatly enlarged between 1881 and 1901. (fn. 14) In 1901 85¾ a. of the parish comprised woods and plantations. (fn. 15)
Hatherop park, created south of the manor-house before c. 1710, (fn. 16) was extended to the east and the south-west before 1862, (fn. 17) probably in 1848 when several routes there were closed. (fn. 18) The park was enlarged to the south-east c. 1870 (fn. 19) and included 200 a. in 1879. (fn. 20) An area east of the Lechlade road was taken in between 1901 and 1920. (fn. 21)
The salt-way between Droitwich and Lechlade which crossed the parish (fn. 22) was called London way in the southern part in 1628. (fn. 23) The section passing along the eastern bank of the Coln above Netherton coppice (fn. 24) was closed in 1848 because of the steep gradients. (fn. 25) At Netherton near the southern boundary it was joined by a route from Cirencester, crossing the river by Netherton bridge, which needed repairs in 1526, (fn. 26) and then continued southeastwards past Barrow Elm, the meeting-place of the hundred court at the junction of roads from Fairford and Hatherop village. (fn. 27) The latter road, possibly the highway out of repair in 1536, (fn. 28) was presented in 1757 as being ruinous (fn. 29) but the section through the village became part of the route between Coln St. Aldwyns and Burford in 1777. A road leading from the east end of the village northwards through Williamstrip to Akeman Street was then replaced by one leading north-eastwards. (fn. 30) A route between Bibury and Dean Farm recorded in the later 18th century (fn. 31) had disappeared by 1862. (fn. 32)
The name Hatherop may derive from the village's location above the valley of the Coln. (fn. 33) The site of Hatherop Castle, the manor-house, overlooking the valley, was occupied by the later 13th century but although the house incorporates an embattled tower and a close to the west was called the Castle by the mid 16th century (fn. 34) there is no evidence of a castle there. The church to the east was recorded from the late 11th century. Both manor-house and church were rebuilt in the mid 19th century and stand apart from the village which grew up around a small green, mentioned c. 1290, (fn. 35) to the north-east where the base and part of the shaft of an old stone cross survive. Severalls, the former rectory, was built on the south side of the green, from which the village street developed eastwards. At the eastern end, where there were a few cottages east of the Lechlade road by the mid 18th century, (fn. 36) Glebe Farm was rebuilt in the mid 19th century. Part of the village was taken into Williamstrip park in the later 18th century. A few early cottages have survived but most of the buildings standing in 1976 date from the later 19th century. In the village street in 1856 A. G. J. Ponsonby built a school and school-house and some estate cottages, including Lechmere which later became the rectory. A row of cottages north of the street was later converted with the insertion of a central arch. (fn. 37) More estate cottages, mostly east of the Lechlade road, were built by Thomas Sebastian Bazley in the late 1860s and 1870s. (fn. 38) North-east of Severalls a building dated 1909 probably served as a reading-room, and a memorial was built after the First World War. (fn. 39) Three bungalows were built east of the Lechlade road in the mid 20th century. In 1976 Hatherop Working Men's Club occupied a wooden hut south of the village street.
A farm-house recorded at the junction of the Eastleach and Lechlade roads south of the village in 1764 (fn. 40) was called Townsend Farm in the mid 19th century when some cottages stood near by. (fn. 41) The farm-house and buildings were demolished c. 1870 and a lodge was built on the site, which had been taken into Hatherop park. (fn. 42) Stonyhurst Cottage to the east had been built by 1901. (fn. 43)
The hamlet of Netherton grew up in the Coln valley near the crossing-point of the river by a route from Cirencester to the salt-way. A mill had been built at the crossing by the late 11th century and men surnamed of Netherton were recorded from the mid 13th century. (fn. 44) The principal street, which ran north-eastwards from the mill, had cottages which were built on waste ground (fn. 45) and contained 11 dwellings in 1764. (fn. 46) The higher part of the hamlet, which included cottages in Fairford parish, (fn. 47) possibly occupied the site called Overthrop from c. 1290. (fn. 48) One small cottage there was remodelled and enlarged in the 19th century. During the extension of Hatherop park the cottages in the street were demolished between 1848 and 1862 (fn. 49) and the remaining buildings in the valley c. 1870 when a lodge was built there. In the higher part a lodge and, to the east, Home Farm are of a similar date, (fn. 50) and a house was built south of the road in the mid 20th century.
At Dean Farm a 17th-century farm-house and out-building (fn. 51) stand amongst buildings of the 19th and 20th centuries. The farm-house was converted to cottages in 1870 when a new farm-house was built higher up to the west. (fn. 52) The site of Upper Moor's Barn had been built on by 1764 (fn. 53) and Upper Cottages, recorded in 1785, (fn. 54) were rebuilt in the later 19th century.
South Farm in the south-east of the parish is a post-inclosure farm-house built by Sir John Webb in 1766. (fn. 55) It has extensive buildings of the 19th and 20th centuries including cottages for farm workers. The remaining outlying cottages in the parish were built by T. S. Bazley in the 1870s, Barn Ground Cottages being converted later to a single dwelling. Barrow Elm Cottages were greatly enlarged during a similar conversion in the late 1960s. (fn. 56) Barrow Elm Farm, west of Barrow Elm, is a large farm-house of c. 1890 with contemporary farm buildings. (fn. 57) By 1976 it was let as a private residence from the Hatherop estate. (fn. 58)
In 1086 35 tenants were mentioned in Hatherop. (fn. 59) Thirty people were assessed for the subsidy in 1327 and 50 for the poll tax in 1381. (fn. 60) In 1551 there were c. 60 communicants in the parish (fn. 61) and in 1563 14 households. (fn. 62) By 1650 there were 24 families (fn. 63) and the population continued to grow in the 18th century. It was estimated at 150 c. 1710 (fn. 64) and 204 c. 1775 (fn. 65) and was 247 in 1801. It increased to 375 by 1851 before falling considerably to 283 by 1871. By 1881 it had risen again to 347 but it dropped to 295 by 1901. After an increase to 308 by 1921 it then declined, partly because of boundary changes, and in 1971 was 178. (fn. 66)
Two innholders were licensed in 1755. (fn. 67) One possibly occupied the Bell at the western end of the village which was not recorded after Sir John Webb conveyed it to Samuel Blackwell of Williamstrip in 1778, (fn. 68) the site evidently being taken into Williamstrip park. In 1851 an innkeeper lived in Netherton. (fn. 69)
Between the late 17th and early 19th centuries the parish was a centre of Roman Catholicism supported by the Webbs, the leading family. T. S. Bazley, who became the principal landowner in 1867, was responsible for much building in the later 19th century. His descendant's estate in 1976 still included the village and much land. (fn. 70)
Manor and Other Estates
In 1066 Uluuard held an estate of 7 hides in Hatherop which by 1086 had been acquired by Ernulf of Hesdin. (fn. 71) It evidently passed with Ernulf's daughter Maud to Patrick de Chaworth whose daughter Sibyl married Walter of Salisbury. Walter (d. 1147) was succeeded by his son Patrick, created earl of Salisbury by the Empress Maud between 1142 and 1147, and Patrick (d. 1168) by his son William, earl of Salisbury, (fn. 72) who apparently granted rents worth 100s. in Hatherop to Bradenstoke Priory (Wilts.). (fn. 73) William died in 1196 leaving as his heir his daughter Ela, whose husband William Longespee became earl of Salisbury (fn. 74) and held the estate, assessed at 2¼ fees, c. 1212. (fn. 75) William settled some Carthusian monks at Hatherop in 1222 but after his death in 1226 Ela moved them to Hinton Charterhouse (Som.). (fn. 76) Bradenstoke Priory received further grants of property in Hatherop including land worth 100s. from Ela's estate, called HATHEROP manor. (fn. 77) The priory, which received a rent-charge of 10s. from the manor until 1412, (fn. 78) retained its property until the Dissolution. (fn. 79)
Ela probably endowed Lacock Abbey (Wilts.) with Hatherop manor in 1231 or 1232. (fn. 80) Overlordship of the manor, which was assessed at ¼ fee, belonged in 1285 to Henry de Lacy, earl of Lincoln, (fn. 81) who had married Margaret, great-granddaughter and heir of Ela (d. 1261). It passed to Margaret's daughter and heir Alice, wife of Thomas, earl of Lancaster (d. 1322), and was acquired from her by Hugh le Despenser in 1325. (fn. 82) Later it apparently continued in the duchy of Lancaster, in the name of which courts were held in the early 16th century. (fn. 83)
In 1249 Lacock Abbey, of which Ela was then abbess, awarded a life-interest in the manor to her daughter Ela, countess of Warwick, (fn. 84) who was granted free warren for life in 1251. (fn. 85) In 1284 she granted an estate of 12 yardlands acquired from Sir Ingram Waleys to the abbey (fn. 86) to which she relinquished the manor in return for an annuity in 1287. (fn. 87) In the mid 14th century until at least 1366 the manor was held from the abbey for a rent of 2s. by John de Haudlo and his descendants with Coln St. Aldwyns manor. (fn. 88)
Lacock Abbey retained Hatherop manor until the Dissolution. (fn. 89) Sir William Sharington, who was granted Bradenstoke Priory's property in 1542, (fn. 90) acquired it in 1548. (fn. 91) In 1552 he sold his estate there to William Herbert, earl of Pembroke, (fn. 92) who sold it to John Blomer, (fn. 93) the lessee of the manor since 1538. (fn. 94) John (d. 1558) left the manor to his second son William (fn. 95) who bought more land in 1598. (fn. 96) William (d. 1613) was succeeded in turn by his sons Sir Henry (fn. 97) (d. 1624) and John. (fn. 98) After John's death in 1638 the manor passed to his widow Frances (d. 1657), (fn. 99) a Roman Catholic whose property was sequestered by 1653, (fn. 100) and then in turn to their children John (d. 1685), William (d. 1686), and Mary. (fn. 101) Mary, whose husband Sir John Webb, Bt., of Great Canford (Dors.) died in 1700, was succeeded in 1709 by their son John, after whose death in 1745 the estate passed with the baronetcy to his son Thomas (d. 1763). Thomas's son John (d. 1797) (fn. 102) left the estate to his granddaughter Lady Barbara Ashley Cooper (fn. 103) who in 1814 married William Francis Spenser Ponsonby, created Baron de Mauley in her right in 1838. Lady de Mauley died in 1844 and after her husband's death in 1855 the Hatherop estate passed to their younger son Ashley George John Ponsonby, M.P. for Cirencester, who sold it in 1862 to the Maharajah Duleep Singh of Lahore. In 1867 it was bought by Thomas Sebastian Bazley (fn. 104) who in 1885 inherited the baronetcy of Tolmers (Herts.). By 1900 Sir Thomas (d. 1919) had conveyed the estate to his son Gardner Sebastian Bazley, after whose death in 1911 (fn. 105) South farm was sold to N. H. Geach. Charles White who bought the farm in 1921 sold it in 1939 to Clarence H. S. Townsend and his wife Sophia whose children John and Ann, wife of Mr. D. M. Backhouse, owned it in 1976. (fn. 106) G. S. Bazley's trustees retained the Hatherop estate until the mid 1930s when it passed to his son Sir Thomas Stafford Bazley, Bt. (fn. 107) In 1934 Sir Thomas sold Dean farm to his brother Anthony Gardner Bazley (d. 1937) who left it to his wife Anne. Anne, who later married Francis Philip Howard, Baron Howard of Penrith, had by 1976 transferred c. 164 ha. (c. 406 a.) to her daughter Susan, wife of Mr. W. Vicary, but retained ownership of c. 101 ha. (c. 250 a.). (fn. 108) Sir Thomas Bazley, who sold c. 101 ha. in Hatherop and Quenington to the Ernest Cook Trust in 1975, retained over 283 ha. (700 a.) in the parish in 1976. (fn. 109)
The manor-house occupies a site on which buildings were recorded from the later 13th century. (fn. 110) That the house was already of considerable size is suggested by the number of hearths, 25, taxed in 1672, (fn. 111) and Kip's view shows it in the early 18th century as having a long north front of two storeys with gabled attics and a central porch with hall and parlour to the west and what were presumably service rooms extending to the churchyard on the east. Behind the hall and parlour an embattled tower, probably of medieval origin, rose above the roofs. (fn. 112) In 1715 Jacobite sympathisers apparently assembled at the house, from which Sir John Webb's son-in-law James Radclyffe, earl of Derwentwater, left to join the rising. (fn. 113) The house, which contained a Roman Catholic chapel, was occupied by Sir John Webb in 1764 (fn. 114) but later he lived elsewhere and neglected the house. (fn. 115) Known as Hatherop Castle by 1848 (fn. 116) it was rebuilt between 1850 and 1856 to designs by Henry Clutton. (fn. 117) He preserved the basic plan of the tower and the rooms behind the north front but added new ranges on the west and south and completely rebuilt the kitchen and service quarters. His exteriors are in a large-scale version of the local early-17th-century style, his interiors in a richly decorated Jacobean style. The Maharajah Duleep Singh lived there in the mid 1860s (fn. 118) and after T. S. Bazley bought the estate further work, not now identifiable, was carried out. (fn. 119) In the 1920s it was the home of G. S. Bazley's widow Ruth Evelyn, who married Francis Charles Cadogan. (fn. 120) From 1946 Sir Thomas Bazley leased the house to Owlstone Croft School, a girls' public school later called Hatherop Castle School, the trustees of which bought the house and c. 15 a. in 1972. In 1976 the school had c. 100 pupils. (fn. 121) Of the three lodges built c. 1870 that opposite the Eastleach road replaced one to the south. The other two in Netherton, one in the valley and the other higher up, (fn. 122) were rebuilt in 1886 and 1890 respectively. (fn. 123)
The Knights Hospitallers held land in Hatherop from the manor at the Dissolution when it was leased with their property in North Cerney, an adjunct of Quenington Preceptory, to Sir Edmund Tame. (fn. 124) The endowments of a chantry-chapel in Coln St. Aldwyns included a close in Netherton, to which a customary yardland, called St. Mary land c. 1539, had once been attached. (fn. 125) A mill and land in Netherton owned by Gloucester Abbey passed with Coln St. Aldwyns manor until the mid 19th century and is dealt with below.
Economic History
In 1086 the manor, which had risen in value from £8 in 1066 to £12, had 16 plough-lands of which 6 were in demesne and worked by 12 servi. (fn. 126) In 1220 the estate comprised 20 plough-lands (fn. 127) but in 1291 Lacock Abbey was said to have only one. (fn. 128) In 1249 the manor was let at farm for a term of 7 years, at the end of which the demesne was to include 233 a. prepared for tillage and the abbey was to receive 16 oxen, 4 cows, and 200 sheep, or the value in cash. (fn. 129) The demesne was let at farm for £9 a year from 1533. (fn. 130) In 1535 Bradenstoke Priory was receiving 43s. 4d. in rents (fn. 131) and in 1537 its property was let at farm for 60 years for that sum. (fn. 132)
In 1086 there were 23 villani with 10 ploughs on the manor. (fn. 133) A custumal of c. 1290 lists 34 varied tenements held from the manor. The three largest, one of 1½ hide and two of ½ hide each, were held by service, presumably military, due to the Crown. Two holdings of a yardland, from one of which bedrepes were owed, and one of 12 a. were held for cash rents. The tenant of a two-yardland tenement, held for cash rent and bedrepes, was liable for service as reeve. The customary tenements comprised 8 yardlands and one half-yardland. The service owed from a yardland included work on each weekday except Saturday at the usual agricultural tasks and carrying, five bedrepes (the fifth to be at the lady's cost), and 43 eggs at Lent. The ploughing of 14¾ a. by all 9 tenants was counted as a week's work. Of 15 smallholders, 8 owed labour-services on Mondays and some boon-works, 4 cash rent and bedrepes, and 3, including a smith, cash rent. The tenants who mowed were feasted by the lady, a custom called medsep. For another tenement a miller owed a bedrepe, and the demesne shepherd held 10 a. by his service. The tenant of a 5-acre holding was required to perform bedrepes and either to serve as demesne swineherd or provide a hayward. (fn. 134) In 1291 Lacock Abbey had rents of assize valued at 12s. in Hatherop, the level perhaps indicating the importance of tenant labour-services, (fn. 135) but in 1341 2½ yardlands in the parish lay uncultivated by the tenants, who were apparently too few or too impoverished. (fn. 136)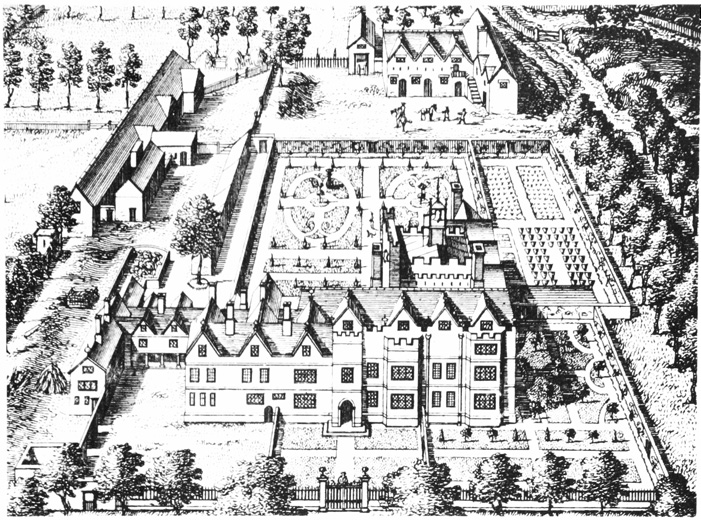 About 1539 the farmer of the manor took 15s. in rents of assize and £4 10s. 2d. and 44s. 2d. in rents from customary tenants and tenants at will respectively. (fn. 137) About 1548 Sir William Sharington held the principal farm of 9 yardlands, called North Horns, and there were 5 other free tenants and 9 copyholders holding for cash rents. The customary tenants paid 5s. a year for the right to trade in Cirencester as agreed between Lacock and Cirencester abbeys. (fn. 138) Copyhold tenure had mostly been replaced by leases for 99 years or lives by 1717. (fn. 139) In 1764 the manor had three farms, including Dean and Downhall farms (partly in Coln St. Aldwyns), a mill, 42 smallholdings, most with cottages, and 16 cottages mostly held by tenants at will. (fn. 140)
Two open fields, a south and a home field, were mentioned in 1528. (fn. 141) The home field, known also as the north field, covered the area east of the village and the south field lay in the southern part of the parish. (fn. 142) They were possibly separated originally by the salt-way. The home field was probably that called the east field in 1563 when a yardland comprised 18 a. in each of the south and east fields. (fn. 143) Another field recorded north-east of the village in 1678 (fn. 144) was evidently included in the home field by 1717. (fn. 145) Dean farm, which was not included in the open fields mentioned above, was at least partly inclosed by 1669, when there were closes adjoining a field called the north or Dean field (fn. 146) and wholly by 1717. (fn. 147) The open fields comprised c. 946 a. in 1766. (fn. 148)
By the late 13th century sheep-farming was of importance in the parish economy. (fn. 149) The pasturing of sheep and cattle on commonable land was regulated by the manor court in the late 1520s and the 1530s (fn. 150) when there was a common called the Downs at the southern end of the parish. (fn. 151) Hatherop Downs, the principal common in the mid 18th century, lay between the south and home fields (fn. 152) and covered c. 150 a. in 1766. (fn. 153) The parish had only a small area of meadow land and the manor included a water-meadow in Kempsford by the mid 16th century (fn. 154) and several in Lechlade in the 17th and early 18th. (fn. 155) A lot meadow in the south-eastern corner of the parish became a several meadow between 1717 and 1764. (fn. 156)
The parish was inclosed by Act of Parliament in 1766. Sir John Webb was awarded 807 a. and the rector received 329 a., including 52 a. of old inclosures, for the glebe and tithes. A tenant of the lessees of Coln St. Aldwyns manor received an allotment of 12 a. Some minor exchanges of land took place between Webb and the other beneficiaries. (fn. 157)
After inclosure Webb's estate was organized as three large farms, Dean farm, Townsend farm, and South farm, which in 1785 respectively comprised 708 a. (partly in Coln St. Aldwyns), 611 a. (partly in Eastleach and Quenington), and 393 a. (fn. 158) The farm rents were greatly increased just before 1797. (fn. 159) In 1831 five farmers in the parish employed 37 labourers (fn. 160) but until the late 19th century there were four principal farms, (fn. 161) including Glebe farm which comprised 336 a. in 1850. (fn. 162) By 1862 South farm had been enlarged to 440 a. and Townsend farm reduced to 405 a. (fn. 163) Townsend farm was farmed with Glebe farm from 1868 but most of its land was later incorporated into Home and Barrow Elm farms which had been created by 1882 and 1889 respectively. (fn. 164) From 1923 Barrow Elm farm was farmed with Glebe farm which with Dean and South farms remained the principal ones in the mid 20th century. (fn. 165) Dean farm comprised 650 a. in 1957 (fn. 166) and Glebe farm c. 243 ha. (c. 600 a.) in 1976, when there were also farms in the parish with over 300 ha. (741 a.), 100 ha. (247 a.), and 50 ha. (124 a.) each. (fn. 167)
After inclosure the bulk of the parish was farmed as arable (fn. 168) and corn and sheep husbandry remained dominant in the 19th century. In 1801 784½ a. were returned as under crops, growing mainly wheat, oats, barley, and turnips (fn. 169) and in 1866 2,038 a. were returned as arable and temporary grass and only 233 a. as permanent grass. Large flocks of sheep, estimated at 1,460 that year, were folded on the turnips and the grass leys which were part of the rotation. (fn. 170) In the later 19th century much arable land was laid down as grass and in 1896 943 a. of arable and temporary grass and 875 a. of permanent grass were returned. Sheep-farming became less important in the early 20th century when more cattle were introduced: 333 cattle, including 60 milk cows, were returned in 1926 compared to 213, including 29 milk cows, in 1896. Poultry farming had been introduced by 1926 (fn. 171) and in 1976 one farm specialized in pig- and poultry-rearing. By then much of the land was given over again to cereal production, mainly barley and wheat, and beef cattle were raised in large numbers. There was then no sheep-farming. (fn. 172)
There were evidently three mills on the Coln in Hatherop in 1248 when one, a recently-built fullingmill, was demolished. (fn. 173) Of the others Hatherop mill, west of the manor-house, (fn. 174) was apparently a fullingmill by 1538, (fn. 175) but possibly by 1598 and certainly by 1628 the site contained two grist-mills. (fn. 176) In the late 18th century a lease of the property was held with the Williamstrip estate. (fn. 177) The mill went out of use between 1848 (fn. 178) and 1862, (fn. 179) and a pumping station was built on its site. (fn. 180)
Netherton mill lower downstream was probably the mill which belonged to the manor in 1086. (fn. 181) It was granted by Ernulf of Hesdin to Gloucester Abbey before 1096 (fn. 182) and was later held from Coln St. Aldwyns manor. (fn. 183) A fulling-mill had been built by 1538 when the copyhold was granted to William Patrick of Cirencester, a tucker, (fn. 184) and although the property was described as a grist-mill in 1649 (fn. 185) it comprised a corn-mill, fulling-mill, and gig-mill in 1753 (fn. 186) and a grist-mill and cloth-mill in 1774. (fn. 187) In 1848 Lord de Mauley acquired the leasehold of the site, a corn-mill (fn. 188) known later as Swinnerton mill, (fn. 189) and in 1854 the reversion of the freehold from the dean and chapter of Gloucester. (fn. 190) The mill was demolished in the late 1860s. (fn. 191)
A corn-mill recorded by the Leach at Dean Farm in 1862 has not been traced later. (fn. 192)
The inhabitants of Hatherop included a shoemaker and a weaver in the early 13th century, (fn. 193) a baker and a smith c. 1290, (fn. 194) and a fuller and a tailor in 1381. (fn. 195) The tucker listed in 1608 (fn. 196) presumably worked Netherton mill. A paper-maker lived in Netherton in 1790. (fn. 197) Few inhabitants were engaged in trade, which supported only 7 families in 1831 when 65 were supported by agriculture. (fn. 198) Members of the Knipe family followed the trade of smith in the 16th (fn. 199) and 17th centuries (fn. 200) but no blacksmith was recorded in the parish after 1856. (fn. 201) Netherton had a carpenter in 1705 (fn. 202) and Hatherop a joiner in 1711 (fn. 203) and a carpenter in 1717. (fn. 204) There was a shop in the 18th century (fn. 205) and in the late 19th century and early 20th there was also a post office. Among the other trades listed then were those of boot and shoemaker, carpenter, dress-maker, draper, plasterer, and mason. (fn. 206)
Local Government
Under an agreement made in the 1230s the hundredal bailiffs held the view of frankpledge for Hatherop in the manor court and received 30d. on each lawday from the tithing for the amercements. The lord of the hundred retained jurisdiction over thieves taken there, (fn. 207) but in 1287 the countess of Warwick's steward was presented for imprisoning thieves and delivering them upon payment. (fn. 208) A book of court records shows that between 1526 and 1538 the view of frankpledge was usually held twice a year with the manor court, which consequently dealt with the assizes of bread and ale, the maintenance of buildings, roads, hedges, and ditches, trespasses, and assaults, besides the usual agrarian and tenurial matters. A tithingman was elected in 1532. (fn. 209) In 1533 the lessee of the manor was bound to provide hospitality for the officers of both manor and hundred courts. (fn. 210) Leet jurisdiction passed with the manor after the Dissolution. (fn. 211) The manor court survived in 1830 when it held a perambulation. (fn. 212) Gloucester Abbey's tenants owed suit to Coln St. Aldwyns manor court. (fn. 213)
Of the parish officers two churchwardens were recorded from 1498 (fn. 214) and a constable from 1672. (fn. 215) At the latter date there were two overseers of the poor, (fn. 216) who in. 1785 held five tenements for the parish. (fn. 217) Expenditure on poor-relief rose from £76 in 1776 to an average of £131 c. 1784 but then fell to £97 by 1803 when 10 people received permanent help. (fn. 218) By 1813 the cost had more than doubled to £224 with 9 people on permanent and 60 on occasional aid. The numbers had dropped to 5 and 26 respectively by 1815 when £176 was spent. (fn. 219) Average annual expenditure rose to £241 in the late 1820s (fn. 220) and to £263 in the early 1830s. (fn. 221) The parish, which joined the Cirencester poor-law union in 1836, (fn. 222) remained in Cirencester rural district (fn. 223) until included in Cotswold district in 1974.
Church
The church at Hatherop was granted by Ernulf of Hesdin to Gloucester Abbey before 1096. (fn. 224) The living was a rectory in 1248 (fn. 225) but the incumbent may have served through a chaplain then. (fn. 226) About 1281 a vicarage was ordained, probably on account of the non-residence of the rector, who shared with the abbey in the presentation to the vicarage. (fn. 227) A plan by the abbey to appropriate the church in 1321 (fn. 228) was not put into effect and rectors continued to hold the living. (fn. 229) They apparently appointed vicars, for the vicarage was recorded in 1341 (fn. 230) and a perpetual vicar was mentioned in 1493. (fn. 231) The vicarage apparently lapsed before the Dissolution. (fn. 232) In 1928 the rectory was united with Coln St. Aldwyns and Quenington. (fn. 233)
The advowson of the rectory, held by Gloucester Abbey until the Dissolution, (fn. 234) was included in 1548 in the grant of the manor (fn. 235) with which it then passed, (fn. 236) although in 1551 the dean and chapter of Gloucester were named as patrons. (fn. 237) Thomas Matthews of Hillesden (Bucks.), who as patron for a turn made a presentation in 1560, (fn. 238) was claiming the patronage for a term of years in 1562, (fn. 239) but later that year William Blomer sold the next turn to Richard Harford of Bosbury (Herefs.). The Crown presented to the living in 1589 and 1601 when the living was considered vacant by default of the rector. William Dowdeswell, patron in 1680, (fn. 240) held a lease of the manor. (fn. 241) Sir John Webb presented in 1686. (fn. 242) Thereafter the Webbs, a recusant family, retained their title to the patronage, (fn. 243) which was the subject of several grants between 1689 and 1710 (fn. 244) and was exercised in the earlier 18th century by Oxford University. (fn. 245) A term of 99 years or lives granted by Sir Thomas Webb in 1760 (fn. 246) was, after the relaxation of antipapist legislation, sold back in 1778 to Sir John Webb (fn. 247) who assigned the advowson for 16 years or a life to Mary Smith of Cheltenham, (fn. 248) patron in 1783. Although Michael Hicks Beach presented for one turn in 1797 the advowson passed with the manor. (fn. 249) In 1976 the patronage of the united benefice was shared by Sir Thomas Bazley, the dean and chapter of Gloucester, and Earl St. Aldwyn. (fn. 250)
The endowments assigned to the vicarage c. 1281 included the small tithes and most of the glebe land save for a few buildings. (fn. 251) In 1291 the rectory was valued at £12 and the vicarage at £4 6s. 8d. (fn. 252) By 1535 the rector was receiving all the tithes, and his glebe included 80 a. of arable. (fn. 253) In the late 17th and early 18th centuries the glebe was extended at c. 100 a. (fn. 254) The lord of the manor was then taking leases of part of the demesne tithes (fn. 255) and in 1745 the rector was said to be receiving £50 and more a year from the manor. (fn. 256) The tithes were commuted for c. 280 a. at inclosure in 1766 when the rector was also allotted c. 50 a. for the glebe. (fn. 257) In 1776 a private Act of Parliament was secured enabling the rector to consolidate the glebe by exchanging part with Samuel Blackwell for land in Williamstrip. (fn. 258) The glebe comprised c. 314 a. in 1828. (fn. 259) From 1850 the glebe (then 336 a.) was leased to the Hatherop estate, (fn. 260) to which 29 a. north-west of the Hatherop–Burford road were sold in 1870. (fn. 261) The glebe, which contained 300 a. in 1927, (fn. 262) had been sold to the Hatherop estate by 1976. (fn. 263) Glebe Farm with its out-buildings was rebuilt by Lord de Mauley in the mid 19th century. (fn. 264)
In 1535 the rectory was worth only £9 13s. 5½d. clear, considerably less than the combined value of rectory and vicarage in 1291. A pension of 6s. 8d. paid to Lacock Abbey in 1535 (fn. 265) has not been traced after the mid 16th century. (fn. 266) The living was worth £80 in 1650, (fn. 267) £140 in 1750, (fn. 268) and £300 in 1856. (fn. 269)
A courtyard and buildings were retained by the rector c. 1281 when three messuages were assigned to the vicarage. (fn. 270) The latter presumably occupied the site of the vicarage house mentioned in 1493. (fn. 271) In 1377 the rector took a lease of land for the building of a house (fn. 272) and the rectory was in disrepair in 1576. (fn. 273) The rectory, which in 1672 was assessed on 4 hearths, (fn. 274) was too small in the early 19th century and the rector lived elsewhere. It was rebuilt and enlarged between 1833 and 1834 to designs by Richard Pace. (fn. 275) The house, later called Severalls, north-east of the church, (fn. 276) was sold to G. S. Bazley in 1906. A cottage to the east, later called Lechmere, was converted as the rectory (fn. 277) but after 1928 the incumbent lived in Coln St. Aldwyns. (fn. 278)
In 1248 Master Palmerius, a clerk of the pope's chamber, was licensed to hold the rectory and another benefice. (fn. 279) James Watson, rector from 1533, (fn. 280) could reply moderately well to all the articles in 1551. (fn. 281) Thomas Anne, rector from 1560, (fn. 282) farmed out the church. (fn. 283) After his resignation in 1562 uncertainty over the patronage, leading to the institution of Nathaniel Harford in the same year and of William Slessor in the following year, resulted in a decline in the standard of services. (fn. 284) William was resident in 1563 (fn. 285) but by 1566 Nathaniel was holding the rectory with Fairford. (fn. 286) After his resignation the living was served in 1572 by an unlicensed curate, George Bath, who became rector later that year. (fn. 287) He was presented in 1576 for not having a book of homilies, not teaching the catechism, not keeping hospitality, not preaching quarterly sermons, and for wearing a surplice on perambulations. (fn. 288) Edmund James, his successor in 1579, (fn. 289) described in 1584 as neither a graduate nor a preacher but a conformist, (fn. 290) became vicar of Fairford in 1586. (fn. 291) He then neglected Hatherop where he was replaced by Robert Harland, instituted in 1590. The following year Richard Pullen was instituted (fn. 292) but Harland, a sufficient scholar but no preacher, was rector in 1593. (fn. 293) Pullen compounded for the first-fruits the following year and retained the living until his death in 1604. He was also rector of Stackpole Ellidor (Pemb.) and neglected Hatherop where there was an attempt to replace him in 1601. (fn. 294)
In the 17th and 18th centuries the rectory was often held with a near-by living and sometimes served by a curate. John Jones, described in 1650 as a preaching minister, (fn. 295) was dispensed in 1668 to hold Quenington in plurality. (fn. 296) He died in 1673 (fn. 297) and his successors William Wyatt, 1673–80, and John Wyatt, rector of Tormarton, who was imprisoned for debt, appointed curates. (fn. 298) John Bradley, vicar of Great Barrington, was rector from 1710 until 1741. (fn. 299) Richard Hutchins, rector 1742–9, held Quenington from 1745 and William Sandford, rector 1749–83, Ampney Crucis from 1767. His successor John Weeks Bedwell (fn. 300) lived at Prestbury, the living being served by a curate who lived at Bampton (Oxon.) in the 1780s and at Hatherop in 1790. (fn. 301) Thomas Pettat, rector 1797–1839, was rector of Quenington 1797–8 and vicar of Stonehouse from 1798 until 1803 when he became rector of Beverstone. He served in person but from 1809 until c. 1835 he lived at Southrop. (fn. 302) During much of the rectorship of Sackville Gardiner Bourke, 1839–60, the living was served by stipendiary curates. (fn. 303)
The church, dedicated to ST. NICHOLAS by 1545 (fn. 304) but in the 18th and 19th centuries sometimes known as St. Matthew's, (fn. 305) is built of ashlar and has a chancel with north vestry and south chapel, a central tower, and an aisled and clerestoried nave with north porch. It was entirely rebuilt between 1854 and 1855 by Lord de Mauley from designs by Henry Clutton and William Burges. (fn. 306) Its predecessor was a smaller building with chancel with north vestry, central tower, and nave with north porch. (fn. 307) A gallery had been erected by 1825. (fn. 308) The main body of the present church is in a mixture of English medieval styles with many of the features carefully observed. The east end is by contrast in a French gothic style and the south chapel, which is a mortuary chapel to Lady de Mauley (d. 1844), is particularly striking. (fn. 309) It is tempting to see in this an early work by Burges who was Clutton's assistant.
The monuments include an early-14th-century effigy of a priest, unearthed by the early 18th century, (fn. 310) and the tomb of Lady de Mauley of 1848 by Raffaelle Monti. (fn. 311) Reset in the chancel are two enriched tablets to the Blomer family of the mid 17th century. (fn. 312) The font was given in 1858 as a memorial to Lord de Mauley. (fn. 313) The sanctus bell was cast in 1621 by Roger Purdue of Bristol. (fn. 314) The tower had three bells c. 1703 (fn. 315) but a peal of six cast by Abraham Rudhall was the gift of Sir John Webb in 1715; one was recast in 1852 by C. and G. Mears of London. (fn. 316) The plate includes a chalice and paten given in 1599, an alms-dish of 1670 given perhaps by the rector in 1756, a paten of 1789, and a flagon of 1849; there is also a chalice, probably foreign, of medieval design. (fn. 317) The registers survive from 1670. (fn. 318)
Roman Catholicism
Recusants were mentioned in the parish from 1577, (fn. 319) their presence probably encouraged by those members of the Blomer family who were also recusants. (fn. 320) Nine papists were recorded in 1676 (fn. 321) and seventeen between 1714 and 1724. (fn. 322) A chapel at the manorhouse was established, apparently by Lady Webb in the late 17th century. It was served by Robert Bowes (or Lane) from 1698 until shortly before his death in 1735. (fn. 323) In that year the parish had 50 papists (fn. 324) but by 1743 the number had risen to 70. (fn. 325) Francis Lee, chaplain from 1792, had a stipend of £50 with use of the manor-house. (fn. 326) The chapel to which 36 Roman Catholics were attached in 1839 was closed after the death of Lady de Mauley in 1844. (fn. 327)
Protestant Nonconformity
None known. (fn. 328)
Education
The parish, which had no school in 1818, (fn. 329) had two by 1825 when c. 38 children attended one and c. 11 the other, a day-school. (fn. 330) In 1833 there was a day-school with 32 children and a Sunday school with 20 boys. Both were supported by pence and by annual subscriptions from W. F. S. Ponsonby and Thomas Pettat, the rector. (fn. 331) The schools, which were teaching 50 children by 1846, (fn. 332) were probably the two parochial schools mentioned in 1856. (fn. 333) Hatherop Memorial C. of E. school at the eastern end of the village (fn. 334) was built in 1856 by A. G. J. Ponsonby in memory of his father Lord de Mauley. In 1865 when it was supported by pence and voluntary contributions it had one class with an average attendance of thirty-seven. (fn. 335) Attendance had risen to 68 by 1889 (fn. 336) but then fell to 48 by 1910 when it had mixed and infants' departments. (fn. 337) By 1920 the attendance was 60. (fn. 338) The infants were transferred to Coln St. Aldwyns in 1929 when the school became the juniors' school for both parishes and Quenington. (fn. 339) The attendance in 1936 was 53 (fn. 340) and in 1976 there were 35 children on the roll. (fn. 341)
Charities for the Poor
Sir Henry Blomer (d. 1624) left £100 stock to the church and the poor of Hatherop. By 1683 £20 of the principal had been lost, £10 having been lent out and £10 having been used in casting a bell, and £80 remained in the hands of John Blomer, the interest being paid to the church and the poor then (fn. 342) and later. (fn. 343) In the mid 18th century £6 a year was paid from the manor (fn. 344) and c. 1775 Sir John Webb provided regular doles of bread and money. (fn. 345) The charity has not been traced after 1781. (fn. 346)
Lady Webb (d. 1709), possibly by a deed of 1701, (fn. 347) gave a rent-charge of £18 13s. 4d. from Dean farm to be distributed among the poor by the resident Roman Catholic priest. Other members of the Webb family made bequests and in 1781 the total interest of £12 was said to be used by the priest to provide a bull for the poor of Eastleach Turville and Hatherop and bread and money for the poor of Hatherop. (fn. 348) The bequests have not been traced later.