Pages 170-171
A History of the County of Gloucester: Volume 8. Originally published by Victoria County History, London, 1968.
This free content was digitised by double rekeying. All rights reserved.
THE HUNDRED OF TEWKESBURY (LOWER DIVISION)
The origin, composition, and ownership of Tewkesbury hundred are discussed in Volume VI, where the history of the parishes in the upper division is printed. (fn. 1) The statement there that Didcot, in Beckford parish, was not recorded as part of Tewkesbury hundred other than in 1327 (fn. 2) is mistaken: it was so recorded in the 13th century, (fn. 3) and — in the upper division — in the 18th. (fn. 4)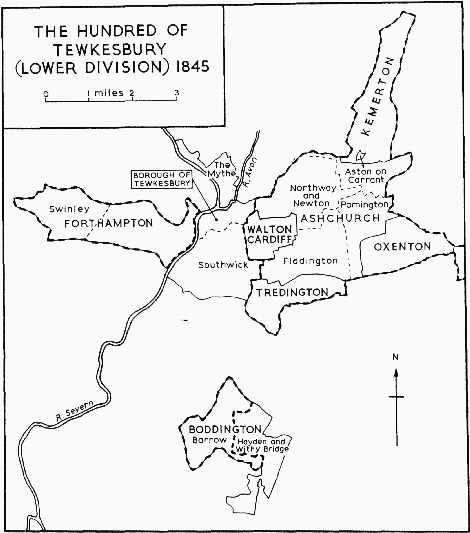 The lower division of the hundred straddles the River Severn, and the landscape is predominantly that of the Severn Vale, flat pastures of heavy soil that are often waterlogged. Forthampton, however, the one parish lying west of the Severn, has the more varied scenery of the area towards Malvern Chase, and Kemerton and Oxenton climb the relative heights of Bredon Hill and the Cotswold outliers which enclose the area on the north and east. Tewkesbury, whose abbey tower is clearly visible from many parts of the lower division, has long been a focal point, providing a market and an outlet by river for the agricultural produce by which the inhabitants almost all lived until the 20th century. In the Second World War the hamlet of Northway, in Ashchurch, began to grow as a minor industrial centre. Cheltenham and Bishop's Cleeve lie close on the south-east, and their growth has also influenced the area in the 20th century.
The parishes in the lower division were Ashchurch, Forthampton, Kemerton, Oxenton, Tredington, Walton Cardiff, and part of Boddington. (fn. 5) The borough of Tewkesbury was geographically within the hundred, but administratively separate by the 13th century; the administrative position of the two rural parts of Tewkesbury parish was ambiguous and for a time in dispute. (fn. 6) In the 18th century Boddington, Kemerton, Oxenton, and Walton Cardiff, together with Alderton and Ashton under Hill in the upper division, were said to be part of the honor of Gloucester, centred on Thornbury, and to be subject to the jurisdiction of the honor court at Thornbury. (fn. 7) Such statements reflected the fact that on the division of the de Clare estates in the early 14th century the overlordship of those places was assigned to Hugh de Audley and his wife Margaret, and later passed to the Staffords. (fn. 8) The townships, however, continued to be subject to the Tewkesbury hundred court which was in some respects an honor court. (fn. 9)
A revival of the hundred court, said to be that of Barton hundred, in the period 1781–1850, is mentioned above; (fn. 10) draft court rolls of the hundred for the period 1811– 1850, together with precepts of the court and some miscellaneous papers, (fn. 11) survive in addition to the records of the court mentioned in Volume VI. (fn. 12)