Pages 243-244
A History of the County of Gloucester: Volume 8. Originally published by Victoria County History, London, 1968.
This free content was digitised by double rekeying. All rights reserved.
THE HUNDRED OF TIBBLESTONE
Tibblestone hundred lay on the northern edge of the county, and in 1931 the greater part of the three parishes within it, Ashton under Hill, Beckford, and Hinton on the Green, was transferred to Worcestershire. (fn. 1) The land is partly on the south-east slopes of Bredon Hill, (fn. 2) and partly on the flat alluvial floor of the valley below. Whereas the hundred comprised only a small area, 6,773 a. in all, from the 14th century until the 20th, (fn. 3) it was once much larger and apparently stretched, in the 11th century or earlier, to the Severn and beyond. In 1086 Tibblestone hundred included what was later to become the hundred of Cleeve. (fn. 4) The assessment of hides in 1086 suggests, in addition, that the hundreds of Tibblestone and Deerhurst had, a short while earlier, formed together a double hundred of 200 hides. (fn. 5) The suggestion is supported by later documents linking the names of Deerhurst and Tibblestone hundreds in a way that suggests a surviving tradition of their former unity. (fn. 6)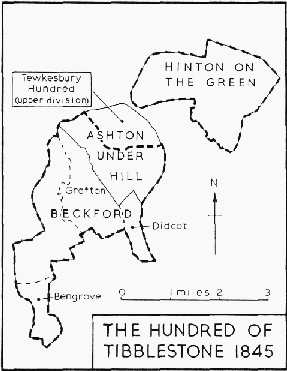 The apparent abstraction from Tibblestone hundred of Deerhurst hundred (fn. 7) and of parts of Stoke Orchard and of Ashton under Hill in the 11th century, (fn. 8) of Didcot in Beckford parish, (fn. 9) and of Cleeve hundred in the 13th and 14th centuries, (fn. 10) left only Hinton on the Green, most of Beckford, and part of Ashton under Hill within Tibblestone hundred. Whereas the part of Beckford in Tewkesbury hundred was small and distinct, Ashton under Hill was divided evenly between the two hundreds: 24 yardlands were said c. 1590 to be in Tibblestone hundred and 26 in Tewkesbury hundred. (fn. 11)
In the Tibblestone parts of Ashton and Beckford, which formed a single manor, some hundredal jurisdiction belonged to the lord of the manor, (fn. 12) who in the 13th century had gallows and assize of bread and ale. The Abbot of Gloucester had the same and also view of frankpledge at Hinton, (fn. 13) which was represented by four men and the reeve at the sheriff's tourn. (fn. 14) By the 16th century the lord of Beckford was also said to have view of frankpledge. (fn. 15) In 1287 the hundred was in the king's hands, and complaint was made that whereas there had formerly been only one bailiff there were then four. (fn. 16) No court rolls are known to survive for Tibblestone hundred.
The name of the hundred is connected with an ancient stone, the Tibble Stone, on the boundary of Beckford at the ancient road junction called Teddington Hands. (fn. 17) That was presumably the hundred meeting-place; though it is at the extreme southwest end of the modern hundred, it is fairly central to the area which, as argued above, comprised the hundred until the 11th century. The Tibble Stone, which was visible near the cross-roads in the late 18th century, (fn. 18) later disappeared from sight and was re-erected in 1948. (fn. 19)