Pages 26-27
A History of the County of Gloucester: Volume 8. Originally published by Victoria County History, London, 1968.
This free content was digitised by double rekeying. All rights reserved.
THE HUNDRED OF DEERHURST
Deerhurst hundred comprised 11 parishes or parts of parishes. Most of them lie scattered but fairly close together in the Severn Vale south and south-east of Tewkesbury, but four are at a distance: Coln St. Dennis is 11 miles south-east of Cheltenham, Little Compton is detached from the county south-east of Moreton-in-Marsh, and Welford-on-Avon — of which part was in Warwickshire — and Preston on Stour lay within 4 miles of Stratford-upon-Avon. Little Compton was transferred to Warwickshire in 1844, (fn. 1) and Preston and the Gloucestershire part of Welford in 1931. (fn. 2) By 1716 the geographical division of the hundred was matched by an administrative division into upper and lower parts, each with its own high constable. (fn. 3)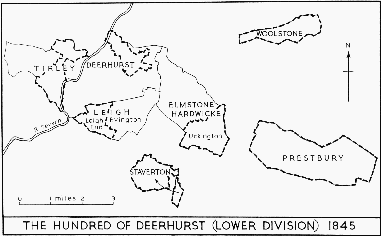 The hundred appears to have once been part of Tibblestone hundred, (fn. 4) and to have originated as a distinct unit containing the lands belonging to the Saxon monastery of Deerhurst. By 1086 those lands had been divided between the abbeys of St. Peter, Westminster, and St. Denis, Paris, but continued to form the single hundred of Deerhurst. (fn. 5) The lands of Westminster Abbey formed a liberty within the hundred, and by 1303 were taken to comprise the separate hundred of Westminster. (fn. 6) Meanwhile a part of Kemerton that had been in Deerhurst hundred had been transferred to Tewkesbury hundred, (fn. 7) and Prestbury had been transferred to Deerhurst hundred from Cheltenham hundred. The Bishop of Hereford had extensive liberties in Prest- bury, including all pleas of the shire and hundred except Crown pleas, (fn. 8) and it may have been the grant of Cheltenham hundred, with unusually full privileges, to the abbey of Fécamp (Seine Inf.) in 1247 (fn. 9) that underlay the transference of Prestbury to Deerhurst hundred. That transference had happened by 1274, (fn. 10) and perhaps by 1248. (fn. 11)
From the 14th century to the 19th, therefore, Deerhurst hundred comprised the parishes of Coln St. Dennis, Little Compton, Prestbury, Preston on Stour, Staverton, and Woolstone, and parts of five other parishes: Notcliffe and part of Deerhurst hamlet in Deerhurst, Uckington in Elmstone Hardwicke, Leigh End in Leigh, the Haw and Cumberwood in Tirley, and the north-eastern part of Welford-on-Avon. (fn. 12) The hundred belonged to the abbey of St. Denis and to its successors as lords of Deerhurst manor. (fn. 13) Little is known of the exercise of its jurisdiction, and no court rolls are known to survive.
The histories of Little Compton and Welford-on-Avon appear in another volume. (fn. 14) Those of the other parishes in the hundred or partly in the hundred are given below. In each of the five parishes divided between the abbeys of St. Denis and Westminster, and therefore between Deerhurst and Westminster hundreds, the church was in the part belonging to St. Denis. That was perhaps the result of the fact that the parishes were originally dependent on the priory church at Deerhurst, which belonged to St. Denis, the priory being a cell of St. Denis and the headquarters of its Gloucestershire estates. (fn. 15)