Page 63
A History of the County of Hampshire: Volume 3. Originally published by Victoria County History, London, 1908.
This free content was digitised by double rekeying. All rights reserved.
THE HUNDRED OF EAST MEON
CONTAINING THE PARISHES OF
EAST MEON
FROXFIELD and
STEEP with North Ambersham
Tithing and South Ambersham Tithing (fn. 1)
In Domesday Book the hundred is represented by a single entry under 'Meon,' which no doubt, however, included the present parishes of Froxfield and Steep. The land within the hundred was assessed at 72 hides at the time of Edward the Confessor, and at 35 hides at the time of the Survey. (fn. 2) Westbury and perhaps Peak also were included in Meonstoke hundred in the Survey, (fn. 3) and the tithing of Westbury and Peak still formed part of it in 1841, Westbury being then situated partly in East Meon parish and partly in West Meon parish, and Peak wholly in the parish of Warnford. (fn. 4) It has, however, since been transferred to East Meon hundred. In 1316 the hundred appears to have comprised also the hundred of Hambledon, for the vills of Hambledon, Chidden, Glidden, and Denmead are included under it, (fn. 5) the three lastnamed being tithings of Hambledon at the present day. Hambledon, however, must soon afterwards have been detached, for it was a separate hundred in the reign of Edward III. (fn. 6) From that time onwards the hundred included the same parishes as are set out in the population returns of 1831. The parishes of Colemore, Privett, and Priors Dean were added to the hundred before 1841, (fn. 7) and the new parish of Langrish has been formed from the tithings of Langrish, Ramsdean, and Bordean. A further change was effected when the Ambershams, situated in Sussex, were detached from the parish of Steep under the Acts 2 & 3 Will. IV, cap. 64, and 7 & 8 Vic. cap. 61, and became part of Sussex.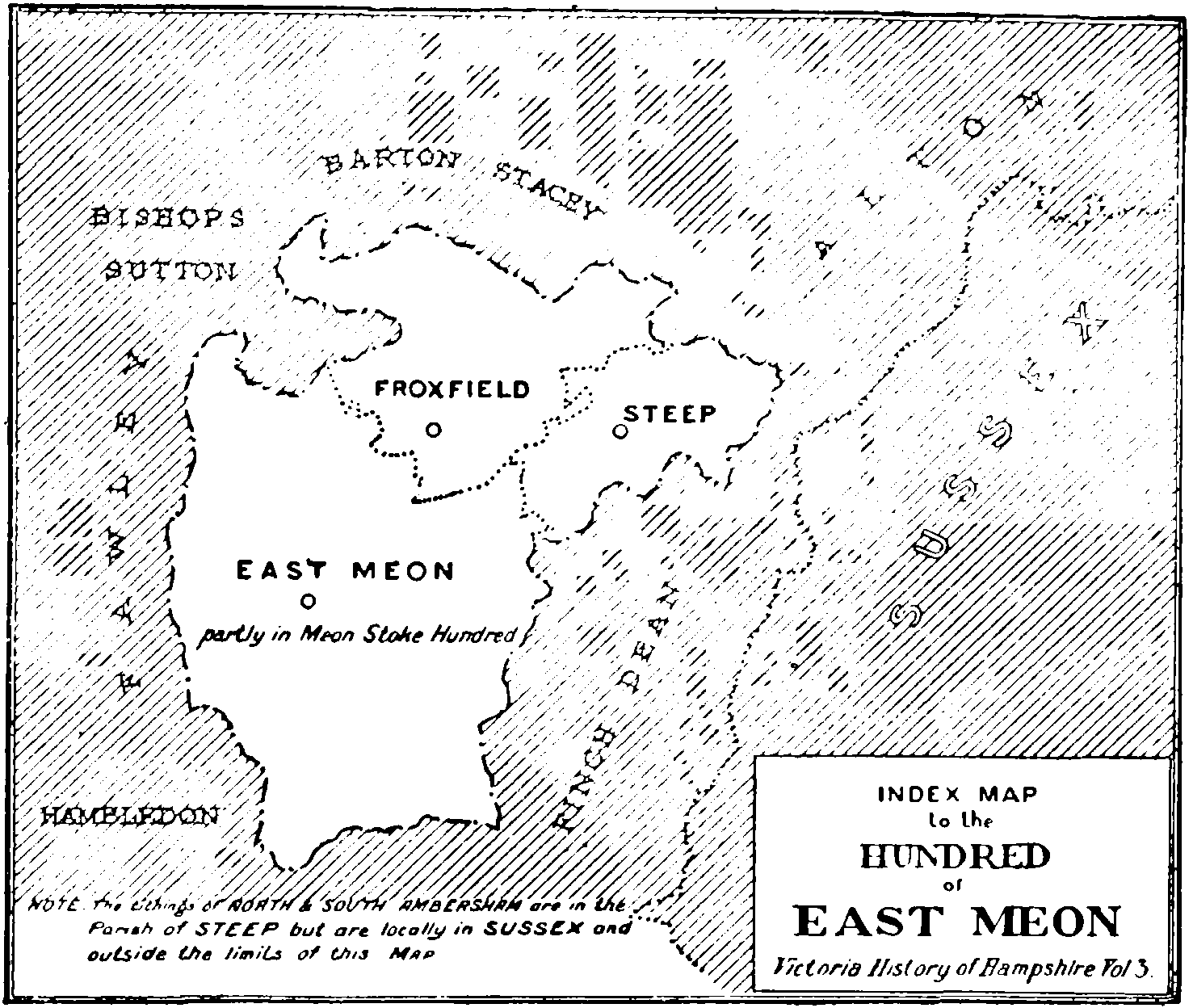 From the earliest date the hundred followed the descent of the manor of East Meon (q.v.), that is, it was in the hands of the bishop until it passed with the manor to the Ecclesiastical Commissioners on the resignation of the see by Bishop Sumner in 1869.