Pages 165-170
A History of the County of Hampshire: Volume 3. Originally published by Victoria County History, London, 1908.
This free content was digitised by double rekeying. All rights reserved.
WYMERING
Wimeringe (xii cent.); Wemering; Wymerynnge (xiv cent.); Wymering (xv cent.).
In 1831 Wymering was a parish about four miles north from Portsmouth, containing the villages of Wymering and Cosham, and the tithing of Hilsea, about one mile south of Cosham. It was about three miles in length and three miles in breadth, and contained 3,079 acres of land. It was, however, amalgamated with Widley in 1894, (fn. 1) and formed into the present parish of Cosham. The combined area of the two parishes is 4,035 acres of land, 33 of water, 83 of tidal water, and 621 acres of foreshore. (fn. 2)
The village of Wymering, which is very small, lies about half a mile west of Cosham, on the main road between Cosham and Fareham. The church and vicarage are on the north side of the road, with the new churchyard opposite to them, and the manor house close by on the east. Both vicarage and manor house are old buildings, but much alteration has deprived the former of any features by which the date of its oldest parts can be determined; and the latter, though retaining more evident traces of age, owes its interest at the present day rather to its contents than its structure. It is H-shaped in plan, with a panelled entrance hall in the centre, the kitchen and offices being attached to the south side of the south wing. The beams in this part of the building witness to its antiquity, and foundations are said to exist to the north of the house belonging to buildings connected with the still-existing north wing.
A large room of comparatively modern date, built out into the garden at the back of the south wing, contains a number of good pictures and a fine stone chimney-piece from Bold Hall, in Lancashire, and there are other relics of this destroyed house in other rooms.
At the back of the house is a pretty walled garden.
East Wymering Farm is a substantial building, a little further to the east, on the south of the road, with a large pond before the house; and Upper Farm and Lower Farm lie respectively north and south of the side road which runs northward along the west boundary of the churchyard, dividing it from the grounds of the manor house. To the north of the village runs the ridge of Portsdown, crowned by the new buildings of the Alexandra Hospital, while to the south are the low-lying lands and mud-flats of Horsea Island.
Cosham village is in the east of the parish, at the foot of Portsdown, where the road from Havant to Fareham crosses the high-road between London and Portsmouth after its sharp descent from Portsdown Hill. To the south, east and west stretch tracts of low-lying land commanded by the long range of Portsdown and its impressive but obsolete array of forts. The village is of considerable size, falling naturally into two parts:—East Cosham, which lies along the road to Havant, and Cosham, which is situated along the main road to Portsmouth. The former consists chiefly of residential houses surrounded by pleasant gardens, while Cosham is the commercial quarter. Situated as it is on the highroad to Portsmouth, a considerable amount of traffic passes through it, and it contains an unusually large number of inns and restaurants. 'The Swan,' 'The Ship,' 'The King and Queen,' 'The Red Lion. 'Uncle Tom's Cabin' and 'The Pure Drop' are the names of some of the former, but there are others too numerous to mention. The Portsmouth corporation electric tramway has a terminus here to the north of the railway station, worked in connexion with the Portsdown and Horndean Light Railway, which runs through Cosham a little to the west of the High Street. Cosham Park, at present unoccupied, is of considerable extent; it lies to the north of the railway. In the centre of the village is the cattlemarket, where a market is held every Monday for the sale of live-stock. East Cosham contains a small Baptist chapel erected in 1871. Divine service is held in Cosham elementary school, which is licensed for the purpose, and has a portion screened off to serve as a chancel. There is a brewery in Cosham High Street, and also a seed, coal, corn, and artificial manure manufactory; and in East Cosham the manufacture of sieves and baskets is carried on. Cosham almshouses were erected and endowed by Mistress Honor Wayte in 1608, for four poor, honest women.
Hilsea lies to the south of Cosham on the main Portsmouth road, about three miles north of Portsmouth, and is practically a suburb of Portsmouth. In the centre of the village are the Royal Artillery Barracks, the fortifications of which have been strengthened, and are now very extensive. There is also a garrison school for the children of soldiers and a military hospital.
Two lines of railway pass through the parish, the London and South-Western and the London Brighton and South Coast, the junction being at Farlington Station; a branch line at Cosham unites the two railways.
The soil of the parish is loamy; and the subsoil is chalk, the chief crops being wheat, oats, and barley.
According to the latest returns of the Board of Agriculture, the proportions of land in Cosham parish are as follows: 1,409½ acres of arable land, 1,029¾ acres of permanent grass, and 144¾ acres of woodland.
The common lands in Wymering, Widley, Cosham and Hilsea were inclosed in 1811–12. (fn. 3).
The following place-name occurs in a fine of 1318, 'Palegrove'; (fn. 4) it still survives in Paulsgrove Lake and Paulsgrove Quay, and is the basis of a tradition that St. Paul landed here on a visit to England.
MANORS
At the time of the Domesday Survey WYMERING was ancient demesne of the crown. Land in Cosham and Portchester belonged to this manor. (fn. 5)
The king possibly granted Wymering to the Albemarles before 1167, for at that date the Vidame of Picquigny held land in Wymering, (fn. 6) in right of his wife, who was the eldest daughter of Stephen, second earl of Albemarle. (fn. 7) In the reign of Henry III William de Fortibus earl of Albemarle held the manor, (fn. 8) of which he died seised in 1260. (fn. 9) On the extinction of the family the manor reverted to the crown, and in July, 1280, it was assigned by Edward I, with several other manors in Hampshire, to his mother Eleanor in part satisfaction of £1,065 16s. 7d., which she formerly received from the exchequer. (fn. 10) But this assignment was superseded in the following year by a grant in fee simple of the manors of Wymering and Blandford (co. Dorset) to John le Botiller by Ralph de Sandwich, the king's steward, in exchange for the manor of Ringwood. (fn. 11)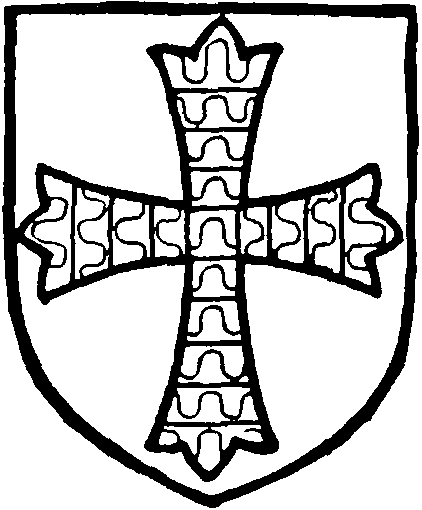 In 1285 a grant was made to John le Botiller and his heirs of 15s. yearly at the exchequer until provided with lands to that amount, because when he accepted Wymering manor for Ringwood manor no mention was made in the extent of Wymering of a rent-charge of three quarters of corn worth 15s., which the master and brethren of the Domus Dei at Portsmouth received from the tenants of Wymering by the gift of William de Fortibus earl of Albemarle. (fn. 12)
In 1309 John le Botiller died seised of Wymering manor, (fn. 13) which was assigned to his widow Joan in dower, Joan taking oath not to marry without royal licence. (fn. 14) Her son, John le Botiller, was seised of Wymering in 1316, and married a certain Joan as his first wife before 1320. (fn. 15) In 1330 John le Botiller settled the manor on himself and his wife Joan and their heirs; (fn. 16) but on his death, in 1350 Wymering passed under a later settlement (fn. 17) to his second wife, Margery, for life, (fn. 18) who married a certain Richard Chike as her second husband. (fn. 19) She died in 1387, when Wymering reverted to her stepson John Botiller of Limbourne, son of John le Botiller and his first wife Joan. (fn. 20)
John of Limbourne (fn. 21) died in the same year, and Wymering passed to his daughter and heir Isabel wife of Geoffrey de Roucle. (fn. 22)
Geoffrey survived his wife and held the manor until his death in 1390, when it passed to Richard Wayte son of Isabel by her first husband Richard Wayte of Denmead. (fn. 23) On his death in 1423 Wymering passed to his son William, who had married Margaret daughter of Robert Barbot of Ernelles. (fn. 24)
In 1448 William died leaving it to his son Edward, then aged five, (fn. 25) from whom it passed to Simon Wayte, who died in 1518, leaving a brother and heir William. (fn. 26) The latter died in 1561, leaving Wymering and other lands in Hampshire and the Isle of Wight to be divided among his six daughters and coheirs, Eleanor the wife of Richard Bruning, Mary the wife of William Cresswell, Honor who had married her cousin William Wayte, Margaret the wife of Henry Perkins, Elizabeth who had married Richard Norton, and Susan married to William Wollascot. (fn. 27)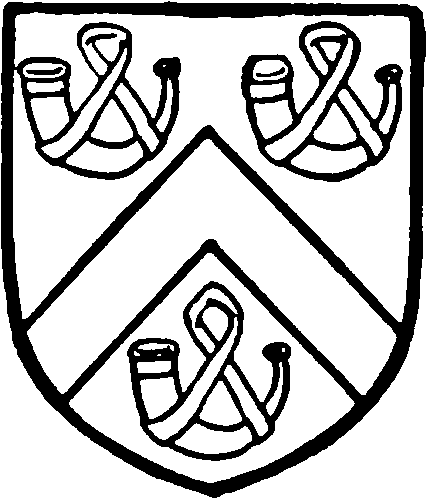 In 1582 Honor Wayte ceded her portion of the manor of Wymering and of the other lands to William Cresweller senior and her sister Mary his wife, (fn. 28) whose son William Cresweller in 1595 granted his reversion of these two shares to Thomas Grene (fn. 29); and accordingly, thirteen years later, on the death of William Cresweller senior the reversion of these two shares in Wymering passed to Thomas Grene. (fn. 30)
The Wollascots conveyed their portion of the manor of Wymering in 1587 and 1613 to Thomas Farmer and Edmund Plowden together with their other lands and rents in Hampshire, (fn. 31) evidently as a settlement, and in 1613 they again conveyed it to Otho Gayer and George Parker, probably trustees. (fn. 32)
Eleanor Bruning died in 1593 leaving one-sixth of the manor to her son and heir Francis, charged with an annuity to her son William and with a jointure settled on Ellen, wife of her son Richard, the daughter and heir of Anthony Uvedale. (fn. 33) Christina Bruning, most probably the widow of Francis Bruning, conveyed this sixth part of the manor to Humphrey Sandford and Thomas Wollascot in 1604. (fn. 34) But in 1610 the manor was again in the possession of the Brunings. (fn. 35) Richard Bruning died in 1612, leaving Wymering to his son Anthony with a jointure settled upon Mary, Anthony's wife. (fn. 36) Conveyances of the manor were made by Anthony Bruning in 1625, (fn. 37) in 1636, (fn. 38) and in 1646, (fn. 39) after which date there is no record of this part of the manor.
The part of Wymering which passed into the hands of the Perkins family by the marriage of Margaret Wayte and Henry Perkins remained to them nearly 150 years, for in 1703 Anne Perkins, one of the Perkins of Beenham (co. Berks), who had married her cousin Francis Perkins of Ufton, the great-great-grandson of Henry Perkins (fn. 40) and Margaret, together with Frances and Margaret her sisters-in-law, conveyed her share in the manor to her cousin Thomas Perkins, who belonged to a younger branch of the family. (fn. 41) This is the latest date at which there is a record of the divided manor; and some time before 1730 the separate shares must have been acquired by one family, since at that date the whole manor was in the hands of George Kelly in right of his wife Sarah, (fn. 42) and we have evidence of their ownership three years later, when they apparently conveyed it to Sir John Huffield, kt. (fn. 43) Thomas Gosling was holding the manor in right of his wife Elizabeth (fn. 44) in 1821, and sold it in that year to Thomas Thistlethwayte, (fn. 45) in whose family the manor has remained until the present day.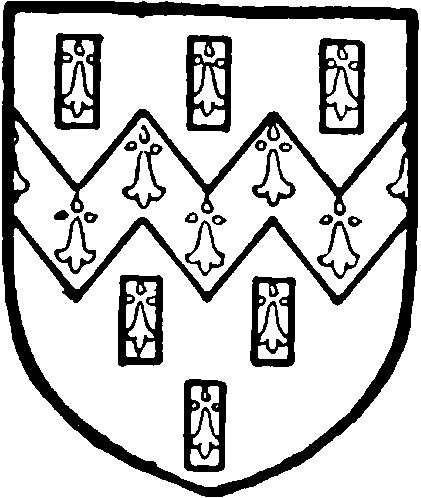 At the time of the Domesday Survey the king held four hides in COSHAM, (fn. 46) which were part of the royal manor of Wymering.
William de Cosham held land worth 60s. in Cosham by serjeanty, providing one armed man for the defence of Portchester Castle in time of war. (fn. 47) He was succeeded by his son Peter de Cosham, who held his lands in Cosham by the same tenure. (fn. 48) This Peter de Cosham seems to have had several daughters, the two eldest of whom divided the land in Cosham. (fn. 49) Peter, son of Agnes the eldest daughter, conveyed his land in Cosham to Henry Wade in 1269. (fn. 50) From Henry Wade it passed to his son John, who in 1288 came before the king and tried to replevy his lands in Bray and Cosham, which were taken into the king's hands for his default against Margery, his father's widow. (fn. 51) In 1303 John son of Henry Wade obtained licence to enfeoff Thomas de Sandford with his land in Cosham which was held in chief, (fn. 52) and on his death in the same year the property passed to Thomas de Sandford. (fn. 53) William de Erle died seised of Cosham Manor in 1307, (fn. 54) which he held of the castle of Portchester, part of which he had acquired by inheritance, being a descendant of the second daughter of Peter Cosham, and part probably in right of his wife Maud who was the daughter of John Wade. (fn. 55)
Two years later the grange opposite the wall at Cosham was assigned in dower to Maud widow of William de Erlee. (fn. 56)
In 1321 (fn. 57) John son of William de Erlee granted his land in Cosham to Thomas de Sandford and Joan his wife, (fn. 58) who thus became seised of the whole estate.
Thomas died seised of lands in Cosham held of Portchester Castle in 1327; (fn. 59) part of his lands were held by his widow Joan in dower, the rest descended to his son Richard, who shortly before his death in the same year sold his own share and the reversion of his mother's dowry to Laurence de Pageham. (fn. 60) Laurence de Pageham still held land in Cosham in 1375. (fn. 61) It would seem possible that Laurence's name was Darrell, for in 1486 John Wallop held lands and tenements in Cosham of his successor in title, Constantine Darrell of Pageham. (fn. 62)
In 1604 this part of Cosham was in the hands of the Brunings, who were also holding the manor of Wymering; and from this time onwards Cosham evidently became merged in the manor of Wymering and followed its descent (q.v.). (fn. 63)
At the time of the Domesday Survey Anschitel son of Osmund held Cosham of the king, Bricsmar had held it of King Edward as an alod; the same Anschitel also held half a hide of the king which Norman had held of King Edward as an alod. (fn. 64) This entry in Domesday probably refers to EAST COSHAM, which was held by Maud de Bokland in the twelfth century. (fn. 65) It is never called a manor, but merely land in East Cosham. From Maud it passed to Roger de Maundeville, then to his son Geoffrey and his grandson Geoffrey, who held East Cosham in 1241. (fn. 66) This Geoffrey had two sons, Geoffrey and William; William held East Cosham after his brother Geoffrey and gave it to Geoffrey de Lucy, (fn. 67) who sold it to Peter des Roches, bishop of Winchester. The bishop assigned it in free alms towards the foundation of the abbey of Titchfield. (fn. 68)
An order was issued in 1281 to cause the lands of East Cosham which were held of the king in chief to be replevied to the abbot of Titchfield, since the abbot had entered on them without licence. (fn. 69) Licence was granted to the abbot of Titchfield and Thomas de Sandford to exchange their lands in East Cosham in 1310. (fn. 70)
A confirmation of the grant by Peter bishop of Winchester to the abbey of Titchfield of land in East Cosham and Cosham, of the release by Peter de Cosham of all service due to him from the abbot and convent from their land in East Cosham, was made in 1318. (fn. 71) After the dissolution of the monasteries the land in East Cosham which had belonged to the abbey of Titchfield was granted to Henry Wriothesley in 1607, together with toll and theam, infangtheof and utfangtheof. (fn. 72)
After this no record of the descent of East Cosham has been found until 1779, when it was in the hands of Thomas Joliffe and his wife Elizabeth, who conveyed it to Thomas Wrenford. (fn. 73) Sixteen years later Thomas Wrenford and his wife Mary Shapleigh conveyed the manor to Young Meller. (fn. 74) From Young Meller it seems to have passed to Thomas Gosling and his wife Elizabeth. They in their turn sold it to Thomas Thistlethwayte, lord of the manor of Wymering, in 1821, in whose family it still remains. (fn. 75)
The hamlet of HILSEA or HULSEA (Hulseye, xiv cent.; Hulsea, xvii cent.) seems to have no separate recorded history until the fourteenth century, when in 1316 John le Botiller was holding Wymering and Hilsea; (fn. 76) it is therefore probable that up to this time Hilsea was included in Wymering manor, and followed the descent of the manor till 1730 (q.v.). In 1813 it was in the possession of Richard Cater, and was sold by him to William Padwicke. (fn. 77) A court baron was held at Hilsea until about this date, (fn. 78) but after 1813 the manorial rights seem to have lapsed, and Hilsea was once more included in Wymering, Mr. Thomas Thistlethwayte being lord of the manor.
In the thirteenth century the family of Esturs, lords of the manors of Gatcombe (Calborne and Whit well) in the Isle of Wight, also held a small portion of land at Hilsea, in Wymering, and in Portsea, which was known later as the manor of LITTLE GATCOMBE, to distinguish it from the larger manor in the Isle of Wight. The origin of Hilsea manor appears to have been one of the Portchester serjeanties, for under Henry III Fulk 'de Wymeringes' held his land by service there for eight days in time of war. (fn. 79) In 1291 Sir William de Esturs died seised of 20 acres of land in Hilsea, held by the service of suit at the court of Portchester Castle every three weeks, and of providing for eight days in time of war one man armed with a lance, helmet, and shield; he also held 20 acres of land from the lord of Warblington, and 20 acres of land from Richard de Portsea for the rent of a pound of pepper and one rose. (fn. 80)
Sir William was succeeded by his brother Geoffrey Lisle, who died two years later, leaving a son and heir Baldwin, then aged twenty-three. (fn. 81) Baldwin died in 1307, and was succeeded by his son John, who was only four years old, and a minor in the king's wardship. (fn. 82)
John de Lisle of Gatcombe, as he was called, died in 1337 seised of the manor of Hilsea, (fn. 83) which was still held from the king in chief by grand serjeanty, for the service of arming a man in time of war for the defence of Portchester Castle. (fn. 84) He left a son John, aged thirteen, the custody of whose lands was granted to his mother Joan during his minority. (fn. 85) On his death in 1349 he was holding 40 acres of land in Portsea at Hilsea, (fn. 86) also a messuage, garden, dove-house, 60 acres of arable land, and 2 acres of Wood in Portsea, held of the manor of Warblington for an annual rent, and for doing service at the court of Warblington. His heir was his son John, aged six, (fn. 87) who died in 1369, his land passing to his sister Elizabeth, the wife of John Bramshott, of Bramshott, in Hants. (fn. 88)
In 1432 William Bramshott, lord of the manor of Gatcombe, granted his lands in Hilsea and Copnor to his son Baldwin, (fn. 89) who before his death in 1468 granted the so-called manor of Little Gatcombe to his brother John, (fn. 90) and at his death in 1479 the lands passed to Elizabeth and Margaret, the daughters and co-heirs of John Bramshott, Elizabeth being the wife of Sir John Dudley, and Margaret of Sir John Pakenham. (fn. 91)
Sir John Pakenham and his wife Margaret both died in 1485, and they seem to have left two children, Edmund who inherited their estates in Bramshott, (fn. 92) and Constance who inherited their lands in the Isle of Wight, and who married Sir Geoffrey Poole of Lordington in Sussex. (fn. 93) The manor of Little Gatcombe is not mentioned in any of the inquisitions on Sir John Pakenham or Sir John Dudley, but it seems probable that it was included in the share of Sir John Dudley and his wife Elizabeth Bramshott. Elizabeth died in 1498 and her husband in 1501; they left a son and heir Edmund who was thirty-six at the time of his mother's death, (fn. 94) and who married Elizabeth daughter of Edward Viscount Lisle. (fn. 95) This Edmund was attainted for high treason and beheaded on Tower Hill in 1510; the attainder was reversed, however, in the following year and his lands restored to his son John (fn. 96); but it seems probable that Little Gatcombe was not restored, but was granted to William Erneley, who died seised of it in 1445, though no record of such a grant can be found. (fn. 97)
At his death William Erneley was holding two messuages, 100 acres of land, 10 acres of meadow, 20 acres of pasture, and 10 acres of wood in Little Gatcombe and Little Bramshott, called the manor of Little Gatcombe, with lands in Bramshott, which he left by will to his eldest son Francis, with reversion to his second son Richard. (fn. 98) Francis died a few years later and the lands passed to Richard, who held them until his death in 1607, when they passed to his son Richard, (fn. 99) who sold Little Gatcombe and 120 acres of land in Portsea and Wymering to William Marshe in 1613 (fn. 100); the latter died seised of the estate in 1622, leaving the manor by will to his eldest daughter Lucy. (fn. 101)
In 1691 Little Gatcombe was in the hands of William Chafin and his wife Mary in right of the latter, who was possibly a granddaughter of Lucy Marshe, and was sold by them to Thomas Brounker, (fn. 102) who kept it until 1714, and then sold it to Captain Matthew Teate. (fn. 103)
Captain Teate apparently had a daughter, who married Matthew Brady, the possessor of Little Gatcombe in 1744. (fn. 104) They had two daughters, one of whom, Sarah, (fn. 105) married Admiral Sir Roger Curtis, (fn. 106) who was obliged to sell his lands to the government, as the estate was required for military purposes. Barracks were commenced in 1780, and in 1794 a camp was formed for several thousand men. (fn. 107)
CHURCH
The church of ST. PETER AND ST. PAUL is a small building with chancel, north vestry, nave and aisles, and south porch. At the west end of the nave is a wooden bell-turret replacing a small embattled west tower pulled down in 1860. Most of the modern work in this church dates from this time.
The north arcade of the nave belongs to the last quarter of the twelfth century, and is the earliest part of the church to which a date can be assigned. The south arcade was added about 1220, and the chancel was probably rebuilt about the same time. There are no traces of later enlargements of the plan, but the restoration of 1860 was drastic, and part of the history of the church doubtless disappeared at the time.
The chancel has a modern east window of three lights, replacing a three-light fifteenth-century window. In the north wall is a recess with shafts in the jambs, a door to the vestry, and an arch to the organ-chamber, all being modern, and in the south wall a lancet window, the stonework of which has been renewed, and a modern window of two lights replacing a single-light opening. At the east end of this wall is a square recess, and to the west of it a cinquefoiled fifteenth-century piscina and two thirteenth-century sedilia, with arched heads, and shafts with moulded capitals and bases.
The chancel arch is modern, of two chamfered orders, the inner of which springs from corbels.
The nave is of four bays, the north arcade having pointed arches of a single order with a label of halfround section, square scalloped capitals with the angles chamfered off, and circular columns with moulded bases. The eastern arch of this arcade has an added inner order.
The south arcade has pointed arches of two hollowchamfered orders with moulded labels, and circular moulded capitals with octagonal abaci, resting on very slender round columns, only 11 in. in diameter. This arcade is very well designed, though rather a daring piece of building, the springers of the arches being no less than 12½ in. wider than the columns. No old details remain in the north aisle, and the windows of the south aisle replace square-headed windows with transoms, while the south porch is also the modern successor of a former porch. In the south aisle is, however, a late thirteenth-century piscina with a shelf, and to the west of the first window in the south wall a recess with an arched and moulded head.
All the wooden fittings of the church and the roofs are modern, the latter being covered with red tiles and carried in one span over nave and aisles. The font is modern, a round Purbeck marble bowl standing near the south doorway of the nave.
A painting of St. Christopher was found over the north arcade of the nave in 1860.
In the bell-turret are two bells by John Warner, 1861.
The plate is modern, consisting of a chalice and paten of 1855, a flagon of 1861, and a pair of cruets. The registers of both Wymering and Widley are kept here. The two earliest books run from 1655 to 1699, and 1700 to 1744. The third book, with Wymering entries only, goes from 1745 to 1748, and the fourth, which is for Widley only, from 1738 to 1812. The fifth has Wymering entries 1738–90, the marriages stopping at 1754, and the sixth is the marriage book for Widley, 1754–1813. The seventh and eighth books both belong to Wymering, and contain respectively the baptisms and burials 1791– 1813, and the marriages 1755–1812.
The vestry book for 1744 to 1834 is preserved, and contains a list of church goods in 1744.
ADVOWSON
Wymering church (fn. 108) was assessed in 1291 at £8. (fn. 109) In 1535 the vicarage was worth £8 2s. (fn. 110) The advowson of the vicarage was held by the prior and convent of Southwick until the Dissolution, (fn. 111) after which it followed the descent of the manor of Southwick until 1817. From this date until 1847 it was held alternately by Thomas Thistlethwayte, the lord of the manor of Wymering, and by Winchester College. (fn. 112)
Wymering vicarage was consolidated with the rectory of Widley at the beginning of the nineteenth century (fn. 113); and the right of presentation to the consolidated benefice was bought by F. T. Nugée from Thomas Thistlethwayte in 1847, (fn. 114) and has remained in his family until the present day.
CHARITIES
The Cosham Almshouses.—In 1600 Honor Wayte, by deed, granted to trustees her interest in a lease for 5,000 years acquired by her in 1594 of a messuage, orchard, and garden in Cosham, upon which she had settled a poorhouse for four poor, honest women, and a yearly rent of 6s. 8d. to be paid out of 'Stakes Garden,' and a yearly rent of £6 to be paid out of her manor of Denmead to the intent that the said messuage and premises should for ever remain a dwelling-house for four poor sole women of Wymering, or failing such out of the parish of Wickham; the said yearly rent of 6s. 8d. to be employed about the repairing of the said house, and such uses in charity as the trustees should think most meet, and the said annuity of £6 to be divided equally among the four occupants.
The rent-charge of 6s. 8d. is duly paid by Mr. Thomas Thistlethwayte, and the annuity of £6 is paid by Mr. John Kennett and equally divided among the four occupants, who also receive the benefit in fuel of the interest of £100 consols bequeathed in 1818 by the will of John Soaper and of £100 consols given in 1839 by the Rev. James Henville. The income of another sum of £100 consols belonging to the charity of the Rev. John Taylor is also received by the occupants. (See parish of Widley.)
The said Honor Wayte by her will, proved in December, 1600, also charged her manor of Denmead with a further yearly rent of 20s. for sick and aged poor. The annual sum of 20s. is duly received and applied.