Pages 355-356
A History of the County of Hampshire: Volume 3. Originally published by Victoria County History, London, 1908.
This free content was digitised by double rekeying. All rights reserved.
THE HUNDRED OF BERMONDSPIT
CONTAINING THE PARISHES OF
| | | |
| --- | --- | --- |
| | | |
| DUMMER WITH KEMPSHOT | HERRIARD | SOUTH WARNBOROUGH |
| ELLISFIELD | NUTLEY | UPTON GREY |
| FARLEIGH WALLOP | PRESTON CANDOVER | WESTON CORBETT |
At the time of the Domesday Survey the hundred of Bermondspit consisted of the parishes of Candover, Herriard, Ellisfield, Nutley, Farleigh, Dummer, and 'Sudberie.' (fn. 1) Of these Sudberie only remains unidentified. (fn. 2) It was held, according to Domesday, by Ednod and Edwi of King Edward. After their deaths, Cola, their kinsman, redeemed this land of Earl William of Here ford. Walter, at the time of the Survey, held it in pledge from the son of Cole of Basing. (fn. 3)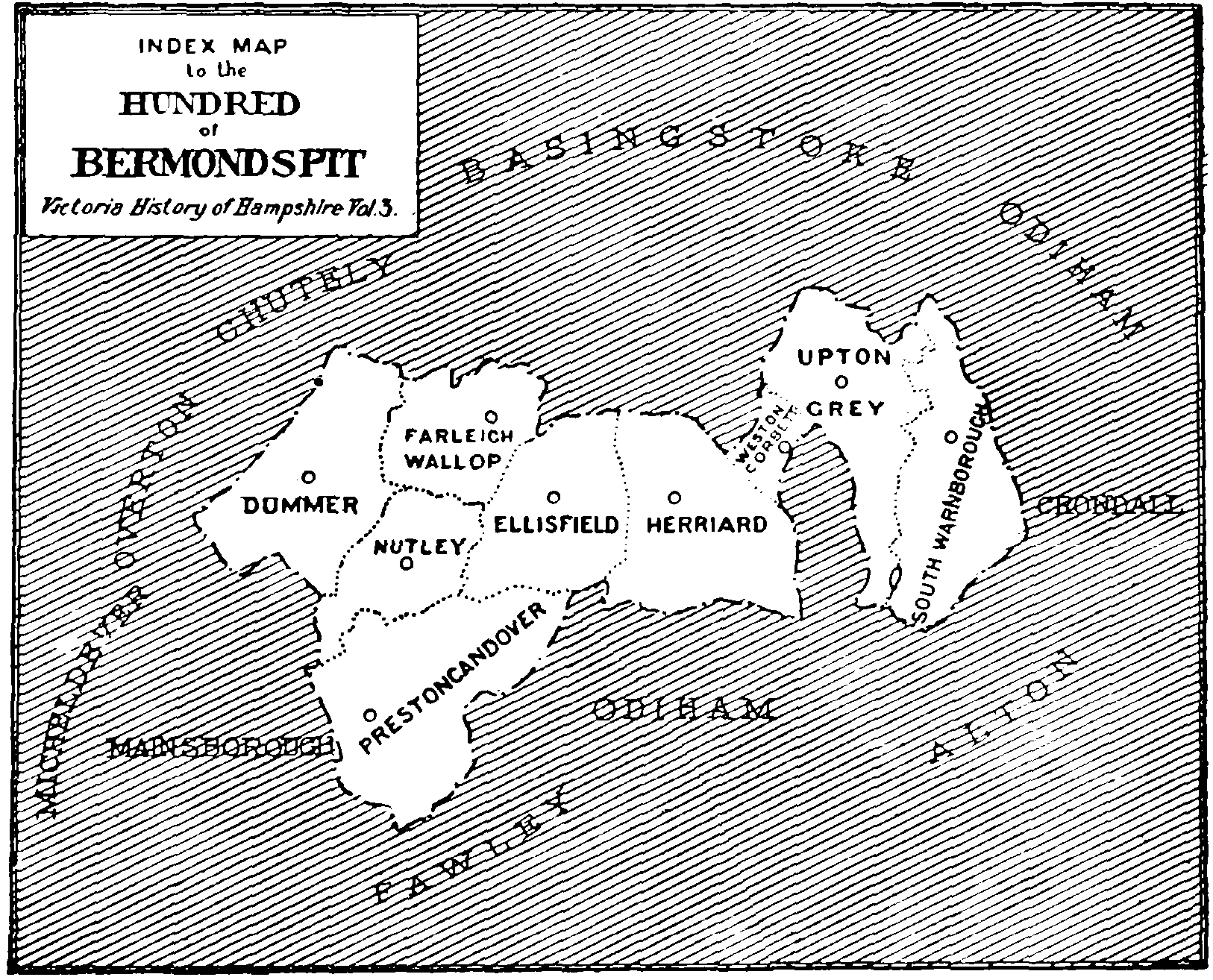 The other parishes afterwards included in the hundred, namely, Upton Grey (fn. 4) and South Warborough, with Hoddington, (fn. 5) and Weston (Patrick) (fn. 6) (now in Odiham Hundred) were at the date of the Domesday Survey part of a hundred named Odingetone which derived its name from Hoddington in Upton Grey, but before the eleventh century this hundred had been merged into that of Bermondspit.
The returns of the Feudal Aid for 1316 include Hoddington (Hodegeton), Upton, Weston Corbett, Herriard (Herehyrde), Dummer, Nutley, Ellisfield, (Hulsefelde), Farleigh, Candover, within the hundred of Bermondspit. (fn. 7) 'Southwarneborough' appears in the hundred in 1346. (fn. 8) Since this date there has been very little variation in the extent of the hundred. The lay subsidies of the reigns of Henry VIII (fn. 9) and Elizabeth (fn. 10) show that the hundred still contained the same parishes as in the fourteenth century.
Bermondspit being a royal hundred came under the Parliamentary Survey of the crown property in the time of the Commonwealth. According to the returns of this Survey the hundred still contained the same parishes, Weston Corbett only being unmentioned. It appears that the courts-leet and law-day sheriff's turn courts for the hundred were held about Hocktide and St. Martin's Day, the parish of Nutley being the place in which the court was usually held. (fn. 11)
The parishes included since the returns of 1831 within Bermondspit Hundred are Bentworth, Bradley, Dummer, Ellisfield, Farleigh Wallop, Herriard, Lasham, Nutley, Popham, Preston Candover, Upton Grey, Weston Corbett, and Weston Patrick. With the hundred of Hoddington (Hodeketone) and others Bermondspit belonged to the royal manor of Basingstoke. Edward I appears to have had cause of complaint in that due payment had not been rendered from the hundred, and John de St. John, powerful in Bermondspit as elsewhere, did not permit the king's bailiffs to make distraint for the debt in his fee. (fn. 12) The same king is found calling a tenant in Bermondspit to account, since the villeins of the prior of Southwick had failed to render suit at the hundred of Bermondspit, as was their duty. The prior put the onus of the offence upon William de Valence, who had hindered the suit due to the king. (fn. 13) Likewise also Edmund earl of Cornwall was summoned to see that his men of Dummer rendered suit at the royal hundred of Bermondspit. (fn. 14)