Pages 82-83
A History of the County of Hampshire: Volume 3. Originally published by Victoria County History, London, 1908.
This free content was digitised by double rekeying. All rights reserved.
THE HUNDRED OF FINCHDEAN
CONTAINING THE PARISHES OF
The above list represents the extent of the hundred of Finchdean at the time of the population returns of 1831. The parishes of Bramshott, Greatham, and Liss were added to the hundred before 1841, (fn. 1) and Waterloo, constituted a parish in 1858, is also now included in the hundred.
At the time of the Domesday Survey this hundred was called 'Ceptune' Hundred, and included the parishes of Blendworth, Buriton, Catherington, Chalton, Clanfield, and Petersfield. (fn. 2) The land comprising the hundred was assessed in the time of Edward the Confessor at 83 hides, and in the time of the Survey at about half that amount. The hundred had assumed its modern name before the end of the twelfth century, (fn. 3) but seems sometimes to have been called 'Wlputta,' as in the Testa de Nevill, where Chalton, Idsworth, and Mapledurham are included in the hundred of that name. (fn. 4) The extent of the hundred has altered but little since the time of the Survey. Some of the parishes, however, of which it was composed had not exactly the same boundaries as they have at the present day. Thus the western part of the parish of Catherington was included in the hundred of Portsdown until the reign of Edward II, and in the reign of Edward I the manor of Hinton Daubnay is mentioned as being in the same hundred, (fn. 5) while in 1316 it was included in Finchdean. (fn. 6) Wellsworth, which is situated in Idsworth chapelry, was also included in Portsdown Hundred in the reign of Edward I, when the abbot of Titchfield was forced to allow his villeins of Wellsworth to do suit at the hundred of the king at Portsdown, (fn. 7) and it was not until the beginning of the seventeenth century that it was transferred to Finchdean. (fn. 8) In 1431 the fourth part of a knight's fee in 'Oldestoke' was included in Finchdean, (fn. 9) but this place does not appear under the hundred in subsequent subsidy rolls.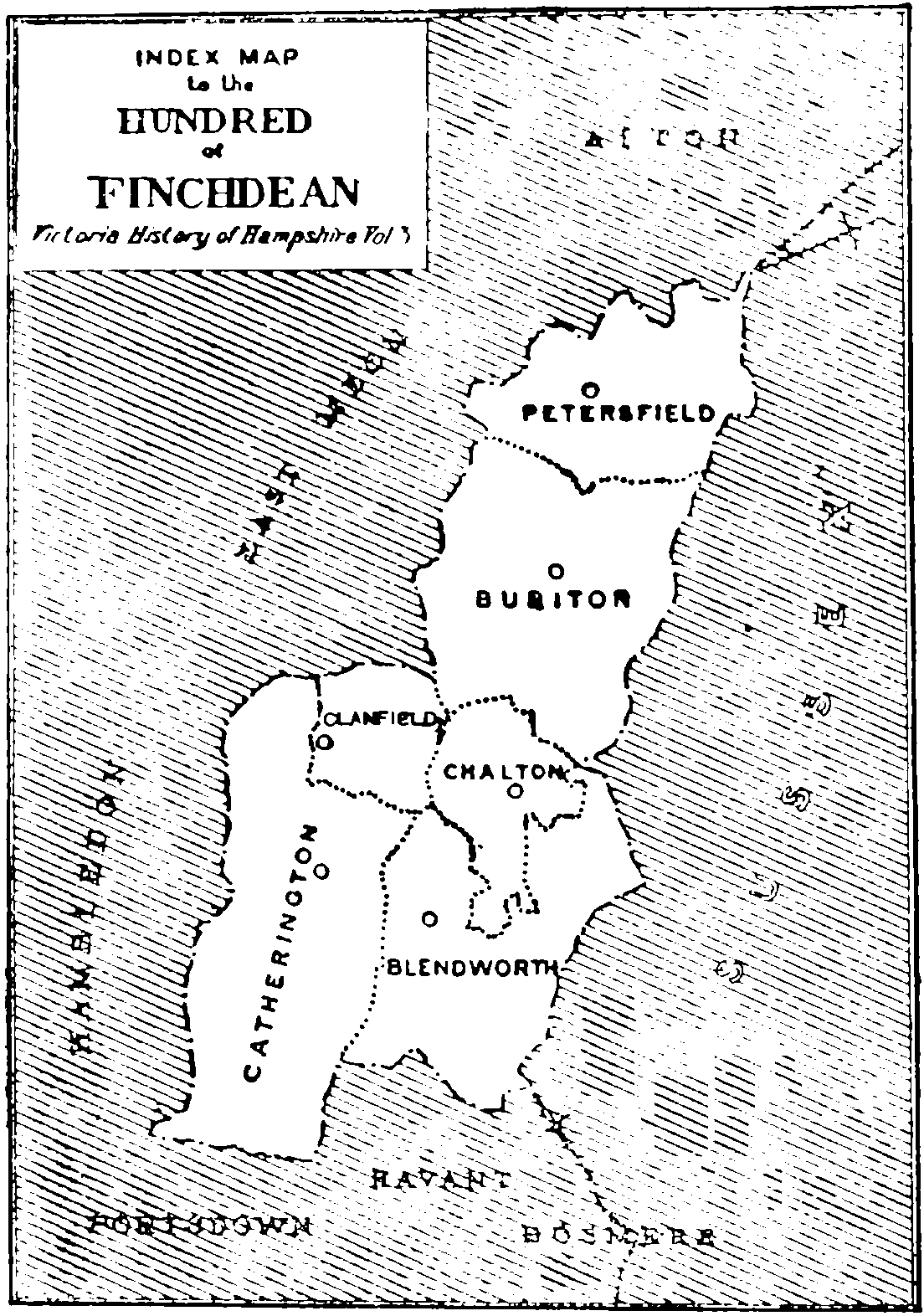 The hundred originally belonged to the crown, (fn. 10) and was granted either in the twelfth or thirteenth century to William de Albini, earl of Arundel. (fn. 11) It was appendant to the earldom of Arundel for a considerable time, (fn. 12) finally passing to Henry V on the death of Thomas, earl of Arundel, in 1415. (fn. 13) The hundred then remained with the crown for nearly two hundred years, Elizabeth at length in 1600 granting it by letters patent to Henry Best and Robert Holland, who conveyed it the next day to Robert Paddon and his heirs. (fn. 14) In 1604 Robert sold it for £150 to Nicholas Hyde, lord of the manor of Hinton Daubnay, (fn. 15) since which date it has followed the descent of that manor (q.v.). (fn. 16) As late as 1651 a hundred court with view of frankpledge was held twice a year for the hundred at Hocktide and Martinmas. (fn. 17)