Page 223
A History of the County of Hampshire: Volume 4. Originally published by Victoria County History, London, 1911.
This free content was digitised by double rekeying. All rights reserved.
THE HUNDRED OF CHUTELEY
containing the parishes of Church Oakley; Hannington; Monk Sherborne; Wootton St. Lawrence; Worting
The above list represents the extent of the hundred at the time of the Population Returns of 1831.
At the time of the Domesday Survey the hundred contained the same parishes with the addition of Bighton and Deane, (fn. 1) which were transferred respectively to the hundreds of Bishop's Sutton and Overton before 1316. (fn. 2) 'Gerlei,' a district in Deane and Church Oakley, which seems to have comprised much of what is now the Malshanger estate, (fn. 3) was also included among the holdings in Chuteley Hundred at the time of the Survey. (fn. 4) The tithing of Chineham, (fn. 5) and probably also Woodgarston, (fn. 6) both in the parish of Monk Sherborne, were in Basingstoke Hundred in 1086. Both these tithings formed part of Basingstoke Hundred as long as the courts were held.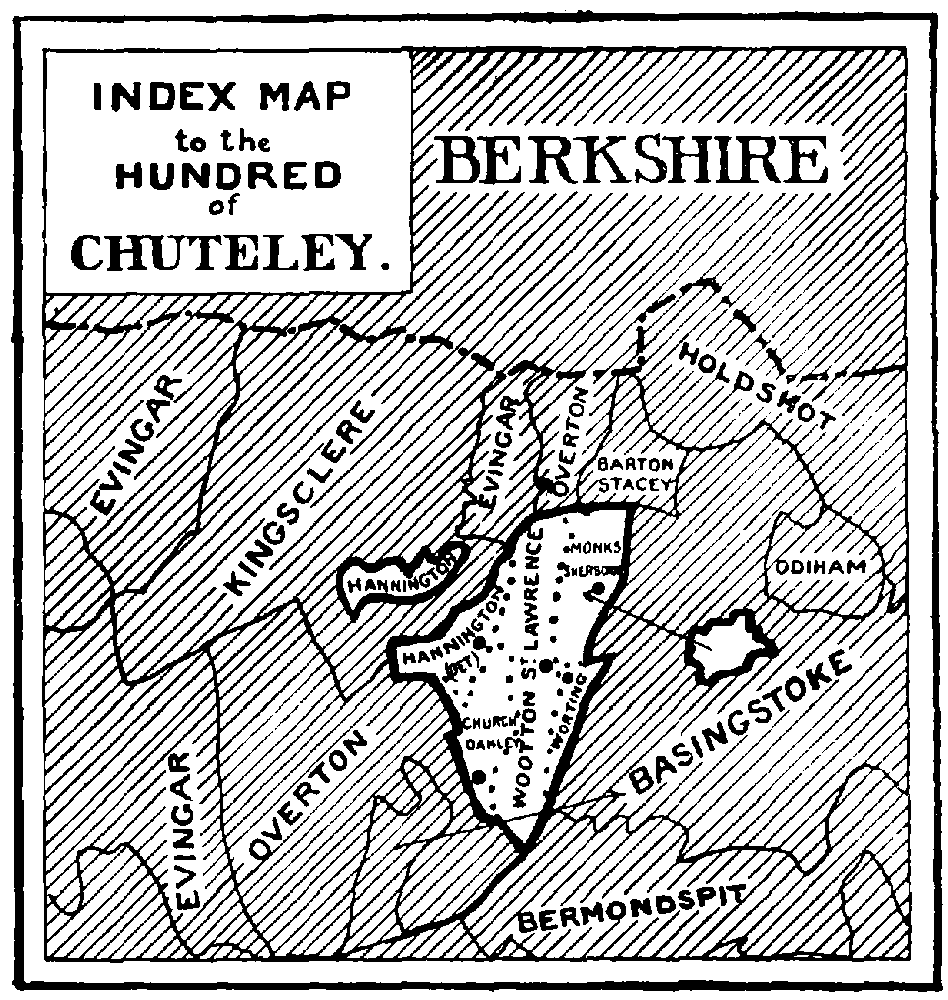 The total assessment before the Conquest was 81½ hides and half a virgate, which was reduced in 1086 to 61 hides and 1½ virgates.
The parishes of Monk Sherborne, Worting and Wootton St. Lawrence were added to the hundred of Basingstoke after 1831, and the hundred of Chuteley now contains only the parishes of Church Oakley and Hannington.
The hundred was one of the five 'out-hundreds,' which belonged in early times to the manor of Basingstoke, and were separated from it in 1228, when the king reserved them to himself. (fn. 7) Chuteley remained in the possession of the Crown until the Commonwealth, (fn. 8) when it came into the hands of the Tilney family, (fn. 9) by whom it was sold in March 1653 to William Wither of Manydown. (fn. 10)
The courts were 'kept under a certaine hedge at Malshanger at Michaelmas and Hocktide according to the ancient custom,' but they had been discontinued for some years before 1652. (fn. 11)