Page 333
A History of the County of Hampshire: Volume 4. Originally published by Victoria County History, London, 1911.
This free content was digitised by double rekeying. All rights reserved.
THE HUNDRED OF ANDOVER
containing the parishes of; Abbotts Ann; Amport; Andover; Foxcott Chapelry; Appleshaw; Clatford, Upper; Fyfield; Grately; Kimpton; Knight's Enham; Monxton; Penton Mewsey; Quarley; Thruxton; Tidworth, South; Weyhill with Penton Grafton (fn. 1)
Alterations have been made in this hundred since 1831. Upper Clatford and Thruxton are now in Pastrow Hundred, while Tangley, then in Pastrow, and Shipton Bellinger, then in Thorngate, have been added to this hundred.
Part of Abbotts Ann—the tithing of Little Ann—was as well in Domesday (fn. 2) as now in the hundred of Wherwell, but is described under Andover. In Domesday the total hidage was 70 hides, 3 virgates, 90 acres, as against 111 hides, 1 virgate, 62½ acres in the time of Edward the Confessor. (fn. 3) This does not include Andover itself, of which the extent is not given. Neither Grately nor Appleshaw occurs, the latter apparently being included in one of the holdings in Cholderton in Amport. Grately cannot with certainty be referred to any of the entries. One of the three South Tidworth holdings is entered under Thorngate Hundred, (fn. 4) where it continued to be included for some time. (fn. 5)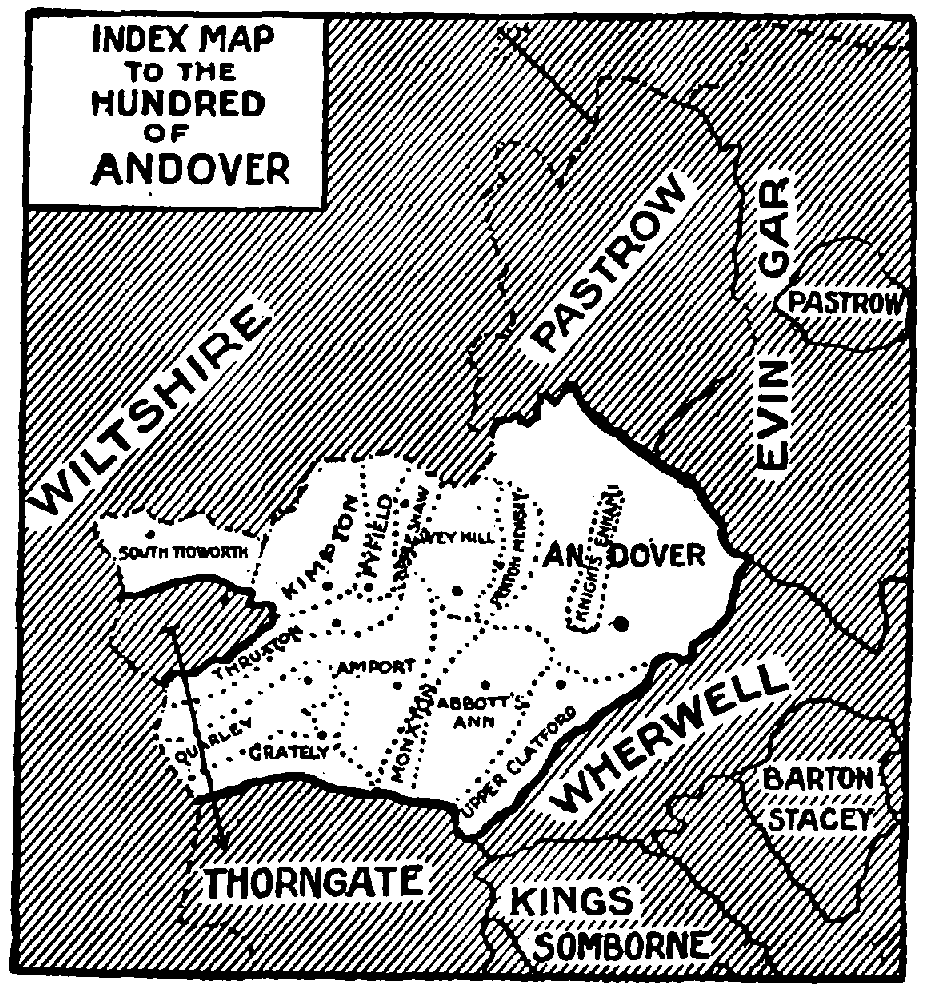 By his charter of 1213 (fn. 6) John granted the out-hundred to the men of Andover, who ever afterwards held it of the king, paying fee-farm rent as for manor, hundred and vill.
A court was held every Monday at Andover. The heading 'Curia tenta die Lune,' &c., alternates in the rolls with 'Hundredum tentum die Lune,' &c. In some rolls 'Hundredum forinsecum' is substituted for the former, 'Hundredum intrinsecum' for the latter. (fn. 7)
In 1280 William de Valence made good his claim that the manor of Thruxton was quit of suits of shires and hundreds under charter of Henry III, (fn. 8) and about the same date John de Evinely successfully urged a like franchise for his land which he held of the Knights of St. John of Jerusalem. (fn. 9)