Pages 1-2
A History of the County of Hampshire: Volume 4. Originally published by Victoria County History, London, 1911.
This free content was digitised by double rekeying. All rights reserved.
THE HUNDRED OF CRONDALL
containing the parishes of Aldershot; Crondall, with the Tithings of Ewshott, Dippenhall, Crondall, Swanthorpe, and Crookham; Farnborough; Long Sutton; Yateley, with the Tithings of Cove and Hawley (fn. 1)
Under Crondall Hundred, in Domesday Book, are entries relating to Crondall, Itchel (in Crondall), Cove (in Yateley), Badley (now Clare Park), Long Sutton, and Farnborough; (fn. 2) and as the whole of Aldershot and the greater part of Yateley were then included in Crondall, it appears that the extent of the hundred was practically the same in 1086 as in 1831. Minley in Yateley, however, was in Holdshot Hundred, (fn. 3) and continued to form part of it for many centuries. (fn. 4)
The Bishop of Winchester in 1086 held the whole hundred, and it is stated to have always belonged to the Church. (fn. 5)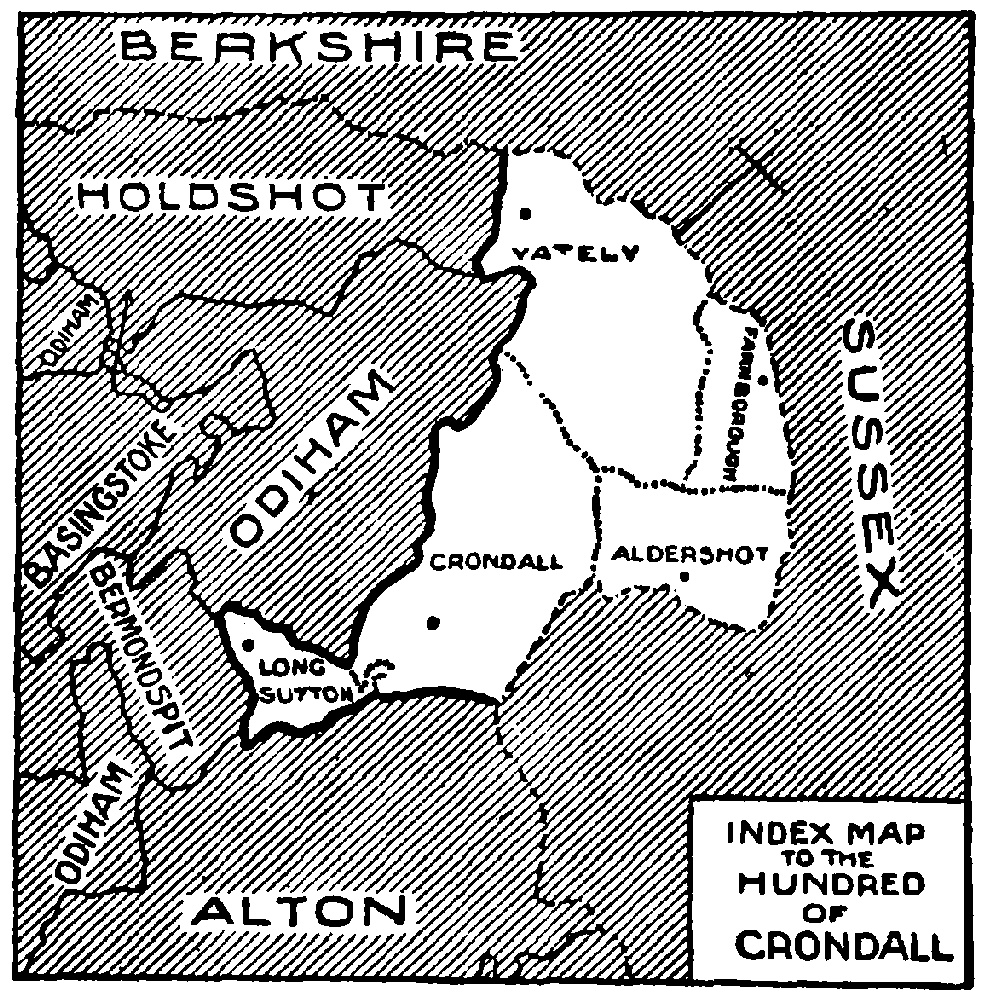 There were 50 hides in the time of Edward the Confessor, but from that period until 1086 the Church only paid geld for 40 hides. (fn. 6)
The descent of the hundred is identical with that of the manor of Crondall (q.v.).
Although the Bishop of Winchester's rights over Crondall had been defined in 1283–4, (fn. 7) the struggle between the bishop and the prior and convent as to the court to which the Hampshire tithings owed suit—to Blackheathfield in Farnham or to Crondall—only came to an end in 1398, when it was decreed that all the free tenants of Crondall, with all the tithing-men of the towns, villages, and hamlets of the entire manor and lordship of Crondall, together with four men of each tithing, were bound to pay two suits yearly at the bishop's court at Blackheathfield. (fn. 8)
This shows that the men of Crondall were subjected to the hardship of paying suit at two hundred courts, for they not only presented at the tourn of Farnham Blackheath, but also at the Crondall Hundred tourn. (fn. 9) Since 1831 the following parishes have been formed:—Cove, in 1838, from the parish of Yateley; Crookham, in 1842, from Crondall parish; Ewshott, in 1886, from the parishes of Crondall and Crookham; Fleet, in 1863, from the parishes of Crondall, Elvetham, and Yateley; Hawley, in 1838, from Yateley; and Minley, in 1871, from Yateley.