Pages 219-221
A History of the County of Hampshire: Volume 4. Originally published by Victoria County History, London, 1911.
This free content was digitised by double rekeying. All rights reserved.
TADLEY
Taddele, Tadeleye (xiii cent.); Tadelegh, Taddelegh (xiv cent.); Tadele (xv cent.).
Tadley is a parish in the north of Hampshire on the borders of Berkshire situated about 4 miles south from Aldermaston station on the Newbury and Devizes branch of the Great Western Railway and 6½ miles north-west from Basingstoke. St. Peter's Church stands about half a mile south-west from the principal village, which is situated on the main road from Basingstoke to Reading. In the extreme north near Tadley Common are the hamlets of Heath End with the modern church of St. Mary, New Town and Mount Pleasant. Bishop's Inclosure and Bishop's Wood Farm to the south of the common mark the connexion of the Bishop of Winchester with the parish, recalling the fact that his property in Tadley comprised a wood. (fn. 1) Near Bishop's Wood Farm Bishop's Wood Stream takes its rise and flows thence east, its name being changed to Silchester Brook when it enters Silchester. The parish is on the whole well populated, and there are several modern residences, among them being Hawley House about half a mile west of the village, and the Wilderness in the north on Tadley Common. Tadley Place Farm is situated on the Port Way, the ancient road from Old Sarum to Silchester which intersects the south of the parish. Wyford Farm with its old fishponds, the ancient seat of the Ludlows, is in the extreme south-east. Bricks are manufactured at Tadley Common. There are many copses scattered through the parish, the number of acres given up to woods and plantations being 234¾ (fn. 2) 453¾ acres are devoted to permanent grass, and crops of wheat, barley and oats are grown on the 417 acres of arable land which it contains. (fn. 3) The total area is 2,079 acres. The soil is sand, gravel and clay, and the subsoil clay and sand. Part of the parish was assigned to the consolidated chapelry of Ramsdale (fn. 4) on 15 January 1869.
Manors
A large part of the parish of TADLEY was included from a very early date in the manor of Overton. Thus in the confirmation of the manor of Overton to Frithstan, Bishop of Winchester, by King Edward the Elder in 909 the wood at Tadley is mentioned as an appurtenance, (fn. 5) and there are very frequent references to Tadley in the court rolls and other documents relating to the manor of Overton. (fn. 6)
But from an early date there was an independent estate in the parish, called at first the manor of TADLEY and afterwards the manor of WITHFORD or WYFORD, which is probably represented by the half a knight's fee which William Hotot was holding in Hampshire in 1166. (fn. 7) William was succeeded by Robert Hotot, probably his son, who in 1205 granted half a knight's fee in Tadley to Henry de Soberton to hold of him and his heirs. (fn. 8) By 1286 the holding had passed to Reginald son of Peter, who died in that year seised of the manor of Tadley which he held of Andrew Hotot by the service of half a knight's fee. (fn. 9) His son and heir John seems to have parted with the manor soon afterwards, and in 1305 by fine between Richard de la More and Christine his wife, and Walter le Blunt and Joan his wife, two-thirds of a messuage, 2 carucates of land, 15 acres of wood and 8s. rent in Tadley were settled on Richard and Christine. (fn. 10) In 1337 the reversion of one messuage, 2 carucates of land, 3 acres of meadow, 10 acres of pasture, 10 acres of moor, 15s. 3d. and rent of 1 lb. of pepper and 1 lb. of cummin in Tadley was granted to William de la More after the death of his father and mother, Richard de la More and Beatrice his wife, (fn. 11) and he had succeeded to his inheritance by 1346, by which year he is returned as holding half a fee in Tadley which had belonged to John son of Reginald. (fn. 12) In 1428 John de la More, called John de la More of Wyford in 1475, (fn. 13) was holding the half fee, (fn. 14) and his son William de la More died seised of the manor of Wyford and three messuages and 2 carucates of land in Tadley in 1481, leaving a son and heir Henry, aged forty. (fn. 15) Nicholas de la More the son of Henry died in 1496, leaving two infant daughters, Joan and Christine, (fn. 16) the former of whom afterwards married William Ludlow of Hill Deverill (co. Wilts.), while the latter became the wife of Sir John Dawtrey and died without issue. (fn. 17) Joan afterwards married Robert Temmes and died seised of four messuages, 200 acres of land, 100 acres of pasture, 2 acres of meadow and 40 acres of wood in Tadley and the manor of Wyford in 1563, leaving a son and heir George Ludlow, aged forty. (fn. 18) George died in I 5 80, and was succeeded by his eldest son Sir Edmund Ludlow, (fn. 19) who dealt with the manor of Wyford and the park of Wyford or Tadley Park by fine in 1601 on the occasion of the marriage of his son Henry with Lettice daughter of Thomas West, Lord De La Warr. (fn. 20) Sir Edmund obtained a grant of free warren in his manor of Wyford in 1617, (fn. 21) and died seised of the manor of Wyford and a capital messuage in the park of Wyford or Tadley Park in 1625, leaving a son and heir Henry, aged forty. (fn. 22) If a judgement is formed from the notices of Henry in the state papers his character does not appear in a very satisfactory light. He seems to have oppressed his tenants in Tadley in various ways, pulling down their houses, failing to give them their wages, and utterly refusing to pay all rates and taxes. (fn. 23) In 1639 he was ordered to redress the grievances of his tenants, (fn. 24) but died a month or two afterwards, being succeeded by his son and heir Edmund, (fn. 25) who conveyed the manor of Wyford or Tadley to Joseph Blagravein 1641. (fn. 26) The later history of the manor is somewhat uncertain, but it had passed into the possession of the Withers of Hall Place, the modern Oakley Hall, (fn. 27) before the end of the 17th century, Charles Wither dying seised of it in 1697. (fn. 28) Wither Bramston of Oakley Hall dealt with the manor of Wyford by recovery in 1807, (fn. 29) while Tadley Place was purchased about fifty years ago by William Wither Bramston Beach after the death of Mr. Congreve of Aldermaston House (co. Berks.), who had purchased it from a Mr. Searle in whose family it had been for some years. (fn. 30) Tadley Place and Wyford Farm still form part of the Oakley Hall estate, the present owner being Major William Archibald Hicks Beach of Oakley Hall.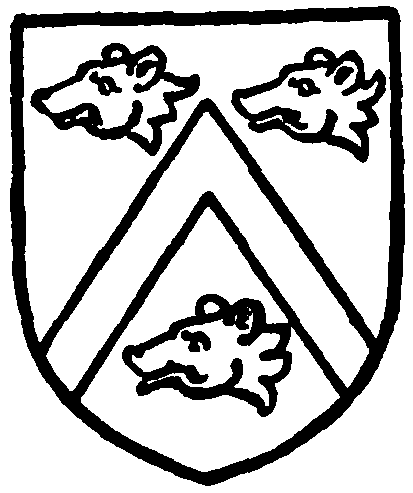 Church
The church of ST. PETER is a small plain building consisting of a chancel 17 ft. by 13 ft. 2 in., a nave 33 ft. by 17 ft. 2 in., west tower 10 ft. 6 in. by 9 ft. 9 in., and a south porch.
It is impossible to say how old the nave of the building is, as it is completely covered with plaster inside and roughcast outside, but its present condition seems to date from the 17th century.
The low west tower of brick is perhaps late 18th-century work, and the chancel and porch, also of brick, are of no great age.
The chancel has a square-headed three-light east window with a wooden frame and a modern lancet in the north wall.
One of the north and both of the south windows of the nave are of two plain round-headed lights, the stonework being covered with stucco and plaster.
The other north window, near the west end, is a lancet light and perhaps is a 13th-century opening reworked. Between the two north windows is a plain round-headed blocked doorway with a heart-shaped panel in plaster over it, and opposite to it, in the south wall, is a doorway with plain chamfered jambs and three-centred head, offering nothing by which its date can be decided. The outer opening of the porch is fitted with an old wood moulded frame with a four-centred arch and a square head, probably late 15th-century work; the spandrels are filled with carved foliage. The foiled bargeboards of the porch are also old, and are much damaged. The tower arch is modern, 1877, and has a semicircular head.
The chancel has a plastered ceiling, while that of the nave is boarded with a plastered partition at the east carried on a beam. Below it is a modern beam carrying a cross. The roofs are tiled outside; the tower has a low pyramidal roof covered with wood.
The interior of the nave is very picturesque, with plain but good 17th-century seats, and in the northeast angle is a very good early 17th-century pulpit with a large panelled sounding-board.
Over the west end of the nave is a large 17th-century gallery with a balustraded front reached by stairs with solid steps and turned balusters in the tower.
On the north wall of the nave is a brass inscription setting forth the bequests of Thomas Sympson to the poor of six parishes of the neighbourhood; a similar brass is to be found in each of the other five parish churches which received legacies. It is dated 1674.
The small modern font has an octagonal bowl resting on an alabaster shaft with a foliate capital.
The tower contains three bells, the first of which is inscribed ' Henry Wright made me 1669'; the second is a modern casting by John Warner, and the tenor has an apparently meaningless inscription.
The plate consists of a silver chalice and paten of 1780, both inscribed 'The gift of Wm. Dee Bust Curate 1780; a glass cruet with plated mounts, and a modern plated service for use at St. Mary's Mission.
The registers are in four volumes. The first contains baptisms 1683 to 1769, burials 1695 to 1769 and marriages 1691 to 17 54. The second has baptisms and burials 1770 to 1812; the third marriages 1754 to 1811, and the fourth marriages 1811 to 1812. There are churchwardens' accounts from 1765.
Advowson
Tadley was a chapelry dependent upon the mother church of Overton until 1878, (fn. 31) when by an Order in Council it was severed from Overton parish and constituted a separate ecclesiastical parish and perpetual curacy in the gift of the Bishop of Winchester. (fn. 32)
St. Mary's Church at Heath End was built in 1874 at the sole cost of the Rev. Dugald Campbell Gill, M.A. In 1897 this church became the property of the governors of Queen Anne's Bounty. It is served from St. Peter's Church.
An iron church capable of seating 130 was built near the rectory and licensed for divine service in 1888. There is also a church-room which is used for meetings and entertainments.
The Congregational chapel with 300 sittings has a burial-ground attached, (fn. 33) and was registered for the solemnization of marriages in 1864. (fn. 34)
The Primitive Methodists have also a chapel in Tadley.
The schools, with accommodation for 222 children of Tadley and Pamber, were erected in 1876 at a cost of £1,340.
Charities
In 1674 Thomas Sympson by will charged his lands with an annuity of £15 for the poor of six parishes, including Tadley. The annuity of 50s. for this parish is paid by Mrs. S. Kent as a charge on Buller's Farm, Baughurst, and applied in the distribution of blankets.
In 1739 William Mo the by deed gave to the poor certain tenements and land adjoining, containing about half an acre. The property now consists of four almshouses, and the rent of the land, £2 a year, is applied in keeping same in repair.
By an Inclosure Award, confirmed by the Inclosure Commissioners on 11 October 1851, an allotment of 6 acres was made for public quarries; 25 acres as Poor's Allotments, producing in 1906 £15 15s.; 4 acres as recreation ground, in respect of which £4 7s. 6d. was in 1906 received for letting of the herbage; 100 acres as Turbary Common. By an order of the Charity Commissioners of 8 November 1898 made under the Local Government Act 1894 the Turbary allotment was transferred to the Parish Council.
Land containing 10 acres was also allotted to the school.