Pages 31-32
A History of the County of Hampshire: Volume 4. Originally published by Victoria County History, London, 1911.
This free content was digitised by double rekeying. All rights reserved.
THE HUNDRED OF HOLDSHOT
containing the parishes of; Eversley; Hartley Wespall; Heckfield; Silchester; Stratfield Mortimer (Part of) Mortimer West End Tithing; Stratfieldsaye; Stratfield Turgis
This list represents the extent of the hundred of Holdshot at the time of the Population Returns of 1831. Between 1831 and 1841 North Waltham and Woodmancott were added to the hundred, (fn. 1) and in 1894 the parishes of Mattingley and Mortimer West End were formed out of the parishes of Heckfield and Stratfield Mortimer respectively.
At the time of the Domesday Survey the hundred comprised Hartley Wespall, Silchester, Stratfieldsaye, and Stratfield Turgis, the tithing of Minley in the parish of Yateley, the tithing of Mattingley in the parish of Heckfield, and the greater part of the parish of Eversley. (fn. 2)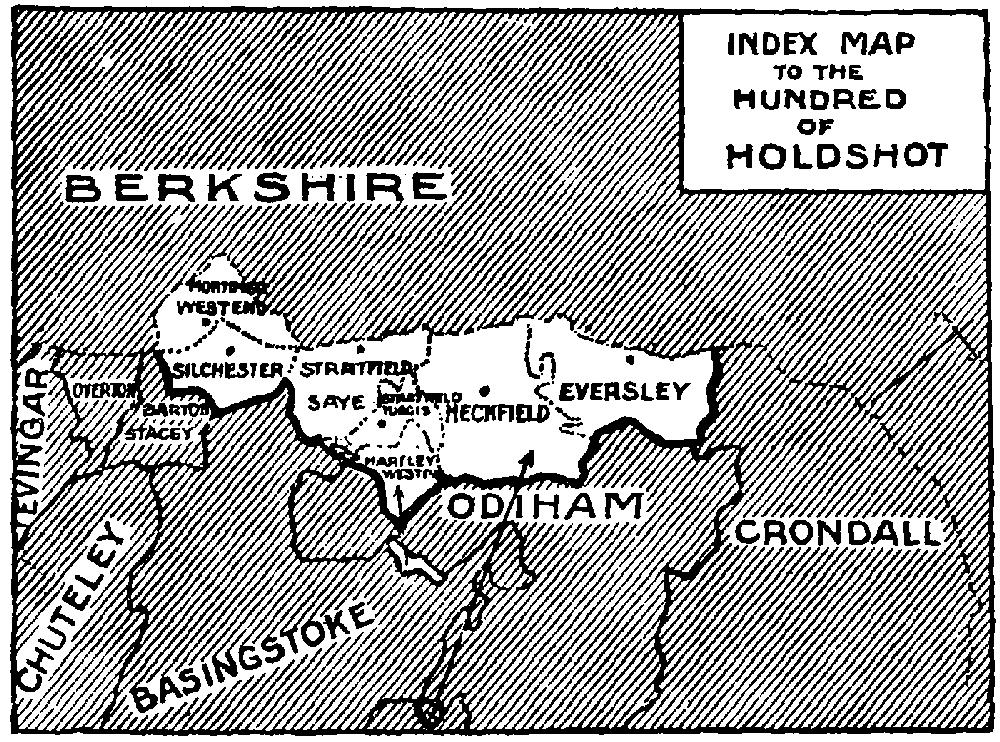 At this period the total assessment of the hundred was 30 hides, showing a decrease of 12 on the assessment of the hundred made before the Conquest. Great Bramshill in Eversley and the rest of Heckfield were in Bosmere Hundred, (fn. 3) while the Hampshire portion of Stratfield Mortimer was entered under Bountisborough Hundred. (fn. 4) By the 14th century the hundred had assumed its modern dimensions, (fn. 5) the only exception being that it still included the tithing of Minley. (fn. 6) In 1639 a witness in an Exchequer suit deposed that the tithing of Minley and the lands belonging to the farm of Minley lay within the hundred of Holdshot; (fn. 7) and another stated that 'he knew that for his time there had been a tithingman continued for the tithing of Minley as a distinct tithing from the tithings of Hawley and Yateley, that such tithingman was always elected at his majesty's court for the hundred of Holdshot and usually took up all waives and estrays and other royalties happening within the tithing of Minley as lying within his majesty's hundred of Holdshot, and that the tithingman of Minley was sometimes amerced at the said court for not appearing there.' (fn. 8) By 1831, however, Minley was reckoned as part of Yateley, and was therefore returned with the hundred of Crondall. (fn. 9)
Until 1228 the hundred of Holdshot was one of the five out-hundreds belonging to the royal manor of Basingstoke. (fn. 10) Its separation is indicated by the wording of the charter of Henry III, which in that year granted only the manor of Basingstoke with the in-hundred to the good men of the town of Basingstoke at a fee-farm rent. (fn. 11) Holdshot being a royal hundred came under the Parliamentary Survey of the Crown property in the time of the Commonwealth. From this survey it appears that the courts leet and lawday for the hundred were held under a certain oak called 'The Hundred Oak' in Heckfield at Michaelmas and Hocktide. (fn. 12)