Pages 391-394
A History of the County of Hampshire: Volume 4. Originally published by Victoria County History, London, 1911.
This free content was digitised by double rekeying. All rights reserved.
SOUTH TIDWORTH
Tedorde, Todeorde (xi cent.); Thodeworth, Thudeworth (xiii cent., &c.); Suthtudeword, Suthtudeworthe, &c. (xiv cent.); South Tedeworth (xv cent.).
The parish of South Tidworth (sometimes spelt Tedworth) lies in a corner of the county having the Wiltshire border for its northern and western boundaries. To the east lies Kimpton and to the south Shipton Bellinger. The total area of the parish is 2,303 acres, nearly the whole of which is pasture land, about a tenth only being arable. The Bourne River runs through the centre of the parish from north to south, but is usually dry. The soil is light loam and the subsoil chalk. (fn. 1) The principal crops are wheat, barley, oats and turnips.
Tidworth House stands in a well-wooded park of 500 acres. It was built by Mr. Thomas Assheton Smith, but has been much enlarged and is now the official residence of the General in Command of the Salisbury Plain Military District. Near the house stand both the new church and the site of the old church, while the rectory is a little to the north-east. Adjoining the park on the east is Ashdown Copse, which continues northward to the woody western slope of Furze Hill. The summit of this hill—596 ft. above the ordnance datum—is the highest point in the parish, which in no place descends to a lower level than 360 ft. Further to the east is Warren Hill, on which are targets for rifle practice, the longer ranges, however, being in the neighbouring shire. Military barracks have recently been built here.
The kennels of the Tidworth Hunt are in the parish.
Hampshire Cross is a hamlet on the Wiltshire border. Half a mile to the west of it are seven tumuli.
Manors
There were three separate estates in SOUTH TIDWORTH at the time of the Domesday Survey. The largest, which paid geld for 7 hides, was held by a certain Hugh of Robert son of Gerold. It had formerly been held of Earl Harold as an alod by Codolf. (fn. 2) The second had been held as two manors by two freemen in the time of the Confessor, but was held by Robert son of Gerold as one manor at the time of the Survey. (fn. 3) The third holding was that of Croc the Huntsman, consisting of 2 hides which Alwin had held as a manor of the Confessor. (fn. 4) From the time of the survey until the 16th century only one manor proper of Tidworth seems to have been recognized, but at the later date there appear in the parish three manors, known respectively as the North, Middle and South Manors of South Tidworth, and there is a likelihood that these may be roughly equated with the Domesday entries. The manor proper was identical with the later 'Middle' Manor.
The Middle Manor, the 7-hide Domesday holding of Robert son of Gerold, was held of the manor of Queen's Camel (co. Somers. (fn. 5) ), which was granted to Hubert de Burgh Earl of Kent by King John, (fn. 6) exchanged by him with the king in 1228 for other estates, (fn. 7) and granted in 1318 to Edmund of Woodstock, (fn. 8) afterwards Earl of Kent. In 1353 fees in Tidworth were assigned in dower to Elizabeth widow of John Plantagenet Earl of Kent, (fn. 9) and she died so seised in 1411. (fn. 10) The honour of Camel eventually reverted to the Crown.
In 1202 Baldwin de Combe granted Sarah, late the wife of Robert le Dun, half a hide of land in Tidworth as dower, which she claimed from the freehold there, which had once belonged to Robert. (fn. 11) In the Testa de Nevill Simon le Dun is found holding Tidworth by one knight's fee of the old enfeoffment of Hubert de Burgh. (fn. 12) In October 1270 William le Dun was granted free warren on his demesne there, (fn. 13) and a month later a weekly market at his manor every Monday and a yearly fair on the vigil, feast and morrow of Holy Trinity. (fn. 14) This William died seised of the manor about 1286. (fn. 15) Two years later John le Dun was seeking to replevy his land in West Tidworth, which had been taken into the king's hands for his default against William de Nevill (fn. 16); and in 1309 he was seeking to replevy his lands in South Tidworth, confiscated this time for his default against Alice late the wife of Roger Cleyne. (fn. 17) In 1309 he obtained licence to settle the manor on himself for life, with remainder to Stephen de Brightmerston and Joan his wife in tail, with contingent remainder to George de Brightmerston and Agnes his wife, Robert de Harnhill and Henry de Harnhill. This he did by means of a fine with William de Sherborne. (fn. 18) John le Dun died in 1332, and Stephen de Brightmerston being dead the manor descended to Nicholas de Wyly, who had married Stephen's daughter Isabel. (fn. 19) In 1333 licence was granted to Nicholas and Isabel de Wyly to enfeoff John de Sewale and Isabel his wife of the manor and advowson of Tidworth, and for them to regrant the premises to Nicholas and Isabel in fee-tail. (fn. 20) In the following year Henry Burry of New Sarum and Agnes his wife, John de Sewale and Isabel his wife, and Nicholas de Wyly and Isabel his wife quitclaimed the same premises from themselves and the heirs of Agnes, Isabel and Isabel to Roger Norman and his heirs. (fn. 21) In 1337 Roger Norman was granted free warren in South Tidworth. (fn. 22) He died in 1349, leaving as his heir his grandson Giles, (fn. 23) who died while still under age in 1362. (fn. 24) Giles' heir was his cousin Margaret, daughter of Agnes Norman, sister of his father Roger Norman and wife of John Chamberlayne, but she died almost immediately afterwards, leaving as her heirs Julia, who married first Richard Cavendish and secondly John Shonne, Beatrice wife of John de Glemsford, and Christine wife of William Chamberlayne. (fn. 25) South Tidworth Manor was apparently assigned eventually to Julia, Richard Cavendish, her first husband, presenting a rector in 1373. (fn. 26) In 1375 the manor was settled upon her and her second husband, John Shonne, in fee-tail. (fn. 27) However, in spite of this settlement, it passed after Julia's death (fn. 28) to her daughter and heir by her first husband—Alice the wife of Richard Becket. (fn. 29) In 1391 Richard Becket and Alice his wife obtained an inspeximus and confirmation of Roger Norman's charter of free warren, (fn. 30) and in 1411 Richard Becket died seised of the 'manor of South Tidworth, called the Middle Manor,' and the advowson in right of his wife Alice. He left a daughter Joan, wife of Robert Peny, as his heir. (fn. 31) At the assessment for an Aid in 1428 William Langbrook, John Peny, Richard Mayn, Thomas Mayn and William Gerard, who were apparently trustees, held Roger Norman's fee in Tidworth, (fn. 32) and three years afterwards Robert Peny of Tidworth held the fourth part of a fee there. (fn. 33)
The precise date at which the Dales acquired the manor is uncertain, but William Dale purchased Fyfield (q.v.) in 1484, and his son John Dale died in 1514 seised of the Middle, North and South Manors of South Tidworth. (fn. 34) John Dale grandson of John Dale died so seised in 1522, leaving a daughter and heir Alice Dale, aged nine months, (fn. 35) who married and carried the manors to John Cooke. (fn. 36) In 1552 John Cooke and Alice his wife were parties to a fine for altering the entail from her heirs to his, (fn. 37) and four years later he entailed the manors and advowson on his youngest son, George Cooke. (fn. 38) In 1564, however, William Dale, (fn. 39) brother of John Dale, father of Alice Cooke, brought an action in Chancery against John Cooke to recover the manors as uncle and heir of Alice, who had died without issue. On Cooke's quoting the above-mentioned fine for altering the entail, the plaintiff responded 'that the said defendant did beat and very cruelly and unkyndly handell and use his saide wiffe untill wth very extreme practizes wherewth she was daylie by a great space as it were tormented she forceably yelded to levye suche fyne.' (fn. 40) In spite of these charges Cooke remained in peaceable possession and died seised in 1568. (fn. 41) Seven years later his son George Cooke quitclaimed the North and South Manors to William Paulet Lord St. John (afterwards third Marquess of Winchester) and Agnes his wife. (fn. 42) This cannot have been a sale, for only the small sum of £200 passed between the parties, and two years later George Cooke dealt with the premises by recovery. (fn. 43) Nevertheless, the estate very shortly came, possibly by a foreclosure, to the Marquess of Winchester; for in 1594 he and his wife Agnes conveyed it in trust to William Wallop and Richard Lee, (fn. 44) and the marchioness dying in 1601 left the manor of South Tidworth to her daughter Katherine, (fn. 45) who married Sir Giles Wroughton. In 1622 Sir Giles and his wife quitclaimed from themselves and the heirs of Lady Wroughton the three manors and the advowson to Sir James Ley, bart., chief justice of England, (fn. 46) who was four years later created Earl of Marlborough. (fn. 47) The earl settled this property on Jane, his third wife, (fn. 48) who survived him, and in 1650, with her husband, William Ashburnham, and others, sold it to Thomas Smith. (fn. 49) The manor remained with his descendants (fn. 50) until 1859, when, on the death of Matilda (Webber) widow of Thomas Assheton Smith, it passed by will to her nephew Francis Sloane-Stanley of Leesthorpe Hall, Melton Mowbray, son of the Rev. George Sloane-Stanley and Laura Maria Webber. Mr. Sloane-Stanley sold it in 1877 to Sir John Kelk of Bentley Priory, first bart., and in 1897 Sir John William Kelk, second bart., sold it to the War Department. (fn. 51)
The 4 hides which Robert son of Gerold held in Thorngate Hundred, (fn. 52) joined with the 1½ hides which he held in Shipton Bellinger (fn. 53) in the same hundred, formed a holding which though not called a manor in mediaeval records is equivalent to the South Manor of the 16th century. For the most part it followed the descent of the Middle Manor, to which it was probably considered to appertain. In 1270 William le Dun had a grant of free warren in his demesne lands of Tidworth and Shipton (Bellinger), (fn. 54) and in 1316 John le Dun held the hamlet of Tidworth in Thorngate Hundred. (fn. 55) This holding did not, however, pass with the Middle Manor from the heirs of John le Dun to Roger Norman (vide supra), and in 1346 it was the possession of Robert Lock and assessed at half a fee. (fn. 56) In 1428 it belonged to William Alexander and Robert Peny, of whom it may be noted that the first held the North and the second the Middle Manor. (fn. 57) At some date not long subsequent to this the holding passed to the Dales, became known as the South Manor, and henceforth followed the same descent as the two others. From the inquisition taken on the death of John Dale in 1514 it appears that the South Manor was held of the heirs of Avice de Columbers. (fn. 58)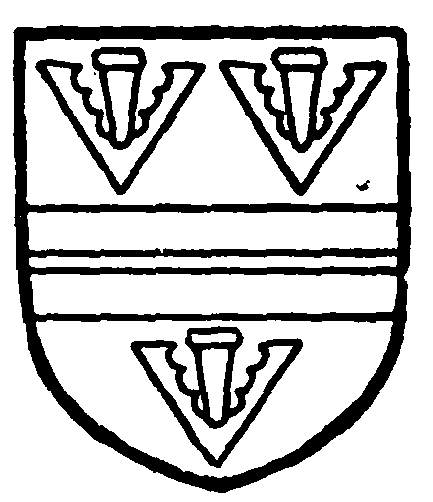 The third Domesday holding in the parish was that of Croc the Huntsman, consisting of 2 hides which Alwin had held as a manor of the Confessor. (fn. 59) The evidence seems to show that Croc the Huntsman's Domesday holding was identical with what was afterwards known as the North Manor. That manor, like the South Manor, was held as of the heirs of Avice de Columbers, (fn. 60) for in 1208 Michael de Columbers gave 200 marks to marry Avice daughter of Ellis Croc, and to have the office of forester of Chute which Ellis held in fee. (fn. 61) This Ellis was of the family that gave its name to Crux Easton, which the Huntsman held in 1086. (fn. 62) In the Testa de Nevill Philip Croc is entered as holding four parts of a knight's fee in Tidworth (Toneworth) of the old enfeoffment of Avice de Columbers, (fn. 63) and in 1291 Thomas son of Philip Croc conveyed 2 carucates there to John de Drokensford, (fn. 64) who in his turn made a fine three years later with Philip de Drokensford concerning a messuage, a carucate of land and 40s. rent in Tidworth, which he was to hold for life at the rent of a rose with reversion to Philip and his heirs. (fn. 65) It is probable that the first as well as the second of these conveyances was a family matter; for, according to a pedigree in Glover's Collections (fn. 66) John Drokensford, Bishop of Bath and Wells (1309–29), had a sister Joan, who married Philip Crook (sic). He also had a brother, Philip Drokensford, and it is possible these brothers were the parties to the second fine. In 1346 Roger Norman and Philip Drokensford held the fourth part of a fee which had belonged to John de Drokensford, (fn. 67) and in 1428 William Alexander and Edith his wife held the quarter fee which had belonged to Philip de Drokensford. (fn. 68) Towards the end of this century or the beginning of the next the manor passed to the Dales, and thereafter followed the same descent as the Middle Manor. In the inquisition taken on the death of John Dale in 1514 it was said to be held of the heirs of Avice de Columbers. (fn. 69)
Church
The church of ST. MARY THE VIRGIN is an entirely modern building erected in 1880. It is a copy of elaborate 13th-century work of stone with polished marble shafts in the columns of the arcade piers. The chancel floor is laid with Italian mosaic. The measurements are as follows:—Chancel 28 ft. 6 in. by 17 ft. 6 in., north and south transepts 14 ft. by 13 ft. 8 in., nave 42 ft. 10 in. by 17 ft. 6 in., with north and south aisles 10 ft. wide. There are also a north vestry and a south porch.
The plate consists of a silver chalice and paten of 1837 given by F. Dyson, rector, in 1838, a silver gilt chalice and paten of 1877 and a silver-gilt flagon of 1869.
The registers are contained in five books. The first has baptisms from 1627 to 1643, burials from 1599 to 1644, and marriages 1600 to 1635. In this book there are also a few irregular entries of all three from 1655 to 1670, baptisms from 1684 to 1688 and from 1703 to 1712, also one marriage of 1703. The second book contains baptisms 1684 to 1783, burials 1681 to 1782, and marriages 1718 to 1752, with a gap in the burials from 1684 to 1690. Both of these books were repaired in 1908. The third book contains marriages only from 1761 to 1782, the fourth book baptisms and burials from 1783 to 1812, and the fifth book marriages only from 1788 to 1812.
In the burial-ground of this parish is a small mortuary chapel about 22 ft. long by 18 ft. wide, built of stones from the old parish church. In the east wall is a 14th-century window of three trefoiled lights with two quatrefoils over and a moulded label. The small windows in the north and south walls and the west doorway and porch are modern.
Advowson
The church of SOUTH TIDWORTH is mentioned in Domesday Book with the larger holding of Robert son of Gerold, (fn. 70) and the advowson followed the descent of the Middle Manor, (fn. 71) the lords or their feoffees presenting until 1897, when Sir John William Kelk sold the manor to the War Department but retained the advowson.
The prebendary of Chute had a portion in this parish which in 1291 was assessed at 15s., the church itself being assessed at £10. (fn. 72)
The school was enlarged in 1903 for 110 children.
There are apparently no endowed charities in the parish.