Pages 438-439
A History of the County of Hampshire: Volume 4. Originally published by Victoria County History, London, 1911.
This free content was digitised by double rekeying. All rights reserved.
HUNDRED OF KING'S SOMBORNE
containing the parishes of; Ashley; Farley Chamberlayne; Leckford; Longstock; Romsey; King's Somborne; Little Somborne; Stockbridge; Timsbury
The above list represents the extent of the hundred at the time of the Population Returns of 1831. Before 1841 the parishes of Ashley and Little Somborne were transferred to Buddlesgate Hundred (q.v.), Leckford and Longstock to Thorngate (q.v.), and Farley Chamberlayne to Micheldever (q.v.). Probably at the same time Houghton and North Baddesley were added to King's Somborne. Upper Eldon, now a parish in the hundred, was apparently in the parish of King's Somborne in 1831.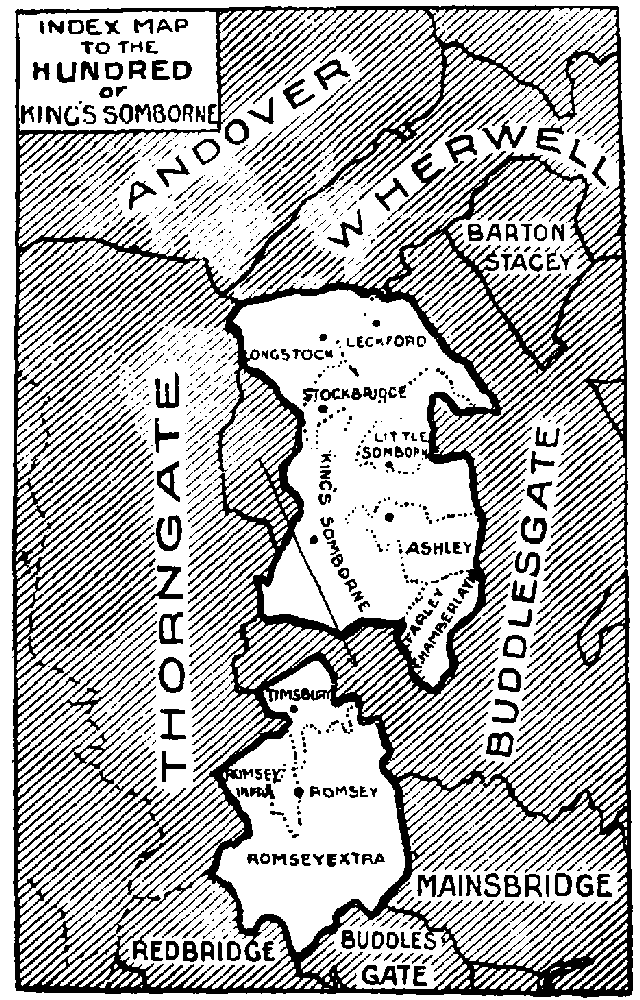 At the time of the Domesday Survey the hundred included the parishes of Farley Chamberlayne, (fn. 1) King's Somborne, (fn. 2) Houghton, (fn. 3) Leckford, (fn. 4) Longstock, (fn. 5) Timsbury, (fn. 6) Little Somborne, (fn. 7) and Stockbridge, (fn. 8) with the manors of Awbridge in Michelmersh, (fn. 9) Fullerton in Wherwell, (fn. 10) Upper Somborne, (fn. 11) and Compton Monceaux in King's Somborne. (fn. 12) Further there were also included in the hundred the following holdings, as yet unidentified:—a manor in Somborne held by the Count of Mortain (fn. 13); one of 2 hides held by Ralf de Mortimer (possibly Stanbridge Earls in Romsey) (fn. 14); 1 hide by Gilbert de Breteville (possibly Stanbridge Ranvills in Romsey) (fn. 15); half a hide by Eldred brother of Odo of Winchester (fn. 16); half a hide by Aimer (fn. 17); 1½ hides by Ulvric (Wulfric) the Huntsman (fn. 18); and 1 hide by William son of Stur. (fn. 19) There is also an unidentified hide held by Waleran the Huntsman, (fn. 20) which may possibly represent Ashley. Romsey is not entered as under any hundred, but simply as the land of the abbey of Romsey. (fn. 21) The total assessment of the hundred, including Romsey and excluding the royal manor of King's Somborne, was 99½ hides in the time of Edward the Confessor, and only 55 hides 4 virgates and 5 acres at the time of the Survey. (fn. 22) In the 14th and 15th centuries the hundred remained practically the same. Ashley and Upper Eldon (fn. 23) were mentioned by name in the assessments of 1316, 1346 and 1428; the tithing of North Houghton alone remained of the parish of Houghton in King's Somborne Hundred; and the manor of Awbridge in Michelmersh was finally transferred to Buddlesgate Hundred. (fn. 24)
In 1086 the hundred was appurtenant to the royal manor of King's Somborne (q.v.) and it has followed its descent.