Pages 577-579
A History of the County of Hampshire: Volume 4. Originally published by Victoria County History, London, 1911.
This free content was digitised by double rekeying. All rights reserved.
HALE
La Hale, Hales (xiii and xiv cent.); Hale near Brummore (xiv cent.); Hall (xvi cent.).
The parish of Hale contains 1,377½ acres of land, of which about 400 acres are forest land, 326 acres are pasture and 294 acres are arable land. (fn. 1) The soil is mixed on a subsoil of gravel, sand and clay. The small village in the north-west of the parish consists only of the rectory, Hale Farm, a few cottages and the school, built in 1873 at the expense of the late Joseph Goff, and enlarged in 1897. To the west is Hale Park, the property and residence of Lady Adelaide Henrietta Goff. It is a rectangular building of the latter part of the 18th century. The parish church is in the park to the north-west of the house. From the low banks of the River Avon, in the west of the parish, the land rises to the north-east from 108 ft. to 361 ft. above the ordnance datum.
Manor
The manor of HALE is probably represented in Domesday Book by the hide of land in Charford held of the king by Alwi son of Torber, as Ulviet had held it before the Conquest. (fn. 2) Alwi, who was also holding West Tytherley at the time of the Domesday Survey, (fn. 3) was possibly the ancestor of Richard de Cardenvill, who, at the beginning of the 13th century, was holding Hale and West Tytherley (q.v.) of the king in chief. (fn. 4) Richard was succeeded about 1247 (fn. 5) by his son, Sir William Cardenville, who died in 1254. (fn. 6)
A curious matrimonial question arose at the death of this William. It appears that he had lived for a year with, but was never ecclesiastically married to, a certain Joan, and had by her a son Richard, then aged twenty-four. He was afterwards 'married at the church door,' that is ecclesiastically married, to a certain Alice, and had by her several sons and daughters, of whom the eldest son, also named Richard, was then aged four years. Joan procured a judgement in the Court Christian, upholding her marriage or pre-contract, and Alice was divorced. (fn. 7) There was, therefore, a doubt which of the two sons or whether either of them was heir. Joan's son, however, eventually succeeded to the property, (fn. 8) and afterwards granted Hale to Henry Daubeney, reserving to himself and his heirs a rent of 100s. (fn. 9)
Henry Daubeney died seised of the manor of Hale in 1278, leaving as his heirs his sister Clarice Daubeney and Maurice de Bonham, grandson or Julia, another sister. (fn. 10) Hale passed before 1316 to Adam de la Forde (fn. 11) and Christine his wife, who in 1328 obtained licence from the king to retain the manor, (fn. 12) which they settled by fine on themselves. (fn. 13)
Adam died in 1325, leaving a son Adam, (fn. 14) who settled Hale on his wife Katherine in 1337. (fn. 15) Their only daughter, Clarice, married Sir Robert Brent of Cossington (co. Somers.), in whose family the manor remained for about two centuries. Robert and Clarice were evidently succeeded here, as in Cossington, by a son Robert and grandson John. (fn. 16) John, son of the latter, had a son Robert and a daughter Joan by his first wife, Ida daughter of Sir John Beauchamp, and a son John by his second wife Joan (Latimer). He was succeeded by his son Robert, on whose death without heirs in 1421 the manor passed to his sister Joan, then the wife of John Trethek. (fn. 17) However, it was afterwards successfully claimed against her by her step-brother John, since it had been entailed in the 14th century. (fn. 18) From John it passed to his son Robert, who died in 1508, leaving a son and heir John. (fn. 19) The latter was succeeded in 1524 by his son William, (fn. 20) who died ten years later, leaving a son and heir Richard. (fn. 21) In 1564 Ann the only daughter of Richard, (fn. 22) at the age of fifteen, married Thomas Lord Paulet, second son of John Lord St. John and grandson of the Marquess of Winchester. (fn. 23) On the death of Thomas, who had survived his wife, in 1586–7, the manor passed (fn. 24) to their only child Elizabeth wife of Giles Hoby, (fn. 25) who, with her mother, is said to have ' sold and squandered away all the patrimony of this ancient family.' (fn. 26) Hale was probably sold to one of the Penruddocks, descendants of the family seated at Arkleby (co. Cumb.). Thus Robert Pen ruddock, who died childless in 1583, evidently had a lease of the manor and was the first of the family to settle at Hale. (fn. 27) It was probably purchased by his nephew, Sir John Penruddock, who died in 1600–1, leaving a son Thomas, (fn. 28) on whose death in 1637 the manor passed to his son John. (fn. 29) The latter was followed by three sons Charles, Edward, and lastly George, whose daughter and heir Elizabeth wife of Joseph Gage of Firle (co. Suss.) (fn. 30) succeeded to the manor. Thomas son and heir of Joseph Gage, afterwards Lord Gage of Castlebar in Ireland, (fn. 31) apparently sold the manor between 1713 (fn. 32) and 1720 to Thomas Archer, Groom Porter to Queen Anne, who at the latter date was licensed to inclose two roads in Hale between South Charford and Wood Green. (fn. 33) After the death of Anne, his wife, the manor passed to his nephew, Henry Archer, (fn. 34) second son of Andrew Archer or Umberslade (co. Warw.), who dealt with it by recovery in 1756. (fn. 35) By his will, proved in 1768, he left the manor to his wife, Lady Elizabeth Archer, for her life, with reversion to the younger sons of his nephew Andrew son of Thomas Lord Archer, in tail-male successively, or to the right heirs of Thomas. (fn. 36) Andrew, who became Lord Archer in 1768, died in 1778 without issue male, (fn. 37) his heirs being his three daughters Sarah, Maria and Elizabeth Anne. (fn. 38) His affairs seem to have been somewhat involved at the time of his death, (fn. 39) and it is uncertain whether Hale passed to his daughters or had been previously sold. It belonged to Joseph May in 1831, (fn. 40) but shortly afterwards was sold to the late Joseph Goff, (fn. 41) and now belongs to Lady Adelaide Henrietta Goff, the widow of his son Joseph.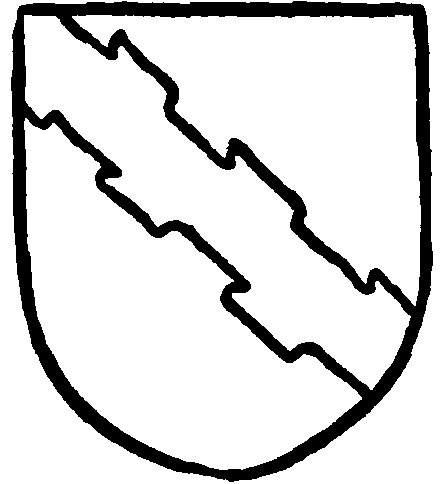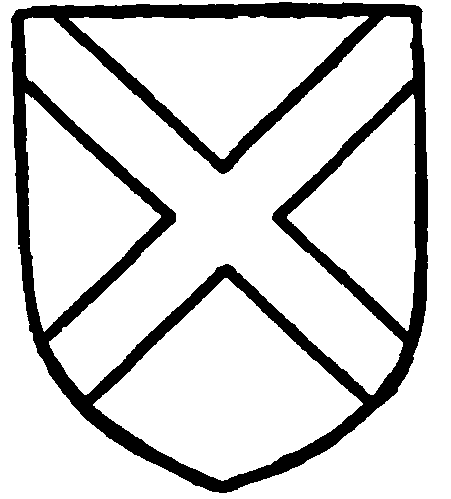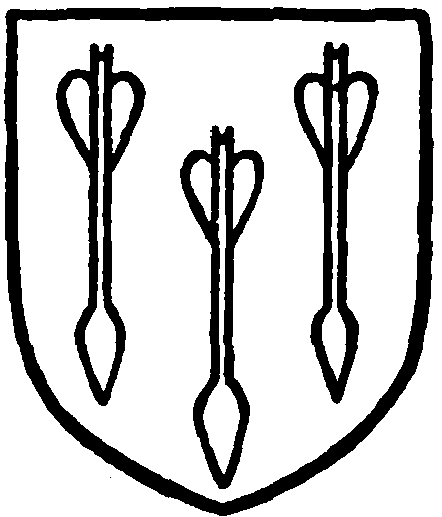 A mill at Hale existed in 1086, (fn. 42) but is not apparently mentioned later.
Free fishing was parcel of the manor in the 17th century. (fn. 43)
Church
The church of ST. MARY is small and of cruciform plan, consisting of chancel, nave, and north and south transepts with pedimental gable ends and squareheaded windows, some of which in more recent years have been divided into two segmental lights by the insertion of stone tracery. The chancel and transepts were built in 1715 by William Archer, but the nave, which was refaced at the same time, is mediaeval, and has old stone benches round the north, south and west walls. The roofs are covered with tiles and on the apex of that on the north transept there is a square wooden bell-cot with a pyramidal lead roof which contains one bell. This was formerly on the west end of the nave.
The church is plastered within and roofed with panelled matchboarding. Near the west doorway stands a circular font on a square base, which is probably of ancient date, with an added band of early 17th-century ornament.
A brass on the nave floor to Sir John Penruddock, who died 8 March 1600, is engraved with a crest and four shields, his name and date of death, and the inscription ' Fui quod es quod sum eris.'
On the south wall of the south transept there is a large monument in black and white marble to Sir Thomas Archer, who died 22 March 1743, with an effigy reclining upon a sarcophagus, which is mounted upon a high pedestal with life-sized female figures on either side, one holding a skull and the other a book. On the west wall of the same transept there is a mural monument to Henry Archer, 16 March 1762.
There is one modern bell.
The plate consists of a silver chalice of 1583, another of 1718, a pair of patens of 1695, a flagon of 1702 and a loose flagon cover of 1725, all but the early chalice being a gift of Thomas Archer, lord of the manor.
The registers are contained in six books. The first has all entries from 1618 to 1708, somewhat irregular between 1650 and 1660. The second, beginning in 1709, has baptisms and burials to 1777 and marriages to 1754. The third has marriages 1755 to 1799, and the fourth baptisms and burials 1777 to 1809. The fifth has marriages 1799 to 1813, and the sixth baptisms and burials 1810 to 1813.
Advowson
Hale Chapel belonged to the priory of Breamore from an early date, and followed the descent of Breamore Church (q.v.) until 1777, (fn. 44) when it was sold with South Charford Chapel to Lady Elizabeth Archer. (fn. 45) She left it by her will, proved 16 January 1789, to her niece Charlotte, Lady Burgoyne, widow of Major-General Sir John Burgoyne, but before 1848 it was sold to Joseph Goff, (fn. 46) and has followed the descent of the manor of Hale.
After the dissolution of chantries it was found that money had been left by persons unknown for the maintenance of three lamps in the chapel of Hale. (fn. 47)
A manorial chapel evidently existed at Hale in the early 14th century, when Adam de la Forde obtained licence to hear divine service in his manor. (fn. 48)
There are no endowed charities in this parish.