Pages 74-76
A History of the County of Hampshire: Volume 4. Originally published by Victoria County History, London, 1911.
This free content was digitised by double rekeying. All rights reserved.
ELVETHAM
Helvetham, Ulvetham (xiii cent.).
The parish of Elvetham, which is bounded on the west by the River Hart, comprises 3,277 acres, of which approximately 1,757 acres are woods and plantations, 625 acres arable land, and 856 acres permanent grass. (fn. 1) The Basingstoke road, the old coaching road to the west of England, cuts through the wooded country in the north; Star Hill House, the residence of Mr. George Henry Staytont, and Woodside, the residence of Captain F. E. Caldwell, are on this road, which crosses the River Hart at the bridge that has given its name to the hamlet of Hartford Bridge. A small church was built here in 1876 on the road which leads past Arlot's Farm to Malt House Farm and the Home Farm, and skirts Elvetham Park on the east. About a mile from Hartford Bridge the rectory stands back from this road, and at the south-east corner of the park are the schools. The river runs through the park, which contains a lake fed by its waters; the church, which was restored and enlarged by the fourth Lord Calthorpe, stands in the park near Elvetham House, the seat of the present Lord Calthorpe. Yateley Heath Wood occupies the greater part of the northeastern part of the parish, and the woodland in the south is intersected by the London and South Western Railway.
The soil is various, the subsoil sand and gravel; the chief crops are wheat, barley, oats, roots, and clover. The commons were inclosed in 1815. (fn. 2)
Place-names found in various records are Maplers, Hunland, Stephyns, Le Freth, Inholmes, and Rykmansforde (1530), Marrow Meade, Laundrey Meade, and 'an inn called the White Lyon in Hartford Bridge or Hartley Wintney' (1650). (fn. 3)
Manor
According to a charter contained in the registers of Chertsey Abbey, Frithenwald, subregulus of Surrey, granted land at ELVETHAM to that house in 675. (fn. 4) This charter, however, is probably not genuine, for the statement that Edric held Elvetham of Edward the Confessor is in direct contradiction to it, (fn. 5) and it is more likely that Elvetham was granted to the abbey by William the Conqueror, as a confirmatory charter of Henry I states. (fn. 6) In 1086 Hugh de Port was holding Elvetham, which was of the annual value of 30s., of the abbey; there was sufficient woodland to feed ten swine, and it was assessed at I hide. (fn. 7) The manor was confirmed to the abbey by Henry I, (fn. 8) and the abbot and convent retained the overlordship until the reign of Henry VIII, the manor being held of them by fealty and a rent of 30s. (fn. 9)
Before 1166 Elvetham had apparently passed from the Ports to Stephen de Bendeng, who in that year was returned as holding one quarter of a knight's fee of the Abbot of Chertsey; this same property was held by Adam de Bendeng in 1212, and there is very little doubt that the same estate is referred to in the Testa de Nevill, which states that Adam de Bendeng held 1 hide of land in Elvetham. (fn. 10) Adam, who died in 1229, had a son Walter, who died in 1232, leaving a son William, who was under age; he and his father's land were entrusted to the custody of Walter de Faukenberge, and when William died two years later the manor passed to his aunt, Maud wife of Geoffrey Sturmy. (fn. 11) Geoffrey Sturmy died in 1246, leaving a son Henry, who entered into possession of his mother's inheritance when he came of age in 1254, (fn. 12) and in 1280 was called upon to prove his right to the assize of bread and ale in Elvetham. (fn. 13) The manor remained in the family without a break, descending from father to son for a hundred years or more, the younger generation being invariably named after the elder. (fn. 14)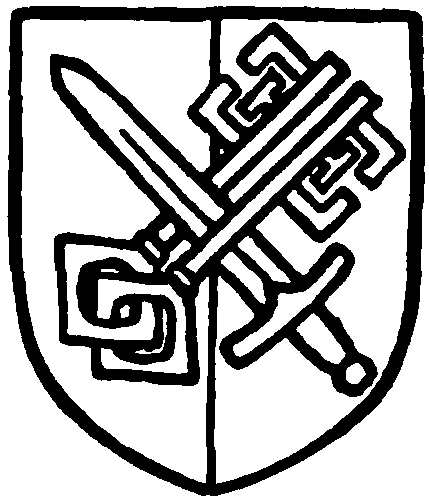 In 1359 Henry Sturmy was granted free warren besides permission to inclose some land in Elvetham in order to make a park which he might ' hold to himself and his heirs for ever.' (fn. 15) Henry Sturmy died in 1381, (fn. 16) and the manor passed to his nephew and rightful heir William, to whom a further licence was granted in 1403 to inclose and impark land in Elvetham. (fn. 17)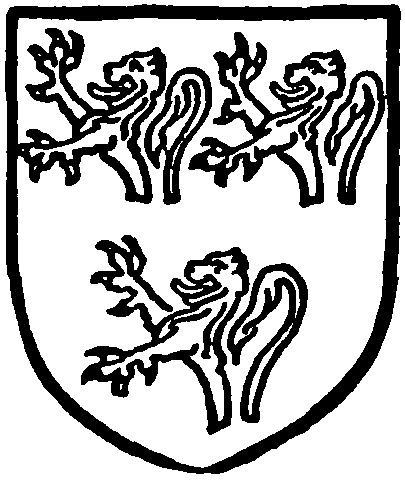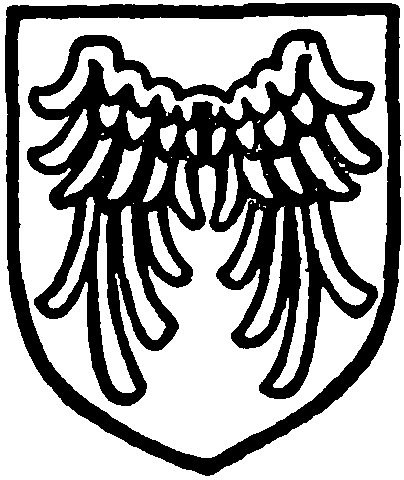 Sir William Sturmy died in 1426–7, leaving as heirs a daughter Agnes and a grandson John Seymour, son of his daughter Maud. (fn. 18) John Seymour inherited Elvetham, and when he died in 1464 he bequeathed one-third of the manor to Isabel his wife. Isabel held in dower until her death in 1485, when her share passed to her husband's namesake, her grandson and heir. (fn. 19)
This John Seymour died in 1492, leaving a son John, (fn. 20) who entertained Henry VIII at Elvetham in the October of 1535, (fn. 21) and on his death in the following year was succeeded by his second but first surviving son Edward. Edward Seymour was created Earl of Hertford in 1537, and Duke of Somerset in 1547. (fn. 22) Henry VIII again visited Elvetham in August 1536 and Edward Seymour used the house as a summer residence for his children. (fn. 23) He was made Protector, but was deprived of that position in 1549, accused of high treason, and beheaded in the Tower of London in January 1551–2. (fn. 24) After his death he was attainted and his estates were forfeited, but they were subsequently restored to his son Edward, who was created Earl of Hertford in January 1558–9, and entertained Queen Elizabeth at Elvetham in most magnificent style in 1591. (fn. 25) His wife welcomed the royal visitor 'most humbly on her knees as she alighted from horseback at the hall door, and was by the queen most graciously embraced.' (fn. 26)
The earl died in 1621, and was succeeded by his grandson William, the lover of Arabella Stuart, created Marquis of Hertford in 1640, (fn. 27) and second Duke of Somerset in 1660. He sold the Elvetham estate in 1650 to Sir Robert Reynolds, (fn. 28) described in the indenture of sale as Solicitor-General of the Commonwealth of England. Sir Robert Reynolds's daughter and eventual sole heiress, Priscilla, married Reynolds Calthorpe after the death of her first husband, Sir Richard Knight, (fn. 29) and was holding the manor in conjunction with him in 1695, Sir Robert Reynolds having died in 1678. (fn. 30) She died in 1709, leaving an only son, Reynolds, who died in 1714, when the manor apparently passed to her husband (who died in 1720), and from him to his son by his second wife, Henry Calthorpe, afterwards knighted. (fn. 31) Sir Henry Calthorpe left his estate to his nephew Henry, son of Sir Henry Gough and Barbara daughter of Reynolds Calthorpe. (fn. 32) This nephew took his uncle's name when he inherited in 1788, and was created Lord Calthorpe in 1796. (fn. 33) His great-grandson, Sir Augustus Cholmondeley Gough-Calthorpe, the sixth baron, died 22 July 1910. He was succeeded in the title by his brother Sir Somerset John Gough-Calthorpe.
Some land in Elvetham was originally part of the ancient demesne and was probably included in Odiham at the time of the Domesday Survey. (fn. 34) It seems to have been granted at a very early date to the Bernard family, and to have acquired the name of ELVETHAM BERNARD, which survived as late as the 17th century. (fn. 35) In 1280 this estate was already united to the Sturmy property. (fn. 36)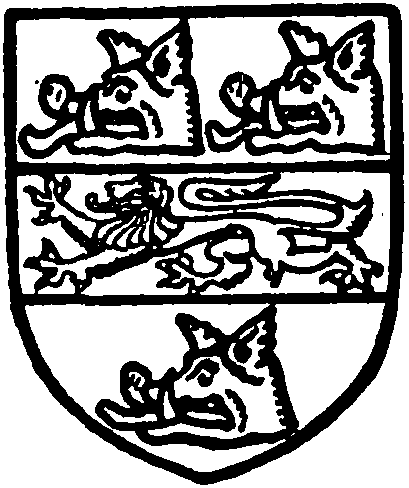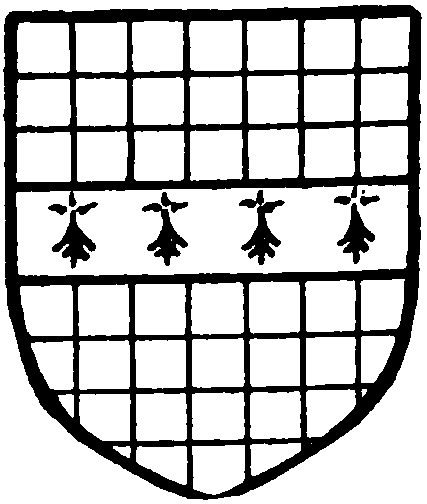 Church
The church of ST. MARY THE VIRGIN has a chancel and nave in one, north transept, south porch, and a west tower with a stone spire. It is said to have been 'restored' in 1840–1, but as no old stones have been left it is practically a wholly modern structure. It is of flint and stone, and is in the style of the 12th century. All its furniture and fittings are also modern, but there are a few monuments a little earlier in date than the church. The tower contains one large bell which is practically inaccessible.
The plate consists of a fine set of modern vessels, a silver-gilt chalice, two patens, and two flagons, all of 1873; also a silver-gilt spoon.
The registers begin in 1638, the first book containing baptisms, marriages, and burials up to 1699, a few baptisms from 1712 to 1714, a burial of 1714, and a Hartley Wintney marriage of 1714. On an end sheet is a form of declaration of marriage probably used during the Commonwealth; the second book begins in 1699, and has baptisms to 1803, marriages to 1753, and burials to 1812; the third has marriages from 1754 to 1812, and the fourth baptisms 1804 to 1812.
Advowson
The advowson of the church of Elvetham has apparently always belonged to the successive lords of the manor, (fn. 37) the living at the present time being a rectory of the net value of £208.
Charities
The poor of this parish receive the rents and profits of a house at Cove in Yateley, known as ' The Anchor,' with 7 acres or thereabouts adjoining, derived under the will of Sir Robert Reynolds, and a deed of grant by Reynolds Calthorpe, dated in 1704. The trust property is let at £63 a year, and a sum of £9 7s. is received as the dividends on £374 11s. 8d. consols with the official trustees.
In 1746 Sir Henry Calthorpe, by a codicil to his will, bequeathed £200 for the poor, and in 1763 the Rev. James Phipps, a former rector, by his will left £100, the interest to be applied in the distribution of bread. The trust fund now consists of £383 5s 3d consols with the official trustees, producing yearly £9 11s. 4d.
The charities are administered together. In 1906 £68 15s. was expended in clothing, £8 5s. in coal, and £3 2s. 6d. in bread.