Pages 110-115
A History of the County of Hampshire: Volume 5. Originally published by Victoria County History, London, 1912.
This free content was digitised by double rekeying. All rights reserved.
HORDLE
Hordwell (x–xvii cent.); Herdel (xi–xvi cent.); Hordhull, Hordhill (xii–xvii cent.); Hordul (xiv– xviii cent.); Hordell (xvi–xviii cent.); Hordill, Hordall (xviii cent.).
The parish of Hordle is situated west of Lymington upon the shores of Christchurch Bay, stretching back inland for a distance of four miles. It contains 3,854 acres, of which 1,653¼ are arable, 1,345 permanent grass, 452¼ woods and plantations (fn. 1) and 3 land covered with water. It lies entirely upon the Hamstead, Bembridge, Osborne and Headon Series, with the exception of a small portion of coast in the extreme south-west, which lies upon the Bagshot and Brocklesham Beds. There are several disused gravel pits, two clay pits, a brick field and some old kilns in the parish.
Hordle Cliffs extend along nearly the whole of the coast, and in the beds of gravel which cap the cliffs many weapons of the Early Stone Age have been found. The land falls gradually towards the north, where a height of 183 ft. is reached upon Stanley's Common. Danes Stream flows from north to south through the west of the parish, making a sharp turn eastwards at Taddiford Farm; and the Avon Water forms part of the north-eastern boundary.
The village is situated upon cross-roads in the centre of the parish; one of these runs south to Hordle Cliff and Milford, while the other runs north-west, past Vaggs and Hordle Grange and Stanley's Farm, towards the hamlet of Tiptoe. The hamlet of Downton, with its smithy and inn, 'The Royal Oak,' is south of the village; and east of Downton is Lea Green, with Downton Manor Farm. Yeatton House, the residence of Mr. Charles Howard Ward, J.P., and Yeatton Farm are north of Downton. South of Downton, between Hordle Cliffs and Hordle Bridge, at the junction of the road from Hordle with the road from Milton, are Hordle Grange, the Manor Farm and the site of the old church, which was pulled down in 1830 in consequence of the decrease of the population in the south of the parish, owing to the decline of the salt industry. Since 1887 very extensive building operations have been carried out upon the eastern end of Hordle Cliffs, giving rise to the popular seaside resort known as Milford-on-sea.
The main road from Milton to Boldre runs east right across the parish, along the site of the Roman road, crossing the Avon Water just before it reaches Gordleton, where is a water mill. Darby Lane and Silver Street are the names by which different portions of this road are known.
The main London and South Western line to Bournemouth cuts across the north of the parish in a south-westerly direction. Hordle House, beautifully situated upon the cliffs west of Milford-on-Sea, is the property and residence of Mr. Samuel H. Mangin, and Arnewood House, just east of the village, of Mrs. Manson.
The Domesday Survey mentions six saltpans here, which, together with a mill, were worth 15d., (fn. 2) and from those days up to quite recent times the salt industry was a very important and valuable one here. Early in the last century, however, the development of the Cheshire salt mines and springs brought about a great decline in the industry, which has now entirely ceased.
There is a detached portion of this parish separated from the rest by nearly a mile of coast which belongs to Milford parish. (fn. 3) This portion consists of a very curious elongation of Milford beach, which runs out south-east into the sea for a distance of nearly two miles, forming the eastern extremity of Christchurch Bay. It is merely a strip of a few yards in width for the first mile and a-half, but it then turns east and widens out towards the mainland. Upon its southern extremity stands Hurst Castle, a fort consisting of a circular stone tower, dated 1535, strengthened by semicircular bastions of later dates. (fn. 4) It is now chiefly used as a signal station. The distance from here to the nearest point on the Isle of Wight is only three-quarters of a mile, but the sea here is very deep and the tide rushes through with great violence. Here are also a lighthouse and coastguard station. At low tide vast stretches of mud are uncovered, uniting the promontory with the mainland.
An award was made on 9 September 1820 under the Act of 1811 for the inclosure of the manor of Arnewood in this parish. (fn. 5)
Among ancient place-names are Beketon, (fn. 6) surviving in Bekton Farm; Bunny and Gorleton, surviving in Gordleton; Tadeford, the modern Taddiford Farm (fn. 7); Roselingesaker and la Bache (xiii cent.) (fn. 8); Tadebridge and la Langemede (xiv cent.). (fn. 9)
CASTLE
HURST CASTLE
HURST CASTLE was erected by Henry VIII to defend the approach to Southampton Harbour against the French. The work was begun in 1541 and finished by the end of 1544. (fn. 10) The first captain of the castle was Thomas Bertie, (fn. 11) his deputy the sub-captain being Christopher Rippenden. In 1561 Thomas Carew was captain. (fn. 12) The establishment at that time consisted of the captain, his deputy, porter and a master gunner, a 'deputy's man,' eight soldiers, another for the porter and eleven gunners. (fn. 13) Thomas Carew was succeeded on his death by Sir Thomas Gorges, kt., (fn. 14) who in 1593 petitioned for the repair of the platforms, which were so decayed as to be incapable of supporting the guns. (fn. 15) In 1608 the captaincy was granted to Sir Thomas for his life with remainder to his son Sir Edward, (fn. 16) and in the same year commissioners were appointed to survey the decays, and extensive repairs were carried out. (fn. 17) Sir Edward Gorges, afterwards Baron Gorges of Dundalk, succeeded his father as captain in 1610. (fn. 18) The castle seems to have continued in a somewhat inefficient state, and in 1628 when the porter was ordered to stay a ship, though he was 'very willing' he 'had neither powder nor shot to do it with, and of his twenty-seven pieces of ordnance not above four or five would do any service, and they but for a shot or two.' (fn. 19) In the following year a mild scandal was caused by the captain himself smuggling a parcel of tobacco into the castle. (fn. 20) In 1635 most of the brass ordnance in the castle was exchanged for iron. (fn. 21) In 1642, in the absence of the captain, the castle was occupied by Capt. Richard Swanley for 'the King and Parliament.' (fn. 22) It was the last prison of Charles I before being moved to Windsor prior to his trial; he was brought here on the last day of November 1648 from Newport (fn. 23) and remained.
Lord Gorges was succeeded in the captaincy by Col. Thomas Eyre, who in 1650 secured a grant of further ordnance and an increase in the number of soldiers stationed there. (fn. 24) In 1653 Thomas Wansey petitioned to be restored to the office of lieutenant of the castle, which he had lost by his disaffection to the late government (fn. 25); he was reinstated in 1659, (fn. 26) when Col. Eyre was confirmed in his office of governor. (fn. 27) At the Restoration in the following year Col. Eyre lost his post, and Edward Strange was appointed captain, (fn. 28) the office of governor being allowed to lapse. In January 1661 the king ordered the garrison to be disbanded and an estimate made of the expense of demolishing the castle (fn. 29); the latter idea was, however, speedily dropped, and five months later, although the forces were paid off, (fn. 30) arrangements were made for additions involving an increase in the annual expenditure from £324 11s. 4d. to £632 15s. 10d. (fn. 31) In 1666 it was decided that the castle should be garrisoned by men from Sir Robert Holmes' company in the Isle of Wight. (fn. 32) This was not done until 1671 owing to the state of disrepair in which the castle (fn. 33) was. Sir Robert, who was governor of the Island, reported that there was scarcely a gun mounted and no stores or provisions in the castle (fn. 34); nothing, however, was done, and three years later he wrote complaining that there was hardly a room not fallen in and into which the rain did not come. (fn. 35) Repairs were then taken in hand and the garrison established, Capt. Strange becoming governor. (fn. 36) In 1675 a master gunner and three other gunners were added to the establishment, there being then nearly thirty guns mounted at the castle. (fn. 37) In the same year Sir John Holmes petitioned for leave to purchase the governorship with the daily pay of 10s. for £500, (fn. 38) and this being granted him he was appointed to the post. (fn. 39) Captain Roach, who was captain of the castle at this time, having murdered a certain Lieut. Newman, fled to Yarmouth, and borrowing a black cloak took boat to Hurst, where he was arrested. (fn. 40) In 1689 Henry Holmes was appointed to the captaincy. (fn. 41) The castle has undergone many improvements and alterations in recent times and is now connected by submarine telegraph with London and Osborne.
MANORS
The earliest record of Hordle that has been found is a Saxon charter of the year 903, a grant by King Edward to Tata son of Æthehun of 3 hides of land there. (fn. 42) In the time of the Confessor Hordle was held by Justin in chief, but in 1086 it belonged to Oidelard, who held it of Ralph de Mortimer. (fn. 43) Hordle was probably granted soon after to the Redvers, lords of Christchurch, and it was during the minority of Baldwin sixth Earl of Devon in 1229 that the king gave to the men of Hordle to farm the whole of the demesne, together with their rents and works, at the yearly rent of £7 10s. (fn. 44) Very soon after the family of Trenchard acquired a great part, if not the whole, of this estate. (fn. 45) A portion of it was granted by Waleran Trenchard to one Ralph Bardolf, who sold it to Amice wife of the sixth Earl of Devon; she in about 1250 gave it to Breamore Priory to be held by them of Waleran. (fn. 46) Other parts of the estate were retained by the Trenchards, and at the end of the 13th century Henry, Waleran's successor, held half a knight's fee in Hordle and Sharprix of which he had been enfeoffed by the Earl of Devon. (fn. 47) Thus two separate manors were evolved, one the Trenchard Manor and the other that held by Breamore Priory; the overlordship of both belonged to the lords of Christchurch and they were held for half a knight's fee each. (fn. 48)
The priory manor, afterwards known as the manor of HORDLE BREAMORE, comprised, in addition to the land mentioned as having been granted by the Countess of Devon, several other holdings granted by other benefactors. Among these were Robert Amfrey and his sons Henry, Nigel (fn. 49) and William, all of whom, together with William Gallun, John de Cans (fn. 50) and Laurence de Compton, gave land in Hordle to the priory. All these grants were made prior to 1301. (fn. 51) In 1309 and again two years later an agreement was come to between the prior and John Trenchard with regard to land held by the prior of the latter. (fn. 52) The priory continued to hold the estate up to the Dissolution. (fn. 53) In 1537 the estate, then worth £6 2s. 10d. yearly, was granted to Henry Marquess of Exeter and his wife Gertrude in tail-male. (fn. 54) In 1578, however, it belonged to Thomas Carew, who dying that year was succeeded by his son Henry; it was then known as the manor of Hordle Breamore. (fn. 55) Henry Carew owned the manor at his death in 1614, when it passed to his son Henry, (fn. 56) who three years later settled it upon himself and his wife Dorothy in tail-male. (fn. 57) In 1639, however, upon his conviction for recusancy, two thirds of the manor, which was then worth £6 yearly, were forfeited to the king, who granted a lease of them to Brian Williams and Richard Bingham for twenty-one years, in the event of the recusancy continuing so long. (fn. 58) Henry Carew, however, died a few months later, and the manor passed to his son George, then aged seven. (fn. 59)
In 1694 the manor belonged to Sir William Lewen, in whose family it remained until the middle of the 18th century. (fn. 60) In 1748 it belonged to William Rickman, but by 1768 had passed to Edward Ives, in whose family it remained until 1809, (fn. 61) when Arabella Ives, widow, was holding. In 1810 it belonged to James Guy, in 1826 to John Lawrence, John Rogers being at that time in possession as mortgagee. A Thomas Legh held the manor in 1834, but it had passed before 1856 to Dr. F. Chambers, who sold it in that year to Mr. S. Laing, from whom it was purchased in 1863 by Colonel Frederick Clinton, whose son Lieut.-Col. Henry R. Clinton is the present lord of the manor. (fn. 62)
It has been seen that Henry Trenchard held HORDLE TRENCHARD as half a knight's fee in Hordle and Sharprix (fn. 63); castle guard at Christchurch was in 1263 due from him in respect of this land. (fn. 64) His successor John Trenchard was in 1309 described as chief lord of Hordle, (fn. 65) and seven years later he and the Prior of Breamore were returned as the lords there. (fn. 66) In 1346 the estate belonged to Henry Trenchard, (fn. 67) and in 1397, (fn. 68) and again in 1414, (fn. 69) Roger Griffin held it in right of his wife. In 1428 John Trenchard was lord of Hordle, (fn. 70) but later in the same year, no doubt after his death, Robert Dingley and John Lisle owned the half fee which had once belonged to him. (fn. 71) During the next 200 years no record of the estate has been found, but in 1633 it was again in the hands of the Trenchards, Sir Thomas Trenchard, kt., suffering a recovery of the manor of Hordle, which had belonged to his father, Sir George. (fn. 72) Immediately afterwards, however, the manor was acquired by Robert Jason, who, dying in the following year, was succeeded by his son Robert. (fn. 73) He was created a baronet in 1661, (fn. 74) and in 1680 his son Robert, second baronet, sold the manor to Richard Hawkins. (fn. 75) This cannot apparently have been an absolute sale, (fn. 76) for in 1706 Sir Robert's daughter and collateral heiress Anne, (fn. 77) together with her husband Thomas Partington, conveyed the manor to Robert Southam to hold for ninety-nine years from 1683. (fn. 78) Warner, in his History of the county, mentions a tombstone in the church, now no longer to be seen, commemorating the death in 1720 at the age of 112 of one Christopher Clark, lord of the manor of Hordle, (fn. 79) but no other record of his lordship has been found. In 1747 the manor was sold by Robert Lewen and Richard Glynn to William Rickman for £1,400, (fn. 80) and there was a settlement of it by William, Rebecca his wife and Thomas Rickman in 1762. (fn. 81) A few years later it was acquired by Edward Ives, who in 1773 conveyed it to John Missing. (fn. 82) The later descent of this moiety of Hordle has not been traced, but it probably merged in the main manor in the 19th century.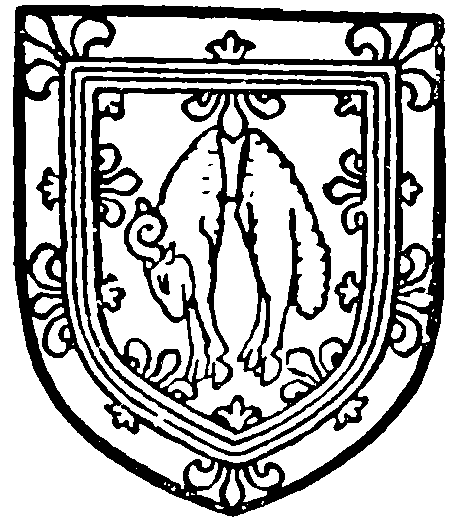 The manor of DOWNTON or LEA GREEN (Duneketon, xiii cent.; Donketon, xiv cent.; Donckton, xvi cent.; Dunkton, xvi–xviii cent.; Dounckton, Dunkerton, xviii cent.) originated in an estate which was owned in the reign of Henry III by the heirs of Isabel de Granges, held of the lord of Christchurch for a quarter of a knight's fee. (fn. 83)
In 1263 the estate seems to have belonged to Thomas de Orweye, who owed castle guard at Christchurch for land at Downton. (fn. 84) In 1516 Robert Dummer of Downton and his wife Agnes conveyed the manor, apparently by way of settlement, to Sir Thomas Trenchard, kt., Thomas Molines and Thomas Chewe, (fn. 85) and a hundred years later it belonged to Sir Edward Gorges, kt., who in 1619 received a grant of free warren there. (fn. 86) It was, however, acquired soon after by Sir Thomas Trenchard, kt., who owned it in 1633, together with the manor of Hordle (fn. 87) (q.v.). It passed with the latter manor to Robert Jason, (fn. 88) and was included in the settlement made by his son in 1639 for the benefit of St. Paul's Cathedral. (fn. 89) It subsequently devolved upon Anne the wife of Thomas Partington, and was in 1706 conveyed by them to Robert Southam. (fn. 90) It was purchased at the end of the 18th century by Admiral Sir William Cornwallis, whose heir, Mrs. Anne Maria Whitby, was the grandmother of the present lord of the manor, Col. William Cornwallis-West, V.D. (fn. 91)
In 1397 an estate in Downton and Everton, in the parish of Milford, was held for a quarter of a knight's fee of the lord of Christchurch. (fn. 92) This was owned in 1544 by Sir William Berkeley, who in that year obtained licence to alienate it to John Mille; it was at that time still held of Christchurch Manor. (fn. 93) It had, however, by 1633 become absorbed into the manor of Downton, which comprised at that date land at Everton. (fn. 94)
The manor of ARNEWOOD (Ernemude, xi cent.; Ernewode, xiii cent.; Arnewode, xiii–xvi cent.) was derived from the estate which Hugh Latinarius held there in chief in 1086. (fn. 95) It paid no tax at that date, although it was worth 30s., and had been assessed at I hide and I virgate when in the time of the Confessor Siward held it of Earl Tostig. (fn. 96) Although the greater part of this estate, which was afterwards held of Christchurch Manor for a quarter of a knight's fee, (fn. 97) gave rise to the manor of Arnewood, a small part of it was held differently and became another manor of Arnewood, which was subsequently fused with that of Ashley, the combination of the two being known as the manor of Ashley Arnewood (q.v. infra). Nigel of Buckland had an estate here in 1265, for which he owed castle guard at Christchurch in time of war. (fn. 98) Soon after this the owners of the quarter fee were Nigel of Buckland, Richard Bacon, Henry Long, Simon of Arnewood and Richard of Fernhill, (fn. 99) while in 1316 the whole estate was possessed by John of Buckland. (fn. 100) Not long after the manor must have escheated to the overlord, for in 1384 William de Montagu Earl of Salisbury and lord of Christchurch sold it to Thomas Street. (fn. 101) No further record of the manor has been found until the year 1575, when it was conveyed by James Arnewood to Robert Ryves, William Bulkeley, Thomas Clavell and William Cullyford. (fn. 102) From this date until the year 1715 there is another blank period, but the family of Bulkeley seems to have retained an interest in the manor, for in the latter year it was conveyed by Mary Bulkeley, widow, Thomas Durell and his wife Anne, William Bulkeley and George le Brun and his wife Mary to Thomas Brudinell, Clement Helgrove and Thomas Watts. (fn. 103) In the same year apparently the manor was acquired by Edmund Dummer, whose daughter and co-heir married John Bond; their great-grandson Mr. Nathaniel Bond of Creech Grange, Wareham, is the present lord of the manor.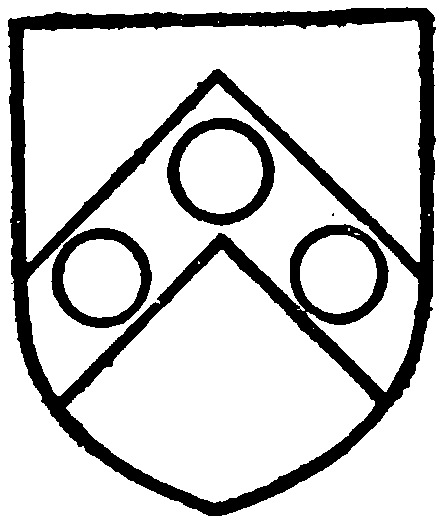 The manor of ASHLEY ARNEWOOD was the result of a fusion in the 16th century of the manor of ASHLEY (Esselie, Esselie, xi cent.; Asselegh, Easleghe, Eyslye, Aschleye, xiii cent.; Asshele, xiv cent.; Aysshley, xv cent.; Assheley, xv–xvi cent.) with the secondary manor of Arnewood.
In 1086 an estate in Ashley was held by Nigel of Earl Roger of Shrewsbury; in the time of the Confessor it had been held by Saolf. (fn. 104) Another estate there was in 1086 held by the sons of Godric Malf, who had himself held it of the king in the time of the Confessor. (fn. 105) Both estates had since those days been encroached upon by the New Forest. Ashley was probably included in the grant of Christchurch made by King Henry I to Richard de Redvers, for his successor Earl William in about 1200 granted an estate there in free marriage to Hawise the wife of William Avenel. (fn. 106) She gave it to her son Nicholas, on whose death it went to his son William Avenel. (fn. 107) He held it as the manor of Ashley, and upon his death without issue in 1253 it escheated to the Crown as Norman's lands. (fn. 108) It was granted in the following year to Thomas Waleran in recognition of good service rendered by him in Gascony, (fn. 109) but in 1263 it was again in the hands of the lord of Christchurch, Baldwin de Redvers, seventh Earl of Devon, dying possessed of it in that year. (fn. 110) At the beginning of the 14th century Reginald de Bettesthorne had a holding in Ashley worth 5s. yearly, and on his death the king appointed William de Bettesthorne and John de Ivez custodians of his heirs. (fn. 111) In 1316 the lords of Ashley were, in addition to the king, Roger de Bettesthorne, John and William of Fernhill, John of Downton, Philip of Rockhampton, (fn. 112) Henry de Thistleden and John de Veyl. (fn. 113)
No further records of any separate estate of Ashley have been found until the year 1494, (fn. 114) the manors of Ashley and Arnewood, which were subsequently fused into one, being evolved from an estate in Arnewood, Milford, East Ashley, Barton and North Sway, which was held for a knight's fee of the manor of Ringwood, (fn. 115) and in 1346 belonged to William of Buckland, Robert Long, Richard of Fernhill, Margaret of Bettesthorne and Thomas Reynolds. (fn. 116) The original owner of this fee had been Richard of Fernhill. (fn. 117) Nothing, however, has been found to suggest what holding in Arnewood this actually was.
In the year 1428 Sir John Berkeley, kt., died owning a small estate in Arnewood which had come to him through his wife Elizabeth Bettesthorne. (fn. 118) It descended like Minstead (q.v.) to his grandson Sir Maurice Berkeley, on whose death in 1474 the Arnewood estate passed to his daughter Katherine, (fn. 119) who at her death in 1494 owned the land in Arnewood, worth 10s. yearly, together with an estate in West and East Ashley worth 23s. 4d. yearly, all of which passed to her daughter Warborough, (fn. 120) afterwards the wife of Sir William Compton. Lady Compton died in 1526, when the two estates were known as the manors of Arnewood and Ashley, the latter being worth only 20s. yearly. (fn. 121) Sir William died two years later, his son Peter succeeding to the manors, (fn. 122) which passed at the death of the latter in 1544 to his son Henry, afterwards Lord Compton. (fn. 123) The two estates about this time came to be regarded as one manor, which, when Lord Compton died in 1592 and was succeeded by his son William, was called the manor of Ashley and Arnewood. (fn. 124) Soon afterwards the manor was acquired by Roger Tulse, who in 1632 conveyed it to John Button and Henry Tulse, (fn. 125) probably by way of settlement only, as he still owned it in the following year. (fn. 126) In 1670 (fn. 127) it belonged to George Stanley, but the only subsequent record of it that has been found is in the year 1803, when William Ireland and his wife Betty conveyed it to Richard Randell, it being then called the manor of Ashley Arnewood. (fn. 128)
At the time of the Domesday Survey there was a mill at Hordle, which, with six salt pans, was worth 15d. (fn. 129) The present mill, known as Gordleton Mill, is upon the Avon Water in the north-east of the parish.
CHURCH
The church of ALL SAINTS is a modern building in red brick with stone dressings, consisting of chancel with north vestry, nave and south-west porch, above which is the tower. The detail is in 13th-century style, with considerable use of moulding and foliage. It is the second church on the present site, and replaces a less suitable building erected about 1830 at the time of the destruction of the old church.
The site of the old church is at Hordle Cliff, about 2 miles to the south of the present village, and though consisting only of a graveyard inclosure is of interest owing to its position, which would be just outside the early forest limits. Tradition, probably accurate, tells of the existence of a village near the church, now disappeared owing to cliff erosion, and as Hordle, like Lymington, was an important saltmaking centre, the early village would naturally be on the coast.
Several illustrations of the church, which was taken down in 1829, are preserved at the vicarage and show it to have consisted of chancel, north and south transepts with chapels, nave and central bell turret. The south door at least was of 12th-century date.
The bells are three in number: treble, cracked and unhung, inscribed 'Love God IW 1694'; second, 'Serve God IW 1619'; third, 'Praise God 1637 I D.'
The plate consists of a silver chalice of 1650; a paten of 1651, given by Henry Kicher and Jane his wife; a flagon of 1841 and a plated spoon.
The registers begin in 1754 and are as follows: (i) marriages from 1754 to 1812; (ii) baptisms and burials 1772 to 1812; (iii) are incomplete, 1785 to 1794.
ADVOWSON
Hordle Church was existing in the time of the Conqueror, when it belonged to Christchurch Priory. It afterwards passed to the family of Redvers by virtue of the grant of the priory made to them by Henry I, and in about 1140 the ownership of the priory was confirmed by a charter of Baldwin de Redvers, first Earl of Devon, and Richard his son. (fn. 130) From very early times Hordle was a parochial chapelry annexed to the vicarage of Milford (q.v.) and served by the vicar. In more recent times it was served by a curate appointed by the vicar, but in February 1867, by an Order in Council, Hordle was declared a vicarage distinct from that of Milford, in the patronage of the Bishop of Winchester. (fn. 131)
The present impropriator of the great tithes, which have been commuted for an annual payment of £118, is Mr. Nathaniel Bond. There is a Baptist chapel at Tiptoe.
There are apparently no endowed charities in the parish.