Pages 197-202
A History of the County of Hampshire: Volume 5. Originally published by Victoria County History, London, 1912.
This free content was digitised by double rekeying. All rights reserved.
WHIPPINGHAM
Wipingeham (xi cent.); Wyppingham (xiv cent.).
Whippingham is one of the larger parishes of the East Medine, occupying 4,611 acres of land, of which 7 acres are inland water, 940¾ acres arable land, 1,822¼ acres permanent grass, and 287¾ acres woodland. (fn. 1) It embraced all the north-western portion of East Medine, including East Cowes, and reached south as far as Newport. In 1894 the parish of East Cowes was created from Whippingham, (fn. 2) and at the same date Whippingham was extended to include all that part of Wootton which had not already been included in Gatcombe. (fn. 3) Barton, (fn. 4) which is now a suburb of Newport, was constituted a separate ecclesiastical parish from the south part of Whippingham in 1844. (fn. 5) Village proper there is none, as the houses are scattered along the Newport to Cowes road. The almshouses, erected and endowed by Queen Victoria, lie on the east of the road, and the schools (unprovided) on the west; while the church and vicarage stand off the main road nearer the Medina. There is a corn mill on the banks of the river just above North Fairlee, now known as East Medina Mill. It, as well as a corresponding mill on the western bank, was built about 1790 by a Mr. Porter of Newport and was termed Botany Bay Mill. (fn. 6) The Royal Naval College was built in 1903 on part of the Osborne Estate granted by King Edward VII in 1902.
East Cowes may have taken its present name from the two defensive works on either side of the mouth of the Medina River, built in the reign of Henry VIII. (fn. 7) By the end of the 16th century a hamlet had sprung up just to the south of the castle and goods began to be landed there instead of being brought up the river to Newport. In the reign of James I a Mr. Newland was engaged in litigation with the corporation of Newport on account of his having erected a quay for landing his goods to the prejudice of the quay at Newport. (fn. 8) Cowes now rapidly became important. (fn. 9) Merchants' houses sprang up along the shore to supply the increasing victualling trade, and by the middle of the 18th century East Cowes was a place of importance with a custom house, a service of ferry boats and many private residences. (fn. 10) The rise of yachting in the beginning of the 19th century carried the interest from East to West Cowes, though the first meetings of the Royal Yacht Squadron were held at the Medina Hotel in East Cowes, and the importance of East Cowes declined till it was revived in 1857 by the establishment of Messrs. John Samuel White & Co., engineers. Messrs. S. E. Saunders, Ltd., also have extensive workshops for the building of motor boats, and adjoining the works is an interesting 17th–18th-century house worthy of notice. (fn. 11) Princess Henry of Battenberg resides at Osborne Cottage. Dr. Arnold of Rugby was born at Slatwoods in 1795. Norris Castle (fn. 12) was built in 1799 for Lord Henry Seymour from designs by Wyatt, and East Cowes Castle (fn. 13) about the same time by John Nash. The Medina Hotel, though refronted with plaster, is an old building, and some of the houses in High Street have many quaint features about them.
The Frank James Memorial Home, originally built as an almshouse for aged and disabled seamen, is now used as a cottage hospital. It is a well-designed picturesque building, fronting Adelaide Grove, and was established on its present basis in 1902 by Messrs. Arthur and William James, who in January 1906 conveyed the building and land with £10,000 of stock to trustees.
There is a coastguard station towards the point and a Trinity House landing pier at the top of the High Street.
MANORS
Thirty-two hides at WHIPPINGHAM are said to have been given by Cutred, kinsman of Ethelard king of the West Saxons, to the church of Winchester. (fn. 14) At the time of the Domesday Survey a manor at Whippingham which had been held before the Conquest by Cheping of King Edward was held by King William. (fn. 15) William son of Stur also held an estate there, which had formerly belonged to Bolla. (fn. 16) Certain land at Whippingham, which afterwards became known as the manor, was granted about the middle of the 13th century by Henry de Clavill to the abbey of Quarr. (fn. 17) The abbey obtained further grants of land in and about Whippingham, including a tenement called Cleybrokes, in the 13th and 14th centuries, (fn. 18) and at the Dissolution held rents of assize to the value of 15s. 4d. at Whippingham and a messuage called Cleybrokes valued at £2 2s. 8d. (fn. 19) The manor having passed to the Crown at the Dissolution seems to have remained a Crown possession (fn. 20) until 1628, when it was granted to trustees in satisfaction of debts due by the king to the City of London. (fn. 21) It followed the same descent as the manor of Newport (q.v.) until 1816, when it belonged to Philip Martin. (fn. 22) It was perhaps sold by some member of the Martin family to Queen Victoria and added to the estate at Osborne House, but the Wykeham Martins still hold an estate in Whippingham.
Another estate in Whippingham was held towards the end of the 13th century under William Russell of Yaverland by Jordan de Kingston jointly with the Prior of Portsmouth. (fn. 23) In 1271–2 Jordan granted a messuage and 43 acres of land in Whippingham to Denis Abbot of Beaulieu. (fn. 24) In 1291 the Abbot of Beaulieu held the grange of Whippingham taxed at £1, (fn. 25) and seems to have acquired more land in Whippingham at about this time from Richard le Noreys. (fn. 26) The abbot obtained a grant of free warren in the manor in 1359–60. (fn. 27)
This estate seems to have been identical with that afterwards known as the grange of EAST SHAMLORD. At the Dissolution the abbey of Beaulieu held the grange of East Shamlord, valued at £5 6s. 8d. (fn. 28) The grange must have been granted by the Crown to John Vaughan and Richard Putte, as in 1565 they sold it to Dominic Vaughan. (fn. 29) It had passed before 1593 to Richard Goddard, by whom it was leased in that year to Richard James of Newport. (fn. 30) Richard James was still holding the lease in 1611, when Thomas Worsley claimed it under a grant from Richard James and others. (fn. 31) The descent of this estate has not been further traced, but the name is still preserved in a field known as 'Shamblers,' between the Naval College Works and the cemetery.
Another estate known as the manor of SHAMLORD or WEST SHAMLORD was conveyed in 1543–4 by Sir Thomas Trenchard to his son Richard. (fn. 32) It remained in the Trenchard family until 1586, when it was conveyed by William Trenchard to Richard Hardy and others. (fn. 33) In 1608–9 Edward Lovinge and John Baskett claimed the manor by gift of Sir William Trenchard. After this time no further trace of the estate has been found. West Shamlord was on the west bank of the Medina, where White's yard now is.
The manor of BARTON (Berton, Burton, xiii cent.) evidently belonged originally to the Mackarels of Brook, for by a charter without date Sir Ralph Mackarel granted land in Barton to Nicholas de Godshill. (fn. 34) It must have passed with Brook to the Glamorgans, as it was purchased of Sir William de Glamorgan (fn. 35) by John de Lisle, one of the founders of Barton Oratory, upon which he bestowed 'all the land of Burton' in 1275. (fn. 36) Ten years later John de Lisle obtained licence to alienate a carucate of land at Whippingham to the 'archpriest' of Barton, (fn. 37) and this with other property in Whippingham acquired by the archpriest was probably added to the Barton estate, the whole being known as the manor of Barton. (fn. 38) The manor remained with the chaplains of Barton until 1439, when the archpriest granted it to the warden and scholars of Winchester College. (fn. 39) The manor was purchased of Winchester College in 1853 by the Prince Consort, and now forms part of the Osborne estate. (fn. 40)
Sir John Oglander described the house—probably converted to the use of the tenant in the middle of the 15th century—as 'very ancient moated round, with a drawbridge and a church now converted into a barn.' (fn. 41) After its purchase by Queen Victoria the house was greatly altered and modernized, but care was taken to keep its old character. (fn. 42) Lancet windows occur in the south wing of the entrance front. (fn. 43)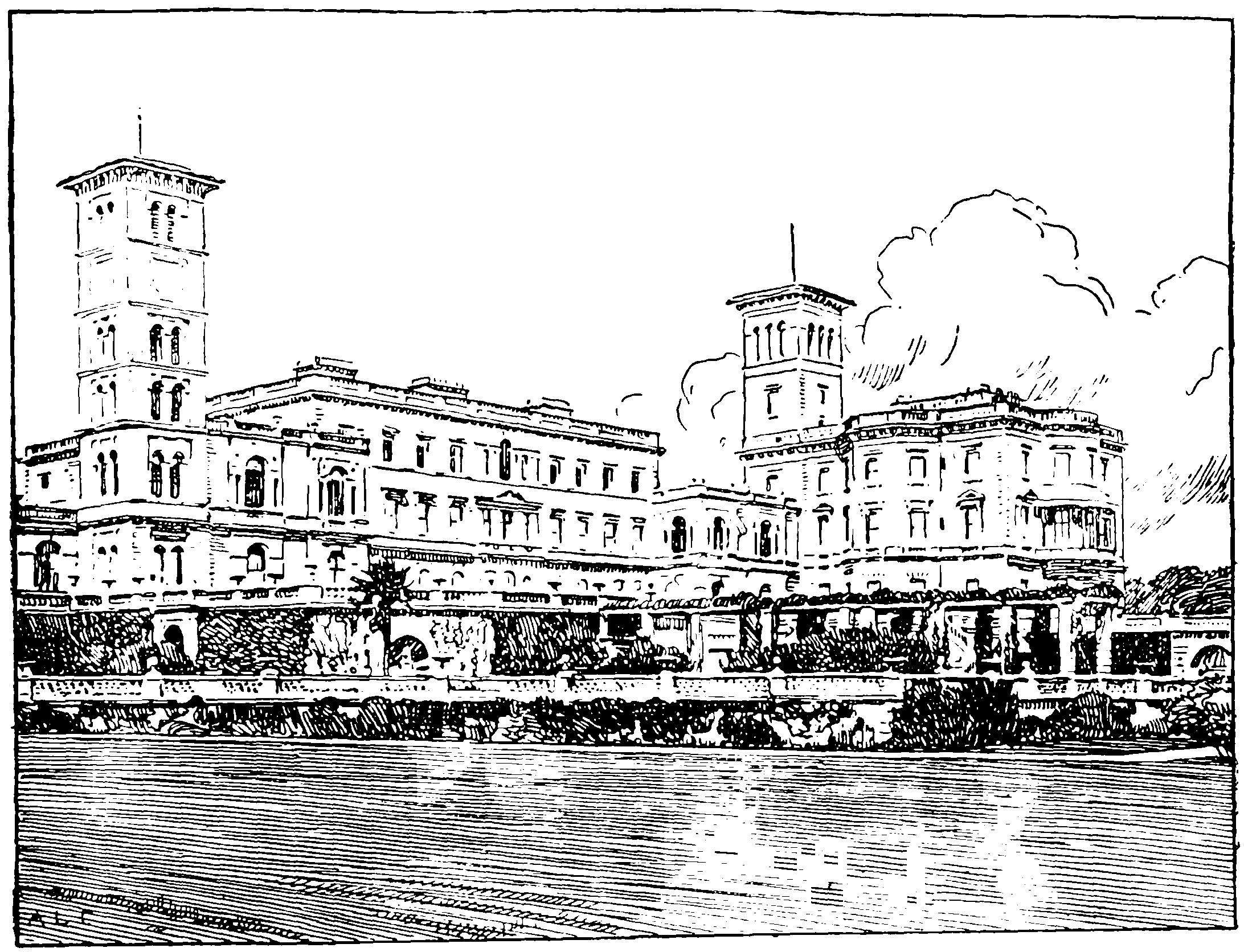 CLAVELLS
CLAVELLS, though now but a small holding, was in the 16th century termed a manor. It was held of the manor of Gatcombe. (fn. 44) Henry de Clavill was holding land in Whippingham in the middle of the 13th century, (fn. 45) and in 1349 John de Clavill died seised of land in Whippingham, leaving as his heir a daughter Felicia. (fn. 46) In 1536–7 Nicholas Wynyatt and his wife Elizabeth sold the manor to John Cresweller. (fn. 47) It subsequently passed to the Worsleys, John Worsley dying seised of it in 1580. (fn. 48) It then followed the descent of Appuldurcombe, being mentioned for the last time, as a manor, in 1772. (fn. 49)
FAIRLEE
FAIRLEE (Fairele, xiii cent.; Fourle, xiv cent.; Fayrle, xv cent.; Farleigh, xvii cent.) was held of the honour of Carisbrooke. (fn. 50) It belonged in 1227–8 to Simon de Daventry and Joan his wife, (fn. 51) and followed the same descent as Alvington in Carisbrooke (q.v.) until the middle of the 15th century, when it belonged to Sir John Popham. (fn. 52) In 1666 Levinus Bennet sold the farm called Fairlee to the Hon. John Colepeper of Carisbrooke. (fn. 53) Mr. William White purchased Fairlee about the middle of the 18th century and died there in 1774 and his son John died seised in 1800. Grace Eleanor daughter of John White of Fairlee, who succeeded her father in 1865, married John Batten, whose son Major John Mount Batten (fn. 54) still holds an estate at Fairlee, though much of the manor has been sold.
OSBORNE
OSBORNE (Austeburne, xiv cent.; Oustbourn, xiv cent.) was held of the honour of Carisbrooke for the service of an eighth of a knight's fee. (fn. 55) Hugh de Chekenhull held it about 1280, when it is called land in Whippingham, and died in 1316 seised of the manor of Osborne. (fn. 56) His son John granted the manor about 1328 to William Payn of Newport, (fn. 57) who was succeeded in 1332–3 by his kinsman and heir John Payn, (fn. 58) who granted the manor to John le Engleys and Robert de Barton called Chamberleyn. (fn. 59) Robert was in possession in 1346, (fn. 60) but in 1361 John Malwayn died seised of the manor and was succeeded by a son John. (fn. 61) In 1395 Philip Payn sued Thomas Raleigh for the manor, but seems to have lost his case by default, (fn. 62) for it passed to Joan daughter and heir of Thomas Raleigh, wife of Edward Bromflete, and she and her husband sold the manor in 1424 to John Garston and John Rookley. (fn. 63) John Rookley's daughter Joan married Thomas Bowerman, (fn. 64) whose younger son Richard succeeded to the manor. Richard Bowerman's daughter Alice married John Arney, (fn. 65) who successfully upheld his claim against her cousin Nicholas Bowerman of Brook, (fn. 66) and whose heir Nicholas Arney in 1549 conveyed the manor to Thomas Standish. (fn. 67) Standish was probably a trustee for John Lovibond, (fn. 68) who was dealing with the manor in 1575–6 and in 1588, (fn. 69) and Thomas Lovibond died in 1618, (fn. 70) leaving a son and heir Edward, who in 1633–4 sold the manor to Eustace Mann. (fn. 71) John Mann son of Eustace died in 1705, (fn. 72) and his daughter and sole heiress Elizabeth married Robert Blachford of Sandhill, Hants, with whose family (fn. 73) Osborne remained till Queen Victoria bought it of Lady Isabella widow of Barrington Pope Blachford in 1845.
The 18th-century house built by Robert Pope Blachford was pulled down and the present Osborne House begun in 1845 and finished in 1851. It was much frequented by Queen Victoria, who died there in 1901. It was given to the nation by King Edward VII in the following year, and is now used as a convalescent home for officers of both services.
PAN
PAN (Lepene, xi cent.; Penna, xiii cent.) was at one time an important manor. It had belonged to Godric before the Conquest and was held of the king by Herbrand the thegn in 1086. (fn. 74) It was held by the lords of the Island in demesne, (fn. 75) and seems to have been somewhat neglected, judging by the finding of the jury at an inquiry held at Newport in 1339. (fn. 76) The manor formed part of the lordship of the Island from the 13th till the 16th century. (fn. 77) It was granted in 1553 to Leonard Browne and Anthony Trappes, who sold it in the same year to Thomas Carew. (fn. 78) He must have sold it to William Colnett, (fn. 79) whose son Barnabas died seised of it in 1607. (fn. 80) His son Edward sold it to Thomas Kemp in 1613–14. (fn. 81) From the Kemps it came by marriage to Henry Bromfield of Haywood, from whom it was purchased by John Gilbert, (fn. 82) who sold it in 1737 to Matthew Rolleston of Southampton. (fn. 83) Matthew Rolleston died in 1758, and was succeeded by a son and grandson both named Samuel. The younger Samuel was succeeded in 1860 by a son George, and Great Pan Manor is now held by his grandson William Vilett Rolleston. (fn. 84)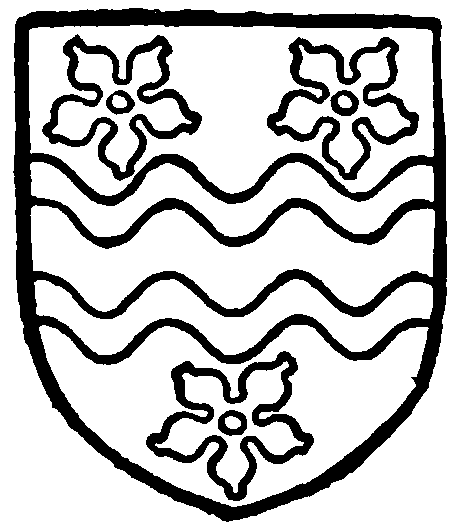 There is no entry of a mill in the Domesday Survey, but by the 14th century a mill had not only been established but needed repair. (fn. 85)
SHIDE
SHIDE (Side, Sida, xi cent.; Schyde, xiii cent.; Shide, xiv cent.) was held in 1086 as three manors. One formerly held by Chetel was held by the king, but William son of Stur paid for it and the three manors of Bowcombe, Haldley and 'Levintun' £60, though they were not worth so much. (fn. 86) Besides the manor William and Gozelin the sons of Azor held estates at Shide. (fn. 87) Land at Shide belonged in 1227–8 to Simon de Daventry and Joan his wife, (fn. 88) and followed the same descent as Alvington until the beginning of the 16th century. (fn. 89) The manor, owing probably to its lying within the three parishes of Whippingham, Arreton and Carisbrooke, must have been divided up during the next two centuries, and what remained of it was held in the middle of the 18th century by a family of Smith, (fn. 90) from whom it came in the 19th century to the Foquets and then to Col. Evelegh, the representatives of whose son sold it in 1901 to Mrs. F. A. Joyce, who sold it in 1910 to E. J. Gunner.
WOODHOUSE
WOODHOUSE, a holding near King's Quay, to the west of what was formerly called Shoflet Creek, (fn. 91) was held of the king in chief by the serjeanty of keeping the forest of Chute. (fn. 92) It was probably at one time held by Henry de Bosco, (fn. 93) and is no doubt to be identified with the eighth part of a night's fee held about 1280 by John de Lisle 'called de Bosco.' (fn. 94) John son of William de Lisle of Wootton died about 1301–2 seised of a ruined house at Woodhouse where the forester of Chute Forest lived, for which he paid 13s. 4d. to Clarissa Sackville, (fn. 95) and the estate passed with Wootton until the death of Bartholomew de Lisle in 1345. (fn. 96) Soon after this time the estate must have passed to Robert de Barton of Osborne, for he in 1346 held the eighth of a fee in Whippingham which Henry de Bosco had formerly held, (fn. 97) and an estate at Wode passed with Osborne to John Malwayn (fn. 98) and to the Raleighs, in whose family it passed like Walpen (fn. 99) (q.v.) until sold in 1565 by Simon Raleigh to John Dryden. (fn. 100) Dryden sold his interest in 1566 to Richard Foster. (fn. 101) Edward Sampson, alias Eden, died seised of it in 1620, (fn. 102) and his son Edward sold it in the same year to Sir Richard Worsley. (fn. 103) The further descent of this estate cannot be traced, but it is now the property of the Crown.
CHURCHES
The church of ST. MILDRED lies back from the main road and forms a conspicuous object from the River Medina. Its architectural history is a varied one. A church must have been in existence at the time of Domesday, as it was one of those granted to the abbey of Lire; the chancel, which was the earliest part of the church as it existed at the end of the 18th century, was of the 13th century, (fn. 104) and it may be that it and the tower at the west end were added to an original 11th-century nave. (fn. 105) The only remains of this original church is the roughly-sculptured stone (fn. 106) now inserted in the wall of the south porch. In 1804 the church was reconstructed by Nash and in 1854–60 pulled down and rebuilt.
The present church consists of an aisled chancel and nave, with transepts and a central lantern tower with spire of Rhenish-Gothic motif. It is of little interest architecturally, but possesses some good stained glass and fittings. The north chancel aisle has been formed into a memorial chapel to the late Prince Henry Maurice of Battenberg. It contains a fine sarcophagus tomb and is inclosed by a gilded iron grille designed by Alfred Gilbert, R.A. There are memorial tablets to the Prince Consort, the Princess Alice and the Duke of Albany and a reredos of good design has been erected in memory of Queen Victoria. In 1906 a tablet was erected by the Landgrave of Hesse to the memory of the Hessian soldiers who were invalided to the Isle of Wight after the campaign of 1794. (fn. 107)
There is one bell of about 1856.
The plate, which is modern, is said to have been exchanged for the old plate by a former rector.
The registers date from 1728.
The church of ST. JAMES, EAST COWES, is an uninteresting structure designed by Nash in 1831 and enlarged in 1870, and now in course of practical reconstruction.
ADVOWSON
Whippingham was one of the six Island churches bestowed by William Fitz Osbern on the abbey of Lire (fn. 108) and remained with that body till the suppression of the alien houses, (fn. 109) when it was granted by Henry V to the Charterhouse of Sheen, (fn. 110) with which it remained until the Dissolution. It then reverted to the Crown, (fn. 111) and is now in the gift of the Lord Chancellor.
There are denominational places of worship: Wesleyan in Adelaide Grove; Congregational, Bridge Square; United Methodist, Osborne Road.
CHARITIES
In 1688 John Mann by his will devised a fee-farm rent of £23 (part of a fee-farm rent of £43 15s. 4d.) issuing out of the Grange of Lazenby in the county of York to be applied in the first place in maintaining, educating and setting up in the world of poor orphans of East Cowes and after that of other children in Whippingham and after that to maintenance of poor ancient lame and impotent people of the parish. See also under parish of Northwood, West Medine Hundred. The official trustees hold £67 2s. 11d. India 3 per cent. stock, producing £2 a year, arising from accumulations of income. The income is applied in prizes and awards to poor children of the ancient parish of Whippingham (with preference for orphans of East Cowes) and any balance for the poor.
In 1856 Beatrice Shedden by will bequeathed £1,000 consols, producing £25 yearly, for distribution among the poor of Whippingham, East Cowes and Barton, in this parish.
There are also eight almshouses erected and endowed by Her Majesty Queen Victoria.
East Cowes.
In 1725 Thomas Cole by his will bequeathed £50, the income to be applied for the benefit of poor children of East Cowes. See under parish of Northwood, West Medine Hundred.
In 1880 the Right Hon. Elizabeth Mary Viscountess Gort by her will, proved at London 22 November, bequeathed £1,000, now represented by £1,003 15s. 3d. consols, with the official trustees, who also hold a further sum of £102 6s., representing a legacy of £100 by will of the Right Hon. Caroline Harriet Viscountess Gort, proved at London, 13 June 1888.
The dividends, amounting together to £27 13s., are distributed in accordance with the trusts to the poor at Christmas in coals, food and clothing.