Pages 249-251
A History of the County of Hampshire: Volume 5. Originally published by Victoria County History, London, 1912.
This free content was digitised by double rekeying. All rights reserved.
KINGSTON
Chingestune (xi cent.); Kyngestone (xiii–xv cent.).
Kingston, one of the smallest rural parishes in the Isle of Wight, containing but 900 acres and a population under seventy, is wedged in between the parishes of Chale and Shorwell. In 1882 Brook Cottages were transferred from Kingston to Shorwell, and in 1889 Emmett Hill Cottages, formerly in Shorwell, became part of Kingston. (fn. 1)
The soil is sandy on a sand rock and the chief crops are wheat and barley. The parish contains 575 acres of arable land, 235 acres of permanent grass and 46 acres of woodland. (fn. 2) There is no village proper, but a few scattered cottages. The manor-house lies under the knoll on which stands the little church about the centre of the parish. It was built in the 17th century on the site of an earlier house (fn. 3) and was remodelled in the 18th century. In the hall, now used as a kitchen, is a wide flat-arched fireplace, and in the present dining-room is a good oak mantelpiece of early 17th-century detail with the Meux arms carved on a central panel. (fn. 4) Though much modernized some of the original stone-mullioned windows remain, and the gable ends are coped with stone finishing in moulded finials. There is no evidence of any projecting wings, and the house seems to have been erected much as it now remains—a large hall opening to the south into two living rooms.
MANOR
In 1086 the king owned KINGSTON, which Ulvric had held before the Conquest. (fn. 5) Like most of the manors in the Isle of Wight, it was held of the lord of Carisbrooke Castle by military service until the overlordship lapsed in the 17th century. (fn. 6) In the 13th century the manor belonged to Jordan de Kingston, (fn. 7) to whom the king committed the custody of the county of Hants in 1280. (fn. 8) He died seised of Kingston in 1296, leaving it to his kinsman Jordan son of William de Kingston, (fn. 9) who in 1300 was returned as holding property in Hampshire to the value of £40 and over, and was therefore summoned to serve against the Scots. (fn. 10) Two years later he was summoned to answer for the relief which he owed to the king for his lands, which included half a knight's fee in Kingston, for which his grandfather had paid a relief of £2 10s. (fn. 11) He died in 1305 seised of two thirds of the manor (fn. 12) only, from which it would appear that Margery widow of the elder Jordan (fn. 13) was living and holding the remaining third in dower. His son and heir John, who in 1340 (fn. 14) commanded the militia in Kingston and Shorwell, settled Kingston on his wife Maud in 1341. (fn. 15) He himself was still living in 1356, (fn. 16) but on his death, at an uncertain date, left two sons James and Jordan, who both died childless, and a daughter Eleanor, wife of William Drew, (fn. 17) who finally inherited his property. In 1375 Eleanor and her husband settled the reversion of the manor, which Ralph de Wolverton and Nichola (fn. 18) his wife held for the life of Nichola, on John and Richard Drew and the heirs of Richard. (fn. 19) Richard must have died childless, since Kingston passed to William Drew, son of John, (fn. 20) who died before 1428, (fn. 21) leaving an only daughter Alice, who married Lewis Meux or Mewis, a well-known military commander. (fn. 22) In 1441 Lewis Meux and his wife Alice (fn. 23) were granted free warren for deer and coneys in Kingston and Shorwell and licence to inclose 300 acres of wood and pasture there. (fn. 24) Alice, who evidently survived her husband, died in 1472 and was succeeded by her grandson William Meux, son of Thomas, who was afterwards knighted. (fn. 25) William left Kingston to his youngest son John Meux, (fn. 26) who died childless in 1568, leaving it to William Meux, son of his brother Richard. (fn. 27)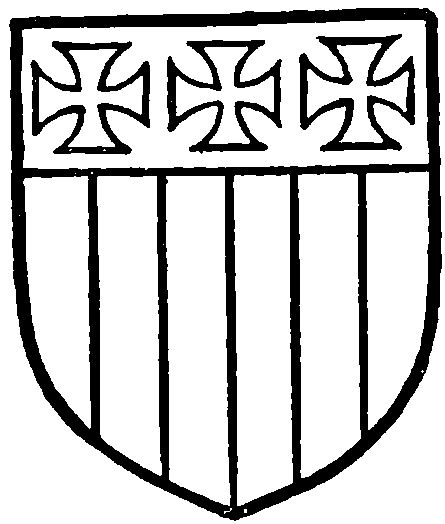 Sir John Meux, son of William, and his two sons Sir William and Bartholomew seem to have in some way incurred the dislike of Sir John Oglander, who describes the father as being 'of a homely behaviour, as nevor havinge any breedinge or good naturales,' and 'the veryest clown (of a gentleman) that evor the Isle of Wight bredd. As he wase destitute of learninge, soe of humanitie and civillite, yet although his clownisch humour a good honest man.' His son Bartholomew is said to have been 'ye picture of him,' and Sir William, although he 'wase as well a qualified gentleman as anie owre countery bredd,' had 'no spirite.' (fn. 28)
In 1628, the year before the death of his father, (fn. 29) Sir William Meux was offered the commission of deputy-lieutenant, but refused to accept it. His son Sir John Meux, who was a Royalist, was M.P. for Newtown (I.W.) 1640–4, and was created a baronet in 1641. (fn. 30) In October 1646 a fine of £375 was imposed upon him by the Committee for Compounding, but it seems to have been still unpaid in 1655, when he was summoned before the Commissioners for Hampshire to show the value of his estates. As he did not appear, he was ordered to pay £50 a year. He sent a petition to Parliament in May 1656 stating that his property, except an annuity of £100, had been 'conveyed away for debt and to provide for his children,' and asking to be assessed on the annuity only. The petition was renewed in the November following and referred to a committee, but the result does not appear. (fn. 31) Sir John died in the following year and was succeeded by his eldest son William, (fn. 32) who married firstly Mabel daughter of Robert Dillington of Knighton, and secondly Elizabeth daughter of George Browne of Buckland (co. Surrey). (fn. 33) He was succeeded in 1697 by his eldest surviving son William, who died unmarried in 1706, when the baronetcy became extinct, and his property was divided between his three sisters, Elizabeth, who married Sir John Miller of Froyle, Jane and Anne. (fn. 34) The two latter died unmarried, leaving their property to their niece Elizabeth wife of Sir Edward Worsley of Gatcombe. (fn. 35) Lady Elizabeth Miller divided her share of Kingston between two of her daughters—Jane wife of George Bockland (fn. 36) and the above Elizabeth Worsley. The latter was thus seised of two thirds of the manor, which she apparently settled on James Worsley, rector of Gatcombe, one of her younger sons, (fn. 37) and half the remaining third, which passed according to her marriage settlement to her eldest son Edward Meux Worsley. (fn. 38) After his death in 1782 his share of Kingston passed to his elder daughter Elizabeth, who married Edmund John Glynn of Glynn (co. Cornwall), (fn. 39) and with him seems to have acquired the remaining part of the manor, which early in the 19th century was divided between their three daughters Elizabeth Anne, Frances Mary and Gertrude Rose Glynn. (fn. 40) Before 1827 it had been purchased by George Ward of Northwood Park. (fn. 41) It passed with Northwood to his great-grandson Mr. Edmund Granville Ward, (fn. 42) who sold it to Mr. Francis Templeman Mew, the present owner.
The lord of the manor had a windmill in Kingston in 1296, (fn. 43) but the mill is said to have been in a ruinous condition in 1305–6, (fn. 44) and does not appear to be mentioned again.
CHURCH
The church of ST. JAMES stands on a knoll overlooking the manor-house to the south of the Shorwell road, and remains much as it was built in the latter part of the 13th century. It is a plain rectangular structure without a dividing chancel arch, and of the original features only the double hollow lancet windows in the north and south walls, (fn. 45) the lower portion of the east window and a trefoiled credence in the south wall remain. In the 15th century windows and a south door were inserted, and to this period belong the corbels over the east and west windows. (fn. 46) In 1766 a porch was built to the south door, and in 1872 a vestry was added and the 15th-century windows replaced by lancets.
There is a good 16th-century brass (fn. 47) to Richard Meux, 1535, with his arms.
The one bell was recast in 1889.
The plate consists of a chalice and paten, 1671, and a plated 19th-century flagon.
The registers date from 1625.
ADVOWSON
The chapel of Kingston was built before 1251, when there was a dispute between Jordan de Kingston and Geoffrey de Lisle concerning the advowson, all right to which the latter finally quitclaimed. (fn. 48) The advowson followed the same descent as the manor until the 19th century, (fn. 49) when it was sold before 1870 to T. C. Baring, M.P., who transferred it to three trustees for the benefit of Hertford College, Oxford. (fn. 50) Lord Francis Hervey is now the senior trustee. The vicarage is now united to Shorwell by Order in Council of November 1910.