Pages 136-139
A History of the County of Hertford: Volume 3. Originally published by Victoria County History, London, 1912.
This free content was digitised by double rekeying. All rights reserved.
SACOMBE
Suevecampe, Sevechampe, Stuochampe (xi cent.); Savecampe, Sawecampe, Sevechaumpe (xiii cent.); Savecampe (xiv cent.); Savecome, Sawcompe (xv cent.).
The parish of Sacombe has an area of 1,534 acres, of which 405½ acres are arable land, 683½ acres permanent grass, and 123½ acres wood. (fn. 1) The general elevation of the parish is a little over 200 ft., sinking to below 200 ft. along the banks of a small stream which runs through the centre of the parish into the River Beane. In the north-west Sacombe Hill rises to over 300 ft., and in the north-east at Sacombe Green the land reaches a height of 362 ft. In the west the parish takes in a large portion of Woodhall Park, and the River Beane flowing out of this passes through the south of Sacombe parish for a short distance. The road from Benington to Ware runs through the parish from north-west to southeast, having Woodhall Park on its western side. About the centre of the parish a branch road turns off from it and runs north-east to Little Munden, passing through Sacombe Pound. A road turns east from Sacombe Pound, leading up the hill to the hamlet of Sacombe Green and branching off to Sacombe Church, rectory, and school, which compose all the village that there is. Sacombe House, surrounded by a park of 150 acres, lies south-east from the church. It was rebuilt by Mr. George Caswall early in the 19th century, and was recently the scene of a destructive fire. Burr's Green is a hamlet in the south of the parish. The subsoil of the parish is chalk in the west and north and Woolwich and Reading Beds in the east. There is a chalk-pit beside the road to Sacombe Green, a disused one north of Woodhall Park, and another disused one, with an old kiln, on the west side of Sacombe Park. The nearest stations are Hertford, 4 miles south, and Ware, the same distance southeast, both on a branch line of the Great Eastern railway.
The inclosure award was made in 1852, and is in the custody of the clerk of the peace. (fn. 2)
Place-names which occur in the parish are Reddinges, Blindman's Hill, Crossefield, Great Emdell Field, Emden Spring, Charden, and Mobsden.
MANOR
In the time of Edward the Confessor there were two manors in Sacombe. The larger, held by Ælmer of Benington, was assessed at 4 hides. Besides the manor there were 1 hide and 1 virgate held by four of Ælmer's sokemen, and 5 virgates held by a certain woman under Anschil of Ware, one of which was mortgaged to Ælmer. The other manor, consisting of 1 hide 3 virgates, was held by Lewin, a thegn of King Harold. Both these manors were granted by William the Conqueror to Peter de Valognes, who held them as one manor assessed at 8¾ hides, (fn. 3) the assessment having seemingly increased half a hide. Half a virgate held by Aluric Blac of Stigand, and in 1086 by Anschil of Stigand's successor, (fn. 4) and another half-virgate held in 1086 and before by a sokeman of the king (fn. 5) were probably absorbed in the manor of Sacombe.
The manor, held of the king in chief by knight service, passed to the descendants of Peter de Valognes in the same way as his chief manor of Benington (q.v.) until the death of Christiane de Valognes and her husband William de Mandeville. The Valognes' estates were then divided between the three heirs: Lora, the wife of Henry de Balliol, Christiane, wife of Peter de Maune, and Isabel, who was married to David Comyn. Sacombe was apportioned to Isabel, the youngest, and passed upon her death, about 1253, to her son William Comyn. (fn. 6) William died about 1283, (fn. 7) and his son John being a minor, custody of two thirds of the manor was granted to Matthew de Columbars, and shortly after, at the request of the latter, to John de Gisorz, citizen of London, for four years. (fn. 8) In 1284 the remaining third was confirmed to William Comyn's widow Eufemia in dower, on her taking an oath not to marry again without the king's licence. (fn. 9) She broke her oath, however, and the king took the third part of the manor back into his hands before her death, which occurred about 1289. (fn. 10) Her son John Comyn came of age in 1286–7, (fn. 11) and probably held the manor, but he died soon after and Sacombe passed to Edmund Comyn, said to have been his brother, (fn. 12) who died seised of it about 1314. (fn. 13) The latter left two infant daughters and a widow Mary, who held a third of the manor in dower. (fn. 14) She afterwards forfeited it. (fn. 15) Sacombe was eventually divided between the two daughters, the elder of whom, Eufemia, was holding it in 1320 (then aged fourteen years), at which time she was the wife of William de la Beche. (fn. 16) The moiety was settled in 1330 on William and Eufemia for their lives and the heirs of Eufemia. (fn. 17) William died in 1333, leaving a son John. (fn. 18) Eufemia continued to hold the moiety, and in 1334 received licence to have an oratory in her house at Sacombe. (fn. 19) She married secondly John de Walkefare, who died abroad in 1345, leaving a son John. (fn. 20) Apparently, however, both these sons died young, for upon Eufemia's death in 1361 her lands passed to her daughter Elizabeth, the wife of Roger de Elmerugge (Elmbridge). (fn. 21)
Eufemia's sister Mary Comyn, who received the other moiety of Sacombe Manor, was married by licence of the king to Edmund de Pakenham while she was still under age. He died in 1351, (fn. 22) leaving a son Thomas. Mary conveyed her moiety of the manor to her sister Eufemia in 1355, (fn. 23) so that the whole manor came to Eufemia's daughter Elizabeth and Roger de Elmerugge in 1361. (fn. 24) Roger died in 1375, (fn. 25) and in the next year Elizabeth sold Sacombe to John de Holt and Alice his wife. (fn. 26) Sir John Holt was involved on the king's side in the rebellion of 1387, when the royal army under Robert Duke of Ireland was defeated. He was among the five judges sentenced by Parliament to be hanged, but, the sentence being remitted, he with the rest was banished to Ireland and his estates forfeited. (fn. 27) Sacombe thus came into the king's hands in 1388. (fn. 28) Upon Sir John Holt's death, however, in 1419, or perhaps before, it was restored to his son Hugh. (fn. 29) Hugh Holt died in 1420 and Sacombe passed to his brother Richard, (fn. 30) who sold it in the same year to Robert Babthorpe. (fn. 31) The manor-house at that time contained a hall, 'five chambers high and low, and a house for the making of tiles.' (fn. 32) Robert Babthorpe died in 1436, and the manor came to his son Ralph. (fn. 33) From Ralph Babthorpe it passed to his son Robert in 1455, (fn. 34) and to Robert's son Ralph in 1466. (fn. 35) Ralph died in 1490, leaving a daughter Isabel, who was married to Sir John Hastings, (fn. 36) and died in 1495. (fn. 37) Her heir was her 'kinswoman' Isabel Plompton, daughter of Robert Babthorpe, who seems most probably to have been her first cousin, but was possibly her aunt. (fn. 38) This Isabel was married to William Plompton, and was holding the manor as his widow in 1547. (fn. 39) She died in 1552, (fn. 40) and Sacombe passed to her grandson William Plompton, who in 1593 conveyed the manor to Sir Philip Boteler of Watton Woodhall. (fn. 41) At Sir Philip's death in 1607 Sacombe came to his widow Jane, (fn. 42) and after her death to his grandson Robert Boteler, (fn. 43) from whom it passed in 1623 to his daughter Jane, (fn. 44) who married John, afterwards Lord Belasyse of Worlaby. (fn. 45) The latter is said to have sold Sacombe, owing to pecuniary embarrassment, to Sir John Gore, (fn. 46) who seems to have been in possession of it in 1669. (fn. 47) In 1688 it was purchased from him with the manor of Temple Chelsin by Sir Thomas Rolt, (fn. 48) formerly president of the East India Company and Governor of Bombay, from whom it passed to his son Edward (fn. 49) in 1710. (fn. 50) Edward Rolt, who was M.P. for Chippenham, was succeeded by his son Thomas, who was holding the manor in 1728 (fn. 51) and died in 1754, leaving a son Thomas, of the 1st Guards, who was killed in action in 1758, when Sacombe seems to have come to his youngest sister Mary Constantia Rolt, (fn. 52) who married Timothy Caswall of the Guards, M.P. for Brackley. He was a personal friend of Pitt, who used to visit him at Sacombe, and was there with Dundas, his Home Secretary, at the critical time when Lord Gower, ambassador in Paris, fleeing from the French Revolution, hastened to them (2 September 1792), before proceeding to the king. (fn. 53) The bust of Pitt presented to Mr. Caswall is now in possession of his great-great-grandson, Mr. J. H. Round, LL.D. He died in 1802 and was succeeded by his son George Caswall, (fn. 54) after whose death in 1825 (fn. 55) the manor was sold to Samuel Smith of Watton Woodhall, (fn. 56) with which manor it has since descended.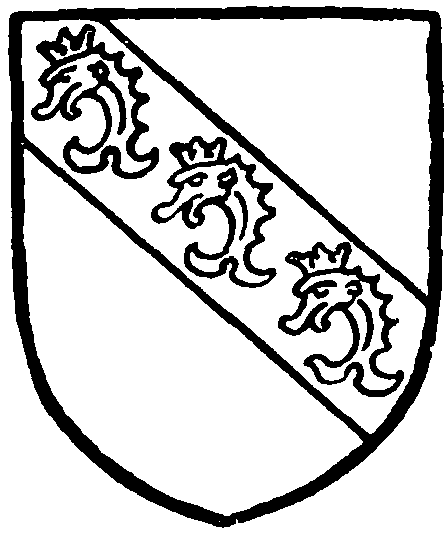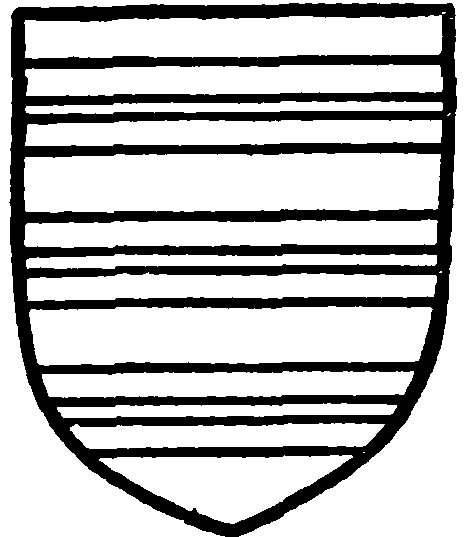 In 1275 the lord of Sacombe was said to have view of frankpledge, gallows and assize of bread and ale. (fn. 57) In 1278 William Comyn claimed in his manor of Sacombe all liberties formerly pertaining to the Valognes' lands, viz. soc and sac, toll, team and infangentheof by charter of Henry I, and view of frankpledge, tumbrel and amendment of the assize of bread and ale 'of ancient custom.' (fn. 58) In 1287 gallows and free warren were claimed in addition. (fn. 59) In 1361 court leet was held at Whitsuntide. (fn. 60) Free fishery in the River Benwith (Beane) was said to pertain to the manor in 1590, (fn. 61) 1609 (fn. 62) and 1688. (fn. 63) Sacombe possessed a water mill in 1086, (fn. 64) which is frequently mentioned in connexion with the manor, (fn. 65) and was presumably situated on the River Beane at Mill End.
In the 13th century the Knights Templars held some lands in Sacombe, Rocelin, master of the order, receiving a grant of free warren there in 1253. (fn. 66) A reminiscence of their holding is found, perhaps, in 1698, when Sir Thomas Holt, lord of the manor, was presented for not keeping the 'Temple pound' in order. (fn. 67)
There was a hide in Sacombe held before the Conquest by three sokemen, two of them men of Anschil of Ware and the third a man of Aluric Blac. This land in 1086 belonged to Hardwin de Scales, (fn. 68) and was perhaps later annexed to Little Munden.
Half a virgate held in 1086 by Derman, and formerly belonging to Alwin Horne, (fn. 69) would naturally become absorbed in Derman's neighbouring manor of Watton.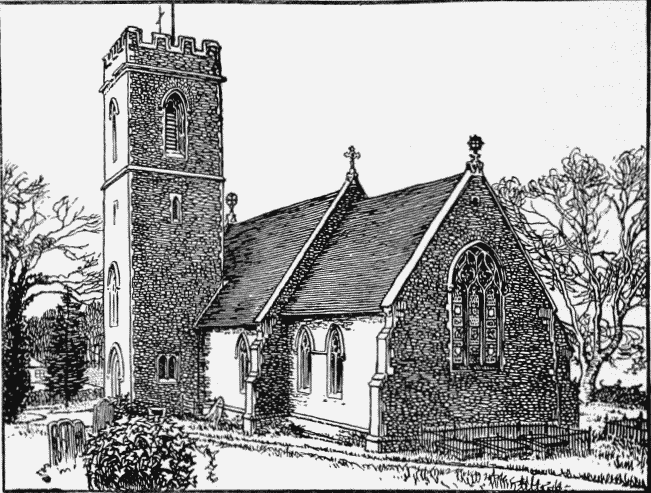 CHURCH
The church of ST. CATHERINE stands on high ground in the middle of the parish. The walls are faced with flint and the roofs are tiled. (fn. 70) The church consists of a chancel, nave, north vestry and south tower. The original plan of the 14th-century church was the same as that of the present building, and the chancel and nave are of that date. The tower was rebuilt in 1855–6, and the north vestry was added at the same time, when the whole church was restored, faced with flint and re-roofed. A great part of the stonework of this church was brought from the demolished church of Thundridge.
All the doors and windows of the chancel and nave are modern. They have two-centred heads, the east and west windows being of three and the north and south windows of two lights with 'decorated' tracery. The responds of the chancel arch are of the 14th century with wave mouldings on both sides. The sub-arches are also original.
In the chancel is a piscina with a modern recess, with a cinquefoiled ogee head and a sexfoiled bowl, probably of the 14th century.
In the chancel are brasses of Eleanor Dodington, 1537, and John Dodington, her husband, 1544, which consist of inscriptions only. On the north wall of the chancel is a monument to the Rev. John Meriton, vicar, who died in 1669; and on the west wall of the vestry is a reset tablet to Sir Thomas Rolt, 'Agent of Persia and President of India,' 1710, and his wife, 1716. There is also in the vestry a 17th-century hour-glass stand of iron.
There are three bells, of which the first is by John Waylett, dated 1722, and the third by James Bartlett, 1683.
The plate includes a cup of 1688 and a flagon of 1715.
The registers begin in 1726 and are contained in four books: (i) baptisms 1726 to 1773, burials 1726 to 1773, marriages 1726 to 1754; (ii) baptisms 1773 to 1812; (iii) burials 1773 to 1812; (iv) marriages 1754 to 1811.
ADVOWSON
In 1086 there was a clerk among the tenants of the manor, (fn. 71) so that there was probably then a church there. The advowson has always belonged to the lord of the manor. (fn. 72) The church is now generally known as the church of St. Catherine, but the earlier invocation seems to have been St. Mary. (fn. 73) In 1638 the rectory possessed two barns, a yard, orchard and garden adjoining the house, and about 15 acres of glebe. (fn. 74)
In 1819 a dwelling-house was registered for Protestant Dissenters under the Toleration Act. (fn. 75)
CHARITIES
The charity of Rev. John Meriton, a former vicar, for apprenticing, now consists of £260 6s. 7d. consols, and £251 15s. 7d. Natal 3½ per cent. stock with the official trustees, arising respectively from the sale in 1906 of land purchased in 1699 with £100 given by the donor and from accumulations of income, and producing £156s. 4d. in annual dividends. The charity is regulated by schemes of the Charity Commissioners, 1881 and 1910.
By an order of 9 March 1905 made under the Board of Education Act the stock arising from accumulations of income and all net income not applied within the year for apprenticing under clause 23 of the principal scheme constitute the Meriton educational foundation.
The Parish Clerk's land consists of 3 r. 26 p. of the annual letting value of 5s.