Pages 192-193
A History of the County of Hertford: Volume 3. Originally published by Victoria County History, London, 1912.
This free content was digitised by double rekeying. All rights reserved.
THE HUNDRED OF ODSEY
CONTAINING THE PARISHES (fn. 1) OF
ARDELEY
CALDECOTE
KELSHALL
RUSHDEN
ASHWELL
CLOTHALL
RADWELL
SANDON
BROADFIELD
COTTERED
REED
THERFIELD
BYGRAVE
HINXWORTH
ROYSTON
WALLINGTON
The area of jurisdiction of this hundred extended over a large portion of the 'champaign country,' which forms the distinctive feature of the Hertfordshire chalk hills. The two great roads from London to the north roughly form its boundaries east and west, and its northern limit is the border between Hertfordshire and the counties of Bedford and Cambridge, following in part the line of the Icknield Way.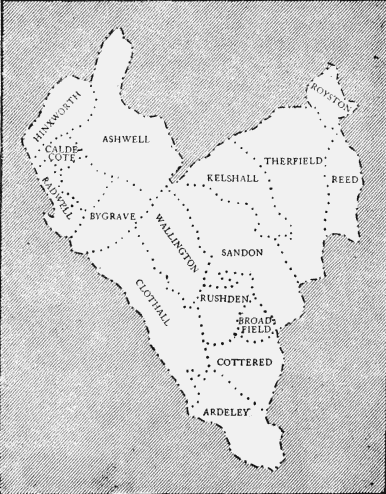 The parishes of Hinxworth, Ashwell, Caldecote, Bygrave and Radwell form with Newnham a tongue of land projecting northwards between the counties of Bedford and Cambridge. In 1086 Newnham was within the hundred of Odsey (fn. 2); but the Abbots of St. Albans, who were lords of the manor, had transferred the suit of their tenants to Cashio Hundred before 1286. (fn. 3) Since this time Newnham has formed a detached portion of Cashio Hundred within the hundred of Odsey. (fn. 4) With this exception there has been little change in the geographical extent of the hundred since the time of the Domesday Survey. (fn. 5) It is probable that the Survey records under Odsey Hundred the assessment of Offley, now in Hitch in Hundred, merely through the omission of a sub-heading. (fn. 6) The holding of Count Alan in Anstey was placed under the heading 'Odsey Hundred' in 1086, (fn. 7) but the lands of Harduin de Scales there are mentioned under Edwinstree Hundred, (fn. 8) in which Anstey was included in the 13th and following centuries. (fn. 9) The Survey also includes under Odsey Hundred the unidentified lands of Ralf de Limesy at 'Hainstone.' (fn. 10) Royston, not specifically mentioned in 1086, was only partly in Therfield; the nucleus of the town lay within the parish of Barkway in Edwinstree Hundred, or across the Cambridgeshire borders in Arningford Hundred. (fn. 11)
The inclusion of certain manors within ecclesiastical liberties greatly reduced the royal jurisdiction in this hundred. Before 1278 the tenants of the Abbot of Westminster at Ashwell, of the Bishop of Ely at Kelshall, of the Dean and Chapter of St. Paul's at Ardeley and Sandon, of the Abbot of Ramsey at Therfield, and those of the Prior of Royston and the Knights Templars had withdrawn their suit and aid from the hundred in accordance with royal charters granted to their respective lords. (fn. 12) In 1275 it was stated that Caldecote had not rendered aid since the siege of Bedford Castle (June 1224). (fn. 13) The men of West Reed in Therfield had also withdrawn from the sheriffs' tourns; the aid due from the holding formerly of Theobald 'de Mora ' in Wallington had been withheld for sixteen years by the bailiff of the honour of Richmond; and Richard de Ewell had withdrawn the aid for 'Blayneham' in Ashwell. (fn. 14) Nevertheless, the farm of the hundred had recently increased from 100s. to £12. (fn. 15)
Odsey Hundred was vested in the Crown until the beginning of the 17th century, and was farmed out together with the neighbouring hundred of Edwinstree. (fn. 16) Thus about 1314 Edmund de Ayete received a grant of the bailiwick of these two hundreds during the king's pleasure. (fn. 17) In March 1612–13 the hundred was alienated to William Whitmore, esquire, and Jonas Verdon, gentleman, and to their heirs in perpetuity. (fn. 18) They sold within a few days to Sir Julius Adelmare, otherwise Caesar, kt., then chancellor and under-treasurer of the Exchequer. (fn. 19) He granted the hundred in 1633 to his son Sir John Adelmare, otherwise Caesar, kt., whose son John sold it in March 1662–3 to Arthur Earl of Essex. (fn. 20) The hundred has thenceforward remained with the successive Earls of Essex. (fn. 21)
The meeting-place for the hundred court is unknown. The name Odsey survives in Odsey Grange and manor in the parish of Guilden Morden, co. Cambs. The Grange now lies without the county boundary, but in the first half of the 16th century the lands of the manor extended into Hertfordshire, and Speed's map of the county published in 1611 shows Odsey Grange within the county boundary and in the hundred of Odsey. (fn. 22) The Grange was the property of the Abbot of Warden, (fn. 23) who withdrew from the hundred of Odsey the suit and service of his lands and tenements in that hundred. (fn. 24)