Pages 209-211
A History of the County of Hertford: Volume 3. Originally published by Victoria County History, London, 1912.
This free content was digitised by double rekeying. All rights reserved.
BROADFIELD
Bradefella (xi cent.); Bradefeld (xii cent.); Bradfeld (xiv cent.).
Broadfield is a small parish containing 374 acres. As its name would possibly imply, it is comprised within field boundaries, and was probably originally a part of Rushden, of which parish it was said to have been a chapelry in the 16th century. (fn. 1) About twothirds of the parish are arable land and the remainder permanent grass. There are now only three small woods in the centre of the parish, called Great Wood, Middle Wood and Chapel Wood, and a small copse in the south called Foxholes. In the 17th century, however, the woodland was probably more extensive, as Chauncy describes Broadfield as situated on a hill in woods. (fn. 2) The soil is generally heavy, with a subsoil of chalk. A spring which rises a mile to the north of Broadfield Hall is said to have had at one time powers of petrifaction. (fn. 3) The parish lies on the high chalk land, reaching an altitude in the south-east of 465 ft. above the ordnance datum, but falls to a little over 400 ft. in the west.
The nearest railway station is in Buntingford on the Great Eastern railway, about 3 miles to the east. The small village lies a little north of the road from Cottered to Throcking, with which it is connected by a branch road. Until the beginning of the 19th century this road went no further than Broadfield, but turned south again and joined the CotteredBuntingford road. (fn. 4) It is probably largely due to this limited communication that the village has consistently diminished in size and importance. Even during the last century the population has fallen from thirty-one to seven, and consists of little more than Broadfield Hall, the manor-house, now the residence of Mr. T. H. Whitehead. Chapel Wood, supposed to mark the site of the church which fell into ruins in the 16th century, lies a little to the north of the hall.
Broadfield Hall stands about a mile to the north of the village of Cottered. Portions of a moat which originally surrounded the site still exist as ornamental water. The house was built about the year 1689, and existed until the middle of the 19th century, when it was allowed to fall into ruins. In 1882 it was practically rebuilt on a smaller scale, and portions of the old house still remain incorporated with the new work. In the east wall is one of the old windows with stone mullions and transoms, and part of the north side is old and has a large brick niche with semicircular head set in the brickwork. Some of the old cellars still exist and have round vaults of brick. On the modern front door is a fine iron knocker of late 17th-century work, said to have come from Cottered Lordship. It represents two dolphins with entwined tails, holding a human head between them in their jaws. The old staircase and an oak chimneypiece from the old hall are now at Coles Park, Westmill. (fn. 5) The original entrance door is of oak and is richly covered with moulded panels. The top part of the door has a semicircular panel with fluted and moulded spokes radiating from the centre. There is a good lion's head knocker and a drop handle on a shaped plate. Both on the rails and in the panels are a number of iron studs.
The brick stables, which stand immediately behind the hall, are of the early part of the 18th century. Some of the old oak stalls still remain in the stable and in the yard behind is an 18th-century square dove-house of brick, now used as a granary.
The fact that the hall stood empty for nearly thirty years during the 19th century (fn. 6) evidently tended to lessen the prosperity of the village.
Foxholes Farm, a name which occurs as early as 1591, (fn. 7) lies in the south of the parish. Although much repaired, the house appears to date from the beginning of the 18th century.
MANOR
In the time of Edward the Confessor Broadfield was divided between the Archbishop of Canterbury and Queen Edith. (fn. 8) The lands of the former, assessed at 2½ hides, were held of him by Ledmaer, Ansgot and two brothers. (fn. 9) Queen Edith's lands, assessed at half a hide, were held of her by Goda. (fn. 10) By 1086 the three holdings of the archbishop had passed to three separate overlords, Sigar de Cioches, (fn. 11) Hardwin de Scales (fn. 12) and Robert Bishop of Chester, (fn. 13) the last holding a virgate only. Earl Roger de Montgomery had obtained possession of the lands of Queen Edith. (fn. 14) It is probable that the lands of Roger de Montgomery formed the estate in Rushden which was given by his daughter Sybil to the Knights Hospitallers. (fn. 15) Sigar de Cioches held also the manor of Rushden (q.v.), and probably his lands in Broadfield were attached to that manor.
In 1086 Hardwin de Scales had obtained possession of the chief holding in Broadfield, viz. a hide and one-fourth of a virgate, and this appears subsequently as the manor of BROADFIELD. The overlordship of the manor remained with the Scales family, (fn. 16) and descended to Sir John de Scales, who died seised of the manor in 1388. (fn. 17) It was apparently attached to his manor of Throcking (q.v.), for this in 1486 was in the hands of Robert Hyde, of whom Broadfield at that date was said to be held. (fn. 18)
Of the tenants in demesne it appears that in 1086 Theobald was holding this manor under Hardwin de Scales. (fn. 19) He seems to have had a son Fulk, who had two sons Theobald and William. (fn. 20) About 1159 Theobald was holding Broadfield, and with the consent of his brother William leased it to the abbey of Warden (co. Beds.). (fn. 21) The latter Theobald had a son Fulk, who had succeeded to his lands by 1198–9, when he disputed his father's gifts to the nuns of Holywell. (fn. 22) On the death of Fulk, Broadfield descended to his son Ralph, who levied a fine of the advowson in 1222. (fn. 23) Ralph had a son of the same name, who appears to have forfeited about 1266, when the king granted Broadfield to Maud his wife for the maintenance of herself and her children. (fn. 24) Ralph was still living in 1283. (fn. 25) His lands were held by William Fitz Ralph in 1303, (fn. 26) from whom they probably descended to his son William (see Aspenden). In 1356 Margaret and Sybil, daughters and heirs of William, are mentioned. (fn. 27) But a William Fitz Ralph was holding Aspenden in 1383, when he granted it to his son William. (fn. 28) The manor of Broadfield apparently also remained with the heirs male, for on the death without issue of a William Fitz Ralph (probably the last mentioned) before 1428 it went to his co-heirs, John Hughessene of Ashwell and John Clerk, senior, of Ardeley. (fn. 29) These both quitclaimed their right to John and Thomas Clerk, who apparently conveyed to Richard Whapled, vicar of Steeple Morden, and John Suttrey, for they in 1449 granted the manor to John Dunstable and Margaret his wife, Ralph Grey and Henry Wells. (fn. 30) Margaret Dunstable died seised of the manor in 1486. (fn. 31) Henry Wells survived the other feoffees, and on his death it passed to his cousin and next heir John Fayrewayre. He conveyed it to Henry Snow of London and Magdalen his wife. (fn. 32) It descended to their son John Snow, whose daughters and co-heirs Elizabeth and Dorothy (fn. 33) conveyed it in 1537–8 to Edward Brockett. (fn. 34)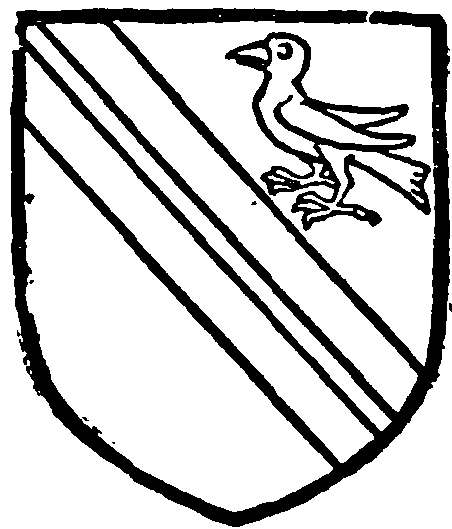 In 1571 Edward Brockett settled the manor on himself with remainder to Ellen his wife for life with remainder to John Brockett of Brockett Hall and Ellen his wife. (fn. 35) On Edward Brockett's death his executors conveyed the manor to his widow Ellen and her kinsman Richard Bardolf. In 1580 John Brockett, who had been knighted in 1577, and his wife Ellen, released their interest in the manor to Edward Pulter (fn. 36) of Great Wymondley, (fn. 37) and in 1592 Ellen Brockett and Richard Bardolf conveyed their interest. (fn. 38) Edward Pulter held the manor until 1600, when he settled it on his son Litton Pulter in consideration of his marriage with Penelope daughter of Sir Arthur Capell, kt. (fn. 39) Litton Pulter died in 1608, in his father's lifetime, leaving a son Arthur, then aged four years. (fn. 40) Arthur Pulter held a prominent position in the county, acting as justice of the peace, a captain in the militia, and high sheriff for Hertfordshire, but at the outbreak of the Civil War he resigned all these offices, led a retired life, and at the instigation of his wife Lady Helen Ley, daughter of James Earl of Marl borough, began rebuilding Broadfield Hall. But at the time of his death in 1689 the building was still unfinished. (fn. 41) He had a large family, but all his children died during their father's lifetime. His sons had no children, but his daughter Margaret, who married John Forrester, citizen of London, left one son James, who succeeded his grandfather. (fn. 42) James Forrester married Martha daughter of Sir Henry Chauncy, kt., and died in 1696, when his young son Pulter became lord of the manor. (fn. 43) Pulter Forrester appears to have been concerned with the fashionable bands of rioters who called themselves the 'Mohocks' and the 'Hawkubites,' and rendered the streets of London dangerous for the ordinary traveller. In 1711 he was one of the sureties for Lord Hinchinbrooke's appearance at the quarter sessions to answer for assaulting the watchman and causing a riot in Essex Street in the early hours of the morning. (fn. 44) Pulter Forrester married Agnes daughter of William Harvey of Chigwell, Essex, and died in 1753. (fn. 45) His son William succeeded him. (fn. 46) He had no children, and on his death he left the manor of Broadfield to his wife's niece, Millicent daughter of Wrightson Mundy of Markeaton Park, co. Derby, with remainder to her eldest son on condition that he should take the name of Forrester. (fn. 47) She married Richard French, captain in the Royal Horse Guards, and on her death the manor passed to her eldest son Richard Forrester French of Abbot's Hill, co. Derby. (fn. 48) He suffered a recovery in 1793, (fn. 49) and continued to hold until his death in 1843. (fn. 50) He left no children, and in 1852 his executors sold the manor of Broadfield to Mr. Robert Bird Wilkins, timber merchant, of Ware. (fn. 51) He died in 1868, and the manor passed to his son Robert Usborn Wilkins, (fn. 52) who devised it to Mr. Nathan Humphrey. He died in 1906, (fn. 53) leaving the manor to his two daughters, Mrs. H. W. Smith of Ware and Mrs. H. E. Dudley of Stansted, co. Essex, who now hold the manor. (fn. 54)
The land which Robert Bishop of Chester held in Broadfield in 1086 consisted only of I virgate. (fn. 55) There is no record to show how this land descended, but it appears that like the other lands which Robert held in this county it passed to the Somerys. (fn. 56) It is probable that this land was appurtenant to the manor of Bygrave (q.v.), for in the reign of Edward I John de Wengham, Precentor of St. Paul's, who held a lease of that manor from the Somerys, also held a park in Broadfield, which in 1297 was broken into. (fn. 57) John de Wengham's holding in Broadfield was described as a quarter of a knight's fee in 1303. (fn. 58) In 1346 it had descended to his nephew Master Thomas deWengham, (fn. 59) but after this date there is no further record of it.
CHURCH AND ADVOWSON
Broadfield Church was a chapel of ease, (fn. 60) apparently dependent on the church of Rushden. In 1222 William Basset, lord of the manor of Rushden, quitclaimed all right in the church of Broadfield to Ralph son of Fulk, lord of Broadfield. (fn. 61) The advowson has always passed with the manor. (fn. 62) It is not known at what date the church fell into disuse, but as no inventory was made for it in 1553 it seems that by this date the church was no longer used for religious services. The rectory was valued at 10s. only in 1535. (fn. 63) The advowson was still included in the sale of the manor until the year 1580. (fn. 64) Norden, in his description of Hertfordshire in 1598, states that Broadfield had once had a chapel of ease which at that time was decayed. (fn. 65) The site of the church is supposed to have been in Chapel Wood in the centre of the parish, and certain irregularities in the ground may point to the former existence of a building here. (fn. 66) By the 18th century Broadfield had become ecclesiastically attached to Cottered, (fn. 67) and still remains so.
There are no endowed charities.