Pages 270-276
A History of the County of Hertford: Volume 3. Originally published by Victoria County History, London, 1912.
This free content was digitised by double rekeying. All rights reserved.
SANDON
Sandona (x cent.); Sanduna (xii cent.); Saundon (xiii cent.).
Sandon is a parish of 4,060 acres lying high on the chalk. The level of the land over the greater part of the parish ranges upwards from some 400 ft. above the ordnance datum to 528 ft. in the immediate neighbourhood of the village, from which there is a gradual descent in a north-westerly direction to a level of only 240 ft. The soil is light, containing a considerable quantity of chalk, of which the subsoil is wholly composed. Arable land covers rather more than 3,000 acres, pasture nearly 700 acres, and the extent of woodland, which comprises small plantations at Roe Wood, Tichney Wood (possibly the 'Tichenho' Wood of 1222) (fn. 1) and Park Wood, is about 115 acres. (fn. 2) The Cat Ditch, a tributary of the Ivel, flows northwards through the parish. The village itself stands on the high ground at some distance from the main road. It consists of a few farms and cottages grouped irregularly about the church. There are several outlying hamlets. Roe Green, (fn. 3) three-quarters of a mile to the south-west of the village, may be identical with 'the green at le Rothe' mentioned in 13th-century court rolls. (fn. 4) There is a Congregational chapel at Roe Green dating from 1868, (fn. 5) and representing a community which existed in the parish in the latter half of the 17th century. (fn. 6) In 1809 the house of Thomas Smith at Roe Green was licensed for worship. (fn. 7) The chapel was licensed for marriages in 1877. (fn. 8) The same minister serves the chapel of Red Hill, a hamlet in the extreme south-west of the parish. (fn. 9) The first chapel was built here in 1720, and in 1805 a new building was erected on ground given by Mr. Fordham. (fn. 10)
There are no important roads passing through the parish, but that part of the Icknield Way which forms the high road from Hitchin to Royston separates this parish from that of Ashwell, where the nearest railway station lies.
The open fields were inclosed in 1842. (fn. 11)
There are moated sites at Daniels Farm and at Hankins, about a mile to the south-west of the church, and a thickly planted moated tumulus on the east side of the village. Traditions are attached to the two latter. That relating to Hankins is that the owner, who has probably been wrongly identified with John Fitz Geoffrey, whose brass, dated 1480, is in the church, on his arrival from London one night found his home in flames and his wife and children slain by robbers. The other legend, which refers to the Mount (Woodley Yards), is that the inhabitants were forewarned by a boy of an impending attack by robbers, which they successfully resisted, but the robbers, having caught the boy, flayed him alive. (fn. 12)
MANORS
The canons of St. Paul's held Sandon in 1086. They had been in possession before the Conquest. (fn. 13) A charter, of which copies are preserved in registers of the dean and chapter, (fn. 14) purports to be a grant or confirmation made by King Athelstan (924–40) to the monastery of ten 'mansae' at Sandon with Rode (possibly Roe Green) (fn. 15) and other lands in Hertfordshire. The charter itself is a palpable forgery, but there may be truth in the tradition that the canons owed the gift of these lands to Athelstan. In 1086 Sandon was assessed at 10 hides, of which 5 hides were then in demesne, and half a hide was attached to the church (fn. 16) (q.v.). There was arable land sufficient for twenty ploughs. An extent of the manor taken in 1155 gives a detailed account of the stock. There were on the farm forty-four oxen, five horses and one cart horse, in addition to cattle and sheep. (fn. 17) Some of the services mentioned in an inquisition of 1222 are of interest. (fn. 18) Tenants of half-virgate holdings had to carry twenty-five loads to London, They also paid wood-silver and malt-silver, and provided two hens at Christmas and fifteen eggs at Easter. Holders of 10 and 5 acres rendered similar services in proportion to the extent of their holding. The manor of Sandon was not attached to any of the prebends, but formed part of the 'communa,' the revenue of which was appropriated to the support of all the officers of the cathedral. (fn. 19) Together with 'Rode' and Luffenhall it supplied the chapter with 'farm' or provisions for about ten weeks in each year. (fn. 20) Luffenhall was in fact taxed with Sandon for temporal purposes, but for spiritual purposes it was regarded as a part of Ardeley (fn. 21) (q.v.).
The lessee of Sandon was often one of the canons of the cathedral. Thus in 1155 the canon Alexander was appointed 'farmer' of this manor for life. (fn. 22) Towards the end of the next century Master Robert de Braundon, prebendary of Sneating, (fn. 23) had a life interest in the farm of the manor, (fn. 24) although Ralph de Diccto, the chronicler, who was dean from about 1181 to 1204, tried to secure that the lessee should always be the dean himself. (fn. 25) He apparently found two lay 'farmers' there, namely Richard the Red (ruffus) and Richard of Sandon. (fn. 26)
The manorial lands were let to John Newport in 1526 (fn. 27) and the lease was renewed to him and his eldest son Robert in 1550. (fn. 28) Robert succeeded his father about 1552, but was disturbed in his possession by his younger brother Thomas and the latter's daughter Clare, who married her cousin John Newport of East Greenwich. (fn. 29) Moreover, in February 1559–60 Robert Dudley Earl of Leicester obtained from the dean and chapter a ninety-nine years' lease of the manorial rights with a reversionary interest in the hnds let to Newport, (fn. 30) and conveyed his title to William Hyde of Sandon. (fn. 31) Consequently disputes arose between Hyde and Robert Newport, who feared that Hyde would oust him from his lease and also arrogated to himself the right of holding courts. (fn. 32)
After the abolition of cathedral chapters in 1641 the reversionary interest of the Dean and Chapter of St. Paul's was sold to Henry Scobell of London, (fn. 33) afterwards clerk of the Parliament and Secretary of State. At the Restoration it was recovered by the dean and chapter together with their other estates. In 1863 they sold the manor to Mr. John George Fordham of Royston. (fn. 34) From him it has descended to Mr. Francis John Fordham of Yew Tree House, Royston, the present owner. (fn. 35)
The house of the manor is mentioned in the early part of the 13th century, when its 'houses, ditches and closes' were repaired. (fn. 36) The present farm-house, called Sandon Bury, which stands on the south-east of the church, is a 17th-century brick building of three stories to which a wing has been added on the east side. It contains an original staircase. Near the house are two 17th-century barns and a 17th-century brick pigeon-house with a tiled roof, now much out of repair. Late in the 17th century the house called Sandon Bury was in the occupation of Edward Nicholas, son of the Dean of St. Paul's. (fn. 37)
The Dean and Chapter of St. Paul's claimed their usual extensive liberties in this manor. (fn. 38) In 1247 they had a grant of free warren which was confirmed in 1316. (fn. 39) It appears, however, that until 1253 the men of Sandon had been accustomed to come to the sheriff's tourn twice a year, and in 1278 the township was ordered to be distrained because it had not come to the tourn. (fn. 40)
John son of William Fitz Geoffrey of Sandon released his right in 'Ladygrove' in Sandon to Stephen Cowherd in 1421. (fn. 41) This William appears to have been the grandfather of John Fitz Geoffrey of Sandon, who died in 1480, leaving a son and heir John. (fn. 42) The brasses of John Fitz Geoffrey the father and of his wife and children are still preserved in the nave of the church. (fn. 43) It appears that the Fitz Geoffrey estate was the reputed manor of DANIELS, since Francis Fitz Geoffrey son of John Fitz Geoffrey of Clapham (co. Beds.) (fn. 44) sold the 'manor of Daniels ' to George Hyde of Throcking about 1541. (fn. 45) He bequeathed the manor to his younger son William Hyde, (fn. 46) who sold his life-interest to Sir John Perient, kt., and others, including Thomas Bowles the elder. (fn. 47) The conveyance was possibly in trust for Thomas Bowles the younger and Mary his wife, to whom a William Hyde (presumably the nephew and heir of the former William) and his wife Elizabeth transferred their rights in 1556. (fn. 48) By 1578 the estate had apparently reverted to William Hyde, the nephew, of Hyde Hall, since with his sons Leonard and George he then sold it to Thomas Morrison, (fn. 49) evidently the Thomas Morrison of Cadeby, co. Lincs., whose son Thomas lived at Sandon. (fn. 50) Charles son of Thomas Morrison of Sandon moved to Overstone, co. Northants, after the death of his first wife Elizabeth, and in 1650 sold the property to Thomas Flyer of Brent Pelham. (fn. 51) It descended to his son Francis, (fn. 52) who sold it in February 1720 to Sir Gregory Page (fn. 53) of Greenwich, bart., one of the directors of the East India Company. (fn. 54) His son Sir Gregory sold the property in 1729 to Sir John Jennings of Newsells. (fn. 55) Sir John's son George sold it to Mr. Edward King Fordham in 1786, (fn. 56) and from this date Daniels has descended with the manor of Gannock (q.v.).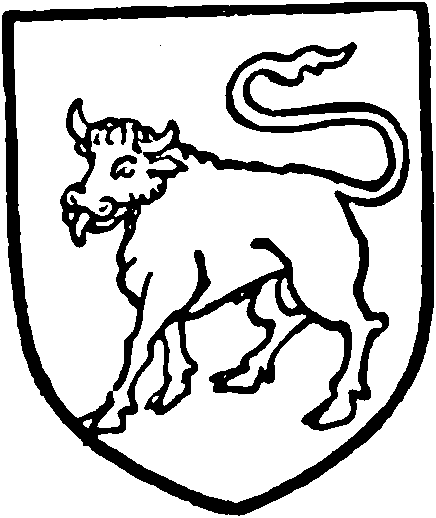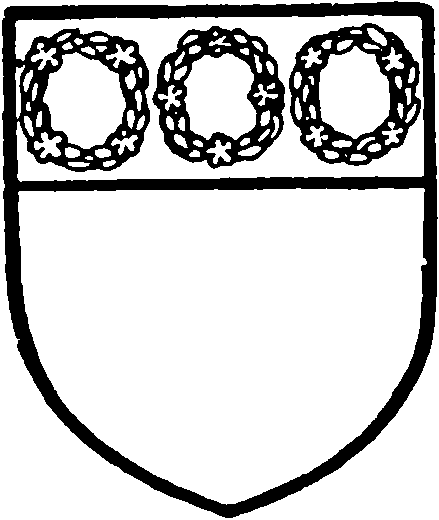 The farm called Daniels is about a quarter of a mile south-east of Sandon Church, and one of the fields belonging to the farm is known as 'Mooresmead.' It appears possible, therefore, that Daniels and La More (q.v.) were once held as one property, and this theory is strengthened by the tenure of La More by a certain John Daniel about 1275. (fn. 57)
Gannock
The reputed manor of GANNOCK is identical with lands held of the dean and chapter as of Sandon Manor by Warin de Bassingbourn of Wimpole, who died about 1348. (fn. 58) Land in Sandon had been held by two branches of this family since at least 1222, when Alan son of Alexander de Bassingbourn (fn. 59) was tenant of 3 virgates of freehold in addition to other land, and John de Bassingbourn had the custody of William 'Anglus' with 1 virgate of freehold and 3 acres of the demesne of Sandon. (fn. 60) In 1239–40 Aubrey (Albreda) de Bassingbourn joined in a settlement on Alexander de Bassingbourn of lands in Sandon and Kelshall and elsewhere. (fn. 61) Both John and Warin de Bassingbourn were presented as defaulters in the view of frankpledge of 1301. (fn. 62) It appears that the holding of John de Bassingbourn included the mill. (fn. 63) He was succeeded in 1320 by his brother Nicholas. (fn. 64) The tenement called Gannocks had been settled by Rosamond de Hoo (living in 1316) (fn. 65) upon Warin de Bassingbourn of Wimpole during her life with reversion to her own son Robert de Bassingbourn. (fn. 66) In 1324 another settlement had been made on Warin de Bassingbourn and his wife Amice and the heirs of Warin. (fn. 67) It was possibly on this pretext that Warin withheld the lands from Robert de Bassingbourn until his own death, after which they were restored to Robert. (fn. 68)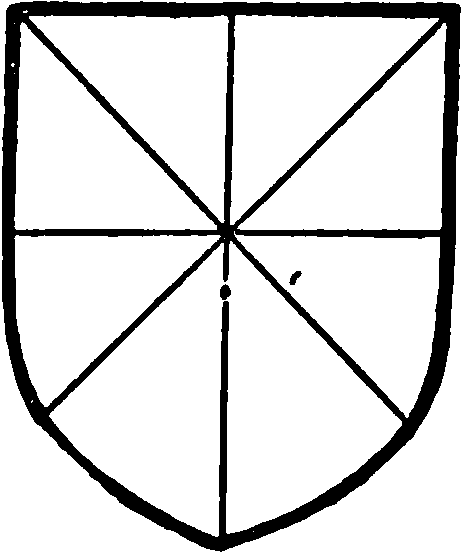 The subsequent history of the Bassingbourn holding at Gannock is obscure. The 'manor' of Gannock was said to be held by John Sawyer at his death in 1525, when it descended to his daughter Elizabeth wife of John Clifford. (fn. 69) It was afterwards found that her father had sold it to Humphrey Monmouth, in whose favour a decree was issued in 1537. (fn. 70) Two years later the manor was sold by Richard Breame (possibly an agent of Monmouth) to John Newport, lessee of Sandon Bury, and Margery his wife. (fn. 71) John died seised of it in 1552 and left it to his eldest son Robert. (fn. 72) In 1600 Edward Newport son of Robert (fn. 73) conveyed the estate to Thomas Morrison. (fn. 74) The latter with his wife and son Charles (fn. 75) conveyed it in 1629 to Christopher Vernon (fn. 76) of Hertingfordbury (q.v.). Francis son of Christopher Vernon and Eleanor his wife and another son Edmund (fn. 77) made a conveyance of the property in 1654 to Elias Harvey and John Prestwood, (fn. 78) possibly in trust for sale. By 1680 the manor had come into the possession of Henry Lawrence and Ann his wife, who conveyed it that year to Giles Lawrence (fn. 79) of Stepney, mariner. He bequeathed all his estates, including Gannock and 'Laomer' (i.e. La More) Farm in Sandon, to his wife Sarah and her heirs. (fn. 80) He had previously settled two-thirds of his estate on his wife for life with remainder to their children, (fn. 81) and in 1688 Mary wife of John Chappell conveyed her interest in two-thirds of the manors of Gannock and More to William Wakelyn and Richard Wildey. (fn. 82) This twothirds was apparently acquired by Rene Tahourdin, who was in possession in 1746. (fn. 83) He died in 1751. (fn. 84) He was apparently succeeded by Richard Tahourdin, who with his wife Anne sold this estate to Edward Slater in 1778. (fn. 85) The subsequent history of this part of the property is unknown. It is said that Richard Lawrance of Lambeth Marsh was owner of the 'manor and estate of Gannock' (possibly the remaining third of the original manor) in 1761, and that it was sold by his brother Giles and his sister Cecily Courtenay and others to Mr. Elias Fordham of Sandon. (fn. 86) He sold it to his brother Mr. Edward King Fordham of Ashwell, who died in 1847. After this the estate came by will to his nephew John George Fordham of the Priory, Royston. (fn. 87) It now belongs to Mr. F. J. Fordham of Yew Tree House, Royston.
The present farm-house of Gannock lies to the north-west of the village near Gannock Green and is in the occupation of Mr. J. S. Sale.
The history of another reputed manor known as GRENEHALL is somewhat obscure. It was the subject of a plea in the King's Bench between Robert son of Nichola, who was wife of Adam Pigas, and Sir Thomas de Heslarton, kt.,and his wife Alice. In 1345 Robert claimed the reversion of Grenehall in accordance with a settlement upon Adam and Nichola, which he affirmed had been made during the reign of Edward II. (fn. 88) The termination of the plea, which was still proceeding in 1350, (fn. 89) is unknown. In 1568 Grenehall Manor was conveyed by Edward Bridges and Frances his wife to Nicholas Fitz Hugh for the life of Frances. (fn. 90) In 1571 a settlement was made on Nicholas for twenty years from March 1569 with remainder to Richard Fitz Hugh, (fn. 91) who in 1584 conveyed the estate to George Edwards and his heirs. (fn. 92) Nothing more is known of Grenehall after this date.
La More
The manor of LA MORE was held of the Dean and Chapter of St. Paul's. (fn. 93) Walter and William 'de Mora' were freehold tenants in Sandon early in the 13th century. (fn. 94) Robert 'atte More' was a tenant there about 1301. (fn. 95) The earliest known record of the manor is a conveyance by Robert Basset of Rushden and his wife Margaret to John de Preston and Thomas Semelegh. (fn. 96) In 1261 William Basset had been among the witnesses of a surrender to the dean and chapter by William son of James de Sandon of 1d. rent due from Theobald 'de la Mor' for land in Wodewellfeld. (fn. 97) Robert Basset also witnessed the surrender by Warin de Bassingbourn of his lands in Sandon in 1316. (fn. 98) Evidently the manor alienated by Robert Basset in 1384 was identical with the messuage and lands in Sandon held by the trustees of Sir Robert Belknap, kt., in 1390. (fn. 99) He had succeeded the Bassets as lord of Rushden (q.v.). With that manor Sir John Fray, kt., baron of the Exchequer, also acquired the manor of La More in Sandon. (fn. 100) He settled it upon his wife Agnes with remainder to their daughters Agnes and Katherine in succession. (fn. 101) The latter married Humphrey Stafford (fn. 102) and succeeded her sister, who died without issue. (fn. 103) Possibly La More was accounted an appurtenance of her manor of Rushden. It is not specifically mentioned among the lands of which she died seised in 1482, (fn. 104) but in 1654 (fn. 105) it was in the possession of Francis Vernon of Gannock, whose predecessor, Robert Newport, purchased Rushden in 1574. (fn. 106) Nevertheless, the house and land called 'the Moore' in Sandon was the property of Ralph Parker about 1600. (fn. 107) From 1654 onwards the manorial rights seem to have descended with Gannock (q.v.).
Olivers, known also as Hyde Hall, East End or Southall
OLIVERS, known also as HYDE HALL, EAST END or SOUTHALL, was held of the Dean and Chapter of St. Paul's as of Sandon Manor. (fn. 108) The family of Oliver were tenants of the manor in the 13th and 14th centuries. About 1277 William Oliver was sued in the court of Sandon in a plea of debt. (fn. 109) Towards the end of the same century Richard Oliver witnessed a conveyance of a grove in Sandon. (fn. 110) A Richard Oliver had land in Sandon and 'Somereshale' in 1312. (fn. 111) 'Magister' Ralph Oliver was in default at a court held at Sandon in 1322. (fn. 112) It was possibly he upon whom settlement was made in 1314 of two messuages and certain land in Sandon (fn. 113) for life with successive remainders to Alice and Nichola his sisters and to William Oliver of Buntingford and his heirs. It seems probable that one of these sisters married Laurence de Ayot, lord of Ayot St. Lawrence. In 1353 he died seised of a tenement called Olivers in Sandon which he held of the inheritance of his son and heir William, (fn. 114) who was imprisoned for felony in the Bishop of Winchester's gaol at the time of his father's death. (fn. 115)
In 1457 Walter and Alice Freeman were holding the manor in right of Alice and granted a life-interest in it to Robert Oliver and his wife Elizabeth. (fn. 116) Possibly in consequence of the felony of William de Ayot the tenement had reverted to the other heirs under the settlement of 1314. (fn. 117) In 1490 this estate belonged to Matilda Exton in her own right, and she together with John Barbour, her son by a former marriage, conveyed it to Richard Fyfehid alias Lowe and other trustees, (fn. 118) who granted it in 1492 to Leonard Hyde of Throcking and others. (fn. 119) These appear to have been acting only as trustees. In 1506 they transferred the 'manor' to Sir Robert Drury, kt., and others, who in turn conveyed to Thomas Sandon. (fn. 120) It passed from his daughter Agnes to her daughter Rose wife of John Bird. (fn. 121) They sold the 'manor of Olivers or East End' to Simon Pratt, and his son John with his wife 'Etheldred' (fn. 122) (Audrey) made a conveyance of the estate to William Hyde of Throcking about 1522. George Hyde of Throcking had a release from Francis Fitz Geoffrey. (fn. 123) His grandson William son of Leonard Hyde conveyed the estate to his uncle William Hyde of Daniels, who reserved it in alienating Daniels. (fn. 124) William Hyde of Daniels died childless, and Olivers appears to have reverted to William Hyde of Throcking. He died in 1580, leaving to his son and heir Leonard the manor of Olivers, and a capital messuage called Hyde Hall to his wife for life. (fn. 125) After this date the manor is frequently called by the name of Hyde Hall.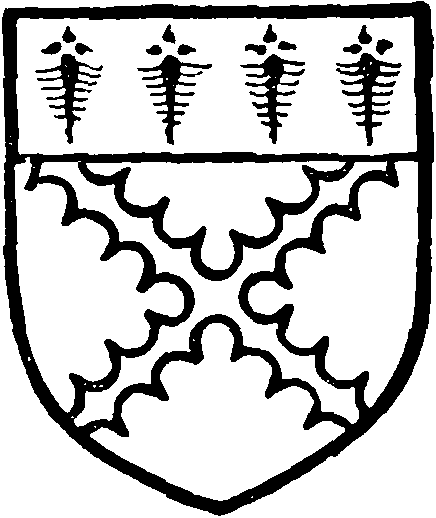 In 1607 Sir Leonard Hyde, kt., sold the manor of Olivers or Hyde Hall to Sir Thomas Cheeke, kt., of St. Martin's in the Fields, (fn. 126) who is said to have conveyed it two years later to the Earl of Exeter. (fn. 127) In 1612 he sold it to Sir Julius Adelmare alias Caesar. (fn. 128) This estate was settled on his son Sir John Caesar. (fn. 129) His eldest son John sold it in 1656 to William Franklyn. He died without male issue, and the manor passed to his only sister and heir Mary wife of Sir Nicholas Miller, kt. (fn. 130) They were succeeded by their son Franklyn, who married Jane daughter of Sir Reginald Forster. (fn. 131) She succeeded to the manor on the death of her husband in 1728. At her death four years later the estate passed to her grandson Nicholas Franklyn Miller. (fn. 132) He died at the age of nineteen, and the estate passed to his aunt Jane Northcliff, widow, his father's sister. Under her will the estate came to Edward Mundy (fn. 133) of Shipley, Derby, who had married Hester sister of her nephew Nicholas Franklyn Miller. From Edward Mundy the estate passed to his son Edward Miller Mundy, (fn. 134) and he sold it in 1789 to William Baker of Bayfordbury. (fn. 135) It has since descended in his family, and the present owner is Mr. Clinton R. Baker (fn. 136) of Bayfordbury.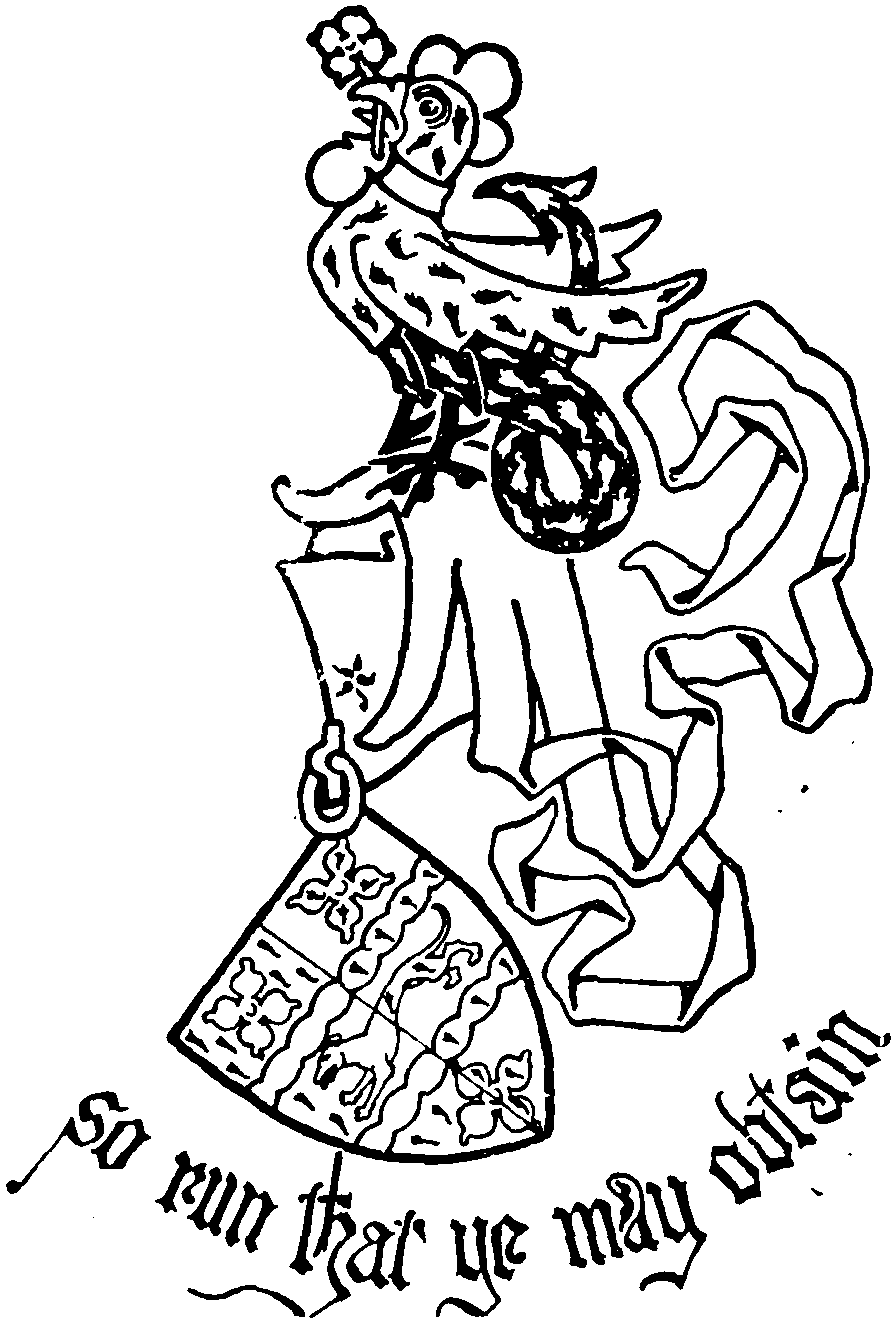 Hyde Hall is a 17th-century house much restored and altered. Two of the chimney-stacks and a part of one of the gables appear to be original. Near the house is a large 16th-century brick barn lighted by long narrow loops.
CHURCH
The church of ALL SAINTS consists of chancel 36 ft. by 15 ft., nave 52 ft. 6 in. by 20 ft., north and south aisles 54 ft. by 9 ft. 6 in., south porch 12 ft. by 10 ft., west tower 12 ft. 6 in. by 12 ft., all dimensions being taken internally.
The chancel was rebuilt on the old foundations about 1348, (fn. 137) and the nave with its aisles was erected about 1360–70, the west tower and south porch being later additions of about the first decade of the 15th century. The church, all but the tower, was repaired in 1832 and 1875 and the tower and south porch in 1909. The church is built of flint rubble with stone dressings, the chancel roof is tiled and the nave roof covered with lead.
The three-light traceried window in the east wall of the chancel is modern; in the north wall are two late 14th-century windows having two trefoiled lights with rectilinear tracery. Between them is a lowarched recess which was probably used as an Easter sepulchre; the arch has a richly crocketed label; it is of late 14th-century work. The two windows in the south wall are similar in detail and date to those on the north. In the south wall is a 14thcentury triple sedile with a good deal of modern work, which does not appear to be in situ. The arches are trefoiled with crocketed heads and the shafts under have moulded capitals and bases. Adjoining the sedile is a trefoil-headed piscina of contemporary date but a good deal defaced. The chancel arch is of the latter part of the 14th century and has two hollowchamfered orders, and the jambs have moulded capitals and bases. Parts of the roof trusses over the chancel appear to belong to the 14th century, the rest of the roof being modern.
The nave arcades are of four bays, the arches having two chamfered orders with labels on both sides of the walls; the piers are octagonal and have moulded capitals and bases; the bases vary in the north and south arcades. A small clearstory window at the east end on either side of the nave was inserted in the 15th century, probably to give additional light to the rood-loft.
In the east wall of the north aisle is a threelight window, nearly all of which is of modern stonework. Adjoining it, in the north wall, is a plain niche or recess with a segmental head, which possibly contained an image, or it may be part of the stairway to the rood-loft of which no other traces remain. In the south-east angle is a 15th-century piscina with cinquefoiled arch and moulded edges. The east and west windows in the north wall are of the late 14th century and have two trefoiled lights with a sixfoiled opening above; the other window is modern. The north doorway is of two moulded orders with grotesque head stops to the label.
In the east wall of the south aisle is an obtusely pointed window of three lights with flowing tracery of about 1360–70 ; adjoining it, in the south wall, is a 14th-century trefoiled piscina with credence shelf. The two windows in the south wall are of modern stonework, but the doorway of two moulded orders is original. There is an old iron ring handle on the door.
The south porch, of early 15th-century work, restored in 1908, has a two-light cusped window on either side, and the doorway is of two moulded orders with moulded capitals, all a good deal repaired.
The roofs over nave and aisles are chiefly modern, but some old timbers remain, and at the west end of the north aisle is a 15th-century moulded beam and carved boss.
The tower is of three stages. It was considerably restored in 1908. The four-centred tower arch is of three moulded orders, the inner order resting on engaged shafts with moulded capitals and bases. The west doorway and window above are modern. The second stage is pierced in the south by a narrow single light; the belfry windows are of two lights with a cusped opening in the heads, all much repaired.
The bowl of the font is modern, but the octagonal stem with its four flanking octagonal shafts and bases belongs probably to the 14th century.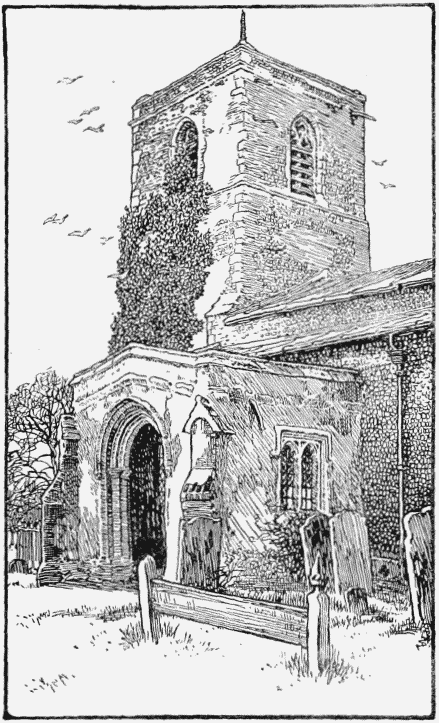 The 15th-century oak rood-screen stands in its original position; the upper part is open with ogee arches and traceried heads, the lower panels are cusped, with carved spandrels and are separated by pilaster buttresses; some traces of colouring are visible.
The early 17th-century oak pulpit is richly carved; the reading-desk has some old linen panels in it. At the west end of the nave are some oak seats of the 15th century with poppy-head finials. In the windows of the aisles are some fragments of old painted glass. On the nave floor is the brass of John Fitz Geoffrey, lord of the manor of Daniels, who died in 1480, in armour, with his wife and six daughters; there are three shields, a fourth being missing. At the west end of the south aisle is a brass inscription, undated, but probably of the early 16th century, to Symond Pratt, lord of Olivers Manor, and his wife Jone. On the south chancel wall is a mural tablet to Edward Nicholas, who died in 1683, and an alabaster monument to Elizabeth Moryson of Daniels, who died in 1626. There is a slab on the nave floor to Edward Nicholas, 1683.
There are five bells: the treble (undated), second (1721), third (1728) and fourth (1709) by John Waylett; the tenor (1624) by Miles Graye.
The communion plate consists of cup and large paten, 1688, the gift of John Nicholas, Warden of Winchester College, and a pewter almsdish. (fn. 138)
The registers are in four books: (i) baptisms 1697 to 1749, marriages and burials 1678 to 1749; (ii) baptisms and burials 1750 to 1795, marriages 1750 to 1766; (iii) baptisms and burials 1796 to 1812; (iv) marriages 1767 to 1812.
ADVOWSON
The advowson of the church of Sandon belonged to the Dean and Chapter of St. Paul's, (fn. 139) and in 1155 it was let to farm with the manor to Alexander, one of the canons of the cathedral. (fn. 140) There was attached to the church half a hide of land which was geldable to the king. (fn. 141) The church was appropriated to the dean and chapter by Bishop Walter of Lincoln in 1183–4. (fn. 142) A vicarage was ordained in the time of Bishop Hugh Wells (1209–35) (fn. 143) and confirmed in 1406. (fn. 144) The advowson of Sandon remained with the Dean and Chapter of St. Paul's until the middle of the 19th century. (fn. 145) In 1845 the parish was transferred from the diocese of Lincoln to that of Rochester, and in 1850 the advowson was transferred to the bishop of the latter diocese. (fn. 146) In 1877, after the formation of the see of St. Albans, the patronage of Sandon was transferred to the Bishop of St. Albans, (fn. 147) in whose gift it now is.
CHARITIES
In the Parliamentary returns of 1786 it is stated that an unknown donor gave a rent-charge of £2 for bread to the poor. Bread to the value of £2 is provided annually by the tenant of Beckfield Farm and distributed by him at Christmas.
It is also stated in the same returns that an unknown donor gave £2 yearly for distribution to the poor. This sum is annually distributed by the tenant of 'Killhop Farm' to the poor in small sums.
In 1747 John Brett by his will gave a sum of money, now represented by £782 3s. 9d. consols with the official trustees, producing £19 11s. yearly, the interest to be applied towards the support or maintenance of the Protestant Dissenting Calvinist minister or ministers officiating at Redhill.