Pages 289-291
A History of the County of Hertford: Volume 3. Originally published by Victoria County History, London, 1912.
This free content was digitised by double rekeying. All rights reserved.
THE HUNDRED OF BRAUGHING
CONTAINING THE PARISHES OF
BISHOP'S STORTFORD
HUNSDON
THUNDRIDGE
BRAUGHING
SAWBRIDGEWORTH
WARE
EASTWICK
STANDON
WESTMILL
GILSTON
STANSTEAD ABBOTS
WIDFORD
THORLEY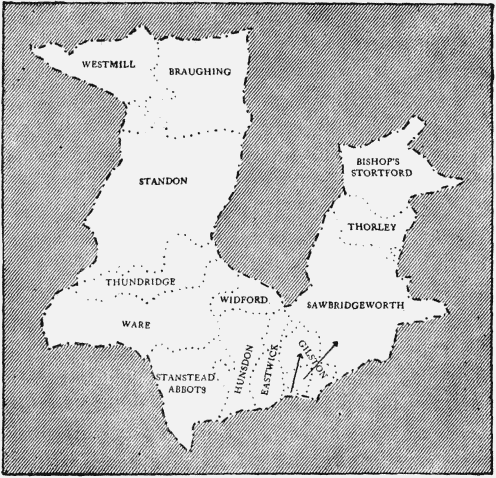 Braughing Hundred is large in area in proportion to the number of its parishes. Its boundary has changed little since the earliest records of it. Widford and Cockhamsted were both in Edwinstree Hundred in 1086, but assessments of the 14th century show that Widford had been transferred to Braughing before that date, (fn. 1) whilst Cockhamsted does not later appear to have had any separate entity either civil or ecclesiastic, but to have been included in the parish of Braughing in this hundred. Besides the vills of the Domesday Survey which correspond with the other civil parishes in the list of 1831, (fn. 2) there were then also Wickham (fn. 3) and Eia. (fn. 4) Wickham was a separate vill for judicial (fn. 5) and fiscal purposes as late as the 14th century, but four persons only were assessed under its name for a subsidy in 1307. (fn. 6) Later it was included in Bishop's Stortford. Eia must have lain not far from Wickham, for it seems to have been originally included in the same assessment (see below), but no further mention of it has been found, and there seems to be no survival of the name. Gilston is not mentioned in the Domesday Survey, and seems to have been then included in Sawbridgeworth. Thundridge, although assessed by itself in 1086, (fn. 7) does not seem to have had any independent existence for civil purposes later, (fn. 8) and ecclesiastically was a chapelry to Ware.
The assessment of this hundred was evidently based on a 6-hide unit. This is shown clearly in the assessment of Bishop's Stortford (fn. 9) at 6 hides, Stanstead, (fn. 10) Eastwick (fn. 11) and Hunsdon (fn. 12) together at 24½ hides, Westmill (fn. 13) at 12 hides, Standon (fn. 14) and Thundridge (fn. 15) together at 12 hides, and Ware (fn. 16) at 24 hides. The total as it stands (counting Stanstead, Hunsdon and Eastwick at 24 hides, which must have been the original number) is 116 hides 3 virgates 21 acres. Evidently 3 hides and 9 acres had dropped out of an original assessment of 120 hides. These 3 hides and 9 acres, if distributed among Sawbridgeworth, Thorley, Braughing, Wickham and Eia (the only places in 1086 not corresponding with the 6-hide unit), bring up the assessment of Sawbridgeworth and Thorley together to 30 hides, Braughing to 6 hides, and Wickham and Eia together to 6 hides, which was probably the original apportionment. (fn. 17)
The conditions of tenure before the Conquest show comparatively few estates held in demesne by tenants of any importance, but a great number of holdings, some of very small extent, in the hands of 'men,' sokemen, or thegns of the larger landholders. (fn. 18) Thus Asgar the Staller had, besides a large estate formed of Sawbridgeworth and most of Thorley, men or sokemen at five different places; Earl Harold, who had no demesne lands in this hundred, had tenants also in five places, and six tenants of the king held land in the hundred. King Edward himself had no lands in demesne, but from the pre-Conquest tenants given in the Domesday Survey it seems probable that Braughing, Westmill, Hunsdon, and Eastwick were once in the king's hands, whilst the payment to the king's sheriff due from Stanstead Abbots points to that also having been once royal demesne. The result of the Conquest was a considerable simplification of tenure, most of the divided estates of 1066 being held in 1086 by some great Norman baron who had taken over, not only a pre-Conquest lord's own estate, but also those of his sokemen (cf. the holding of Asgar the Staller and his men in Stanstead, Sawbridgeworth, Thorley and Wickham acquired by Geoffrey de Mandeville and the holding of Alwin of Godtone and his men in Stanstead acquired by Ranulf). This may be compared with the tenurial conditions in Odsey Hundred, where the small, divided estates of the pre-Conquest period seem in many cases to have survived the changes in ownership (cf. particularly Hinxworth). (fn. 19)
Very little information is to be found in regard to the hundred court. The hundred was a royal one, (fn. 20) and remained in the king's hands until granted by Elizabeth to Sir William Cecil in 1571. (fn. 21) The descent then follows that of Hertford Hundred (q.v.). The court must have been originally held at Braughing, which seems to have been a place of importance. It was probably part of the ancient demesne of the Crown, (fn. 22) and was the head of a deanery, (fn. 23) besides giving its name to the hundred. Whether the three weekly court continued to be held at Braughing is not clear from the evidence, but in the 14th century the sheriff's tourn was held at the neighbouring village of Puckeridge. (fn. 24)
The jurisdiction of the sheriff was limited by the usual private franchises. In 1287 no fewer than six lords claimed the right to hold view of frankpledge at Sawbridgeworth, three claimed it in Gilston, three at Thorley, and one at Ware. (fn. 25) Rather earlier the lord of Standon had been presented for non-payment of 16s. for sheriff's aid, 1 mark for view of frankpledge and for withdrawal of suit at the hundred and county court, which ought to have been rendered for the whole vill by the tenant of certain lands whose tenure made him responsible for rendering the suit. (fn. 26) The lords of Braughing and Eastwick were presented at the same time for similar encroachments, all of which were said to have been made within the last twenty years. (fn. 27) Bishop's Stortford, as a borough, was independent of the hundred in the appearance before the justices of assize, and sometimes also for purposes of local assessment. (fn. 28)