Pages 29-33
A History of the County of Hertford: Volume 3. Originally published by Victoria County History, London, 1912.
This free content was digitised by double rekeying. All rights reserved.
KIMPTON
Kamintone (xi cent.); Kymitone, Kymbton, Kumynton (xiv cent.); Kympton (xv cent.).
Kimpton is a parish of 3,677 acres, lying on the Bedfordshire border, north of the Ayots and west of Codicote. The northern and southern parts reach a height of 450 ft., but the rest is some 100 ft. lower. The surface is undulating, and the village lies in the lower parts, being built along a road running east and west. The street has several 17th-century houses and cottages which retain many of their ancient features. It is about a mile long, including the hamlet of Kimpton Bottom. There are many hamlets and outlying farms and cottages in the parish. Skegsbury Lane lies to the west, Ansells End to the north-west and Percy Green with Peters Green further to the north-west of the parish.
Bury Farm, the residence of Mr. John Barker, lies to the east of the village; Kimpton Grange, the residence of Mr. C. F. Parr, lies to the west; Lawrence End House, with extensive grounds, the seat of Mr. George Oakley, J.P., lies in the north-west part of the parish. Stoneheaps Farm, lying a little less than a mile to the south-west of the church, is a two-storied house of the L type, of plastered timber and brick, built early in the 17th century. Tallents Farm, Rumeridge, Kimpton Hall and Kimpton Mill Farm are farm-houses in the parish built at about the same date, but they have all undergone much alteration, external as well as internal.
The little River Mimram or Maran flows through the north-east of the parish, and adjoining it are osier beds. The soil is chalk. Nearly the whole of the parish is given up to agriculture, 2,506 acres being under the plough; 682 acres are permanent grass, and some 168 acres are woodland, (fn. 1) including Cuckoldscross Wood, Dovehouse Wood, Park Wood and Leggatts Spring.
Some Roman and Celtic coins have been found near Prior's Wood in the south-east.
In the 14th century the hundred court of Hitchin was held at Kimpton. (fn. 2)
MANORS
In the time of King Edward Ælveva, mother of Earl Morcar, held KIMPTON. In 1086 it was assessed for 4 hides and formed part of the possessions of Odo Bishop of Bayeux, of whom it was held by Ralf de Curbespine. (fn. 3) Ralf was of the same family as Gilbert Maminot, Bishop of Lisieux (who was son of Robert de Curbespine), and his lands afterwards descended with the Maminots, (fn. 4) of whose Dover-Castleward barony Kimpton was held as two knights' fees. (fn. 5) Through Alice sister and heir of Walkelin de Maminot this barony passed to the family of Geoffrey de Say, her husband, and the overlordship then descended with the barony of Say. (fn. 6)
Under the Says Kimpton was held by three separate tenants as the manors of Hockinghanger, Parkbury and Leggatts.
Hockinghanger
HOCKINGHANGER (Hokenhangre, xiv cent.; Hokynanger, xvi cent.). As early as 1235–6 Baldwin de Vere, a member of the Northamptonshire family of Vere, was holding this manor and demanding customs there from a certain William de Bikkeworth. (fn. 7) He was succeeded by another Baldwin, probably his son, who died before 1303, when his widow Matilda was assessed for three-quarters of a fee in Kimpton held of William de Say. (fn. 8) This descended to John de Vere, probably his son, and his widow Alice was holding in 1346. (fn. 9) In 1351 Robert de Vere made a settlement of his land, under the name of the manor of Hockinghanger, on himself and his wife Elizabeth in tail. (fn. 10) The manor descended in this family until 1493, when Henry de Vere of Great Addington, co. Northants, died seised, leaving four daughters, Elizabeth, Ann, Constance and Audrey. (fn. 11) Elizabeth married John Lord Mordaunt (fn. 12); Ann married Sir Humphrey Browne, kt., of Roding, co. Essex (fn. 13); and Audrey married John Browne, a nephew of Sir Humphrey. (fn. 14) These three daughters with their husbands each held one-third of the property. In 1556 Audrey, after her husband's death, conveyed her third to John Lord Mordaunt. (fn. 15) These two thirds descended to his son John Lord Mordaunt and to the latter's son Lewis Lord Mordaunt. (fn. 16) Sir Humphrey Browne, husband of Ann, died in 1562, leaving the third which had fallen to his wife to his three daughters—Mary, who afterwards married Thomas Wylforde; Christine, later the wife of John Tufton, and Katherine. (fn. 17) Mary and Katherine seem to have both conveyed their shares to Christine and John Tufton, (fn. 18) who in Hilary Term 1581–2 conveyed this portion to Lewis Lord Mordaunt, (fn. 19) who thus acquired the whole.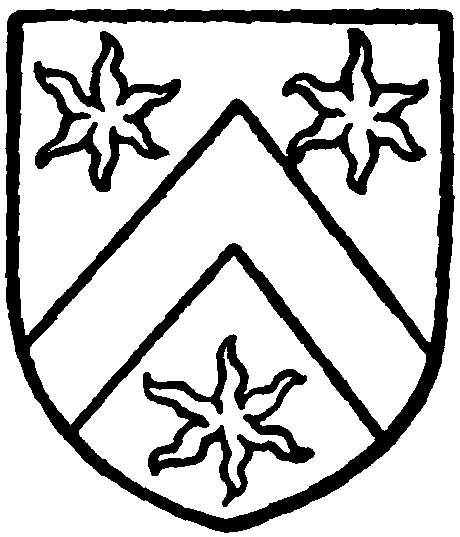 In 1596 Lord Mordaunt sold the manor to Thomas Hoo of St. Paul's Walden. (fn. 20) He was succeeded by his son William Hoo, on whose death in 1636 the manor descended to his son Thomas. (fn. 21) Thomas died in 1650, his son Thomas having predeceased him, and Hockinghanger passed with Hoo in St. Paul's Walden to his daughter Susan wife of Sir Jonathan Keate, bart. (fn. 22) It descended to their son, Sir Gilbert Hoo-Keate, who was succeeded by his son Sir Henry Hoo-Keate. (fn. 23) He sold the manor in 1732 to Margaret Brand of the parish of St. James's, Westminster, widow of Thomas Brand, (fn. 24) from whom it passed successively to her son and grandson, both named Thomas. (fn. 25) The son Thomas married in 1771 Gertrude daughter of Henry Roper Lord Teynham, who, on the death of her brother Charles Lord Dacre, became Lady Dacre in her own right. Her son Thomas Brand succeeded his mother as twentieth Lord Dacre, from whom the manor passed in 1851 to his brother Henry Otway, who took the name of Trevor. His two sons Thomas Crosbie William Trevor, Lord Dacre, and Henry Bouverie William Brand, Lord Dacre, created first Viscount Hampden in 1884, successively inherited the estate, and it passed from the latter to his eldest son Henry Robert Brand, second Viscount Hampden and twentyfourth Lord Dacre, the present lord of the manor. (fn. 26)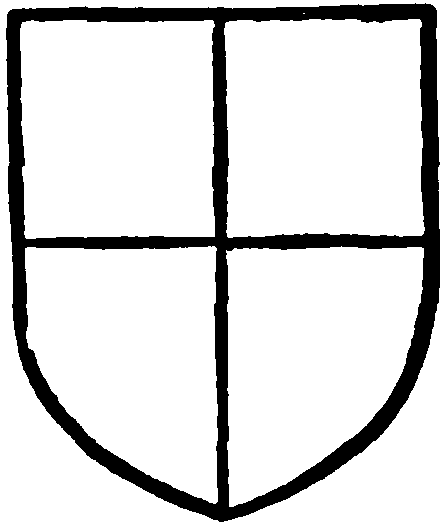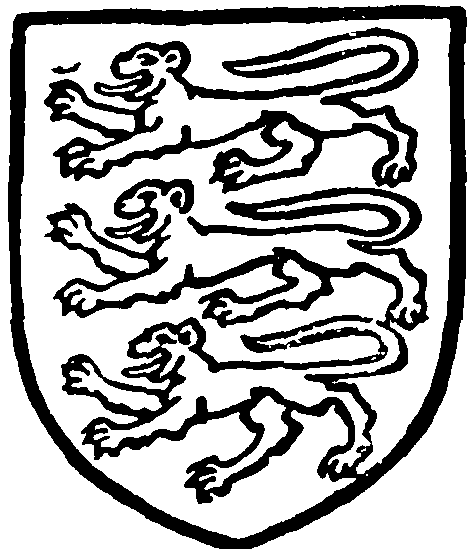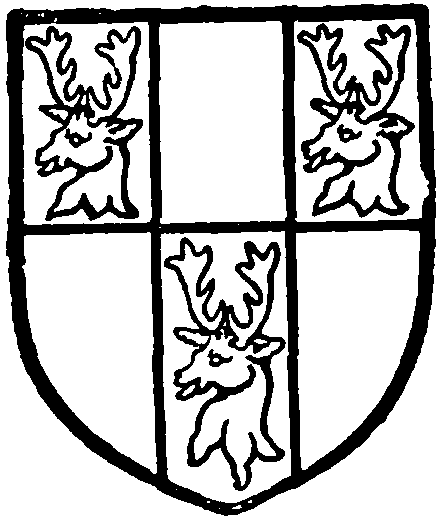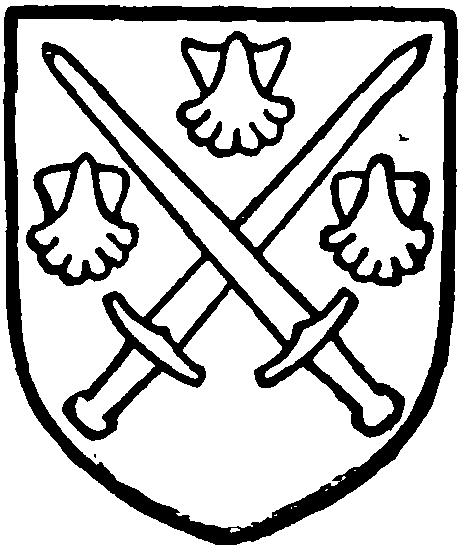 Parkbury
The manor of PARKBURY was held under the Says in the 14th century by the family of Brok as one half and one half of one quarter of a knight's fee. (fn. 27) In 1303 Laurence de Brok was assessed for it. (fn. 28) He was dead by 1330, when the manor was held by his widow Ellen de Brok for life, with reversion to her son Ralph, and she received a grant of free warren in that year. (fn. 29) Before 1346 the manor had passed to Nigel de Loreng, kt., (fn. 30) chamberlain to the Black Prince, who had a large estate at Chalgrave in Bedfordshire. (fn. 31) He was in possession in 1384–5, when he conveyed it to trustees. (fn. 32) Probably the trustees conveyed to John Fray, (fn. 33) who was assessed for the same fee in 1428. (fn. 34) In 1436 John Fray and Agnes his wife sold the manor under the name of Parkbury to Richard Hungate and Elizabeth his wife. (fn. 35) After Richard's death Elizabeth married John Gunter, and they held it for life with reversion to John Suliard and his wife Agnes daughter and heir of Richard Hungate. (fn. 36) Edward Suliard died seised of the manor in 1516, leaving as heir his son William, (fn. 37) who died in March 1539–40, having settled the property on his brother Eustace. (fn. 38) From Eustace it passed to his son Edward, (fn. 39) who in Hilary Term 1579–80 conveyed the property to John Knighton and George his son. (fn. 40) John Knighton, of the Inner Temple, died in 1599. (fn. 41) His son George must have predeceased his father, for his brother George Knighton of Bayford was his heir. (fn. 42) George was knighted in 1603. (fn. 43) He settled the property in 1603 on himself and his wife Lady Susan for life, with remainder to their son John, who succeeded in 1613. (fn. 44) At John's death in 1635 the manor passed to Knighton Ferrers, son of his sister Anne, who had married Sir John Ferrers of Markyate. (fn. 45) His daughter and heir Katherine married Thomas Viscount Fanshawe. (fn. 46) In 1665 Basset Cole and his wife Anne (fn. 47) sold the property to Sir Jonathan Keate, bart., (fn. 48) after which it descended with Hockinghanger (q.v.).
Leggatts
The manor of LEGGATTS was held in 1303 as half a knight's fee and one-eighth of a fee of Lord William de Say by Roger Wyscard. (fn. 49) It passed shortly afterwards to the family of Leggatt, from whom it took its name. In 1346 Robert Morlee, a feoffee of John Leggatt, was assessed for it. (fn. 50) John's son Edward Leggatt, who was in gaol for felony in 1369, (fn. 51) died seised of the manor in 1396. (fn. 52) The estate consisted of a messuage and garden, a dove-house, 242½ acres of land, 1 acre of meadow, rents of 42s. 2¾d. and a fishery. (fn. 53) His cousin John was his heir. (fn. 54) John possibly left co-heiresses, for in 1409 a certain John Chertsey conveyed a moiety of the manor to John Fray, (fn. 55) from whom it passed with Parkbury to Hungate, (fn. 56) and the two manors subsequently descended together.
Besides the three manors which formed the holding of the Says in Kimpton there was another manor called BIBBESWORTH (Bybesworth, xiv cent.), which was held of the manor of Pirton, (fn. 57) from which it was evidently formed by subinfeudation. It gave its name to, or took its name from, a family of Bibbesworth, who held it under the lords of Pirton. (fn. 58) In 1277 Walter de Bibbesworth was holding the manor, and received a grant of free warren in January of that year (1276–7). (fn. 59) William de Bibbesworth settled it in 1303 on his son Hugh de Bibbesworth and Emma his wife. (fn. 60) Later Hugh granted half a hide of his estate to the monastery of St. Albans. (fn. 61) He was succeeded by his son John de Bibbesworth, (fn. 62) who died in 1361, (fn. 63) having previously settled the property on his son Hugh and Amice his wife. (fn. 64) In 1402 they settled the manor on their son Edmund. (fn. 65) After his death it was held by his widow Goditha, (fn. 66) she outliving her son John, who died in 1448, (fn. 67) leaving a son Thomas, a minor. Thomas entered into the property on attaining his majority in 1467. (fn. 68) He died without issue in 1485, his heirs being his cousins, Joan wife of Thomas Barlee and John Cotys of Hunningham, co. Warwick. (fn. 69) The manor of Bibbesworth was assigned to Joan and Thomas Barlee. (fn. 70) At his death in 1524 Thomas left a son Robert, (fn. 71) who was succeeded by his son Francis. (fn. 72)
In 1560 the manor was owned by Richard Barlee, (fn. 73) probably son of Francis. Richard died in 1593, leaving as heir a son Thomas, (fn. 74) who became a lunatic in 1603, but seems to have held the manor till some four years later, when his heirs are returned as his three sisters, Dorothea Osburn, Anna Lady Dacres and Maria Wiseman. (fn. 75) Apparently, however, he had a daughter Grace (perhaps born after this date), the wife of Cressy Tasburgh, who suffered sequestration as a recusant in 1650, but obtained restoration of his lands in 1651. (fn. 76) In 1659 Robert Barlee and William Wiseman, probably their trustees, conveyed to Sir Jonathan Keate, (fn. 77) and the manor remained with his descendants (fn. 78) together with Hockinghanger (q.v.).
Little Bibbesworth
LITTLE BIBBESWORTH was another estate formed out of the manor of Pirton. John de Limesi, lord of that manor in the latter part of the 12th century, granted 8 acres in Bibbesworth to Richard de Puteo, who gave them to the monastery of St. Mary, Hertford (to which Ralph de Limesi [see Pirton] had made a grant of tithes and of pannage in his wood there), to the use of the kitchen. (fn. 79) In 1291 the priory had lands valued at £2 13s. 8d. in Kimpton. (fn. 80) After the Dissolution this estate was granted under the name of the manor of Bibbesworth in February 1537–8 to Anthony Denny and Joan his wife. (fn. 81) They conveyed the manor in 1543 to Nicholas Bristowe and his wife Lucy. (fn. 82) In the inquisition taken on his death in 1584 the manor is called Little Bibbesworth. (fn. 83) He was succeeded by his son Nicholas, who died at Ayot St. Lawrence in 1626. (fn. 84) His son, also Nicholas, died in July 1634, and Robert his brother inherited the fee simple of the Bristowe estates. (fn. 85) After this time it seems to have descended with the advowson (q.v.).
Plummers
A reputed manor called PLUMMERS (fn. 86) was conveyed in 1596 by Thomas Hoo to Edward Sibley, (fn. 87) and the next year was acquired from the latter by Thomas Halsey alias Chambers. (fn. 88) The farm of Plummers is now occupied by Mr. Robert Avery.
Leigh or Lygh
Another reputed manor of LEIGH or LYGH was held by Sir Edward Benstede, kt., at his death in 1518. John Ferrers, his kinsman and heir, succeeded. (fn. 89) In 1547 the manor was conveyed by Francis Ferrers to John Brockett and his wife Margaret. (fn. 90) Edward Peade was holding it in 1589, when he alienated it to Thomas Cheyne. (fn. 91)
CHURCH
St. Peter And St. Paul
The parish church of ST. PETER AND ST. PAUL stands at the north end of the village. The church consists of a chancel, nave, south chapel, north and south aisles, west tower of three stages with leaded spire, south porch of two stages with an octagonal north-west stair turret, north vestry and organ chamber. (fn. 92) It is built of flint rubble with freestone dressings.
The existing nave is probably of the same plan as that of the original 12th-century building, which consisted of an aisleless nave and chancel. About 1200 the north and south aisles were added, and at the same time, or perhaps a little later, the chancel was enlarged to its present size. There are traces of 14th-century alterations in the chancel, but it was not until the 15th century that any further addition was made, when the south chapel was built, the south aisle probably partly rebuilt, the clearstory of the nave was made, and the south porch and west tower were added. In 1861 the church was rather drastically restored, the north aisle being completely rebuilt, the windows and doors much repaired and altered and the north vestry and organ chamber added.
The chancel has an east window of three lights, in which traces of early 14th-century work remain, but the bulk of it is modern. On either side of it the remains of a 13th-century lancet window are visible with traces of contemporary paintings of figures of angels on the remaining splays. The chapel arcade on the south side is of the 15th century, of three bays with columns of four clustered shafts and moulded arches. Between the chancel and south chapel are parts of a mid-15th-century parclose screen, much repaired, with traceried panels and moulded stiles and cornice. There are six poppy-head bench ends of the 15th century in the chancel, also much restored. The north wall of the chancel is modern.
The south chapel has an east window and three square-headed south windows. The openings are original, but all the tracery is modern, and the south door is much restored. There is here an early 13th-century piscina, which has been reset. The mid15th-century screen at the west of the chapel has a vaulted canopy. It is much restored throughout.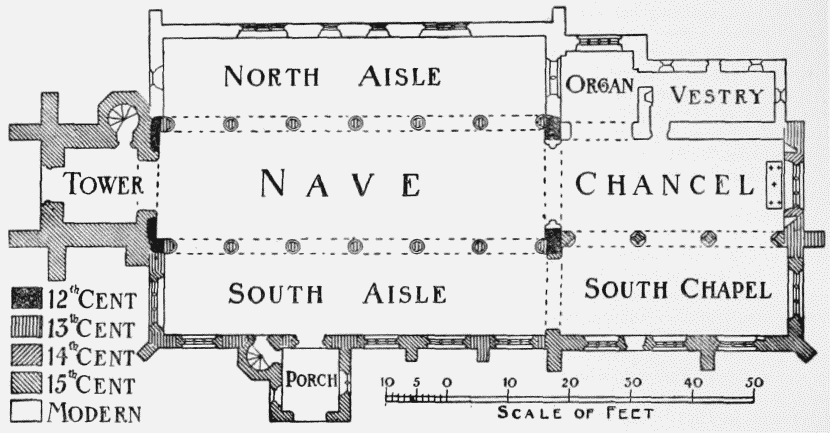 The nave has arcades of six bays, of the end of the 12th or early years of the 13th century. The arches are two-centred, and of two moulded orders, with drop labels facing the nave. The columns are circular with moulded bases; some of the capitals are scalloped and some foliate. The clearstory windows are three on the north and four on the south. They have two lights, and the westernmost on the south side has a wooden head.
The north aisle is entirely modern. The south aisle, which is much restored, has four three-light windows, of which the jambs and rear arches only are old. The roof of this aisle is of late 15th or early 16th-century date. It has moulded ridges, purlins and wall-plates and cambered trusses resting on corbels carved as angels. The south doorway is of the 15th century and has a continuous moulding, and a label with grotesque stops. It opens to the south porch, of the same date, which is of two stories, and originally had a window opening into the south aisle from the second stage; this is now blocked. The pointed entrance arch is plain and has a label with carved stops. There are square-headed windows on the east and west. The second stage is approached by an octagonal stair turret rising above the porch, at the north-west, at the angle of junction with the aisle, and is lighted by a two-light traceried window with a pointed head. Both the porch and the turret have embattled parapets above string-courses. The west tower is of two stages with strongly projecting buttresses, an embattled parapet and a lead-covered needle spire. At the north-east corner is a projecting stair turret. The tower arch is of the 15th century, and is four-centred, of two moulded orders with flat jambs. The west door is so much restored as to be practically modern, and the same is true of the window above it. The windows of the upper stage of the tower are of two trefoiled lights; they also are much restored.
The earliest monument is an early 15th-century brass in the chancel, with the figure of a woman wearing her hair loose, having no inscription. There are mural monuments to Susannah wife of Sir Jonathan Keate, 1673, to Judith Orlebar, 1690, and to Sir Jonathan Keate, 1700.
There are six bells: the first and third are by Robert Oldfeild, 1636; the second is by John Waylett, 1728; the fourth is by John Saunders, and dates from the middle of the 16th century; the fifth is probably by William Burford, of the middle of the 14th century, and the sixth is by Robert Oldfeild, with the date 1638.
The plate includes a cup of 1635.
The registers are contained in three books, the first containing baptisms and burials from 1559 to 1777 and marriages from 1559 to 1753; the second contains baptisms and burials from 1777 to 1812, and the third marriages from 1777 to 1812.
ADVOWSON
The advowson of the church of St. Peter and St. Paul of Kimpton was granted, probably by one of the Says, to the priory of Austin Canons of Merton, in Surrey. (fn. 93) A vicarage was ordained there previous to 1291, (fn. 94) and between 1363 and 1397 the vicar and Prior of Hertford (who had a grant of tithes of pannage from Ralph de Limesi, see above) arranged an allotment of tithes. (fn. 95) In February 1542–3 the king granted the advowson to John Williams and Anthony Stringer, (fn. 96) who alienated in the same year to Nicholas Bacon and Henry Ashfelde. (fn. 97) Nicholas Bacon conveyed the property in 1543 to Nicholas Bristowe, (fn. 98) who died in 1584, leaving as heir his son Nicholas. (fn. 99) Five years later the advowson was granted to Richard Branthwayte and Roger Bromley, (fn. 100) who were possibly acting as trustees or were merely 'fishing grantees.' Nicholas son of the above Nicholas came into possession at his father's death. (fn. 101) He was succeeded by his son Nicholas, (fn. 102) who held the property until 1634, when he died, leaving to his daughters Elizabeth and Anne a twenty-one years' interest in the estate, which was to revert at the end of that time to their uncle Robert Bristowe. (fn. 103) In 1663 Robert Bristowe and his son Nicholas conveyed the advowson to Sir Jonathan Keate, bart., (fn. 104) and it then descended with the manor of Kimpton (fn. 105) to Viscount Hampden, the present patron.
In the 15th century Edmund atte Hoo left in his will a bequest to the fabric of the church of Kimpton. (fn. 106)
A letter has been preserved, written by the Prior of Merton to the Bishop of Lincoln, asking permission for the construction of a private oratory without a bell-tower. The request was apparently made on behalf of Lady Ellen, formerly wife of Robert de Vere. The chapel was to be used by her household and guests alone, and the chaplain was to make amends to the vicar of the mother church of Kimpton if he gave the sacrament; while the vicar could suspend the celebration if the mother church suffered by it. (fn. 107)
The rectory was granted by the king in 1543 to Nicholas Bristowe and Lucy his wife for their lives. (fn. 108) In 1567 it was regranted to Nicholas Bristowe, their son, on lease for twenty-one years. (fn. 109) A grant to Richard Branthwayte and Roger Bromley in 1589 (fn. 110) was probably in trust for Richard Spencer, (fn. 111) whose son Sir John Spencer of Offley, bart. (so created in 1627), died seised in 1633 under a settlement made by his father. (fn. 112) At Sir John's death the rectory passed to his brother Brockett Spencer, (fn. 113) and afterwards descended in the family of Salusbury (fn. 114) with the manor of St. Ledgers in Offley (q.v.).
There is a Wesleyan chapel in Kimpton.
CHARITIES
William Barford, D.D., Prebendary of Canterbury, Fellow of Eton, and vicar of this parish, by his will proved in the P.C.C. 31 January 1793 bequeathed 20s. yearly for the poor. The legacy is now represented by £33 6s. 8d. consols with the official trustees, and the annual dividends amounting to 16s. 8d. are distributed equally among eight poor persons.
John Bassill by his will, proved in the P.C.C. 1 February 1816, gave £120 stock, the dividends, subject to keeping in repair the testator's vault, to be applied every three years as to one-third for dinner to the resident clergyman, one-third among six poor families, and remaining one-third in prize money for games among young people, first deducting 40s. for a dinner for the church ringers and parish clerk.
The legacy is now represented by £192 0s. 5d. consols with the official trustees, producing £4 16s. yearly.