Pages 319-323
A History of the County of Hertford: Volume 3. Originally published by Victoria County History, London, 1912.
This free content was digitised by double rekeying. All rights reserved.
GILSTON
Gedeleston (xii cent.); Godeleston, Gedelston (xiv cent.); Godulston (xv cent.); Gelston (xvi cent.); Gilston (xvii cent.).
Gilston is a small parish of 984 acres, of which 10 are water. On the south-east it is bounded by the River Stort, which divides it from the county of Essex. It adjoins Sawbridgeworth on the east and there is a detached part of Sawbridgeworth on the south-west, whilst cut out from this on the extreme south is a small detached part of Gilston. (fn. 1) The parish is low lying, for the most part less than 200 ft. above the ordnance datum, and slopes down from north to south.
Of the total extent of Gilston about 330 acres are permanent grass, 260 acres arable land, and 70 acres woods and plantations. (fn. 2) The chief woods are Golden Grove on the north, Home Wood and Gibson's Shaw on the west, whilst Gilston Park occupies a large space on the south-west. Ditchingford, Solsden, Dunstalls, Start, Oxstid, Long Mead and Full Mead were common fields, but no inclosure award has been made. (fn. 3) A stream called Fiddler's Brook runs south through the parish and joins the River Stort. The road from Eastwick runs in an easterly direction through the parish, ultimately joining the road from London to Sawbridgeworth. From this road another branches off at Pye Corner, and runs north past the church and Overhall Farm towards the parish of Widford.
Gilston is not mentioned in the Domesday Survey and was probably part of the vill of Sawbridgeworth. Besides the tenure of the manors, evidence of this is seen in the intermingling of the boundaries. The church of St. Mary and the manor-house of Overhall lie together on the high ground in the north of the parish; the village is at Pye Corner on the high road in the south of the parish. The Plume of Feathers Inn, (fn. 4) which stands here, is a 17th-century house of two stories. It is timber-framed and plastered outside with a central porch and a chimney stack with diagonal shafts. The rectory lies near the park, and the schools built in 1856 are close by. There was a fulling-mill in Gilston in the 13th century. (fn. 5)
The Gilston and Eastwick Working Men's Club was built by Mr. A. S. Bowlby in 1908, in memory of his father Mr. E. S. Bowlby. To the south of the village is Terlings Park, the residence of Mr. R. E. Johnston. This estate takes its name from a family of Terling who had land in Gilston in the 15 th century. (fn. 6) In 1602 the messuage called Terlings was sold by Robert Stephyn to John Howe. (fn. 7) From 1683 to 1847 it was in the possession of the family of Turvin. (fn. 8)
MANORS
There is no mention of Gilston in the Domesday Survey, and it seems to have formed part of the manor of Sawbridgeworth held by Geoffrey de Mandeville. Before the end of the 12th century the Mandevilles had subinfeudated, (fn. 9) and Gilston was held as one knight's fee of the barony of Mandeville. (fn. 10) The overlordship passed through Beatrice, aunt and heir of William de Mandeville, to the Say family, and through Beatrice de Say, granddaughter of the elder Beatrice, to Geoffrey Fitz Piers, created Earl of Essex in 1199, and through their daughter Maud to Humphrey de Bohun. It descended with the Bohuns, Earls of Hereford and Essex, (fn. 11) until the marriage of Eleanor de Bohun brought it to Thomas Duke of Gloucester. His daughter and ultimate heir Anne married Edward Earl of Stafford. In 1420 Gilston was said to be held of the Countess of Stafford, (fn. 12) but after her death in 1438 its tenure seems to have been lost, for in 1444 it is returned as held of the king as of the duchy of Lancaster. (fn. 13)
Under the Mandevilles and their successors Gilston was held in two moieties as the manors of Overhall and Netherhall, the names corresponding apparently with their geographical position, Overhall occupying the higher ground in the north of the parish, Netherhall the lower ground further south.
Overhall
The manor of OVERHALL was held in the 13th century by the family of Ros. (fn. 14) In 1287 Alice de Ros claimed view of frankpledge in the vill of Gilston, (fn. 15) and she was assessed for half a fee there in 1303. (fn. 16) She was presumably holding in dower, for a Robert de Ros is returned as holder of the fee in Gilston in the inquisition on Humphrey de Bohun in 1302, (fn. 17) and was among the tenants in Gilston assessed for a lay subsidy in 1307. (fn. 18) A John de Ros, probably son of Robert, succeeded, and died seised of the manor held jointly with his wife Alice in 1373, his heir being his grandson John, son of John de Ros, deceased. (fn. 19) Alice died two years afterwards; the inquisition taken at her death is unfortunately missing, but Morant, apparently quoting from it, says that the younger John died without issue and that his aunt Ellen, wife of Sir Geoffrey de Brockholes, was the heir. (fn. 20) Geoffrey de Brockholes was holding this half-fee under the Duke of Gloucester in 1397. (fn. 21) In 1419 Ellen Brockholes, his wife, died seised of the manor, leaving as heirs her daughter Joan, widow of Thomas Aspall, and her grandson John, son of John Sumpter and her daughter Mary. (fn. 22) Joan married as her third husband Robert Armeburgh. (fn. 23) John Sumpter, who died in 1420, left two sisters and heirs, Ellen wife of James Bellers and Christina wife of Thomas Bernard. (fn. 24) His moiety seems to have been settled on Ellen Bellers. (fn. 25) Ellen survived her husband and married secondly Ralph Holt, (fn. 26) with whom she brought a suit in Chancery against her father-in-law Ralph Bellers for the recovery of the manor, which had been settled on Ralph Bellers for payment of his son's debts. (fn. 27)
In 1444 Joan Armeburgh died seised of the other moiety of the manor, (fn. 28) held with Robert her husband under settlement (fn. 29) for their lives, with remainder to a certain John Palmer and his issue, and contingent remainder first to Palmer's sister Joan, then to Philip Thornbury and others in trust apparently for Ralph and Ellen Holt. (fn. 30) The Palmers' interest seems to have devolved on the Holts before 1453 or thereabouts, when they brought a suit in Chancery to recover the manor against Thornbury and the other feoffees. (fn. 31) In 1453 Ralph Holt and Ellen conveyed their moiety of the manor and the reversion of the other after the death of Robert Armeburgh to Thomas Ardern and others, (fn. 32) evidently in trust for Sir Peter Ardern. He left the manor by will for the endowment of a chantry in the church of Latton, co. Essex. (fn. 33) Licence was given to his executors to carry out the bequest in 1477. (fn. 34) The manor remained attached to the chantry until its dissolution in the reign of Edward VI. It was then granted to John Perient. (fn. 35) Elizabeth, Perient's widow, married Henry Poole, and they in 1567 had licence to alienate Overhall to John Chauncy. (fn. 36) John Chauncy appears in possession in 1568, (fn. 37) but the final conveyance by Henry and Elizabeth Poole does not seem to have been made until 1570. (fn. 38) In 1572 John Chauncy sold the manor to William Parker. (fn. 39) Parker conveyed it in 1577 to Humphrey Corbett, (fn. 40) who died seised at Newington, co. Middlesex, in 1609. (fn. 41) His kinsman and heir Rowland Corbett succeeded. He settled the manor on his son Richard on his marriage with Jane Fowler in 1624. (fn. 42) Rowland died at Grantham in 1634. (fn. 43) Before 1657 the manor had been sold to Sir John Gore, (fn. 44) and then descended with Netherhall (q.v.).
The old manor-house of Overhall is now a farm. The manor of NETHERHALL was held under the Earls of Essex by the family of Goldington. There seems to have been a Thomas de Goldington holding about the middle of the 12th century, who was succeeded before 1199 by his son Peter de Goldington. (fn. 45) In 1287 Peter, son of a Peter de Goldington, claimed view of frankpledge in Gilston, (fn. 46) and he with Alice de Ros was assessed for half a knight's fee there held of the Earl of Hereford in 1303. (fn. 47) Goldington's interest passed to John Dyer, who was contemporary with John de Ros of Overhall (see above). (fn. 48) In the next century the manor was acquired by Sir William Estfield, kt., a citizen of London and lord mayor in 1429 and 1437. (fn. 49) His will is dated February 1446–7, and in it he makes a bequest to the church of Gilston. (fn. 50) His heir was his grandson John Bohun, son of his daughter Margaret wife of Humphrey Bohun, (fn. 51) to whom the manor of Netherhall passed. (fn. 52) Ursula daughter of John Bohun married Sir Robert Southwell, and they in 1494 conveyed the manor to John Chauncy and William Colt, clerk. (fn. 53) John Chauncy died in 1510. (fn. 54) In 1533 his son John Chauncy received a quitclaim from Giles Heron and his wife Cicely, (fn. 55) but it is not clear what interest they had in the manor.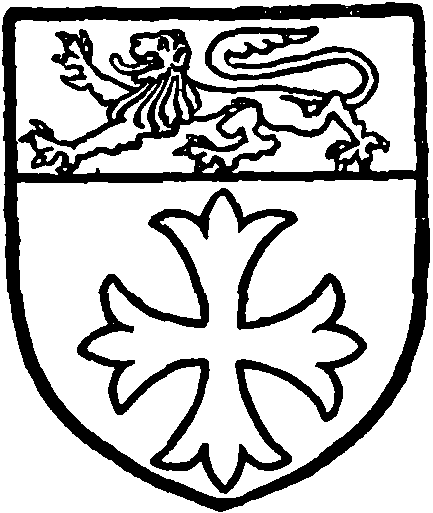 John Chauncy, who died in 1547, seems to have settled Netherhall on his second son Henry, (fn. 56) to whom a further quitclaim was made by Leonard Skillingham and Griselda his wife, James Frauncys and Alice his wife, and John Whypall and Winifred his wife in 1549. (fn. 57) Henry Chauncy (father of the John Chauncy who held Overhall) built the capital messuage of New Place in Gilston, having, it is said, been forced to leave Pishobury in Sawbridgeworth, which he held on lease and used as a residence, by a sale over his head to Walter Mildmay. (fn. 58) He attached to his new house 40 acres of land, part of the manor of Netherhall, and 80 acres of land, part of Giffords. (fn. 59) The manor of Netherhall was settled on his son Edward, but Edward never appears in possession, and immediately after the death of Henry in 1587 William his grandson and heir (son of John Chauncy) conveyed the manor to his uncle George Chauncy. (fn. 60) In 1615 George Chauncy sold it to Alexander Williams of the Pipe Office, (fn. 61) who married Elizabeth sister of Sir Dudley Carleton, ambassador at the Hague. (fn. 62) Their son Anthony died in 1632, and shortly afterwards his father sold Netherhall to John Gore, (fn. 63) Lord Mayor of London in 1624 and knighted in 1626, who died seised of it in 1636. (fn. 64) His son John Gore of Sacombe was Sheriff of Hertfordshire in 1639, and was knighted by Charles I in 1641. He fought on the king's side during the Civil War, but later he made his peace with the dominant party. He died in 1659, (fn. 65) having in 1657 settled the messuage or farm called Upperhall, a mill in Hunsdon, and the manors of Overhall, Netherhall and Giffords on his son Humphrey Gore, on the occasion of his marriage with Persis English. (fn. 66)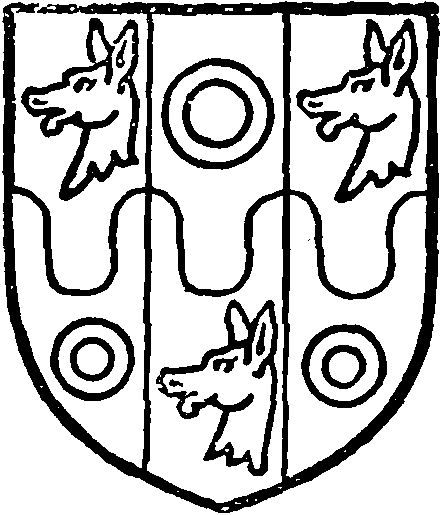 Humphrey Gore, who was knighted in 1660, inclosed the park at New Place. (fn. 67) He made a settlement on his son John in 1691, (fn. 68) but John died in his father's lifetime, and Humphrey was succeeded at his death in 1699 by his son Henry Gore. (fn. 69) In 1701 Henry Gore sold the manors to John Plumer of Blakesware. (fn. 70) He died in March 1718–19, and was buried at Eastwick. His second son William, who married Elizabeth Byde of Ware Park and was M.P. for Herts. in 1754, succeeded him here and at Blakesware, (fn. 71) and in 1760 settled the manors on his son William Plumer the younger, (fn. 72) who succeeded at his father's death in 1767 and lived at New Place. He was M.P. for Hertfordshire from 1768 to 1806. He died in 1822 and was buried at Eastwick, having left New Place to his widow Jane. The old house at Blakesware (q.v.) was then pulled down, and its most valuable contents brought to Gilston. (fn. 73) Mrs. Plumer (Lewin) married as her third husband Robert Ward, who assumed the name of Plumer. The latter, by profession a barrister, was also a novelist and politician of some note. After his marriage he lived at Gilston Park and acted as sheriff of the county in 1832. His wife died in 1831; he survived until 1846. (fn. 74) After Mrs. Ward's death Gilston Park had been left unoccupied and in 1851 the house was dismantled and the pictures and old furniture (including the marble busts of the Caesars immortalized by Lamb) were offered for sale. The old house was situated nearer the lake than the present one; the porch still remains on the lawn. (fn. 75) Henry George Ward, only son of Robert Ward by a previous marriage, sold Gilston Park to John Hodgson, who built a new house there. (fn. 76) His brother William Hodgson succeeded in 1882, and died in 1886, (fn. 77) when the manor passed to his nephew Mr. Edward Salvin Bowlby. His son Mr. Arthur Salvin Bowlby succeeded in 1902, and is the present lord of the manor. The courts leet and baron for the manor were held in 1702 at New Place, but generally afterwards at the Plume and Feathers Inn. (fn. 78)
Giffords
The manor of GIFFORDS was the holding of a family named Giffard or Gifford who appear in Gilston at the end of the 12th century, when Giffard de Gilston called Peter de Goldington to warrant to him a quarter of a virgate of land in Gilston which he had by charter of Thomas his father. (fn. 79) In 1307 Ralph Giffard was among the tenants at Gilston assessed for a lay subsidy, (fn. 80) and in 1324 this Ralph was in debt to Hugh le Despenser, jun., for £40, which were to be levied on his lands in Essex and Hertfordshire. (fn. 81) John Gifford made a settlement of two messuages, two mills, 240 acres of land with appurtenances in Gilston, Sawbridgeworth and Eastwick on himself and his wife Margaret in 1341. (fn. 82) William Gifford, possibly son of John, left a daughter and heir Margaret, who married John Chauncy, and in 1418 a quitclaim of a moiety of the estate above mentioned was made to John and Margaret by William Johan of Hatfield Broadoak, co. Essex, and his wife Joan, who was presumably another heiress. (fn. 83) John Chauncy, son of John and Margaret, died in 1479 seised of a messuage called Giffords in Gilston and Sawbridgeworth held of the manors of Overhall and Pishobury. (fn. 84) He was succeeded by his son John, who acquired Netherhall, and the two manors then descend together.
The farm-house of Giffords was situated at the lower end of the lake. It was pulled down in the 19th century. (fn. 85)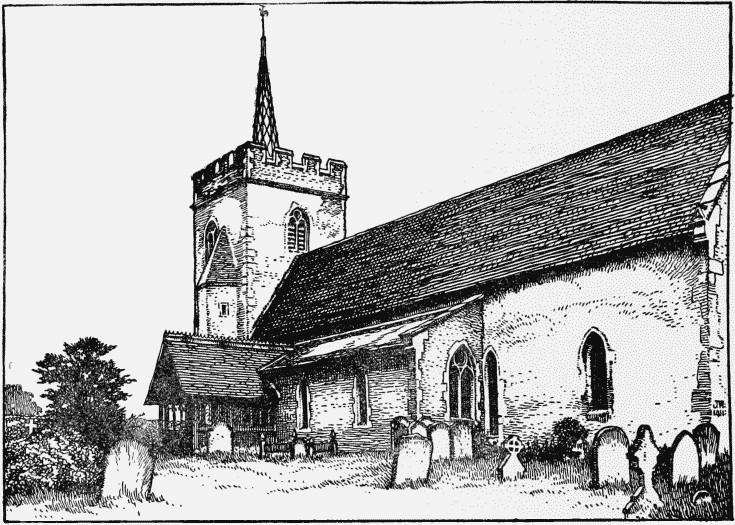 CHURCH
The church of ST. MARY consists of chancel 25 ft. by 12 ft. 6 in., north vestry, nave 46 ft. by 12 ft. 6 in., north and south aisles 6 ft. wide, south porch, west tower 12 ft. by 11 ft.; all dimensions taken internally. The walls of the nave and chancel are of flint with stone dressings, the chancel walls being coated with cement; the tower is of brick; the roofs over nave and chancel, which are continuous, are tiled, those over the aisles being slated.
The church appears to have been rebuilt late in the 13th century, an early 13th-century doorway from the former church, which was probably without aisles, having been re-set in the north wall; the tower is mainly of late 16th-century work, and was probably rebuilt then. The church was thoroughly restored during the 19th century, the south aisle rebuilt, a north vestry added to the chancel, a new east window inserted and the stonework of most of the others renewed, a south porch erected, and the nave and chancel and aisles re-roofed.
The east window is modern; a single lancet in the north wall and two in the south wall belong to the 13th century; the westernmost windows on the south and north sides have low sills, about 2 ft. 8 in. from the ground, but the heads of all the windows are on the same level. In the south wall is a piscina and credence combined; it has two moulded 13th-century arches, having shafted jambs with moulded capitals and bases; the central shaft is of Purbeck marble; in the eastern opening is a nine-foiled bowl, the other being plain as a credence. At some later period, probably the 16th century, the two arches have been united under a pointed arch with a star-shaped ornament and a rose in the centre, all of plaster. There is no chancel arch.
The nave has north and south arcades of four bays; the arches are of two hollow-chamfered orders with moulded labels, with piers of four clustered columns having moulded capitals and bases of the latter part of the 13th century.
The east window in the north aisle is modern. In the north wall is a two-light window of late 13th-century date; the other windows are of modern stonework. The north doorway, which is blocked, is a good example of early 13th-century work; it has a moulded arch and label and detached shafts in the jambs; the capitals have moulded abaci and bells carved with early leaf ornament; the bases are gone. The south aisle is modern.
The west tower has a modern embattled parapet and a small octagonal timber spire covered with lead; on the south side is an octagonal projecting turret stair, which is finished at the belfry stage with a brick roof. The tower arch is of late 16th-century date; the arch is of two splayed orders; the jambs are shafted and the capitals and bases roughly executed. The west doorway has a pointed arch of four moulded orders and shafted jambs; it is of late 13th-century work much worn. The west window is of two lights with old splayed jambs and a modern traceried head. In its head is a 15th-century painted glass shield with the arms of Sir William Estfield, Sheriff of London in 1422: Sable, a cheveron ermine between three maidens' heads cut off at the shoulders argent with hair dishevelled or, and the inscription 'Orate p [.....] Willi Estfeld, militis.' The belfry windows are of two trefoiled lights with cusped opening in the heads; they have been repaired with cement and may be of 14th-century date.
The bowl of the font is of the 12th century; it is hexagonal and on each face are three shallow sunk plain panels; the bowl rests upon a 14th-century stem with moulded cap and base.
The oak chancel screen is of special interest, as it has incorporated with it remains of a late 13th-century screen. The old work consists of arches with trefoiled heads under pointed arches, with rosettes carved in the spandrels between the arches; the shafts are an inch in diameter and have moulded capitals and bases and central bands.
On the floor of the north aisle are two stone coffin lids, probably of 14th-century date; one bears a floreated cross in relief on its face with an illegible inscription; the cross of the other stone has been almost obliterated. On the north chancel wall is a large mural monument of marble to Sir John Gore, who died in 1659; on the south wall is another to Bridget Gore, his daughter, who died in 1657; a slab on the floor marks the place of her burial.
There are two bells; the treble by Anthony Bartlett, 1663; the tenor, inscribed 'Jesvs be ovr spede,' by Robert Oldfeild, 1628.
The communion plate consists of cup, 1562, and cover paten, the marks of which are erased; flagon, 1697, and paten of the 17th century.
The registers of baptisms, marriages and burials begin in 1558.
ADVOWSON
Geoffrey de Mandeville, lord of Gilston and founder of the abbey of Walden in Essex, who died in 1144, included the church of Gilston in his foundation charter to that monastery. (fn. 86) It remained with Walden until the first half of the 13th century, when the right of the abbey was contested by the Bishop of London, and the arbitrators appointed to decide on the rival claims assigned the patronage to the Bishop of London and his successors. (fn. 87) The advowson remained vested in the see until 1852, when it was transferred to Rochester. (fn. 88) In 1874 it was transferred to St. Albans. (fn. 89)
CHARITIES
In the Parliamentary Returns of 1786 it is stated that the following donations were given for bread to the poor and for teaching poor girls, viz.:— Thomas Gore, Sir John Gore, £50; Lady Tyrrell, £60.
The Gilston estate was charged in respect of these gifts with annuities of £2 12s. for bread and £3 for catechizing children. These charges were redeemed in 1869 by the transfer of stock to the official trustees, which with accumulated income now amounts to £243 13s. 5d. consols, producing £6 1s. 8d. yearly.
By an Order of the Charity Commissioners 15 July 1904 the sum of £120 consols was assigned to 'The Gore and Tyrrell Educational Foundation,' and £123 13s. 5d. consols to 'The Gore and Tyrrell Eleemosynary Charity.'