Pages 476-480
A History of the County of Hertford: Volume 3. Originally published by Victoria County History, London, 1912.
This free content was digitised by double rekeying. All rights reserved.
STAPLEFORD
Stapelford (xii cent.); Stapilford-by-Watton (xiii cent.).
Stapleford is a small parish containing about 1,354 acres. Arable land occupies more than half of it, while about one third consists of permanent grass. (fn. 1) There is very little woodland, and what there is lies chiefly in the higher ground in the west, where the ground rises to an altitude of from 250 ft. to 300 ft. The River Beane waters the east of the parish; the land here on the west bank is low and liable to floods. The soil is gravel, clay and chalk, on a subsoil of clay and chalk. The church, rectory, schools (built in 1872) and a few cottages stand on the north-east border of the parish on the east side of the River Beane on a by-road to Bengeo, but the principal part of the village lies scattered along the main road from Hertford to Stevenage a little to the west of the church. The road from the village to the church now crosses the River Beane by a bridge, probably on the site of the ford from which the parish takes its name Stapleford has always been but a small village. In 1334 it is described only as a hamlet, (fn. 2) and in 1428 it is said to have contained only nine inhabitants. (fn. 3)
Wheat, barley, beans and oats form the principal crops. The nearest railway station is at Hertford, 3½ miles to the south.
MANORS
Stapleford appears to have been included in the Domesday Survey in the large area comprised at that date by Bengeo, which encircles it on the east and south. Several of the holdings given under the name of Bengeo cannot be traced there after 1086. One of these was that of Geoffrey de Mandeville. This holding in 1086 was rated at 3 hides and 1 virgate and included a mill, (fn. 4) and may apparently be identified with the manor of STAPLEFORD, which has always formed part of the honour of Mandeville, (fn. 5) and with that honour the overlordship passed on the death of William de Mandeville Earl of Essex without heirs male in 1227 to his sister Maud, widow of Humphrey de Bohun. (fn. 6) It descended with the Bohuns (fn. 7) until 1373, when on the death of Humphrey de Bohun it passed to his daughter Eleanor wife of Thomas Duke of Gloucester. (fn. 8) Edmund Earl of Stafford, (fn. 9) husband of her daughter Anne, died seised of it in 1403, (fn. 10) and after his death there is no further record of the overlordship.
In 1192 John le Moyne, apparently tenant in fee of Stapleford Manor, was holding a knight's fee in Stapleford which he had inherited from his mother. (fn. 11) Stapleford remained with this family, (fn. 12) whose descent is difficult to trace, until the end of the following century, when John le Moyne granted it to Robert Aguillon. This was before 1278, in which year Robert claimed view of frankpledge in his manor of Stapleford, which he held by the gift of John le Moyne. (fn. 13) In 1286 Robert Aguillon died seised of 7½ acres of meadow in Stapleford, 11s. 6d. rent of assize, together with other rents and a water-mill, which he held of John le Moyne by the service of a clove gillyflower. (fn. 14) Probably before this date a subfeoffment had been made of the greater part of the manor, this part becoming the manor of Waterford Hall (see below). Isabel, the wife of Hugh Bardolf, was Robert Aguillon's heir, (fn. 15) and in 1303 Hugh Bardolf was holding a knight's fee in Stapleford with Anselm Gobion. (fn. 16) Bardolf was lord of the neighbouring manor of Watton Woodhall, and after this date the lands in Stapleford were attached as a tenement to the manor of Watton (fn. 17) and eventually became merged in it. (fn. 18)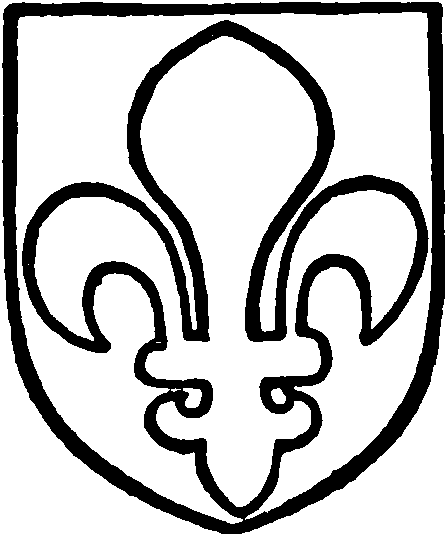 Waterford Hall
The manor of WATERFORD HALL was held of the lords of the manor of Stapleford in socage, (fn. 19) and was evidently formed from that manor as mentioned above. At the beginning of the 14th century Waterford was held by Geoffrey de la Lee, who is found holding property in Stapleford in 1305, when his houses and goods there were burnt. (fn. 20) In 1310 he received a grant of free warren in all his demesne lands of Stapleford and elsewhere, (fn. 21) a grant which was confirmed to him and his heirs in 1320. (fn. 22) By a fine of 1316 he charged the manor of Waterford with a rent of 10 marks to Robert Baard for the term of his life. (fn. 23) He appears to have been succeeded by his son Thomas Lee (de la Lee), whose bailiff and receiver in Stapleford was committed to the Fleet Prison in 1341. (fn. 24) Thomas was succeeded by his brother Sir John Lee, kt., who died in 1370, when his lands in Stapleford passed to his son Walter. (fn. 25) In 1379 Perceval Symeon, whose interest in the manor was through his wife Joan, probably the widow of Sir John Lee, quitclaimed all right in it to Walter Lee and his son Thomas. (fn. 26) Thomas died before his father, and on the latter's death in 1395 his three sisters became his co-heirs. (fn. 27) The manor of Waterford fell to the share of Margery, who married Robert Newport. (fn. 28) From her it descended to William Newport, who died seised of the manor in 1434. (fn. 29) His heir was his son George, (fn. 30) who died in 1474. (fn. 31) Waterford Hall afterwards came into the possession of Robert Newport, who died seised of it in 1518, when his lands were inherited by his son John. (fn. 32) John Newport died in 1524. His only child Grace, the wife of Henry Parker, son and heir of Henry Lord Morley, was his heir. (fn. 33)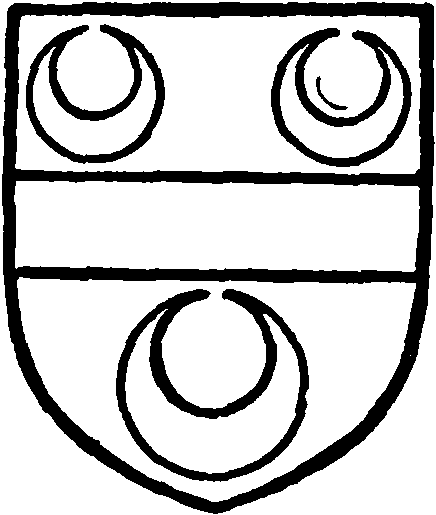 Henry Parker died in 1551, and his son and heir Henry Parker succeeded his grandfather as Lord Morley in 1555. (fn. 34) In 1564 Lord Morley conveyed the manor of Waterford Hall to Sir John Boteler of Watton Woodhall, (fn. 35) who sold it the same year to George Grave, yeoman, who already held it on lease. (fn. 36) The sale included all courts, view of frankpledge and free fishery. (fn. 37) George Grave held the manor (fn. 38) until his death in 1597, (fn. 39) when it passed to his son Edward, who died in 1603. (fn. 40) His lands were inherited by his son Edward, aged seven years, (fn. 41) who in 1619 sold the manor of Waterford Hall to William Reeve, haberdasher. (fn. 42) On the death of William Reeve in 1625 it passed to his daughter and heir Margaret, who married George Bromley. (fn. 43) George Bromley died at the beginning of the Civil War, (fn. 44) and was succeeded by his son George, (fn. 45) who had to compound for his estates in 1644, (fn. 46) and receiving, as is said, no recompense from Charles II was finally compelled in 1696 to sell Waterford Hall to Thomas Feltham of Ware Westmill, co. Herts. (fn. 47)
Thomas Feltham was succeeded by his son John, who was lord of the manor in 1700. (fn. 48) From John Feltham the manor passed to Charles Feltham, brewer, of London, whose son Ralph sold the manor in 1743 to Peter Walley and Thomas Sheppard (fn. 49) in trust for Thomas Hall. (fn. 50) On the death of Thomas the manor descended to his son Humphrey of Manaton, co. Devon, who sold it with the capital messuage and the lands belonging and the fields called Fillies alias Phillhouse or Phillhorse Close, the Warren called the Great Warren and the Little Warren, in 1775 to John Kenrick of Berners Street, co. Middlesex. (fn. 51) He in 1778 sold it to William Hewlett of the Strand, ironmonger, (fn. 52) apparently in trust for Richard Emmott. (fn. 53) In 1811 Emmott sold it to Samuel Smith of Watton Woodhall (fn. 54) (q.v.). It descended in this family to Mr. Abel Henry Smith, who is the present lord of the manor. The house called Waterford Hall lies east of the main road from Hertford to Stevenage, at the point where it enters the parish of Stapleford, and is partly in Stapleford and partly in Bengeo. It is a small brick house of c. 1600, two stories in height with a floor in the roof. On plan the house consists of a large entrance hall, out of which a passage has been taken in modern times, with a central newel stair, contained within a projection at its north-west corner. There is a single room on the west side of the hall, and on the east a low two-storied office wing. The beams supporting the first floor have interesting leaf chamfer-stops of renaissance character, and the central newel of the stairs terminates above with a well-carved baluster finial. The original door-frames survive in many cases and their chamfers have leaf-stops of similar character to those of the beams. Externally the western end-gable has moulded brick kneelers. The original window openings have for the most part been enlarged and sash frames inserted. Those in the west wall have been blocked. Sufficient traces survive to show that they were low and mullioned and had moulded labels. On the north side of the house is a fine chimney stack surmounted by a pair of diagonal shafts with capitals and bases of moulded brick.
Gobions
The manor of GOBIONS (Gybeouns, Gobyons, xiv cent.) like the manor of Stapleford (q.v.) must have originally been part of Bengeo. It is probable that it was derived from one of the numerous holdings of Geoffrey de Bech in that place in 1086. (fn. 55) With Eastwick it came into the possession of the Clares, and by the marriage of Emma daughter of Baldwin de Clare with Hugh Wake the overlordship passed to the Wakes. (fn. 56) It descended with the Wakes and Holands until 1408, (fn. 57) when Edmund de Holand Earl of Kent died without issue. It was inherited by his sister and co-heir Eleanor Countess of Salisbury. (fn. 58) Her daughter Alice carried it in marriage to Richard Nevill, afterwards Earl of Salisbury, and it descended to their granddaughter Isabel, who married George Duke of Clarence. (fn. 59) In 1499 his son Edward Earl of Warwick and of Salisbury was executed for high treason, (fn. 60) and the overlordship escheated to the Crown.
The earliest known tenant in fee of the manor of Gobions is William Loreng, who was holding half a hide of land in Stapleford of Baldwin Wake in 1282. (fn. 61) A John Loreng was holding land in Stapleford in 1295, (fn. 62) but the manor appears shortly afterwards to have been acquired by Henry Gobion, who was holding half a knight's fee in Stapleford in 1303. (fn. 63) There was also an Anselm Gobion holding part of a fee there at the same date. (fn. 64) This family held the manor for over a century and gave it its name, but very few records of them exist. The manor appears to have come to William Gobion, whose son William was holding it in 1389. (fn. 65) He was then in financial difficulties and had to raise money on his manor of Stapleford. (fn. 66) In 1390 he conveyed the manor to Simon de Burgh and William Ashwell. (fn. 67) It was sold by trustees in 1412 to John Perient, (fn. 68) whose son John was assessed for William Gobion's fee in Stapleford in 1428. (fn. 69) By 1444 (fn. 70) Gobions had descended to Edmund Perient, who died seised of it in 1474. (fn. 71) His son Thomas succeeded him, (fn. 72) and held the manor till his death in 1539, when it passed to his son Thomas, (fn. 73) on whom he had settled it in tail-male. (fn. 74) Thomas Perient died in 1546, and, as he had four daughters but no son, Gobions passed by terms of the settlement to his brother's family, (fn. 75) and in 1597 was held by his nephew (fn. 76) George Perient, who in that year conveyed it to Richard and Nicholas Boteler and others, (fn. 77) evidently in trust for Sir Philip Boteler, (fn. 78) lord of the manor of Woodhall in Watton. From this time Gobions has descended with that manor (q.v.), the present owner being Mr. Abel Henry Smith. The farm-house called Gobions lies in the north-west part of the parish, about a mile west of Stapleford village.
Patchenden
The earliest record of the manor of PATCHENDEN (Pachyndon, xv cent.) occurs in 1376, when it was held by Sir Walter Lee, kt., lord of the manor of Waterford Hall. (fn. 79) It descended with that manor (q.v.) until 1564, when Sir John Boteler, kt., sold the manor of Waterford Hall, but retained Patchenden in his own hands. Sir John was lord also of the manor of Woodhall in Watton, and from this time Patchenden has descended with that manor (q.v.). The present owner is Mr. Abel Henry Smith. The site of the manor-house of Patchenden, and a farmhouse which bears this name, lie north of the church and west of the main road from Hertford to Stevenage shortly before it enters the parish of Watton at Stone.
Clutterbuck has identified lands at 'Waterford' and 'Beorouleam,' given to St. Albans Abbey by Edwin de Cadingdon, (fn. 80) with Waterford in Stapleford, but there is little doubt that the former of these places is Watford on the western side of the county, and the latter refers to other lands in Cashio Hundred. A later grant to St. Albans, however, by Agnes Fay and Ralph her son of the old mill of Stapleford with the adjacent pond, the marsh on each side of the river, and 60 acres of land which was confirmed to the monks by Henry II and Edward IV (fn. 81) possibly refers to a property called BULLS MILL alias BENWICK HALL. (fn. 82) In 1532 the manor of Benwick Hall was held of the abbey by Charles Bull, and there was a water-mill attached to it. (fn. 83) Charles Bull died seised of the manor, and it descended to his son Richard Bull, who held it until his death in 1585, at which time the water-mill was called Bull's Mill. Richard Bull left Benwick Hall to his wife Alice for life with remainder to his son Henry Bull. (fn. 84) Towards the end of the 17th century George Goldesborough held Benwick Hall, (fn. 85) and in 1698 it was in the possession of Edward Goldesborough, who conveyed it to Elisha Burgess and Richard Edwards. (fn. 86) After this date its descent is lost for a time, but in 1779 it was the property of Elizabeth Willson, widow. (fn. 87) In 1784 William Willson and his wife Mary conveyed it to Richard Emmott, (fn. 88) lord of the manor of Waterford Hall. This sale included free fishing in the water of Stapleford. In 1803 Richard Emmott pulled down the house called Benwick Hall to erect a dog kennel. (fn. 89) It was then described as being 'a complete handsome strong brick house.' (fn. 90) Its exact site is difficult to determine, but it probably stood near Bull's Mill. Some old apple trees here suggest the site of the orchard of the hall. (fn. 91) Besides the general right of commons Benwick Hall had attached to it 2 several acres in Netherfield Common and a strip of 2 acres in Brocket's Bush. (fn. 92) Between 1795 and 1803 Thomas Blore, the well-known topographer, resided at Benwick Hall for several years. He collected a vast mass of material referring to the topography and antiquities of this county, which was afterwards used by Clutter-buck in his history. (fn. 93)
A manor to which one or two references occur, which lay partly in Stapleford and partly in Bengeo and Hertford, is the manor of RUSSELLS. This in 1750 was in the possession of William Willson and his wife Elizabeth, who were holding in the right of Elizabeth. (fn. 94) Elizabeth Willson, widow, and William Willson, junior, suffered a recovery of this manor with that of Stapleford in 1779, (fn. 95) and William Willson conveyed it to Richard Emmott in 1784. (fn. 96)
CHURCH
The church of ST. MARY THE VIRGIN stands a little to the east of the village. It consists of chancel 19 ft. by 14 ft. 6 in., large south vestry 19 ft. 6 in. by 16 ft., nave 52 ft. by 19 ft., north transept 15 ft. by 12 ft. 6 in., and north porch, over which is a tower; all the dimensions are internal. The walls are of flint rubble covered with cement with stone dressings; the roofs are tiled.
The eastern part of the nave was built in the 12th century, and perhaps the chancel also. In the early part of the 16th century the chancel arch was rebuilt, the church re-roofed and new windows inserted. In 1874 about 20 ft. was added to the west end of the nave, a north transept and south vestry built, and a north porch with tower and timber spire above erected. The window of three cinquefoiled lights in the east wall of the chancel is modern. In the north wall is a modern blocked doorway, and a blocked window of 18th-century character outside, but within are the jambs and arch of an earlier window, possibly of the 13th century. In the south wall is a modern door to the vestry. The two-centred chancel arch is of two chamfered orders with jambs of the same section; the capitals are moulded; it is of early 16th-century date.
In the north wall of the nave is a modern arch to the transept, and in the modern extension of the nave is a single-light window. The north doorway is of mid-12th-century date, and has a semicircular arch of two orders, the outer having a vertical cheveron moulding, the inner a horizontal cheveron; the jambs have circular engaged shafts and capitals carved with leaf ornaments; the bases are moulded; the doorway is in a good state of preservation. The east end of the south wall has a thickness of about 4 ft., which probably marks the position of the former rood-stair. To the west of this is a window of two cinquefoiled lights with tracery under a four-centred head; it is of mid-15th-century date and has been much repaired. In the upper part are some fragments of old glass of the same period. The other windows in the south wall are modern. The roof of the eastern part of the nave retains the 16th-century kingpost trusses and timbers; the rafters are plastered underneath.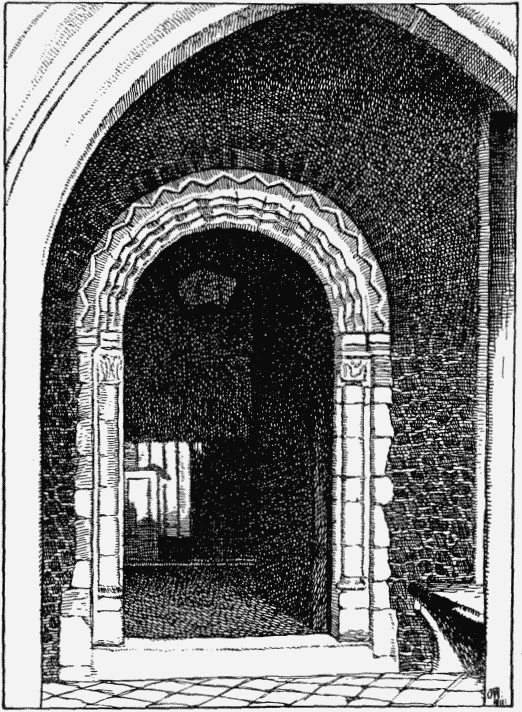 There are two bells in the modern open timber belfry, but they bear no mark or date.
The communion plate consists of cup and cover paten, 1712 (the paten had a new rim put on in 1824), another paten, 1822, and a modern plated flagon.
The registers before 1812 are as follows: (i) baptisms, burials and marriages from 1578 to 1670; (ii) baptisms and burials from 1671 to 1746, marriages 1671 to 1747; (iii) baptisms from 1747 to 1812, burials 1748 to 1812; (iv) marriages from 1755 to 1812.
ADVOWSON
The earliest record of a church in Stapleford occurs in 1285, (fn. 97) when the patronage was in the hands of the lord of the manor, Robert Aguillon. (fn. 98) Through his daughter and heir Isabel it came to the Bardolfs and descended with the manor of Watton until the middle of the 16th century. (fn. 99) In 1550 John Brown died seised of Watton Manor and the advowson of Stapleford, (fn. 100) but soon afterwards they appear to have become separated. Edmund Hynde was holding the advowson in 1573. (fn. 101) In 1625 Sir William Sherard of Stapleford presented, in 1634 Oliver Harvey, in 1664 Arthur Spark of Hertford, and in 1677 Martha Williams, widow. (fn. 102) The advowson then came to Thomas Winford of Lincoln's Inn, (fn. 103) who was created a baronet in 1702 with special remainder—failing his own issue—to that of his brother Henry Winford. (fn. 104) He died the same year and was succeeded by his nephew Thomas Cookes Winford, who presented in 1717, 1723 and 1731. (fn. 105) He died childless in January 1743. (fn. 106) His widow survived him and left the advowson of Stapleford by her will of 1751 in trust for her niece Elizabeth Milward. (fn. 107) In 1755 Elizabeth Milward sold it to Anne Deane, widow, of Witchampton, co. Dorset, (fn. 108) who presented in 1756. (fn. 109) She left it by will to her nephew Robert Pargeter, (fn. 110) from whom it descended to his son Robert Thomas Deane Pargeter. (fn. 111) who sold it in 1794 to the Rev. Archibald Stevenson, rector of Littleham, co. Devon. (fn. 112) The following year the Rev. Archibald Stevenson sold the advowson to Robert Hamilton of Leman Street, Goodman's Fields. (fn. 113) In 1798 it was purchased by Paul Bendfield of Watton Woodhall, (fn. 114) who was declared bankrupt the same year, (fn. 115) and in 1804 Benjamin Brooks, who had apparently bought the advowson from him, presented. (fn. 116) In 1816 George Vansittart of Bisham Abbey, co. Berks., acquired the advowson, (fn. 117) which he sold in 1819 to Samuel Smith, (fn. 118) who held the manor of Waterford Hall (q.v.), and from this time the advowson has descended with the manor.
CHARITIES
In 1674 Philip Boteler by his will gave 40s. yearly to the poor, issuing out of a field called Church Field; 20s. thereof to be distributed on St. Thomas's Day and 20s. on Good Friday. There are usually six recipients at each distribution.