Pages 63-65
A History of the County of Hertford: Volume 3. Originally published by Victoria County History, London, 1912.
This free content was digitised by double rekeying. All rights reserved.
AYOT ST. PETER
Little Ayot or Ayot Montfichet, Aiete (xi cent.); Yate, Hayate (xiii cent.); Ayete (xv cent.); Eyott (xvi cent.).
The parish of Ayot St. Peter has an area of 1,093 acres, of which 666 acres are under cultivation, 140¾ are grass and 2¾ wood. (fn. 1) The elevation of the parish above the ordnance datum is from 300 ft. to 400 ft., rising to just over 400 ft. about the centre, where the church and rectory are situated. The lowest point is on the north, where the little River Mimram. forms the boundary for some distance. The subsoil is chalk and gravel and the surface soil chalk; there are several chalk-pits in the parish. The manor-house, church of St. Peter and the rectory are situated on a branch road, half a mile north-west of the village, which is on the main road at Ayot Green. Ayot Place, now a farm-house, was probably built by Sir George Perient, lord of the manor, as it bears his arms and the date 1615. It is a 17th-century house of timber and plaster (now partly cased with brick) with a tiled roof and is of the L plan, though much repaired in the 19th century. The wing facing north contains the entrance with staircase and living rooms, the wing facing east comprises the hall with a gallery now used as the kitchen. On a frieze in the hall are five shields bearing the arms of Perient, Brockett and Boteler quartering Kilpee and the date 1615 in the middle. There are two chimney stacks with twisted shafts and moulded capitals. Ayot Bury, the seat of Sir Alfred James Reynolds, J.P., is an old house, much altered and enlarged, standing in a small park.
There is a railway station at Ayot, opened in 1877, on the Luton and Hatfield branch of the Great Northern railway. The main road between Hitchin and London passes through Ayot Green, and forms the boundary at the south-east corner of the parish. Large farms in this parish are Linces Farm, Ryefield Farm and Ayot Place Farm.
Place-names occurring in the 16th century are Fyncesfeld or Fincheleyfeld, Smythescroft, Dryvers and Okkelmede. (fn. 2)
There was a great flood in the parish in February 1795, owing to the overflow of the Lea and Mimram. (fn. 3)
MANORS
King Edward the Confessor granted the manor of AYOT ST. PETER or AYOT MONTFITCHET to two of his thegns, but after the Conquest it formed part of the lands of Robert Gernon, and was held as 2½ hides by William his man, who is said to have taken it 'by encroachment to the king's wrong, but he called on his lord as warrantor.' (fn. 4) The estates of Robert Gernon were granted in the reign of Henry I to William de Montfitchet, (fn. 5) in whose family Ayot St. Peter descended in the same manner as Letchworth (q.v.), and came to Richard Montfitchet, who died without issue about 1258. His heirs were his three sisters—Margery, who married Hugh de Bolebek, Avelina the wife of William de Fortibus, last Earl of Albemarle, and Philippa wife of Hugh de Pleys. (fn. 6) The manor of Ayot St. Peter fell to the share of Margery and Hugh de Bolebek, and upon the partition between their four daughters (fn. 7) to the second, Margery, the wife of Nicholas Corbet, who held the manor in 1277–8. (fn. 8) Nicholas died in 1280, (fn. 9) and the king took Ayot St. Peter into his hands with the other Corbet lands, but Margery received Ayot back in the following year upon the plea that the Montfitchet lands were her own inheritance. (fn. 10) Margery married secondly Ralph Fitz William, (fn. 11) and they in 1286 conveyed the manor to Robert Burnell, Bishop of Bath and Wells, (fn. 12) a quitclaim having previously being made to him by John de Zelaund, (fn. 13) whom they had enfeoffed of the manor. (fn. 14) The bishop probably conveyed the manor to Robert de Lacy, for Amice de Lacy his widow was assessed for it in 1303. (fn. 15) In 1307 an action was brought by John de Lancaster, the son of Margery Fitz William's eldest sister Philippa, who claimed that Ralph and Margery had exceeded their rights in granting more than half the manor to John de Zelaund, (fn. 16) but there is no evidence that he made good his claim to the other half.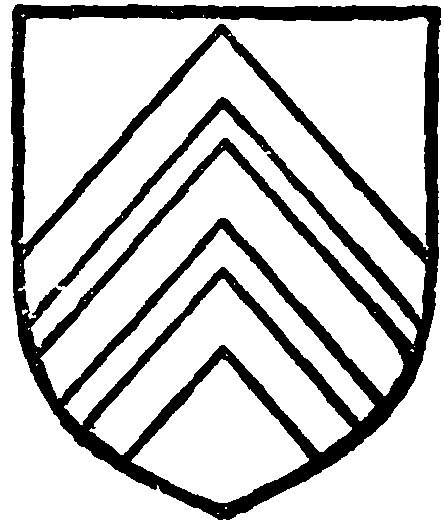 Upon the death of Amice or Avice de Lacy (fn. 17) the manor was divided between her daughters Joan and Amice. The name of Ayot Montfitchet was kept by the moiety which fell to Amice the second daughter, who married John Poleyn. He is referred to as lord of the manor in 1323. (fn. 18) Amice died seised in 1349, when her moiety passed to her son John, (fn. 19) who is said to have died without issue. (fn. 20) In 1359 it was held by Katharine Poleyn, (fn. 21) who was perhaps his widow. It is said to have descended to Rose wife of John Fish as daughter of John son of Michael son of Agnes daughter of Amice Poleyn. (fn. 22) Rose Fish granted it for life to Christine Poleyn, who was probably her mother. (fn. 23) After the death of Christine William Sakevyle, who had been enfeoffed of the manor, granted it in 1414 to Rose and John Fish her husband, (fn. 24) from whom it passed to another John Fish, who died in 1494, his wife Katherine Wotton being attainted and imprisoned at Norwich Castle for the wilful murder of her husband. (fn. 25) Ayot Montfitchet was inherited by his brother, presumably the William Fish who died seised of it in 1531. He was succeeded by his son Thomas, (fn. 26) who held the manor until his death in 1553. (fn. 27) Thomas's son George Fish held Ayot jointly with his mother Elizabeth, (fn. 28) who married secondly William Perient, whence it came to her son George Perient, (fn. 29) who was holding it in 1614. (fn. 30) George Perient's daughter Mary married Nicholas Trott, who in 1623 conveyed the halfmanor to William Hale (fn. 31) of King's Walden, (fn. 32) and in 1624 they both granted it to Michael Grigge, (fn. 33) who in 1632 conveyed it to Rowland Hale, son of William. (fn. 34) From him it passed to his son William Hale, whose widow Elizabeth was the holder in 1700. (fn. 35) It remained in the Hale family until 1832, (fn. 36) when it is said to have been sold to Viscount Melbourne, the holder of the Westington moiety (q.v.).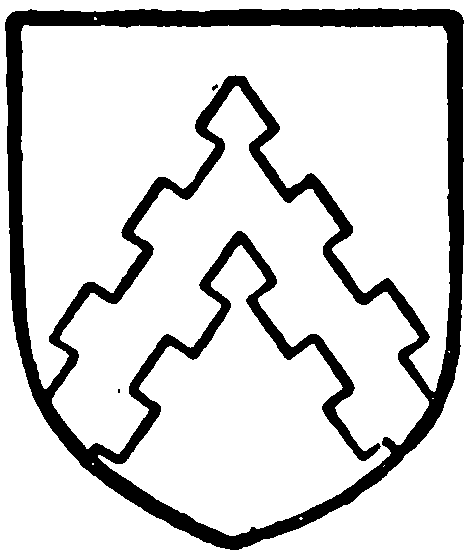 Westington
The so-called manor of WESTINGTON consisted of the moiety of the original manor of Ayot St. Peter which fell to Joan the elder daughter of Amice de Lacy, and took the name of Westington a little later from the family which held it. Joan de Lacy may be identical with Joan the wife of Ralph de Bredon, who in 1332 granted the half-manor to James de Bredon, (fn. 37) probably in trust. In 1349 it was held by John de Westwycombe, (fn. 38) who was probably the son of Joan. (fn. 39) From John it came to his daughter Margaret, the wife of William Westington, (fn. 40) who gave his name to this moiety, which extended into the neighbouring parish of Welwyn. Margaret was apparently unjustly disseised by John and Rose Fish, the holders of Ayot St. Peter or Montfitchet, for in 1426 there was a suit between them for its recovery, in which the former was evidently successful in establishing her title. (fn. 41) Margaret Westington married secondly Thomas Galyon, and upon her death the manor came to her daughter Margery, who married Thomas Foxlee. Their daughter Elizabeth conveyed it by marriage to Thomas Uvedale, who was seised of it with his son and heir Henry, who predeceased his father in 1469. Thomas died in 1474 and was succeeded by his second son William Uvedale. (fn. 42)
By 1487 Westington had come into the possession of Thomas Rogers, probably by purchase, and upon his death in the following year it came to his daughter Elizabeth, the wife of William Essex, (fn. 43) who in 1508 conveyed it to Sir William Say. (fn. 44) The estates of Sir William Say descended through his daughter Elizabeth to Gertrude Marchioness of Exeter, (fn. 45) who was attainted in 1539, when her lands were forfeited to the Crown. (fn. 46) In 1546 they were granted to Sir Nicholas Throckmorton, (fn. 47) who sold Westington with other manors to Sir John Brockett of Brockett Hall in 1555. (fn. 48) He was succeeded by his son and his grandson John, the latter's heirs being five daughters. (fn. 49) Helen wife of Sir Richard Spencer is found in possession of a quarter of the manor in 1599, (fn. 50) but eventually the whole came to the fifth daughter Mary. She conveyed it in marriage to Sir Thomas Reade, who was holding it in 1615. (fn. 51) They had a son Thomas, (fn. 52) probably the father of Sir John Reade, who presented to the church in 1686. (fn. 53) Sir James Reade, his son, was holding it in 1700, (fn. 54) and in 1728 it was in the possession of Sir James's youngest daughter Love, who married Sir Thomas Wymington. (fn. 55) The latter died in 1746, and Westington was sold after his death to Sir Matthew Lamb, (fn. 56) who in 1768 was succeeded by his son Peniston Lamb, first Viscount Melbourne. His son William Lord Melbourne (fn. 57) was the first Prime Minister of Queen Victoria, and succeeded to his father's estates in 1828. He acquired from William Hale in 1832 the other moiety of the manor, (fn. 58) known as Ayot St. Peter or Ayot Montfitchet, and thus the whole of the original manor was once again united in the same hands. Upon his death in 1848 his estates passed to his brother Frederick James, (fn. 59) and from him through his sister Amelia, who married Peter Leopold fifth Earl Cowper, to their son George Augustus in 1853. In 1856 Ayot St. Peter came to Francis Thomas de Grey Cowper, the last earl, who died in 1905. (fn. 60) The manor then passed to the younger of his two sisters, Lady Amabel Kerr, who died in 1906, when it came to her husband, Admiral Lord Walter Kerr. (fn. 61)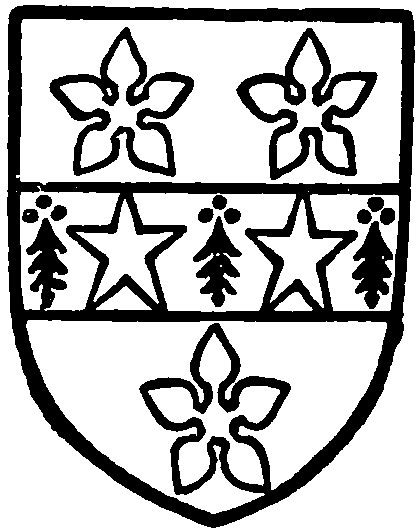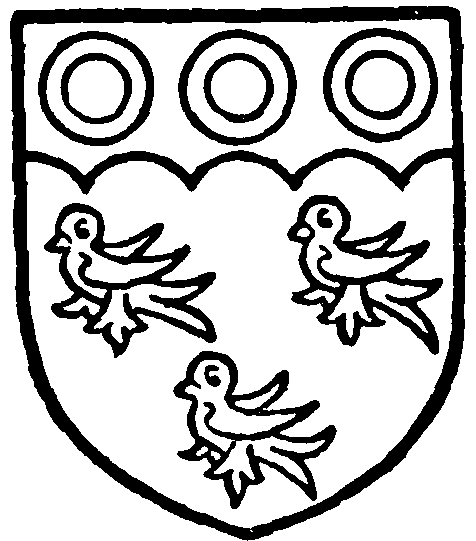 In 1277–8 Nicholas Corbett owed suit at the county court and aid to the sheriff of 5s. a year. (fn. 62) In 1349 this suit was said to be owed every month with the same aid, and suit at the hundred court every three weeks. (fn. 63) George Perient obtained a grant of court leet and view of frankpledge twice a year in Ayot Montfitchet in 1614. (fn. 64) Nicholas Throckmorton apparently received the same rights in Westington when he obtained that manor in 1546. (fn. 65) Free warren was granted to Sir Thomas Reade in Westington in 1615. (fn. 66)
Ayot Montfitchet was fined in 1653 for having lacked stocks for a twelvemonth past. (fn. 67)
CHURCH
St. Peter
The church of ST. PETER has been rebuilt more than once. At the latter part of the 17th century considerable alterations were made in the church then existing, and in the middle of the 18th century the church was rebuilt. The church then erected was an octagonal brick building with a detached belfry forming the entrance to the churchyard. This church was rebuilt in a little more appropriate style in 1862. On 10 July 1874 this building was struck by lightning and burnt to the ground. As the church was some distance from the village the new building was erected on its present site. The new church was built from contributions principally from Earl Cowper and Mr. George Robinson of Ayot Bury, from designs by J. P. Seddon. It is a red brick building with Bath stone dressings and a tiled roof, and consists of an apsidal chancel with organ chamber on the south side, nave, north porch and tower.
There are six bells by Warner of London, 1875, the gift of Dr. Jephson of Leamington. The plate includes a silver chalice and paten of the time of Charles I.
The registers are in three books: (i) baptisms and burials 1668 to 1773, marriages 1668 to 1753; (ii) baptisms and burials 1773 to 1812; (iii) marriages 1754 to 1812.
ADVOWSON
The Advowson of Ayot St. Peter Church seems to have belonged to the lords of the manor from the earliest times, for it is mentioned as belonging to the lord as early as 1282. (fn. 68) When the manor was divided between the daughters of Amice de Lacy the advowson went to the elder branch, (fn. 69) but by 1488 it was apparently held alternately, for Thomas Rogers (fn. 70) and later Sir William Say (fn. 71) were only possessed of half.
A short time previous to 1728 the advowson was sold to Ralph Freeman and his heirs, (fn. 72) in whose family it descended until Katherine, the daughter of William Freeman, conveyed it in marriage to the Hon. Charles Yorke, whose son Philip became Earl of Hardwicke in 1790 (fn. 73) and presented to the rectory in 1804. (fn. 74) From him it passed to his eldest daughter Anne, the wife of John Earl of Mexborough. (fn. 75) Lord Mexborough held the advowson until 1843, after which his widow presented until 1852, when it was sold to the Rev. Edwin Prodgers. On the death of the latter in 1861 the advowson came to his son Edwin Prodgers, who nominated himself to the rectory, but later relinquished Holy Orders. (fn. 76) The presentation remained in his hands until 1906, when it was acquired by Miss Wilshere, who is the present patron.
CHARITIES
John Henry Peacock, by will, proved in the P.C.C. in December 1849, bequeathed so much stock as would produce £10 a year for education and £10 a year for the poor in clothing, blankets and fuel on Christmas Day. The legacies are represented by £333 6s. 8d. consols and £333 6s. 8d. consols, now producing £8 6s. 8d. for each purpose. The sums of stock are held by the official trustees; the charity for education is regulated by a scheme of the Board of Education, 4 May 1905.